According to the legend, Arnold Schwarzenegger, "The best activities for your health are pumping and humping."
Have you finally reached the point where you recognize the benefits of nutrition supplements for a high-intensity training program? Maybe you've caught the pre-workout and post workout buzz, or perhaps you've benefited from the almighty whey protein?
Well, we've got good news and bad news! The good news is that you're well on your way to reaching—and maybe even improving on—your natural physical potential.
The bad news is that you might not be getting as much out of your supplements as you thought. A quality supplement like Jacked Factory Growth Surge (our RAVE pick) will ensure your body receives what it needs for recovery and growth.
The Post Workout Supplements We RAVE About
How Do Post Workout Supplements Work?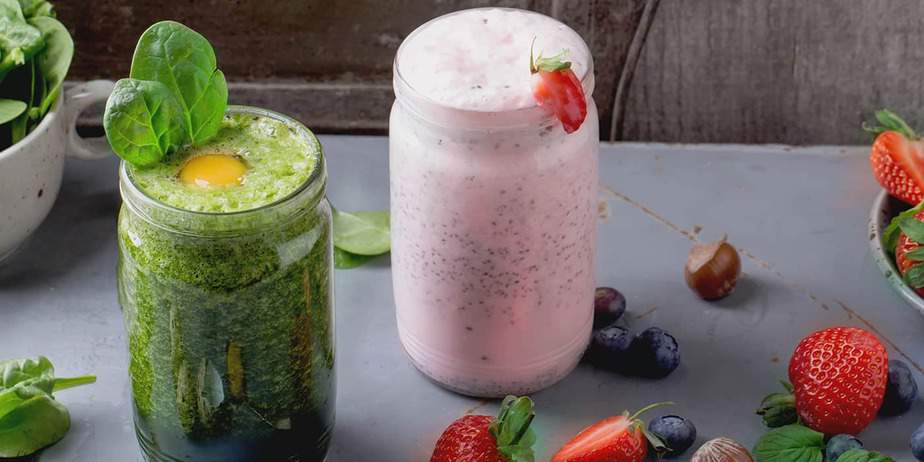 It is common knowledge that one of the most important aspects involved in high-intensity exercise is not the activity itself but rather the period after the activity. This famed "anabolic window of opportunity" is suggested to be the ideal time for muscle tissue to soak up nutrients and kickstart the recovery process.
In other words, the immediate post workout period plays a major role in how well you recover from exercise. If you don't recover efficiently, you won't be able to perform in the days, weeks, months, and even years ahead.
If you don't recover properly, your ability to make progress toward your fitness goals will be greatly hindered. Lucky for you, there are some excellent post workout supplements out there that are designed to optimize your recovery immediately following your workout so you can get after it the next day without skipping a beat.
Most post workout formulas feature at least the branched-chain amino acids (BCAAs): leucine, isoleucine, and valine, which are arguably the most important essential amino acids for building and repairing skeletal muscle tissue. You will also commonly find the gold standard sports supplement, creatine monohydrate, which hydrates muscle tissue and also promotes athletic performance. Glutamine and electrolytes are also typical ingredients in post workout supplements.
Are There Different Kinds of Post Workouts?
There are also different post workout formulas for different needs. For example, a good post workout formula for the male athlete trying to pack on muscle mass won't serve the needs of a female athlete looking to cut body fat. Likewise, vegan athletes will want to avoid post workout supplements that feature animal-based protein (e.g., whey protein and casein protein). Don't worry, there are some great vegan post workout formulas to choose from.
This all prompts the question, what are the best post workout supplements out there? Generally, the best post workout formulas feature ingredients that promote muscle tissue recovery. Beyond that, it's up to you!
And that's where we come in. We have compiled a list of the best post workout formulas with several different needs in mind. After scouring data from the leading manufacturers, we are proud to offer the best post workout supplements in the following categories:
Best Post Workout Supplement Overall
Best Post Workout Supplement for Men
Best Post Workout Supplement for Women
Best Post Workout for Cutting Calories
Best All Natural Supplement Post Workout
Best Post Workout Supplement for Bulking
Best Nighttime Supplement Post Workout
In order to arrive at our final rankings, we ranked ingredient quality, taste, customer satisfaction, and price per serving to arrive at the leading 15 best post workout supplements on the market today. Enjoy, and recover well!
Best Overall Post Workout
1
Jacked Factory Growth Surge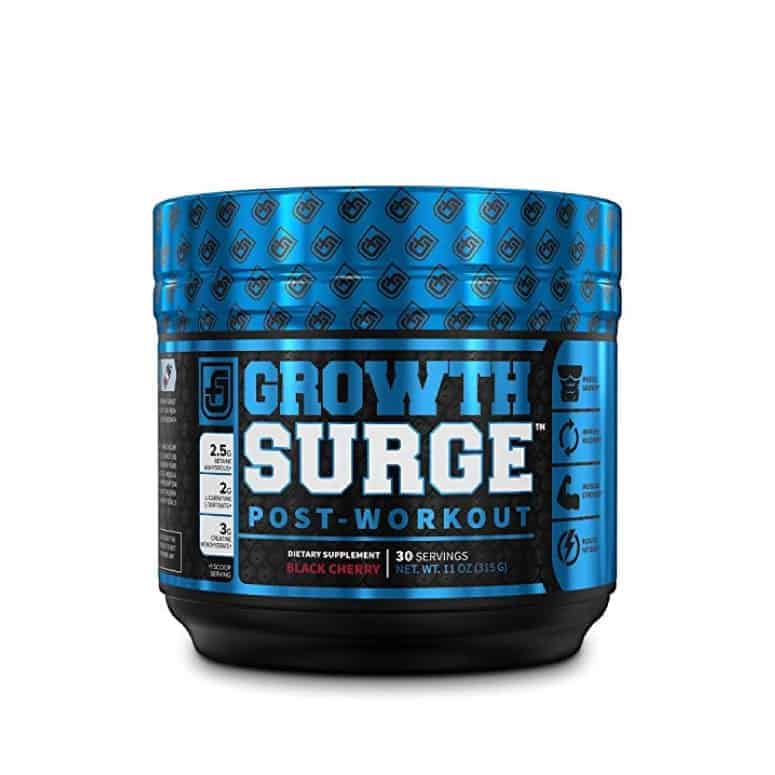 Ingredient Quality: 99/100
Growth Surge (made by Jacked Factory) is a post workout muscle builder containing a tried-and-true blend of four synergistic ingredients:
Creatine monohydrate

L-carnitine L-tartrate

Betaine anhydrous (also known as Trimethylglycine)

BioPerine (black pepper fruit extract)
While creatine monohydrate is undoubtedly effective on its own, the addition of the other ingredients helps your body maximize the absorption and uptake of creatine into muscle cells without the need for insulin-spiking sugars. This makes Growth Surge ideal for people looking to pack on lean muscle and those who want to cut body fat.
Each serving of Growth Surge contains evidence-based doses of each ingredient. And like all of Jacked Factory's products, Growth Surge is made with none of the artificial junk or fillers many companies use.
The flavoring is also top-notch, so Growth Surge is a supplement that you'll actually look forward to drinking.
Pros
Simple, effective formula
Great overall value
Refreshing and tasty
Cons
Limited flavor options
Contains a small amount of sucralose
Not as comprehensive as other formulas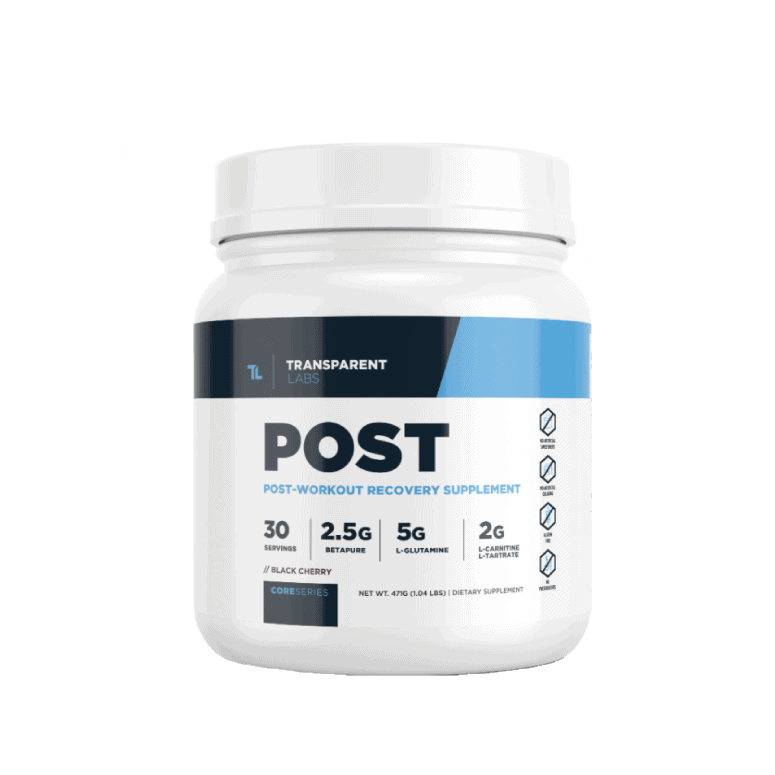 Ingredient Quality: 99/100
Transparent Labs has made waves across the sports supplement industry in recent years. Contrary to many brands, Transparent Labs offers complete label transparency, meaning you can see the exact dose of every ingredient (even the inactive ones) in their formulas. Their new post workout formula, fittingly called POST, is a fantastic option for virtually any athlete or gym-goer. 
POST features a hefty 5,000 milligrams of L-glutamine, 2,500 milligrams of BetaPure betaine anhydrous, 2,000 milligrams of L-carnitine L-tartrate, 2,000 milligrams of beta-alanine, 500 milligrams of innovative Vitacherry tart cherry powder, and 25 milligrams of AstraGin. These ingredients work synergistically to "recharge" muscle tissue and facilitate blood flow so your muscles get the nutrients and oxygen they need after training. 
Even better, POST is refreshingly tasty, gluten free, non-GMO, and free from artificial sweeteners, preservatives, and food coloring.
Pros
Comprehensive formula
Full-label transparency
No artificial sweeteners, preservatives, or food dyes
Cons
Only two flavor options (orange and black cherry)
Pricey
No creatine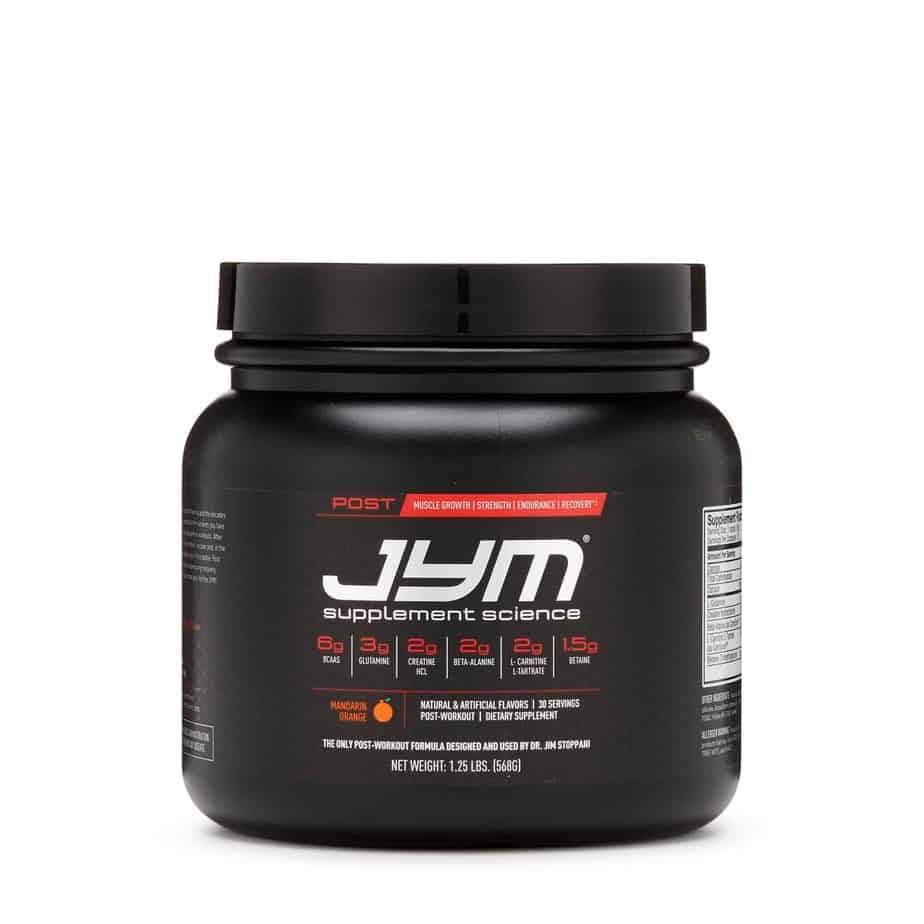 Ingredient Quality: 99/100
JYM supplements are no stranger to supplements users. Its Pre-JYM is one of the best pre-workout supplements on the market, and Post-JYM, its post workout counterpart, comes in as the third best post workout supplement due to its great value, quality, and taste.
Post-JYM delivers key ingredients — in proper doses — needed for the post workout anabolic window. Highlights of this formula include:
6,000 mg BCAAs

2,000 mg CON-CRET Creatine HCL

2,000 mg CarnoSyn Beta-alanine

1,500 mg Betaine

500 mg Taurine

2,000 mg Carnipure Carnitine

3,000 mg Glutamine

5 mg BioPerine
Post-JYM's formula is exceptionally potent, being scientifically designed by Jim Stopanni, PhD. The ingredients in Pre-JYM work in concert to boost muscle repair, maximize recovery, and increase lean mass. Many of these ingredients are also included in the Pre-JYM formula, and JYM suggests using both formulas together to achieve maximum results.
As far as taste goes, you'll be happy to know Post-JYM comes in a whopping seven different flavor options. Our favorite is Blue Arctic Freeze! 
Pros
Great taste and multiple flavor options
Very comprehensive formula
Quality ingredients
Cons
Pricey
Creatine HCl needs more research
Artificial colors and sweeteners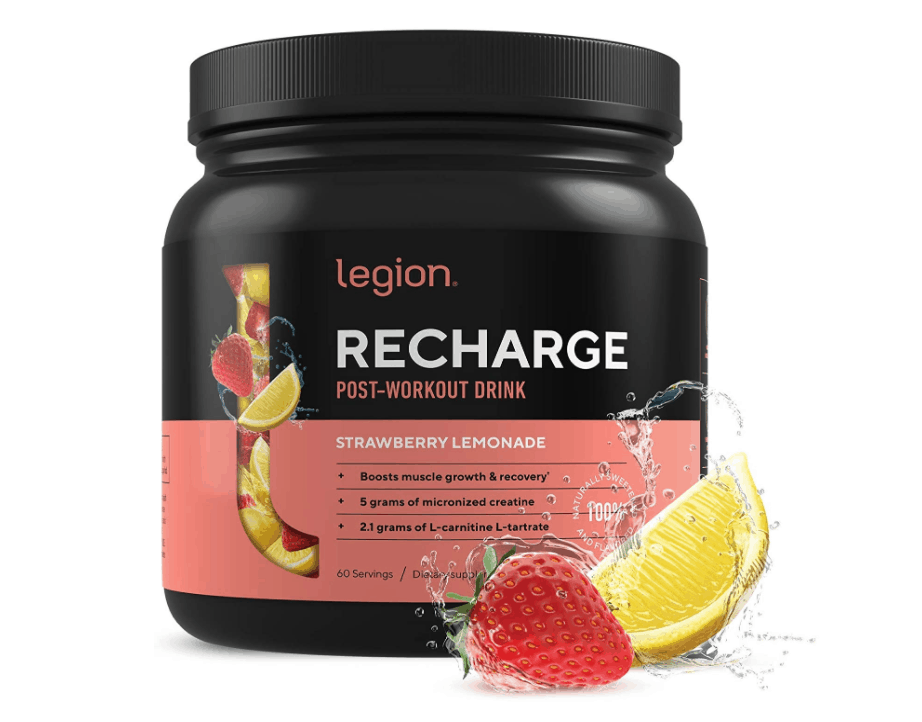 Ingredient Quality: 95/100
Legion is a cutting-edge supplement producer, and its post workout formula, Recharge, is no exception.
Legion was founded with a commitment to having all ingredients backed by peer-reviewed scientific literature, good value per serving, clinically effective dosages, and honest marketing.
Like its other supplements, Legion's Recharge features great taste and high-quality ingredients with no artificial sweeteners, flavoring, food dyes, or fillers. Recharge's ingredients appear in clinically effective dosages and the formula is sweetened only with natural Stevia—which has demonstrated health benefits—and erythritol. The key ingredients in Recharge are:
Creatine monohydrate

L-carnitine L-tartrate

Corosolic acid
Fans of Recharge praise its good taste, whether mixed in water or juice, or in milk or dairy substitutes. Recharge will help you recover faster, push harder, train more frequently, and stave off soreness.
Pros
Naturally flavored and sweetened
5,000 milligrams of creatine monohydrate per serving
Supports insulin sensitivity
Cons
Expensive
Limited flavor options
5
Evlution Nutrition RecoverMode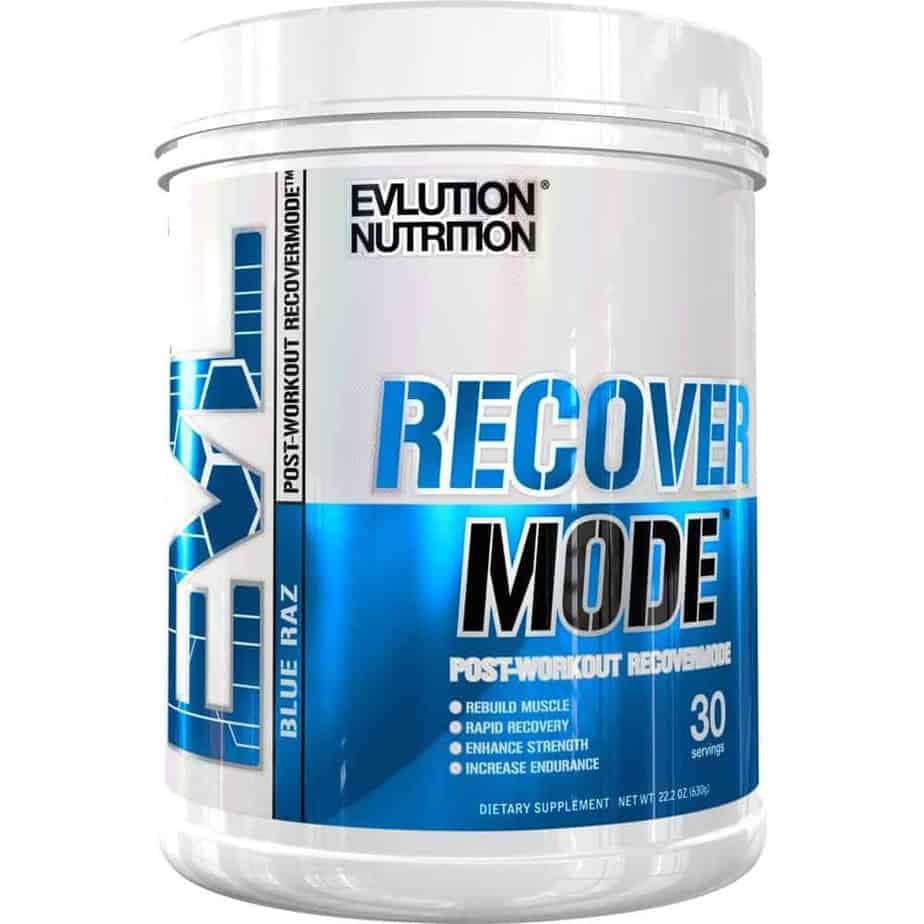 Ingredient Quality: 90/100
Athletes familiar with Evlution nutrition will know its well-known pre-workout formula, ENGN, as well as its line of BCAAs. RecoverMode, its flagship post workout nutrition supplement, is an ultra-premium post workout formula designed to rebuild muscle, promote recovery, enhance strength, and increase endurance. RecoverMode features:
BCAAs in a proven 2:1:1 ratio

Glutamine

Creatine monohydrate

Creatine HCL

Beta-alanine

L-Carnitine L-Tartrate

Vitamin C, D, and E complexes

Electrolytes
As you can see, RecoverMode leaves no stone unturned in its formula.
The potent mixture of all these ingredients helps supply energy to muscles and support muscle protein synthesis, recovery, hydration, and lean body mass.
Pros
2:1:1 ratio of BCAAs
Multiple forms of creatine
Contains several micronutrients
Cons
Artificial sweeteners and flavors
Some flavors are overly sweet
Contains artificial food coloring
Best Post Workout for Men
1
Jacked Factory Powerbuild
Ingredient Quality: 95/100
Jacked Factory, also makers of Growth Surge, offer a second option for your post workout arsenal. Unlike Growth Surge, which features creatine monohydrate, L-carnitine L-tartrate, and betaine anhydrous, Powerbuild features a full range of post workout ingredients:
L-Glutamine

L-Leucine

Creatine monohydrate

Beta-alanine

L-Carnitine

L-Tartrate

Betaine

Bioperine
These added ingredients will not only help you recover but also help you grow in the hours after your session is over, and that is what makes it our first choice for the best post workout supplement for men in particular.
It also reduces muscle soreness and increases strength and power. Powerbuild is a powerhouse for post workout recovery, and it is naturally sweetened and flavored with no artificial dyes or fillers.
Pros
Surprisingly refreshing
Robust ingredient profile
No artificial dyes or flavors
Cons
Limited flavor options
A little pricey
Only 1 BCAA in the formula (Leucine)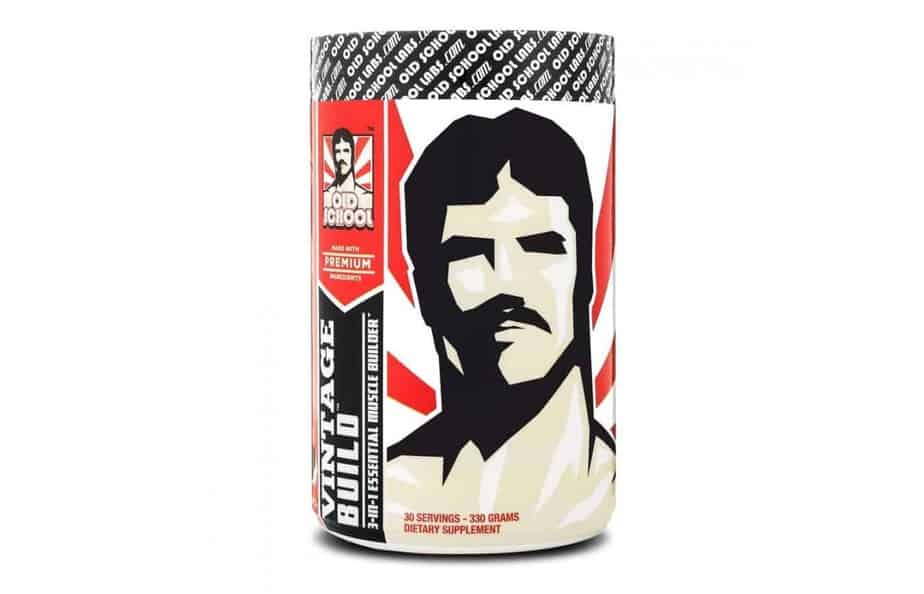 Ingredient Quality: 98/100
Old School Lab's Vintage Build comes in as our second best post workout for men. It features three no-nonsense scientifically proven ingredients to achieve the one goal common to all male lifters: build lean mass! Its trifecta consists of:
BCAAs

Creatine monohydrate

L-Glutamine
While it is true that these ingredients are common to many post workout supplements, Vintage Build's formula contains them in doses that are proven to be effective for male athletes. BCAAs are provided in a proven 2:1:1 ratio, and creatine and L-glutamine at 3 grams and 2 grams, respectively.
Vintage Build also avoids using artificial ingredients and dyes. Furthermore, Old School Labs carefully monitors its supply chain for ingredient quality. Both of these factors are crucial for producing a formula that promotes muscle recovery, which all men need to achieve a chiseled, alpha physique.
Pros
2:1:1 ratio of BCAAs
Solid doses of creatine and glutamine
Naturally sweetened and flavored
Cons
Expensive
Limited flavor options
Taste is hit or miss
Best Post Workout for Women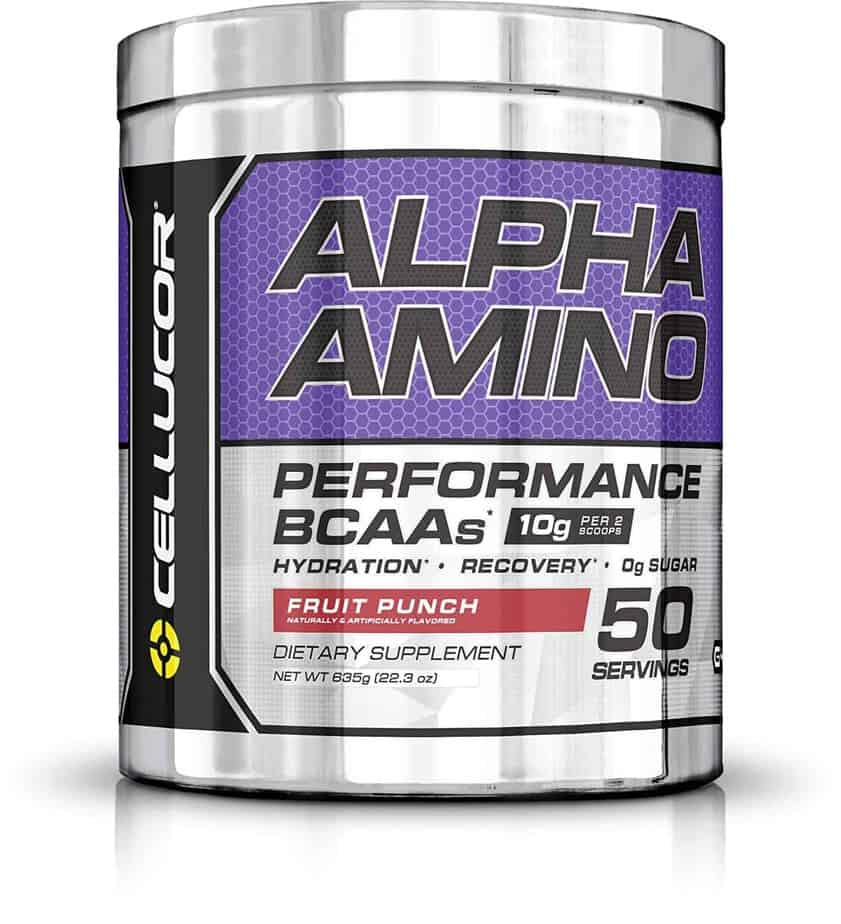 Ingredient Quality: 90/100
Cellucor's Alpha Amino is ideal for female athletes. It contains the post workout ingredients your body needs without any added carbohydrates or sugars, which helps you focus on staying lean and toned long after you've left the gym.
Key ingredients in Cellucor's formula include:
BCAAs

Amino acids

Electrolytes
Added electrolytes in Cellucor's formula help keep your body hydrated, which is a top priority for any active lifestyle. If you're not hydrated, all other bodily functions are impaired. Hydration will improve your performance in the gym and also promote recovery by ensuring proper blood flow to muscle tissue.
BCAAs are provided in the proven 2:1:1 ratio, and your strength, power, and muscle endurance will be well supported in this low-calorie, sugar-free solution.
Pros
Brand reputation
Multiple flavor options
2:1:1 ratio of BCAAs
Cons
Contains proprietary blends
Contain artificial sweeteners
Some non-essential amino acids in the mix
2
MusclePharm BCAA + Recovery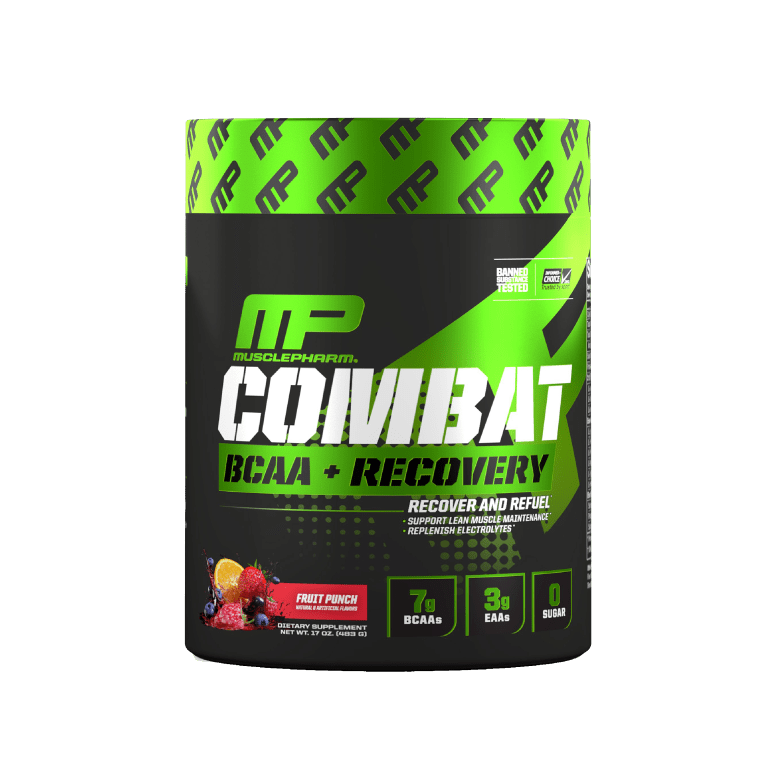 Ingredient Quality: 90/100
BCAA Recovery, made by MusclePharm, which also makes the popular women's pre-workout FitMiss Ignite, is a simple, effective branched-chain amino acid (BCAA) plus essential amino acid (EAA) recovery formula that provides just what women need after a workout—and nothing they don't. It contains all the necessary EAAs to support muscle recovery without packing a ton of sugar and calories into the diet.
In addition, this formula provides a sizable 7,000 milligrams of BCAAs in every serving. The reason these are so important is that they account for nearly half of all the essential amino acids in muscle protein. The combination of these three amino acids in the right amounts helps promote muscle growth, reduce muscle damage, and enhance the use of glucose for energy.
As you become leaner and hit the gym regularly, supplementing with BCAAs/EAAs may also promote fat loss. BCAA Recovery is available in two popular flavors: Fruit Punch and Blue Raspberry.
Pros
Tested for banned substances
Great for active women
Contains all nine essential amino acids (EAAs)
Cons
Only sodium and potassium for electrolytes
Contains artificial coloring
Contains artificial sweetener
Best Post Workout for Cutting Calories
Optimum Nutrition Instantized BCAA 5000 Powder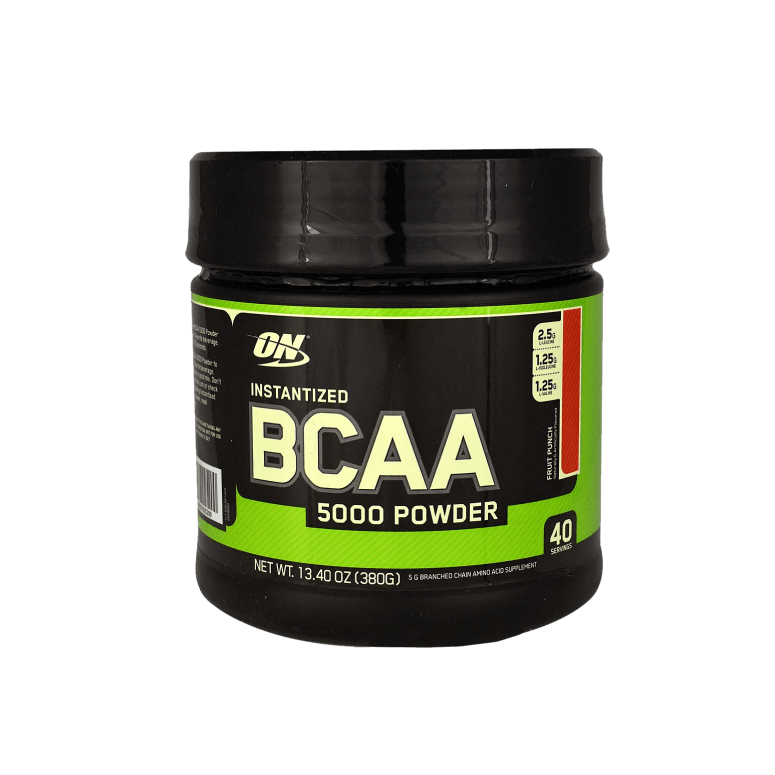 Ingredient Quality: 90/100
Taking a post workout supplement with branched-chain amino acids (BCAAs) is the surest way to kickstart the muscle recovery and rebuilding process. Every serving of Optimum Nutrition's Instantized BCAA 5000 Powder packs 5,000 milligrams of micronized BCAAs in the proven 2:1:1 ratio of leucine: isoleucine: valine. It's also fantastic value at 40 servings per bottle, and the unflavored option is ideal for those who just want the good stuff and none of the unnecessary additives.
Optimum Nutrition has an impressive track record as a sports supplement brand that caters to gym-goers and athletes of all levels. While the company is renowned for its comprehensive protein powder offerings, it also has a range of pre-workout, post workout, and general health supplements with solid formulas. Due to its long-standing reputation, you can always count on the quality and consistency of Optimum Nutrition supplements.
Pros
Brand reputation
Unflavored and flavored options
2:1:1 ratio of BCAAs
Cons
Just BCAAs
Flavored options contain artificial coloring
Contains soy
Best Post Workout Supplement for Bulking
Myogenix AfterShock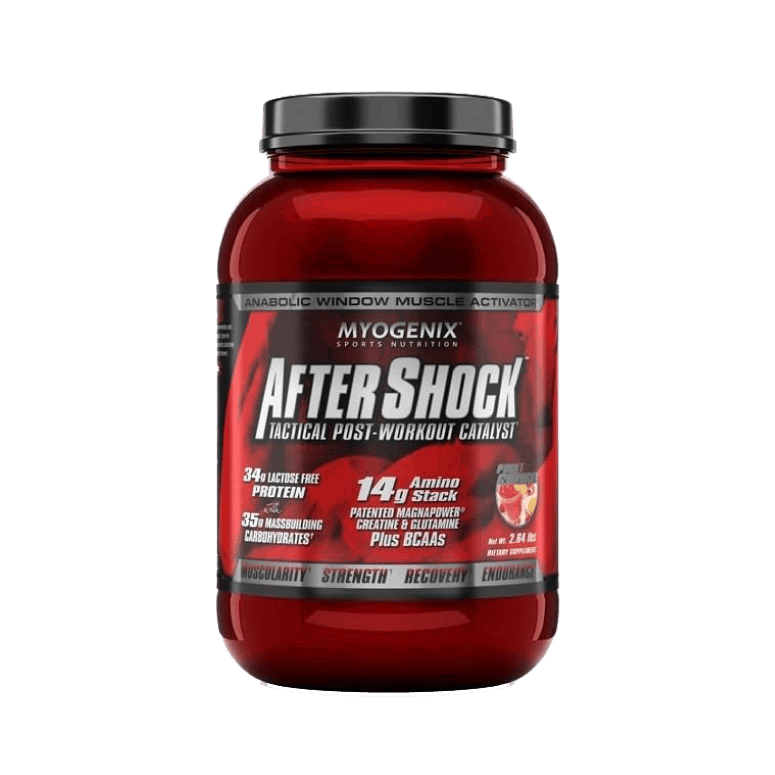 Ingredient Quality: 89/100
Myogenix AfterShock is the go-to post workout solution for serious strength athletes and bodybuilders alike. 
AfterShock is a comprehensive mass activator that is designed to target every conceivable need the body has during the crucial post workout anabolic window. Ingredients include:
GlycogenX fast-acting carbs

Hefty dose of hydrolyzed whey protein

Advanced creatine forms

Joint recovery matrix
Myogenix has created quite a comprehensive post workout supplement that covers all the basics and then some. By providing a solid 30-plus grams (each) of quality whey protein and easily digestible carbohydrates, plus plenty of creatine, AfterShock is sure to help you capitalize on your efforts in the gym.
Myogenix recommends consuming AfterShock immediately following each workout. With a no-nonsense formula like this, you can't go wrong.
Pros
Fast-acting hydrolyzed whey peptides
Easily digestible
Multiple forms of creatine
Cons
Contains proprietary blends
Pricey
Might be overkill for some gym-goers
Best All Natural Post Workout
1
Vega Sport Recovery Accelerator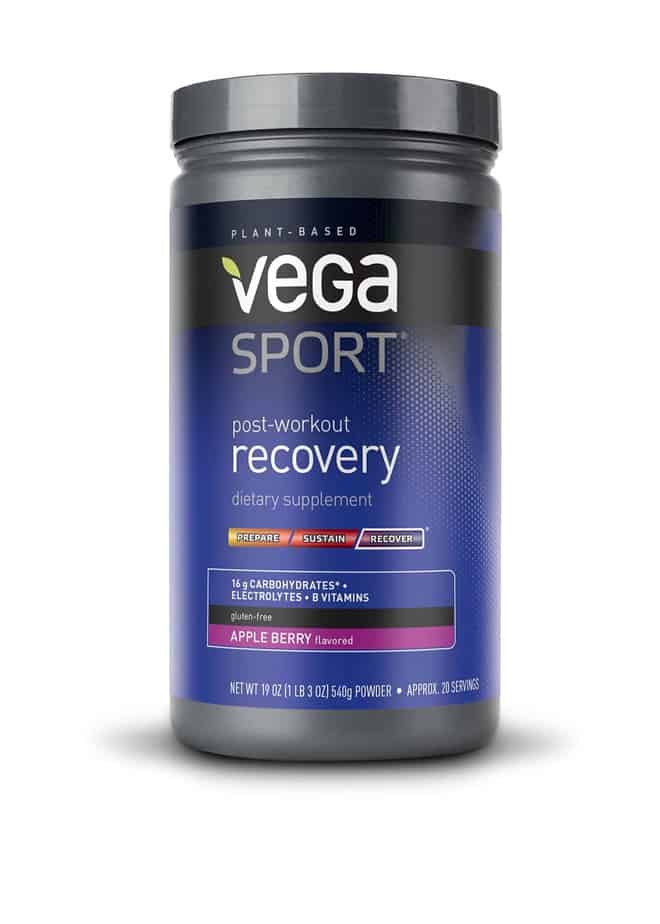 Ingredient Quality: 100/100
The name Vega Sport will be familiar to athletes who are dedicated to all-natural, vegetarian, plant-based, and vegan supplements.
Vega Sport began with an entirely plant-based mission, and its post workout formula, Recovery Accelerator, follows this tradition with the following ingredients:
Carbohydrates

B vitamins

Electrolytes

Plant-based protein

Various plant extracts
Recovery Accelerator is a comprehensive solution for nearly all post workout needs —  whether you're an endurance athlete, bodybuilder, or fitness lover. Plant-based proteins provide muscle-recovery support while carbohydrates from brown rice syrup solids support energy levels.
Various micronutrients from plant- and herb-based sources help reduce inflammation and provide vital antioxidants to your body after strenuous exercise. Not to mention, it tastes pretty darn good for being a vegan formula.
Pros
Versatile formula
Plant-based and vegan-friendly
Decent flavor for being all-natural
Cons
15 g of added sugar per serving
Only 20 servings per bottle
Protein content is fairly low
2
Natural Force Organic Plant-Based Protein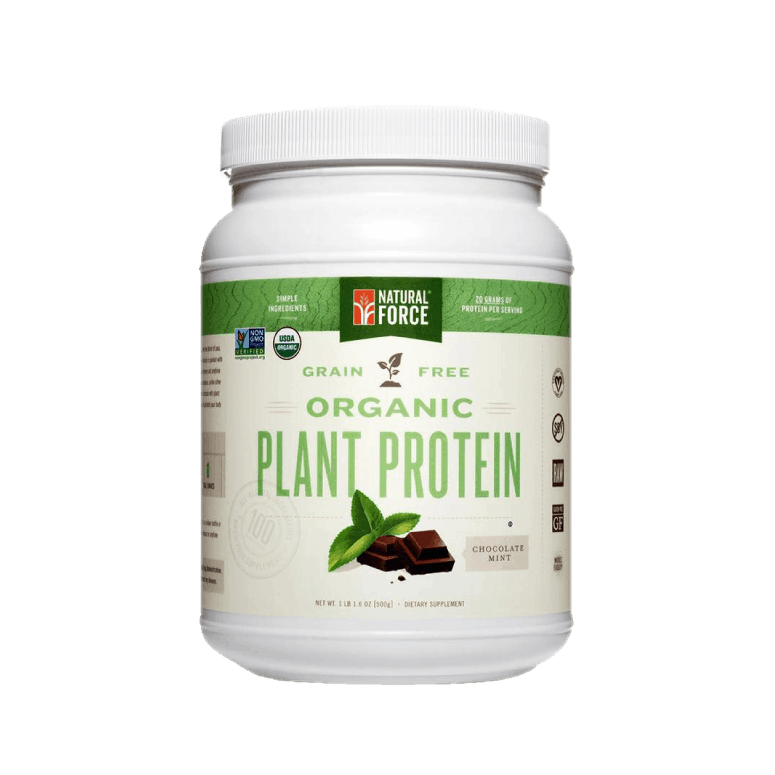 Ingredient Quality: 100/100
Like Vega Sport's post workout formula, Natural Force's Organic Plant-Based Protein is (fittingly) plant-based and 100% organic. 
Being a vegan-friendly source of protein, this organic post workout supplement is designed to promote muscle repair, and provide a hefty dose of iron, a micronutrient commonly lacking in plant-based diets.
In addition to post workout recovery, Natural Force's Organic Plant-Based Protein is also useful for helping you meet your protein needs on a daily basis. After all, consuming plenty of protein is key for repairing muscle tissue, especially if you're active and hit the gym frequently.
Pros
Robust plant-based protein powder
Great source of iron
100% organic and vegan friendly
Cons
Only one flavor option
Acquired taste
Expensive
Best Overnight Post Workout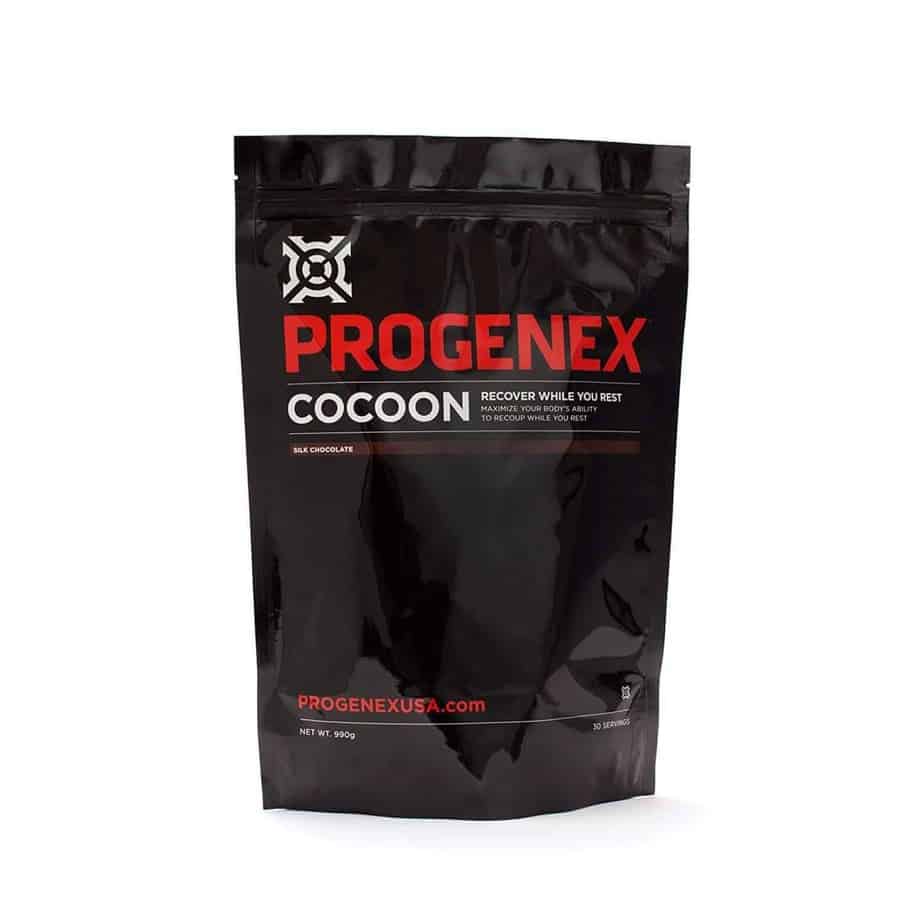 Ingredient Quality: 97/100
One of the most frequently overlooked dimensions of a well-rounded physical training program is physical rest — and by physical rest, we don't mean lack of activity but actual deep sleep.
You can't supplement yourself out of bad sleeping habits, and Progenex Cocoon's specially formulated nighttime formula kills two birds with one stone: It provides the nutrients your body needs to recover and also natural sleep aids to help you achieve deep sleep. Key ingredients in Cocoon are:
Micellar casein

BCAAs

Metamorphagen
Metamorphagen is a proprietary tryptophan peptide that is suggested to reduce sleep interruptions while fostering deep, sound, restorative sleep so that you wake up feeling strong, rested, and fully recovered. The slow-digesting casein mixed with BCAAs provides your body with a slow but steady source of muscle-building nutrients while you sleep.
Through its strategic combination of ingredients, Cocoon stimulates protein synthesis, increases lean muscle mass, speeds recovery, supports immunity, and more.
Pros
Great taste
Ideal for nighttime recovery
Includes casein protein
Cons
Limited flavor options
Not for daytime use
Pricey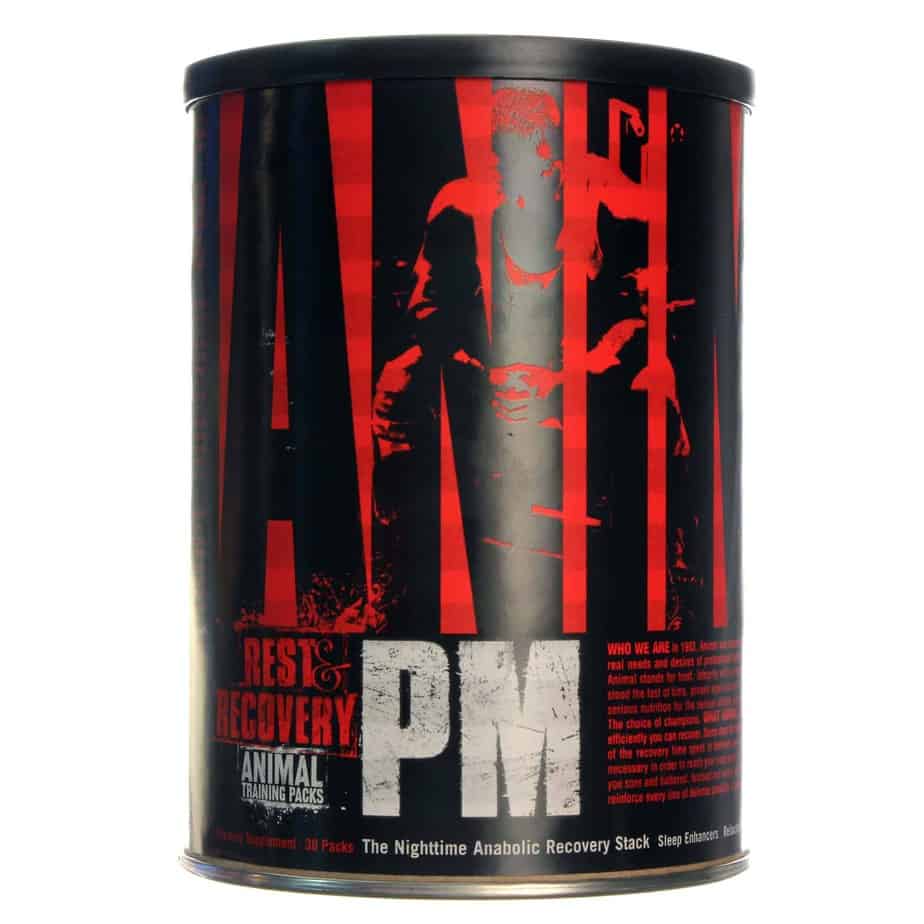 Ingredient Quality: 89/100
Taste: Does not apply/100
Like Progenex's Cocoon, Universal Nutrition's Animal PM contains sleep-promoting ingredients, but instead of a proprietary formula, it achieves this through a blend of natural herbs and L-theanine, which it has named as its "Sleep and Relaxation Complex." This complex includes:
Valerian root powder

Chamomile root powder

Mucuna pruriens

seed

Hops extract
Animal PM is also loaded with amino acids, natural growth hormone boosters, and a range of vitamins and minerals, including vitamin B6, magnesium, zinc, and more. A serving of Animal PM turns your regular night's rest into a multi-hour anabolic process.
Animal's formula is non-habit-forming, so you can cycle on and off as needed without concern about long-term effects. Animal suggests using Animal PM in conjunction with its flagship product, Animal Pak multivitamin, for best results.
Pros
Brand reputation
Great for sleep
Non-habit forming
Cons
Contains proprietary blends
Geared exclusively towards nighttime use
A little pricey
Related Articles

Elliot Reimers
Elliot Reimers is a NASM Certified Nutrition Coach (CNC) and M.S. candidate at Michigan State University, where he is studying Molecular Pharmacology and Toxicology. He has been a freelance science writer since 2013, centering on the topics of nutritional science, dietary supplementation, fitness, and exercise physiology. He received his B.S. in Biochemistry from the University of Minnesota and is an inveterate "science nerd" who loves fitness. He is passionate about coaching and educating people about how to live healthier, be smarter about what they put in their bodies, and perform better. In his spare time, you're most likely to find Elliot hoisting barbells, hiking the mountains of beautiful Colorado, or working on content for
Simply Shredded
.