When it comes to fitness supplements, pre-workouts geared toward men can have less-than-appealing side effects for women looking to get their head in the game.
But Powher is a pre-workout made just for women looking to slim their curves and tone some muscle, which is why we dubbed it the best pre-workout for women. We've got everything you need to know about Powher and nine more of our favorite pre-workouts for the ladies.
We've all seen the men's pre-workout commercials. Greasy abs under spotlights, boulders flying to illustrate the sheer magnitude and power packed in every pre-workout punch. There are red lightning bolts hitting black pavement and no one knows why. It's energetic, it's exciting, and it's a complete turn-off for women.
Most men's pre-workout mixes pack high doses of caffeine, producing side effects such as jitters, itching, and interrupted sleep. While it's not beneficial for anyone's body, these caffeine highs — and the crashes that follow — can be extremely harmful and have the opposite effect of a good workout for women.
Luckily, 21st century feminism has brought women an option other than taking a gamble and borrowing her man's energy-boosting mix. Powher, Blackwolf Trail, FitMiss, Gym Angel, and others have created pre-workouts designed for women.
Some top pre-workout supplements work to amplify muscle tone, others focus on slimming from all sides. No matter your fitness goals, these powerful powders work magic for women's health.
Also check out our list of the best BCAA supplements for men and women and learn exactly how long a pre workout supplement lasts.
The Pre-Workouts for Women We RAVE About
Best Overall
Powher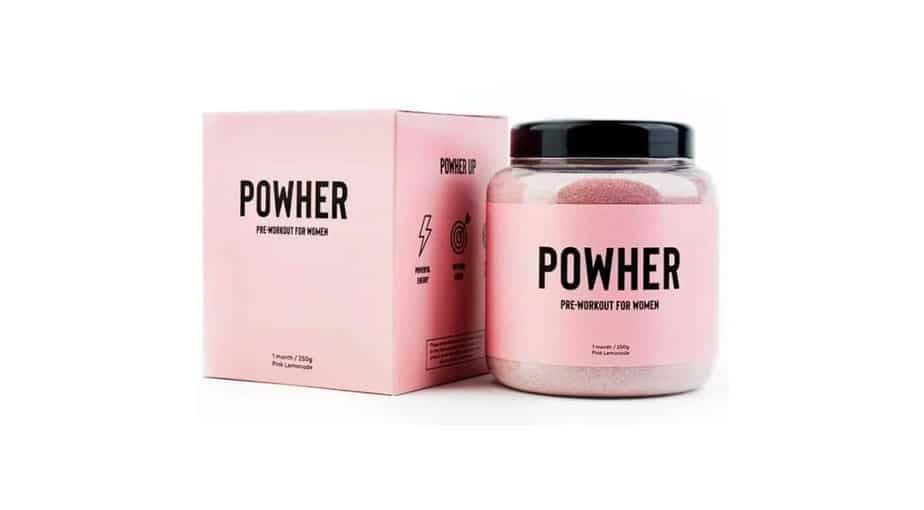 Best for Slimming
PreSeries LEAN by Transparent Labs
Best for Muscle Building
4 Gauge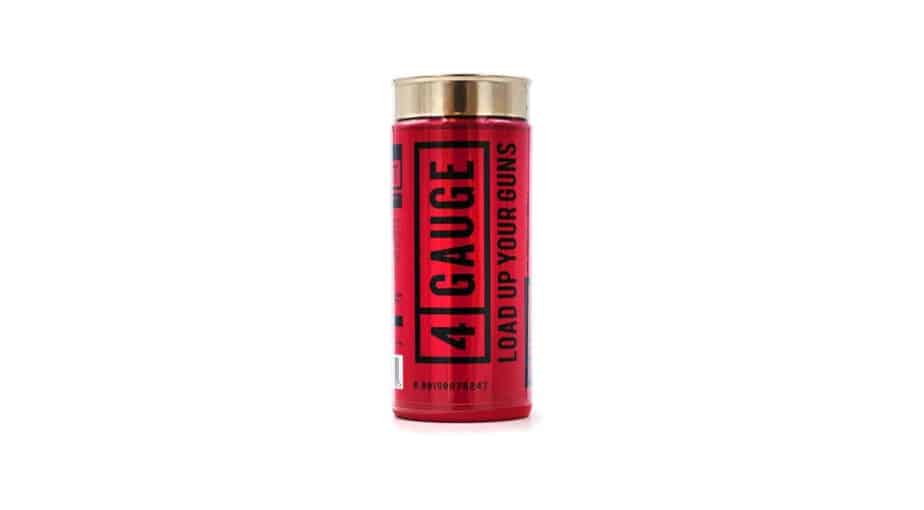 If you have ever lived with a fitness fiend kind of guy — be it a boyfriend, brother, fiancé, husband, or father — you are probably used to seeing the infamous pre-workout pantry shelf.
You can't miss it, with containers that have neon lettering reading, "COMBAT" or "Bucked Up." Next to the powder mixes are protein and iron-rich granola bars and Sport Shaker water bottles. This image is commonly associated with the term "pre-workout."
Despite what we may have grown up associating with pre-workout powders and supplements, it's not all about becoming the next great bodybuilding champion. Pre-workout mixes are extremely helpful in giving you an added energy boost to assist in getting the most out of a workout. They can even help with body slimming.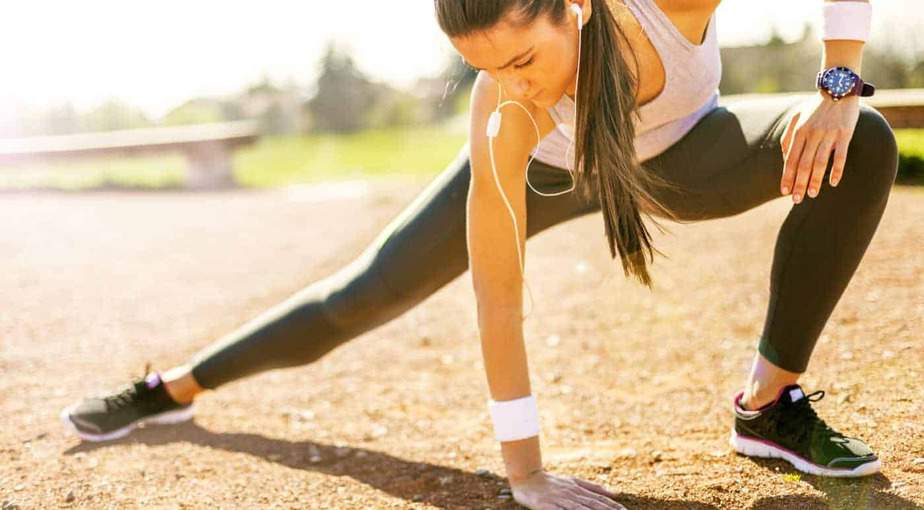 For even more options, from sugar-free pre-workouts to organic and keto-friendly pre-workouts, check out our full ranking of the 50 best pre-workout supplements.
The difference between men's and women's pre-workouts
Caffeine is the key ingredient in all pre-workouts. It gives you that accelerated kick, the energy drive that doubles the experience and benefit of your workout. But, the higher the levels of caffeine, the worse the side effects.
Using more intense pre-workout brands can cause jitters, energy crashes, high blood pressure, chest pain, and even itching.
This is why there are women's and men's brands of pre-workout. Men's pre-workout brands tend to harbor larger doses of caffeine in each serving, which can be dangerous to women's bodies, especially those who are not used to intense physical training or are not aiming to bulk up fast.
Even if caffeine levels aren't a problem, it can be dangerous for women to use workout supplements designed specifically for men.
Chances are, a woman wouldn't go shopping for Aveda shampoo and buy men's Old Spice two-in-one. Products made for men might not work the same or provide the same beneficial results for women. Same goes for pre-workout supplements.
Pre-workouts without side effects
Luckily, there are many women-only pre-workouts, such as Powher, Gym Angel, FitMiss, and Athena, as well as gender-neutral supplements. While Powher is our RAVE Review pick for best overall pre-workout for women, PreSeries LEAN and 4 Gauge are also our top picks for slimming and bodybuilding.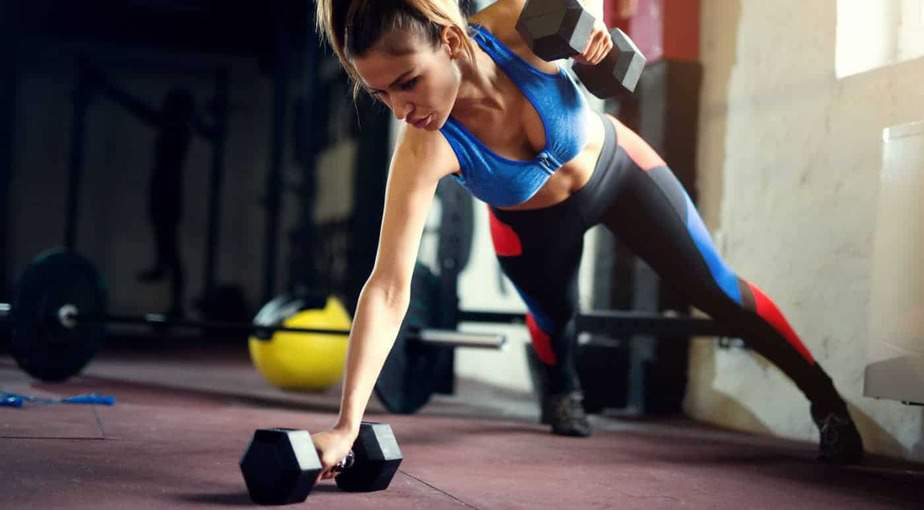 Both of these powdered brands are men- and women-friendly and offer a decent caffeine kick, without the dangerous crash.
Of course, that does not mean the energy boost is watered down. There's still plenty of power in every serving. A pre-workout overdose however, even with all-natural ingredients, can lead to harmful side effects.
Choosing the right pre-workout for you
This list of the top 10 best pre-workouts for women contains supplements for every fitness goal and health endeavor. When it comes to choosing the right pre-workout for you, first decide what you're looking for in a workout. Do you want to slim down, build muscle, or maintain your body where it is now?
While some pre-workouts have many benefits, others have a specific purpose. Even choosing from this quality list at random won't do you any favors. Check out the active energy boosting ingredients, the quantity of caffeine, and the total carbohydrates per serving.
The way a pre-workout is concocted directly translates to its purpose and benefits for you. More carbs and caffeine mean more muscle mass, not just an added energy boost.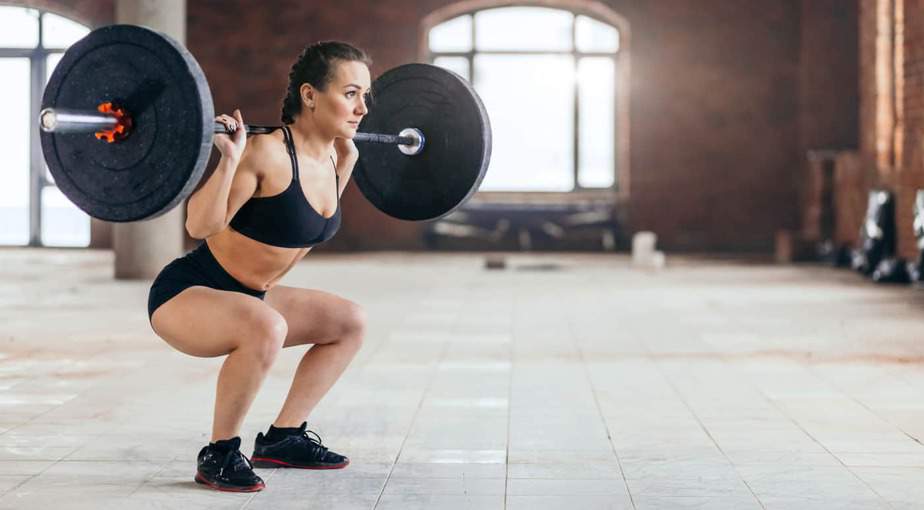 So ladies, all that said, it's time to treat yourself and improve your workout strategy. Going through this list is the first step to a better workout with more benefits and timely results.
Methodology
Because there are so many risks with choosing the wrong pre-workout, it's essential to have the right criteria when filtering through the bad apple brands. Though every brand advertises the benefits of their particular pre-workout for the sake of PR, looking at the ingredients, quantity of caffeine, and total carb count per serving will give you a clear picture of whether it is right for you.
Still, paying attention to the PR jargon is beneficial in discovering the focal point of the product. Is it for cutting fat, growing muscle, or all of the above? It's also vital to know the side effects of each product, if there are any.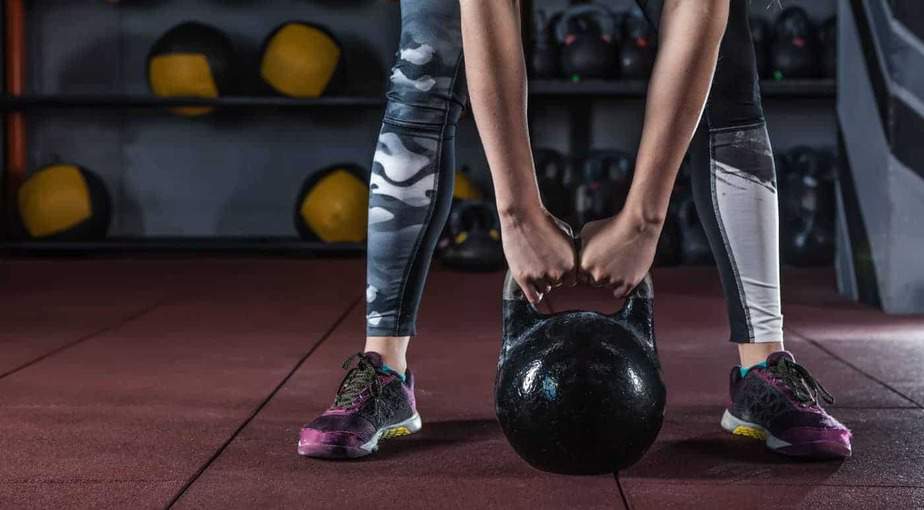 While side effects might not be listed on the website itself, they will certainly be noted in individual reviews from previous customers. With that in mind, here's our criteria for choosing the best pre-workouts for women:
Adequate energy boosting effect: The whole purpose of pre-workout is to motivate you and help you reach your optimal performance level for fitness workouts. Using energy-efficient and brain-boosting ingredients like caffeine, carbs, vitamins, and more, pre-workout gets your muscles and mind stimulated for exercise.
Caffeine quantity: While the right levels of caffeine can get your brain and body revving in all the right ways, too much caffeine can cause jitters, intense energy crashes, and heart problems. The level of caffeine you need depends on your unique health condition and fitness regimen.
Sweeteners used: It's best to find a pre-workout free of any artificial sweeteners. The last thing you want to experience during exercise is a sugar rush, let alone a sugar crash post-workout. Sugar is great for sporadic energy boosts and your body needs it to stay in balance, but natural sugars such as from fruits are the way to go.
Total carbs per serving: Carbohydrates also play an important role in getting your body stimulated for running, lifting, squatting, or whatever your exercise goals may entail. Pre-workout can help you either bulk up muscles or slim down fat depending on the amount of carbs and protein.
Dyes or coloring used: Some of these protein powders come in a variety of colors, such as our top choice Powher's pink hue. Colored protein powder is nothing unusual, but can be harmful if the color is artificial. Make sure the colors in your pre-workout are natural, since artificial dyes have been tied to health risks.
Specific purpose (slimming or bulking): This criteria depends entirely on your wants and needs. Most pre-workouts specify whether they are designed for bodybuilding or slimming right on the package or the website.
Taste: This factor might seem superficial compared to the criteria listed above, but if the pre-workout doesn't taste good, it's unlikely you'll use it much. Taste and smell play a big role in whether we like or dislike products, and the better a pre-workout tastes, the more likely you are to use it and get your money's worth.
The Best Pre Workout for Women
Powher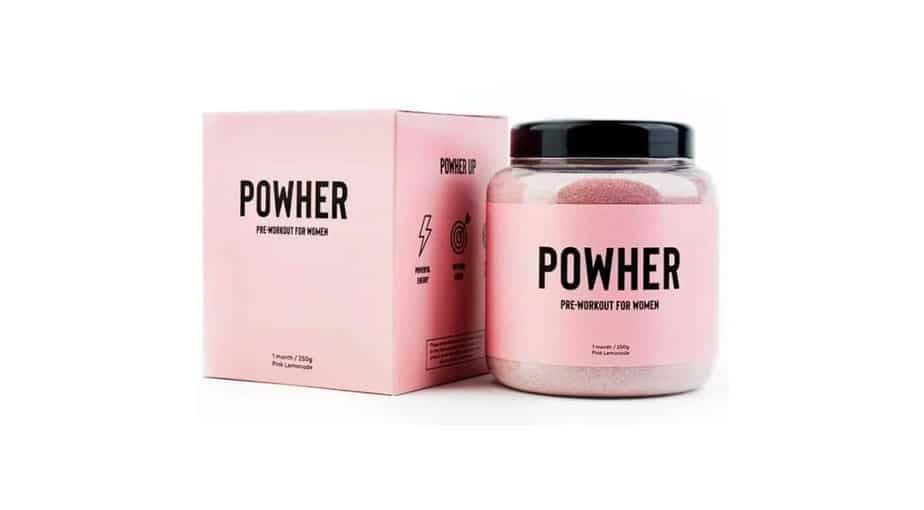 Using the very best all-natural ingredients to help women speed up stubborn fat loss, Powher is dedicated to providing a quality pre-workout for women that stands out above the men's power-buff powder.
Avoiding all the horrid jittery side effects caused by cheap stimulants, Powher utilizes a caffeine booster called Enxtra which blends together three natural ingredients — C. Flexuous, A. Galanga and G. Glabra — that work with caffeine to amplify its energy-boosting effect.
Powher's all-natural ingredients include Oxyjun for improved cardiac output, Rednite for enhancing performance, coconut water powder, amino acids L-tyrosine and L-citrulline malate, vitamins, and of course, all-natural caffeine.
The result of these plant-based ingredients is a well-rounded workout, cutting fat, toning muscles, and boosting energy. Powher uses authentic sucralose as a sweetener, as opposed to stevia, which is commonly used in cheaper products.
Powher doesn't specify exactly how much caffeine is in the mix, but with 12 other components, it focuses on balancing all the essentials with their ZUM XR caffeine to benefit working women consumers. And, despite its pink color, there are no artificial dyes. Powher recommends a 5 gram scoop to start, working up to a full 10 gram scoop as a full serving prior to working out.
Pros
All-natural ingredients
Great for slimming and toning
Fresh taste
Cons
More expensive
Limited carb and caffeine info
FitMiss Ignite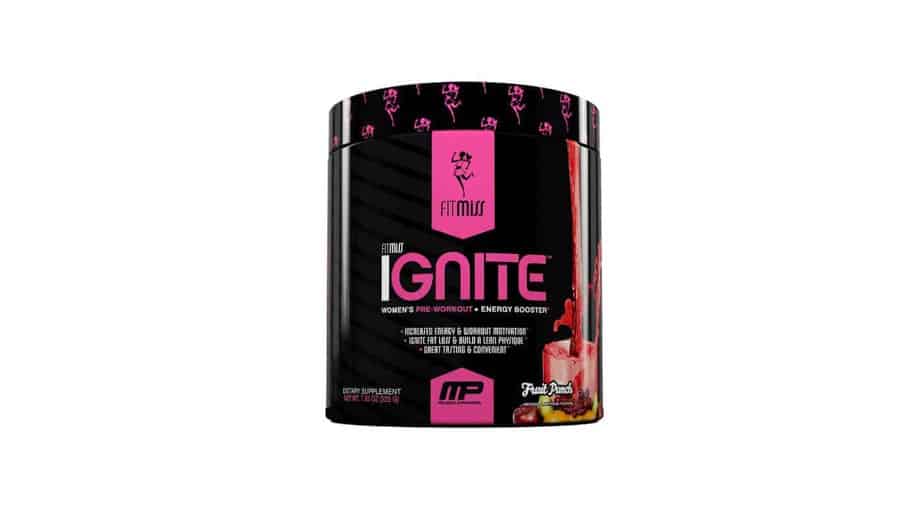 Being one of the most affordable pre-workouts on this list is definitely a plus, but it's far from FitMiss Ignite's golden ticket to the top ten. This fitness supplement contains 100 mg of caffeine, beta-alanine, and natural amino acids like glycine and taurine. This mixture is backed up by the fat-burning power of L-carnitine, which focuses on turning unwanted fat into much-needed energy.
This pre-workout is also gluten-free and takes pride in its safe and superior ingredients: It is tested for banned substances, cleared and certified by Informed-Choice. The fruit punch flavor is also an added bonus.
Additional ingredients include citric acid, rice concentrate, sucralose, and acesulfame potassium. A word to the wise, both natural and artificial flavors are included in this blend, which could be a deal breaker.
Users reported experiencing zero side effects, no jitters or anxiety to speak of, and had a noticeably high increase in energy levels. However, taking too much does result in tingles and possible itching, so be sure to take only the recommended one scoop of FitMiss Ignite in 14–16 fluid ounces of water, 20–30 minutes before your workout.
Pros
Contains potassium
Well-balanced caffeine dose
For all fitness needs
Cons
Uses artificial flavors
Side effects with overuse
NLA Uplift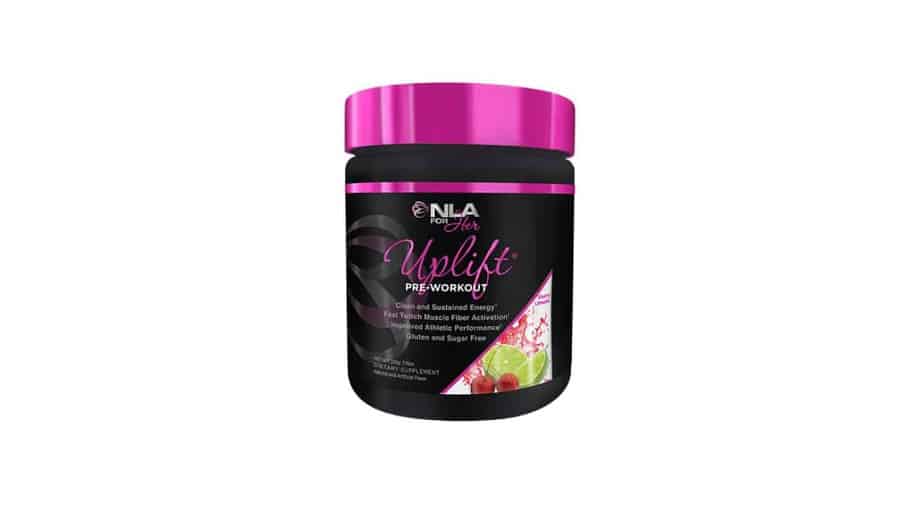 Like Powher, NLA Uplift is a tasty pre-workout that aims to cover all the bases from losing fat to defining muscle in the right places. Focusing on muscle twitch fiber activation, Uplift's
Cherry Limeade, Guava Passion, and Raspberry Lemonade flavors are the cherry on top of the effective energy-boost concoction, powerful enough to ramp up your energy without excessive doses of caffeine.
Like the rest of us, Uplift finds jitters or a bad energy crash during a workout highly undesirable. NLA's NOO Tropic Brain and Body Potentiators Complex work to nourish your mind as well as your body with cognitive enhancers to help improve focus during workouts.
The supplement's muscle-building compounds also help reduce catabolism and increase anabolism during workouts. Uplift's goal is to utilize their ingredients for improving energy instead of breaking down the muscle you've worked hard to earn.
Uplift's ingredients also include added amino acids such as beta-alanine, lysine, carnitine, clycine, arginine, isoleucine, valine, and others which can be found on NLA's website. The company recommends taking one to three scoops of Uplift for an effective "mentality makeover."
Pros
Muscle twitch fiber action
Great fruity taste
Cognitive enhancers
Cons
Limited info on caffeine dose
Limited info on sweeteners
Blackwolf Trail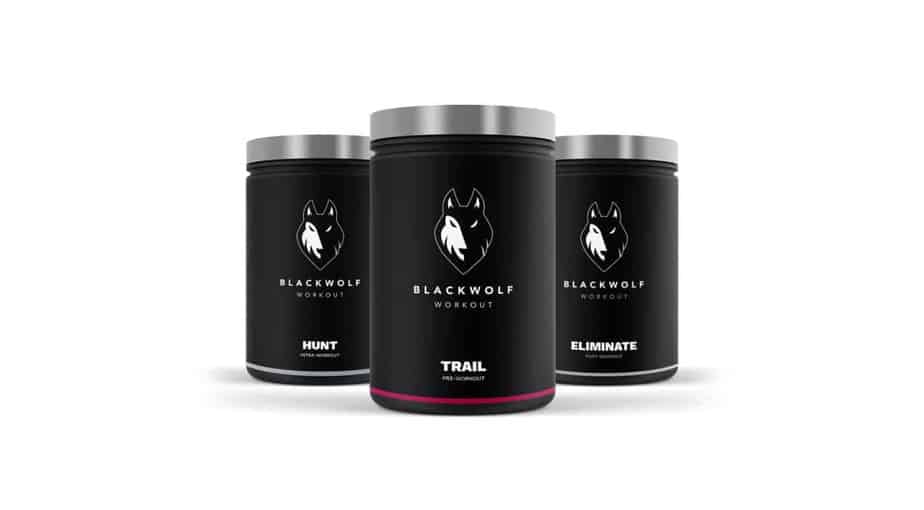 As part of their new Huntress Pack, Blackwolf created a pre-workout stack designed just for women. Combining three of their all-in-one Power Blends, Blackwolf developed the healthy and safe pre-workout blend Trail, advertised alongside intra-workout supplement Hunt, and recovery shake Eliminate.
Trail is designed for women who are undergoing more intense workouts or high-level training. Of course, this pre-workout supplement is also beneficial for women conducting everyday workouts who want to see results as quickly as possible.
Amino acids such as L-leucine, L-valine, isoleucine, and taurine help get your body ready for action. Trail also features beta-alanine and aspartic acid, along with other key ingredients such as vitamins.
Blackwolf's safe combination of energy-boosters and nutritional ingredients ensures no negative side effects. Blackwolf recommends a 30 gram scoop for each serving blended with water, skim milk, or fruit juice. Regarding dyes and sweeteners, nothing is artificial in this blend. However, there's limited information regarding caffeine dosage per serving.
Pros
Fast results
High energy-focused
All-natural ingredients
Cons
More expensive
Limited carb and caffeine info
PreSeries LEAN by Transparent Labs
Yes, this pre-workout is male- and female-friendly, but there's no denying the fact that it is the best mix for women looking to slim down and get lean. One of the best things about PreSeries LEAN is that it lists both the ingredients and their amounts on the website.
PreSeries' blend is made up of 6,000 mg citrulline malate, 1,500 mg beta-alanine, 360 mg L-theanine, 180 mg caffeine anhydrous, and many other all-natural ingredients.
This pre-workout also offers thyroid support — a constant battle in the workout world — in addition to fat burning.
LEAN also sets itself apart in that it focuses on both cutting away unwanted fat while maintaining muscles with ingredients like chromium picolinate, zinc, and guggulsterones.
No artificial coloring, preservatives, or artificial sweeteners are included in this pre-workout supplement. LEAN is also gluten-free, vegan-friendly, and contains zero GMOs.
If you're on the website now and are wondering the reason for LEAN's "jumbo jugs" as they call them, it's due to the fact that each serving exceeds 15 grams and includes 21 active ingredients. Transparent Labs recommends mixing 12-16 fluid ounces of water with one full scoop.
Pros
Vegan-friendly
Gluten-free
Best for slimming
Cons
Not specific to women
Not for intense training
Gym Vixen Sexy BCAA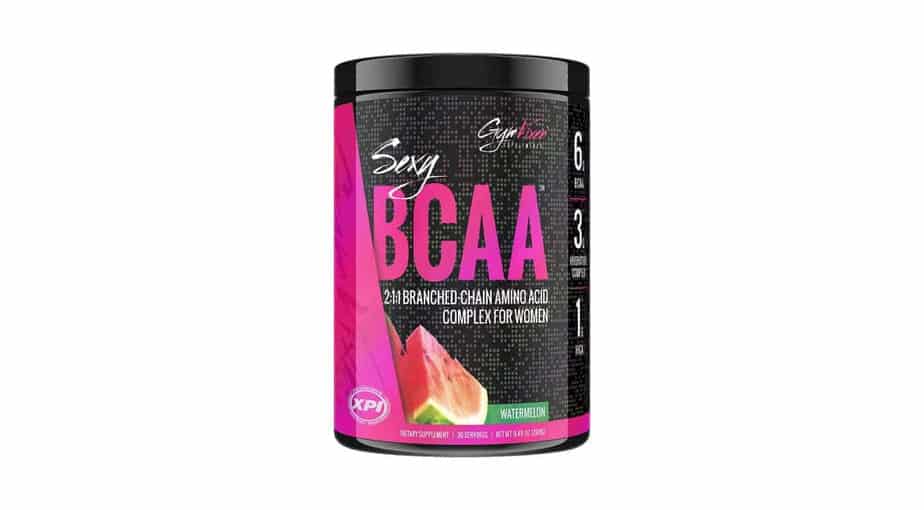 With over 5,000 mg of a carefully formulated amino complex, Sexy BCAA is designed to help you "build lean muscle, keep lean muscle." It's made with a 2:1:1 ratio of Leucine, Isoleucine, and Valine, which mimics the ratio of branched chain amino acids found naturally in muscle tissue.
This combination of BCAAs helps promote an increase in time to exhaustion during endurance training, as well as an increase in fat oxidation.
This supplement is unique on our list in that it's not strictly a pre-workout: You can drink it before, during, or after your gym session. Sexy BCAA includes coconut water with added electrolytes to help you power through your training and recover quickly afterwards.
Other ingredients include PeptoPro (Casein Hydrolysate), which delivers amino acids in the form of extremely small molecules known as di-peptides and tri-peptides. Because these molecules are so small, they don't need to be digested, so they can provide an instantaneous boost to your muscles.
Pros
2:1:1 ratio of BCAAs
Includes PeptoPro
Money-back guarantee
Cons
Not technically a pre-workout
Flavor is too sweet for some
4 Gauge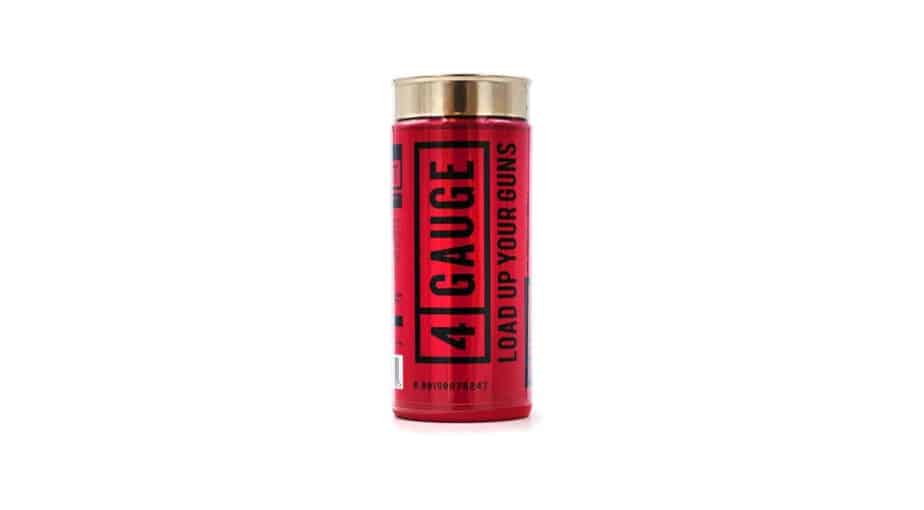 This one's for the power pushers. If you're looking to bulk up and get your bodybuild on, 4 Gauge is the way to go. It's no surprise that this pre-workout is made for both men and women, but this is one of those rare circumstances where the road to the goal is nearly the same: lots of caffeine, lots of carbs, and lots of need for weightlifting energy.
Shaped like a black and red bullet, 4 Gauge emanates intensity before you even take your first sip. The company describes their product's effects as "explosive," explaining the shotgun shell containers.
Despite the intense packaging, it might surprise you to know that there are only 150 mg of caffeine in this blend. However, that's only a small part of the bodybuilding process.
Other ingredients included in 4 Gauge are 300 mg of red beet to increase plasma nitrate by 52%, resulting in an improved anaerobic performance of over 4%. In short, it's as if you ran a 6-minute mile today, then ran it 14 seconds faster tomorrow.
This pre-workout also contains 6,000 mg L-citrulline DL-malate, which your kidneys convert into L-arginine, an amino acid that promotes higher levels of nitric oxide by dilating blood vessels and allowing more blood to flow through your muscles.
Pros
All-natural ingredients
Great for building muscle
Badass container
Cons
More expensive
High in caffeine
Not exclusive to women
Catalyst by Strength.com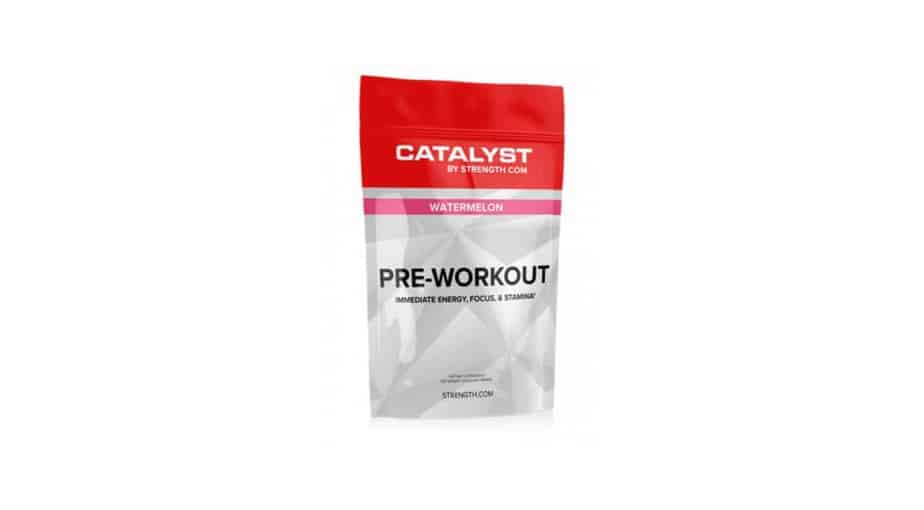 With ingredients like 2 grams Creapure creatine and 1 gram Carnosyn beta-alanine to promote gains in power, strength, endurance, and muscle growth, Catalyst is the pre-workout of choice for hard-core trainers.
Each serving contains 25 calories and 175 mg of caffeine. In addition to vitamins, Catalyst also contains grape seed extract, which is rich in antioxidants.
Catalyst, like any good sport-focused pre-workout, is also filled with potassium, calcium, magnesium, natural sugars, and salvia miltiorrhiza root extract packed with iron. This is definitely a fitness supplement for those looking to add muscle poundage and enhance long-term endurance. However, reviewers say Catalyst is also a great pre-workout for beginners.
Pros
No side effects
Rich in nutrients
Promotes high endurance
Cons
Primarily for trainers
Sports-focused
Rich in calories
Athena Intense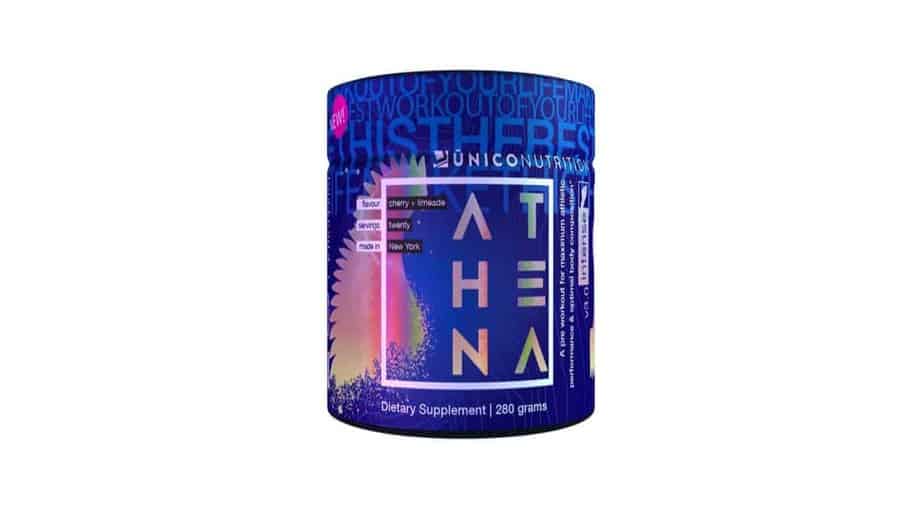 This is another gluten-free and keto-friendly pre-workout supplement. Athena Intense is one of the best-selling workout blends and, understandably, is currently the brand's most powerful version of Athena pre-workout.
Intense features an upgrade in fitness stimulants for greater energy boosts, nootropics for enhanced focus, and an added dose of BCAAs for lean muscle acquisition. Athena Intense's spotlight ingredients consist of carnosyn beta-alanine, Bioperine, L-citrulline, and betaine.
All three ingredients have proven to be effective in helping you experience more fulfilling workouts for even longer periods of time.
Bioperine's patented black pepper extract has been clinically proven to increase ingredient effectiveness and intensity by up to 50%, according to Athena's website. Consumers love Athena Intense for its caffeine jolts and fruity flavor.
Pros
High energy boosts
Multi-purposeful
For all levels of training
Cons
Limited info on caffeine dose
Limited info on sweeteners
No specific training focus
Gym Angel: Energy Angel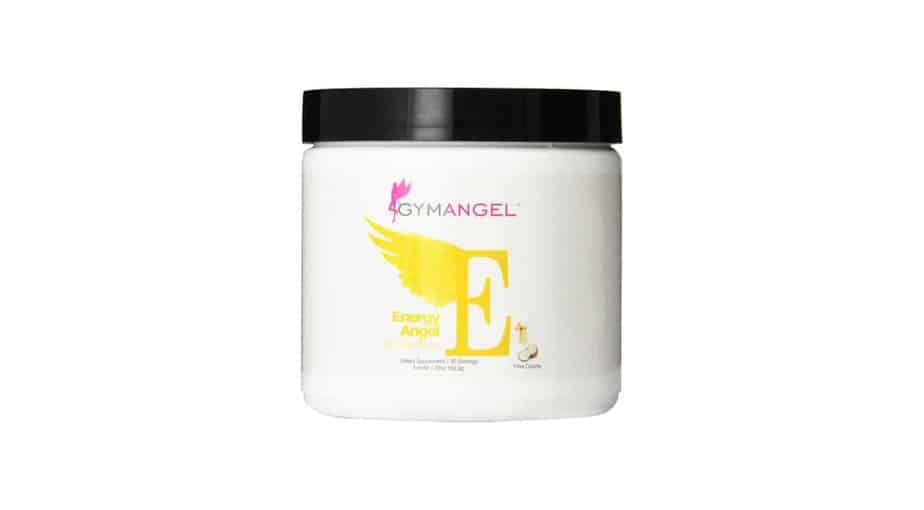 With 225 mg of caffeine in each serving, Gym Angel's Energy Angel pre-workout is another high-energy supplement on our list. There are no fillers, creatine, or artificial colors. Just natural ingredients like Vitamin C, amino acids, and potassium.
Energy Angel is fast-acting and fast-absorbing, focused on giving fitness-oriented women an intense, high-energy workout, minus the crash. This product is built to energize and stimulate with "muscle pump" ingredients, then keep you going strong for the rest of the day. That is, until it's time to konk out on your pillow.
While other blends are low in carbohydrates, Energy Angel is free of carbs and dyes. Some reviewers aren't over the moon about its taste though, and those with a gluten or peanut allergy should steer clear.
Pros
High energy
Fast acting
No artificial colors
Cons
Contains wheat and peanuts
Unsatisfying taste
Expensive
Related Articles
When should I take my pre-workout?
You should take your pre-workout supplements 20-30 minutes before your workout. However, it takes 30-45 minutes for caffeine to be absorbed into the body and 4-6 hours for it to be expelled. That said, if you plan on a heavy workout before bed, you might want to measure the cost of a slightly disrupted sleep.
It also should be noted that a pre-workout supplement is not a replacement for breakfast, lunch, or dinner. Always be sure to eat something (preferably lean proteins and complex carbs) 30 minutes before your workout.
High doses of caffeinated pre-workout can cause stomach aches, but so can not eating before a workout. Like all supplements, taking one on an empty stomach — even if it resembles a shake — will have negative consequences.
How often should I use pre-workout supplements?
Feel free to take pre-workout everyday before your fitness hour. It's not advised to take pre-workout supplements more than twice a day, and you should still be sure that the doses are many hours apart. You don't want to load your body up with too much caffeine in one day.
The best scenario, for those who like to get two workouts in a day (not many of us), would be to take a morning run and do a more intense workout in the evening, or vice versa. This way, the workouts are spread out enough so your body can be nourished with two meals before taking a second dose of pre-workout.
Do all pre-workouts use natural ingredients?
If you find a pre-workout that uses artificial ingredients and sweeteners, it's best to steer clear. Your body is already hyped up on caffeine and energy-rich supplements before and during your workout; the last thing you want is a sugar crash.
Artificial colors may not be a deal breaker for everyone. After all, we eat artificial colors all the time. But artificial colors in high volumes can be dangerous to your health, so it's best to be educated about what you're consuming and know about the best natural pre workout supplements. If you are concerned about the levels of artificial ingredients in a product, contact the company through their website.
Are there any dangerous side effects to using pre-workout?
There are a number of dangerous side effects regarding the use of cheap pre-workouts, as well as the abuse of quality pre-workout products. While all the products listed above are reportedly free of side effects, some users of products like FitMiss experience slight tingles and jitters when taken in large doses.
It's important to pay attention to the directions when it comes to how many scoops are a safe serving. It might be tempting to take extra pre-workout in the hopes of seeing faster or more dramatic results, but like all supplements and drugs, it doesn't work that way. You have to do the work to see the results you want, and it takes patience.
Abusing and overusing pre-workout supplements might seem harmless, but it will have a severely negative effect on your body just like with any drug overdose.
What is the best overall pre-workout mix?
Our choice for the best overall pre-workout for women is Powher, for its focus on total body improvement using all-natural ingredients. Despite having no dyes and very little sweeteners, Powher still tastes great and the delicate balance of energy-boosting ingredients and mind-clearing components make Powher a great pre-workout for both serious trainers and beginner fitness pre-gamers.
Plus, it might seem superficial, but the light pink crystallized color is just so enticing. It has a mellow and modern vibe, very similar to the company's approach to health and fitness.
RAVE Recommends
Pre-workouts are just one of the many products that can make your workout more fulfilling. For more products to help you obtain optimal benefits in your everyday workouts, check out these RAVE recommended options below: