The number of protein products on the market can be overwhelming. Have you ever been inside a GNC store to find protein?
If yes, then you know what I'm talking about; your local supplement store might be more focused on their sales commission than your physical goals. And finding quality protein powder is crucial to getting the most out of it.
Key Point: In this article, we provide everything you need to know in order to evaluate different protein powder products in order to find the best options for your specific needs.
For the TLDR version of the ranking, check out our picks by category:
Quick Links
What Type of Protein Powder Is Best?
Protein powders are popular choices for fitness enthusiasts and gym-goers alike who want to build muscle and improve athletic performance.
With that said, protein powder isn't just for the gym bros and health nuts out there; protein is also an essential macronutrient that everyone needs on a daily basis for optimal health and longevity.
This is why the best protein powders are such popular nutritional supplements, especially for those who struggle to consume enough protein through whole foods.
A good protein powder can also serve as a convenient meal replacement for when you're on the go or pressed for time.
With that in mind, there is no type of protein powder that is best for everyone. A multitude of factors must be considered, notably:
Where the protein comes from
Protein content per serving
Ingredient quality
Bottom Line: To choose the best protein powder, you need to determine which protein sources suit your lifestyle and goals.
You should also opt for protein powders that have as few ingredients as possible. Less is more when it comes to all the "additional" ingredients you find in protein powder.
Check the ingredient panel and verify that it's not loaded with added sugars, artificial colors, or other unnecessary junk.
Animal-Based Protein Sources
The most common animal-based protein sources in protein powder include:
Whey protein
Casein protein
Milk protein (a mixture of whey and casein)
Egg protein
Beef protein
Collagen peptides (bovine, porcine, or marine)
Aside from collagen peptides, all of these are good sources of essential amino acids that help build muscle and support recovery after a tough workout.
Whey protein has the highest biological value of any protein source, followed closely by egg protein and casein protein.
Takeaway: Always start the evaluation process by checking protein sources. Whey protein is the clear winner, but other protein sources offer value, too.
What About Collagen Protein Powder?
Collagen is unique in that it is actually rich in amino acids like alanine, glycine, and proline, which are major constituents of connective tissues like tendons, ligaments, and bone, though not skeletal muscle tissue.
Thus, you shouldn't rely on collagen protein powders for muscle building or meeting your dietary needs of protein.
The purported "anti-aging" benefits of collagen supplements for skin, hair, and joints remain controversial, so it's best to approach these "protein powders" with caution.
Plant-Based Protein Sources
Vegans and those who follow a strict plant-based diet should steer clear of whey, beef, egg, and casein proteins since those proteins are derived from animals. The good news is there are also plenty of plant-based protein powders out there.
Something to keep in mind when choosing a vegan protein powder is that plant proteins typically have an "incomplete" profile of essential amino acids.
This means they lack one (or more) of the amino acids necessary for muscle protein synthesis — in other words, one of the "building blocks" of muscle tissue is missing or negligible in plant-based protein.
Vegan Protein Powders
Thankfully, vegans can work around this conundrum by choosing a vegan protein powder with multiple plant protein sources that complement one another and create a "complete" amino acid balance.
Such plant-based protein sources include:
Pea protein
Brown rice protein
Hemp protein
Pea protein isolate is arguably the best plant-based protein.
It's made in an eco-conscious manner from yellow split peas and has a high biological value for humans, not to mention it's rich in essential amino acids and ideal for those who are allergic to dairy and eggs.
Moreover, research suggests that consuming pea protein reduces blood pressure and improves renal function by inhibiting angiotensin-converting enzymes (ACE).
Bottom Line: Frankly, even those who don't follow a vegan diet stand to benefit from pea protein.
What About Soy Protein Powder?
Despite the common misconception that it increases estrogen levels, soy protein powder is a viable plant-based protein.
In fact, soy protein is demonstrably beneficial for both men and women, especially for cardiovascular and metabolic health.
However, it's best to limit the intake of soy protein to 40 grams or less per day, particularly if you're male.
How to Use Protein Powders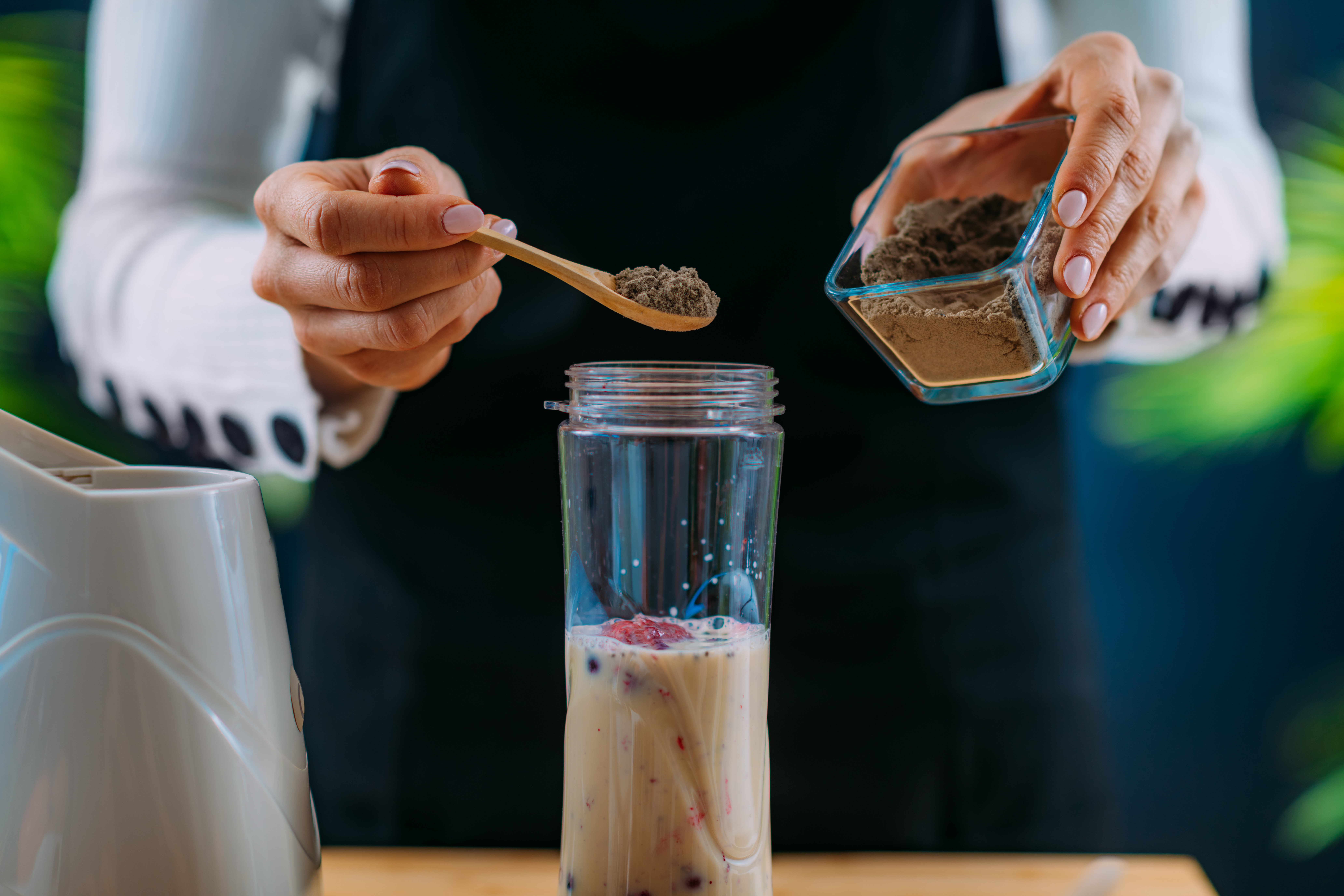 There are myriad ways to use protein powder. Naturally, the most practical way is to make a protein shake.
Simply mix the powder into a liquid, either water or milk, and stir or shake it up with a spoon, blender, or shaker bottle.
Protein shakes are undoubtedly convenient and how most people use their protein powder.
Now, if you want to live life on the edge and add more protein-packed flavor to your diet, try mixing protein powder into things like:
Yogurt
Oatmeal
Soups
Cottage cheese
Believe it or not, you can use protein powder in tons of recipes, especially when baking things like bread, muffins, and cake.
Bottom Line: Intuitively, you'll need to determine if the flavor of the protein powder makes sense in what you're adding it to. For instance, chocolate-flavored protein powder might not mesh well with chicken noodle soup.
Reviews of the Best Protein Powders on the Market
Editor's Choice: Best Overall
Transparent Labs Grass-Fed Whey Protein Isolate
Ingredient Quality: 100/100
Rave Score: 97.6
Transparent Labs is a fitting moniker for this breakthrough supplement company. Each of its products bears a fully transparent label, meaning you know the exact amount of every single ingredient that they contain.
Transparent Labs even details the number of inactive ingredients in its supplements, like natural flavorings and sweeteners. It's tough to recall any other supplement brand that does this, but transparency sure is a reassuring (and commendable) effort that more companies should adopt.
Transparent Labs 100% Grass-Fed Whey Protein Isolate is nothing short of top-notch if you're on the prowl for the best protein powder. Not only are you getting a massive 28 grams of protein per 32-gram scoop, but the protein is sourced exclusively from grass-fed, hormone-free American cows.
The result is clean, high-quality whey protein isolate with virtually no sugar, fat, or lactose. What's even better, Transparent Labs' 100% Grass-Fed Whey Protein Isolate is free from artificial coloring, artificial sweeteners, gluten/wheat, and GMOs.
The company only uses natural flavoring, a pinch of salt, and stevia to complement the taste of this grass-fed whey protein powder (which is quite delicious given the stellar macronutrient and ingredient profile). 100% Grass-Fed Whey Protein Isolate comes in a handful of flavors, including:
Chocolate
Salted Caramel
French Vanilla
Mocha
Strawberry
Best Whey Protein Powder
True Nutrition Whey Protein Isolate Cold Filtration
Ingredient Quality: 100/100
Rave Score: 97
The whey protein in this supplement undergoes two cold-water filtration processes in order to remove unwanted fat and lactose, yielding an ultra-pure final product. This low-temperature processing method also prevents nutrient degradation as a result of exposure to high heat.
More importantly, True Nutrition is committed to quality and batch tests all of its raw ingredients through third-party labs.
Additionally, all its products are manufactured in house so no middle-men get in the way. And who says a quality protein can't taste great, as well?
You'll have multiple mouthwatering flavor options to choose from, including:
Chocolate Fudge Brownie
Lemon Cake
Cookies and Cream
Strawberry Sorbet
Cinnamon Bun
Café Mocha
Chocolate Covered Banana
Best Casein Protein Powder
Kaged Muscle Kasein
Ingredient Quality: 95/100
Rave Score: 94.8
Kaged has established itself on the supplement scene as a no-nonsense, high-quality provider of highly effective supplements.
Their Kaged Kasein is a great example of their ability to take a product that many companies dismiss as a lower-quality, cheaper product and instead offer a product of the highest quality and add additional processing steps so that you know you've received a superior product.
Kaged Kasein is an ultra-premium cold-processed Micellar Casein Isolate that is carefully manufactured from by an innovative microfiltration process.
This filtration method preserves the structural integrity of the protein ensuring that the finished product maintains its natural micellar structure as it is found in milk. Kasein could just be the anti-catabolic protein that you've been looking for to round out your around-the-clock nutrition plan. It's available in two popular flavors:
Chocolate Shake
Vanilla Shake
Best Value Protein Powder
Dymatize Elite 100% Whey
Ingredient Quality: 85/100
Rave Score: 86.6
If your primary concern in a protein supplement is the cost per pound, look no further than Dymatize Elite 100% Whey. Considering how pricy protein powder has gotten in recent years, it's refreshing to see Dymatize still offers a high-quality whey protein that doesn't break the bank.
Depending on where (and when) you shop, you can usually snag a 5-lb tub of this protein powder for around $40.
Each serving of Dymatize Elite Whey contains 25+ grams of protein from whey concentrate, whey protein isolate, and hydrolyzed whey for ultra-rapid digestion and absorption. You also won't be skimping on taste, either—users praise Dymatize for having one of the best-tasting whey protein powders on the market, and a myriad of flavors to choose from, including:
Rich Chocolate
Chocolate Peanut Butter
Chocolate Cake Batter
Chocolate Fudge
Cookies and Cream
Gourmet Vanilla
Cafe Mocha
Snickerdoodle
Smooth Banana
Vanilla Cupcake
Strawberry Blast
Raspberry Cheesecake
Best Protein Powder for Men
Kaged Re-Kaged
Ingredient Quality: 90/100
Rave Score: 91.3
Kaged Muscle has taken the market by storm in recent years due to an exponential growth in supplement offerings, so there should be no surprise it shows up twice on our ranking.
Re-Kaged is the brand's protein aimed at the serious athlete, designed to supercharge muscle growth through rapid delivery of BCAAs and EAAs from 28 g of non-GMO whey protein isolate per serving. This is why we've named it RAVE's best protein powder for men.
Re-Kaged contains the potent digestive enzyme ProHydrolase, which breaks down (hydrolyzes) whey protein into smaller peptides for enhanced absorption.
And to further maximize recovery and muscle growth, Re-Kaged provides a combined 6 g of fermented L-glutamine, BetaPower betaine anhydrous, and Creatine HCl. You can choose between Strawberry Lemonade, Orange Kream, and Fruit Punch flavors.
Best Protein Powder for Women
NLA Her Whey
Ingredient Quality: 85/100
Rave Score: 90.6
Finally, a protein shake that isn't just for the gym bros! Women now have protein supplements that are tailored to their unique needs, and a good protein powder for women is foundational to achieving your fitness goals. NLA Her Whey is gluten-free and scientifically formulated to support lean muscle growth, enhance muscle recovery, and fuel your workouts.
Her Whey is made with whey isolate, which is easy on the stomach and rapidly absorbing. It is also low in carbohydrates, so you won't have to worry about unnecessary calories tallying up.
There's also added fiber to encourage satiety and reduce food cravings. NLA Her Whey is rounded with an extensive profile of vitamins and minerals as well as BCAAs and glutamine.
For the ladies out there, this is an all-around top performer, which is why we've named it RAVE's best protein powder for women. Not to mention, it comes in several delectable flavors:
Blueberry Muffin
Chocolate Éclair
Vanilla Cupcake
Maple Donut
Peanut Butter Banana Split
Best Protein Powder for Bulking
Jacked Factory Authentic Mass
Ingredient Quality: 84/100
Rave Score: 91.3
If you're in the bulking game, protein is crucial, but you're going to need a lot more than just that! You also need nutrient-dense calories – and lots of them.
Jacked Factory has set a new precedent in mass gainer powders with Authentic Mass, a high-quality protein powder for bulking up (the good way).
Contrary to typical weight gainer supplements that are loaded with corn maltodextrin and dextrose with little else in the way of muscle-building nutrition, Authentic Mass is made with clean carbs from sweet potato powder, non-GMO tapioca maltodextrin, oat bran, and Carb10 pea starch, plus whey protein isolate/concentrate and healthy fats in the form of goMCT powder.
Packing 52 g of carbs, 36 g of protein, and 4 g of fat per serving, Jacked Factory Authentic Mass is poised to take over as the top mass gainer powder money can buy. The icing on the cake is it costs right around $1.30 per serving, tastes delectable (vanilla and chocolate flavor options), and is easy to digest thanks to its proteolytic enzymes.
Best Protein Powder for Weight Loss
Garden of Life Organic Fit
Ingredient Quality: 100/100
Rave Score: 87.3
Garden of Life brand offers an extensive line of vegan, organic, plant-based supplements, and its recent foray into the weight-loss arena with Organic Fit feels apropos.
This certified USDA organic, raw, plant-based, vegan, high-protein powder is designed specifically for weight loss and health-conscious consumers.
Organic Fit is made with 13 raw, sprouted, organic ingredients. More than just a protein, Organic Fit includes green coffee bean extract, chromium, and organic cinnamon, all of which are natural ingredients that support weight loss, maintain healthy blood sugar, boost your energy, and control sugar cravings.
Organic Fit protein features a range of plant-based protein sources that are processed in a temperature-controlled environment, retaining their natural amino acid profile. Organic Fit is available in the following flavors:
Chocolate Cacao
Vanilla
Coffee
Original
Best Meal Replacement
Garden of Life Raw Organic Meal
Ingredient Quality: 100/100
Rave Score: 89.8
A good meal-replacement shake needs to have all your macros covered. Garden of Life's Raw Organic Meal offers this and then some in its organic, raw, superfood meal replacement solution. It is loaded with macro and micronutrients to help you satisfy hunger, manage weight, and feel good in the process.
Each serving contains 20 grams of protein per scoop from 13 raw sprouted ingredients, along with greens, healthy fat, 7 grams of organic fiber, probiotics, enzymes, and twenty-one vitamins and minerals.
Organic Meal features forty-four superfoods overall and will satisfy your hunger, keep you full, boost energy levels, and provide you with the protein, fiber, vitamins, and minerals you need. It is available in:
Chocolate Cacao
Vanilla
Vanilla Spiced Chai
Lightly Sweet
Best Grass-Fed Protein Powder
Transparent Labs 100% Grass-Fed Whey Isolate
Ingredient Quality: 100/100
Rave Score: 97.6
Transparent Labs' commitment is to complete formula transparency with science-based ingredients at clinically effective doses. The experts at Transparent Labs are firm about never using any artificial sweeteners, food dyes, or additives.
They have accomplished this and more with their 100% Grass-Fed Whey Isolate, which is sourced entirely from grass-fed American cows that are naturally fed and hormone-free, yielding one of the purest and cleanest whey protein powders on the market.
It is ideal both for general use and for athletes supporting their fitness goals.
Additionally, TL Grass-Fed Whey features one of the highest protein-by-weight ratios at 28 grams of protein per 32-gram scoop — that's a whopping 88% protein content! Best of all, the protein powder is available in several delicious flavors, including:
Chocolate Peanut Butter
Milk Chocolate
Strawberry
French Vanilla
Mocha
Salted Caramel
Cinnamon Pasty
Cereal Splash
Best Vegan Protein Powder
Orgain Organic Protein
Ingredient Quality: 100/100
Rave Score: 91.1
If you're on the vegan train, there's some good news — vegan protein powder is now more popular than ever! Orgain Organic Protein comes in as the top vegan protein powder money can buy, and many consumers agree that it's a great-tasting product with an impressive nutrient profile.
So, if it doesn't contain whey, one of the most popular protein sources on the market, what's in it? Well, plants! The protein in this formula comes from organic peas, brown rice, and chia seed.
At 21 grams of plant-based protein per serving, you can't go wrong! The formula is also completely free of artificial sweeteners, binding agents, coloring, or additives of any sort, and it has received a number of awards and recognitions for quality and taste.
The extensive flavor options include:
Creamy Chocolate Fudge
Chocolate Peanut Butter Cup
Iced Matcha Latte
Sweet Vanilla Bean
Vanilla Almond
Cookies and Cream
Best Hemp Protein Powder
Nutiva Organic Hemp Seed Protein
Ingredient Quality: 100/100
Rave Score: 92.2
This hemp protein powder is a great alternative to traditional dairy-based protein sources, especially if you follow a plant-based diet.
Nutiva Organic Hemp Seed Protein is vegan-certified and made with non-GMO, cold-pressed hemp seeds, yielding a high-protein, high-fiber product that dissolves best in water at room temperature (try mixing first and then adding ice). It can also be easily added to baked goods, pancakes, and hot cereals for a nutrient-dense protein boost.
Each serving contains 15 grams of protein with a complete amino acid profile and 8 grams of dietary fiber. It is not offered in flavored options and has what most would call an "earthy" taste, but you can make it more palatable by adding it to recipes or making a green smoothie with fruits and veggies.
Best Animal-Based Protein Powder
Naked Nutrition Goat Whey
Ingredient Quality: 100/100
Rave Score: 88.6
Another alternative to conventional cow-derived whey protein sources comes from a relatively new niche in protein powder supplements: goat protein powder. Naked Nutrition Goat protein is derived from the milk of pasture-fed goats raised on Wisconsin dairy farms.
Naked Nutrition Goat Whey is undenatured and independently tested for heavy metals as well as common food allergens, such as soy and gluten.
You won't find any artificial flavors or sweeteners in this clean whey protein powder. All of the protein in Naked Goat Whey comes from cold-processing (acid and bleach-free) of goats' milk, resulting in one of the cleanest whey protein powders you can find anywhere.
With 23 grams of protein and 4.6 grams of branched-chain amino acids per serving (30 g), this is an exceptional alternative to traditional whey protein powder.
Naked Goat Whey is available in chocolate and vanilla flavor options (which are sweetened only with coconut sugar), or unflavored.
Protein Powder FAQs and Related Rankings
To get the most out of your protein powder, we need to answer a few more questions for you.
Even the best protein powder product will provide diminished results if used incorrectly. So let's take a look at some final points.
When to Take Protein Powder
Protein powders are dietary supplements meant to help people meet their total daily needs of protein.
The time at which you take protein powder isn't a big concern as long as you consume enough protein throughout the day.
Most gym-goers, athletes, and fitness enthusiasts find that slamming a whey protein shake after finishing their workout is a nice "treat" that kickstarts the muscle-building process, but protein powders can be used any time of day, really.
However, there is good evidence that taking at least 20 grams of whey protein powder shortly before and/or after hitting the gym improves muscle building, performance, and recovery.
This would generally be considered the "best" time to take whey protein powder.
When to Take Other Forms of Protein
Whey protein concentrate and whey protein isolate are rapidly digested and contain all the essential and non-essential amino acids.
For the veggie lovers out there, brown rice protein is a great alternative to whey protein powder after you hit the gym.
In fact, a recent study showed that people taking either rice protein isolate or whey protein isolate after resistance-based exercise had virtually identical improvements in lean body composition (fat-free body mass) and exercise performance (strength and power) over the course of eight weeks.
Casein protein powder is typically the better nighttime option since it's slowly digested and absorbed, helping recovery while you sleep.
Similar to whey protein, casein contains a complete profile of amino acids for supporting muscle growth and recovery.
Beyond that, simply take protein powders as needed throughout the day to keep you on track towards your protein intake goal.
Bottom Line: Remember, even if you're using the best protein powder out there, it will not make up slacking on your diet.
Is Protein Powder Safe?
Assuming you're taking a good protein powder that isn't loaded with allergens or other unnecessary additives, chances are your powder will be well-tolerated, and you'll experience few, if any, adverse effects.
In some cases, protein powder can cause flatulence, bloating, stomach cramps, and diarrhea.
Note that this typically only happens if the protein powder contains excess amounts of lactose, wheat, or other indigestible/intolerable ingredients.
Skin reactions are also possible, particularly if the protein powder contains something you're allergic to.
Furthermore, since dietary supplements are not officially regulated by the Food and Drug Administration (FDA) or the United States Department of Agriculture (USDA), it is possible for companies to be less than forthright about what their products contain.
That's why it's imperative to choose a protein powder from a brand that has a respectable reputation for making quality nutritional supplements.
Always check with your doctor if you're pregnant, breastfeeding, have a medical condition, or take any prescription medications before you start taking protein powder (or any supplement).
The ingredients in protein powder may interact with certain medications or exacerbate the symptoms of some medical conditions, notably renal dysfunction.
Final Note
On a final note, pay attention to how your body responds when you use a new protein powder.
If you find that whey protein concentrate makes you gassy and bloated, try a different protein powder with other protein sources instead.
Ultimately, you'll only figure out which protein powder works best for you by trying different products and assessing your response.
Remember, protein is a vital macronutrient that we all need for optimal health, longevity, and athletic performance.
Conclusion: Active individuals who want to build muscle should aim for a daily intake of about 0.8-1.2 grams of protein powder per pound of body weight. Those who just want to maintain their wellness and live a healthy lifestyle can get away with about half that amount.
Elliot Reimers
Elliot Reimers is a NASM Certified Nutrition Coach (CNC) and M.S. candidate at Michigan State University, where he is studying Molecular Pharmacology and Toxicology. He has been a freelance science writer since 2013, centering on the topics of nutritional science, dietary supplementation, fitness, and exercise physiology. He received his B.S. in Biochemistry from the University of Minnesota and is an inveterate "science nerd" who loves fitness. He is passionate about coaching and educating people about how to live healthier, be smarter about what they put in their bodies, and perform better. In his spare time, you're most likely to find Elliot hoisting barbells, hiking the mountains of beautiful Colorado, or working on content for
Simply Shredded
.