Beautiful rivers criss-cross every corner of the U.S., and, each year, thousands explore our nation's waterways via white water rafting.
If you've always wanted to try this exhilarating water sport, but you don't know where to start, you've come to the right place.
In this ranking, RAVE Reviews will tell you America's 15 best white water rafting destinations. We'll also help you understand the white water rapid classification system, tell you what pack for your trip, and a whole lot more.
If you love experiencing nature, and you like living on the edge, white water rafting could be right for you. Stop dreaming and start planning your trip with RAVE's ranking of America's 15 best white water rafting destinations.
In this article, you'll read a lot about the white water rapid classification system. Before touring America's best white water rafting spots, we thought we'd take a moment to help you understand what the different classification levels mean.
Also be sure to check out our rankings of America's Best Rock Climbing Destinations and the Best College Towns for Bicyclists.
The White Water Rapid Classification System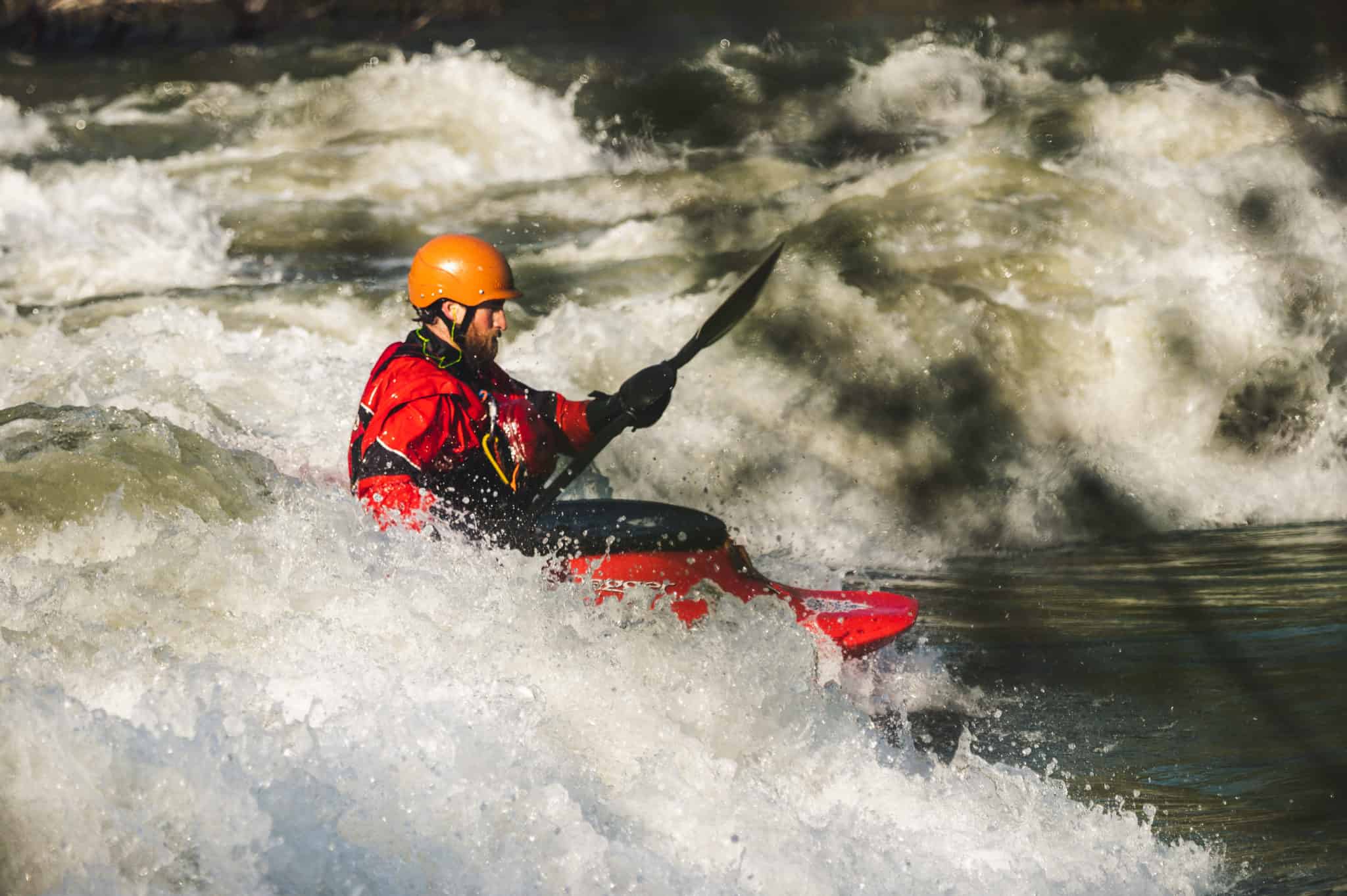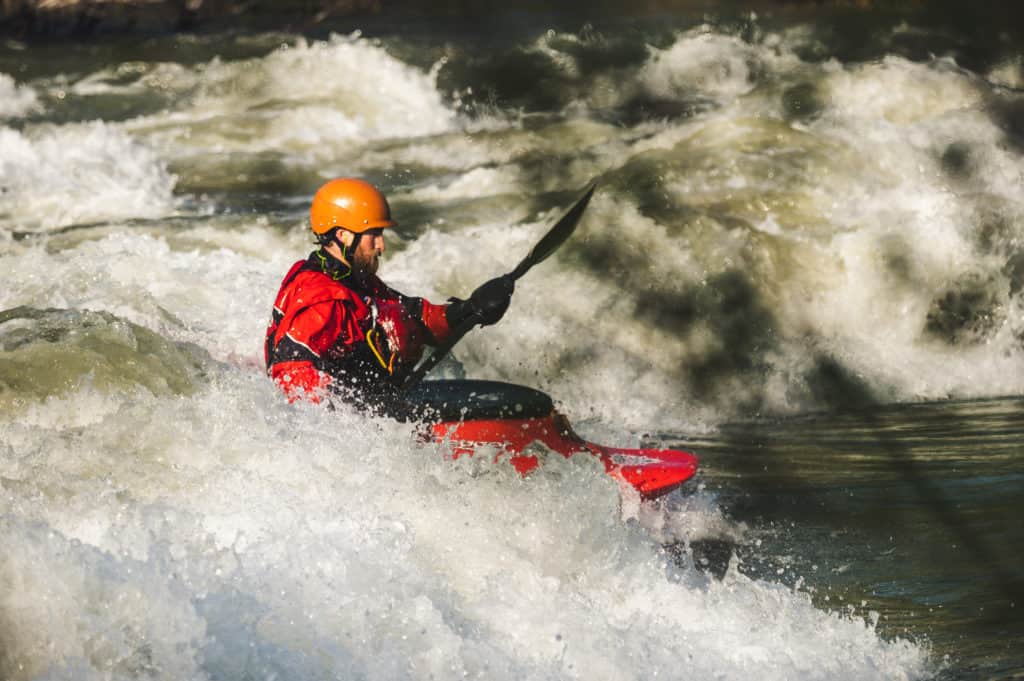 Before we get into the finer pointers of the white water rapid classification system, though, it's important to understand these are only broad guidelines. In other words, every river offers a variety of difficulty levels, especially as the water rises and falls over the course of a year.
Also, these classifications don't have anything to do with the quality of the white water rafting experience. There's just as much fun to be had on Class I rapids as there is in Class IV or Class V.
All that being said, here's what you need to know about the white water rapid classification system.
Class I
Class I rapids will offer just a few riffles and a couple small waves with little or no obstruction. Perfect for classes and beginners.
Class II
Class II means there are easy rapids and small waves. Expect clear channels, with little or no scouting required, but some maneuvering might be necessary. You can find Class II rapids in Washington state's lower Klickitat River, for example.
Class III
Class III rapids offer high, irregular waves with narrow passages. Precise maneuvering is often required. Class III rapids can be found on Idaho's Main Salmon River.
Class IV
Choose Class IV and expect long, difficult rapids and constricted passages. Complex maneuvering in choppy, turbulent water is often unavoidable. The course will most likely be hard to determine, and scouting will be necessary. For Class IV rapids, head to Oregon's Owyhee River.
Class V
Class V rapids are long, extremely difficult, and very turbulent. These are highly congested routes, which should really be scouted from shore.
With Class V, the rescue conditions are difficult, and would be a significant hazard to life should there be an accident. Class V maxes out what can be attempted in a commercial raft. The Upper Yough, part of the Youghiogheny River, the number one pick in our ranking, is a great example of Class V rapids. Keep reading to find out more.
Class VI
Highly dangerous and nearly impossible to raft, Class VI rapids are for experts only. Class VI rapids are not commercially raftable.
Speaking of danger, if you're an inexperienced rafter, it's never a bad idea to hire a white water rafting guide or even take a few classes.
We include a few guide options along with each destination in our ranking. Even if you do have some experience, it never hurts to take a few extra safety precautions.
What to Pack for White Water Rafting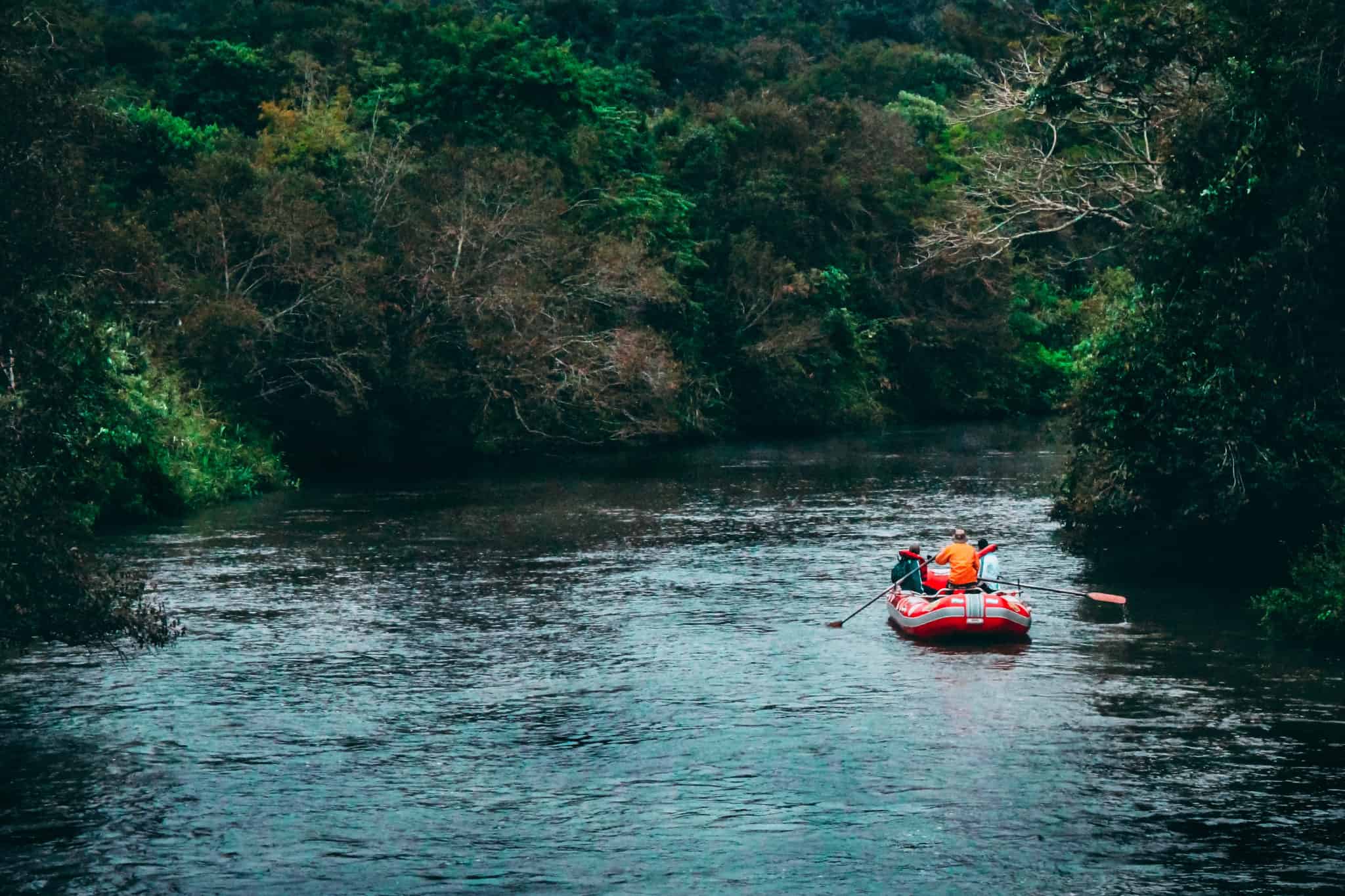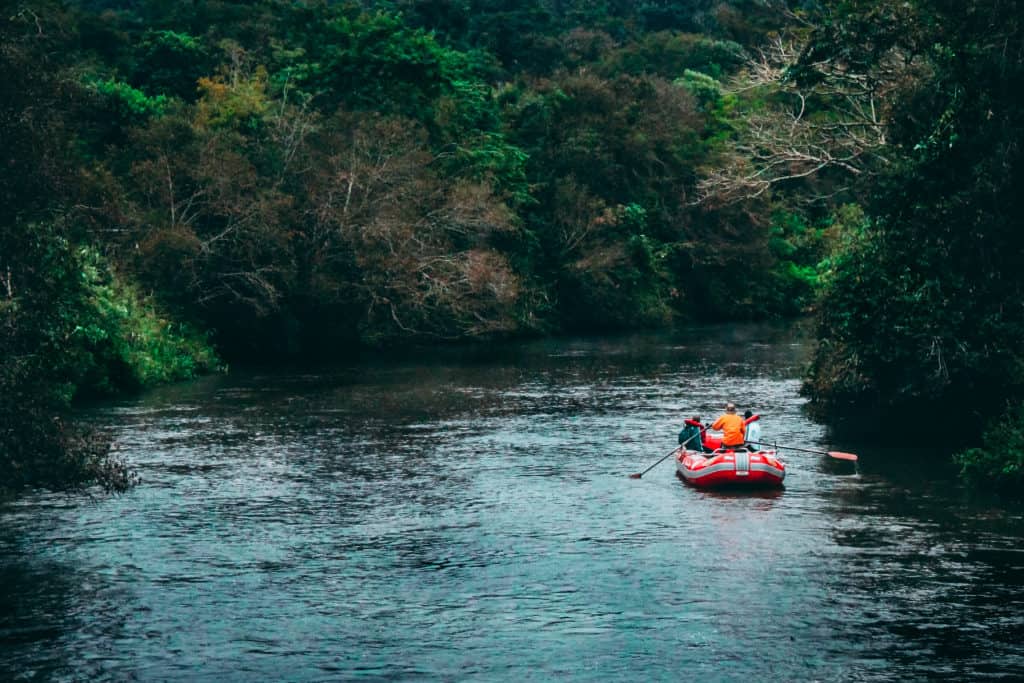 Many white water rafting expeditions can be overnight trips. How do you pack to be prepared for whatever your adventure has in store? Here's a packing list for white water rafting.
For Warm Conditions
A pair of the best water shoes
Sunglasses — we recommend a strap to help them stay secure so you don't lose them in the water.
A hat with brim to protect your face and neck from the sun
A shirt made from some kind of synthetic material. Even during the warm summer months, it can get cold on the river. Plus, a long-sleeved shirt will help protect against sunburns.
It's also important to avoid cotton clothing. Cotton absorbs water and gets cold when wet.
For Cool Conditions
If you're rafting in cool or rainy conditions you can pack many of the same things with a few variations.
When the weather turns cold, add an extra layer. We suggest a wind and waterproof jacket
You might also want to add some waterproof pants
In warm weather, you'll want a hat to keep the sun off your face and neck. In overcast conditions, choose a hat that's snug and warm but still waterproof
Synthetic socks to keep your feet warm, though wool socks work, too
A synthetic long-sleeved shirt and synthetic long underwear
A wetsuit
In addition to what to wear while rafting, here's what to keep with you in the raft:
Sunscreen
A water bottle that can be attached to the raft with a carabiner
Snacks
A product like Absorbits to keep your electronics dry
On top of all that, don't forget to bring a change of dry clothes and a bag to stash your wet clothes on the way back to the campsite or hotel.
In addition to packing, Jennier Willy of the travel site Etia.com has a few pointers for planning your trip.
"Rafting is a very delightful adventure sport," she says, but you need to plan ahead, especially for the number of family and friends that might be accompanying you on your trip.
"There are so many rivers in America that are perfect for white water rafting," Willy continues, "but if you need to accommodate a large number of party members, then some places are better than others."
Now that you're all packed and ready to go, and armed with some knowledge of the white water classification system, it's time to set your course for one America's best white water rafting destinations.
Methodology
Before writing this comprehensive guide to America's best white water rafting spots, RAVE Reviews surveyed river guides, travel and outdoors writers and bloggers as well as experienced white water rafting veterans.
I also kept in mind my own experiences white rafting the McKenzie River in Oregon, nearby where I live.
Each spot in our list was ranked on the following criteria:
Classification of rapids
Availability of guides and gear outfitters
Nearby accommodations and dining
Overall natural beauty
Average crowds
We also sought out spots in all four corners of the country. With this in mind, we feel confident in our choices, ranking each on a numbered scale beginning at 100 for the top spot.
The water is fine, so let's get started.