A great rock climbing destination is more than just a scenic destination, it's a place of big vibes and big memories. Picture it now: A climber, alone on the mountain, wind whipping through their hair.
Their strength and concentration stand between them and certain peril. Okay, for the average person, rock climbing isn't quite that dramatic.
There are, in fact, a lot of different kinds of rock climbing, and the experience can be as mellow or adventurous as the climber wants it to be.
Either way, rock climbing is a good workout and a great way to get closer to nature. If rock climbing is something you've always wanted to try, it's never too late. Here are America's best rock-climbing destinations.
If you're an experienced climber, maybe you've already climbed a few places on our list. Or if you're a beginner, maybe you'll find a spot to try your first climb. Some destinations may just leave you shouting, "Road trip!"
Still, others have been near you the entire time, and you just didn't know it.
There's no need, in other words, to Google "best rock climbing spot near me" because we've done the hard work for you.
Here's a quick rundown of the top 10 rock climbing spots in America: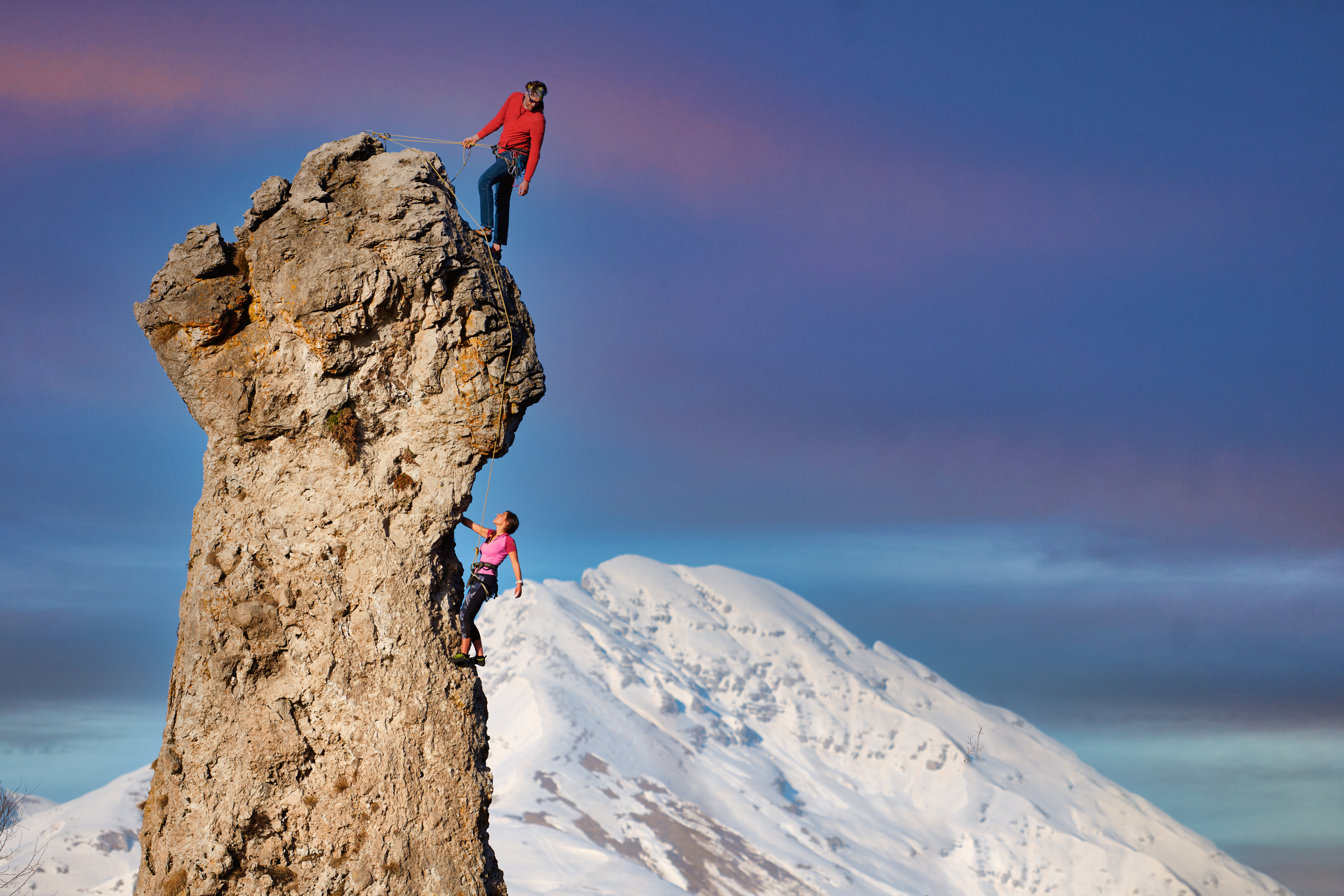 Before we get to the details let's cover a few tips and pointers for beginning rock climbers. You veteran climbers should keep reading too, because you just might need a refresher.
What Kinds of Climbing Are There?
The first question you're going to want to ask yourself before getting into rock climbing is what kind of rock climbing are you most interested in trying?
Here's a brief overview of the best climbing styles for a beginner.
Indoor climbing
You don't even have to go outdoors to rock climb. Your first climb could be in a gym, which is a great place to learn, practice, and keep your skills sharp when you're not on the road. But this article isn't primarily about staying indoors (we do mention a few indoor spots) but for now, let's move on…
Bouldering
Bouldering is excellent for beginning climbers because you don't need much gear. Since you're moving across the face of the rock or up the boulder, climbers usually don't go as high as they might with other kinds of rock climbing. When bouldering, in fact, you'll more often than not be able to hop right off the boulder and land on your feet.
Outdoor Top-Rope Climbing
A more advanced style of rock climbing is called top-rope climbing. With this technique, done in pairs, a climbing rope is anchored at the end of the route. The first climber uses the anchor as a destination point while climbing, and the other climber stays on the ground to hold the rope taut.
More advanced kinds of rock climbing include sport climbing, when bolts are drilled into the rock and climbers use quickdraws to clip themselves in as they progress.
There's also traditional or "trad" climbing. Trad routes don't usually have any permanent anchors, making "trad" climbing challenging for beginners, so don't try this method until you've built up your skills.
Even then, make sure you're out there with an experienced coach or guide. This is true of any kind of rock climbing. Join a gym, take some classes, hire a guide, and remember: safety first!
Now that you have a sense of the different kinds of rock climbing, let's cover the kind of gear you'll need to start rock climbing.
Best Gear for Beginner Rock Climbing
There is a lot to consider when choosing rock climbing gear, and a lot of different brands to choose from. Here's a summit-level view, if you will, of the best rock climbing gear for beginners.
Rock Climbing Helmet
Begin your search for rock climbing gear with a good helmet. Look for a helmet that fits snugly but not too tight, with a hard protective shell and internal strapping system.
Rock Climbing Shoes
Rock climbing shoes are another important part of any climber's gear. With rock climbing shoes it's important to remember that they're just for rock climbing—wearing them for any other purpose can ruin them. Be sure, then, to travel with a good pair of hiking shoes.
Like anything, fit is important with climbing shoes, though a general rule is that climbing shoes will fit a bit tighter than shoes meant for other purposes.
Climbing Harness
Let's now move on to the climbing harness. If bouldering is your thing, you can skip this part since bouldering doesn't require a harness at all.
If that's you, go ahead and scroll down.
The kind of climbing harness that's right for you depends a lot on the kind of climbing you intend to do, so before choosing a harness, pick your style and consult a professional.
In addition to what we've already covered, good starter gear for rock climbing beginners includes chalk, carabiners, and a belay device.
There's just so much to know about climbing gear—too much to cover here. Plus, for safety reasons, you should talk to a pro. When choosing your gear, be sure to do your research and consult an experienced climbing coach or guide.
All packed for your first rock-climbing road trip? Good. Let's now move on to what we're all here for: America's best rock-climbing destinations.
Methodology
When compiling this ranking of America's best rock-climbing destinations, we called for input from avid climbers, travel and outdoors sports bloggers and enthusiasts, instructors, guides, gear retailers, and local residents. We asked them what made their spot so special. We asked them about the following:
Opportunities to climb in a variety of styles
Terrain in the area
Number of places to climb
Availability of gear, guides, and instructors
Nearby lodging and food
Quality of the local climbing scene
We got so many great responses that it was hard to choose. But we narrowed the field and now present to you America's 25 best rock-climbing destinations.
Best Destinations to Rock Climb
Related Rankings