Pizza may have been born in Italy, but no one has embraced the doughy, delightful food like the good ol' USA.
Humans have been making foods similar to pizza since the Neolithic era. But the modern incarnation was invented in the late 18th century in Naples, Italy. Until the 1940s, Pizza was mainly eaten in Italy and by Italian immigrants around the world.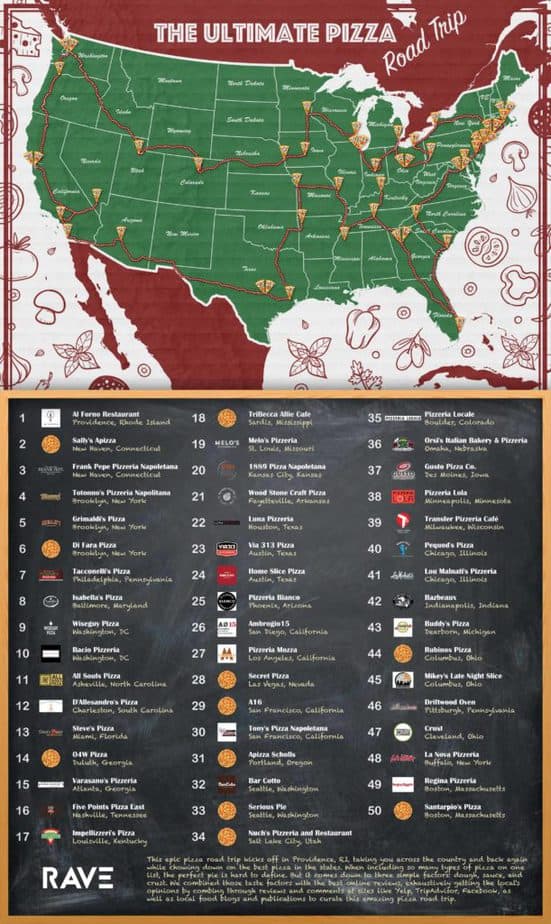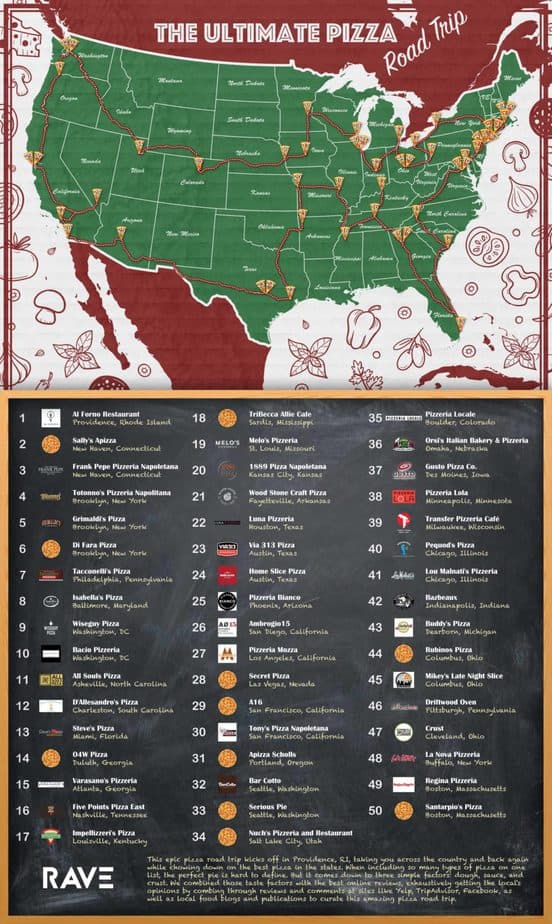 After World War II, Allied Troops became such fans of the Italian delicacy that its popularity began growing worldwide. Click here for a full size version of this graphic -> Since then, pizza has evolved, with a variety of styles regionally. The popularity of the dish in America has led to some awesome innovations, ith pizzerias, and restaurants creating new and inventive recipes to keep the masses happy.
There's no such thing as a bad pizza. Sure, there are fine pizzas, and good pizzas, but they aren't bad. You can find those pizzas anywhere and probably within a 20-mile radius of your home. But we're not here to talk about them. We're here to talk about the spectacular pizzas, the amazing pizzas, the outstanding pizzas, the ones worth driving across the country for.
The method behind the madness
This epic pizza road trip kicks off in Providence, RI, taking you across the country and back again while chowing down on the best pizza in the states. When including so many types of pizza on one list, the perfect pie is hard to define. But it comes down to three simple factors: dough, sauce, and crust. We combined those taste factors with the best online reviews, exhaustively combing through user reviews and comments at sites like Yelp, TripAdvisor, Facebook, and local food blogs and publications to curate this amazing pizza road trip.
1
Al Forno | Providence, RI
We're starting this adventure in Providence, RI at an iconic, 1980s pizzeria. Al Forno has been serving up delicious eats for 38 years, and they don't plan on stopping any time soon. The pizza at the Providence gem is grilled pizza. Cooked on high heat, the pizza has a dough that's crispy on the outside and chewy on the inside. The toppings are applied in a way that's balanced, with no single ingredient overwhelming any of the others. The Local Take: Tiffany W. via Yelp, "My first must-have item here is the calamari grilled pizza…I mean c'mon people this is as good as it gets! I will go as far to say the best grilled pizza anywhere."
2
Sally's Apizza | New Haven, CT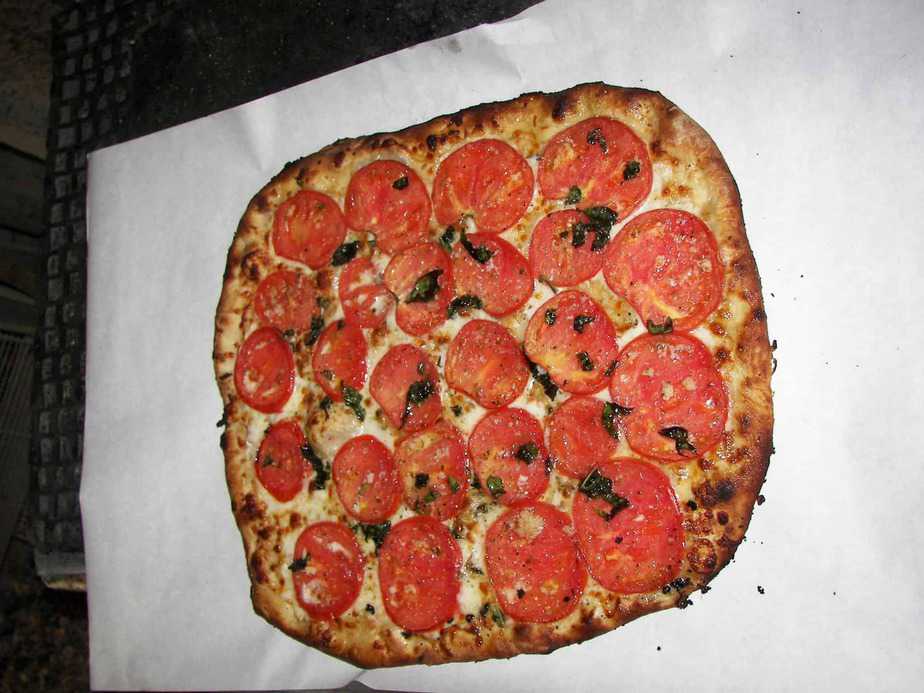 Sally's was established in 1938 by Salvatore Consiglio and has been in continuous operation ever since. In fact, the same coal-fired oven has been baking up delicious, New Haven-style (Neapolitan) pizza for 80+ years. When you stop in this east coast establishment for a bite, you'll be in good company, as the restaurant has previously hosted stars like Frank Sinatra, Kathleen Turner, Don Rickles, Jimmy Durante and more. Make sure you have cash on hand when you go in to grab your pie because the restaurant doesn't accept cards. At Sally's Apizza, you can expect a perfectly charred, thin crust, and an unforgettable sauce-to-cheese ratio. The Local Take: Russell W. via Yelp, "Wow, for once a place lived up to my expectations, and I cannot wait to go back. We can debate over who has the best pizzas, what style pizza is best, etc., but I am particularly partial to the New Haven style, and Sally's is awesome. The crust was the perfect thickness ( or thinness really), good cheese ratio, absolutely delicious sauce."
3
Frank Pepe Pizzeria Napoletana | New Haven, CT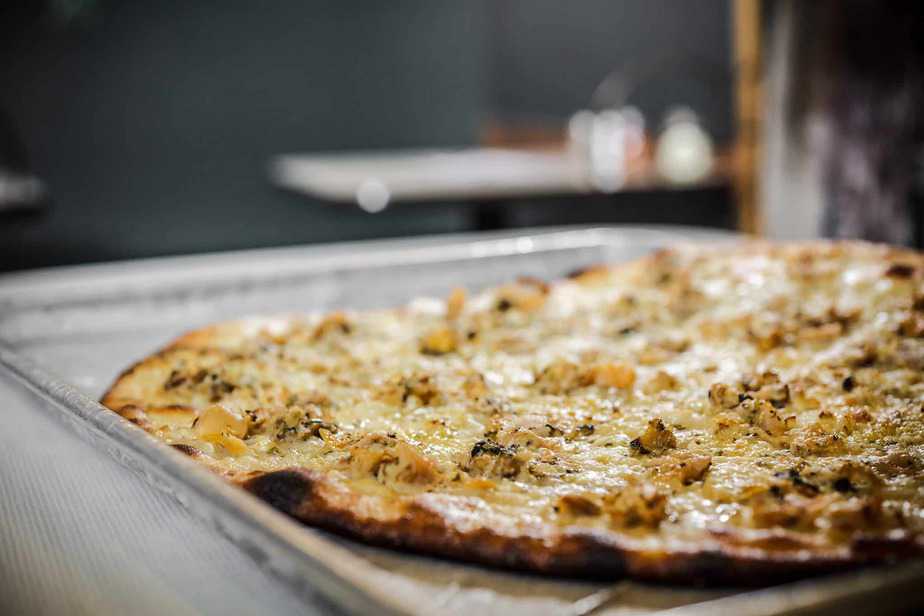 Without Frank Pepe Pizzeria Napoletana, I shudder to think about what pizza in America would look and taste like. The pizzeria, affectionately known as Pepe's, opened in 1925. Frank Pepe was an immigrant from the Amalfi region of Italy and after working in a factory and fighting in WWI, he and his wife began making a dish native to their home called apizza. In the early years, Pepe's employed several of Frank's family members, including his nephew, Salvatore Consiglio of the aforementioned Sally's Apizza. You won't have a single bite at this place that won't be delicious, but just trust me, you want to order the White Clam Pizza. It's been the most popular item on the menu since the 1960s for a reason. In traditional New Haven style, the crust will be charred, but the thing that really makes Pepe's stand out is the freshness of the ingredients. Can you say mouthwatering? The Local Take: Douglas Clement via Connecticut Magazine, "Let's start with the holy grail, Pepe's white clam pizza made with fresh clams, grated cheese, olive oil, fresh garlic and oregano. If that simplicity is the recipe, the sublime taste is the signature. No less an authority that World Pizza Champion Bruno DiFabio declares the pie "optimal."
4
Totonno's Pizzeria Napolitano | Brooklyn, NY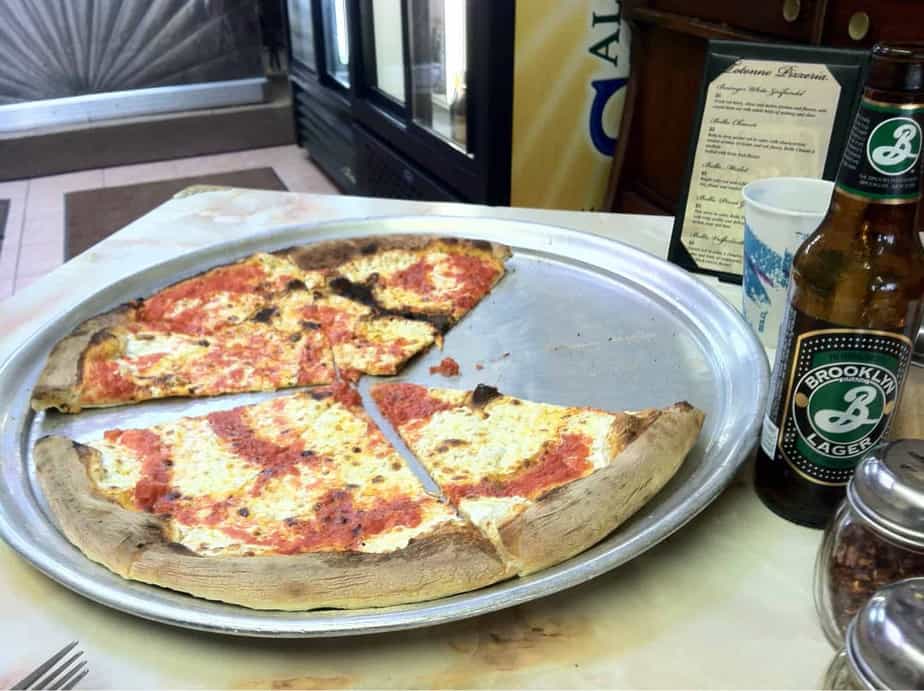 When a pizzeria has the nickname the "Church of Pizza," it's fair to assume you'll be having a religious experience while dining. Totonno's pizza is a Brooklyn classic, serving up perfectly charred crust that fans of Neapolitan pizza have grown to love. Totonno's opened in 1924 and has been operated by original owner Anthony (Totonno) Pero's family ever since. The restaurant has seen some huge challenges, including two fires and devastation related to Hurricane Sandy. But with the support of their loyal customers and fans around the world, they continue to make some of the best pizza in New York. At Totonno's, it's all about fresh ingredients. You can get a little extra while ordering if you want, but my advice is to keep it simple. The Local Take: Anne J. via Yelp, "Pizza is perfect – no question.  You can taste how fresh the ingredients are.  I wouldn't recommend getting a topping.  That's how good it is."
5
Grimaldi's | Brooklyn, NY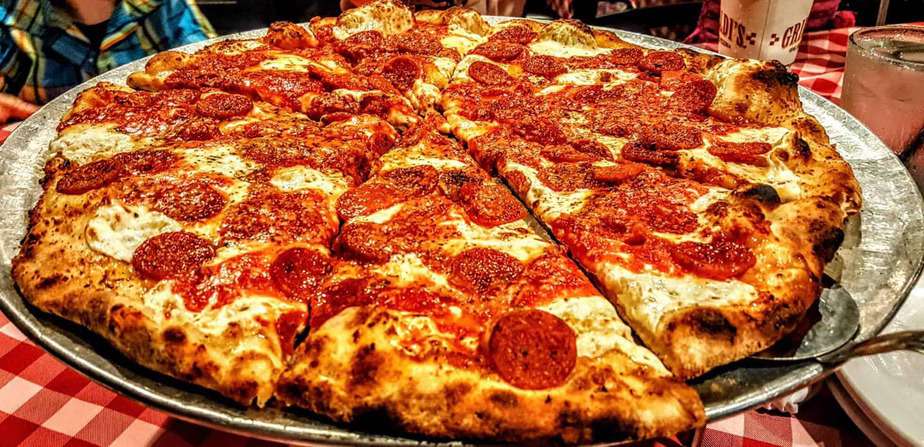 After hoofing it across the Brooklyn Bridge, there's no snack quite like pizza from Grimaldi's. The pizza is coal-fired to perfection and like the most iconic pizzerias in New York, this place is cash only. The pizza is simply delicious and the lines are long, which are all indicators that Grimaldi's knows exactly what they're doing right. It's hand tossed, thin pizza with fresh toppings. The restaurant has only been open since 1991, but the last few decades, they've managed to rise to the top of beloved New York establishments. The Local Take: Jean-Phillipe via I Just Want To Eat, "There are a couple of things that I noticed when the pies came: first, the mushrooms were fresh and not from a can. Then, there was lots of ricotta on the white pie and, we made sure there was no garlic as, often, white pies are packed with it. I loved both pies not only because of the ingredients on top, but also because of the crust that was phenomenal: crispy and nicely charred, all puffed up on the outside."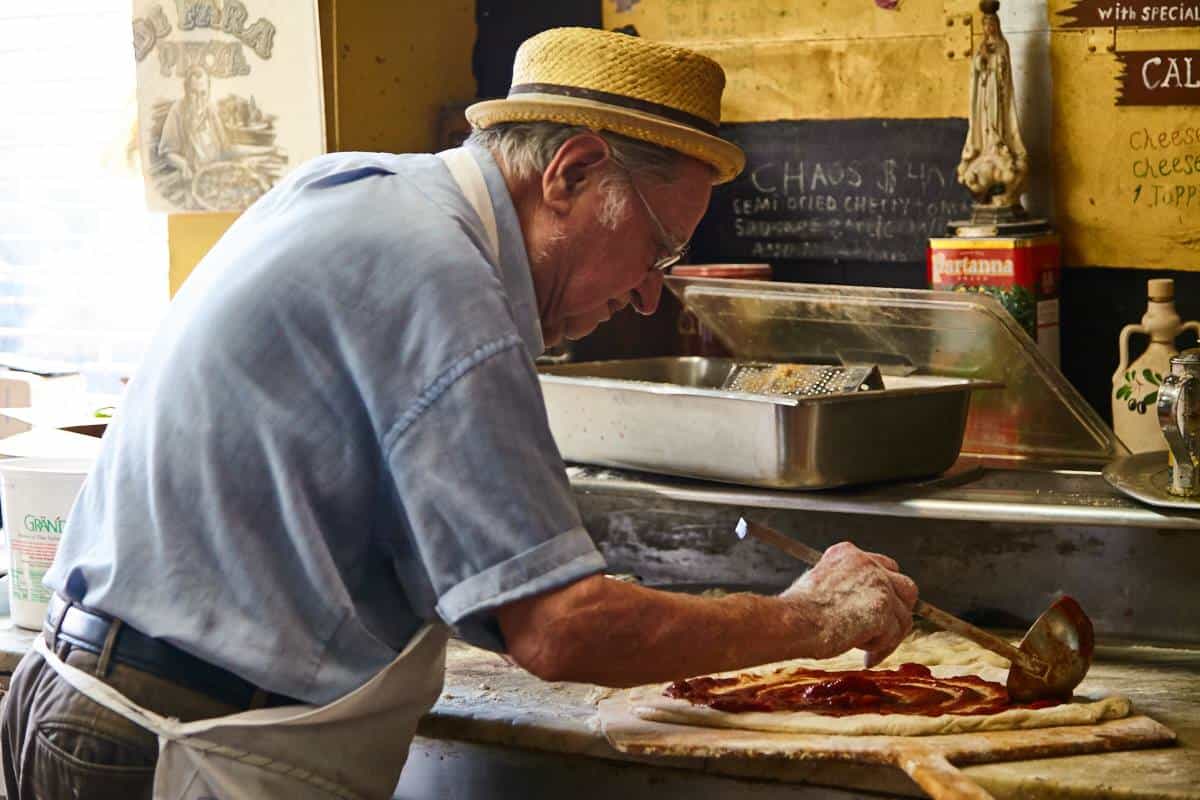 After emigrating to Brooklyn from the Province of Caserta in Italy, Domenico De Marco opened Di Fara Pizza in 1964. The pies you'll eat are hand-crafted by Domenico himself, who cooks up to 150 each day. The pizza is cooked in a retro oven and can be purchased by the pie or the slice. If there's one word to describe Di Fara, it would be gooey. The artfully crafted pies come with hand sliced buffalo mozzarella that pushes it to the next level. The Local Take: Dan E. Via Yelp, "When I think about a perfect NY PIE: thin crust, gooey cheese, and sweet/herby sauce.  Di Fara is literally the perfect slice. The crust is super thin and crispy.  It creates a great vehicle for the sweet tomato sauce, with chunks of whole tomatoes, and hand sliced buffalo mozzarella.  The cheese melts beautifully on top of the sauce and dough."
7
Tacconelli's Pizzeria | Philadelphia, PA
After leaving NYC, we're heading down to Philadelphia. In 1946, Giovanni Tacconelli made the transition from baking bread to making pies, the way his mother had taught him in Italy: Cooked to perfection in his brick oven. The Tacconelli family has been doing it the same way ever since. If you want to eat at Tacconelli's, you can reserve your dough in advance, which is a great option because this place is always busy. The pizza shop is a one-man/one-oven system, so the wait can get a little long. But since when is waiting for pizza where we draw the line? Plus, their Margerita Pie will haunt your dreams, so 20 extra minutes won't kill you. They only serve four types of pizza here, but you can add toppings to your pie at your own discretion. Toppings include spinach, whole tomatoes, mushrooms, pepperoni, sausage, sweet peppers, anchovies, onions, prosciutto, basil, and extra cheese. The Local Take: Steven G. via Yelp, "This is a true Pizza Mecca. Up there with the pizzeria legends like Frank Pepe's. The spinach & tomato is the best topping option and the signature plain is just like heaven, I'm sure."
8
Isabella's Brick Oven Pizza & Panini | Baltimore, MD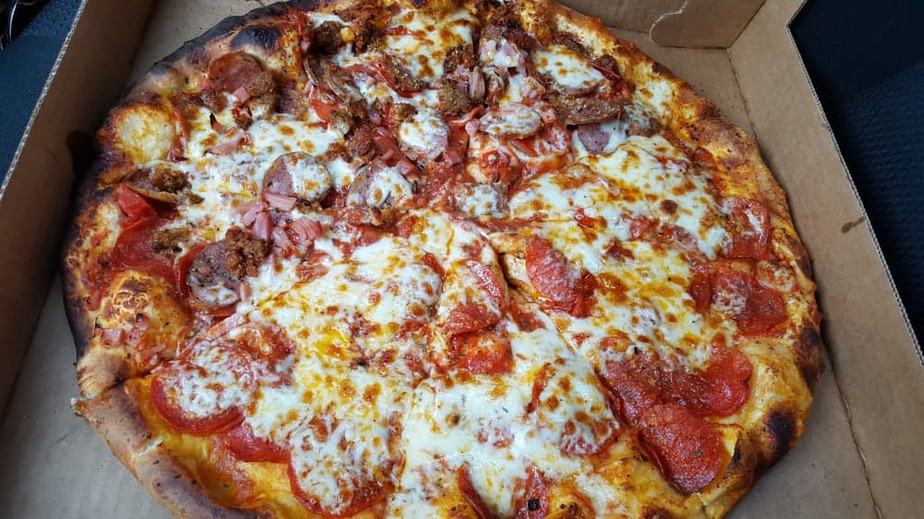 Since they opened their doors in 2006, this family-run pizzeria is all about keeping things fresh. They've got homemade cheese and bread all day long, plus some very highly recommended mini cannolis. The pizza is known for its heavy topping ratio, which admittedly isn't for everyone. But they do it so damn well. The restaurant is tiny, offering just a handful of tables and window seats, so don't plan on dining in. Take your pizza somewhere cool in Baltimore before you depart for the next pizza destination on the road trip. The Local Take: Jason L. via Yelp, "OMG, this has got to be the BEST pizza that I have ever had, no skimping on the toppings as well. Now, you will pay for quality and it is well worth it in my opinion. Very friendly staff and very helpful with item selection besides the pizza."
9
Wiseguy Pizza | Washington D.C.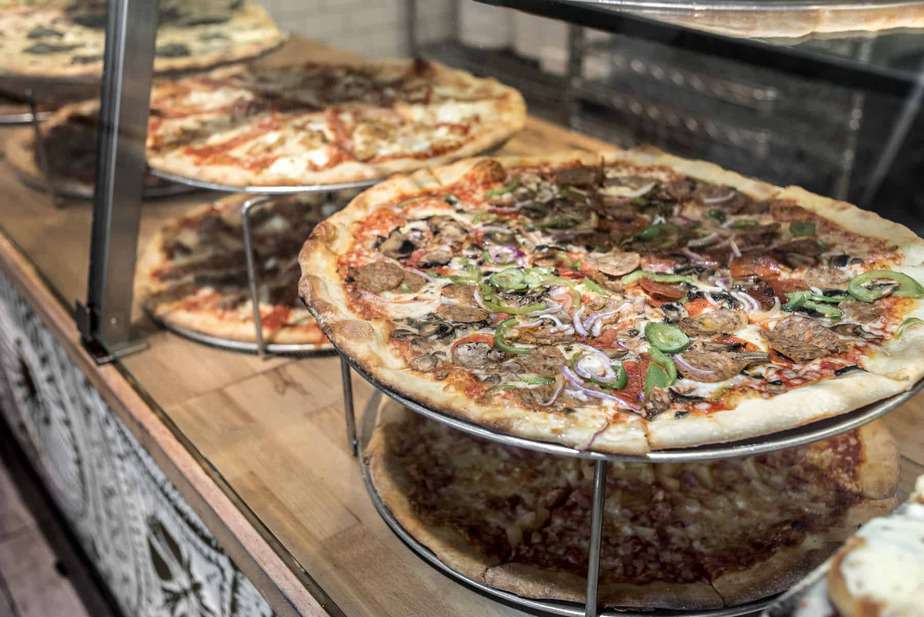 This D.C. pizza shop may have only opened in 2012, but don't let that scare you off. Tony "Nuri" Erol, the owner of Wiseguy Pizza traveled around New York, New Jersey, and Italy, learning everything he could about making authentic pizza before opening up his restaurant in the nation's capital. Nuri understood that New Yorkers were the most critical of pizza, which is why he sought approval from 100 tough New York pizza lovers before opening. Since then, the shop has become a go-to destination in Washington D.C. and received love from the Washington Post, the Washington City Paper, and more. They offer a huge variety of pizza, from thin, NYC style slices with interesting flavor combos to square Sicilian pepperoni pizza. The Local Take: Nicole Y. via Yelp, "I love this place. I am a picky eater and usually stay with the basics when it comes to pizza. This is only place I have tried chicken topped pizza that does not taste like processed chicken nuggets chopped up. LOL I LOVE their Buffalo Chicken pizza. Love Love Love it… Service is quick. The food is fresh. The taste is great. Parking on the weekend and late night has always been pretty easy for me. No complaints at all."
10
Bacio Pizzeria | Washington D.C.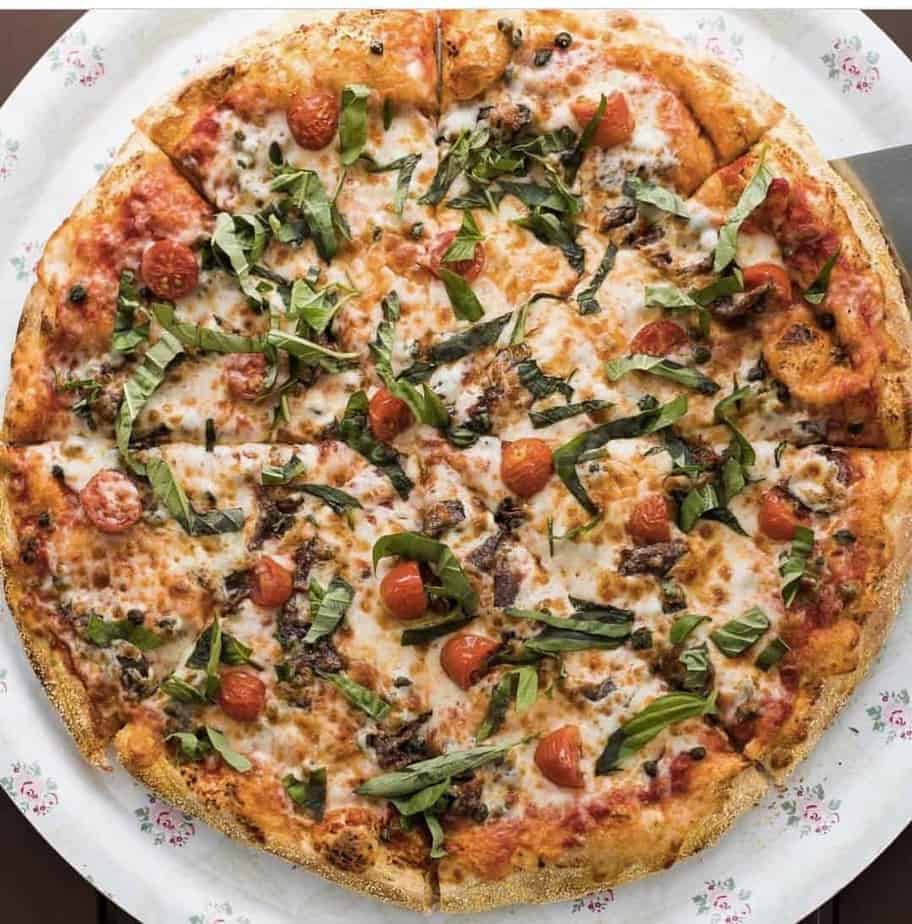 Bacio Pizzeria is the kind of neighborhood pizza joint where it seems like everyone knows each other. Like a lot of East Coast pizzerias, Bacio excels at Neapolitan-style pizza. The interior is small, but this a great place to stretch your legs and enjoy the weather on the patio. If you're picky, you can create your own pizza. But if you're willing to trust the experts, you can order a specialty pizza (no substitutions) with classic options like the Bacio's Margherita or delightful creations like the Seaton Farm. The pizzas are all cooked a high-temp, quickly, to achieve that amazing crispy crust and the ingredients are so fresh you can taste it. The Local Take: Sean G. via Yelp, "After eating here for 7 years – it's about time I gave them their props. Bacio might very well be the best pizza in DC and definitely top 3. What might impress me the most is the consistency of their high quality pizza making.  The crust is amazing and always cooked to the same crispness. The tomatoes in their sauce always taste fresh and all of their ingredients are clearly high quality."
11
All Souls Pizza | Asheville, NC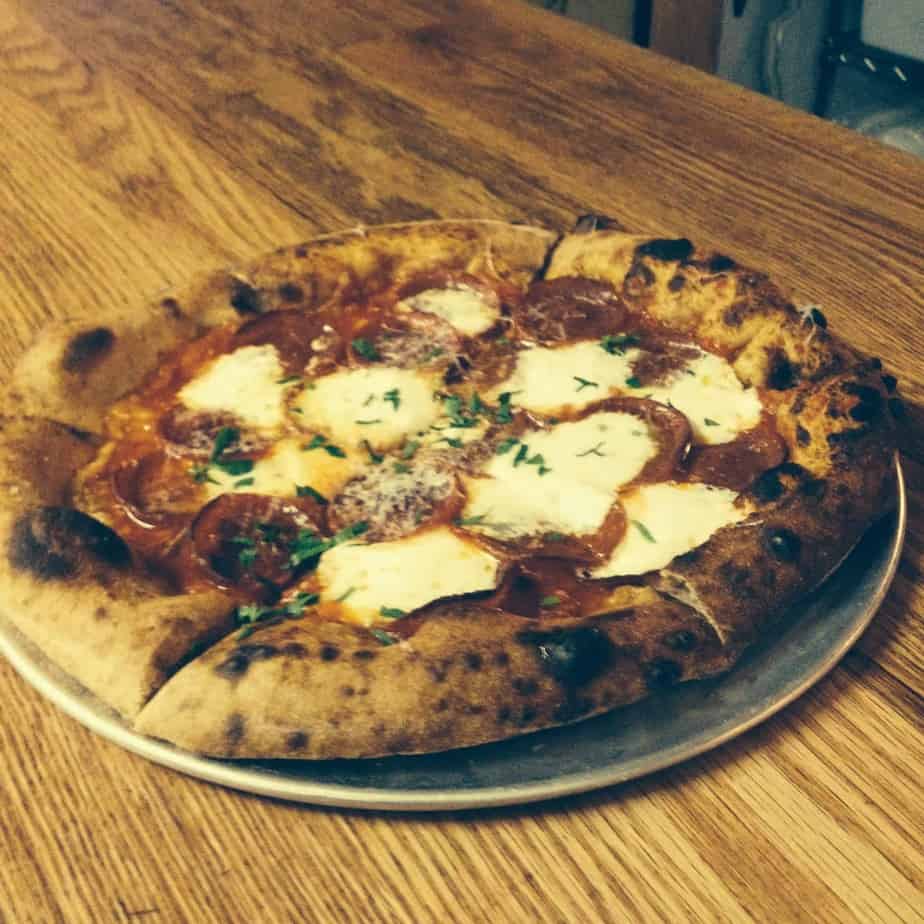 Historically, Asheville, North Carolina may not be known for their pizza. But once All Souls Pizza came onto the scene, it started getting a little buzz. The city as a whole is known for their dedication to quality ingredients, and that's where All Souls excels. Owner David Bauer is so dedicated to making delicious pies that the restaurant has a custom stone mill where they create their own flour for all the pizza dough. The result is something that should not be missed on this pizza road trip and one that you'll be thinking about well across the country. The Local Take: Christina M. via Yelp, "I've been remiss in not leaving a review sooner, but there's so much I want to say about this place… But to be succinct – so many restaurants in Asheville claim to be seasonal, farm-to-table, artisanal, and delicious.  All Souls Pizza *actually* delivers on that promise.  It's totally under the radar and Asheville tourist hype machine.  Every single meal has been fresh, remarkably tasty, full of wonderful little house-made details (ferments, bread, etc.), and memorable."
12
D'Allesandro's Pizza | Charleston, SC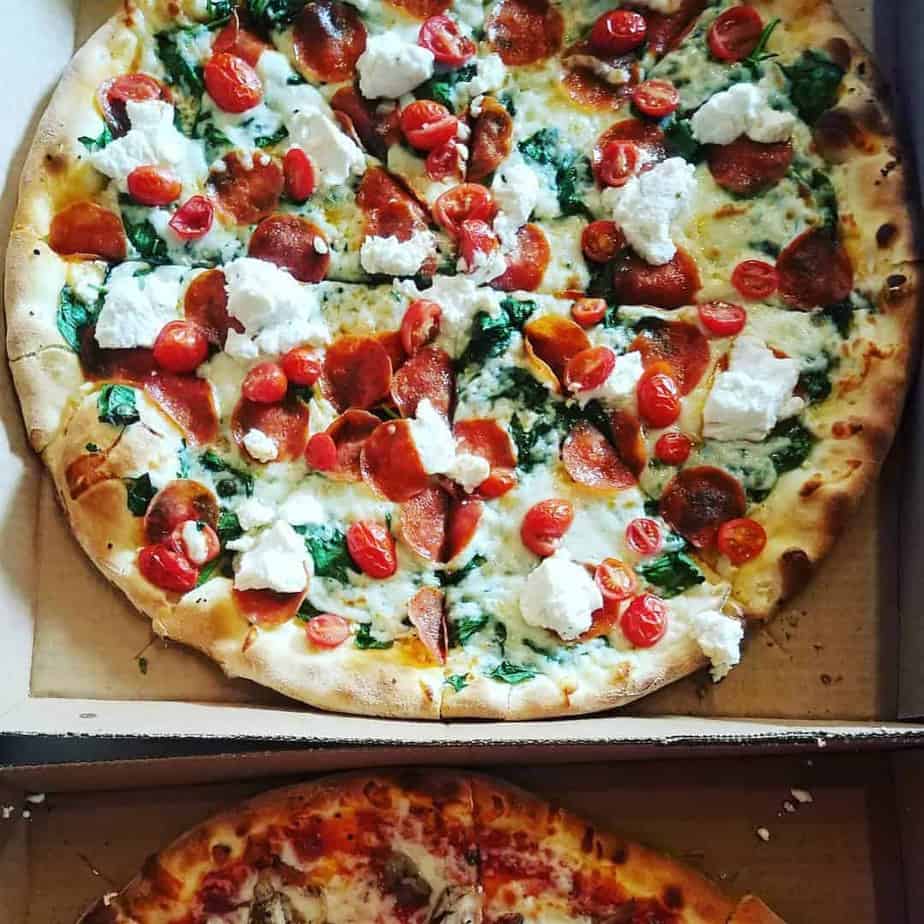 When D'Allesandro's opened in 2006, the goal was simple: owners and Philadelphia natives Nick and Ben d'Allesandro wanted to make great pizza and serve cold beer. The duo has been serving affordable, gourmet pizza to the city of Charleston ever since. D'Allesandro's artfully combines that essential Neapolitan pizza with new and interesting flavor profiles to bring a little bit of the northeast coast to the south. If you're feeling adventurous, order the Get Gnarly, which features balsamic chicken and blue cheese. The Local Take: Amy S. via Yelp, "The pizza is amazing. There are just the right amount of choices. A good amount, but you can decide after reading the menu twice. There is pizza for all types of people- meatatarians, vegetarians, vegans, and people like me, who went back to poultry and feel like a sinner until you have the D'All's pizza with pesto, roasted pepper, and chicken. I also had the margherita. So good. The pizza at D'All's somehow combines the old country, traditional Northeastern pizza places, and modern flavor components into one experience that you have to experience."
13
Steve's Pizza | Miami, FL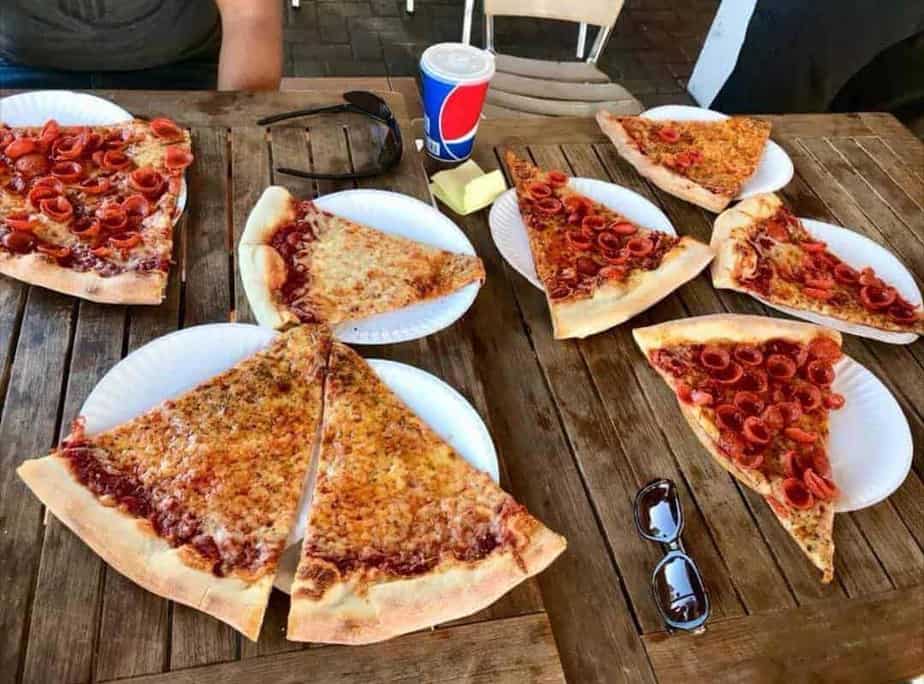 It wouldn't be a proper road trip without a stop in one of America's most beautiful cities, Miami. Luckily, there will be some delicious, New York style pizza waiting for your arrival at Steve's Pizza. This iconic south-Florida eatery has slices of pizza bigger than your head. You know, the kind that dwarfs the paper plate they sit on and most certainly require two hands to eat. Grab a slice and get a nice view of those Miami sunsets, because you've got a long drive still. The Local Take: Jeffrey H. via Yelp, "There's a lot of places that make Pizza in Miami but only Steve's is the place to get some damn good Pizza in the entire County.  Steve's knows how to make a really good pie with that bomb crust and delicious sauce.  I'm a huge fan of their pepperoni. It has the right thickness & spice, unlike the impostors that put that paper thin pepperoni on their so called Pizza.  You can top your pie with all kinds of toppings and when you do they aren't skimpy."
14
O4W Pizza | Atlanta, GA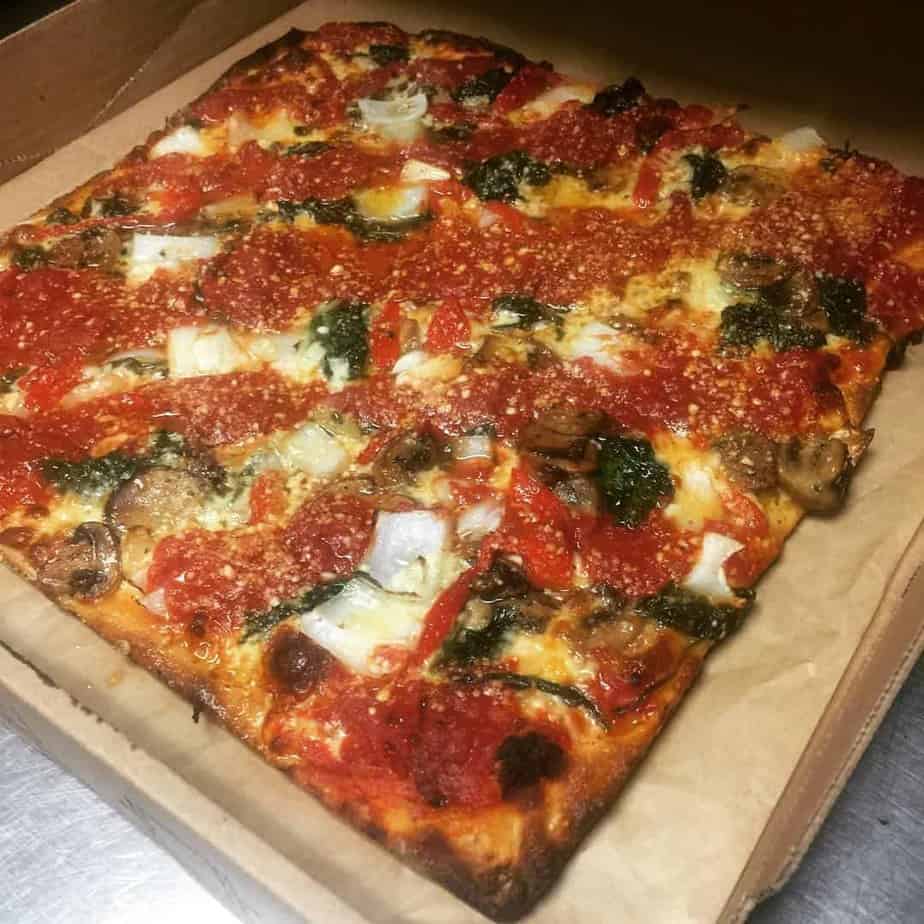 Atlanta has a lot of great pizza, but there's just something marvelous about the unique, "Grandma" style pizza at O4W. The shop was opened by a New Jersey native, so it's no surprise that they serve up a wonderful, thin, Jerry-Style round pizza as well. But I'm telling you, you need to order a grandma pizza. They're perfectly crispy and come in that classic square style. The Local Take: Karly G. via Yelp, "I didn't know how to love a pizza until I've had their Detroit – I Love Pepperoni Pizza. OMG, I can't stop thinking about it ever since. It has a Pepperoni cheese crust topped with a Detroit red sauce, tomatoes and more Pepperonis. Simple right?  By the way, Detroit basically means the pizza is usually rectangular with thick deep dish crust – give it a try."
15
Varasano's Pizzeria | Atlanta, GA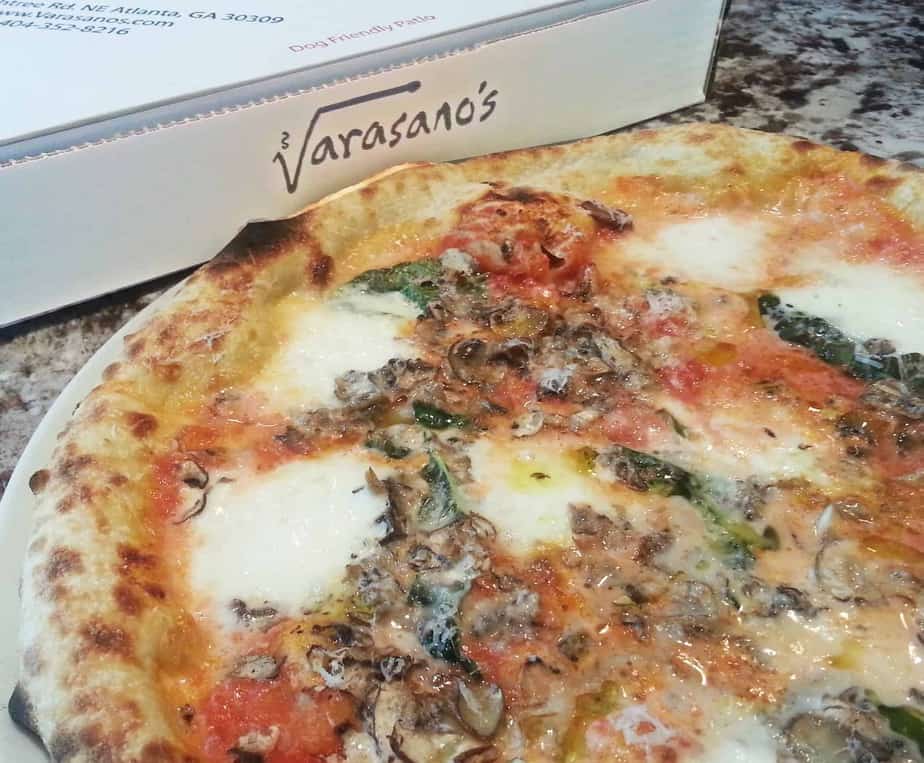 Opened in 2009 by Bronx-to-Atlanta transplant Jeff Varasano, this pizza place is almost as famous as the chef's readily available recipe. Sure, you could make this one for yourself at home, but why not let the professionals handle it? The pizza is quintessential, New York style pizza and they're so thin that they are flash baked in just three minutes. If you're going for a traditional pie, you may have less cheese than you're used to, but give it a try. The ingredients are fresh and flavorful, and the chef knows exactly what he's doing. The Local Take: Dan S. via Yelp, "Like classic NYC pizza, but with the creative approach and great ingredients, even better.  Our server Nick could not have been better in making suggestions and providing great service.  One of my new favs in the ATL."
16
Five Points Pizza | Nashville, TN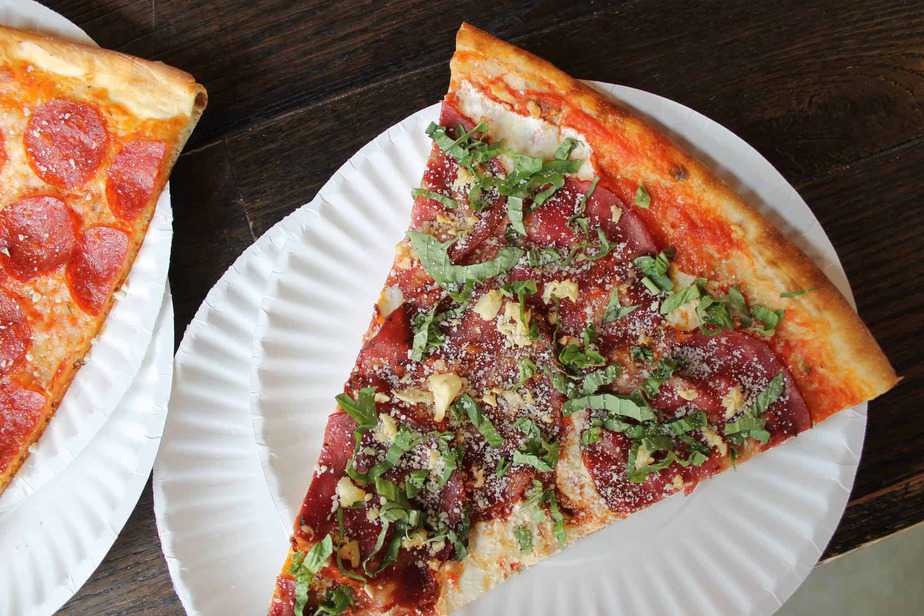 Five Points Pizza has been voted the best pizza in Nashville for the past 5 years for a reason. That reason is that it is delectable. You can grab a slice or a whole pie at Five Points, but let's be honest, we probably want that whole pie. The dough is made and aged in-house and then cooked in gas-fired deck ovens. They have tons of pie options, including meat, veggie, and vegan choices. The Local Take: Jennifer C. via Yelp, "The Yelpers have spoken. It's true, this is the best NY style pizza in Nashville. Honestly, the best pizza I've had PERIOD. Super thin, crispy, perfect sauce to cheese ratio slices that are as big as my face. I love this place."
17
Impellizzeri's Pizza | Louisville, KY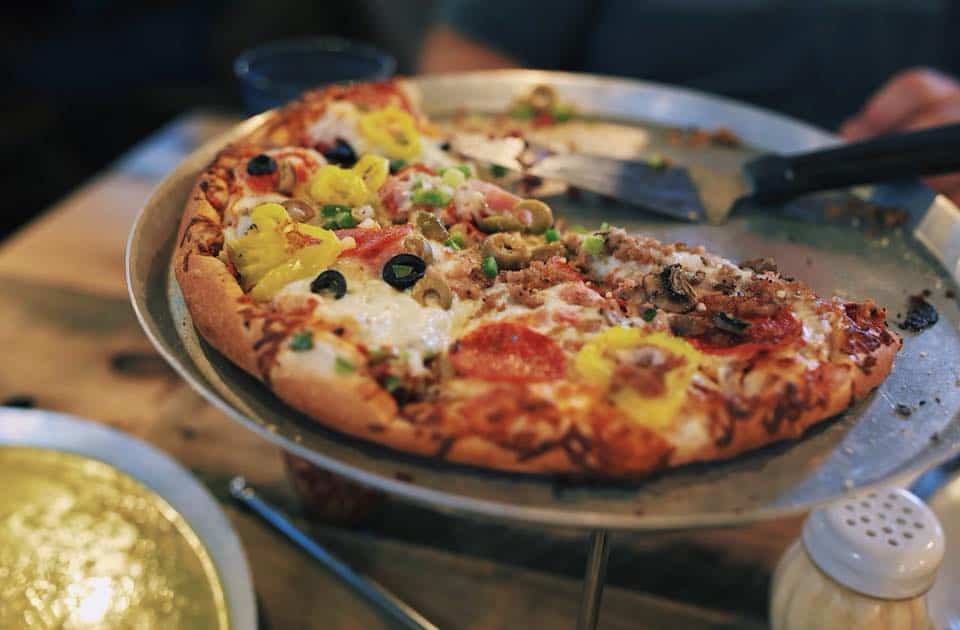 Cooking with fresh ingredients and family recipes, Impellizzeri's is an east coast experience in the heart of Louisville, KY. Impellizzeri's was born at the family butcher shop, with creator Benny Impellizzeri selling pizza at night after his father closed the butcher shop. Benny's pizza style, with 2 layers of toppings and 2 layers of cheese, has officially become known as Louisville style pizza. The Local Take: Shelby Z. via Yelp, "My oh my, I'm in love! Impellizzeri's has been a Louisville staple for years, but with it being so long since I've had a slice of their delicious pizza, I've forgotten how amazing it is… I don't even get too fancy with my pizza here, just cheese and salami, and it's still wonderful. The cheese is the best part – It's so thick and gooey, literal perfection if you're asking me."
18
TriBecca Allie Café | Sardis, MS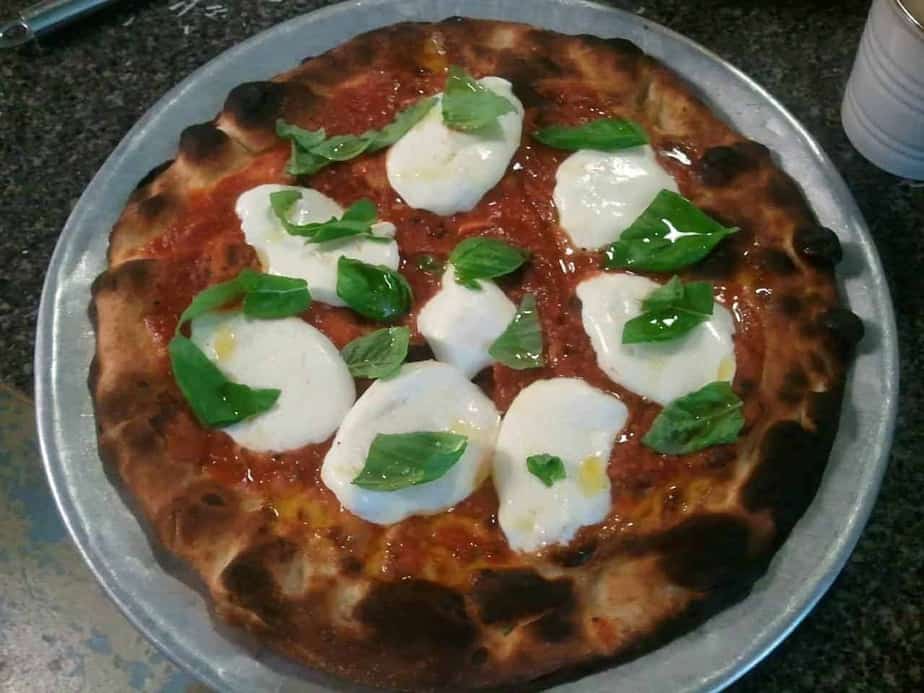 If you weren't expecting to find amazing, New York style pizza in the heart of Mississippi, then you aren't alone. But after you eat at TriBecca Allie Cafe, you'll be so pleasantly surprised. The pizza oven is wood fired and the pizza is cooked hot and fast, just like it should be. The toppings are balanced to perfection, providing a delicious mouthful of flavor with every bite. This unassuming, award-winning pizza is going to be a highlight of your trip. The Local Take: Bailey M. via Yelp, "I am a pizza connoisseur and this is the best pizza I've had….nothing even compares.  You will not go wrong at TriBecca.  I have to say I've not tried anything other than pizza because it's so good I can't bring myself to get anything else!  Fair prices and a friendly staff in a quaint southern environment that feels like a Venetian bistro.  Don't pass this one up!"
19
Melo's Pizzeria | St. Louis, MO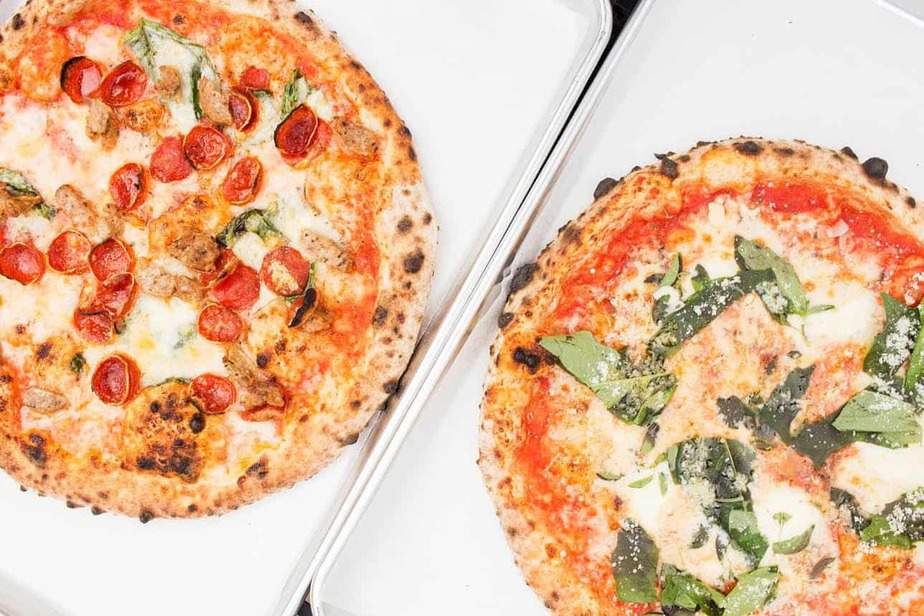 This St. Louis eatery is putting out some of the best pizza in the midwest. Their 5,500 lbs oven was sent over directly from Naples, Italy and it couldn't have landed in better hands. The specialty pies are cooked in just minutes in that 1,000-degree oven, which means you won't have to wait long at all to get a bite out of this. If you want something mind-blowing, go for the Dom, a perfect marriage between Neapolitan and New York style pizza. The Local Take: Katie S. via Yelp, "This is what pizza should be.  I can't even look at any other pizza the same again.  Like for real I am ruined, I'll have to wait until Thursday or Friday (when this place is open), and drive across town to get a pie.  But it will be so worth it.  The pizza relies on good ingredients cooked in a wood oven and you can really taste the individual flavors beautifully!  Tomato! Basil! Garlic! Mozzarella! Parmesan! Yes please."
20
1880 Pizza Napoletana | Kansas City, KS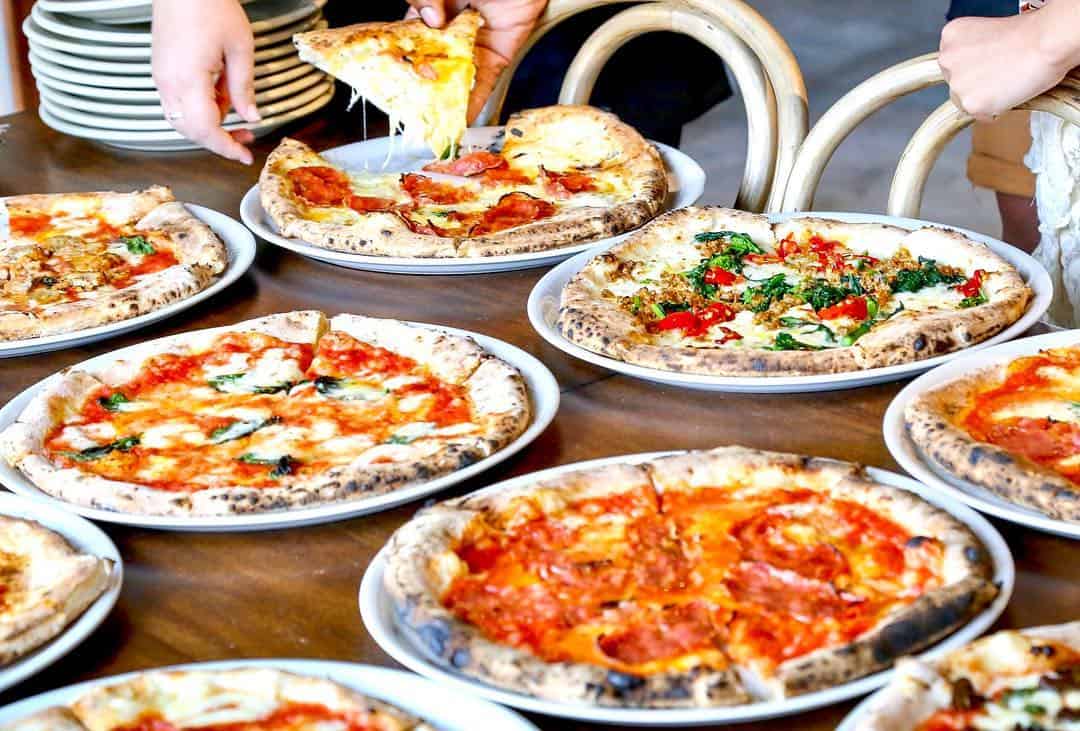 Kansas City is the next stop, and we couldn't possibly imagine not encouraging a visit to 1889 Pizza Napoletana. The pizzeria achieves deliciously soft and chewy with a little char on the outside, exactly the way a Neapolitan pizza is supposed to be served. Husband and wife duo Jason and Kelli Kolich discovered their love of pizza while studying abroad in Italy. Jason even studied under award-winning pizzaiolo, Tony Gemignani. The Local Take: Mike P. via Yelp, "Absolutely amazing pizza. A-M-A-Z-I-N-G! I've mentioned in several other reviews that I consider myself a bit of a pizza snob. I readily admit It's difficult to "wow" me with pizza. Typically, if it's not New Haven, CT pizza, I'm unimpressed. Well that all changed today at 1889 Pizza. I would be remiss if I didn't talk about the crust. This crust rivals any crust I've had from the Mecca of pizza, New Haven. Soft, yet chewy. Thin, yet strong. Everything you could want it a pizza crust – it had it. Hats off to 1889 Pizza. You have opened my eyes to the possibility of good pizza outside of the east coast."
21
Wood Stone Craft Pizza & Bar | Fayetteville, AR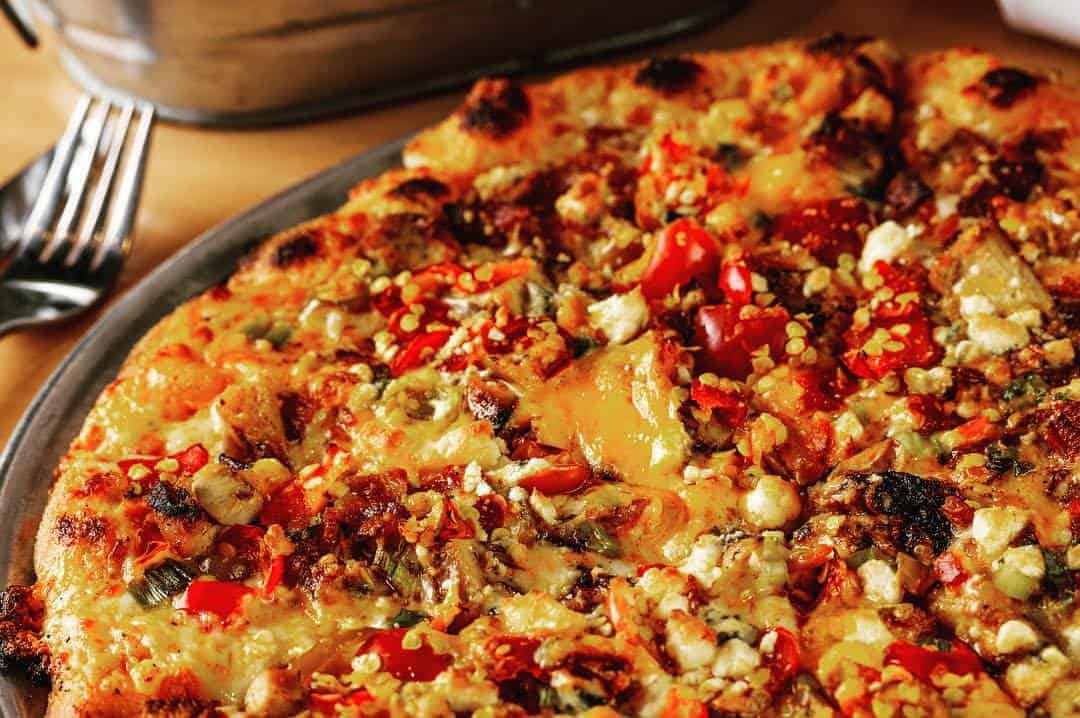 Wood Stone is so much more than delicious pizza. In addition to their wood-fired artisan pies, they also have a great selection of craft beers and carefully created cocktails. The pies are made with locally sourced ingredients and everything is made from scratch in the kitchen. When you stop in, please consider ordering the Bloomington, an absolutely delightful pizza made with caramelized onion and rosemary marmalade, gorgonzola, mozzarella, and house-made Italian sausage. The Local Take: Rick H. via Facebook, "Great, fresh-tasting pizza with a very nice crust, and the wood-fired cauliflower with the lemon aioli is out of this world! This restaurant offers a laid-back college-town food experience with friendly, likable young servers and a stylish, contemporary vibe. Highly recommended!"
22
Luna Pizzeria | Houston, TX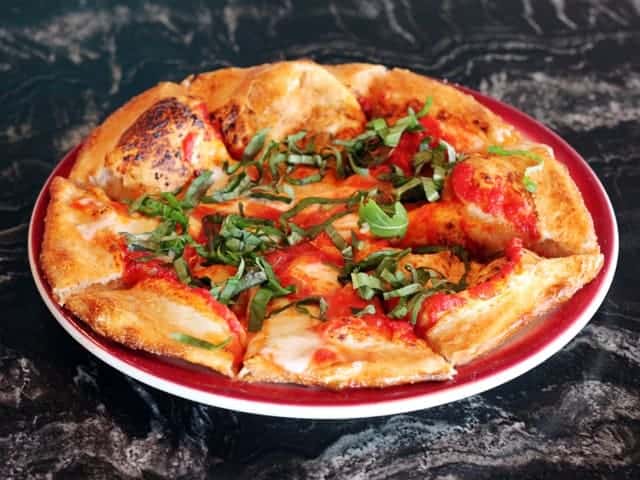 The pies at Luna Pizzeria are so doughy, fluffy, and filling, that you may require wheels to exit the restaurant. The iconic-Houston pies come in two sizes, a 9" personal pizza for $9.50 or a Large pizza for an additional $6.50. When it comes to pies at Luna, nothing, and I mean nothing, compares to the Prosciutto and Arugula pizza. But if you want to keep it simple, the Margherita pizza is the choice for you. The pies are San Francisco-style and get their unique doughy texture thanks to their sourdough base from local Houston bakery, Angela's Oven. The Local Take: Casey K. via Yelp, "This place is beyond delicious! I have been here a few times and everything I've gotten has been great. Today I had a personal margherita pizza and said, 'This pizza is so good,' out loud at least three times. The crust is soft and crispy at the same time,  and the sauce is just a little sweet. It's my favorite pizza place in town, great lunch specials too!"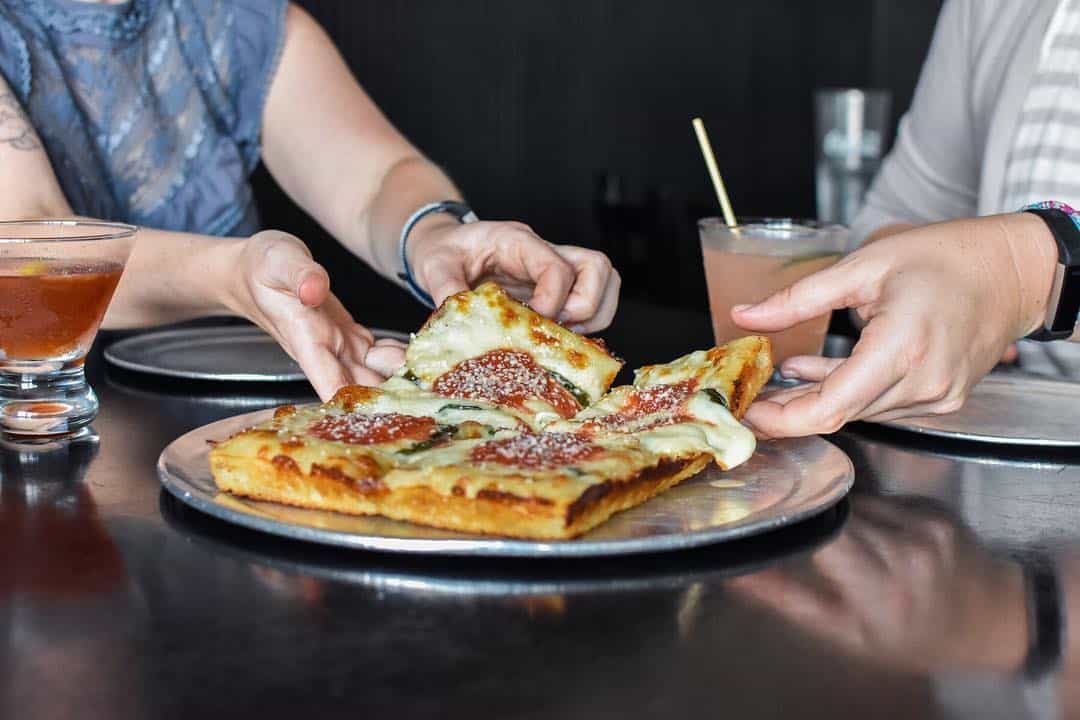 Brothers Zane and Brandon Hunt have made Detroit style pizza and an absolute necessity in Austin since opening in 2011. Their pies are inspired by the food the ate growing up in The Motor City. The signature square pies are cooked in the traditional style, with thick, chewy Sicilian crust and all the toppings under a drizzle of sauce. The Local Take: Via Pizza Quixote, "This is the first time I've found a pizzeria that makes two distinctly different styles of pizza and nails them both. This was a transcendental pizza experience and I cannot recommend Via 313 too strongly. If you have a chance, get there."
24
Home Slice Pizza | Austin, TX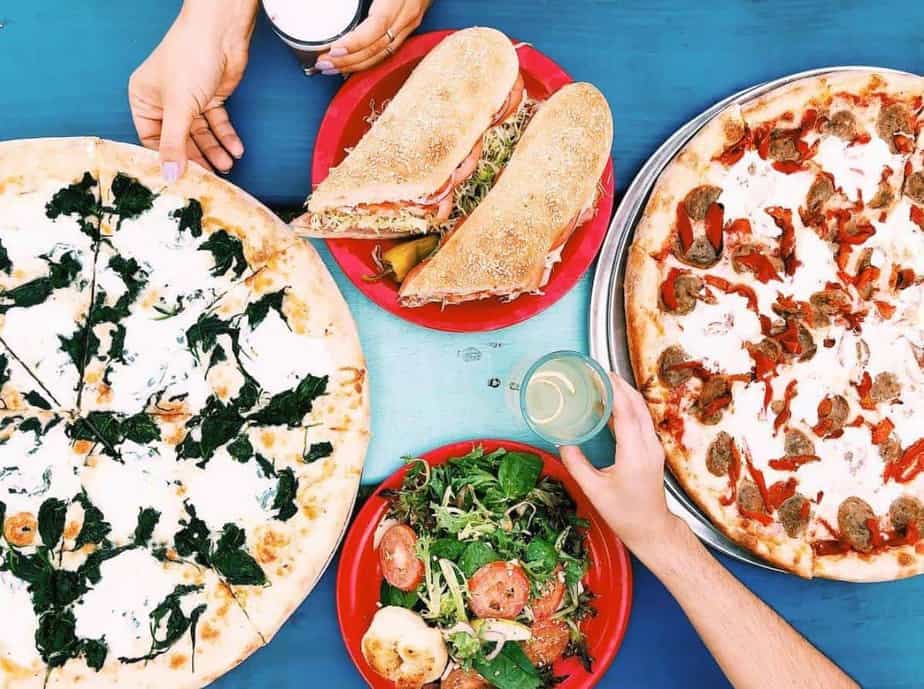 Home made and hand tossed, Home Slice Pizza makes New York style pizza for Austinites. The trio of owners, Jen and Joseph Strickland and partner Terri Hannifin, loved food and the women fell in love with New York pizza while studying at NYU. Since 2004, Home Slice has been the go-to destination for thin, perfectly prepared pizza in Austin. While you're there, you'll probably want to "keep it weird," which is why you should definitely order their White Clam Pizza, which rivals the best in New Haven. The Local Take: Stephanie Y. via Yelp, "GET THE WHITE CLAM PIZZA!!!!! OMG seriously it has been 4 years since I first tasted the deliciousness of the white clam pie from Home Slice and it NEVER FAILS. I'm supposed to be on a hardcore diet for Spring Break….but guess what? I broke it this weekend just for you, White Clam Pie xoxo"
25
Pizzeria Bianco | Phoenix, AZ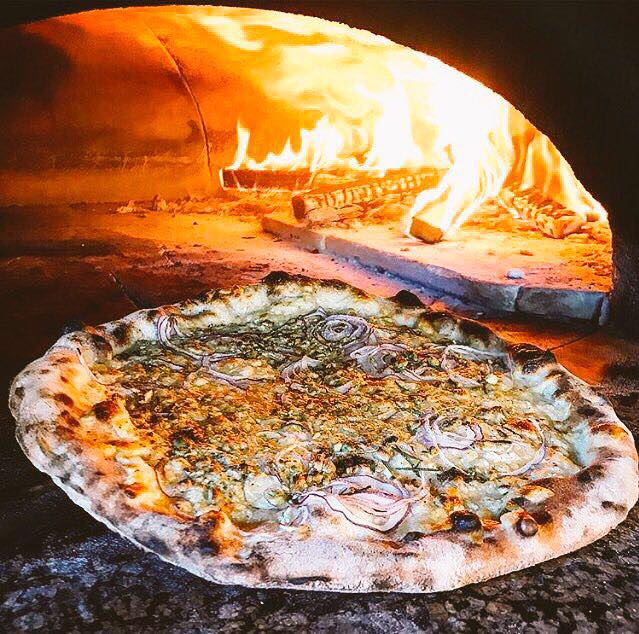 Chris Bianco isn't just a skilled pizza maker. He's also a James Beard award-winning chef. Bianco started Pizzeria Bianco inside the back corner of a neighborhood grocery store in 1988 and was a huge part of the artisan pizza movement across the country. His talent is incredible, and you'll taste every bit of it in the pizza you order here. Any pizza here will probably wow you, but if you're open to suggestions, please order the Sonny Boy. It's too marvelous to put into words. The Local Take: David W. via Yelp, "This is arguably the best pizza I have ever had.  A few things to share when making that statement.  The crust is amazing and the sauce is truly divine."
26
Ambrogio 15 | San Diego, CA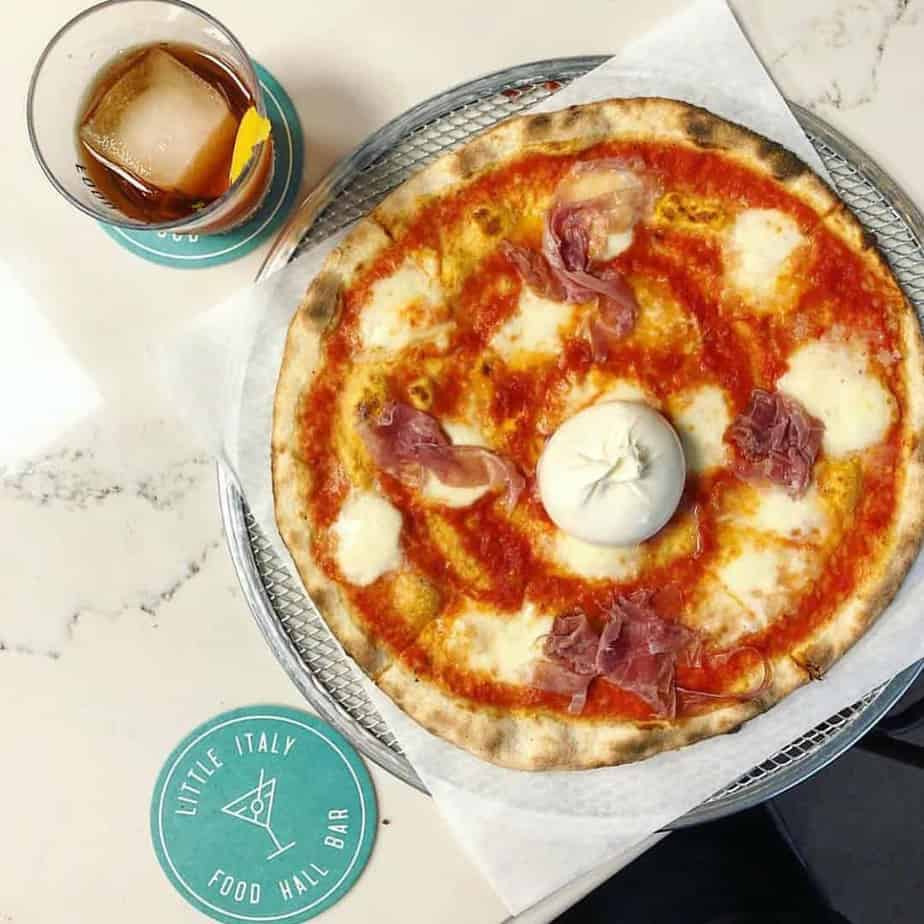 Ambrogio15 Pizza is authentic Milan-Style Pizza, known for its paper-thin crust. The dough recipe is top secret, but it does involve a 48-hour rising process, which should show you just how dedicated they are to making a mouthwatering pie. Most pizza experts will tell you that flour is the most important ingredient in any pizza, and they are right. Ambrogio15 uses Petra flour, made from stone ground organic Italian wheat, and it's divine. The second most impressive ingredient at Ambrogio15 is their Italian imported cheese, which is why you should definitely order the Quattro Formaggi pizza, featuring mozzarella, asiago, gorgonzola dolce, and smoked provola. The Local Take: Mandy M. via Yelp, "I got a Margherita pizza and it was pure perfection, a symphony of flavors and scents. I nearly cried. The best pizza of the decade for me for sure, since Piccolo Mondo closed."
27
Pizzeria Mozza | Los Angeles, CA
Doing White Pizza right isn't always easy. But Pizzeria Mozza rises to the challenge and then flies right over it. Their Bianca pizza is so cheesy and so good, I can guarantee it will be hard to stop eating it. In the true spirit of California, Pizzeria Mozza is committed to sustainability, with locally sourced ingredients that are as fresh as you can get. The team behind this Los Angeles gem includes Nancy Silverton and award-winning restaurateur Joe Bastianich. The Local Take: Stephanie S. via Yelp, "My boyfriend introduced this place to me and I am the happiest girl alive. I've never had pizza of this caliber before. It's authentic Italian style pizza with fresh ingredients you can taste, I'm not kidding. Every individual flavor profile comes through with clarity. Save yourself time and just order 2 right away. Take the other to go if you can resist finishing it there."
28
Secret Pizza at Cosmopolitan | Las Vegas, NV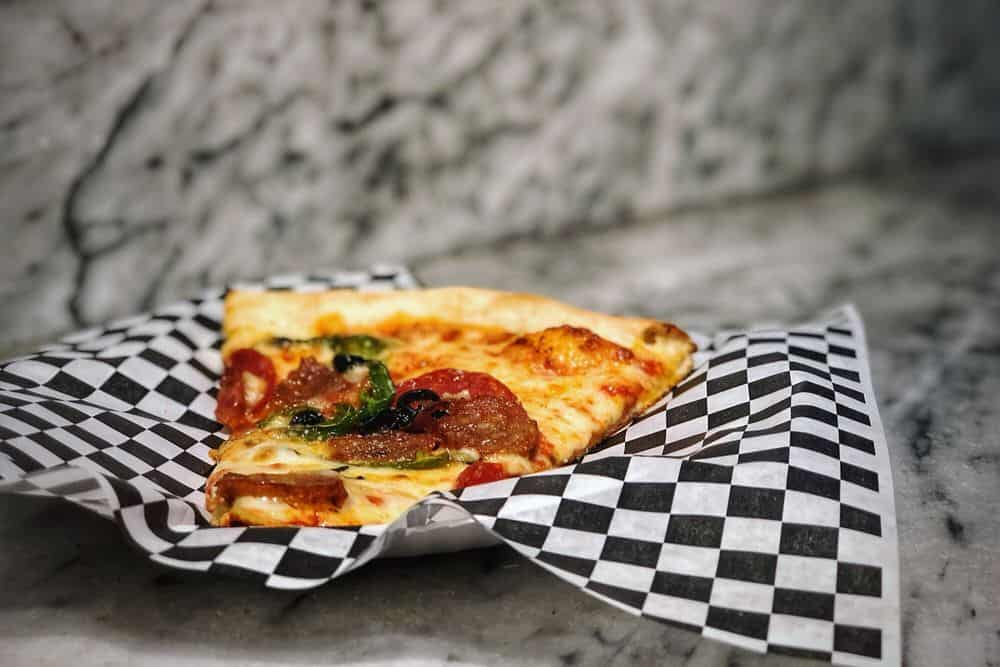 There is simply no better place to end a night of fun in Las Vegas than Secret Pizza at the Cosmopolitan Hotel. It's not really a secret, not anymore anyways. But that doesn't make it any less awesome. The crust is thin, it's New York style, and it's also the perfect place to recover from that last round at the bar. You can snag a slice of pie for $5-6, which is a steal in Vegas. The Local Take: Zack P. via Yelp, "As far as the pizza itself: Thin crust, simple toppings, and a lot of love. The first is thin, with the perfect crisp that isn't overdone. The cheese is the right temperature but not scalding hot and the toppings all legit."
29
A16 | San Francisco, CA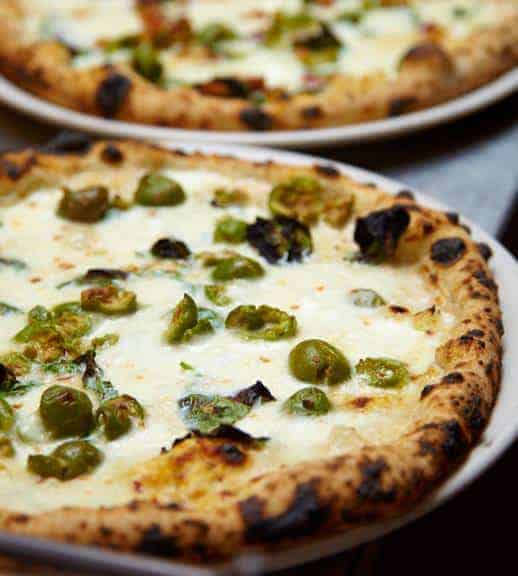 Named for the highway of the two seas, which runs across Italy from Napoli to Bari, A16 has been bringing in pizza lovers from across the country since they opened. All the pies are oven-fired in a wood-burning oven, with the thin crust you're an expert at consuming by now. The menu is overseen by Executive Chef Nicolette Manescalchi, and the house-butchered and cured meats will leave you wanting more. The Local Take: Allison L. via Yelp, "Pizza is awesome- Neopolitan style so a basic crust with a thin bottom showcasing the toppings. Got the funghi and the margherita with pancetta. Both were excellent! Pair that with an app and carafe of wine and you're set!!"
30
Tony's Pizza Napoletana | San Francisco, CA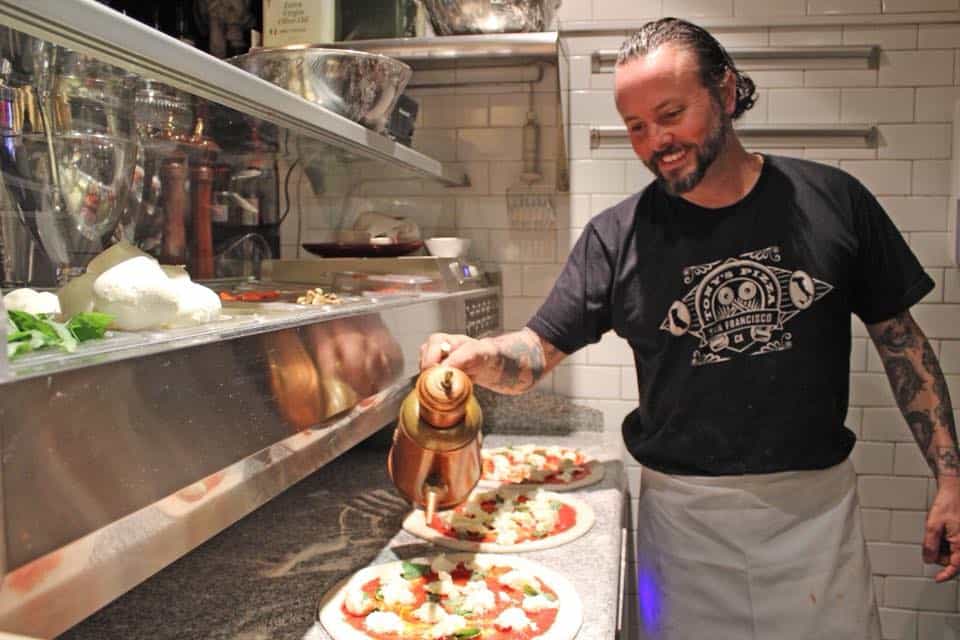 Owner Tony Gemignani has been working in the pizza industry since 1991. With inspiration from his mother and his love for Neapolitan pizza, he embarked on a career that would earn him both Best Pizza Margherita at the World Pizza Cup in Naples, Italy and Best Pizza Romana at the World Championship of Pizza Makers. And all of his accolades come through in the quality of the food at Tony's. The ingredients on the classic Margherita are simple and fresh and the crust is woodfired with a perfect char. At Tony's you can get a bite of several different styles of pizza, including Neapolitan, Classic American and Italian, Sicilian, Pizza Romana, Gluten Free, New York, Detroit and St. Louis Style. The Local Take: Jaymee S. via E Is For Eat, "I think the thing I adored the most about this pizza was the simplicity of it. The only ingredients are San Marzano tomato sauce, fresh globs of mozzarella, fresh basil, extra virgin olive oil and sea salt. I think the sea salt really brings it all home…highlighting all of the wonderful Italian flavors. And the crust…airy and chewy and heavenly. It's cooked in a 900-degree woodfired oven to the point where it gets those little charred black blisters which are my favorite part."
31
Apizza Scholls | Portland, OR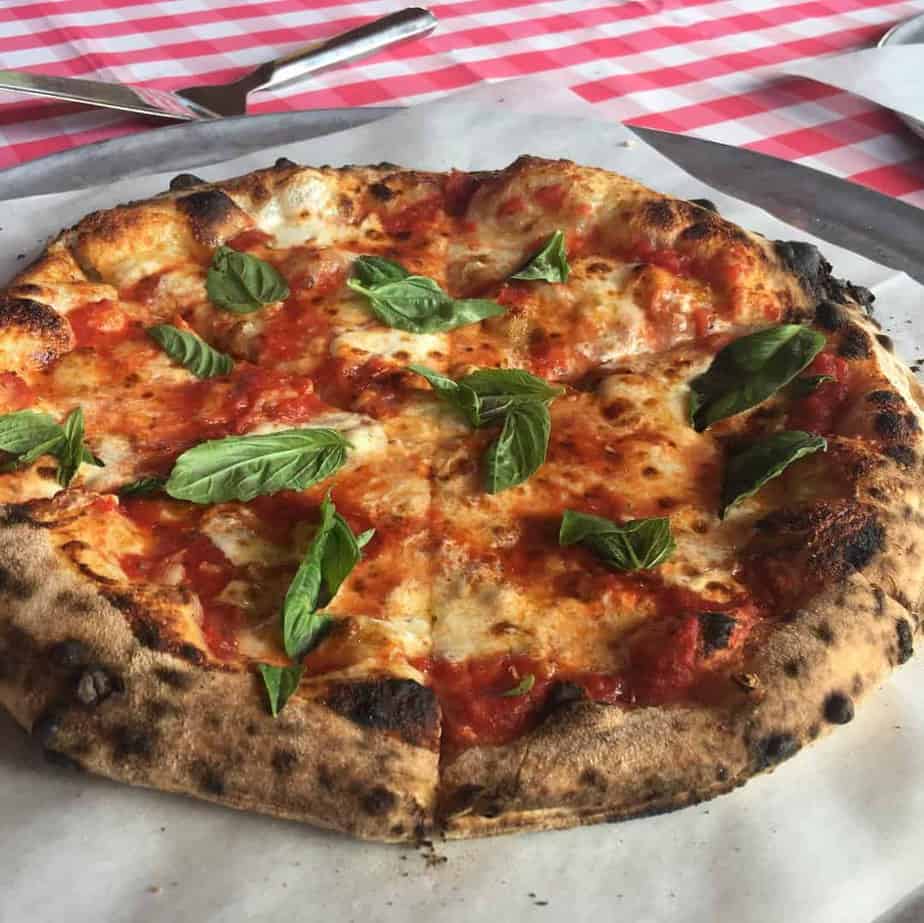 It's time to bid California farewell and head up the coast to our first stop in the Pacific Northwest, Apizza Scholls in Portland. Apizza Scholls may be known for their rules (no substitutions, no more than three toppings, specific carryout times) but they know what they are doing, so let's just follow their lead. Their house pies are modern and traditional all at the same time, but the unsung hero of this joint is their Apizza Amore. It's a Margherita pizza with capicola (aka cured pork shoulder) it's melt-in-your-mouth divine. The Local Take: Burt L. via Yelp, "I went there after reading a review that this was the best pizza in Oregon. Now, I believe that review may well have been true. This was the best pizza crust I've had in a very long time. The ingredients and the cheese and the sauce were intensely flavorful. The atmosphere is decidedly early-80's pizza parlor and that's fun too. But the pizza is way way better than anything one of those parlors dished out."
32
Bar Cotto | Seattle, WA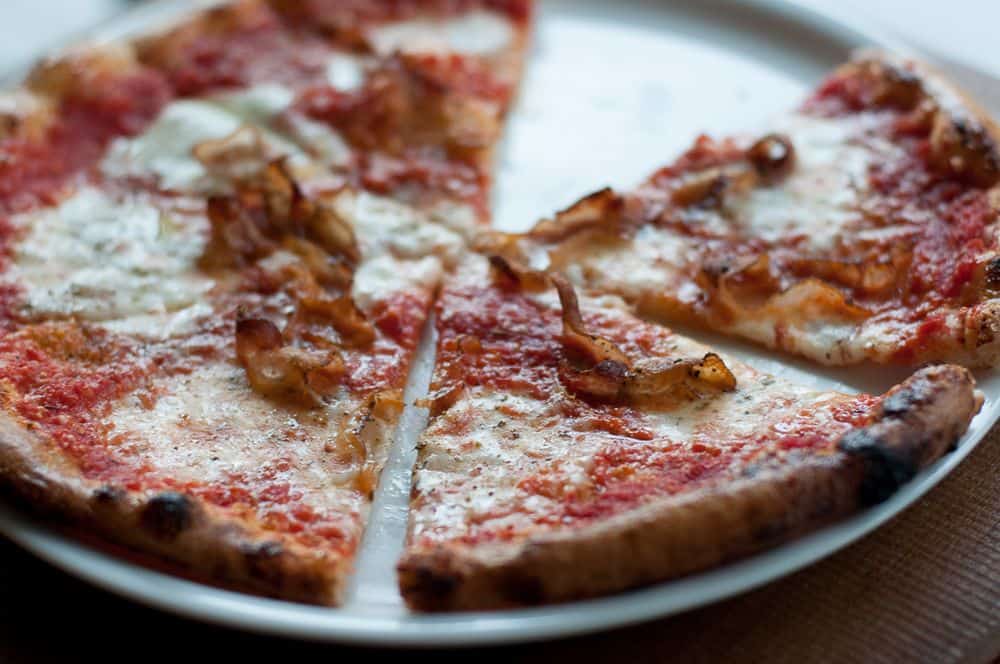 Bar Cotto is a Parma-style salumeria and cocktail bar in the heart of Seattle. Their menu is out of this world and they serve so much more than pizza, but we all know why we're here. The pizza is woodfired and has the most scrumptious, crispy crust on the west coast. If you're craving a treat, please order the Salsiccia pie. The house-made fennel sausage is incredibly flavorful. The Local Take: Claire J. via Yelp, "Holy cow this is good pizza. My husband and I have lived in and spent time in NYC, Chicago, and Italy and have pizza at least once a week. This was the best pizza I've personally ever had. The sauce is spectacular, the ingredients and toppings are high quality, but the crust. The crust is so shockingly delicious. I have never taken home leftovers before, I'm just not that kinda girl, but tonight I took a box"
33
Serious Pie | Seattle, WA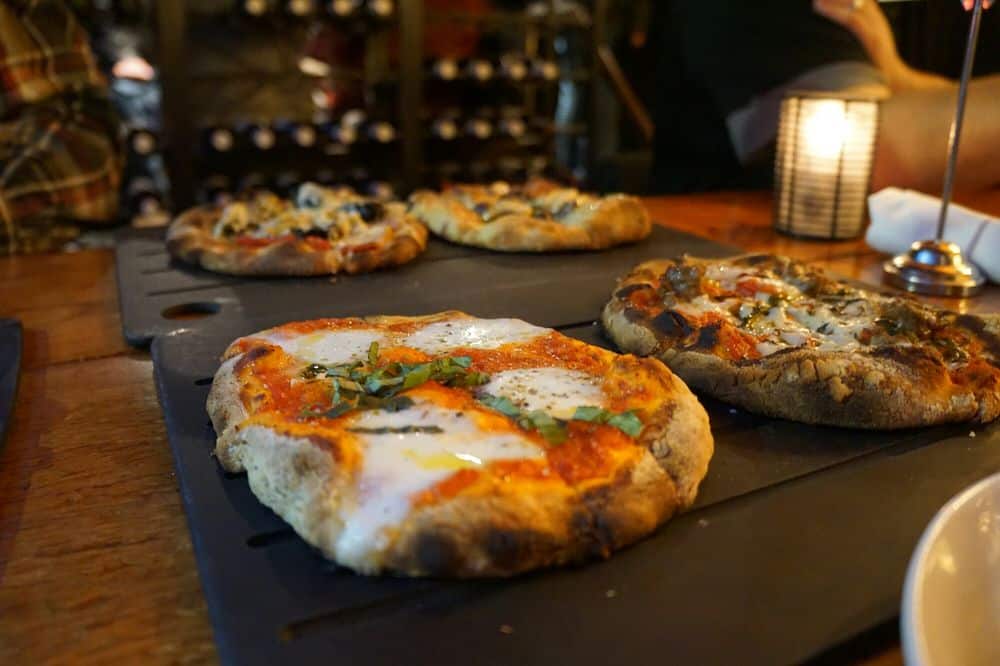 Serious Pie is artisan pizza don right. Each pizza is cooked in a 600 degree, stone-encased apple wood burning oven. Combined with the delicious flavors of housemade charcuterie and artisan cheeses, your taste buds are in for a treat. Stop in during happy hour so you can order half-sized pizzas and taste more than one style, including the Truffle Mushroom pizza people can't stop raving about. The Local Take: Jaime R. via Yelp, "Great pizzas, great service, great location. The pizzas have a great crust and the topping combinations are both classic and interesting. The truffle mushroom pizza was the definite favorite of the day but the margarita and sausage were also amazing. Perfect thin, wood-fired crust with just enough homemade sauce."
34
Nuch's Pizzeria | Salt Lake City, UT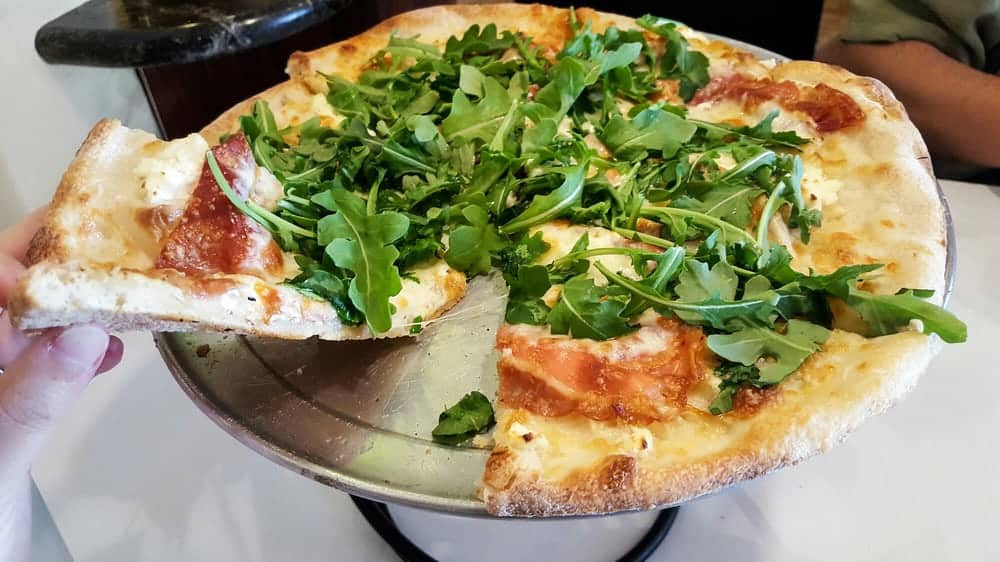 Some of the best hidden gems in this country are tucked away in unappealing strip malls, and Nuch's is just another great example. Their pizza is a crispy, almost crunchy crust, topped with fresh ingredients and made with love. When you go in, be sure to try the white pizza, which is topped with made-from-scratch ricotta that will leave you raving. The Local Take: Crissa L. via Yelp, "Excellent pizza, best since living on the East Coast. New Haven and Ultimate White are to die for!"
35
Pizzeria Locale | Boulder, CO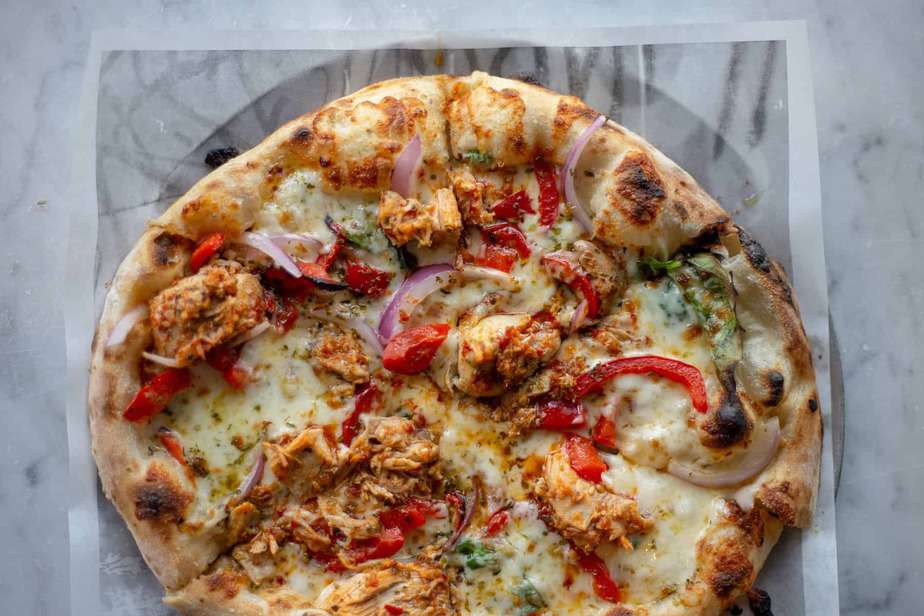 In true southern Italian form, the pizza at Pizzeria Locale is cooked for two minutes in a 900-degree oven. The shop serves up both red and white pizzas, from spicy to sweet. Ingredients and materials used at this Boulder eatery are sourced from top-tier producers in Italy and Colorado, ensuring fresh, delicious food for those visiting Colorado. The pizza is top notch, but don't skip the appetizers. When you're in Rome (Boulder) right? The Local Take: Amanda A. via Yelp, "Amazing pizza! The crust is good enough to just eat by itself. I had the Margherita pizza and my husband had the one with clams. This definitely one of the best no-frills type of pizza and it's no wonder it was mentioned on MasterChef."
36
Orsi's Italian Bakery & Pizzeria | Omaha, NE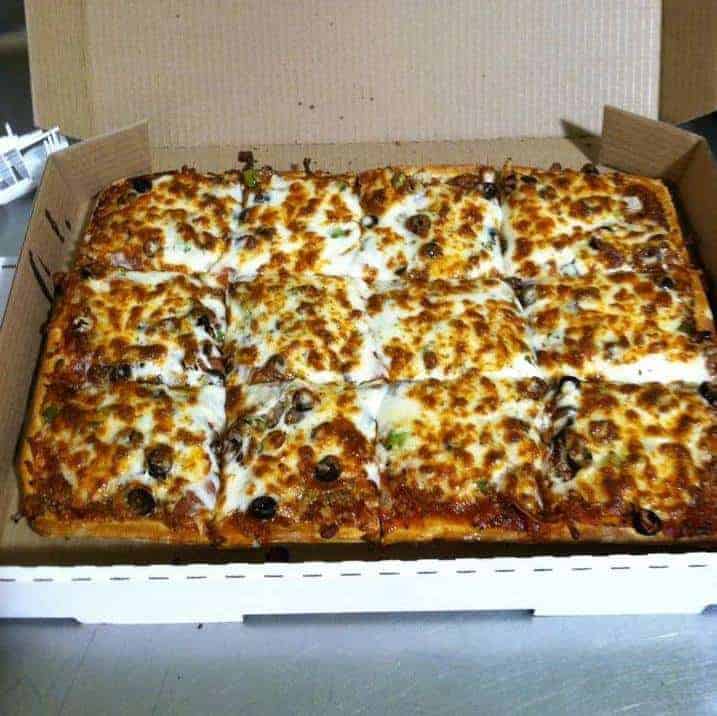 An absolute icon in Omaha's Little Italy, Orsi's Italian Bakery & Pizzeria was opened in 1919 by WWI veteran, Alfonso Orsi. The restaurant specializes in hearty, Sicilian style pizza, which can be ordered in a quarter sheet, half sheet, or full sheet. The pizza itself is so filling, but please leave room for a little cheesy garlic bread. It's just heavenly. The Local Take: Stephanie A. via Yelp, "Orsi's pizza tastes different – and better – than other pizzas because it is really real. Made fresh, fresh ingredients, and in a historic location so a bit of history gets baked into the pizza along with love. You'll want to note that there is not table service, although there is a bench to sit on if you have a pizza emergency and must eat your pizza immediately – every visit I've made there's someone eating pizza out of the box, so I suspect this happens regularly."
37
Gusto Pizza Co. | Des Moines, IA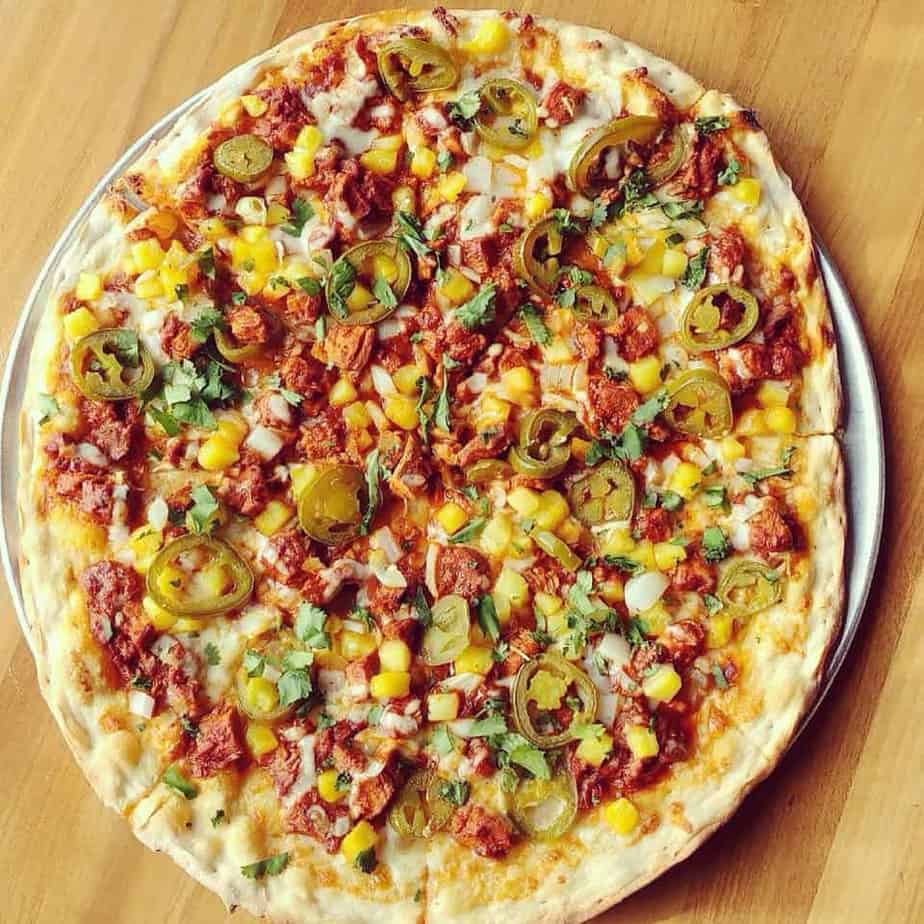 You can't stop in Des Moines without visiting the best pizzeria in the city, Gusto Pizza Co. Their pizza is inventive yet uncomplicated, and delicious. It's reasonably priced and it feels like the kind of place that would inspire you to tell everyone you know to go eat there. Just in case you thought you didn't need smoked brisket on a pizza, I'm here to tell you that you absolutely do, and it should come in the form of The Duke, one of Gusto's yummiest pies. The Local Take: Chris B. via Yelp, "At the moment, this is my favorite pizza place in the Des Moines area. The food is all realllllly good. Whether you order something simple or one of their original pizza creations, you will leave Gusto's with a full stomach and satisfied tastebuds."
38
Pizzeria Lola | Minneapolis, MN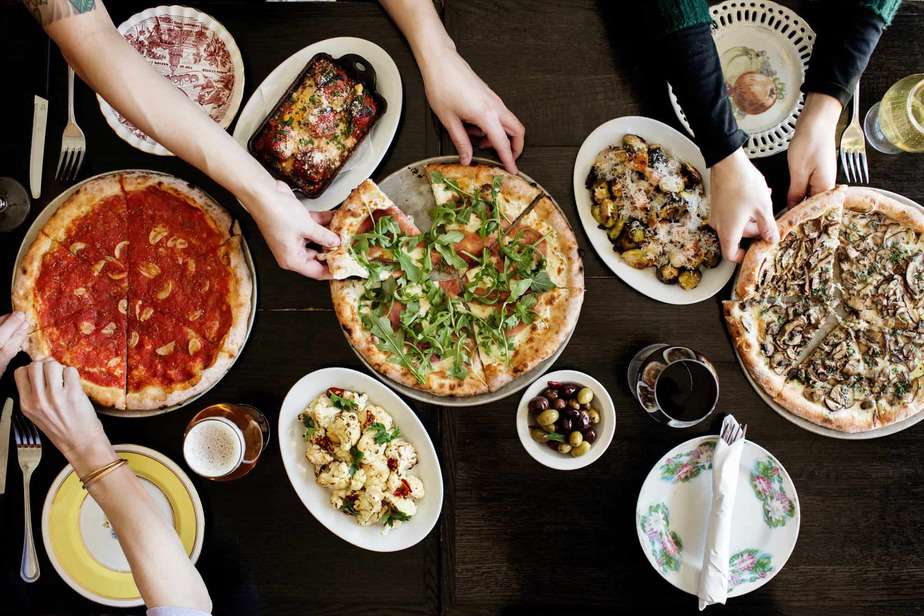 Pizza, in general, stirs up feelings of the "American Dream" fulfilled. From its first arrivals here in the U.S. pizza has been a way for immigrants to make a way for themselves in America, all while sharing delicious food with the rest of us. Pizzeria Lola is no exception. Korean immigrant Ann Kim fell in love with artisan pizza and then decided to make some for herself. Pizzeria Lola, named after Kim's dog, serves artisan, wood-fired pizza with unexpected, but necessary, ingredients ranging from sheep's milk feta to Korean sausage. The Local Take: Barrett N. via Yelp, "Brick-oven pizza, or traditional Neapolitan, in my opinion, is making a big stride recently. Lola does not disappoint in this regard, either. Light and airy crust, fresh ingredients, great sauces, unique pizza choices, and all charred right to the perfect temp to produce utter deliciousness. You will not be satisfied only trying one."
39
Transfer Pizzeria & Cafe | Milwaukee, WI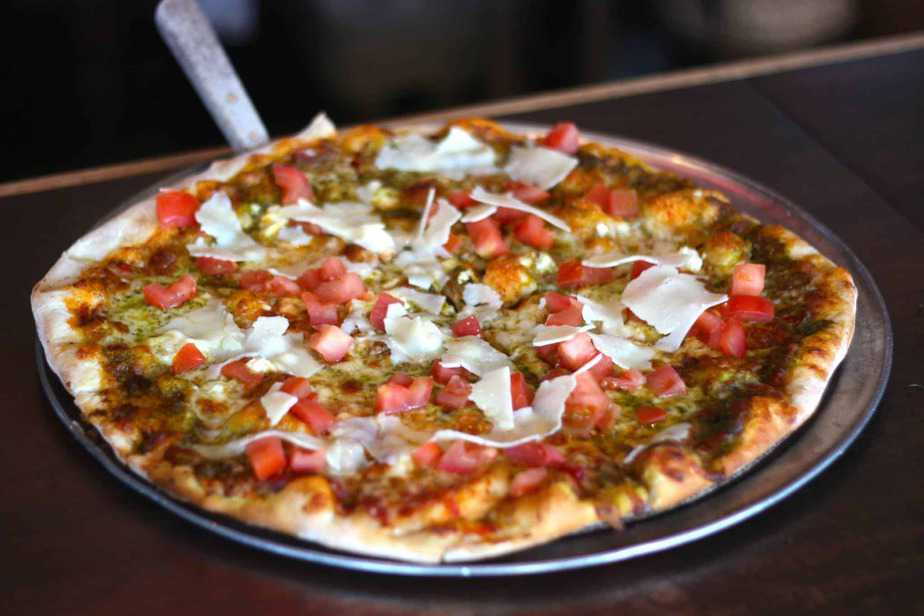 This pizza hub opened in 2008 and has been a go-to destination for pizza lovers in Milwaukee ever since. The pizzas served at Transfer are available with both traditional red sauce and a creamy garlic sauce. There isn't just one style of pizza on display at Transfer, with Chef Vasyl Lemberskyy behind the counter. The chef grew up in Ukraine and pulls inspiration for his creations wherever he finds it. When it comes to ordering, Lemberskyy recommends the Diavola, which features cheese, tomato sauce, salami, hot and red peppers and onions. The Local Take: Joanne W. via Yelp, "I'm a native New Yorker, and in my pizza-snob opinion, this is the best pie in Milwaukee–for the sauce, the toppings and especially the chewy, yeasty crust.  They have endless options, but I can't tear myself away from the mouthwatering eggplant pizza. A friend swears by the pizza with garlic cream sauce, and another is addicted to the pear martinis."
40
Pequod's Pizza | Chicago, IL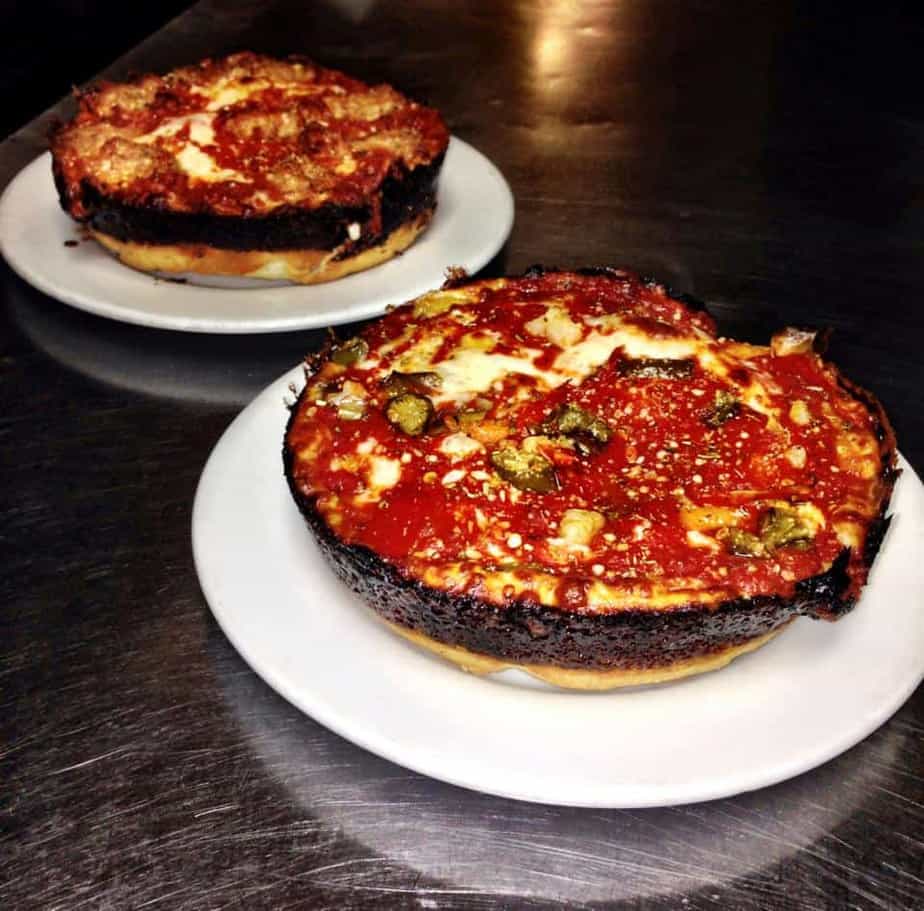 Deep dish pizza is a world unto itself. It's thick, it's saucy, and most importantly, it cannot be achieved without butter. Could anything be more American? Pequod's has been shelling out authentic, Chicago deep dish since the 1970s and it's developed a cult-like following. Although they've earned respect for their thin crust, you should absolutely order a deep dish. Get your knife and fork ready, because you'll need them. The Local Take: Lynette H. via Yelp, "I have been wanting to come here for 4 YEARS. Don't be dumb like me and wait that long. We ordered onion rings and a medium sausage pizza. I thought to myself, maybe the hype isn't real. OH IT REAL. The crust of the pizza is so good, it's worth it."
41
Lou Malnati's Pizzeria | Chicago, IL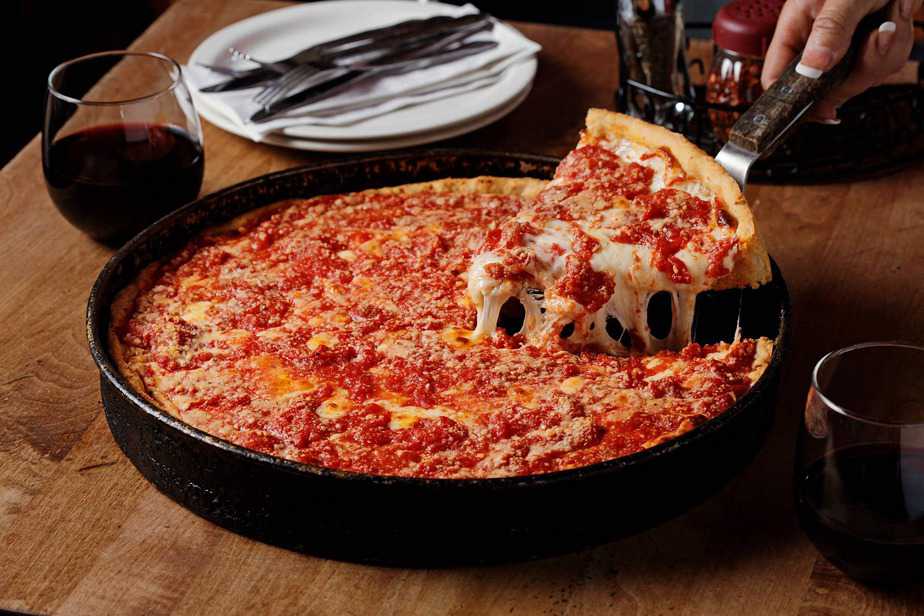 Full disclosure. The first time I ate at Lou Malnati's, I spent hours searching for an illusive pizzeria called "Illuminati's". I know, I'm embarrassed. Once I figured out that it was in fact named after a man and not an illusive, non-existent group of rich people, I was able to grab a seat and slam some truly awe-inspiring deep dish. The aforementioned butter crust that makes or breaks a deep dish pizza is achieved to perfection at Lou Malnati's. It's the most famous pizza in Chicago for a reason, people. The Local Take: Amy O. via Yelp, "If I could leave a two worded review, it would be 'butter crust'. Lou Malnati's is my favorite Chicago deep dish pizza! And the butter crust is mainly why I love this pizza. When you are eating such a heavy and hearty pizza, the soft, buttery crust compliments it so well. I love to order the deep dish pizza with sausage and giadinera which gives the pizza a nice spicy flavor."
42
Bazbeaux's Pizza | Indianapolis, IN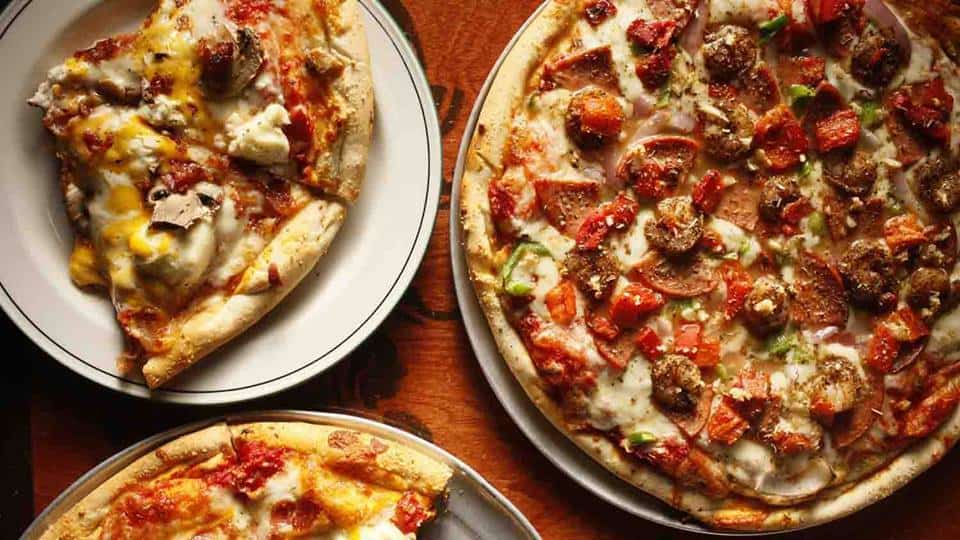 Since opening in 1986, this whimsy Indianapolis establishment has been a popular pizza destination. Bazbeaux's offers both whole pies and pizza by the slice and specialize in a thin, Neapolitan style crust topped with fresh ingredients. The pizzeria also accommodates a wide range of dietary restrictions, from gluten-free to vegetarian and vegan options. The Local Take: Holly S. via Yelp, "The toppings were unbelievably tasty and fresh, unlike any pizza before! I was zesty, with just enough spice from roasted red peppers, pepperoni, and chorizo and fresh basil and creamy feta. I can't express how good the pepperoni and chorizo is, you'll just have to try it yourself."
43
Buddy's Pizza | Detroit, MI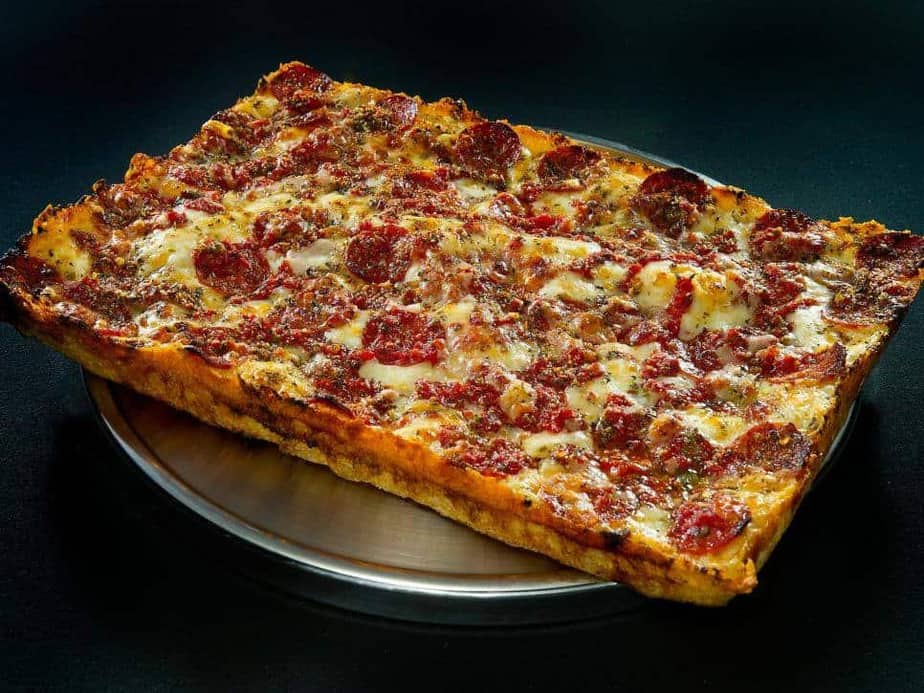 Buddy's Pizza has been in the business since 1930. But it wasn't until 1946 that they started serving the first Detroit-style pizza. Known for its square shape and Sicilian inspiration, the pizza is doughy and heavy on the toppings. Detroit style pizza is all about achieving the perfect crisp on the thick crust while keeping the body of the pizza chewy and delicious. The Local Take: Carrie G. via Facebook, "I love pizza. Buddy's is the best I've ever had. I recommend the Sicilian. Flavor after flavor in top of delicious crisp crust. So much Joy in a pizza pie."
44
Rubino's Pizza | Columbus, OH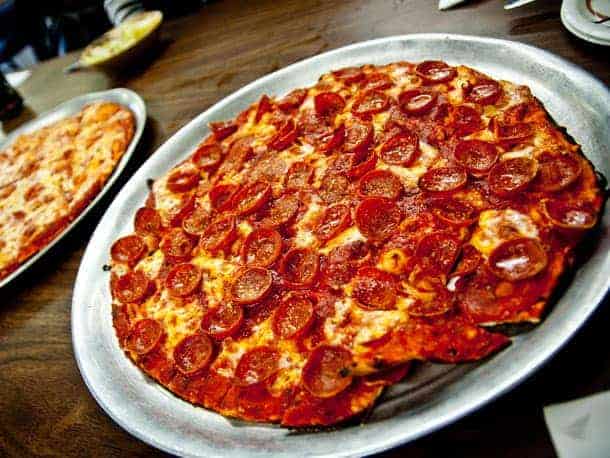 Open since 1954, Rubino's has long been a "go to" pizza joint in Columbus. And it's no wonder either- the pizza is amazing. Some people say that if you plan on sharing a Rubino's pizza, you might as well just order two because you will want to keep one for yourself. Rubino's has perfected the Columbus style of pizza, which features a flakey, extra thin crust, edge to edge toppings, a tangy sauce, and pieces cut into squares. The Local Take: Chris L. via Yelp, "Rubino's is simply the best in Columbus. Great thin crust pizza that's delicious and unique. If you are a cheese hound order extra cheese with everything and the do not forget the sausage it's the best. Love eating there."
45
Mikey's Late Night Slice | Columbus, OH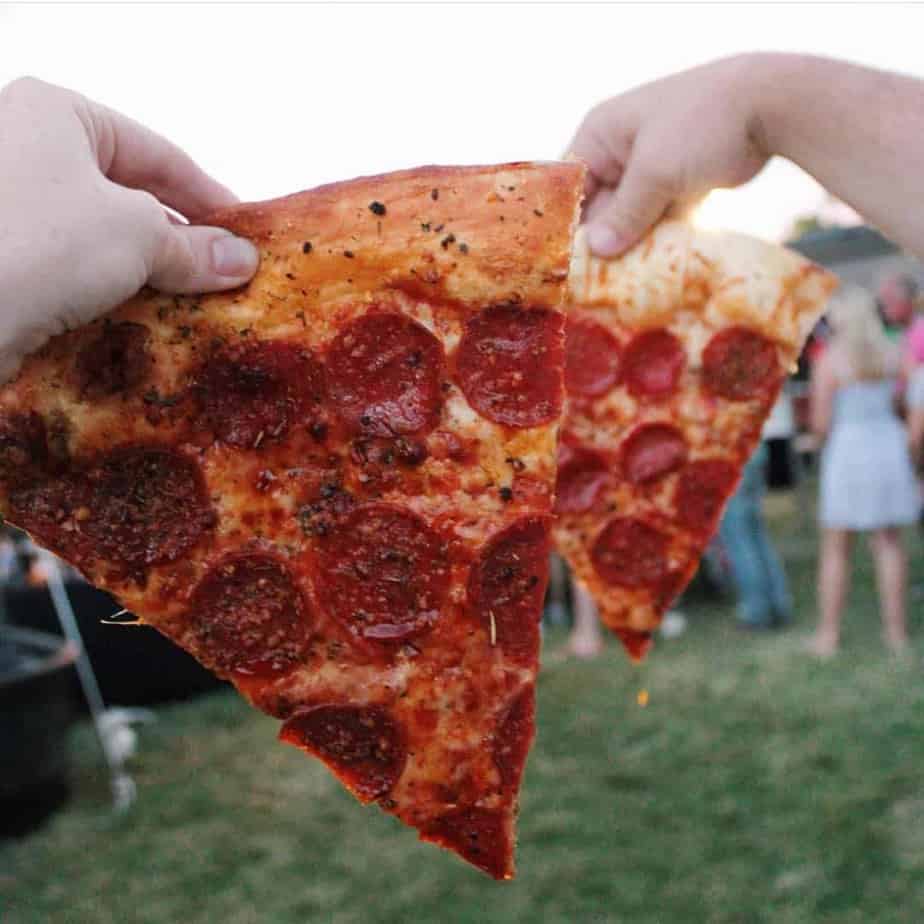 One night, founder Mikey Sorbono found himself wandering the streets of Columbus looking for something to eat, aside from the typical late night mystery street meat. With no late night pizza options around, Mikey saw an opportunity to deliver top-notch New York style cheesy goodness to the masses. With fun names and variations of classic favorites, and not to mention the large size of the slices, Mikey's Late Night Slice is definitely worth the stop. The pies at Mikey's are mouthwatering, but they're really elevated when you add one of their unique sauces. The Local Take: Lauren S. via Yelp, "Okay. First off, this pizza is delicious. Even the standard options (pepperoni) have a special flavor that makes them unique. Plus, you have sauce options galore – "unicorn" sauce and garlic are my go-to no matter what I order. Pro tip: put unicorn sauce on salad for exciting flavors and to ruin a possibly healthy meal."
46
Driftwood Oven | Pittsburgh, PA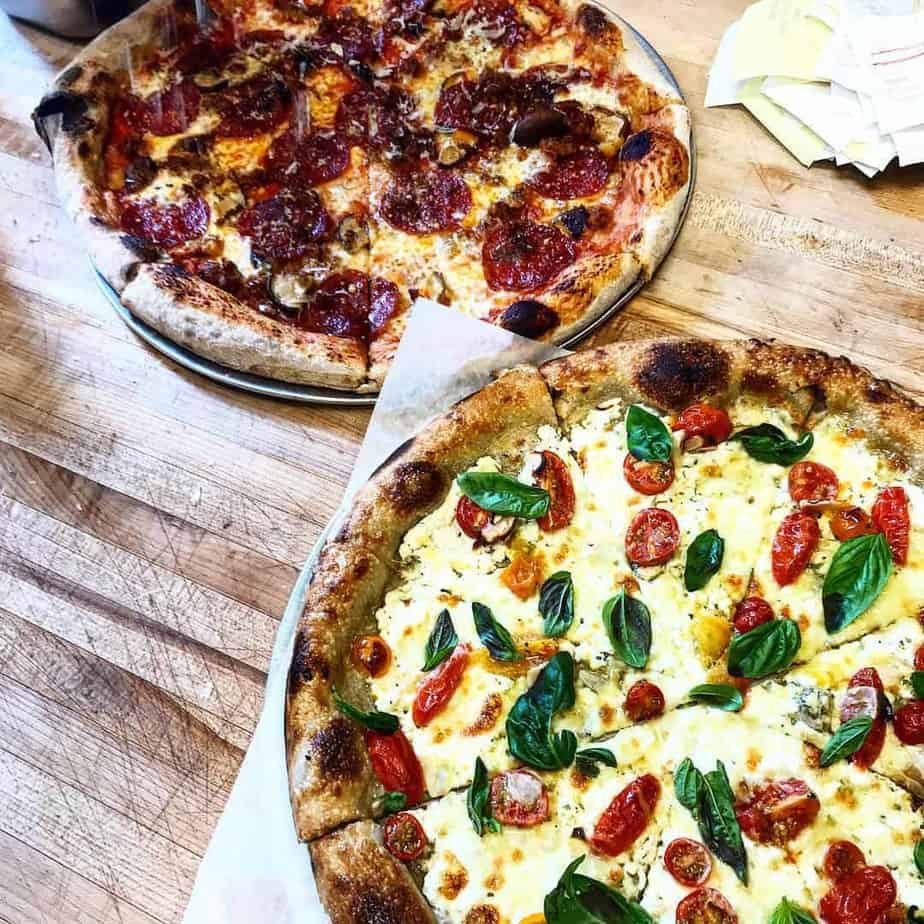 Driftwood Oven baked their first pizza in 2015, and for the last few years, they've been serving up woodfired, naturally leavened pizza to the masses. With a background in baking, their attention to detail shows in their perfect crust. Driftwood Oven got their start as a food truck before opening a brick-and-mortar location in late 2017. Now that they're always in one spot, it's even easier to find a slice of the best pizza in Pittsburgh. The Local Take: David B. via Yelp, "Great hospitality and wonderful food. Their pizzas start with amazing crusts. They are like an artisan bread, yeasty and hand crafted. But the toppings, cheese and herbs put them over the top"
The folks at Crust in Cleveland believe that good pizza takes time. That's why their dough is made from scratch, hand tossed, given time to rise, and cooked at 550 degrees to make the perfect, melt in your mouth pizza. The shop often has seasonal pizza offerings, using fresh ingredients and interesting combinations to turn what you thought you knew about pizza on its head. For those feeling adventurous, you can order their massive, 32'x32' pizza, known as the Destroyer. Good luck! The Local Take: Angelo C. via Yelp, "Staying true to its name, the crust was definitely a highlight of the pie, with a slightly chewy texture and baked just right. I went with a regular pie, which was a solid choice!"
La Nova first opened their doors in 1957, and since then, it's been the destination in Buffalo for both pizza and wings. The pizza at La Nova sports a thicker crust and features those crispy pepperonis that fill up with grease. Some could say they use too much cheese, but is there really such a thing? The Local Take: Joyce M. via Yelp, "Among the iconic pizza styles: NY thin crust, Chicago deep dish…Buffalo's cheesy, cup & char pepperoni slices deserve their own recognition. I've always been a fan of thin crust, but La Nova's pizza has won me over."
49
Regina Pizzeria | Boston, MA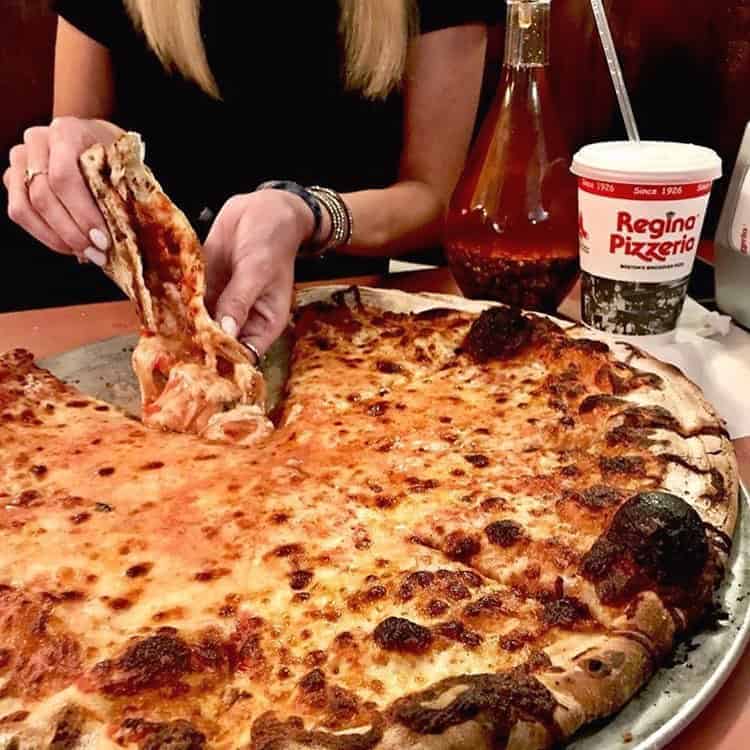 Regina Pizzeria may have been founded in 1926 by Luigi D'Auria, but since 1956, the Polcari family has been running the iconic joint in Boston's North End neighborhood. Although they're known as the official pizza of the Boston Red Sox, fans know that the best slice you can buy comes from the shop in the North End. And that slice won't meet it's full potential unless you use the seasoned oil offered by the restaurant. Regina Pizzeria is known for their brick oven pies and massive slices. The Local Take: Elan O. via Yelp, "This would be my last meal. This is the best pizza ever ever ever. Put the seasoned oil on your plate before you put your pizza down IN it. Do not knock this solid piece of advice until you try it. There will most likely be a wait. The line moves fast and its worth it. Inexpensive too!!"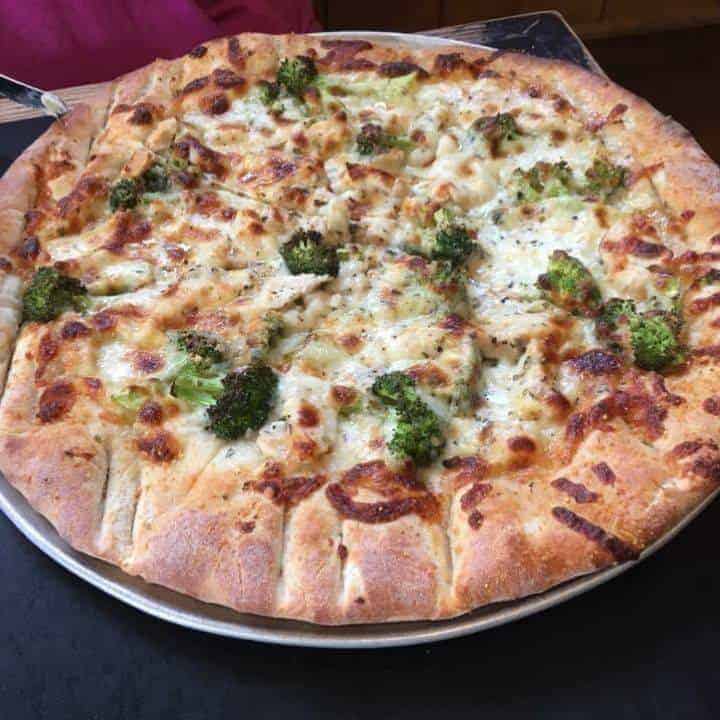 Another Boston classic, Santarpio's pizza originally opened as a bakery in 1903. Three decades later, they served their first pizza, and they haven't stopped since. They are world-renowned for their New York Style pizza, which is a thin crust fired quickly to crispy perfection. Inspiring generations of loyal customers, Santarpio's Chelsea location has been open since 1933 and it's the perfect way to end this epic road trip. The Local Take: Marc S. via Yelp, "No hype no BS… simply real brick oven baked pizza served piping hot and made fresh, thin, and crispy! No folks you do not have to go to Italy or New York to experience probably the best slice of pizza you'll ever have in your life! No I am not exaggerating it's that damn good!"