When it comes to kayaking, safety is important, but you don't need to be an experienced kayaker to enjoy the rush of paddling through the water at any one of America's best kayaking destinations.
In addition to tipping you off on great kayaking spots for beginners, we will tell you everything you need to know to start kayaking, such as the best kayak for beginners to buy, as well as how deep and wide your kayak should be, and how much your kayak should cost.
So if you've always wanted to start kayaking, you came to the right spot. Read on, and you'll be out on the water in no time.
But first, you need a kayak
Before heading out onto the water, you're going to need a kayak.
Here's a quick rundown on the different kinds of kayaks, and for which kind of kayaking they're best suited.
What's the best kayak for beginners?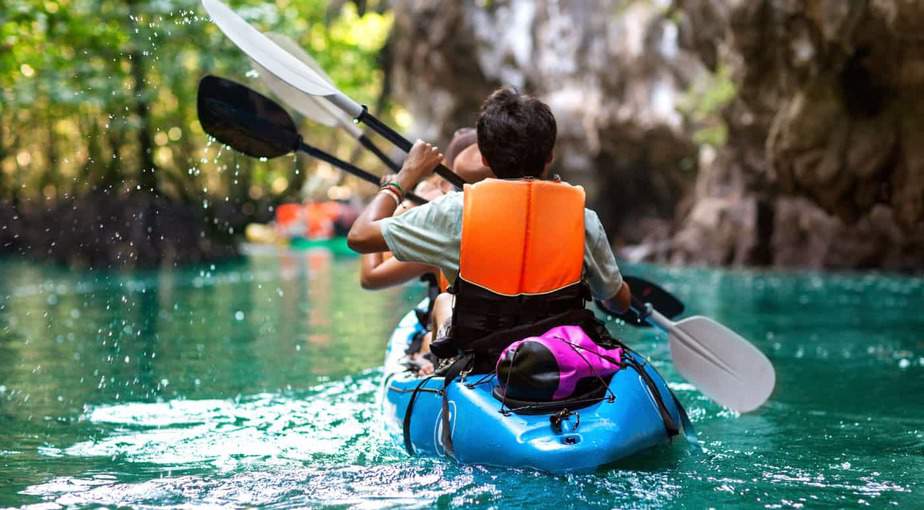 In this case, "rec" stands for recreational. Sit-on-top rec kayaks are best suited for fishing and family use on lakes. They're a great choice for beginning kayakers.
These kayaks are also good for fishing and family use on lakes. They're also a good choice for a beginner. Some people don't like the feeling of sitting "inside" the kayak, though.
Whitewater kayaks are intended to be used on whitewater, and that's about it. You can use whitewater kayaks for other purposes — on a lake, for example — but that's not their intended use.
Sea kayaks are meant to be used on the ocean, and specifically racing on the ocean. These are for serious kayakers.
Canoe/kayak hybrids have features of both canoes and kayaks. They're a great choice for families, fishing, and camping.
SUP/Kayak hybrids are like a stand-up paddle board you can paddle like a kayak. They're an okay choice for families, and even for fishing, but they're primarily intended to be used on lakes.
When you're learning to kayak, your kayak will likely take its fair share of abuse.
What should my kayak be made of?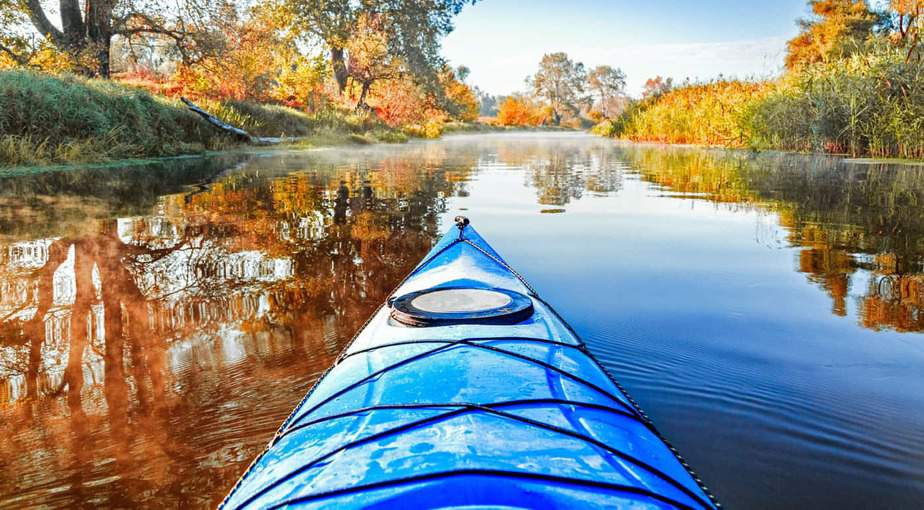 Kayaks are primarily made from seven different kinds of materials:
Kevlar
Carbon fiber
Inflatable plastic
Fiberglass
Fabric with a frame
Wood
Hard plastic
Inflatable plastic suffices for anyone just getting started with kayaking. Hard plastic is durable, but heavy. Fiberglass is light but expensive, while carbon fiber and kevlar are extra light, but even more expensive — likely too much for the beginner.
Kayaks are not only made from different materials, they also come in a variety of shapes and sizes.
How deep and how wide should my kayak be?
The right kayak for you depends on how you intend to use it. First and foremost, you need a kayak that's comfortable for your body type.
Every kayak offers options to customize the fit, but always keep the length and width of your torso, legs, and arms in mind when you choose your first kayak.
Also, will children or teenagers be using the kayak? You'll need a kayak appropriate for their body types as well.
How long should my kayak be?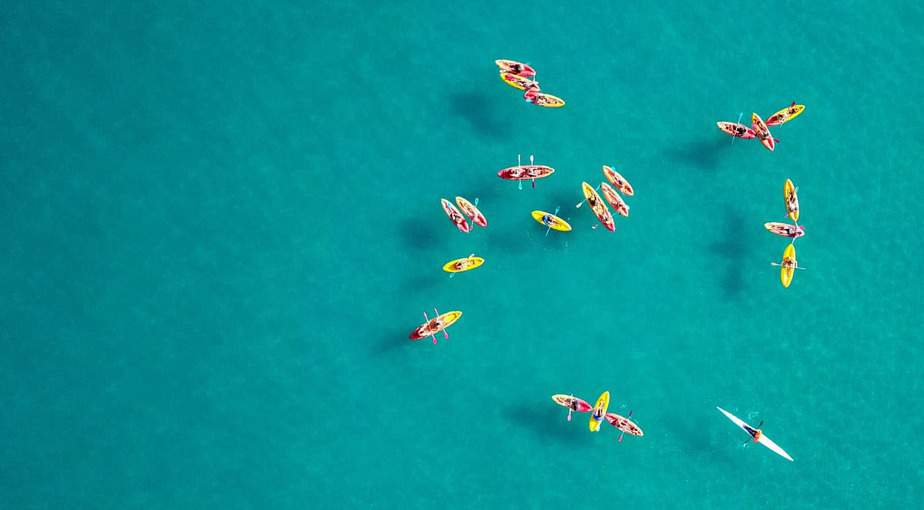 The answer to this question has a lot to do with how you plan to use your kayak. Longer kayaks are good for speed and tracking, while shorter kayaks are easier to turn.
Also, you'll need to get your kayak to the water — will a longer kayak fit in your motorized toy-hauler?
How stable is a kayak?
Beginning kayakers should go for a more stable kayak. You're bound to have some tippy moments. The flatter the hull, the more stable the kayak.
There are two kinds of stability when it comes to kayaks: primary and secondary.
Primary stability measures how stable your kayak will be in calm water, while secondary stability measures stability in choppy water.
How much does a kayak cost?
We feel it's best for beginners to not spend too much on their first kayak. You might hate the experience, after all. If you end up loving kayaking, you can always upgrade later. You might even want to start with a used kayak, as long as it's in good shape.
Otherwise, kayaks can cost as little as a few hundred dollars, or up to thousands of dollars.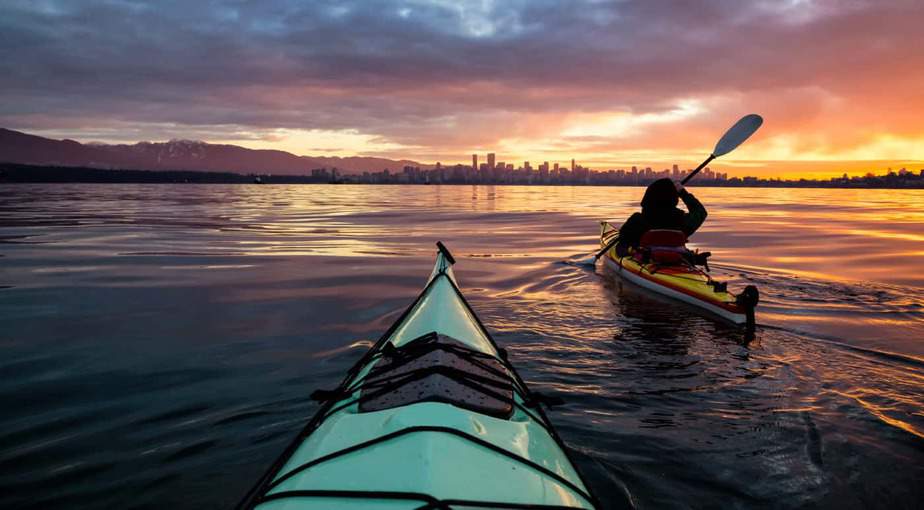 Last, consider whether you'll be kayaking alone, or with company. If you'll have some company, choose a tandem or multi-seat kayak.
Will you need rigging? A shock cord helps keep important items from floating away, and paddle float rescues are also handy.
Or perhaps you just need some storage areas for your fishing gear? In addition, rudders and skegs help steer your kayak with a foot pedal, which is almost necessary when kayaking in open water.
Now that you have a better idea of what kind of kayak you need to get started, let's now take a look at the 10 best kayak destinations for beginners.
Methodology
As we researched this ranking of America's 10 best kayak destinations for beginners, we consulted experienced kayakers, kayak instructors, and outdoor enthusiasts. We also took similar rankings from trusted and reputable sources from all across the internet into account, sorting through their reviews in order to find the very best kayak destinations for beginners.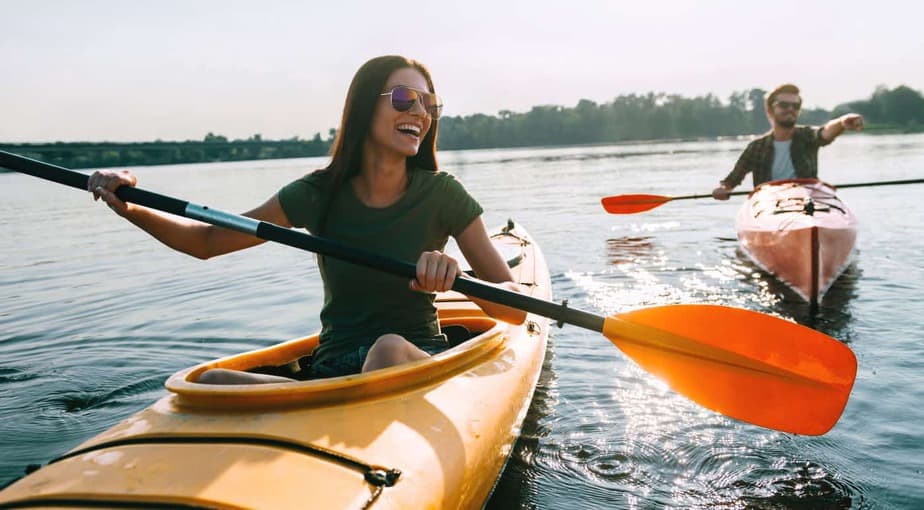 We rated each location based on the following:
Kind of water (river, lake, whitewater, ocean)
Difficulty of water
Access to fishing/camping
Nearby accommodations
Availability of kayaking classes/guides/other kayaking services
Other natural features
Difficulty reaching the destination
With each location we also present to you the best places to eat and stay. With this information we're confident you'll find the best beginning kayak destination for you.
The Best Kayak Destinations for Beginners