If you're looking for the best dried meat you can buy in a bag, The New Primal brand fits the bill and is our number one pick for the best beef jerky.
The New Primal believes in keeping things simple to highlight the quality of its top-notch ingredients and grass-fed beef. Plus, I checked the price three times to make sure I wasn't imagining it. That's right, it's very affordable, so get it while you can!
I have a finite number of memories from childhood. The easiest ones to recall are mostly snack related. I can still taste the Snickers bars, the sour gummies shaped like watermelons, the Cool Ranch Doritos, and the barbecue-flavored Corn Nuts purchased at gas stations or school vending machines. I can still remember the struggle of trying to make my "red-flavored" slushies at the movies last until after the previews. I can still appreciate the delicate, subtle flavor that's created when you mix peanut butter M&Ms and popcorn. And I can still remember the celebratory, lavish feeling of a life of luxury when I was allowed to purchase a bag of beef jerky — the champagne of packaged meat products. 
These childhood memories exemplify a couple of facts that I have come to accept about myself as an adult. First, I have excellent taste in snacks. Second, I was not particularly concerned with my health and would eat anything with high levels of sugar or salt that came in a bag. 
A lot has changed since those early years. I would like to think I make better decisions — especially when it comes to junk food (though I still allow myself all of the aforementioned foods exclusively on a road-trip basis). But I continue to return to beef jerky because it's one of the few foods from my childhood that I don't feel guilty about eating: It's a low-fat, high-protein snack that's convenient and tastes delicious. Plus, with so many jerky brands on the market these days, this savory treat has only grown in quality and flavor. To help sort through the wide variety of options, I've narrowed down my favorite 10 jerky brands that you can actually feel good about eating.
The Beef Jerky We RAVE About
This jerky is creative, uses simple ingredients, and is packed with protein. The New Primal stands out for quality you can taste, and a flavor you can savor.  
Read Full Review
Shop The New Primal
How to Find the Best Beef Jerky
Studies show that ancient humans were eating Mammoth jerky over 40,000 years ago, but that doesn't make us jerky lovers Neanderthals. Rather, preserved dried meat has had more time than your average snack to improve its formula, and my favorite jerky companies have come close to perfection. 
There are two overarching categories to consider when narrowing down jerky: how the meat is preserved and how the meat is flavored. 
Protein Power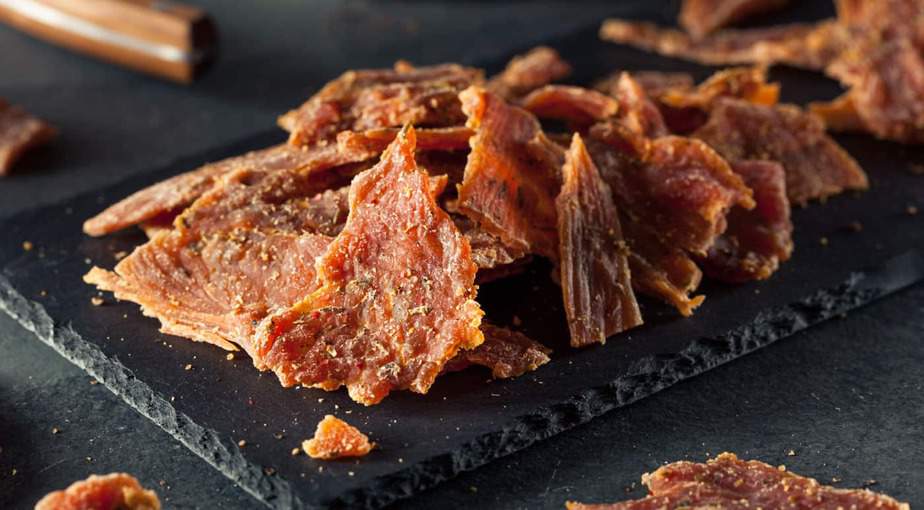 Because jerky is essentially a meat that's stripped of its fat and then "condensed," it's an excellent low-fat high-protein snack. For this reason, many consumers are turning to jerky as a viable source of low-fat protein, and a lot of jerky companies are marketing themselves as a healthy alternative to your typical snack foods.
They're not entirely wrong, but there are a few things to consider before you blindly grab whatever jerky bag is closest to the register. 
Preservation Station
Usually when I'm cooking meat, I'm doing everything in my power (including thoughts and prayers) to prevent it from drying out. When it comes to making jerky, drying it out is the name of the game. The meat is trimmed of its fat and must be dried quickly to prevent bacteria from growing during the cooking process. 
Once the meat has been cooked without spoiling, the preservation can really begin. Salt — or nature's oldest preservative — is often used in addition to chemical preservatives such as sodium nitrate.  
"Nitrate" Knowledge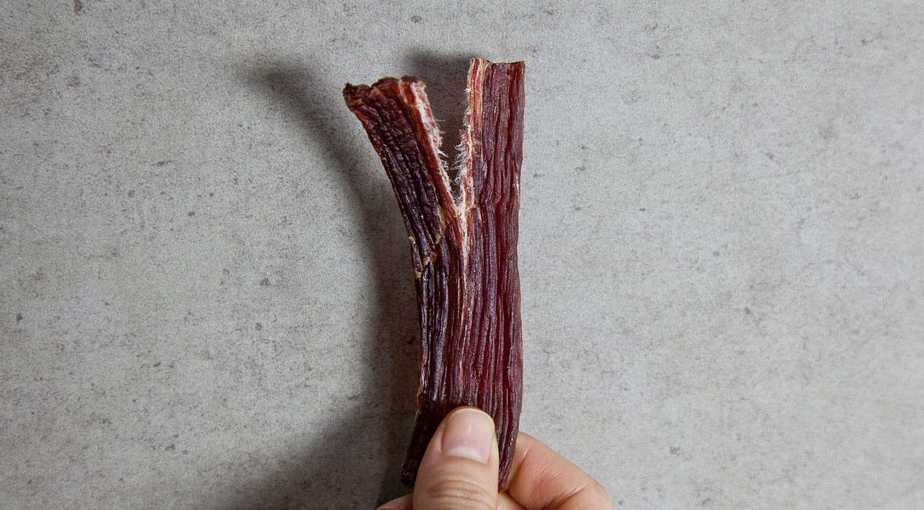 Sodium nitrate has been used to give both taste and color to meat as well as prevent it from going rancid since the early 1900s. It has also been classified as "probably carcinogenic to humans" by the International Agency for Research on Cancer. 
How seriously you take "probably" is up to you. I personally err on the side of probably not cancerous for my food and beauty products — excluding the articles that come up every so often about wine which I promptly ignore. 
To preserve food and still boast the "nitrate-free" label, many processed meat companies (including manufacturers of ham, bacon, hot dogs, and salami) use celery powder or celery juice, which naturally contains a high concentration of nitrates and acts identically to chemical nitrates in your body. 
So, if you're really concerned about health, opt for jerky without sodium nitrate or celery concentrates among the list of ingredients. This will likely be harder to find, have a shorter shelf life, and a higher price tag, but these drawbacks may be worth it depending on your priorities.
Let's Talk About Salt, Pepper and Sugar  
The second thing to consider from a health perspective is salt. Many jerky brands preserve and flavor their products with a whole lot of the white stuff. In fact, a high-sodium bag of beef jerky can have more than four times the amount of salt per ounce than that found in Lay's potato chips (Matador, for example, contains 710 mg/ounce, versus Lay's 148mg/ounce). 
And, speaking of "white stuff," a lot of jerky is high in another sneaky and delicious ingredient: sugar. Again, if you're looking for a go-to snack, you may want to consider a low-sugar (aka low- guilt) jerky.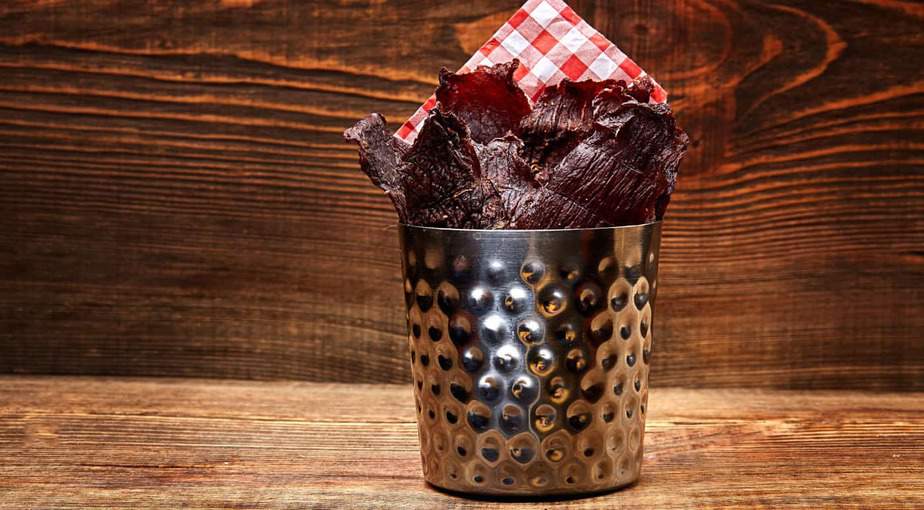 All this is to say that you have some choices when you pick your protein. And, if a healthy snack is what you're after, you have a few more line items to consider than just the protein content. 
Once you've considered the health benefits and drawbacks of your jerky — or decided to ignore them altogether because you only live once, right? — there are a few preferential jerky nuances to mull over.
Everyone Has a "Type" of Jerky
Like a fine wine, you need to decide what kind of "mouth feel" you'd like your jerky to have. Some people prefer to savor their jerky, chewing on it for what feels like an eternity. The age-old question of, "How many licks does it take to get to the Tootsie Roll center of a Tootsie Pop?," matures to "How many chews does it take to swallow your jerky?" — or something like that.
Others prefer a softer texture, which is usually achieved when the jerky is ground down and reformed before packaging. Whether a jerky is dry and crumbly or moist and sticky is yet another "mouth feel" experience to choose from.
Finally, consider if you want sticks, bites, strips, or bars. Yes, I'm still talking about jerky! Like I said, it's thousands of years in the making, and the options are vast! And speaking of options, jerky ranges from classically sweet and smoky to more experimental flavors like basil and lime. 
Since everyone's palate is different, I recommend you decide on your nutritional needs first, then pick a few flavors and textures off our list of the best beef jerky to test out for yourself. Have fun!
Methodology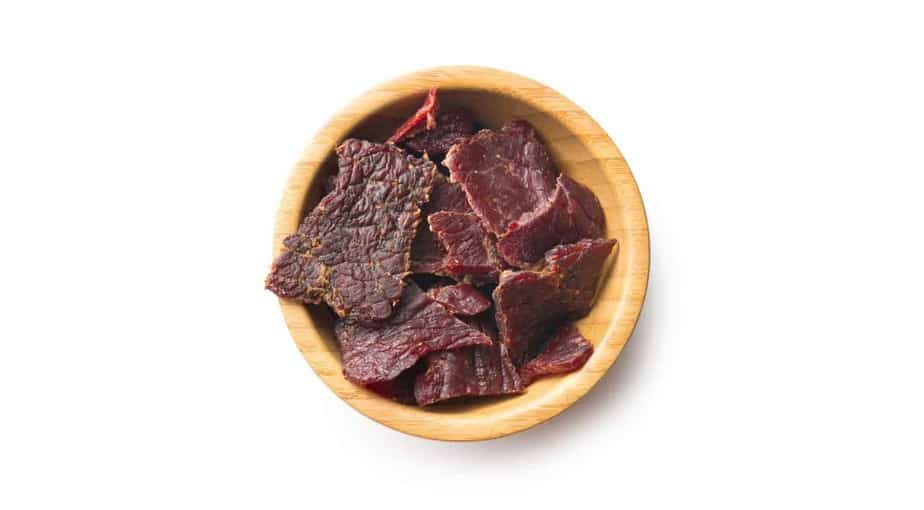 I was tasked with choosing 10 brands that make the best beef jerky here at RAVE, and it was an honor I did not take lightly. Depending on your decision, jerky can be the Cadillac of snack foods or a regrettable roadside snack. I don't believe in wasting money on bad jerky, so I kept the following in mind while narrowing down my list.
Quality:

Because packaged meat ranges from high-quality on one end of the spectrum to filled with additives and chemicals on the other, jerky can get gnarly quickly if you're not careful. I prioritized both high-quality meat

and

ingredients above all else. 

Cost:

Jerky is not the cheapest item in the snack food aisle. That said, I kept cost in mind so it can still be justified as a snack food and not make you think, "I might as well have just bought a sandwich."

Flavor:

I looked for companies that offered the best flavors from spicy and smoky to even sweet — plus everything in between. 

Texture:

Beef jerky comes in a variety of textures (dry/moist and tough/soft). In the end, a lot of this comes down to personal preference as well as how long you want your jerky to last. I looked for a pleasing texture that complemented the meat.   

Sodium and Sugar:

I'm not against salt — we need it to make food tasty (and also, literally, for survival). I also believe someone who doesn't like sugar can't be trusted. With that said, sodium and sugar levels in many jerky brands make it a once-in-a-while indulgence rather than a tried-and-true snack. I looked for jerky with sodium and sugar levels that will make your taste buds palpitate, not your doctor. 

Nitrates:

Nitrates weren't a disqualifying factor. After all, we all need to "pick our poison." And nitrates are found in a lot of what we eat. I prioritized flavor, but use of nitrates did ultimately count against the best beef jerky brands on my list.

Convenience: You shouldn't have to jump through hoops to get a simple snack. I looked for jerky brands that were easy to find so you never go hungry looking for them.
The Best Beef Jerky
How is beef jerky made?
Though manufacturers will use slightly different processes — such as smoking and using signature spice blends — the basic process of making beef jerky starts with a piece of lean meat. Fat prevents the meat from preserving, so as much fat as is removed from the meat before it is then is thinly sliced. 
Next it's marinated for flavor and slowly cooked at a low temperature. Finally, it's dehydrated and packed. 
Is beef jerky bad for you?
The short answer: it depends. The amount of "stuff" in a beef jerky recipe varies by company: the products used, the quality of the meat, how much sodium it contains, etc. Many beef jerky brands are high in sugar, sodium, and contain MSG (the jury's still out on whether or not the latter is "bad for you," but no matter what you believe it's important to be aware of what you're consuming). Furthermore, many companies use beef that's been raised using hormones — not to mention they're far from being grass-fed and organic. 
With that in mind, beef jerky has been hailed as a healthy snack that's high in protein content and low in fat. So, if you're especially health minded, you'll want to take a peek at the ingredient list and nutrition information located on the back of the package. If the brand has a high-sodium content or ingredients that you can't pronounce—that is a red flag health-wise. And, as with any snack food, it's always best in moderation.  
How should I store beef jerky?
Although beef jerky is made to be shelf stable and essentially spoil proof, jerky can go bad like any other food item. The trick is to treat it like any other food: If your jerky didn't come in a resealable bag, store it in a vacuum-sealed container, a plastic bag, or tightly wrap it in plastic wrap to limit its exposure to air. Make sure to keep it dry and out of humidity. If you notice moisture start to build up, pat it dry with a paper towel, as mold can sometimes form on it. 
You can also choose to store your jerky in the freezer or refrigerator, which will increase its shelf life (but make it less available for immediate consumption). My recommendation: Eat it right away while it's fresh! 
I only eat kosher or halal meat. Can I still eat beef jerky?
Even though it says "beef" jerky, I would hesitate to endorse many of these brands if you only eat kosher or halal meat. The good news is that you're not alone! Because of the high demand, many beef jerky brands advertise their kosher or halal status. Just keep an eye out for the special certification on the packaging. 
RAVE Recommends
Now that you've picked your favorite jerky (or your favorite few to try out), consider the following products to upgrade your pantry — or try your hand at making your own!