Ready for your next all-inclusive vacation?
We have the perfect place — Lapa Rios Ecolodge in the southern Osa Peninsula of Costa Rica. Part rainforest reserve, part all-inclusive resort, Lapa Rios Ecolodge offers a truly unique experience. The best part? Everything is taken care of for you, from airport travel to three course meals to rainforest tours. Costa Rica has a ton of options for all-inclusive resort vacationing. RAVE Reviews has picked out the best of the best!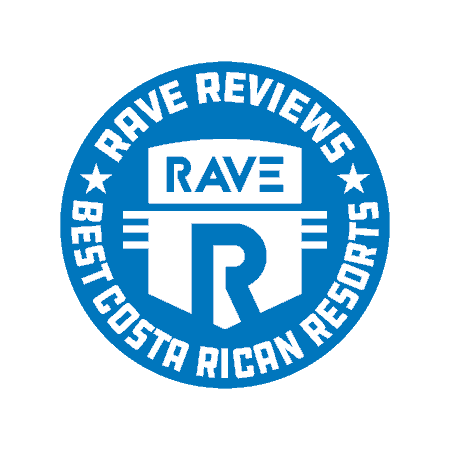 Vacation is supposed to be a guilt-free, indulgent time in which you can fully relax. You leave the stress of work and real life behind and jump into a new world for a week or two — new cultures, new experiences, heck, maybe even a new tan.
But as we all know, vacations can sometimes end up being even more stressful than real life. We get exhausted by travel, quickly develop decision fatigue, spend too much money. We come back from vacation needing a vacation! Why do we do this to ourselves?
Want to really take a vacation? Consider going to an all-inclusive resort! From the time your plane hits the runway, every little detail is taken care of for you — travel, food, drinks, entertainment. All you need to do is sit back and enjoy. In addition to its stunning beaches, rainforests, and volcanoes, Costa Rica is known for its amazing all-inclusive resorts. Here at RAVE Reviews, we selected 10 for you to consider.   
The All-Inclusive Resorts in Costa Rica We RAVE About
It's pretty difficult to improve on an all-inclusive resort. But we've identified a few of Costa Rica's resorts that rise above the rest for particular reasons. Take a look:
Lapa Rios Ecolodge is a shining example of sustainable tourism — and the best all-inclusive resort in Costa Rica. You can experience the best parts of the country here, including guided tours on the 1,000 acre rainforest property, luxury bungalows, three course meals, and more.
Read Full Review
Visit Lapa Rios Ecolodge
The Margaritaville Beach Resort Playa Flamingo is the best of both worlds. It's a four-star, all-inclusive resort — but it won't cost you an arm and a leg! This tropical, fun all-inclusive resort package includes three meals a day and unlimited drinks (alcoholic and non-alcoholic).
Read Full Review
Visit the Margaritaville Beach Resort Playa Flamingo
This is one of just two resorts on our list that is adults-only. Everyone loves kids…but sometimes the adults need some alone time. Villa Buena Onda overlooks the ocean, features a full-service spa, and provides the perfect climate for romance.  
Read Full Review
Visit Villa Buena Onda
Everyone loves a vacation. But all-inclusive vacations are pretty much in a category in and of themselves. They are the ultimate vacations — no worries, just relaxing. All of the resorts on our list feature all-inclusive packages. Maybe you're familiar with them, or maybe it's a new concept.
Here's the general idea: You spend a little extra than usual on a deal that covers all of your lodging, meals, drinks, and some entertainment, depending on the package. Usually these resorts pull out all the stops — tropical drinks, lagoon-style pools, beach-side locations, swim-up bars, tango lessons, night hikes. Seriously, this is the way to vacation.  
Location Location Location
The resorts RAVE Reviews selected are all located in Costa Rica. Nestled in the heart of Central America, Costa Rica is a hidden gem. It is the perfect place for a vacation. The country is surrounded by two stunning coasts — the Pacific Ocean and the Caribbean.
From beaches to tropical rainforests to volcanos to national parks, Costa Rica is one of the most ecologically diverse places on the planet. Let's just say, you won't be hurting for scenic options when choosing your resort. One big factor to consider as you plan your vacation is location. Let's take a look at some of the most popular regions for vacationers, and what they have to offer:
Guanacaste: This coast-lined region is located in northwestern Costa Rica. It is a hub for large-scale resorts, due in part to the miles of sandy beaches and its proximity to Liberia Airport. Five of the 10 resorts on our list are located in Guanacaste. It has an upbeat, bustling beach vibe geared toward vacationers.
Osa Peninsula: Jumping down to the southern tip of Costa Rica, you'll find the Osa Peninsula. Just a stone's throw away from Panama, it is much more secluded than the bustling Guanacaste region. This is the place to be if you're fascinated by Costa Rica's rainforests. Osa Peninsula is home to Corcovado National Park, one of the most biodiverse places in the world.
Tortuguero: Over on the east coast — the Caribbean side of Costa Rica — is Tortuguero, a small village located on a tropical sandbar. In fact, it is only accessible by boat! Tortuguero is best known for being the nesting ground for green sea turtles, which also makes it a popular ecotourism site. You'll find privacy, natural beauty, and serenity here.  
Included / Excluded
Before taking out your credit card and booking a week at one of these all-inclusive resorts, make sure you know specifically what is included and excluded in your specific vacation package. We've tried to do most of the legwork for you, but it's important to know exactly what you're paying for.  
Beyond your hotel room, here are the three main categories that are covered in your all-inclusive package:
Food: Make sure you know what you'll be eating at your resort. The larger resorts tend to have more dining options, but sometimes lower quality food. Do you want to eat food that is unique to Costa Rica or have the option of Italian food and hamburgers? Do you have food allergies or special diets that need to be accommodated?
Drink: One perk of a vacation is the "it's 5 o'clock somewhere" rule. But some of these resorts don't include alcoholic drinks in the all-inclusive package. Make sure you know which beverages are complimentary and which cost extra.
Experience: Part of the draw of being in Costa Rica is experiencing the amazing world around you. Scuba diving, rainforest adventures, canopy tours. Check out what experiences are included in your package, and which ones need to be purchased separately. Most resorts and lodges have at least some free activities onsite, like dance classes, cooking classes, yoga, non-motorized water sports, and more.
No Kids Allowed
Not everyone is looking for the same vacation experience; a big line in the sand separates a family vacation from a romantic getaway. The elephant in the room? Kids. We all love kids…but some people prefer to be the aunt rather than the parent. Catch our drift?
Lucky for you justifiably exhausted parents in need of a kidless vacation out there, we've pulled out two all-inclusive resorts that have an adults-only policy. So if you want to narrow your decision exclusively to Villa Buena Onda or Secrets Papagayo, be our guest! Enjoy getting a full night's rest…or not.
Methodology
Out of the hundreds of resorts and lodges in the beautiful country of Costa Rica, we whittled our list down to just 10. Want to know how we did it? We'll tell you — we fully believe in data transparency.
First, we wanted to select only the resorts that offer an all-inclusive package. After all, you're looking for a vacation in which you can completely shut off all decision-making obligations. From there, we reasoned that the best indicator of a dream vacation is customer reviews. So we turned to the help of Google Reviews, Trip Advisor, and Expedia.
Additionally, we gathered a ton of data we thought was useful to our readers, even if it didn't factor in to the final score. Not everyone is looking for the same all-inclusive resort experience. As such, we made sure to identify the following information for each resort:
Average price per night
Location in Costa Rica
Family-friendly or adults-only
Hotel star rating (out of five)
The Best All-Inclusive Resorts in Costa Rica
Will my all-inclusive resort have Wi-Fi or A/C?
There are two amenities that tend to be "make or break" factors for tropical vacationers: Wi-Fi and air conditioning. We get it! The whole point of vacation, after all, is to be as comfortable as possible, right? The answer to that maybe isn't as unanimous across the board as you might assume.
International vacationers tend to be split into two camps (hugely generalized but largely accurate camps, for the record). Some folks go abroad to be pampered (totally fair), while others want to experience the culture of the country (also totally fair).
The short answer to this question is no, not all of the resorts have Wi-Fi or air conditioning. But it's up to you to decide if that will keep you from going. For example, some of the more remote ecolodges don't have A/C, but their structures are designed in a way that maximizes cooling effects (white roofs, ceiling fans, tiled floors, etc.).
When it comes to Wi-Fi, it's totally reasonable to want to be plugged in to your social media and news feeds. On the other hand, you could see your vacation as a time to unplug and be present in the natural world around you. There isn't one right way to do vacation. All that matters is you finding a place that works for you!
Will I need to pay for anything once I arrive?
One question that comes up a lot with all-inclusive packages is money! An all-inclusive resort means everything is covered, right? Well…not so fast. While the big categories of lodging, food, and drink are included in your package, be sure to factor in a daily budget (albeit a small one) for any add-on purchases once you arrive.   
Here are the most common add-on costs you might encounter at an all-inclusive resort:
Costa Rica taxes (13%)
Room service
Spa treatments
Top-shelf liquor
Guided excursions
Another dynamic you might experience at an all-inclusive resort is the feeling that it is, well, too inclusive! Some people want to experience the country beyond the resort. Sometimes you can find adventure packages that include a complimentary excursion with a guide from the resort.
But if you want to take a day trip on your own, or take advantage of the myriad excursions associated with the resort (horseback riding, guided nature walks, scuba diving, etc.) you'll most likely have to pay out of pocket.
Just a heads up, if you want to pay for anything in cash in Costa Rica (tipping your hotel, cleaning staff, buying a beer on the beach, etc.) be sure to exchange some U.S. dollars for the Costa Rican currency, colones.
What are the best all-inclusive resorts in Costa Rica?
RAVE Reviews is proud to present you with 10 amazing options for an all-inclusive vacation to Costa Rica. All of these resorts embody the country's mantra of pura vida, or "pure life." You not only get to experience the blissful zen of vacation, but you can also experience the sights, smells, and sounds of one of the most beautiful countries in the world.
We've done our best to give you lots of options when it comes to selecting your all-inclusive resort:
Based on overall customer reviews and our own research, Lapa Rios Ecolodge is the best all-inclusive resort in Costa Rica. Truly though, all 10 of these resorts bring unique flavor, adventure, and serenity to your vacation experience. Find the one that fits your needs and get packing!  
RAVE Recommends
So are you ready for the pura vida of Costa Rica? We've got recommendations for a few more things to help make your all-inclusive vacation even better.
Lonely Planet Travel Guide ($17): Don't get on that plane (or cruise ship) until you've got one of Lonely Planet's Costa Rica guidebooks in your bag.
BUBM Electronics Organizer ($17): This is for the gadget geeks out there. The BUBM Electronics Organizer lets you keep everything organized in one secure place — cords, hard drives, iPad, and more. It's made of waterproof, heavy duty nylon to keep your gear safe while you're out adventuring.
BCOZZY Travel Pillow ($30): Air travel can wreak havoc on your body. But the BCOZZY Travel Pillow relieves some of that by giving you 360 degree neck support. This soft pillow stands out among the rest by preventing your head from falling forward. It also comes in lots of super fun colors.  
Mack's Ear Plugs ($13): It may sound silly, but a good set of ear plugs can make or break a tropical vacation, especially if you're planning on swimming. These lil' guys are easy to pack, silicone-based, and come highly recommended as the official ear plugs of USA Swimming.
TravelWise Packing Cube System ($23): It pays to pack smart! This is a five piece set that simplifies the chaos of packing. Made out of durable and lightweight nylon, you can take your closet with you on vacation…and go home with it still organized!