Without a doubt, the best hard-side luggage to check on your next flight is TUMI's Latitude Extended Trip Packing Case.
Tough yet luxurious, this case is lightweight and durable, with a streamlined design for easy maneuvering.
If checking soft-side luggage is more your style, then the best luggage for you is definitely Victorinox Werks Traveler 6.0. The Werks Traveler is a sleek and stylish option — whether you travel for business or pleasure.
Do you wait until the last minute to pack? We do.
Regardless of how early (or how late) you do your packing, take your travel game to the next level and treat yourself to some of the best luggage on the market.
And instead of holding up the boarding process while you try to stuff an oversized bag into the overhead compartment — what's in that thing, anyway?! — check your luggage.
That way, the airline will take care of things, and you'll be able to relax and enjoy your flight as you dream about all the adventure that lies ahead.
Unsure of where to start shopping for luggage? Don't worry, RAVE has you covered.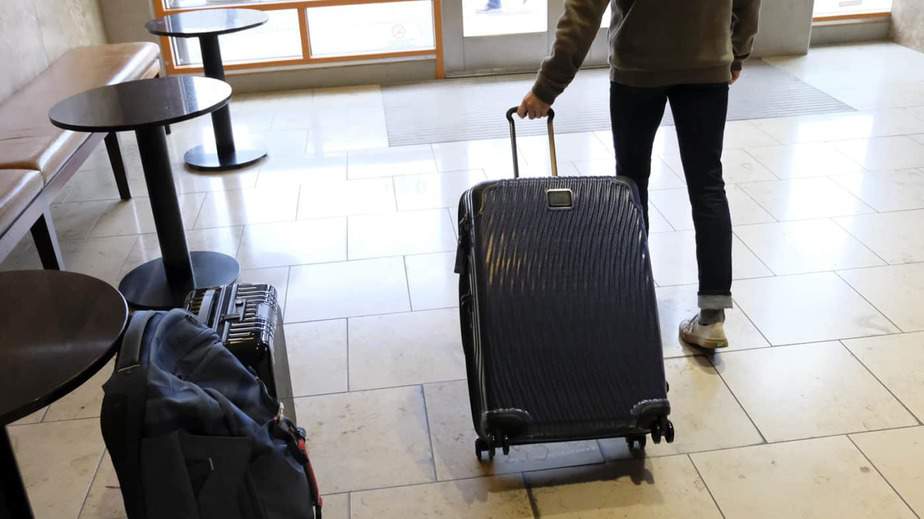 We put together a ranking of the best hard-side and soft-side luggage to check on your next flight. But before that, we took a deep dive into the world of luggage.
What are all the different kinds of luggage? What exactly is a toiletry bag? Are 4 wheels really better than 2?
Hold on, travelers — because you're about to find out.
The Checked Luggage We RAVE About
You'll be proud to claim any of these suitcases when they come down the baggage claim carousel.
This soft-sided luggage from the same manufacturer as the Swiss Army Knife helps you travel like a pro. It's focused and flexible — a bit like you. With high-end design and cutting-edge tech, the Werks Traveler has all you need in soft-side.
Read Full Review
Shop the Victorinox Werks Traveler 6.0
Figuring out the type of luggage you need is a good first step in buying the best checked luggage for you.
Variables and features of luggage
First, let's familiarize ourselves with some features commonly found on pieces of luggage. By the end of this section, you'll be an expert on the difference between roller and spinner suitcases. Just the kind of information you didn't know you needed.
Hard-side vs. soft-side luggage
The difference between hard-sided luggage and soft-sided luggage is pretty much right there in the name. Hard-sided, or hard-shell, luggage is usually made from polycarbonate, ABS plastic, or heavy aluminum. The sides are hard. This kind of luggage is nice and sturdy, but prone to dings and scratches.
Soft-sided, or soft-shell, luggage is often made from heavy-duty, space age nylon. It's lighter than hard-sided luggage, and better for tight quarters. Soft-sided luggage, however, can sometimes be less durable and less protective than hard-sided luggage.
Wheels
Most luggage has wheels. The real question is, do you need 2 wheels or 4 wheels?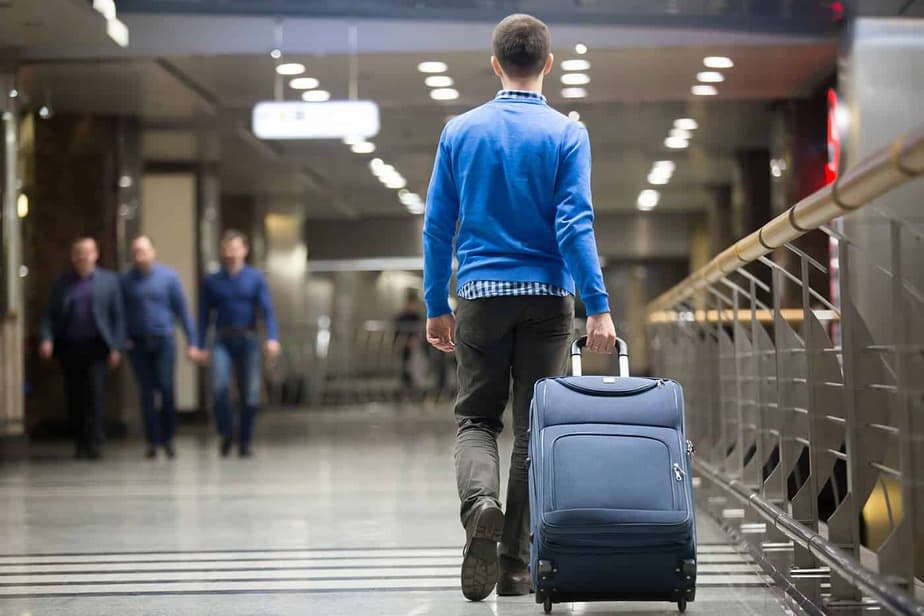 Here's how to decide:
Roller suitcases: Suitcases with 2 wheels are called rollers. The recessed wheels are unlikely to suffer damage on bumpy terrain. Rollers handle well over curbs, on sidewalks, and across rough pavement.
Spinner suitcases: 4-wheel suitcases earn the name "spinner" because their wheels turn 360 degrees. They are ideal for maneuverability in crowds and tight spots. Spinners, however, don't handle well on uneven surfaces.
Zippers
Not a lot to say here other than it's important to check all zippers run smoothly before purchasing luggage. After all, a storage compartment with a broken zipper isn't much use to you, is it?
Pockets
How many pockets your luggage should have is mostly a matter of personal preference. Will you need to keep a travel guide or map handy? If so, then consider exterior pockets — an advantage of soft-sided luggage.
Interior pockets help keep your stuff organized. But maybe a single large interior compartment is enough space for you, or maybe you prefer to minimize interior pockets so you can use your own travel cubes or packing organizers.
To sum up, when deciding on how many pockets your luggage will need, consider where you're traveling and how you like travel.
Color
Again, this is a matter of personal preference. However, brightly colored luggage, or luggage with a distinctive design, can be easier to spot at baggage claim. Bright colors do, however, show wear and tear more easily than solid-colored luggage.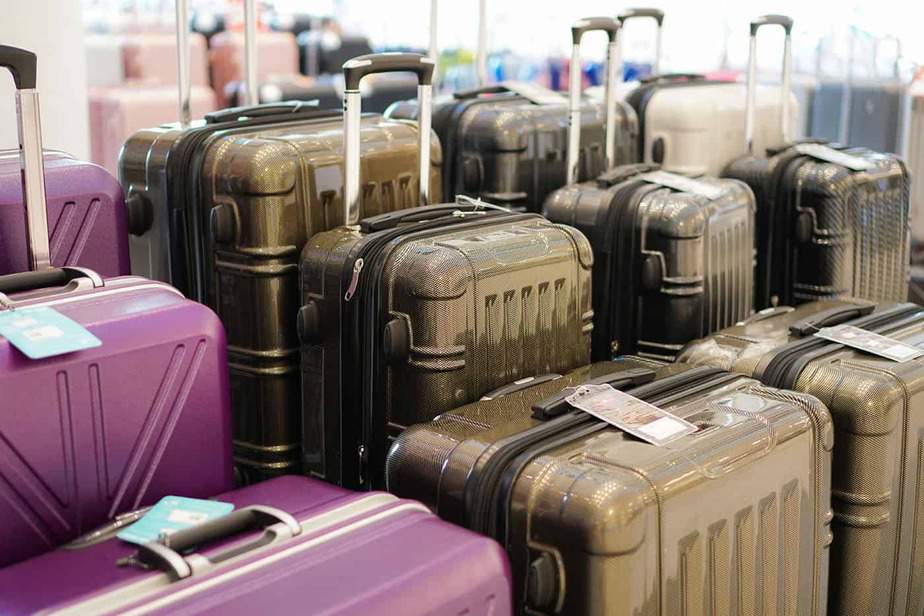 Weight
Don't waste an ounce on heavy luggage. If your bag with wheels is more than about 12 lbs, or if your bag without wheels is more than about 4 lbs, they're too heavy.
After all, weight = money paid to the airline.
Price
Luggage can cost a little or a lot. On the low end, you'll find bargain luggage for less than $100. On the high end, luggage can cost over $1,000. Knowing your budget before you begin shopping will narrow your options, helping you find the best checked luggage in your price range.
Types of luggage
With that out of the way, let's do a quick rundown of the different kinds of luggage.
Large suitcases: 

These suitcases are exactly that: large. Meaning you can pack more. But if you use these, you're gonna have to check them.

Once upon a time, hard-sided large suitcases were made of sturdier stuff than their soft-shell cousins. But these days, with advances in manufacturing material, the durability playing field is pretty level.

Garment bags: 

And the award for most outdated-sounding piece of luggage goes to the garment bag! Who wears "garments" anymore, anyway? Well, maybe one day you'll want something designed to carry your clothing on hangers. That way you'll keep all your dressy stuff wrinkle-free. When that time comes, get a garment bag.

Toiletry bag: 

From shampoo to razors, toiletry bags help keep all your bathroom "me time" supplies in one spot. Just be sure to keep your toothbrush separate from your hairbrush, because a hairy toothbrush is the worst!

Duffel bags: Duffel bags are soft and roomy, and they come in a variety of sizes. They're ideal for weekend road trips, or really any excursion in which a large suitcase would be overkill. Think: the same kind of bag you used in high school gym class (only way, way nicer, if you get one of the duffel bags from our list of the best carry-on luggage).
Carry-on bags: 

Most airlines limit carry-on bags to about  22" x 14" x 9". They're small suitcases or bags, intended to be stowed in the overhead bin. 

Luggage sets: 

Sort of like Russian dolls, most luggage sets consist of a few suitcases of various sizes, designed to nest inside each other for storage. Some even come with a toiletry bag or garment bag. So you'll have that going for you.
With this knowledge, you're now a true luggage expert. (A lugspert?)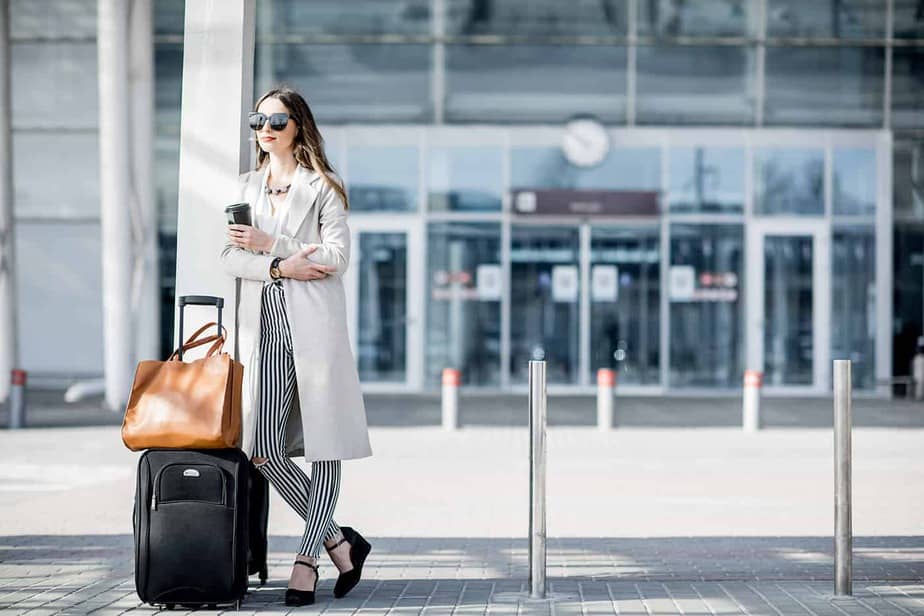 Without wasting any more time, let's get shopping.
Methodology
When compiling this list of the 10 best pieces of luggage to check at the airport, RAVE wanted to bring you nothing but the very best. So we examined hundreds of consumer reviews, as well as gathering advice from luggage industry experts. We even took some cases out to test them for ourselves.
As we conducted our analysis, here's what we were looking for:
Style

Warranty
Durability

Price

Brand reputation

Overall customer satisfaction

Extra features
All of this information went into determining our list of winners. Take a look at our ranking and we're confident you'll find the best checked luggage for you.
Best Hard-Sided Checked Luggage
Best Soft-Sided Checked Luggage
Related rankings
Is it better to roll or fold clothes?
When it comes to packing, space is at a premium. Some say roll your clothing to make the most of limited suitcase capacity. Some say fold your clothing instead. Which is better?
The best method for you depends a lot on what kind of traveler you are.
Traveling for business
If you're a business traveler, you'll probably want to fold your clothes. Start by folding at the creases, and maybe even lay some tissue paper between your articles of clothing to minimize wrinkles as much as possible.
Traveling for leisure
When traveling for leisure, you might want to roll your clothes to save space.
For shirts, fold the body in half vertically. Then fold in the sleeves and roll tight. For pants, simply fold them in half and roll them up. Pack the rolled items in your luggage as tightly as possible.
To keep your clothing rolled, you can use a rubber band, or packing band. We recommend using a travel cube or compression bag.
There is some disagreement about whether rolling clothes actually saves space. In fact, some say folded clothing left in a suitcase will compress up to 8% overnight, while rolled clothing will not compress.
There are pros and cons to folding and rolling your clothing. Try both methods on your next trip and see which one is best for you.
How do I fit the most in my suitcase?
Follow these simple suggestions and you'll be a Packing Ninja, Master of Luggage Tetris.
When in doubt, stuff it in your shoe. To maximize space, shoes should always be packed sideways. But there's also a lot of wasted space inside the shoes.
To take advantage of that space, stuff your shoes full of small items like jewelry or socks and underwear. Before storing your stuff in your shoes, you might want to first put it in something like a zip-lock bag.
Zip and add. Even when you're sure you've run out of space, zipping up and then reopening your suitcase might expose extra space in corners and between items.
Use travel space bags. No, these bags aren't actually for traveling in space. What they are for is compressing bulky items, like sweaters, as small as possible.
Try the bundle packing method. First, fill a small pouch with soft items. Then wrap larger items around the pouch to form a bundle. Fans of this packing strategy say it will save space and help prevent wrinkles, folds, and creases. Try it and find out for yourself.
Try packing folders. Packing folders usually come with boards, helping you fold your items as efficiently as possible to save space and reduce wrinkles. 
How do you pack a suitcase for an international flight?
Before heading off on that trip of a lifetime, it's a good idea to familiarize yourself with some ground rules for international flights. 
Rules for carry-on luggage
Carry-on luggage restrictions vary between airlines. But what's consistent is they're strictly enforced. Here are some general rules about carry-on luggage.  
Passengers are allowed one small suitcase and one personal item onboard with them. The dimensions for the carry-on suitcase cannot exceed 45 linear inches (the total length, width, and height).
Don't forget the TSA 3-1-1 rules regarding liquids. Liquid toiletries can't be in containers larger than 3 ounces. And they must be sealed in a see-through one-quart resealable bag. One such resealable bag is allowed per person.
To make security checkpoints as quick and easy as possible, keep electronics and liquids easily accessible. And even when you follow the rules, remember that it's possible you'll still have to check your bag at the last minute.
Rules for checked luggage
Most airlines allow up to 2 bags to be checked for free on international flights. But be sure to check the specific restrictions for your flight when you purchase your ticket.
Pay attention to weight restrictions: Overweight baggage fees on international flights can really add up! It's sometimes cheaper to pay for an extra checked bag than to pay the fees for an overweight bag.
If it's an option, upgrading to premier economy or economy plus seating might allow for more free luggage. The cost of the upgraded ticket might balance out when compared to the extra baggage fee.
What is the best checked luggage?
We've carefully hand-selected a list of the best options for checked luggage on the market today. In order to compile our list, we analyzed honest, unbiased reviews across a range of consumer websites. We also took advice from industry professionals and expert travelers alike.
To sort through the long-list of contenders, we were looking for a few specific data points. Here's what we were paying particular attention to:
Style

Warranty
Durability

Price

Brand reputation

Overall customer satisfaction

Extra features
Based on all these factors, we narrowed it down to a top winner in the category of the Best Hard-Sided Luggage (the TUMI Latitude Extended Trip Packing Case) and in the category of the Best Soft-Sided Luggage (the Victorinox Werks Traveler 6.0 Softside Large Case). Take a look at our full list of winners up above for even more options.
RAVE Recommends
You've picked the best checked luggage. Now take your luggage to the next level with these highly rated accessories.