Television is more exciting than it has ever been – whether you use a state of the art 75 Inch TV or if you don't even use a TV at all to watch your favorite show!
Today's great American and British shows are watched around the world the moment they are released and everyone has their own favorite Scandi crime series. But while some TV is instantly universal, other wonderful shows are little-known outside their country of origin.
Using IMDb user ratings as our guide, we identified the most popular TV shows produced in every country around the world. In cases where we couldn't find a highly-rated series produced in a given country, we looked for TV shows filmed in or with a story line set in the area.
We found some real must-sees in among this diverse collection. The show with the top rating is from Sri Lanka. Koombiyo (Ants) is a crime drama about a homeless man who gets caught up in the world of organized crime. Koombiyo has a 9.8 rating on IMDb but its future is in doubt as the show's main writer has mysteriously gone missing.
2019 has been a fantastic year for TV so far. Our study found that new shows have gone straight to the 'all-time' number one spot in Brunei, Congo, and Malawi.
Where in the world will your couch take you next?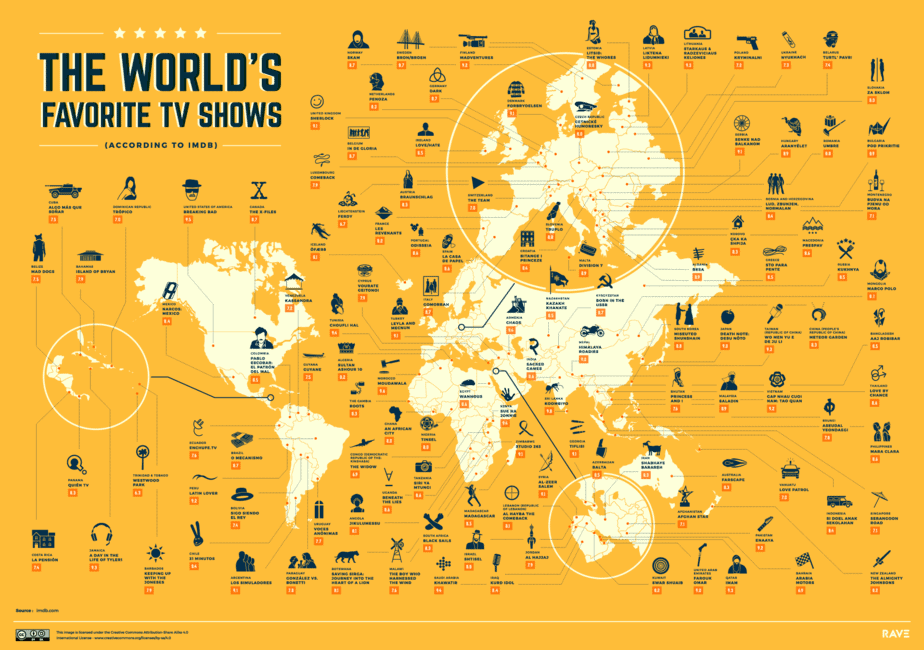 North America
Canada's top choice show is one of the longest-running on the list. The X-Files captured the public's imagination when it launched in 1993 and earned its place as an all-time classic. FBI agents Mulder and Scully remain an iconic duo today, investigating the crimes and unexplained events the government sought to bury.
Costa Rica's favorite show is also a long-runner. La Pensión debuted in 1999, and is still running twenty seasons later. It is a light-hearted comedy about a luxurious boarding house that has fallen on hard times, and the colorful characters that live there.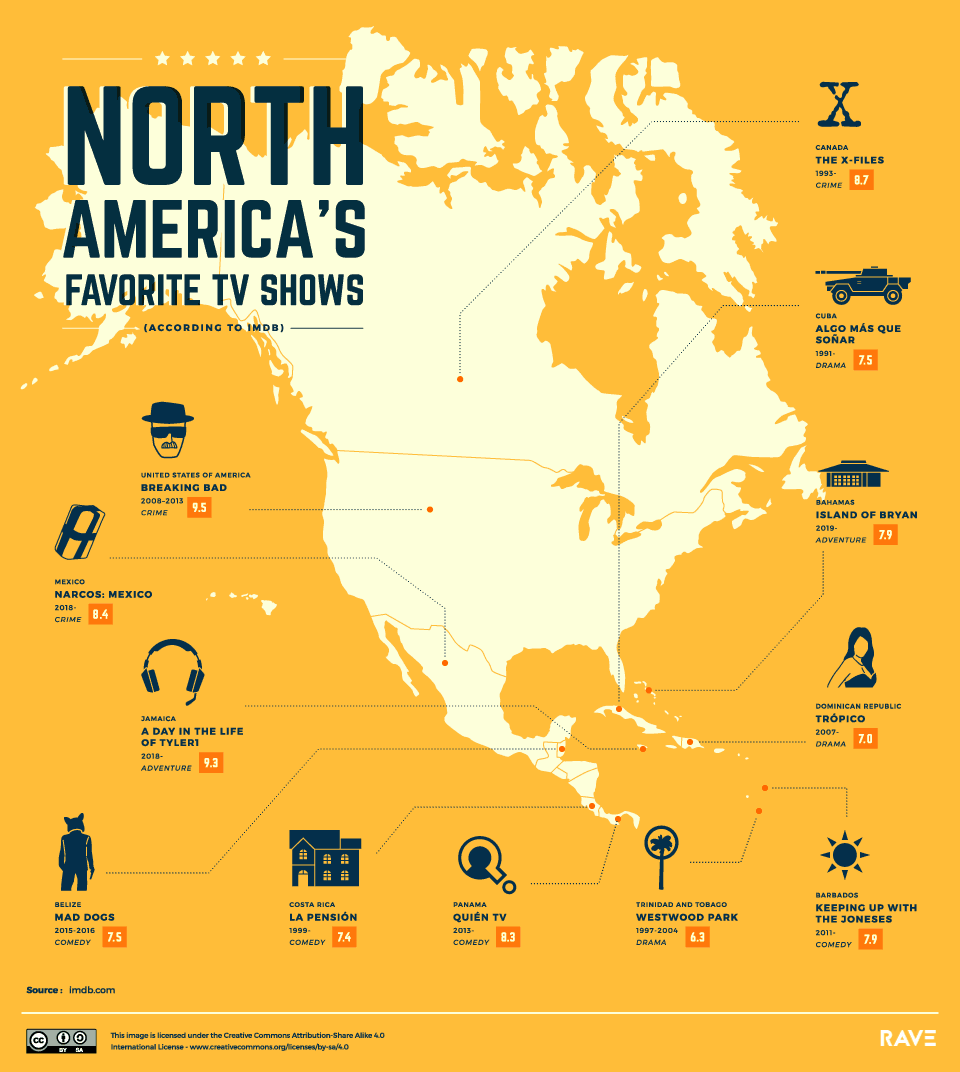 Europe
The UK, France, Germany, and the Scandinavian countries all boast huge international hits. The UK number one, Sherlock, updates Arthur Conan Doyle's 19th-century detective serial to modern day London, with the international movie star Benedict Cumberbatch in the title role.
Germany and France have had worldwide success with their answers to The X-Files. German show Dark is an often confusing and sometimes scary time travel series. Les Revenants (The Returned) tells the spooky tale of what happens when a town's dead people begin to reappear alive and well.
Asia
The 2018 South Korean television series Miseuteo Syeonsyain (Mr. Sunshine) is the country's top-rated show on IMDb. It has broken viewership records at home and been distributed internationally by Netflix. Mr. Sunshine is a period drama about a Korean boy born into slavery in the 1900s, and Korea's fight for independence.
Taiwan's latest hit is a 10-part drama series following the fates of all who were involved in a fatal shooting – the victims, the killer, the media, and those caught up in the trial. Thailand is represented by a love story from 2018, called Love By Chance. It has a rating of 8.6 on IMDb.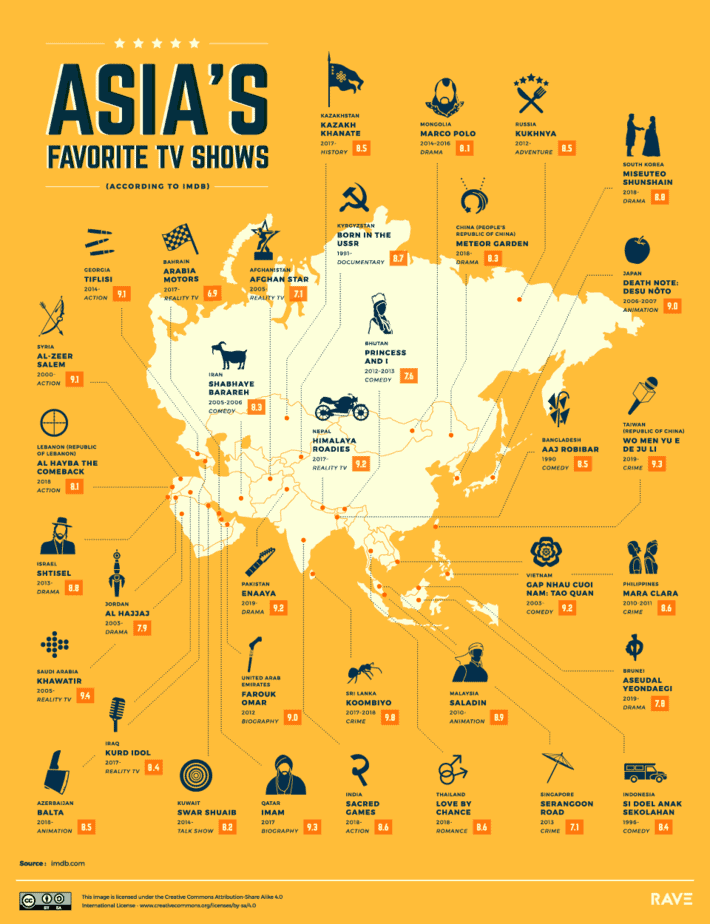 South America
The top-rated Argentine TV series is a cross between and The A-Team and Quantum Leap. Los Simuladores (The Pretenders) follows a team of con artists who create ornate fake situations to solve regular peoples' problems. It was popular enough to be remade in Spain and Mexico.
Venezuela's highest-scoring show is a 1992 telenovela called Kassandra. Oddly, it was the most-watched show in Bosnia-Herzegovina when a local TV company showed a pirated version during the Bosnian War. "We are completely different cultures and miles apart, but I think we all have a common denominator, which is love," explained Kassandra's leading lady, Coraima Torres.
Africa
The most popular local TV show in Morocco is a crime reenactment series that creates dramas out of old cases from court archives. At one point, over half of viewers in Morocco aged under 22 would tune in to Moudawala (Deliberation) to see the latest episode.
Recent Kenyan comedy-drama Sue na Jonnie is a mistaken-identity crime show that has captured imaginations in Kenya and abroad. Its far-fetched storylines and authentic Mtaani (street culture) humor have earned it a 9.4 rating on IMDb.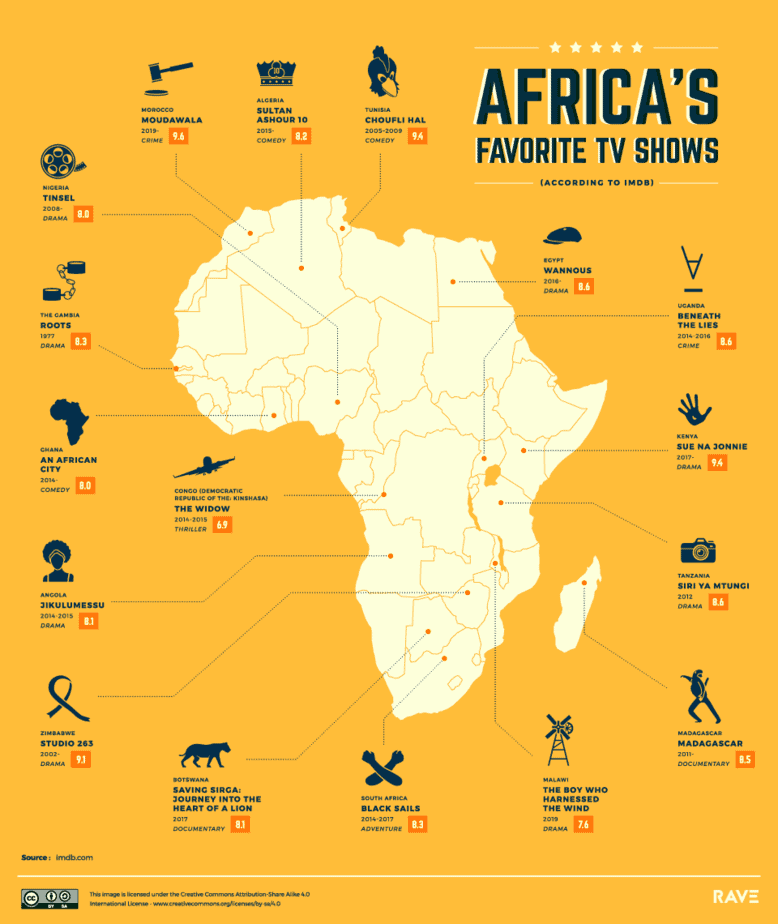 Oceania
The Almighty Johnsons is a 2011-2013 comic fantasy series about a family of Norse gods living in modern day New Zealand. It was popular enough for viewers to successfully demand a third series after the show was cancelled.
Australia's highest-rated show is the break-out space opera Farscape. The cult show is now celebrating its twentieth anniversary. Many of its original stars used the show as a launchpad into other top science-fiction shows and movies.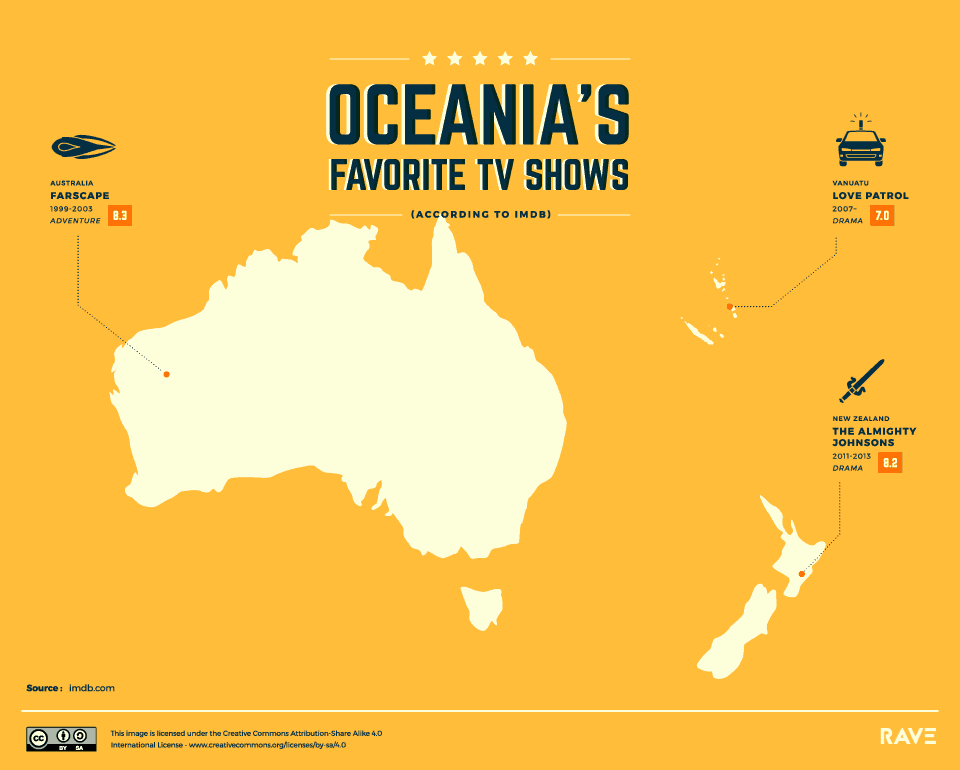 As our maps show, there is no shortage of interesting and diverse series to watch when you know where in the world to look. Why not watch one of these hit shows tonight? You might just find your new favorite show!
Methodology
We used IMDb to find TV shows produced in each country and sorted them by User Rating to find the highest-rated shows. In many cases the shows with the highest ratings had too few votes to constitute a reliable sample, so we sorted the list by Number of Votes to find the highest-rated show with the highest number of votes.
For cases where no shows were produced in a given country, we identified highly-rated TV shows that had been filmed in or had a story line set in the country. Those cases were flagged in the research sheet: http://bit.ly/TheWorldsFavoriteTVshows
| COUNTRY | TV SHOW | YEAR | IMDb RATING | GENRE |
| --- | --- | --- | --- | --- |
| Afghanistan | Afghan Star | 2005- | 7.1 | Reality TV |
| Albania | Besa | 2018- | 8.9 | Crime |
| Algeria | Sultan Ashour 10 | 2015- | 8.2 | Comedy |
| Angola | Jikulumessu | 2014-2015 | 8.1 | Drama |
| Argentina | Los Simuladores | 2002-2004 | 9.1 | Mystery |
| Armenia | Chaos | 2019- | 9.4 | Drama |
| Australia | Farscape | 1999-2003 | 8.3 | Adventure |
| Austria | Braunschlag | 2012- | 8.3 | Drama |
| Azerbaijan | Balta | 2018- | 8.5 | Animation |
| Bahamas | Island of Bryan | 2019- | 7.9 | Adventure |
| Bahrain | Arabia Motors | 2017- | 6.9 | Reality TV |
| Bangladesh | Aaj Robibar | 1990 | 8.5 | Comedy |
| Barbados | Keeping Up with the Joneses | 2011- | 7.9 | Comedy |
| Belarus | Turtl' Pavr! | 2012-2018 | 7.4 | Animation |
| Belgium | In de Gloria | 2000-2002 | 8.7 | Comedy |
| Belize | Mad Dogs | 2015-2016 | 7.5 | Comedy |
| Bhutan | Princess and I | 2012–2013 | 7.6 | Comedy |
| Bolivia | Sigo siendo el Rey | 2016– | 7.4 | Drama |
| Bosnia and Herzegovina | Lud, zbunjen, normalan | 2007- | 8.4 | Comedy |
| Botswana | Saving Sirga: Journey into the Heart of a Lion | 2017 | 8.1 | Documentary |
| Brazil | O Mecanismo | 2018- | 8.7 | Crime |
| Brunei | Aseudal Yeondaegi | 2019- | 7.8 | Drama |
| Bulgaria | Pod prikritie | 2011-2016 | 8.9 | Action |
| Canada | The X-Files | 1993- | 8.7 | Crime |
| Chile | 31 Minutos | 2003-2014 | 8.4 | Comedy |
| China (People's Republic of China) | Meteor Garden | 2018- | 8.3 | Drama |
| Colombia | Pablo Escobar: El Patrón del Mal | 2012 | 8.5 | Biography |
| Congo (Democratic Republic of the: Kinshasa) | The Widow | 2019- | 6.9 | Thriller |
| Costa Rica | La Pensión | 1999- | 7.4 | Comedy |
| Croatia | Bitange i princeze | 2005- | 8.4 | Comedy |
| Cuba | Algo más que soñar | 1991- | 7.5 | Drama |
| Cyprus | Vourate Geitonoi | 2001-2004 | 7.9 | Comedy |
| Czech Republic | Cetnické humoresky | 1997- | 8 | Comedy |
| Denmark | Forbrydelsen | 2007-2012 | 8.4 | Crime |
| Dominican Republic | Trópico | 2007- | 7 | Drama |
| Ecuador | Enchufe.tv | 2011- | 7.6 | Comedy |
| Egypt | Wannous | 2016- | 8.6 | Drama |
| Estonia | Litsid: The Whores | 2018- | 8.8 | Drama |
| Finland | Madventures | 2002- | 9.2 | Documentary |
| France | Les Revenants | 2012- | 8.2 | Drama |
| Georgia | Tiflisi | 2014- | 9.1 | Action |
| Germany | Dark | 2017- | 8.7 | Crime |
| Ghana | An African City | 2014- | 8 | Comedy |
| Greece | Sto Para Pente | 2005-2007 | 8.5 | Comedy |
| Guyana | Guyane | 2016- | 7.5 | Drama |
| Hungary | Aranyélet | 2015- | 8.9 | Action |
| Iceland | Ófærð | 2015- | 8.1 | Crime |
| India | Sacred Games | 2018- | 8.9 | Action |
| Indonesia | Si Doel Anak Sekolahan | 1996- | 8.4 | Comedy |
| Iran | Shabhaye Barareh | 2005-2006 | 8.3 | Comedy |
| Iraq | Kurd Idol | 2017- | 8.4 | Reality TV |
| Ireland | Love/Hate | 2010-2014 | 8.5 | Crime |
| Israel | Shtisel | 2013- | 8.8 | Drama |
| Italy | Gomorrah | 2014- | 8.7 | Crime |
| Jamaica | A DAY IN THE LIFE OF TYLER1 | 2018- | 9.3 | Adventure |
| Japan | Death Note: Desu nôto | 2006-2007 | 9 | Animation |
| Jordan | Al Hajjaj | 2003- | 7.9 | Drama |
| Kazakhstan | Kazakh Khanate | 2017- | 8.5 | History |
| Kenya | Sue Na Jonnie | 2017- | 9.4 | Drama |
| Kosovo | Çka ka Shpija | 2015- | 8.3 | Comedy |
| Kuwait | Swar Shuaib | 2014- | 8.2 | Talk Show |
| Kyrgyzstan | Born in the USSR | 1991– | 8.7` | Documentary |
| Latvia | Liktena Lidumnieki | 2003- | 9.3 | Drama |
| Lebanon (Republic of Lebanon) | Al Hayba the Comeback | 2018 | 8.1 | Action |
| Liechtenstein | Ferdy | 1984- | 6.7 | Animation |
| Lithuania | Starkaus & Radzeviciaus keliones | 2006- | 9.3 | Documentary |
| Luxembourg | Comeback | 2012-2013 | 7.9 | Comedy |
| Macedonia | Prespav | 2016-2019 | 8.6 | Comedy |
| Madagascar | Madagascar | 2011- | 8.5 | Documentary |
| Malawi | The Boy Who Harnessed the Wind | 2019 | 7.6 | Drama |
| Malaysia | Saladin | 2010- | 8.9 | Animation |
| Malta | Division 7 | 2016- | 8.9 | Action |
| Mexico | Narcos: Mexico | 2018- | 8.4 | Crime |
| Mongolia | Marco Polo | 2014–2016 | 8.1 | Drama |
| Montenegro | Budva na pjenu od mora | 2012- | 7.1 | Drama |
| Morocco | Moudawala | 2019- | 9.6 | Crime |
| Nepal | Himalaya Roadies | 2017- | 9.2 | Reality TV |
| Netherlands | Penoza | 2010-2017 | 8.3 | Crime |
| New Zealand | The Almighty Johnsons | 2011-2013 | 8.2 | Drama |
| Nigeria | Tinsel | 2008- | 8 | Drama |
| Norway | Skam | 2015-2017 | 8.7 | Drama |
| Pakistan | Enaaya | 2019- | 9.2 | Drama |
| Panama | Quién TV | 2013- | 8.3 | Comedy |
| Paraguay | González vs. Bonetti | 2005- | 7.8 | Comedy |
| Peru | Latin Lover | 2001- | 9.2 | Drama |
| Philippines | Mara Clara | 2010-2011 | 8.6 | Crime |
| Poland | Kryminalni | 2004- | 7.2 | Crime |
| Portugal | Odisseia | 2013- | 8.6 | Comedy |
| Qatar | Imam | 2017 | 9.3 | Biography |
| Romania | Umbre | 2014- | 8.8 | Crime |
| Russia | Kukhnya | 2012- | 8.5 | Adventure |
| Saudi Arabia | Khawatir | 2005- | 9.4 | Reality TV |
| Serbia | Senke nad Balkanom | 2017- | 9.1 | Crime |
| Singapore | Serangoon Road | 2013 | 7.1 | Crime |
| Slovakia | Za sklom | 2016- | 8 | Action |
| Slovenia | Truplo | 2018- | 8.8 | Comedy |
| South Africa | Black Sails | 2014-2017 | 8.3 | Adventure |
| South Korea | Miseuteo Shunshain | 2018- | 8.8 | Drama |
| Spain | La casa de papel | 2017- | 8.6 | Action |
| Sri Lanka | Koombiyo | 2017-2018 | 9.8 | Crime |
| Sweden | Bron/Broen | 2011-2018 | 8.7 | Crime |
| Switzerland | The Team | 2015- | 7 | Crime |
| Syria | Al-Zeer Salem | 2000- | 9.1 | Action |
| Tanzania | Siri ya Mtungi | 2012 | 8.6 | Drama |
| Taiwan (Republic of China) | Wo men yu e de ju li | 2019- | 9.3 | Crime |
| Thailand | Love By Chance | 2018- | 8.6 | Romance |
| The Gambia | Roots | 1977 | 8.3 | Drama |
| Tunisia | Choufli Hal | 2005–2009 | 9.4 | Comedy |
| Trinidad and Tobago | Westwood Park | 1997-2004 | 6.3 | Drama |
| Turkey | Leyla and Mecnun | 2011-2014 | 9.1 | Adventure |
| Uganda | Beneath The Lies | 2014-2016 | 8.6 | Crime |
| Ukraine | Nyukhach | 2013- | 7.3 | Action |
| United Arab Emirates | Farouk Omar | 2012- | 9 | Biography |
| United Kingdom | Sherlock | 2010- | 9.1 | Crime |
| United States of America | Breaking Bad | 2008–2013 | 9.5 | Crime |
| Uruguay | Voces anónimas | 2006- | 7.7 | Horror |
| Vanuatu | Love Patrol | 2007– | 7 | Drama |
| Venezuela | Kassandra | 1992- | 7.2 | Drama |
| Vietnam | Gap nhau cuoi nam: Tao quan | 2003- | 9.2 | Comedy |
| Zimbabwe | Studio 263 | 2002- | 9.1 | Drama |
Sources
Keen to find out more about some of the series on our maps? Here is the full list of top shows, their genres and IMDb rating, country-by-country. For the full research behind this project, visit http://bit.ly/TheWorldsFavoriteTVshows