Whether you're a seasoned tea master or you're exploring the world of green tea for the first time, we think that Matcha, Longjing, and Gyokuro are some of the best tasting beverages on the planet.
Not only does green tea taste great, but it comes with a laundry list of health benefits and flavors. So there is sure to be quite literally, a green tea for everyone. But sorting through all the available options on the market can be a chore. But that's what you have RAVE for!
Continue reading to learn what green tea products we've ranked as the best options on the market. The green teas will offer incredible taste with mental and physical boosts, all at great value price ranges.
The Green Tea We RAVE About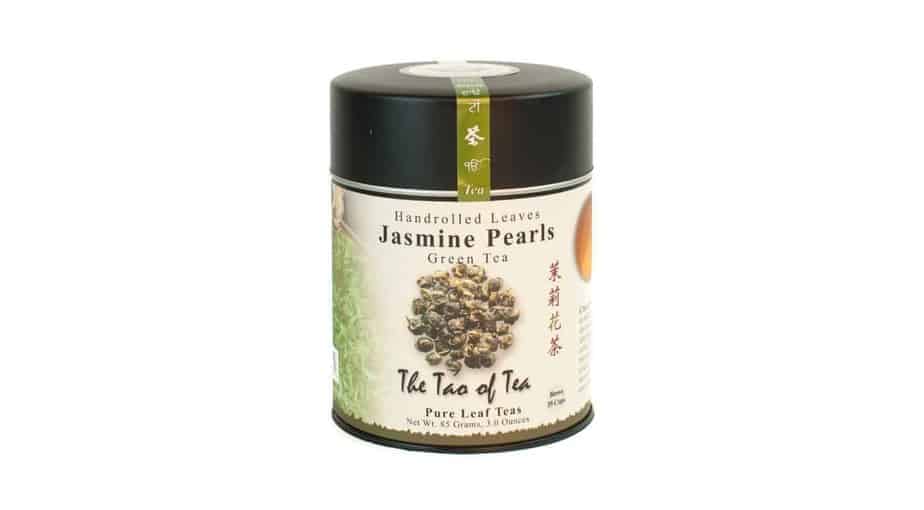 Best Overall
Jasmine Pearls Green Tea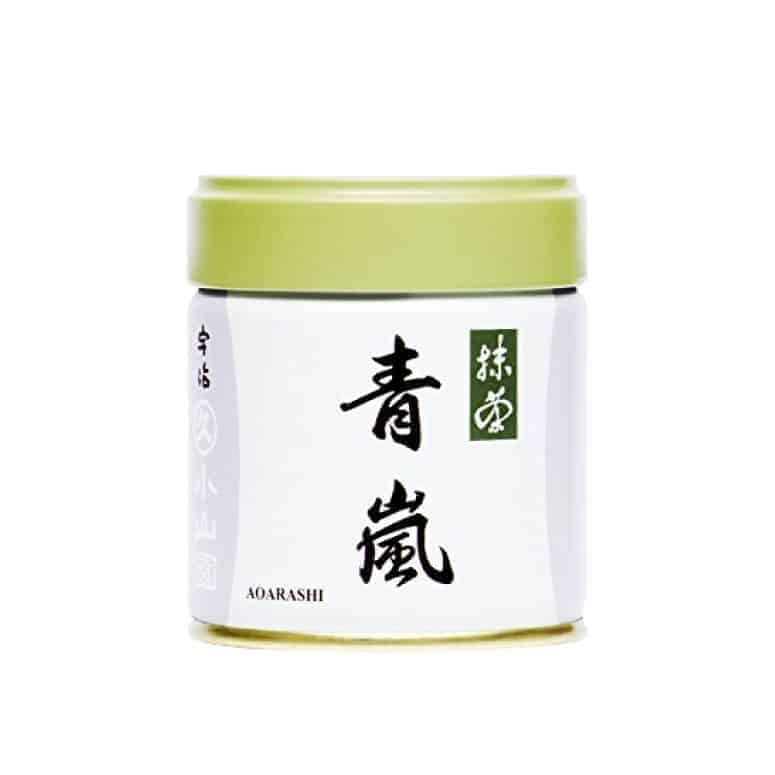 Most Exotic
Marukyu Koyamaen Premium Ceremonial Grade Matcha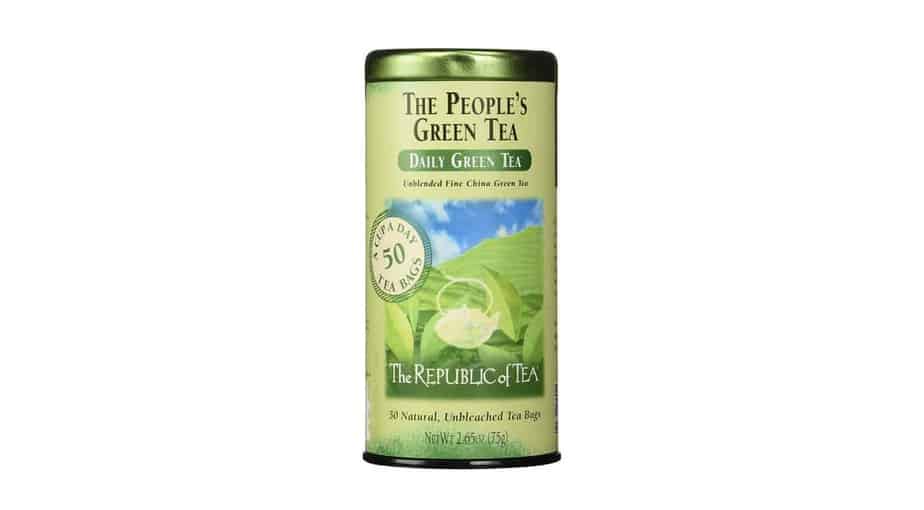 Best for Drinking Every Day
The People's Green Tea
Green Tea is the Tea Industry's Best Kept Secret
In the world of teas, black tea is king. It is by far the most popular in the world, so green tea is like the industry's best kept secret.
Green tea is wonderfully versatile. It can be sweetened with honey, spiced with cinnamon, made citrusy with ginger or orange, fruity with pomegranate, tart with lemon, floral with jasmine, and so on. It can also be enjoyed on its own terms. A grassy, bright, subtle, and complex drink, it's delicious in sickness and in health!
Green and black tea leaves come from the same plant. Green leaves are picked earlier in the year, but like avocados or bananas, they quickly turn brown unless oxidation-causing enzymes are neutralized. This process can be done in a variety of ways — steaming, roasting, drying, etc. — each of which creates a different type of green tea.
Like any kind of tea, green teas come in all grades and price ranges. Higher quality teas are sweeter, balanced, full-bodied, complex, and aromatic, but can get expensive quickly.
Green teas come in so many varieties, it's important to consider for what occasion you're buying them. If tea serves you socially, consider one of the rarer or more exotic selections. If you're drinking for personal daily use, or if you're exploring the world of tea for the first time, cozy up with one of the more affordable options–there's great options for every level of investment.
Types of Green Tea
There are as many green teas as there are white wines, so there is a lot to explore! Not only that, but green tea is deeply steeped (get it?) in history. Every cup is storied.
Whether you're a novice or a Zen master looking for the next thing to try, we've put together a list of six "species" of green teas in alphabetical order. It is not exhaustive — such a list would be far too long! We've omitted obscure teas like Laoshan, which is a coveted tea grown in a single region in Shandong Province.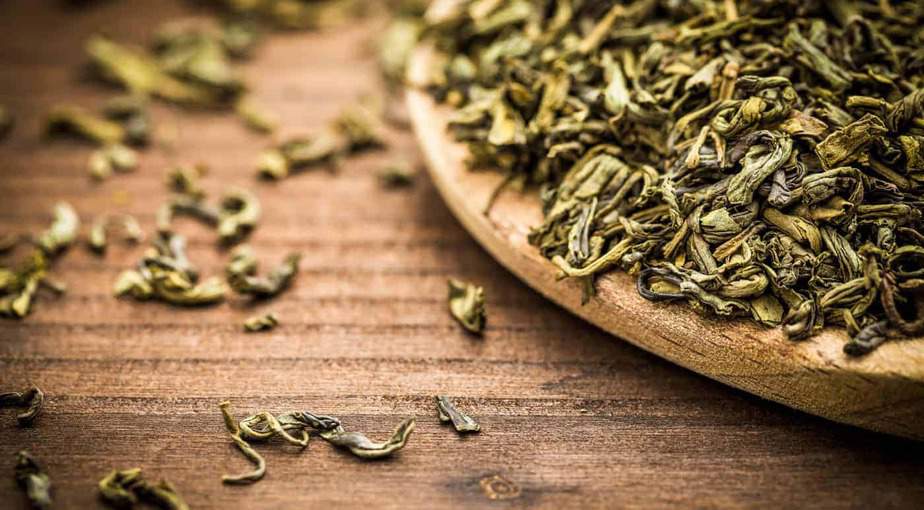 Rather than categorizing teas based on their region of origin (which only connoisseurs do), those listed here are distinguished by how they are produced or processed.
Which have you tried? Which will you brew next?
Biluochun
Biluochun is an affordable and popular green tea with a fragrant, vegetable quality like steamed edamame. Higher quality versions take it in a more citrusy direction: You can almost detect a whisper of pineapple. In combination with its silky body that glides down your throat, this flavor makes it the tea of choice if you are recovering from a cold.
During processing, Biluochun is fried in a wok shortly after it is picked in the first or second flush of spring. Then, it is rubbed by hand until curly and dark green, and finally air-dried. This unique process is what delivers that amazing taste of cooked vegetables.
Its unobtrusive flavor profile also makes it an excellent choice for tea enthusiasts looking to try something new and exotic without much risk of disliking it.
Genmaicha
Genmaicha is Sencha for drinkers on a budget. It is a low-grade Sencha supplemented with rice or sorghum. While less refined, the result is toasty and flavorful.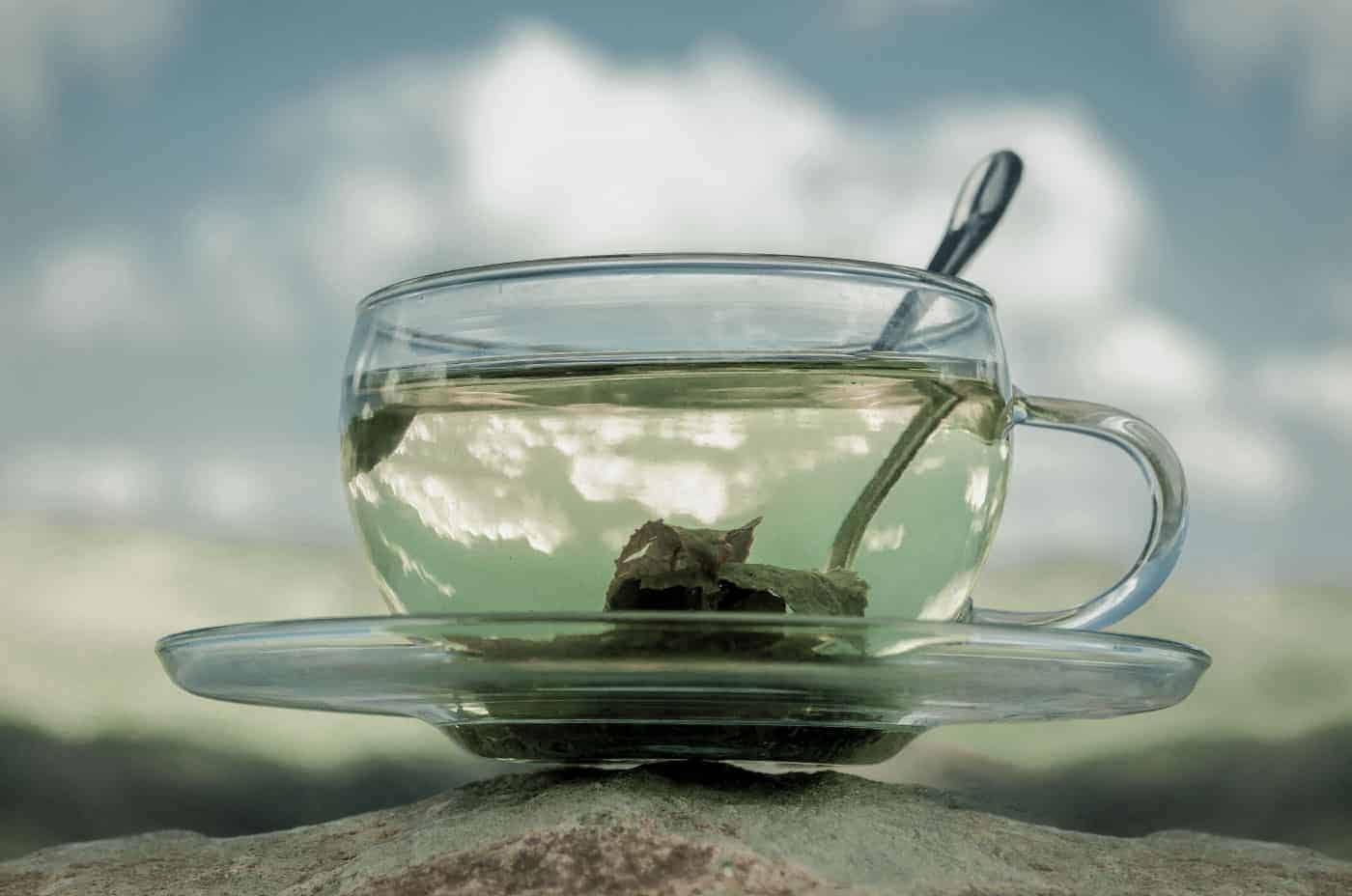 In fact, if you are trying to quit coffee, Genmaicha is a superb alternative. Not only does it have a (vaguely) similar earthy taste, but its body has a kick, making it the ideal pick-me-up for early mornings.
This bold taste might be a turn-off for some tea enthusiasts however. So if you prefer more mild, fruity tastes, then you'd be better starting with another type.
Gyokuro
The production of Gyokuro is rather elaborate. Three to six weeks before the leaves are harvested, the tea trees are shaded with bamboo tents to cut off sunlight. This forced fast compels the plant to produce extra nutrients like chlorophyll.
When they are harvested and processed, the result is a brothy tea with a bright and savory flavor. This tea is good for sipping rather than gulping due to its potent flavor profile.
This makes it an excellent choice for social occasions that you'd like to 'class-up' a bit.
Longjing (Dragon Well)
The most celebrated tea to emerge from China, the very best Dragon Well leaves never make it out of the country. The rest of the world must settle for "very good," not the "best" — unless you have a plane ticket to China.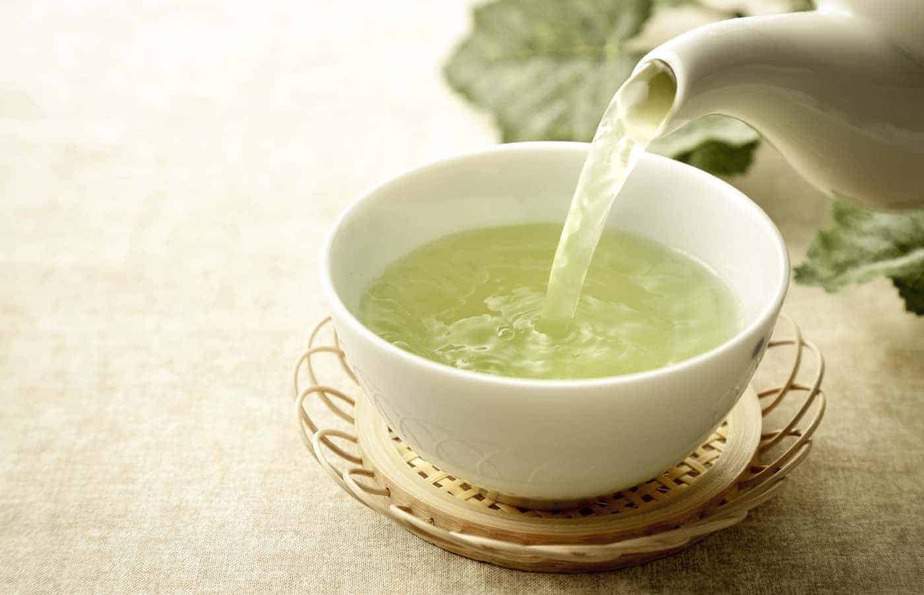 Dragon Well neutralizes oxidizing enzymes by roasting the leaves in classic Chinese fashion: with a wok. When done well, the result is a sweeter tea with chestnut tones. Rich and refreshing, Dragon Well is a staple among serious tea-drinkers, but it inevitably costs more than other green teas.
A high quality Dragon Well is relatively easy to spot. The leaves are cut in short, wrinkly strands instead of long and ironed flat, with maybe just a bit of peach fuzz. Dragon Well leaves have a yellowish-green tone.
This green tea is so good that if you were to choose one new type of leaf to try, we'd recommend this one!
Matcha
Matcha is not everyone's cup of tea (get it?). By far the most distinctive of all the green teas, it has only recently broken into the mainstream. Today, chains like Starbucks offer Matcha mixed into sugary lattes or blended drinks. Although rising in popularity, a cup of Matcha in its traditional form is a rare sight.
Matcha is premium quality, shade-grown tea leaves ground into a fine powder that is scooped into a cup of water and whisked into a froth. You end up drinking the entire leaf, not just the extract.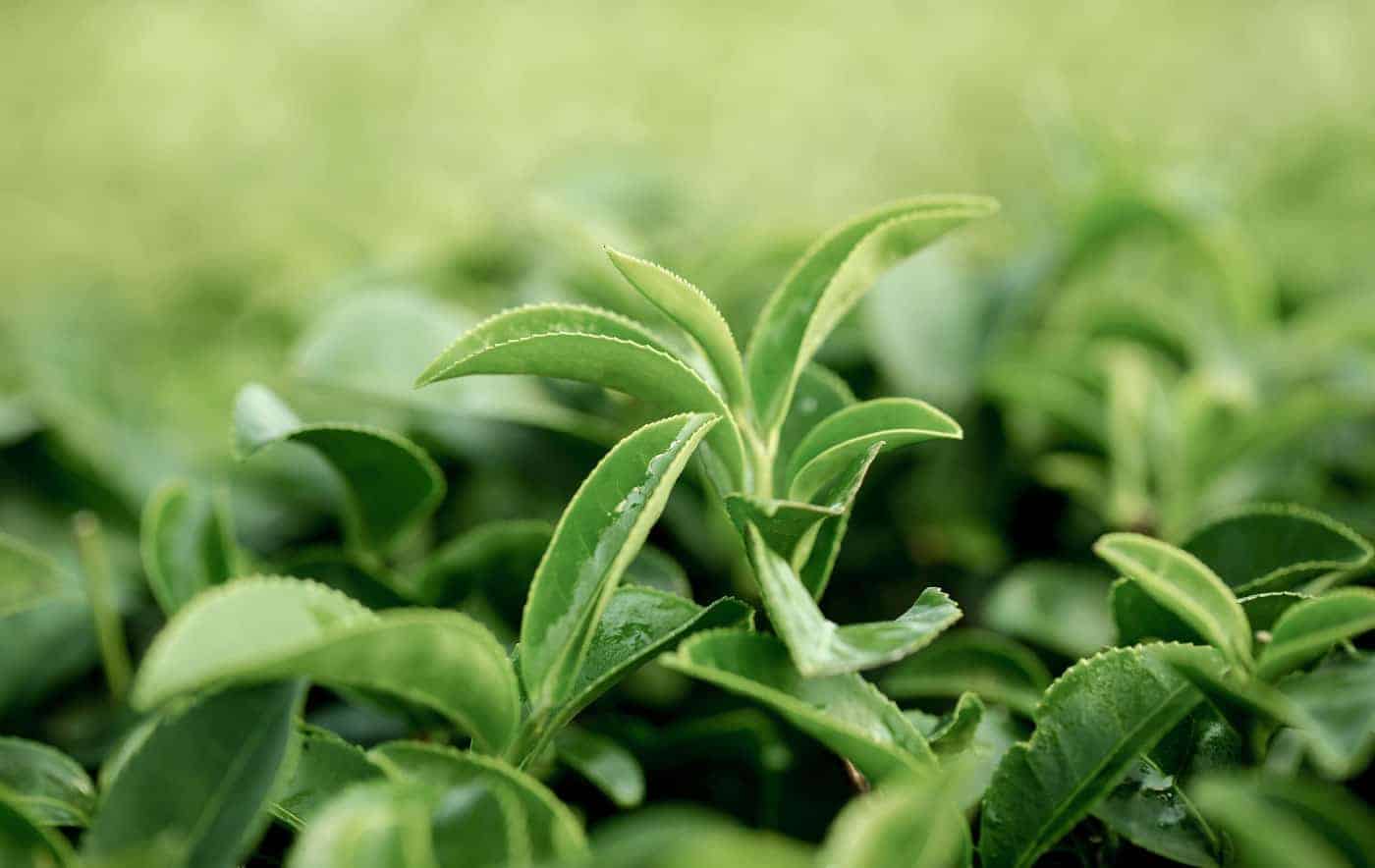 It takes a lot of work to make Matcha. After being processed, dried, and deveined, the leaves are ground with stones, at times by hand, making Matcha one of the most expensive (and prized) teas.
Matcha tea is creamy, savory, bittersweet, and a bit like drinking grass, which is why it is loved by some and despised by others. Unlike other teas, Matcha should be stored in the refrigerator to preserve freshness. Teas typically have little nutritional value, but Matcha is the exception. A single cup is rich in vitamin C, potassium, and calcium.
Sencha
If you have ever enjoyed a cup of green tea, it was most likely Sencha. It is the prototypical leaf for green tea.
It can be found in varying quality, but how it is processed is universal: Shortly after being picked, the leaves are steamed to prevent oxidation, giving them a piney, subtly bitter, and wonderfully aromatic quality, so their flavor lingers in the mouth long after the last sip.
Pay attention to the reviews and/or manufacturing process for Sencha green tea. It's widespread popularity has led to some companies lowering the bar on quality to deliver a higher quantity. While not always the case, it's certainly something to keep in mind!
Methodology of Ranking the Best Green Teas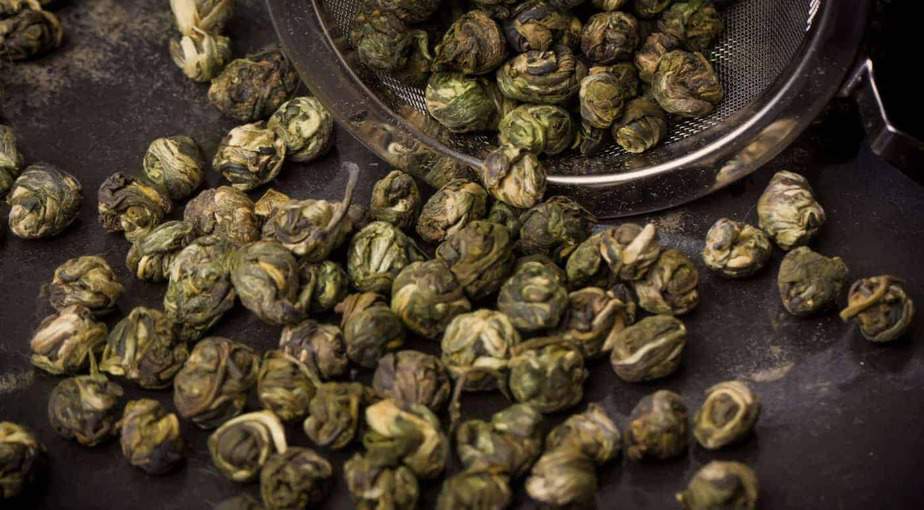 Now let's explain our methodology for ranking the best green teas on the market. With all the types and varieties and blends of green tea out there, how do we possibly sift through them all? We believe that the distinction of the best green tea products comes down to four essential factors.
Below are the major factors we considered, in descending order of importance:
Quality: How carefully were the tea leaves cultivated and processed? Can they be steeped multiple times?

Taste: How is this tea distinct? What does it offer the palate?

Packaging: Does the bag or canister extend the shelf life of the tea? Is it aesthetically pleasing and presentable?

Price: How much does it cost? The higher the price, the lower the score.
The Best Green Tea
1
Jasmine Pearls Green Tea
The Tao of Tea is a series of teahouses based in Portland, OR. Their motto is "Organic is not enough." This teahouse is characterized by a bias for doing things the ancient, traditional, and sustainable way. It shows in the loving way they process their teas. And we believe you can taste the difference, too.
Nowhere is that labor of love more apparent than in Jasmine Pearls, their consummate representation of handcrafted tea. Grown and harvested in Hunan, China, the pearls are made by plucking freshly sprouted spring leaves. They are dried on bamboo trays and rolled between the thumb and index finger into "pearls," the same size and shape as those on a necklace. It takes 2,000 pearls to make one pound of tea. The pearls are then heat-infused with jasmine petals at least five times before being packaged in airtight tin canisters.
This tea creates the perfect balance between a smooth green tea flavor and the floral jasmine aroma. You will be hard-pressed to find a better green tea at this price point.
While facing the Spanish Steps in Rome, Italy (famously depicted in the 1953 film "Roman Holiday"), on your left you'll find Babingtons, a 125 year old English-style breakfast restaurant. Inside you will find a wide assortment of exquisite teas. And thanks to the internet, you don't have to purchase a plane ticket to get a sip!
The In Tè Veritas is a "gunpowder tea" grown in China and sold in airtight tins. Gunpowder tea is processed in a manner similar to but less taxing than pearls. First, the leaves are withered, steamed until supple, then individually rolled into pellets and dried. Inspired by the La Bocca della Verità (i.e., The Mouth of Truth, which also appears in the film), the pellets are blended with bits of lavender, mint, and vanilla to be infused simultaneously while brewing.
In Tè Veritas is an elegant tea ideal for intimate social gatherings. True to its roots in English tradition, this tea is enough to make us wish that tea time had caught on in America. But that doesn't mean you can't make your own tradition!
4
Sencha Green Tea & Matcha
Sencha is easy to find cheap. After all, it is the most traditional of traditional teas. The standard, if you will. So it's a special treat when a high-quality version appears.
Processed on Kyushu island in Kagoshima, Japan, Sencha Green Tea by Rishi Tea & Botanicals capitalizes on what is distinctive about Sencha: a flavor that fills and lingers in the mouth long after the final sip.
Rishi is leading the charge in rebranding tea to appeal to the third wave coffee generation. Their approach to tea is stylized and innovative, ecologically-conscious, and draws from various modern movements, including botanical apothecary!
Rishi's Sencha is a blend of first and second flush harvests from Kyushu island's mineral rich volcanic soil. The result is a slightly opaque, very green, and exceptionally savory brew. Sencha's steaming process gives it a sticky aroma that coats the mouth deliciously. While more costly than standard Sencha, there's nothing standard about this product–so give it a try if you've found Sencha tea to be generally lacking in the past.
As its name implies, the People's Green Tea is ideal for daily consumption. It's affordable, of adequate quality, and, unlike most of the items on this list, it can likely be found at your local grocery store.
Grown and processed in China, this tea is a best-seller with thousands of satisfied customers. You can't go wrong with this universal people-pleaser.
Because this brand uses bags, there are limits to how much you can experiment with it. This tea is not designed to be infused more than once, unlike loose leaf teas, which can undergo up to three infusions before being disposed.
But that is part of the appeal: This is a straightforward, single-minded tea that expects to be brewed in the "normal" manner. It is even available in decaf! As the name suggests, this tea is a crowd pleaser.
6
Tealyra Gyokuro Green Tea
Committed to authenticity, Tealyra is "a team of tea lovers" on a mission to get more people into tea. This Gyokuro is a special treat, as light and sweetly smooth as a dancer with a strong umami kick at the finish. Considering that Tealyra established themselves through trial and error, it is a real triumph.
Grown in Yame, Japan, this green is "a high quality first flush Gyokuro." Yame is recognized the world over for its Gyokuro. More than half of all Gyokuro in the world is grown there! Their connection to Yame certainly suggests that Tealyra is offering an authentic Gyokuro.
Tealyra shades their tea trees three weeks before harvest, making the leaves rich in theanine and exceptionally aromatic. Buyers frequently report a cloud of a savory, yet sweet smell erupting from the bag when opened.
This is not an everyday tea, but it is suitable for celebrations and special occasions, to be shared and savored as a luxury item.
Numi is a widely recognized brand. Available in most grocery stores, it manages to elevate the market of commercial teas with excellent quality and variety.
This Gunpowder Green is a premier example. The picture of purity, it has no additives, artificial flavors, coloring, or freeze-dried blends. It claims to stand on its own feet.
Like others on this list, this green is a gunpowder, which is processed by withering, steaming, and then individually rolling the leaves into pellets, which are dried. Even though the method of preparation is ancient, English soldiers named it for its resemblance to the darkly colored and grainy gunpowder they used for firing muskets.
According to the Numi website, their whole leaf organic green tea is processed within hours of being plucked. As they steep, the pellets unfurl to create a full-bodied brew. Numi does not disclose where they grow or process their teas on their website, but it is presumably China.
Best known for their Ethiopian coffee, the minds behind I Have a Bean produce a thoughtfully roasted Dragon Well green tea. Processed by hand at their roasting plant in Wheaton, IL, this tea represents a respect for traditional tea-making.
This tea meets the basic standards of a good Dragon Well: picked in the spring and processed by hand in short strands with bud and leaves intact. Though perhaps a little flatter and greener than is preferred, there is that undeniable yellowish tint that promises a sweet, aromatic flavor.
A Dragon Well of higher quality within this price range would be a difficult find, indeed.
I Have a Bean does not disclose where they harvest their leaves, except that they are "from the best tea gardens in the world." A final reason to buy from I Have a Bean? They make it their mission to help inmates recently released from prison make a fresh start at life.
Sometimes, excellent tea appears in unexpected places. You can find selections from Benjamin Tea on coffee shop shelves deep in rural Illinois, as I did at a train stop far from the city.
Benjamin Tea is a Chicago-based company that works with a master tea blender in Vienna, who is a member of a guild that has been blending teas for nearly 200 years.
The Pomegranate Green is a Sencha green tea mixed with dried pomegranate arils, freeze-dried red currants, raspberries, and mallow blossoms. The result is a delightfully floral and fruity fusion that leverages the clingy aromas of Sencha to great effect. Your mouth feels like a florist shop afterward!
Benjamin Tea does not disclose where their tea originates. It is not poor quality, but it makes up for anything it lacks with the guiding hand of experience. Their point person in Vienna clearly understands tea and how to coordinate flavors, even if they somewhat overpower the Sencha.
10
Organic Green Tea with Citrus and Ginkgo
Harney & Sons is a staple in any tea-drinking home and a first choice for restaurants. Handpicked in an undisclosed location in China, this blend pairs green tea with its natural partners, citrus and ginkgo. This is the peanut butter and jelly of the green tea world.
This tea is light-bodied and good for everyday consumption. It's wholesome and uncomplicated, infusing a greenish-brown brew you can sip all day long. A favorite among students, it delivers just enough caffeine to invigorate another thirty minutes of study.
No pretentiousness here. No calls for a special occasion. Nothing overwhelming. Just a casual tea with a cleansing character. It comes in sachets instead of bags, adding just enough elegance to your cup to treat yourself. This green tea is likely the best option for those looking to pick an affordable yet tasty 'everyday tea.'
Will green tea help me lose weight?
Green tea is often marketed as a miraculous weight loss beverage. Ads often say things like, "Drink green tea, the slimming brew!" While it's true that green tea may have either zero or very few calories (depending on what you put in it), it will not proactively help you lose weight.
Green tea is a healthier alternative to many popular drinks like lattes and mochas, but a drink with a low calorie count is not the same thing as a drink that eats calories. Green tea is only low calorie. So what does this mean?
It means that if you lose weight while drinking green tea, its only an indirect result–likely from drinking less high calorie tea-like drinks. Green tea may also give you more energy, which in turn might contribute to a more active lifestyle, where weight loss is more common.
Are green teas naturally decaffeinated?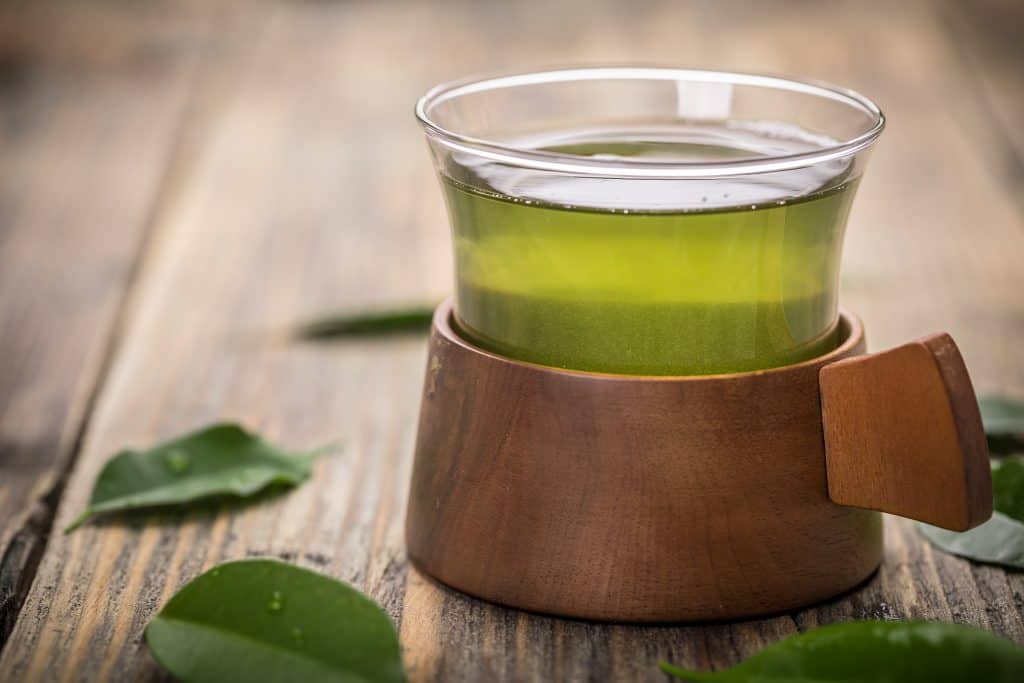 No. All teas are naturally caffeinated, and some aren't necessarily more caffeinated than others. For example, a cup of green tea may have the same caffeine content as a cup of black tea.
Many factors play into the levels of caffeine concentration in tea, including where (and how) it is grown, the size of the finished leaves, and how it is processed. Roasted leaves from the same plant may differ in caffeine levels than those that are aged or fermented. How the tea is prepared is also a factor. The longer you steep your tea, the higher the caffeine content.
The amount of caffeine in tea is much smaller than what you might find in many other beverages. For example, there is about a third as much caffeine in green tea as there is in drip coffee, so switching to tea might be a good way to lower your caffeine intake. However, in general, caffeine is something you should expect in your tea.
Are organic green teas healthier?
Demand for organic products is at an all time high. Seeking to cash in on the trend, marketers often overstate the benefits of organic food. While organic green tea is healthier for the environment (specifically soil), the science is unclear whether or not it is healthier for you.
When stating (or overstating) the health benefits of tea, one word is prominent: antioxidants. Because of its low oxidation, green tea has notably higher levels of antioxidants than other teas.
While antioxidants may be beneficial for human health, the jury (of science) is out on exactly how. And some suggest that too many antioxidants may even be harmful for some people. So always check with a physician or explore medical research before making a decision about your unique health profile.
Does green tea cure or prevent cancer or heart disease?
Tea has long been used to temporarily relieve sore throats and upset stomachs, as well as to help moderate body temperature. But it is classified with the likes of a warm wet rag or ibuprofen: It treats symptoms of illness by offering a bit of comfort, but does not treat the illness.
Along these lines, green tea is known to rejuvenate and relax. But its medical uses stop there. It cannot cure anything, nor is it a form of treatment.
No studies have demonstrated that drinking green tea regularly lowers the odds of contracting cancer or heart disease, much less treating them if already present. Any other health benefits green tea may offer are scientifically uncertain.
Do organic green teas have higher quality?
Not necessarily. It's true that companies slapping the 'organic' label on their produce may put more care into their craft, but not necessarily. In any event, it doesn't mean the tea has better quality simply by virtue of being organic.
Speaking strictly in terms of quality, there are no signs that organic teas taste any better than regular teas. In fact, for at least a period, organic teas tasted worse. Trying to meet the demand for organic produce, tea farmers sometimes compromised on other aspects of the tea-making process. The result? A sub-par yet organic product.
So if all you're looking for is a great tasting tea, there are many things to consider when making a purchase — but whether or not the tea is organic is not one of them.
What is the nutritional value of green tea?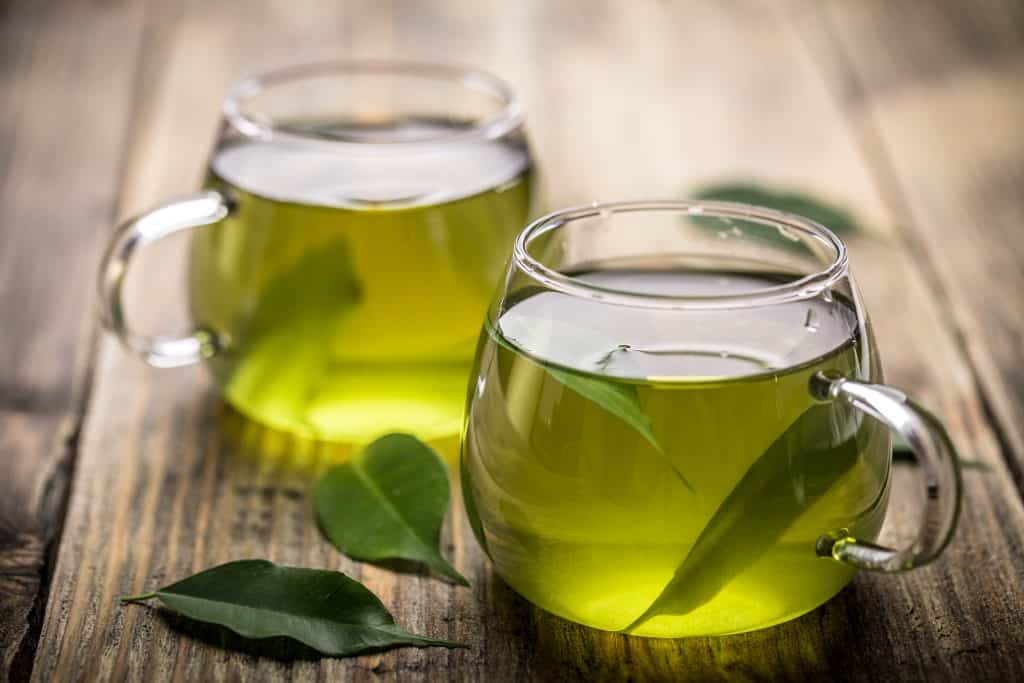 Green tea has, maybe surprisingly, little nutritional value. Ten grams of green tea will have about 27 milligrams of potassium, about half the amount in black coffee — which is negligible.
Matcha green tea is the exception. Because Matcha involves drinking the entire leaf after it is ground into a fine powder, a single cup is rich in potassium, vitamin C, and calcium. Still, it is no vitamin pill in liquid form. Don't expect any kind of tea to supply you with the vitamins and minerals you need.
How do I brew a cup of green tea?
Even people who have been drinking tea for years could be brewing it wrong. The most basic mistake is assuming there is a single, definitive way to brew tea, but the truth is that simple alterations like varying the amount of leaves you use or the temperature of the water can produce different yet enjoyable results.
A seasoned tea master experiments with portions, temperature, and steep time to find the ideal cup.
Here are a few things to consider when brewing a high quality cup of green tea:
Water: Tea is mostly water, so the quality of the water you use is an essential part of the infusion. It doesn't matter how high quality the leaf is — if you steep it in heavy, mineral-rich, or just odd-tasting water, it will obscure the taste of the tea.

Temperature: Traditionally, green teas are brewed at around 160 to 170 degrees Fahrenheit, but it is commonplace to brew it at the boiling point, around 212 degrees.

Leaf portion: The higher portion of tea leaves being used, the stronger the brew. It will also have a different body since more material will have dissolved in the water.

Steep time: The amount of time the leaves spend submerged in water has the biggest impact on your brew.
What size portions of tea leaves should I use?
The more tea leaves you use, the stronger your tea will taste. It will also have a different texture or body, since more material dissolves into the water. Start with 5 grams, which is about a single teaspoon, for every 100 milliliters of water, which is just over 3 ounces.
But that's just a starting point. Experiment and find what works best for you! Remember, there is no such thing as an official way to brew or enjoy tea.
How long should I steep my green tea?
The amount of time the leaves spend submerged in water has the biggest impact on your brew. The longer your leaves sit in water, the stronger and more full-bodied your tea will be. The amount of tea leaves you use will also factor into how long you steep.
Traditional tea is prepared using larger portions of tea leaves for less time steeping (as opposed to, say, smaller tea portions for longer steeps).
If you follow the standard portion sizes of 5 grams of tea for every 3 grams of water, steep times should last about 30 seconds to one minute. This method allows you to reuse your tea leaves two or three times before they should be disposed of.
Of course, you can steep it longer if you prefer a stronger cup of tea.
How hot should the water be that I use to brew?
There is a myth that green tea is delicate and will be scorched by water that is too hot. Traditional Japanese teas tend to be brewed with water clocking in at 160 to 170 degrees Fahrenheit. Gyokuro is an exception, preferring around 140 degrees.
This tends to be on the cooler side, as it's commonplace to brew tea at (or nearly at) the boiling point (212 degrees Fahrenheit). Hotter water won't scorch your tea, but it will make it less sweet and more full-bodied. Cooler water will brew a sweeter, lighter tea, but that's true of all teas, not just greens.
Here's a rule of thumb: The hotter you brew, the darker and more robust your tea. The cooler, the sweeter and more mild. This rule holds true for any tea, whether black, oolong, green, etc.

Blake Adams
Blake Adams is a widely published educator, journalist, and copywriter. He lives with his wife and cat in...*throws dart at a map*...Elburn, IL.