Not all keto snacks are created equal—while some are delicious, they may not be exactly health-promoting.
On the other hand, ultra-healthy keto snacks may not be satisfying and leave you wanting more. Vermont Original Beef & Pork Sticks check all the boxes of the best keto snacks. With zero carbs, 6 grams of fat, and 6 grams of protein, these hunger-curbing meat sticks made from hormone- and antibiotic-free animals are a go-to snack for a keto diet.
When we think of snacks, most of us think of a bag of chips, a chocolate bar—heck, even an apple. The truth is, most of our go-to snack food tends to be high in carbohydrates—a big no-no for a keto diet. After adopting a keto diet, many people can go for more extended periods without eating. However, having keto-friendly snack options is essential to maintain consistency in eating keto. We searched high and low to compile a list of the best keto snacks available.
When you follow a keto diet, it can be a challenge to find snack foods that won't spike your blood sugar and take you out of ketosis. Foods that contain a lot of fat and a small number of carbohydrates (or none at all) are ideal choices for a keto-friendly snack. For the most part, meat and cheese products are good options. However, high-quality sources of meat and cheese are essential to be health-promoting. For vegans or vegetarians, it can be more of a struggle to find keto snacks since meat and cheese are off the table.
It is important to look at the ingredient lists of keto snacks to ensure they are not full of artificial ingredients like artificial sweeteners or food dyes. Plus, snacks that actually taste good are important as well. Another factor to take into consideration is the price tag. Keto snacks often use meat, cheese, and nuts, which tend to be more expensive than wheat, table sugar, and corn, which is what a lot of traditional snacks contain. 
The Keto Snacks We RAVE About
All of our keto snacks are worth a taste-test, but a few stood out above the rest.
Best Vegan-Friendly Keto Snack: Keto Bars
Keto doesn't have to mean a "meat and cheese" diet. Our favorite vegan-friendly keto snack is made from nuts and coconut, tastes like dessert, and has only 5 grams of net carbs.
Read Full Review
Shop Keto Bars
Best "I Can't Believe It's Keto" Keto-Snack: Nui Cookies
Yow won't believe Nui's moist and chewy Chocolate Chip and Snickerdoodle cookies are keto-approved. Our mind is blown by the taste and that there are only 3 grams of carbs per cookie.
Read Full Review
Shop Nui Cookies
Understanding Keto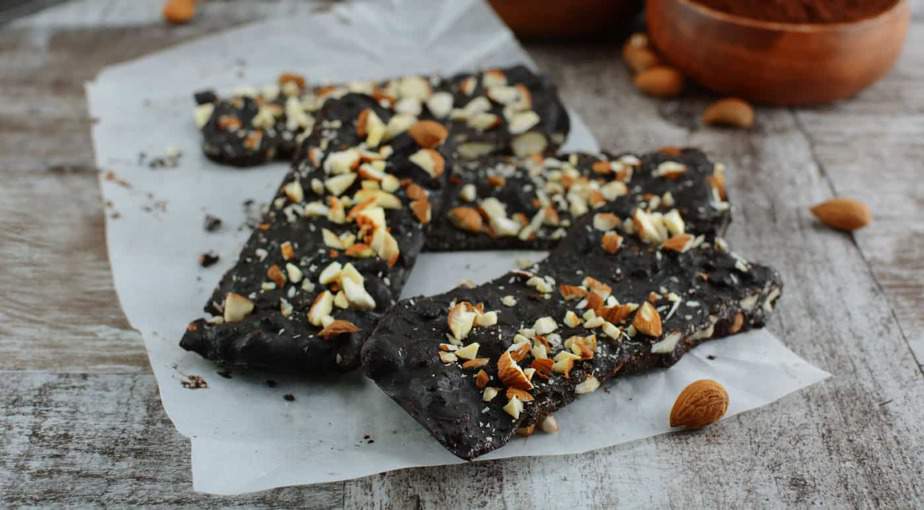 A keto diet is one that is high in fat, moderate in protein, and very low in carbohydrates. When you restrict carbohydrates, your metabolism burns fat instead of primarily sugar and starches. The theory with keto is that, when this happens, you enter "ketosis" and are better able to tap into your body's fat stores to burn for energy. 
Ketosis is the goal for most people on a keto diet. You know you are in ketosis by the level of ketones in your urine. Ketones are made when your body breaks down fat for energy. As long as you continue to consume very low levels of carbohydrates, you can continue to burn fat for energy.
Some people adopt a keto diet for weight loss, while others wish to improve their mental clarity or promote brain health. The keto diet was actually created initially for people suffering from seizures. 
The Importance of Keto Snacks
When you follow a keto diet, your blood sugar tends to be less prone to dips and spikes. Because of this, you can often space your meals further apart without feeling hungry—or worse, "hangry." To keep things on track, those following a keto diet must avoid high sugar and high carbohydrate foods. It's essential to know which foods and snacks are keto-friendly. Having keto-approved snacks on hand can help keep you prepared, saving you from having to resort to high-carb snacks.
What Makes a Good Keto Snack?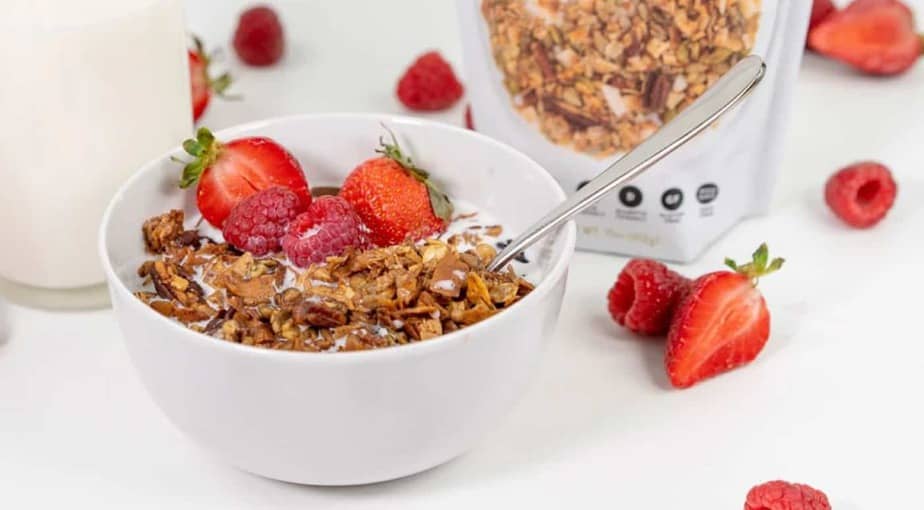 The bottom line for a good keto snack is super low carbs. At the end of the day, too many carbohydrates is the keto diet's mortal enemy. But there is more to it than just low carbs. To make a good keto snack, it also has to be satiating, so your hunger is satisfied. A high fat content and a moderate protein content will help you feel satisfied. 
Besides satiating hunger, the best keto snacks should also be tasty, appetizing, and satisfy your cravings. Food is a source of enjoyment, so merely eating to "fill the hole" is not how most people operate. Keto snacks should be tasty and flavorful enough to make you look forward to snack time. 
For the most part, people enjoy meat and cheese (which make up many keto snacks). Nuts and seeds are common in keto snacks, and are also full of flavor. The area keto snacks tend to be missing is satisfying your sweet tooth. Sweet foods are high in sugar (hence why they are sweet). However, there are alternative sweeteners like stevia and erythritol, which some people on keto include (and some don't). 
Trends in Keto Snacks
New keto snacks are becoming available continually. As consumers change what they look for in snacks, new snacks are created. There are several trends we are seeing in the keto snack arena.
Quality of Ingredients
Aside from looking at the number of carbs, grams of protein, and grams of fat, people are looking at the label for markers of quality ingredients. The words "non-GMO" and "organic" are two significant factors. Many consumers want to know that their products have not been genetically modified and are free from chemicals, such as pesticides. 
Another thing people look for is meat and cheese products that are both hormone- and antibiotic-free. People are recognizing that what goes into their food during processing and creation makes a difference in their health. 
Dietary Restrictions 
Today, many people follow more than one diet. Some people are paleo and dairy-free, others are keto and vegan, and some people are gluten-free, vegan, soy-free, and keto. As you can see, knowing what is in your snack food is vital if you follow multiple diets. 
Many keto snacks are dairy- or meat-based, so if you are also vegan or vegetarian, it may be more difficult to find keto-friendly snacks. However, it is possible to eat keto and vegan at the same time. Snacks that are nut- and seed-based are usually good options. Nut butters and bars made from nuts are most often vegan. 
Methodology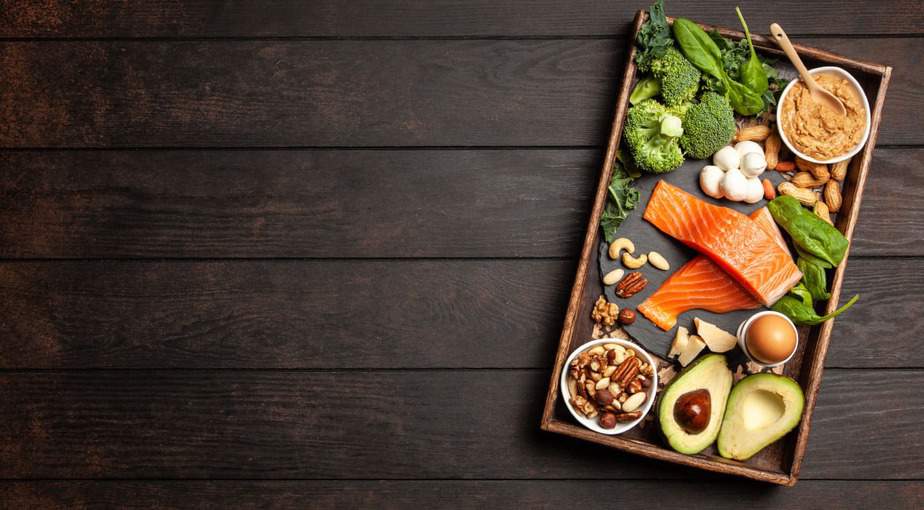 Here at RAVE, we take snacking very seriously, and we want to share only the best keto snacks with you. We searched for crave-worthy snacks that meet the keto diet's nutritional criteria and that won't break your bank account. We took the taste of the product, the nutritional quality, and reviews into careful consideration. Plus, we know that some people have dietary restrictions such as food allergies, so we made a note of which keto snacks were also allergen-free (double bonus!). 
Taste

: How does the product taste? 

Nutrition profiles

: How many net carbs does the product have? How many grams of fat and protein? Are there artificial sweeteners?

Allergens

: Is the product suitable for gluten-free diets? Dairy-free?

Price

: The product reasonably priced?

Reviews

: What do people say about the product?
The Best Keto Snacks
Can I eat artificial sweeteners on keto?
The answer to this question comes down to a personal choice. For some people, eating keto means loads of bacon, cheese, and artificially sweetened fat bombs. For other people, their keto style is a lot of avocados, nuts, eggs, and coconut oil. As you can see, eating keto can really vary in terms of food choices. 
Artificial sweeteners may include sugar alcohols like xylitol and erythritol, as well as aspartame, and sucralose, and natural sugar replacements like stevia. Each of these sugar substitutes is very low in carbohydrates, yet tastes sweet. The question is, how does this affect ketosis? Another concern is, what impact does it have on other aspects of your health?
Since artificial sweeteners are very low in carbohydrates, they do not spike your blood sugar as regular sugar does. However, they may impact your body's perception of sugar intake. In other words, your body may expect sugar when it tastes something sweet. It could influence your insulin output, which impacts your ability to lose weight and enter ketosis by causing insulin resistance. 
Some people choose to avoid all sweeteners on their keto diet (natural or artificial), while others don't. If you currently eat a lot of artificial sweeteners and are not losing weight or seeing your blood sugar and insulin levels improve, you may want to reconsider this area of your diet.
Why are keto snacks more expensive?
You may have noticed that when you compare the prices of keto snacks to regular ol' snacks, keto snacks seem to be a lot more pricey. This is true, and for a good reason. Most run-of-the-mill snacks are made from ingredients like sugar, flour, corn, and potatoes. What do all of these ingredients have in common? They are high carb—well, yes. But one other thing: they are cheap!
Keto snacks, on the other hand, are made mostly from ingredients like meat, cheese, nuts, seeds, and oils like coconut and MCT. These ingredients are not cheap. Even if you look at the prices of some of the raw ingredients such as cheese or macadamia nuts, you will notice they are expensive as well.
Keto snacks are also a newer type of product in the marketplace. Often, smaller companies make them, which means they do not necessarily have the production power and large-scale manufacturing factories that a huge company does. Over time, as keto snacks become more popular and widespread, we may see a decrease in their sale price. 
It is important to keep in mind that keto snacks are usually more nutritious than typical snacks (sorry to break it to you, chocolate bars aren't nutritious). Keto snacks may actually serve as an actual meal or meal replacement rather than a quick fix. Although keto snacks may cost more, they may actually replace a meal in some cases.
What is the best keto snack?
For us, the best keto snack is easy: The Vermont Original Beef & Pork Sticks are at the top of our list. They are full of both fat and protein, and have no carbs whatsoever, which are the foundational characteristics of the best keto snacks. They leave you satisfied without breaking your hard-earned ketosis state. Each stick has 6 grams of protein and 6 grams of fat. As far as carbohydrates go—zero!
Aside from the nutritional profile of the Vermont meat sticks, they are flavorful and delicious. We can't get over the variety of flavors, which each have a completely unique taste. Their meat sticks are made from turkey, pork, beef, as well as combinations of these meats. With so many varieties, you won't get bored eating these on a daily basis. 
These sticks are also our favorite because they are gluten-free and dairy-free, making them appropriate for those with food allergies or dietary restrictions. Plus, they are made from high-quality meat that is free from antibiotics and hormones. All in all, we think this high-fat, zero-carb snack is the best of the best when it comes to snacking on keto.
RAVE Recommends
If you are taking your health and exercise game up a few notches and want to incorporate the best exercise and nutrition products, check out our favorites below. They are sure to have you sweating and burning fat in no time.
Exerpeutic 400XL Folding Recumbent Bike

: This folding exercise bike is ideal for smaller homes, or for people who want to put away their equipment after use. It is quiet and stable, even at high speeds. 

Manduka PROlite Yoga Mat

: Bring some zen relaxation into your life with this versatile, non-slip yoga mat. It is lightweight and easy to travel with, so you can easily bring it to your next yoga session.

Epica Glass Water Bottle

: This super stylish glass water bottle has a sleek design and prevents leaks. It is perfect for bringing to the gym or using day to day to keep you hydrated.