If you're looking for the perfect pair of women's winter boots that will keep you warm all season long, look no further than Blundstone's Thermal Boots.
They're a time-tested favorite for good reason. These boots are durable, insulated, fully waterproof, and good lookin' to boot! But these boots aren't the only diamonds out there, which is why RAVE made a list of the ten best women's winter boots.
When writing this review, I tried to take into account a range of lifestyles — from the New York woman on her way to an event, to the Alaskan Fisherwoman on her way to her boat. While so many things divide us, there are a few universal truths that unite us — despite very different backgrounds or life choices.
One of these universal truths as women is our strength to overcome the unique obstacles we are presented with. Another truth — more relevant, perhaps — is our vulnerability to the forces of nature. Though their lives may be very different, I would bet good money that both of these women absolutely HATE the feeling of cold, wet feet.
In reviewing women's winter boots, I set out to make women's lives just a little easier. So we can take on the world, in the dead of winter, knowing our socks will remain bone dry.
The Women's Winter Boots We RAVE About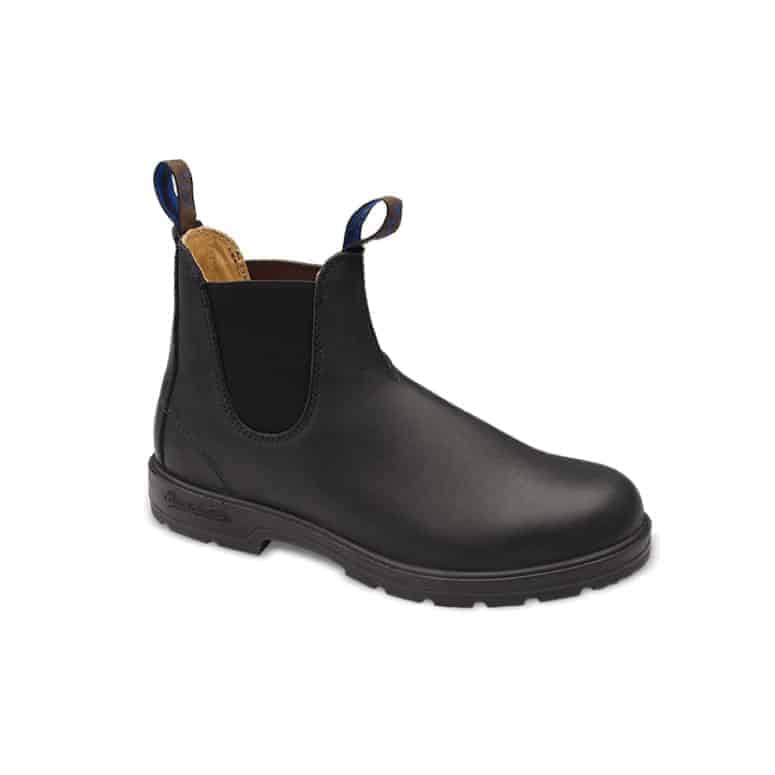 Best Overall
Blundstone Women's Thermal Boots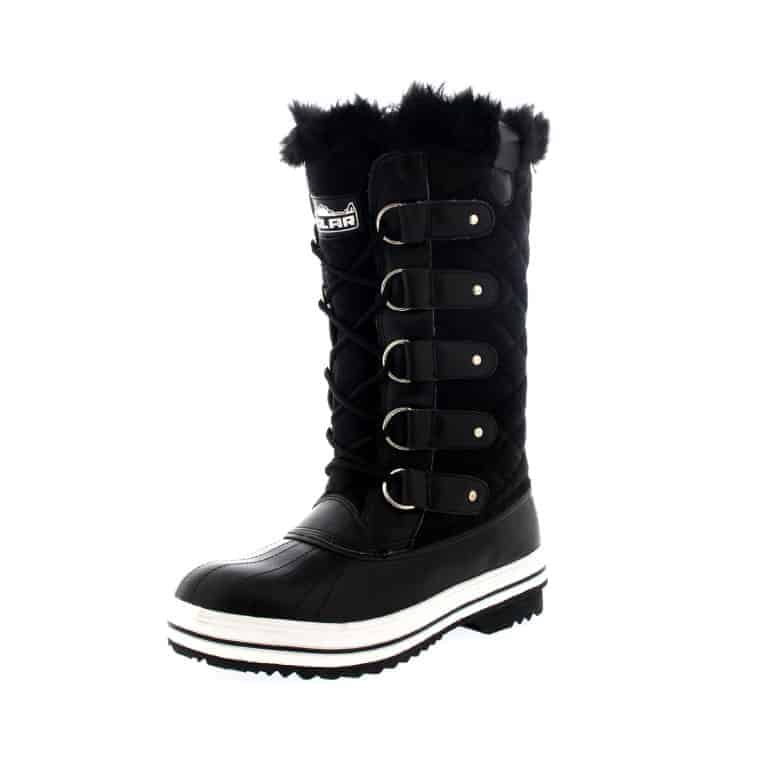 Best on a Budget
Polar Women's Nylon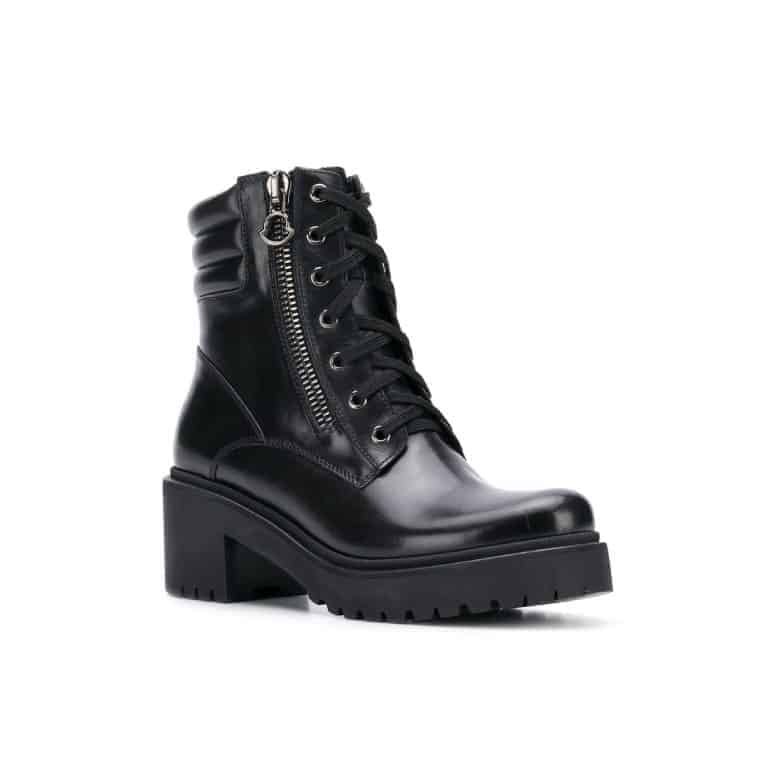 Best Fashün
Moncler Zip Side Cargo Boots
How to Find the Best Women's Winter Boots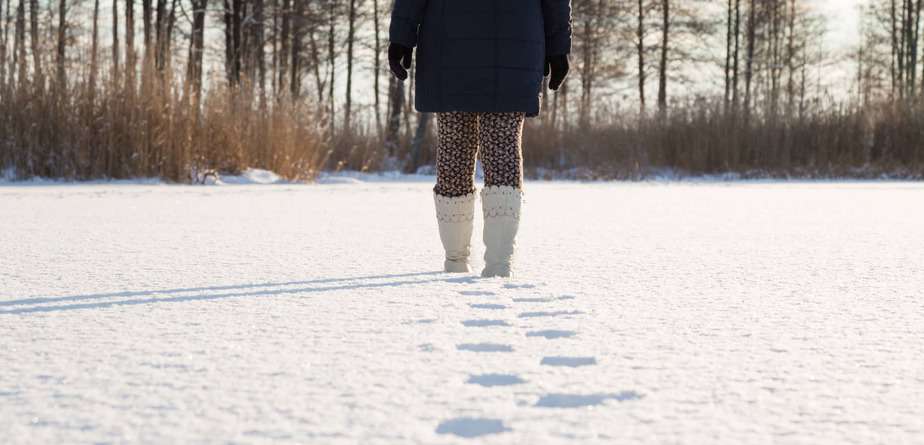 The time has come. That time of year where you don't get a new pedicure, or even take off your old polish, but rather just sort of let it… grow out. That time of year where your razor leaves little rust etchings in your shower, and it takes you far too long to notice. That time of year where weigh your options between spending the money on a weekend in Mexico or a new pair of boots.
That's right, I'm talking about winter. And, this review is for the responsible readers out there who not only choose four months of warm feet over three days of sunshine, but also do their research, too. So, when it comes to those precious toe toppers, there are a number of factors to consider.
First, consider how intense you need your boots to be. If you work outside in the winter, or are looking for a boot that you can use for hiking in the snow, you'll obviously need a shoe that offers more support, weatherproofing, traction, and insulation.
If you need a boot to go from home, to work, to the gym, to the grocery store, to home — and some fun places sometimes, too — a boot's overall appearance, versatility, and comfort will be a higher priority.
Next, consider the materials and construction of your top choices. And, when it comes to construction, it's often what's on the inside that counts.
What Should Winter Boots Be Made Of?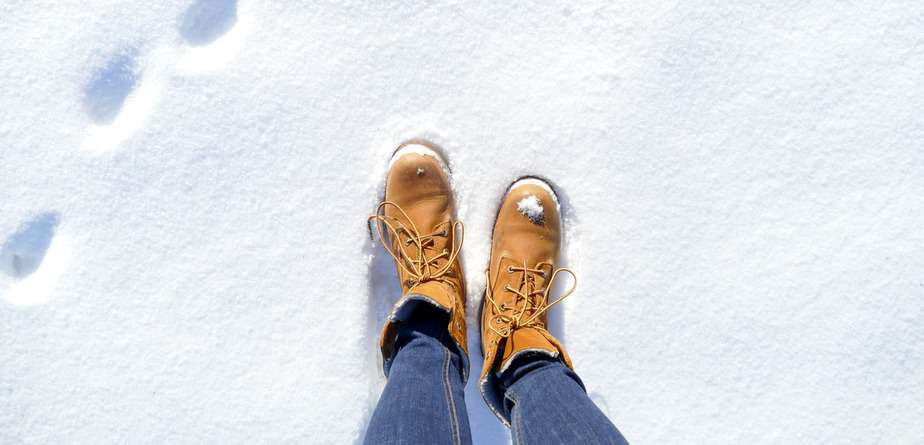 There are three main types of insulation: synthetic, what I like to call "furry," and what I like to call "feather-ey."
Synthetic insulation is commonly used in not only winter boots, but gloves and jackets as well. It's the squishy stuff between your boot's tough exterior and inner lining. If you're especially concerned with warmth, look for a boot that gives an insulation weight in above 400 grams — more is more when it comes to insulation.
"Furry" lined boots use felt or sheepskin liners to keep your feet warm. Though bulkier than their synthetic counterparts, they provide that cozy feeling a synthetic boot likely won't offer. Plus, the lining is often removable, which will help your boots dry if they get wet.
Finally, "feather-ey" boots use down-fill to line the inside of the shoe, just as you might see in a high-end comforter. This construction is often used in more luxurious shoes, as it gives boots a bougie vibe. That said, they're virtually useless when wet. So, if you want to look like a celebrity on vacation in Aspen, these are your shoe. But, if you want an all-weather boot, these are not your shoe.
It's also important to consider the construction of the boot. One added feature is the ability to remove the boot's lining. Boots with removable liners and insulation tend to be bulkier, but they dry more easily. And, they tend to be more comfortable.
So, if you're only going a short distance, the ability to remove the boot's lining is a huge plus. But, if you're using these shoes to hike, you'll need a one-piece boot as it will be lighter and more comfortable — just make sure the exterior is water treated.
Next, consider your calf. Namely, how much calf you want to share with the cold, cruel world. If you're concerned with comfort, flexibility, and breathability, consider opting for a boot that cuts just above the ankle. This is especially true for winter hiking boots, as breathability when you exercise is so important.
Winter Boots for Warmer Climates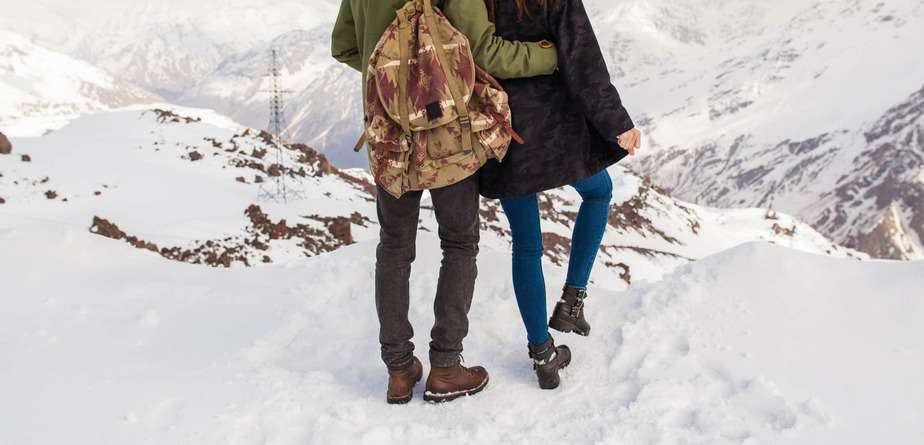 If you want the extra warmth and protection for your legs, look for boots that ride higher on the calf. This is especially useful in wetter or snowier climates.
If you live in a milder climate or are a bit tougher around the toes, you may want to take weight into consideration as well. Many online retailers provide the overall weight of the boot, which is often a good indication of how bulky, heavy, and therefore comfortable it will be.
Obviously, a higher-weight boot will likely be less comfortable. It will likely also have more insulation and protection from the elements. I would personally rather carry a few extra pounds in the winter than suffer the cold — and I'm not talking about those extra holiday LB's.
Speaking of protection from the elements — make sure to think about your specific climate when narrowing down your winter boots. Those furry white winter boots might be super cute, but if you live in a wet or snowy climate, you'll likely end up looking like a shivering wet poodle.
There are a few materials to keep an eye out for if waterproofing is your priority. A removable liner generally means a tougher exterior that's better equipped to combat moisture. Rubber soles are key, as are treated uppers and sealed seams.
Finally, consider built-in gaiters. They'll go a long way in keeping your feet dry, and tend to be less offensive looking than the gaiters you buy separately.
In the end, investing in a solid pair of winter boots is investing in yourself for an entire season — don't take it lightly!
Methodology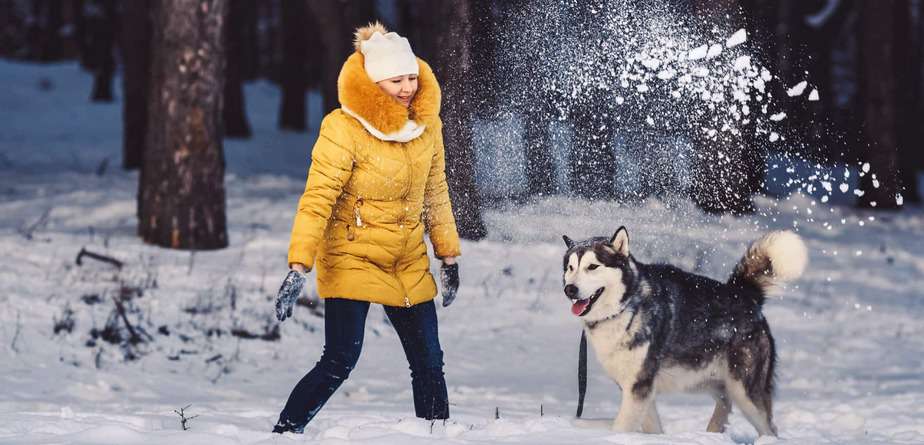 When narrowing down my top choices, I kept a following key factors in mind.
Warmth: This was my number one, my bread and butter, my white whale. As someone with perpetually cold feet who tends to prioritize form over function, I set aside my flaws to find you the warmest winter boots money can buy.
Traction: Traction is not something you think about when buying shoes — until it's too late. I looked for boots with good traction — for safety's sake.
Waterproofing: I've said it before and I'll say it again: there's nothing worse than wet socks.
Comfort: Comfort in a winter boot is a balancing act between extra features and extra weight. I looked for shoes that will keep you warm without weighing you down.
Appearance: This is a tough one, but I truly believe most winter boots are fairly ugly (objectively speaking), but can be cute if you style them right. With this in mind, I looked for attractive boots but generally prioritized function over form, and I'll leave the rest to you.
Versatility: Versatility is that perfect math equation that finds the middle ground between all the above factors, so you can wear your boots to work, and at work.
Durability: Since your winter boots are likely the most abused shoes in your closet, I prioritized durability so your boots can outlast the winter.
Cost: Winter is the one season where you can wear the same shoes literally every day and not even your most fashün friend will notice. Logic surmises that you can therefore justify investing more in them, but I selected a wide price range so feet of every budget can stay dry and warm.
The Best Women's Winter Boots
1
Blundstone Women's Thermal Boots
Blundstone's have been a popular Australian bootmaker for some time now, mostly because they've built up a good reputation for high-quality craftsmanship and classic designs that last both wear and time.
Their women's thermal boot is especially worth the investment for a few reasons. It utilizes fully waterproof leather, with excellent traction, thermal insulation, a removable sheepskin footbed, and a cushioned midsole. Extra features aside, the reason this boot tops my list is its versatility. It's designed to withstand sub zero conditions, but still looks like a classic chelsea boot. It's lightweight and comfortable enough to wear all day, and, as an added bonus, it's easy to slip on and off.
Depending on where you live, these are the chosen boot of all women with feet (I'm looking at you, Portland). And, they're certainly not the cheapest shoe on the market. But, if you don't mind matching with your friends and spending a little more on something that will last, the Blundstone Thermal is a winter boot worth committing to.
Pros
Durable and comfortable
Lightweight with good traction
Insulated and waterproof
Cons
Not the cheapest,
No calf protection/gaiter
2
Columbia Heavenly Omni-Heat Lace Up Boot
If comfort is key, consider Colombia's Heavenly boots. Lined with their signature Omni-Heat technology, these ultra-plush boots have a heat reflective lining to keep your toes nice and cozy. They also include great traction and are fully waterproof, with a seam-sealed membrane to ensure your feet stay dry and lugs to keep your butt dry, too.
These boots are a great balance between functional and cute, but what I really love about them is how they feel on your feet. Instead of feeling like a bulky, heavy hiking boot or inflexible rain boots, the heavenly feel like you're wearing a giant slipper.
They're not the cheapest, and with 200g of insulation they're warm but certainly not built for extreme conditions. That said, they're certainly a winter boot — they'd be a confusing fashion choice in fall, for example. But, if you're looking for a pair of winter-specific boots you won't dread putting on your feet, I recommend Colombia's Heavenly Omni-Heat.
Pros
Comfortable and warm
Waterproof
Flexible with good traction
Cons
Not as versatile
Not the cheapest
I love these boots for a number of shallow reasons: they're cute-ish, they have a foldable upper for two different looks, and the two colorways give you a choice between chic and lumberjack chic.
I like them for a number of practical reasons: they're tall, water proof, well insulated, cozy, warm, with excellent traction, an antibacterial footbed, and they're shearling and fleece lined. They even patented their own rubber technology which is 50% lighter than natural rubber, and still very durable and flexible.
But, what I really love about these boots is that they're an alternative to fast fashion, without costing a fortune. They're made in the United States, and the company is committed to recycling their worn out boots. Their liners are made from recyclable materials, and their patented rubber is 100% recyclable.
They're not the cheapest boot on the market. They're also not heavy-duty enough for extreme cold, or light enough to be worn in the fall. But, if you're looking for a warm, lightweight pair of winter boots you can feel good about, consider Kamik.
Pros
Durable
Warm and comfortable
Good traction
Cons
Not as cheap
Not as versatile
4
Danner Women's Raptor 650
I've been a fan of Danner since I first purchased a pair of their hiking boots years ago. I love their ability to make hiking boots look cool. But, what I love even more is how comfortable they are on day one. And what I love even more is how comfortable they are in year five.
These boots are Danner's answer to avid hikers who live in cold climates. With PrimaLoft Gold insulation, their signature waterproof protection, and Vibram Megagrip technology, these boots are designed to be worn out, without wearing out. Because they're built for hiking, the Raptor focuses on grip, with self-adapting lugs that work well on both wet and dry surfaces. In other words, these boots should appeal especially to the clumsy researcher out there.
You'll pay (figuratively) for the extra traction with a slightly less attractive sole, and more literally — these boots are expensive. Some reviewers also found them a bit too narrow. But, if you get the size right and don't mind the "outdoorsy" look, these boots will treat you well.
Pros
Comfortable and durable
Waterproof and insulated
Amazing traction
Cons
Expensive
Narrow
Not as attractive
5
Keen Women's Elsa Waterproof Winter Boot
With many styles and colors to choose from, Keen's Elsa Waterproof Winter Boot bridges the gap between an extremely functional boot that also looks relatively cute.
Its construction focuses on function, with a rubber sole that provides good traction, mid-calf height, waterproof leather, seam-sealed protection, mesh lining, and sherpa collar, these boots pull out all the stops when it comes to keeping you dry and warm.
These would fall higher on my list if not for a number of reviews complaining of poor durability. The lining also isn't removable, and considering many reviewers complained of leaking, this was concerning to me. But, if you're looking for a cold weather outdoor shoe that still looks cute, consider Keen's Elsa line.
Pros
Waterproof
Seam-sealed
Good traction
Cons
Low durability
Leaking
Lining isn't removable
According to Dubarry of Ireland, these boots are a "wardrobe essential for country style."  In other words, they're made for horseback riding, picking up horse poop, walking in the mud, and any other "country" activities.
What I like about these boots is their durability and coverage. They're fully GORE-TEX lined, with quick drying leather, built in knee high leather ties, and a thick rubber sole. In other words, there's little chance of any moisture affecting your feet. I also personally like the classic, "rich person in the countryside," vibe they give off.
What I don't love about these boots is the price tag. Yes, they're made to last a lifetime, but at $449 you had better live a long time. And, their lack of lining provides little protection from the cold. Plus, they're not at all versatile, especially compared with other winter boots at this price point. But, if you're looking for high-end boots that'll keep you dry and last forever, I think these are the best.
Pros
Durable and comfortable
Calf protection
Waterproof and lined
Cons
Very expensive
Not versatile
Heavy
7
Sorel Women's Joan Of Arctic Boot
If you're looking for some more intense winter boots, consider Sorel's Joan of Arctic Boot. They're made for keeping your feet warm in heavy snowfall. They're super tall, fully waterproof, and feature a vulcanized rubber panel for the laces to ensure zero leaking.
The company claims they're built to handle negative 25 degrees Fahrenheit. I suspect your feet would still be less than comfortable at this temperature, but they'll still perform better than most of the winter boots on the market and cover your (hopefully) slightly warmer winter commute. They also boast good traction and a number of styles and colors to choose from.
Because they're heavy-duty, they're too clunky to be a versatile shoe. They're also a challenge to get on and off, and many people find the height causes chafing. But, if warmth is your top priority, cozy up in the Joan of Arctics.
Pros
Warm
Waterproof
Tall and durable
Cons
Hard to get on
Not versatile
Not the cheapest
8
Dr. Martens Leonore Wyoming Chelsea Boots
The Leonore Sherpa Chelsea boots are the perfect, mid price point city boot that won't make you look like you're wearing ski shoes. I have a particular affinity for Chelsea boots because of their ability to go with just about anything. With these boot's faux fur lining, you can feel like your wearing Ugg boots — without actually wearing Ugg boots.
There's a good reason half of your servers at restaurants are wearing Doc's: they're comfortable, last forever, and have excellent traction. Plus, these boot's leather upper provides good waterproofing.
These aren't as versatile as I'd like — you can't get the fur wet, and they don't provide enough protection from wet conditions. But if you're looking for a comfortable city shoe, consider the Leonore Wyoming from Dr. Martens.
Pros
Good traction
Fur lined
Comfortable
Cons
No removable liner
Not versatile
Not the best in the rain
9
Moncler Zip Side Cargo Boots
Moncler is the luxury outerwear label you'd likely be wearing if you were an it girl with a lot of money. In fact, there are entire internet pages dedicated to celebrities in Moncler coats, and Vogue did a feature a few years back entitled, "24 Reasons Why We All Wear Moncler," with New Yorkers looking way too cool to be wearing a puffy jacket.
In other words, they know how to make women look good even when it's too cold to care. And, they know how to make you spend an entire paycheck and/or a month's rent on a jacket. These boots are the same story: very cool, well made, relatively functional, and cost a fortune.
Their thick sole, chunky heel, and leather construction will keep you relatively dry, especially with a waterproof treatment. I'm sure a lot of readers out there are rolling their eyes, as these aren't the ultra-functional, ultra durable outdoor boots you're probably seeking. But, if you have money to spend on a pair of seriously stylish boots, I love these badass shoes from Moncler — just make sure to save some money for a warm pair of socks as well.
Pros
Stylish
Thick sole
Well made
Cons
Very expensive
No thermal lining
Not as functional or versatile
The Polar Women's Nylon boots make the list for one key reason: they're around $35. Which, in my mind, is insanely cheap for a winter boot. Despite their low price tag, these boots stack up in terms of waterproofing and warmth. They feature a slip resistant rubber sole, fur lining, and a knee high design that will keep you warm and dry — as long as the fur doesn't get wet. And, as an added bonus, they're not ugly.
Aesthetics aside, they're very bulky and a number of reviewers complained about a loud squeaking when they walked. But what really placed them below their competitors is my concern with their durability. Many users complained that these boots leaked and fell apart after just a few months. But, if you're looking for something just to get you through the season, or your Icelandic vacation, these should do the trick.
Pros
Inexpensive
Fully lined
Knee high
Cons
Not durable
Leakage
Uncomfortable
Related Rankings
How should I take care of my boots?
The number one thing you can do to care for your boots is to keep them clean! Dirt and oil erodes even the toughest materials over time, not to mention the fact that dirty boots make you look sloppy.
I clean my boots using warm water, gentle soap, and a toothbrush. I always wear good socks because there's nothing that will make me get rid of shoes quicker than if they're smelly. I make sure to leave them out to dry completely after use. Finally, I treat them every few months to make sure they're maintaining their outer protection from the elements.
What type of socks should I use?
To me, a warm pair of socks is just as important — if not more important — as a good pair of boots. And while spending $30 on a pair of socks may seem insane, it can make all the difference in the world.
I am personally a huge proponent of wool socks for both summer hiking and winter survival. Wool keeps your feet warm and dry, and its ability to prevent any smell will go a long way to stop your shoes from getting smelly.
Though not as good at combating cold and smell, synthetic socks are a solid, usually less expensive, alternative. I'd advise you to pack away your cute cotton socks in the winter, as they retain moisture too easily.
What size should I get?
The short answer: size up. You'll be wearing your thickest sock in the boot, and the worst thing you can do is buy boots that are too small as they'll cut off your circulation.
That said, if you're wearing boots for long distances, you don't want them slipping around your feet causing you blisters and discomfort.
So, I would recommend going a half size to a full size bigger than your regular shoes, and trying them on with your thickest winter socks before you commit. And, if you feel any pinching, pain, or hotspots, you've gone too small.
What are the best women's winter boots?
If you're looking for the perfect pair of women's winter boots that will keep you warm all season long, look no further than Blundstone's Thermal Boots. They're a time-tested favorite for good reason. These boots are durable, insulated, fully waterproof, and good looking, just to add to their appeal.
However, not every boot fits the same for different people. The best boots overall should be waterproof, comfortable, insulated, durable, and have a traction that's worthy of the most difficult hikes and most slippery ice. While we have a recommended favorite, we advise all potential buyers to go through our list of best women's winter boots to find the right fit for them.
RAVE Recommends
Now that you've done the hard work of selecting the perfect winter boots, consider the following products to go above, below, and in between your toes.
Scotchgard Heavy Duty Water Shield Protector: Spray this on your new boots for added protection from the elements.
Women's Vintage-Style Wool Socks: From your slippers to your winter boots, these wool socks will keep your toes cozy and cute.
GoGold Toe Warmers: Best for when you need a little extra heats in your feets.
Natural Shoe Deodorizer: This spray uses essential oils and other natural ingredients to insure that your beautiful new boots don't end up smelling like a foot.
Waterproof Leg Gaiters: I searched high and low for "cute gaiters." I'm sorry to say they don't exist, BUT who feels cute with wet feet? Sometimes we must choose the lesser of two evils.

Devin Fuller
Devin Fuller formerly traveled the world as a fashion model, and now resides in San Francisco, CA. She loves being active outside, mostly climbing, sometimes surfing, and always eating and drinking well.