Hey ladies! Want to know the best (and cheapest) mode of transportation to take on the world? 
Your feet! If you're ready to clock up some serious miles on your feet, we think you'll love the Brooks Women's Adrenaline GTS 19 sneakers. We also have nine other winners to keep your feet happy and moving all day. These shoes were made for walkin'! 
Don't let anyone tell you that running is better than walking, because it's really a situation of apples and oranges. While you burn more calories per minute running, you actually spend less time being active than someone walking the same distance. Walking is an amazing way to stay healthy and fit without having to schedule in a specific workout. 
Ready to admit you like walking better than running? Great! Us too — you're in good company. But just because we go at a more tortoise-like pace than the crazy hare runners, it doesn't mean we don't need to protect our feet. Here at RAVE Reviews, we narrowed in on 10 amazing walking shoes specifically designed for women's feet and style. 
Speaking of style, no one (well, no one except Iggy Azalea) is telling you to walk a mile in a pair of Louboutins. In fact, please don't. Our top 10 walking shoes for women are definitely more practical, but that doesn't mean they skimp on style. There is, in fact, a way to be trendy and comfy at the same time. Don't believe us? Read on. 
The Walking Shoe for Women We RAVE About
We identified four pairs of shoes that rise above the pack, particularly for their unique niche in the women's footwear game. Take a look!
It may feel superfluous to buy shoes specific to walking, but trust us, your feet will be so grateful for it. If you take the time to select walking shoes that fit your feet and your walking style, you are guaranteed to notice a huge difference. After all, most of us are on our feet for close to 12 hours a day. So why not treat your feet? 
Choosing the right walking shoe for you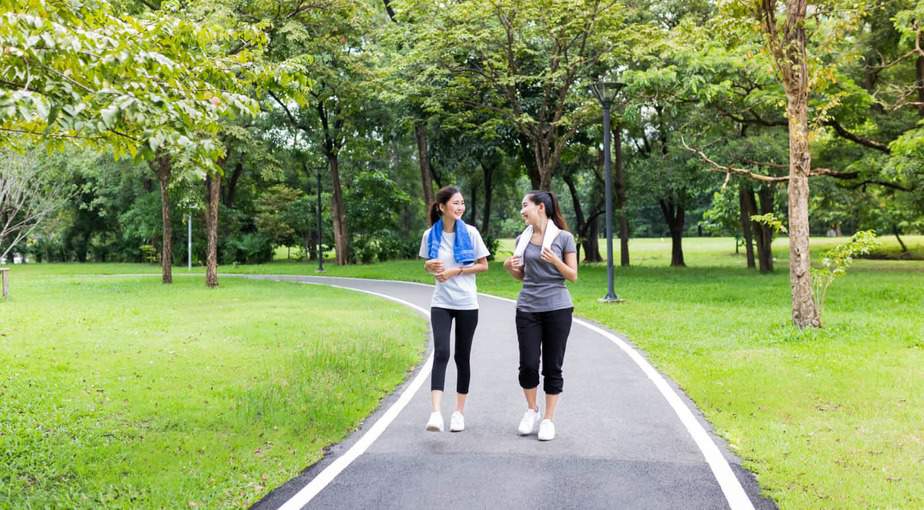 In the world of walking shoes, you have to select the type that fits your walking style and gait. You have three solid options: 
Cushion shoes

Stability shoes

Performance shoes
Let's break each category down a bit further. 
Cushion shoes are supportive, cushioned, and designed for walkers with a neutral gait. If you have a neutral gait, you strike the mid- to lateral (or outside) part of your foot in a heel-to-toe rocking motion. A neutral gait is how humans naturally evolved to walk. Cushion shoes put most of the support on your heel to absorb a maximum amount of pavement shock.
Stability shoes are primarily for walkers with overpronation, which happens when your foot rolls slightly inward with each step. Over time, pronation tends to pivot your knees inward and wear down your arch. A stability walking shoe helps return your foot to neutral gait with extra support in the arch. 
Performance shoes tend to be popular among walkers who are also serious athletes. These multipurpose shoes can be equally effective in the gym as they are outside or on a trail. In part because of their versatility, you can expect to spend a little more on them. 
But how do you…walk?
Most of us have been walking since we were babies, and at this point, it's just second nature — one foot in front of the other. But if we actually break down the process of walking, we can learn a bit more about ideal walking practices. 
While walking involves the whole body — from your abdominal muscles to your hips to the swing in your arms — for our purposes, we're most concerned with what your feet are doing. 
Walking requires a flexible, fluid heel-to-toe motion. For runners, on the other hand, a good footstrike lands on the forefoot, up near the ball of your foot. Here's the entire walking motion in three easy steps:
Hit the ground with your heel.

Fluidly roll from your heel to your toes. 

Gently push off the ground with your toes evenly distributed.
So whether you're putting in a morning workout on the treadmill, walking your dog, or doing a walk-and-talk with friends, just keep in mind: heel-to-toe, heel-to-toe, heel-to-toe. Good to go! 
Care for a walk?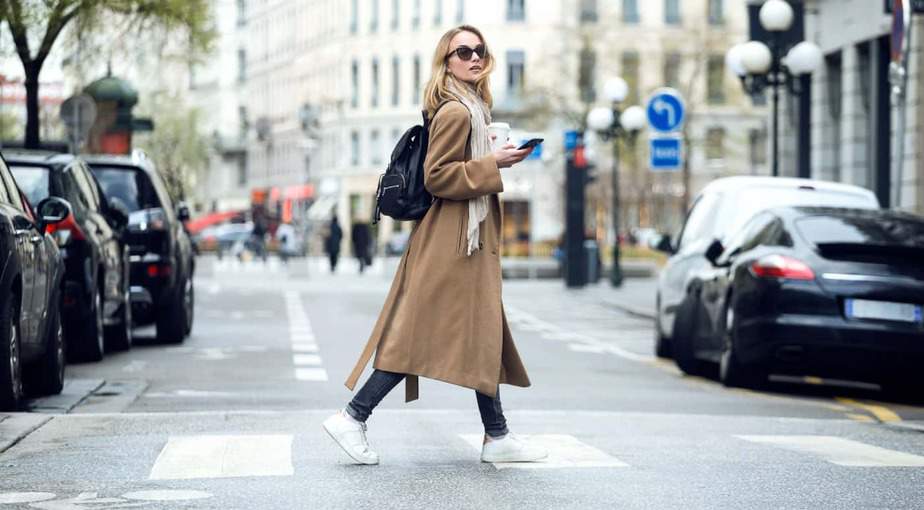 What separates walking shoes from regular shoes? As it turns out, a lot! You have already learned that walkers and runners use different parts of their feet during their respective activities. There are four main structural differences between walking and running shoes: 
Shoe weight

: Running shoes tend to be lighter than walking shoes. That's not to say you can't find lightweight walking shoes, but runners often seek out shoes that will help them move faster. 

Heel depth

: Walkers should stay away from a thick heel. Runners need heel depth for shock absorption, but for walkers, thick heels prevent full foot flexion and can cause shin splints.

Pro Tip

:

The heel of your walking shoe should be less than an inch higher than the depth of sole. 

Sole flexibility

: You'll find more bend and give in the soles of walking shoes. Running shoes tend to have a stiffer sole for durability.

Pro Tip

:

Hold your walking shoe at its center and give it a good twist. It should bend easily at the ball of the foot, but stay sturdy at the arch.  

Motion control

: Since runners are more likely to experience foot rotation, you'll see more motion control features in running shoes. Folks who primarily walk, on the other hand, don't require as much stability for their feet because they experience less impact. 
Now that you're an expert in walking shoes, you'll have no trouble picking out a pair. The shoes on our list are specifically designed for walking. Some, however, have a hybrid function (walking and running, for instance). Just do a quick assessment of your walking gait, activity needs, and design preferences, and go from there. 
Methodology
Of all the walking shoes out there, how did we settle on just 10? Here at RAVE Reviews, our methodology is all about carefully calculated data: spreadsheets, number-crunching, internet sleuthing. The whole deal. 
We made sure to consider not only the objective factors (price, materials, style options), but also the more elusive, subjective factors (customer reviews, blogs, etc.).
This time, we didn't want cost to get in your way of finding a solid shoe. So while we factored in the price tag, it wasn't a top contender in our criteria. Here are the bigger hitters in our methodology:
Shoe design

Extra features

Customer reviews

Industry rankings
The Best Walking Shoe for Women
How do I know what kind of support my feet need?
After all this talk about a supinated, neutral, or overpronated gait, how are you supposed to know what your feet do? The quickest and easiest test is to find a pair of shoes you wear regularly. Flip them over and look at the sole of the shoe. What wear patterns do you notice? 
Another more involved option is the wet test. Simply wet the bottom of your foot, and then step onto a cement sidewalk, brown paper bag, or colored piece of paper. It will leave an imprint of your foot shape, which reveals a lot about your gait. 
Here's how to interpret your findings for both the wear patterns test and the wet test: 
Neutral gait

: You'll see most of the wear on the ball of the foot (the padded portion between the arch and the toes). You might also see some wear on the heel. The wet test will likely reveal a standard footprint. 

Supinated gait

: You'll see wear patterns on the outer edges of your shoe, and most of it will be concentrated on the heel and the lateral ridges. The wet test will show only the ball and heel of your foot, indicating a high arch. 

Overpronated gait

: You'll see wear patterns on the inside edges of your shoe. The wet test will show a filled-in arch, or the appearance of flat foot without a curve from the toe to the heel. 
If both of these tests prove inconclusive, your best bet is to go to a personal trainer or a running store to get professional advice. 
Can I run in my walking shoes? Or walk in my running shoes?
So what's the big deal with separate running shoes and walking shoes? Even though running shoes and walking shoes have a few design differences, don't they serve basically the same purpose? Is it just a marketing scheme to get you to buy two different pairs of shoes?  
Well, yes and no. The easiest answer: You can walk in running shoes, but don't run in walking shoes. 
You may notice that some of the shoes on our list are technically advertised as running shoes. Walking shoes tend to focus more on comfort than performance. There's nothing wrong with that, but if you have some serious gait issues, you need a shoe with a bit more stability and motion control, like a running shoe. 
If your main interest is walking, find a shoe that works for your activity level, foot strike, and aesthetic preferences. 
How long do most walking shoes last?
Sometimes a good pair of shoes can feel like a best friend. After all, you go everywhere together! But there comes a time when the two of you need to part ways. 
In all reality, most walking shoes last somewhere between six to nine months. It might sound like a short amount of time, but walking shoes tend to wear down after 350 to 500 miles. Depending on your gait, you'll start to notice the most wear and tear on the outsole. But you should be most concerned about the midsole, which ultimately supports your foot. 
If you hope to get a longer life out of your favorite walking shoes, here are some quick tips on how: 
Wash your shoes gently (so, not in the washing machine) with cold water and minimal soap. Instead of tossing them into the dryer, which is likely to break down the seams, let your shoes air dry. 

After your walking workout, let your shoes air out. Don't toss them into the back of your closet or stuff them in a gym bag. Your shoes need to breathe! 

Find an insole that fits your foot properly and use it the first day you get new shoes. It's tough on your feet to introduce an old shoe to a new insole. 
RAVE Recommends
Don't walk away just yet! Here are a few more things we recommend for your next walk: