No matter your shape or size, you deserve to enjoy comfort and confidence. And we've got you. In this article, RAVE ranks the best bras to aid in support of your unique body.
Have you ever gone to the gym after work, realized you forgot to bring a sports bra, and just sort of…gone home? If this scenario hasn't happened to you, it's likely the result of being a good packer. Wearing a regular bra while exercising is special torture reserved for occupants of hell. 
Because a good bra is essential to a good workout, choosing one that both looks and feels amazing is essentially an investment in your overall health.
So, whether you're into running, yoga, CrossFit, cycling, climbing, lifting, or any activities that require some extra love for your girls, we selected the best sports bras to keep you in place and in style.
The Sports Bras We RAVE About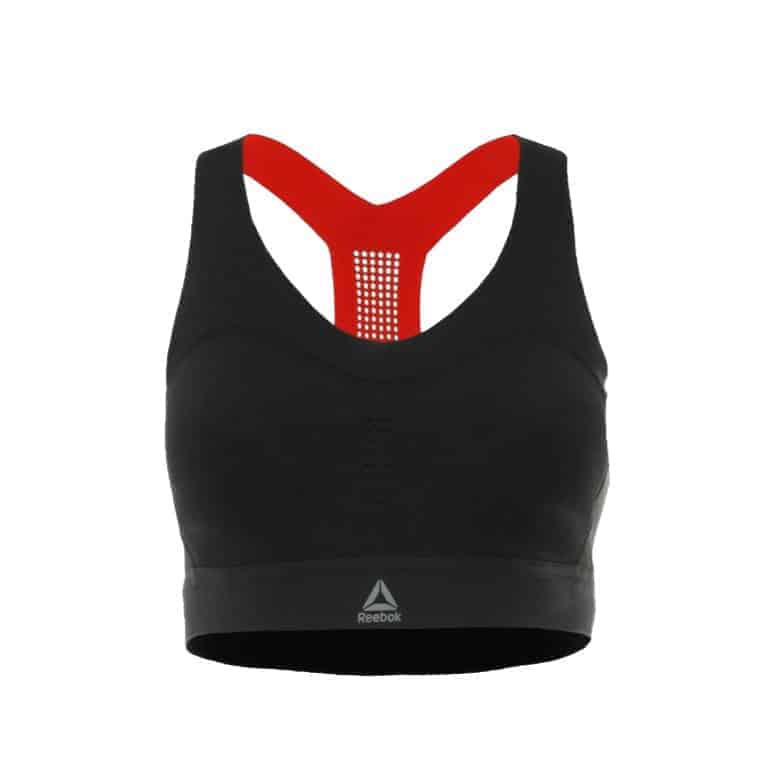 Best Overall
Reebok PureMove Bra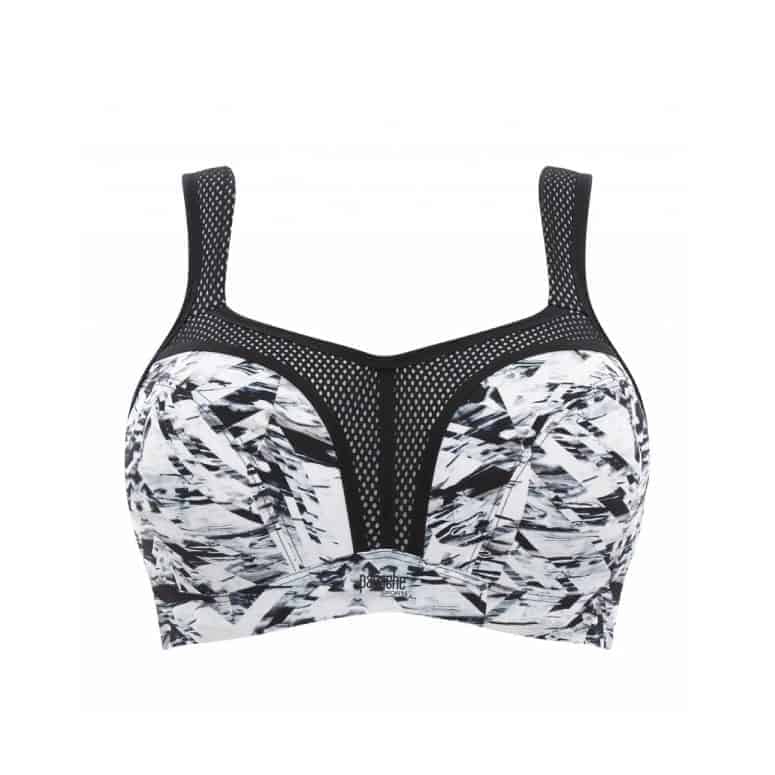 Best for Large Breasts
Panache Sports Bra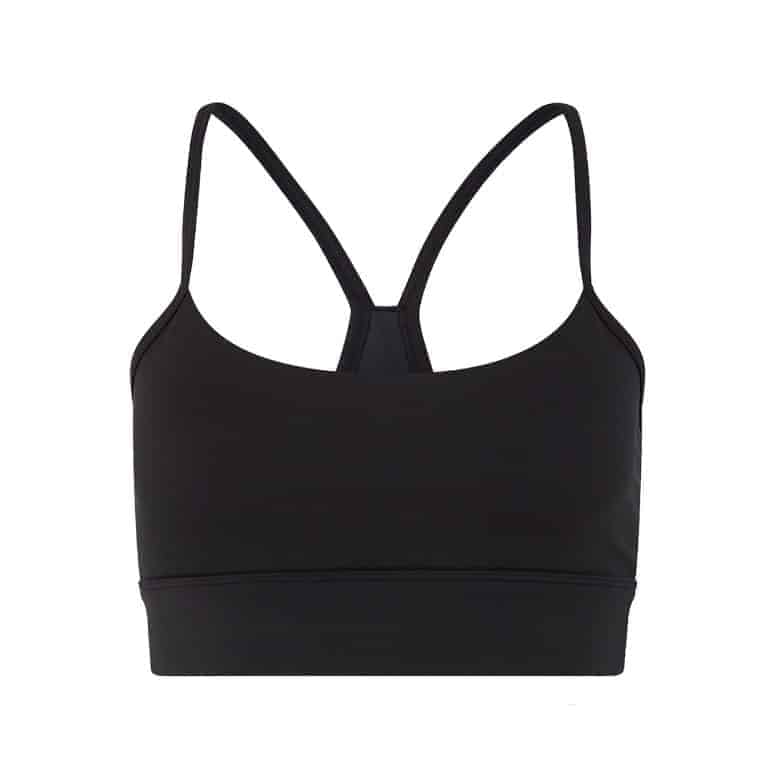 Best for Small Breasts
Varley Feliz Bra
A lot has been written lately about letting go: letting go of the past, letting go of things that don't bring you joy, and letting go of what you can't control. As a little needed relief from this philosophy, there are things you can and should control. One of those things is how much your boobs move around when you exercise.
Controlling bounce protects your breast tissue from pain, discomfort, and damage. The key to finding your holy grail holder comes down to fit: You need to find something that fits both your body and your lifestyle.
The question is, how much support do you need? Will you be wearing it to a slower paced yin yoga class or to do an Ironman? Were you blessed with big or small boobies? Not all sports bras are created equally, and to put it simply, the type of bra you choose depends on both your breast size and exercise demands.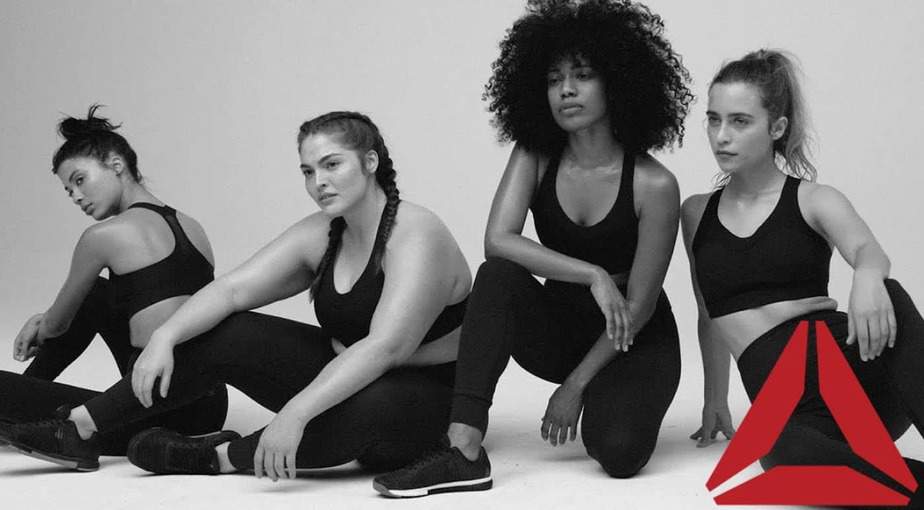 A sports bra has one raison d'etre, to keep your breasts in their rightful place. There are three ways sports bras carry out their life's work: compression, encapsulation, or a combination of both.
Compression bras work by flattening breasts, hugging them close to the body and minimizing movement. These bras can work well for smaller chests, as they're less obtrusive than other models. They also tend to be less expensive, which is a plus if you don't require much support in the bust area.
However, because compression bras tend to come in fewer sizes and generally offer less support, they're not ideal for larger breasted women. They can also be uncomfortable if you need the extra support, and tend to give a uni-boob look.
Encapsulation bras, on the other hand, look similar to a standard bra. They separate the breasts with a central piece of fabric, underwire, and seaming. They are also more adjustable and come in standard bra sizing, so it's easier to find the perfect fit.
Encapsulation models are ideal for larger breasted women, as they not only provide more support, but their sizing is more precise, offering band measurement and cup sizes rather than small, medium, or large. They're also a good choice if you do high-intensity workouts.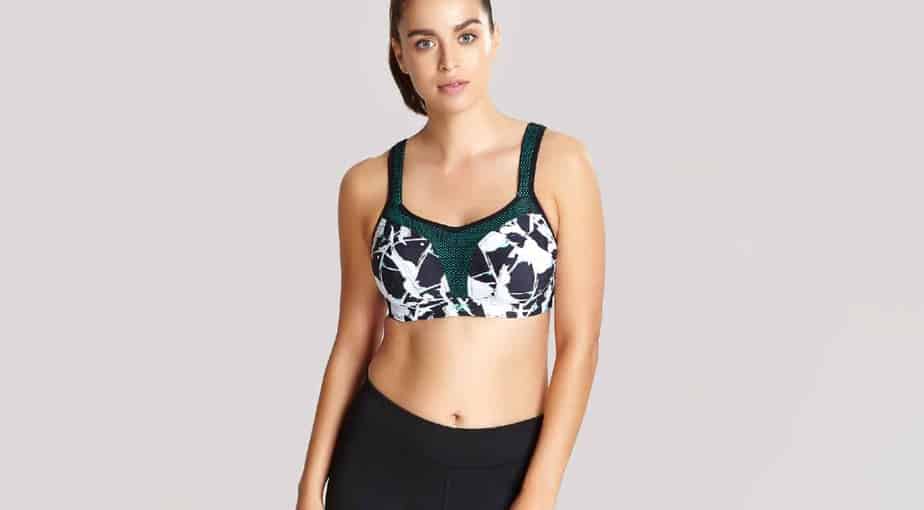 Finally, combination sports bras can be that middle ground you're searching for. They use compression to hold you in place and cups to keep you separated. They're super supportive, and work well for high-intensity workouts.
Now that you've considered the level of your sports bra needs, you can start to think about the fun part: style. Before you get too excited though, the style of bra you choose comes down to more than just how it looks.
Larger straps help distribute the weight of your breasts, and a racerback adds lift and support. Most sports bras are designed to be put on overhead, but if you need a lot of support, keep an eye out for bras that clasp in the back or zip in the front.
Underwire also comes into play when choosing between bra styles. You may like to use your sports bra as a welcome escape from your regular bra's underwire, but if you need a lot of support or just like extra lift, look for an underwire sports bra.
Finally, a huge part of the style of the bra is how much coverage it offers.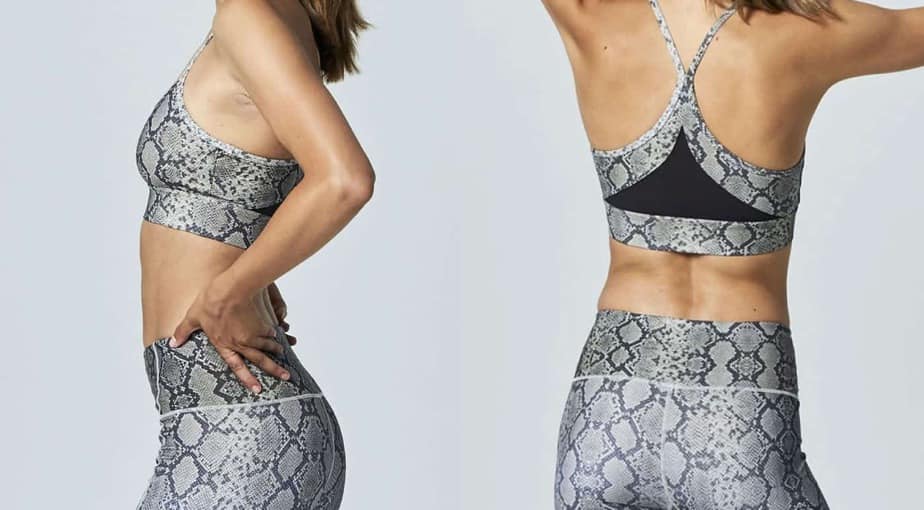 If you enjoy cycling or activities with a lot of bending over, opt for a bra with a higher neckline for added security. If you like hot yoga or exercising shirtless, try a long line bra that extends down the torso.
And, of course, if you're comfortable working out with full tummy or cleavage exposure, more power to you! Here at RAVE, we believe you should wear what makes you feel your most fierce.
So, when considering our top choices, remember to put your needs first. Maybe get rid of that painting your mother in law gave you five years ago that's been hiding in your closet, but keep the sports bra that protects your breast tissue while you bounce around. Find your support system that gives you that perfect fit. The future of your health — and your boobs — depend on it!
Methodology
When testing sports bras, we looked for a few factors that separated our top choices from the rest of the pack.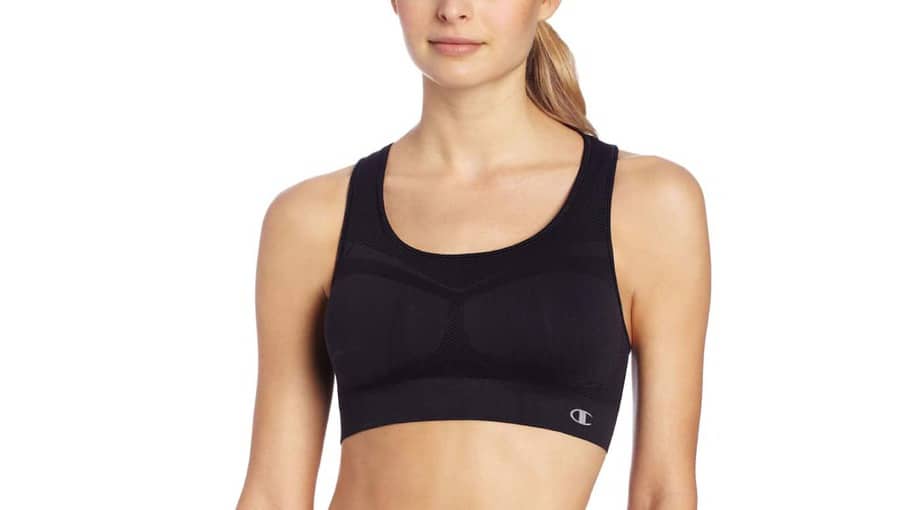 Support: Like a lot of things in life, support comes on a spectrum. We looked for the best sports bras of all impact levels to find a match for a wide range of readers.
Comfort: Comfort really comes down to what fits your body well. That said, we looked for bras that are like a good boyfriend or girlfriend: They'll hold you close without suffocating you. High-quality fabrics go a long way here, as well as straps and bands that don't dig into your skin.
Price: The amount you spend on a bra often comes down to your demands. Larger breasted women may have to invest in a more supportive, higher quality, and possibly more expensive product.
Breathability: Breathability is key, not only for comfort, but durability as well. Sweat contains bacteria that break down the fabric and elasticity of your bra, rendering it unusable. We looked for bras with moisture-wicking fabrics such as nylon, spandex, and polyester, with mesh panels and cut-outs for ventilation. Lined bras got extra points for controlling moisture. Cotton bras were docked points: They might look cute and feel comfortable in the store, but you'll be full of regret as soon as you start sweating.
Look: Sports bras aren't exactly your sexiest piece of lingerie, but that doesn't mean they have to be totally hideous either. Unfortunately, a lot of companies haven't grasped this concept. We sought out bras that are flattering for all impact levels, so you don't have to feel like you're wearing a linebacker's pads.
The Best Sports Bras
Think of Reebok's PureMove as a Tempur-Pedic for your boobs. It has built-in cups that use this thing called science in the form of shear thickening fluid (SLF) to mold to your breast shape. The SLF is relaxed during periods of inactivity and stiff during movement, giving you support when you need it and comfort when you don't.
The PureMove is also made without underwire, hooks, snaps, thin straps, or any other red flags that can lead to chafing and discomfort. Its design is simple, with built-in ventilation in the front and back and a variety of attractive colors.
At around $31, the PureMove isn't the cheapest sports bra on the market, and if you have very specific size needs, this bra might not have the perfect measurements for you. However, Reebok offers in between sizing, and their website provides a handy chart to help you find your fit. So, if you're looking for a high-quality sports bra that's comfortable whether you're grocery shopping or jump roping, Reebok's PureMove is worth the investment.
Pros
Seamless
Motion Sense technology
Built-in ventilation
Comfortable
Versatile
Cons
Expensive
Imprecise sizing
The Panache Sports Wired bra is designed specifically for a full bust. With both underwire and wireless models, a variety of colors, and a hook to create a racerback style, the Panache sports bra gives larger breasted women all the options they deserve.
This bra is supportive, but one of the biggest issues large breasted women face when choosing a bra is not only support, but friction. With wide padded straps, underwire protected by silicone and fabric, and a firm underband, Panache has done everything in its power to combat uncomfortable chafing.
Plus, it's designed with microfiber fabric and large mesh panels to ensure the added support doesn't come at the cost of reduced ventilation. With sizing ranging from 28DD to 40GG, this bra is made to fit many body types. If you're looking for a high-impact sports bra that's comfortable, supportive, and looks good, the Panache is for you.
Pros
Attractive
Size-specific
Supportive
Comfortable
Cons
Not The Cheapest
Not As Versatile
The Varley Feliz Bra is a flattering sports bra designed for smaller breasts or low-impact workouts. It's sweat wicking, quick drying, and features a fuller underband for added support, comfort, and coverage.
This bra uses compression and a racerback style to keep you in place, and a built-in mesh panel in the back and spaghetti straps to keep you cool. It comes in a number of patterns and colors from solids to polka dots, all of which are super stylish.
It's not the cheapest bra on the market, especially compared to other low-impact options. But, whereas other bras mostly use cotton, the Varley Feliz uses "Letelux" fabric (71% polyamide, 29% clear lycra), which provides four-way stretch and sweat wicking properties. So, if you're looking for a low-impact bra that's still super high-quality, the Varley Feliz is for you.
Pros
Attractive
High-quality Construction
Built-in Ventilation
4
Champion Freedom Seamless Racerback Sports Bra
If you're looking for a high-quality sports bra but don't want to spend close to $100, the Champion Freedom Seamless Racerback Sports Bra has many of the same bells and whistles but less than half the price of its competitors.
It's soft, seamless, sweat wicking, ventilated, compressive, and the knit design still manages to give some individual shape to each breast. You won't get sick of this classic sports bra, and it comes in a number of attractive, albeit slightly boring, colors.
Because it's a compression bra with non-specific sizing, it's not ideal for super high-impact workouts or larger breasted women. But, if you have small to medium sized breasts and aren't running a marathon in it, you can save some money with Champion's Freedom and still get a bra you'll be happy to wear.
Pros
Inexpensive
Soft
Ventilated
Attractive
Sweat Wicking
Cons
Not As Supportive
Imprecise Sizing
This seamless sports bra is built to keep larger breasts in place during high-impact workouts, but still manages to be very feminine. It uses both compression and encapsulation to ensure a high level of support.
The zippered front gives added lift and security — especially if you have east-westies. Plus, it's highly adjustable, so you can find your perfect level of lift and easily get it on and off with the zipper.
This bra would top our list for larger chested readers if it weren't for a few drawbacks. First, it uses high-quality, breathable materials, but doesn't provide a lot of built-in ventilation. Second, the sizing is imprecise, ranging from XS to 6Luxe, and getting the proper fit is essential if you have a larger bust. That said, if you can manage to find your size with the Shefit Ultimate Flex, you'll be blessed with a flattering and supportive workout partner.
Pros
Attractive
High Support
Zip Front
Adjustable
Cons
Imprecise Sizing
Minimal Ventilation
If comfort is your main priority, Alo Yoga's Alosoft Lush Bra is an excellent option. Using their signature Alosoft fabric, this bra will make you feel like you're wrapping your boobs in a brand new sweatshirt every time you put it on.
With a strappy back detail, removable cups, low V-neck, and a longer, wide underband design, this bra works well on its own, especially paired with your favorite high waisted leggings.
It's described as medium support, but we wouldn't recommend it for high-impact activity or large breasts, especially considering that it's a compression bra with imprecise sizing. That said, this bra is the perfect fit for small to medium chested yogis who want a bra they won't want to rip off the second they walk through the door of their home.
Pros
Comfortable
Soft
Attractive
Cons
Not Versatile
Not Supportive
No Ventilation
If you're a large chested athlete whose top priority is comfort, look to Nike's FE/NOM Flyknit. The FE/NOM is the first bra to use Nike's Flyknit technology, a high-strength fiber knit that results in an incredibly lightweight product — the Flyknit shoes essentially feel like you're wearing socks.
This bra will give you that second skin, seamless feel while still providing a high level of support. Because it's engineered as a compression bra, uni-boob is inevitable. The imprecise sizing also leaves some concern for an ill-fitting garment. But, if you get the right fit and don't mind a little uni-boob, the FE/NOM Flyknit is a very lightweight and attractive option you just might forget you're wearing.
Pros
Comfortable
Lightweight
Supportive
Cons
Imprecise Sizing
Uni-boob
Expensive
If support is your top priority, Elomi has taken no shortcuts with their Energise sports bra. The underwire and encapsulated cups give excellent support, lift, and separation to firmly keep you in place when you exercise.
Offering a wide range of sizes and a hook for an optional X back feature, the Energise allows for the perfect fit with optimum customization. With a hooked back and underwire, this bra feels more like an extra supportive regular bra, which can be positive or negative depending the comfort to support ratio you desire.
The main reason this bra isn't higher on our list is the way it looks: The Energise itself isn't the most feminine or flattering. But, it does give your breasts a more shapely appearance overall, and what it lacks in looks it makes up for in support.
Pros
Supportive
Precise Sizing
Adjustable
Cons
Not The Most Comfortable
Not The Most Attractive
No Ventilation
9
Outdoor Voices Steeplechase Bra
If you're looking for a low-impact bra that still lifts and separates, we love the Outdoor Voices Steeplechase Bra. It features a simple design with a deep V and keyhole center that really flatters almost every body type, assuming you don't need a ton of support.
This bra comes with removable padding, but we wouldn't describe it as the most modest bra on the market. That said, it's very cute if you're comfortable with a little cleavage.
It's not designed to be the most high-impact, supportive bra on the market, but it's not made cheaply, either. Coming in at around $45 and using four-way stretch and textured compression, this mid-level, mid-price point bra will make you look good while you sweat.
Pros
Flattering
Separating
Relatively Inexpensive
Cons
Low Support
Inaccurate Sizing
Not Good For Large Breasts
Minimal Coverage
10
Lululemon Free to Be Long Line Bra
This beautiful bra is created for small busted women to wear during low-impact workouts. Its simple design and elegant back strap detail is supremely flattering, and the removable cups allow for some optional extra coverage.
This bra is obviously not the most versatile, ventilated, or supportive, and it's not exactly built for larger bodies. But, if you're looking for something pretty that can be worn on its own, Lululemon's Free to Be Long Line is that bra turned shirt you've been looking for.
Pros
Attractive
Comfortable
Flattering
Cons
Not Versatile
No Ventilation
Low Support
Expensive
Not For Everyone
How do I know what size to get?
If I were to run for president, I would run on a platform of Universal…Sizing. The truth is, manufacturers take certain liberties when it comes to the ABC's of sizing. That, plus the fact that no two ta-tas are created equal, is enough to give you chest pains when it comes to figuring out your perfect fit.
If you think you already know your bra size, you're probably wrong. And, in this case, ignorance isn't bliss. We recommend not just trying on bras, but bouncing around in them, too.
If you live somewhere with a high-end lingerie boutique, go in for a fitting — most are complimentary. Or, there's always Reddit if you can be handy with a tape measure while lying down. Order a bunch online and return the ones that don't make the cut. And whatever you do, don't settle!
How can I tell if it fits?
First, your sports bra shouldn't feel terribly uncomfortable. From there, here are a few tricks to ensure it fits you properly:
One of the best measurements for an ill-fitting sports bra is the band that runs around your ribcage. If the bra is riding up in the back and rests higher than your chest, size down. The same rule applies if you can fit more than one finger between the band and your skin.
Finally, no part of the sports bra should dig painfully into your skin or restrict breathing. And, if you opt for an encapsulation bra, make sure the center piece lies in the middle of your chest.
How should I take care of my bra?
Keeping your sports bra clean is the name of the game. Yes, grabbing a beer — I mean green juice — after working out is one of life's simple pleasures, but you're doing so while a festering pool of bacteria silently makes love on your boobies.
That may have been a little dramatic, but sweat and bacteria do degrade the material of your bra and cause unnecessary wear and tear. So, always take off your bra after working out and rinse it out with water. Maybe let the girls fly free while you enjoy your hard earned endorphin boost!
You're technically supposed to hand wash your bras with detergent in warm water. We say this knowing that most of you will never actually do it.
But, washing all your unmentionables together on a gentle cycle really isn't too much to ask in the grand scheme of things. Using a lingerie bag helps reduce a lacy-hook-lycra-tangled mess. And, always air dry your bras by draping them or laying them flat. Don't put them in the dryer, and don't hang them by their straps.
I'm pregnant/breastfeeding. What should I do?
The quick answer is: support, support, support! You need all the support you can get, especially when it comes to your breasts.
Opt for a super supportive sports bra that's adjustable, as your body will change frequently. And, consider wearing a compression shirt over an extra supportive bra, since your boobs are extra sensitive right now.
Finally, get yourself a babysitter, take yourself on a date, and don't feel guilty about it.

Devin Fuller
Devin Fuller formerly traveled the world as a fashion model, and now resides in San Francisco, CA. She loves being active outside, mostly climbing, sometimes surfing, and always eating and drinking well.