Few things are more irritating than being late because of those 10 minutes spent taming your curls.
The best hair dryers for curly hair are designed to fight frizz, preserve the shape of your curls, and prevent heat damage, all while speeding up the drying process. Dyson Supersonic, our winner, has everything you need to achieve luscious curls, even if you're in a hurry.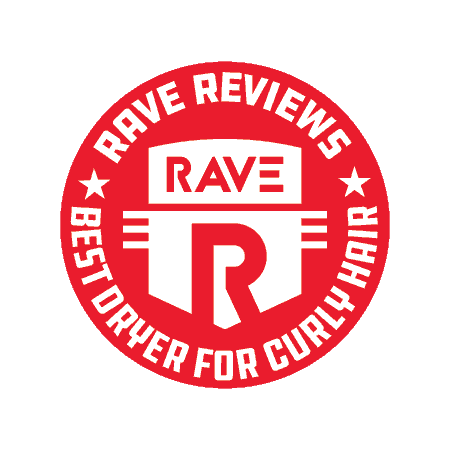 When you think of solutions to frizz, hair dryers are probably the last thing on your mind. Styling tools are notorious for working as band-aid solutions. They may help your hair look perfect in the moment, but the damage done by the heat leaves you stuck with lifeless locks for weeks.
The newest developments in hair dryers have made it easier to control heat damage. For example, many top-rated hair dryers now come with negative ion technology, which helps the hair cuticle lay flat and reduce frizz. These negative ions also break down water molecules, allowing you to dry your hair faster with less heat.
On our list, you'll find hair dryers with an array of the latest technologies and features. These dryers are designed for specific factors such as frizz level, curl type, hair density, and much more. No matter what type of curly hair you have, you're bound to find the perfect hair dryer for you.
The Hair Dryers for Curly Hair We RAVE About
These hair dryers will have you strutting out of the house like you're walking straight out of a hair salon.
Powerful, nearly silent, and sleek-looking, this hair dryer is the best investment for your curls. Not only does it come with one of the few patented motors on the market, but it's also one of the safest ways to preserve your curl shape without risking frizz.
Read Full Review
If you're looking for a hair dryer that's built to last, consider the Bio Ionic 10X, which comes with a 10-year warranty as well as a professional-grade motor. It's made to endure hours upon hours of use while delivering a beauty salon experience.
Read Full Review
A hair dryer purchase doesn't have to be accompanied by guilt and buyer's remorse — especially when you find a hair dryer that costs less than $30. The Bed Head Curls in Check 1875 Watt Diffuser Hair Dryer comes with all the must-haves and none of the unnecessary extras.
Read Full Review
How to Pick the Right Blow Dryer for Your Hair Type
Much like cars, all hair dryers come with the same basic functions. But it's the details that make the difference between a Lamborghini and a Honda, even though both can take you from point A to point B.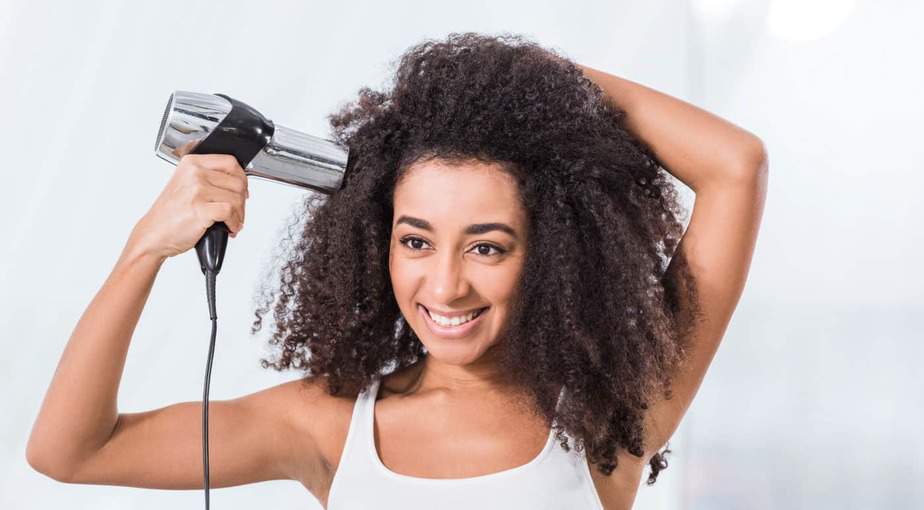 Looking for more than just a regular blow dry? In this section, we'll help you navigate through industry buzzwords and determine your hair type, and you'll be empowered to make a more informed purchasing decision.
Curl types and hair care
Curls range from 2a to 4c, and a visual chart is usually more than enough to help you determine what type of curls you have. But this information alone won't help you pick the right styling products, leave-in treatments, or hair dryer.
Let's take a look at what else you should consider when choosing your arsenal of hair care products:
Porosity: This has to do with the hair shaft's ability to absorb and retain moisture. While this is primarily influenced by genetics, it can also be affected by chemical treatments, styling tools, and sun exposure.
Elasticity: You can determine this by stretching a curl and observing how long it takes to go back to its initial shape. If the hair doesn't snap back right away, you may want to include water-based moisturizing products in your hair care routine to increase elasticity.
Curl variance: In some cases, you may end up with two or even three different curl types on the same person. If this is the case for you, you'll want to use some mousse along with a lower heat setting to give your curls a more uniform look.
Density: Not all curly hair is thick. In fact, thin and fine hair types exist on the curly side of the spectrum as well.
Hair Dryer Technology Explained
Product descriptions are filled with buzzwords such as "tourmaline ions" and "ceramic heating elements." But what do those terms actually mean? And what works best for curly hair?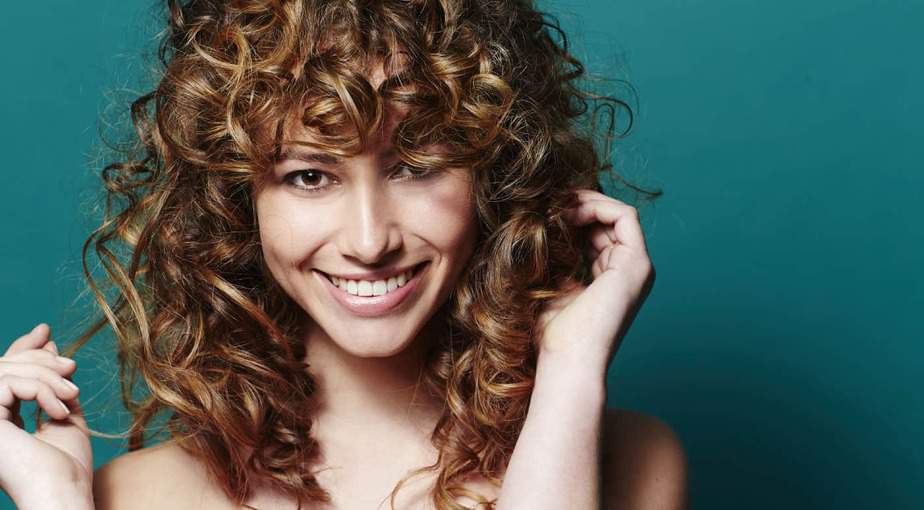 Here's everything you need to know about the newest technological advancements in hair dryers:
Ionic technology: This essentially means that your hair dryer can shoot out negative ions to speed up the drying process and minimize frizz. The ions are usually generated by tourmaline or volcanic minerals.
Titanium: This is a heating element used for stronger hair dryers. While it does dry hair faster, it also comes with the risk of damaging the hair shaft.
Ceramic: This heating element is superior to titanium because the heat it produces is more even, which reduces the risk of heat damage.
Heat cuticle control: This refers to the ability of the hair dryer to regulate heat and prevent it from applying too much heat on your curls or overheating the handle.
Cool shot: Dryers with this common feature can shoot cold air with the press of a button. The purpose of the cool shot is to seal the hair cuticle, set your style, and increase shine.
AC and DC motors: AC motors have a longer lifespan than DC motors, but they're also heavier and more expensive.
Heat settings are also a good way to determine if a hair dryer is worth buying. The more heat settings you have to choose from, the better. This is especially true when you have thin or damaged curly hair.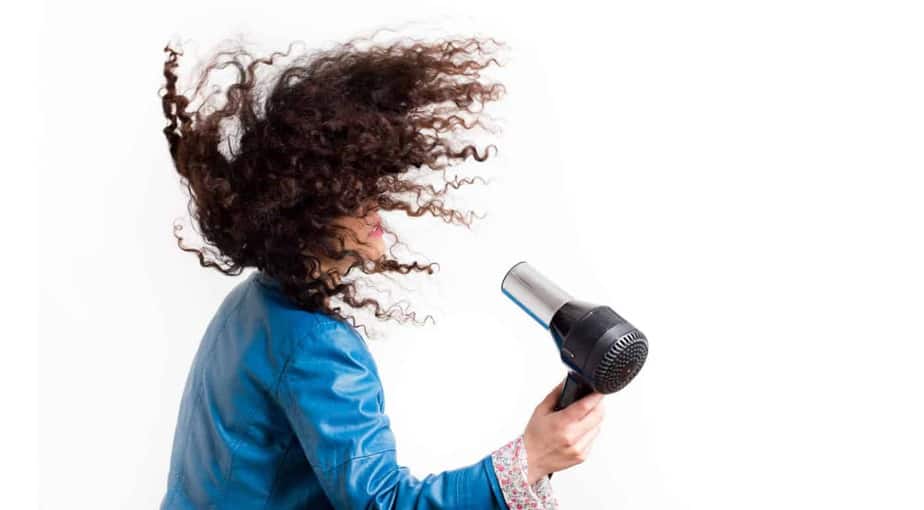 Testing out porosity levels
Earlier, we talked about different degrees of porosity. To find out how easily your hair absorbs water, take a few strands of hair from your brush and place them in a bowl filled with water.
If after two to four minutes the hairs are still floating, it means the hair shaft didn't absorb water. This indicates you have low porosity hair. However, if your strands sink, you'll know your hair has high porosity because it absorbed more water.
Low porosity often translates to dry hair that doesn't absorb products properly and can take longer to get dry. In this case, a hair dryer that comes with ionic technology and higher heat settings may work best.
On the other hand, if high porosity is what you're dealing with, your hair dries fairly quickly. This sounds like good news, but it also means that your hair cuticles can absorb too much product or humidity, which makes your hair more prone to damage and frizz. To account for this, make sure you don't leave your hair wet for too long, and use a blow dryer on a lower heat setting.
Methodology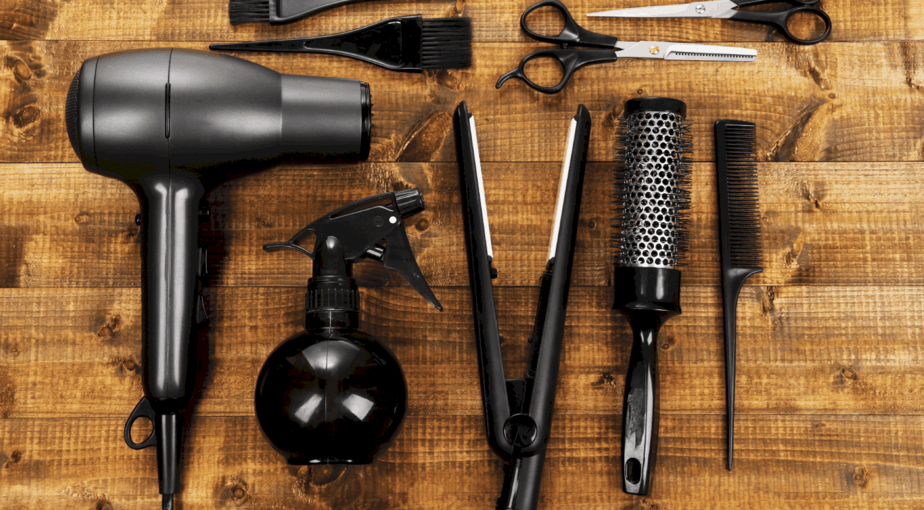 It wasn't easy to make it onto our list of the best hair dryers for curly hair. Each hair dryer that managed to crack into our top 10 has many positive reviews and beauty expert endorsements, and they also have at least two or three of the following features:
Ceramic or ionic technology
Heat regulator
Ergonomic design
Lightweight yet strong motor
High wattage
Long cord
Awards from hair care and beauty experts
Cool shot button
Replaceable filter
Long warranty
And, of course, we only included hair dryers that we would choose for ourselves.
Dyson Supersonic Hair Dryer

Price: $400

Number of heat settings: 4

The Dyson Supersonic Hair Dryer is a tech toy for both hair care professionals and beauty lovers everywhere. Dyson spent $71 million on research for this dryer, not only for developing the futuristic stainless-steel design but also for better ergonomics, improved heat management, and faster drying time.

The result is the quietest hair dryer on the list. It's so quiet that you can actually use it while holding a conversation with your friend without raising your voice. Not to mention that it has a heat regulator, which measures the heat emitted by the dryer 20 times per second!

Another feature we love in the Dyson Supersonic is the cold shield technology. This helps keep the hair dryer's body cool, even if you use it for a prolonged period of time. All in all, this was an easy choice for the best hair dryer for curly hair.

Pros

Patented motor
Ionic technology
Cold shield technology

Bio Ionic 10X

Price: $295

Number of heat settings: 3

The Bio Ionic 10X is the perfect choice if you're looking to invest in a long-term hair dryer that has all the features of a professional tool. Despite coming with a professional-grade AC motor, the Bio Ionic 10X is lighter than most other models, even ones made for home use.

The longevity and lightweight motor of this dryer aren't the only features worth mentioning. It comes with all the latest must-haves, including ionic technology generated by volcanic minerals.

The only downside is the design. It has a longer hose than most dryers, which could get in the way of some users, especially those with shorter arms. Another drawback: The heat/speed combination settings only allow you to use high heat with high speed, low heat with low speed, and so on.

Pros

10-year warranty
Lightweight
Ionic technology

Cons

Combined heat/speed settings
Pricey

DevaCurl DevaDryer

Price: $160

Number of heat settings: 3

DevaCurl DevaDryer is a highly praised hair dryer for curly hair that has won several beauty awards. But aside from reading up on all the positive reviews and endorsements from celebrities and beauty gurus, we tested the unique hand attachment that provides 360-degree airflow.

We feel that the attachment works best for shorter hair because the heaviest airflow comes through the "fingers" of the diffuser, which targets the roots of the hair. But it's harder to use if you have longer hair and want to place your curls on top of the diffuser, since less air comes from the "palm" of the hand.

A few features worth mentioning are the AC motor, the ionic technology, and the protective cord strain relief. But what really impressed us was the cool setting, as it doesn't require you to hold down the button to release cold air.

Pros

360-degree airflow
Professional AC motor
Ionic technology

Cons

Lower wattage
Not great for long hair

Elchim 3900 Healthy Ionic Hair Dryer

Price: $190

Number of heat settings: 3

One of the strongest hair dryers on our list, the Elchim 3900 Healthy Ionic Hair Dryer boasts 2000 watts, which translates to a long lifespan and excellent heat control. And despite its stamina, it has low EMF emissions.

The Elchim 3900 is also quite versatile because it dries hair using more wind than heat, so both thick- and fine-haired individuals can use it without risking damage. But if frizz is your primary concern, you can easily adjust both wind and power.

Although it has all the features you would typically find in a professional hair dryer — including a long cord, ceramic technology, and enough heat settings for all hair types — we would have liked to see a diffuser included. Elchim does make a diffuser for this hair dryer, but you need to purchase it separately.

Pros

Quiet
Suitable for all hair types
Ceramic technology

Cons

No ergonomic grip
Diffuser not included

BaBylissPRO Ceramix Xtreme Dryer

Price: $80

Number of heat settings: 3

BaBylissPRO Ceramix Xtreme Dryer might not come with a lot of fancy features, but it does come with a lot of power (2000 watts), ceramic technology for frizz control, infrared heat, and an AC motor. That said, you need to purchase a diffuser separately, but since this hair dryer is made for professional use and is still surprisingly affordable, we're not too upset about that.

The rubberized handle is another feature that impressed us. If you work in a beauty salon or if you have sweaty hands, it can make the grip more comfortable and prevent you from dropping the dryer.

At the same time, we did notice that the buttons are placed exactly where you hold the handle, and this makes it harder to use the dryer without switching from one setting to another by mistake.

Pros

High wattage
Professional AC motor
Ionic and ceramic technology

Cons

Diffuser bought separately
Button placements

JINRI 1875W Professional Salon Hair Dryer

Price: $35

Number of heat settings: 3

If you have tight curls, the JINRI 1875W Professional Salon Hair Dryer might be the one for you. It comes with a comb that helps you separate your curls and style your hair more easily. But it's not just people with tight curls who can benefit from this hair dryer — it also comes with a diffuser and concentrator.

Not only does this dryer bring three accessories to the table, but you'll also find a safety plug, cable tie, long cord, and hang loop in the package.

If dry hair and breakage are at the top of your list of concerns, the infrared technology and negative ions in this dryer will help you style and dry your hair faster with less heat damage. At such an affordable price point, we were quite impressed to find out that the dryer has an AC motor. This product is a bit on the heavy side, though.

Pros

Infrared technology
Long cord
AC motor

Cons

No dual voltage
Press and hold cool button
No retractable cord

HOT TOOLS Signature Series 1875W Salon Turbo Ionic Dryer

Price: $51

Number of heat settings: 3

The HOT TOOLS Signature Series 1875W Salon Turbo Ionic Dryer has plenty of exciting features, including the ability to select the number of negative ions that the hair dryer emits, as well as a helpful power boost button. This is definitely a moderately priced product for what it offers.

Of all its features, the ergonomics and the rubber non-slip texture on the handle impressed us the most. We also like that it comes with a 7-year warranty, which gives us high hopes regarding its longevity.

On the downside, we did notice that the dryer might not be powerful enough to dry thick curls fast, nor does it come with specifications regarding what motor is used to power it. This makes it hard to determine if it can be used for professional purposes or only for home use.

Pros

Lightweight
Non-slip texture
Ionic technology

Cons

Unspecified motor type
Short cord
Not great for thick curls

Bed Head Curls in Check 1875W Hair Dryer

Price: $30

Number of heat settings: 3

The Bed Head Curls in Check 1875W Hair Dryer is a great choice if you're working with a tight budget. It has all of the essentials (diffuser, ionic technology, and ceramic technology) with none of the extras. It comes with three heat settings and a lightweight, playful design.

What we noticed is that the diffuser has shorter teeth compared with other diffusers on the market, and this makes it more suitable for wavy, loose curls. If you have long hair, though, be wary of the possibility that your locks might get sucked in on the opposite side.

For the most part, this hair dryer is a great pick — and if your hair is on the shorter side of the spectrum with some loose waves, it's even better.

Pros

Ceramic technology
Lightweight
Affordable

Cons

No lock for the cool shot
Lower quality case
Shorter lifespan

Instyler BLU Turbo Ionic Dryer

Price: $63

Number of heat settings: 2

The Instyler BLU Turbo Ionic Dryer creators outdid themselves when it comes to the design of this product. This hair dryer is sleek and elegant, and it definitely looks like a professional product despite not being one. But don't let that scare you away if you're a home user, as you can still benefit from its turbo setting as well as the negative ion technology.

Although it isn't made to be used for prolonged periods of time and comes with only two heat settings, this product has an "infinity dial" that gives you a lot of room to play with the speed setting. But on any setting, the drying time will be longer if you have a lot of density in your hair.

To sum up, the Instyler BLU Turbo Ionic Dryer isn't just pretty — it's also an efficient, reliable choice, especially if you don't have thick curls.

Pros

Turbo setting
Ceramic and ionic technology
Long cord

Cons

Only for home use
A bit bulky
Only 2 heat settings

Infiniti PRO by Conair

Price: $39

Number of heat settings: 3

This model from Conair is slightly more expensive than most of the company's lineup, but it does offer a faster drying experience and more drying hours thanks to the AC motor. While we wouldn't call it a professional hair dryer, it does have all the essentials to dry your hair fast without causing heat damage.

It comes with ceramic and ionic technology, which helps preserve the curl shape. You can use this versatile dryer for a range of styling purposes: It comes with both a diffuser and a concentrator.

However, there are a few downsides. Although this dryer has all the essentials, its weight can lead to arm fatigue, and the button placement is a bit awkward. Also, the length of the cord is on the short side. But if you're looking for a home use hair dryer, you probably won't be very bothered by these negatives.

Pros

AC motor
Ceramic and ionic technology
Removable filter

Cons

Short cord
Odd button placement
Bulky
How do I know whether my old hair dryer is still doing its job?
Most of us already have a blow dryer in the house, and this makes the idea of sorting through all the options and spending money on a new one less appealing. But you might have some doubts about the dryer that's currently in your bathroom cabinet, especially if it's an older model that doesn't have as many features as more recent products.
There are a few possible signs that your dryer is on its last legs. You'll want to start shopping around if you find that your current dryer does any of the following:
Blows unusually hot air on the high setting
Emits a burnt smell
Overheats too quickly
Makes a rattling noise or is simply too noisy
Has heat settings that no longer work as they should (hot is too hot and medium is too cold)
Has exposed wiring
Sparks when you plug it in
Not made with curly hair in mind
Even if your hair dryer seems to dry your hair well enough, frizziness, split ends, and excessive dryness may also signal that you can do better. Ideally, your hair dryer should be able to dry your tresses without ruining the structure of your curls.
Want to get more use out of your next hair dryer? You can prolong its lifespan by removing the filter and cleaning it once per week.
Why does my curly hair lack shine and how can I fix it?
First, let's discuss silicones. One of the most inexpensive and fastest ways to get shine is to use products that contain silicone. Used once in a while, this substance doesn't do much harm, but it can actually worsen the condition of dry hair if you use it frequently enough.
Silicones are in practically everything. Chances are, you probably use a shampoo that contains them. Check the labels on your hair care products for a substance called Dimethicone. Its purpose is to make your hair shinier — but it only gives the illusion of shine while sealing off hair cuticles from water and air, which ultimately makes hair dryer.
Curly hair is prone to dryness because the sebum faces obstacles when traveling from the root to the ends of the hair. However, that doesn't mean all is lost. Look for water-based moisturizers free of silicones, sulfates, and parabens. A quick way to incorporate a hair moisturizer into your routine is to find a heat protective spray that also has moisturizing properties.
Another concern for dry hair is water quality. Hard water can build up on the hair shaft and stop moisture from reaching the cuticle. In some cases, this can lead to a build-up on the scalp and dry, white flakes that resemble dandruff. If you think hard water is an issue, an inexpensive shower filter will fix the problem.
What are the best hair dryers for curly hair?
There are a few features you should look for when you're considering your next hair dryer purchase, including ceramic technology, ionic technology, heat settings, wind settings, type of motor, and warranty.
But there are also important factors that aren't listed in product descriptions, such as the quality of the materials used in the making of the hair dryer. There are significant differences between stainless steel or high-quality plastic coated in rubber and the low-quality plastic used in many inexpensive hair dryers.
Although there isn't a one-size-fits-all option, we believe that the Dyson Supersonic is the best hair dryer for curly hair on the market. Not only has Dyson spent years and millions of dollars developing this product and coming up with features that make blow drying faster, easier, and safer, but it also targets specific curly hair concerns like frizz.
However, it was a tight race, and all of the hair dryers on our list are worth checking out, especially if you are looking for specific features or are on a budget. We made sure that each product on our ranking has either ceramic elements or ionic technology to protect your hair from frizz and heat damage.
RAVE Recommends
Curly hair can be a bit hard to handle without the right products. To help you out, we compiled a short list of products to detangle your morning beauty routine.
Creme of Nature Butter-Licious Curls Hydrating Creme: Best for days when you're in a rush but need to tame your frizzy, dry hair, this hydrating cream not only moisturizes your curls, but it also gives them more body and definition. Plus, it smells good too!
KIPOZI Pro Flat Iron: Flat irons are a great way to change your look within minutes or add curl definition. Unfortunately, this type of makeover usually causes damage to your hair. KIPOZI designed a flat iron that features settings for sensitive and damaged hair, so you can enjoy using a flat iron without fearing the aftermath.
DevaCurl Frizz-Free Volumizing Texture Foam: Do you have fine yet curly hair? If frizz, curl definition, and volume are among your concerns, a volumizing texture foam might be of help. This formula doesn't contain any alcohol, parabens, or silicones.
PURA D'OR Castor Oil: Growing out curly hair is always a waiting game. Why not give your follicles a boost? Castor oil has been used for centuries to accelerate hair growth and moisturize dry, brittle hair. Although its thick texture might take some time to get used to, it's definitely worth a try!