Puffiness, dark circles, crow's feet?
Don't worry, it's not the end of the world: A good drugstore eye cream can solve all of those problems in one go. But while good is good, great is even better, and we think that RoC's Retinol Correxion Eye Cream is a truly great option. With its pure RoC Retinol and mineral blend, this non-greasy cream gently moisturizes the delicate skin around the eyes, gradually reducing signs of aging and stress.
Whether or not you believe that the eyes are the windows to the soul, you probably want yours to look good. That's why wrinkles, dark circles, and puffiness (damn that extra glass of wine!) are such a scourge. But while drinking less alcohol and getting a good night's sleep can improve our appearance, it won't stop the passing of time from taking its toll.
And while aging is a normal part of life (and we should celebrate it!), that doesn't mean we have to let ourselves go completely. A little TLC around the eye area can make a whole lot of difference: good eye creams will smooth out the wrinkles, brighten the skin, and make you look like a million bucks — and you won't even have to pay top dollar!
When you're looking at the best eye creams, don't turn your nose up at the budget kind: we've found dozens of great drugstore eye creams that do the job without costing you a fortune. Dermatologists confirm that budget eye creams can be just as good as luxury ones, so what are you waiting for? Check out our top 10 drugstore eye creams and take your pick.
The Drugstore Eye Creams We RAVE About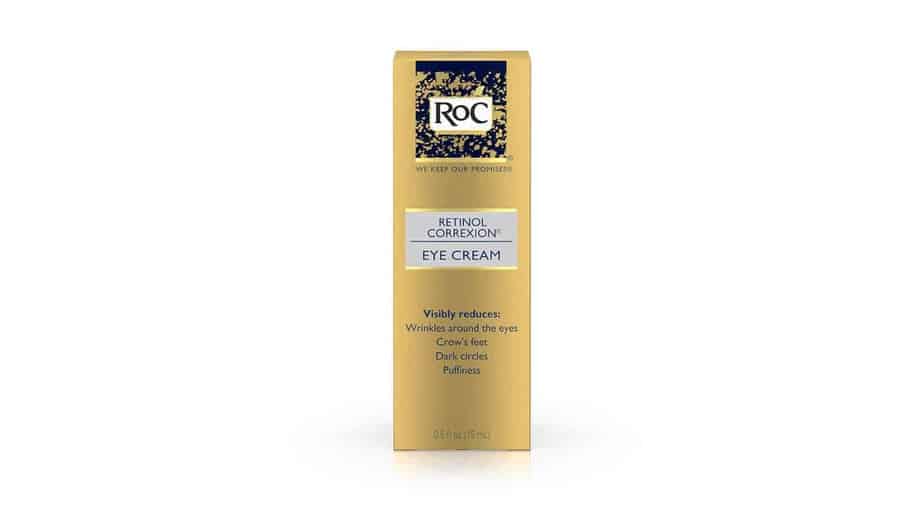 Best Overall
RoC Retinol Correction Eye Cream
Best for Sensitive Skin
Burt's Bees Sensitive Eye Cream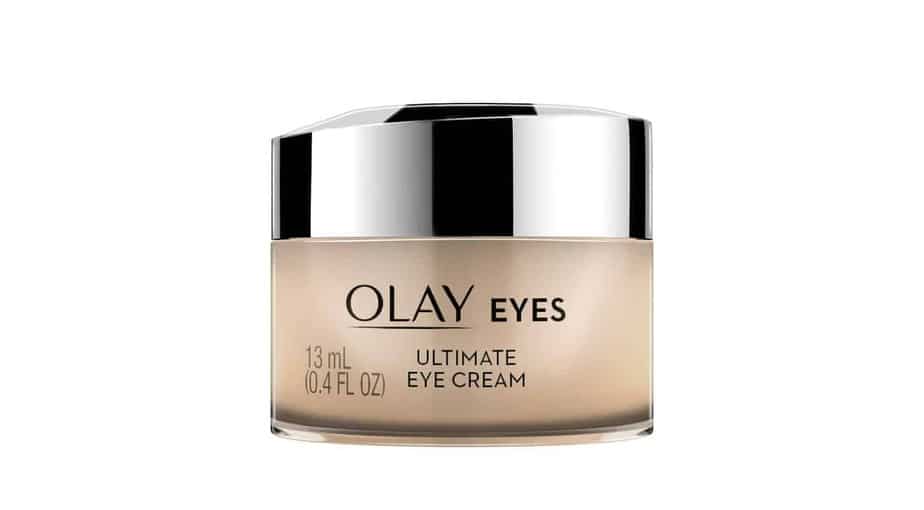 Best for Dark Circles
Olay Eyes Ultimate Eye Cream
Do I really need eye cream?
Eye creams (even budget ones you get at the drugstore) seem to promise the moon: they smooth out wrinkles and fine lines, reduce dark circles and diminish puffiness. But aren't eye creams just moisturizer in a tiny pot? In a way, but they're actually way more specialized.
Eye creams do many of the same things as moisturizer, but they are designed especially for the skin around the eye. They usually contain more oil than face lotion, and have active ingredients that target specific problems such as wrinkles or dark circles.They also tend to be delicate, to stop the skin around the eyes from getting irritated.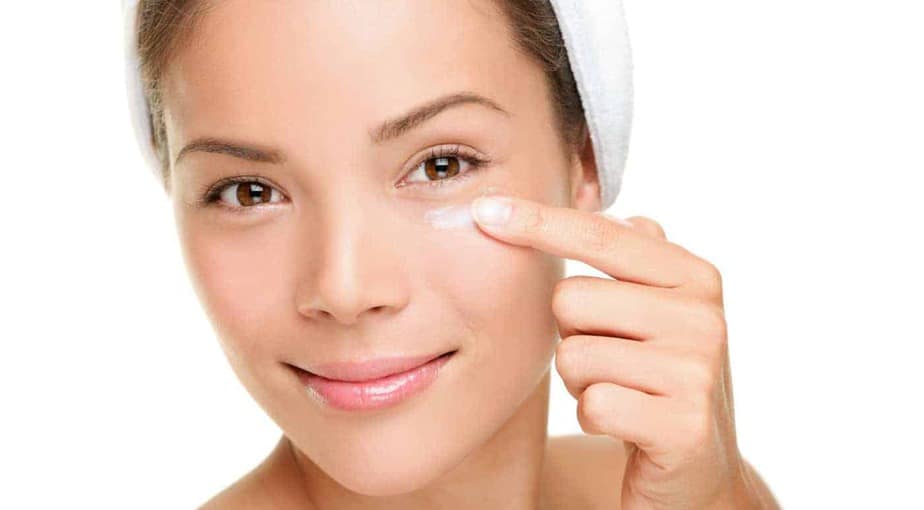 But do eye creams do what they promise? The first thing to keep in mind is that small changes in your lifestyle can have a big effect on your looks. So, while we fully recommend using eye creams, here are some steps you can take to help you look (and feel) healthier:
Get a good night's sleep: Not sleeping enough can cause your skin to become dull and pale, so dark tissues and blood vessels are more noticeable. Lack of sleep also causes fluid to collect underneath your eyes, causing the whole area to look puffy.
Drink less alcohol and more water: We all love a glass of wine, so we're not about to lecture you. But if you love a tipple, you'll be all too familiar with that post-booze puffy face. This happens because alcohol lowers an antidiuretic hormone present in your body, so you retain liquid. Keep well-hydrated (beer doesn't count!) to keep the puffiness at bay.
Keep your allergies in check: The skin around your eyes is extremely sensitive, so it swells easily when it comes into contact with allergens such as pollen, dust mites, or fragrances. Some allergens even reach your eyes through your nose! Try over-the-counter eye drops or a saline eye rinse, and speak to a doctor if the problem persists.
Stay out of the sun: You don't have to avoid it completely, but don't overdo it (and always use sunscreen!). Sun rays damage your skin, causing wrinkles, dark spots, discoloration, and dark circles.
Which ingredients should I look for in my drugstore eye cream?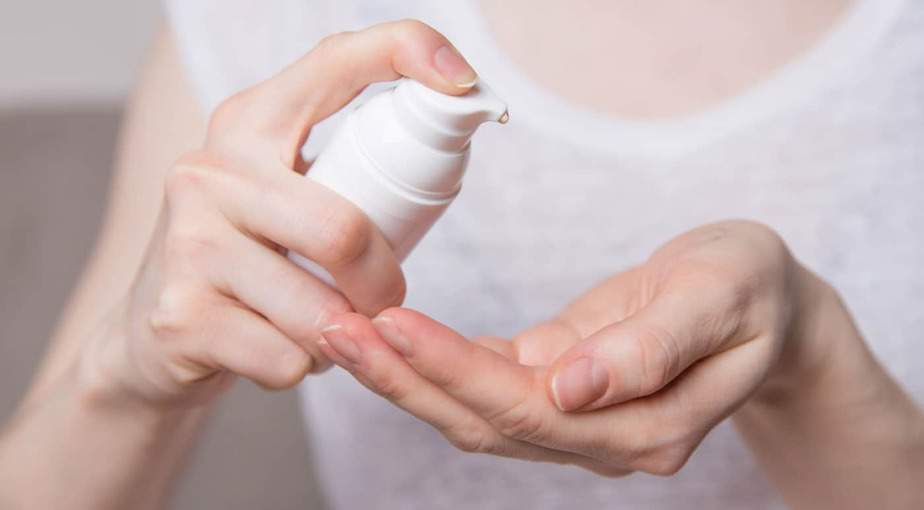 The answer really depends on the issue you want to target. Some ingredients are good for immediately relieving puffiness, while others reduce wrinkles over time; some are just good moisturizers and help the skin around your eyes glow, while others can reduce the appearance of dark circles.
So where do you start? Here is a brief guide to eye cream ingredients:
Retinol
Retinol boosts collagen production and makes the skin look younger, so it's essential for anti-aging. But it is also often too harsh for the delicate eye area. Thankfully, a number of eye creams have a low quantity of retinol and pair it with other soothing and moisturizing ingredients.
Hyaluronic acid
Hyaluronic acid helps maintain the skin's moisture and plumpness, giving it a young look and feel. Great for anti-aging!
Vitamin C
Vitamin C (known also as ascorbic acid) is essential for the production of collagen, and is good for combating wrinkles and crow's feet. Vitamin C is also great at brightening the skin and reducing the appearance of dark circles.
Vitamin B3
Vitamin B3 (in its niacinamide form) is well-known as an effective antidote against high cholesterol, but its antioxidant properties make it a great ingredient for eye creams and other cosmetic products.
Vitamin K
Vitamin K is commonly known for keeping your blood vessels healthy and preventing clots, but it also great in cosmetic products. By promoting good circulation, Vitamin K keeps skin radiant and healthy.
Caffeine
God bless caffeine. Not only does it keep us awake and help us power through long work days, but it also restricts and shrinks blood vessels when applied to the skin, lightening dark circles and reducing puffiness. Unfortunately, just like coffee, the effects of caffeine are not long-term. Still, it works wonders in combination with other ingredients!
Squalene
Squalene, which comes from shark livers but is also found in some plants, is effective in promoting cell repair and preventing age spots. It is also very easily absorbed by the skin, and can counteract the effect of all the harsh chemicals your skin has to deal with every day.
So which eye cream should I choose?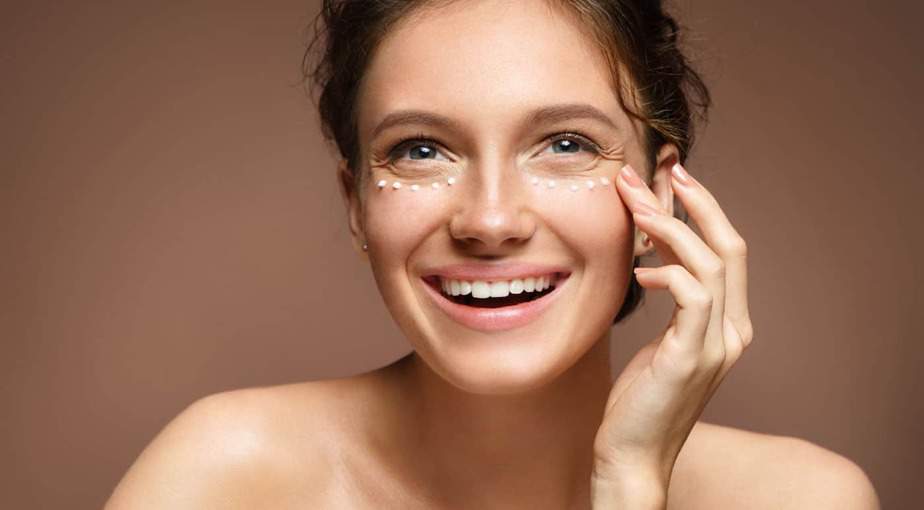 This is why we're here! We've whittled down a huge list of drugstore eye creams to the top 10 absolute best, so read on and choose the right one for you.
Methodology
With so many drugstore eye creams available out there, narrowing the field isn't an easy feat. First we long-listed some of the favorites by reading through dozens of websites and examining thousands of reviews, comments, and ratings by users themselves.
Then we created a scoring system and scored each eye cream based on various factors, including:
Brand reputation
Value for money
Quality of ingredients
Versatility
Fragrance
Easy absorption
Then we took an average of these scores for a final metascore and voila, here are our top 10 best drugstore eye creams!
Best Drugstore Eye Creams
1
RoC Retinol Correction Eye Cream
The RoC company was launched in 1957 in Paris by a pharmacist, and has become one of the most well-known and loved skincare brands around.
This particular product, RoC Retinol Correxion Eye Cream, fights the signs of aging around your eyes by including retinol as its main ingredient and combining it with different minerals. The pure, stabilized retinol helps increases the production of collagen, while the mineral complex of copper, zinc, and magnesium stimulates cell turnover.
Since retinol can be a bit harsh, RoC's eye cream is balanced with non-greasy hydrating ingredients, which brighten and plump the skin immediately. And you won't have to wait long to notice the lasting effects, either: this cream improves the look of dark circles and puffiness within four weeks, and visibly reduces wrinkles within 12 weeks.
Pros
Great under makeup
Reduces wrinkles
Retinol and mineral formula
Cons
Retinol is harsh for some people
2
Hada Labo Tokyo Age Correcting Eye Cream
This much-loved Japanese brand offers up a lightweight eye cream that fights the most common signs of aging and tiredness, smoothing wrinkles, reducing puffiness and dark circles, and lifting the skin around the eye. The Age Correcting Eye Cream does this by combining a range of high-quality, botanical ingredients you won't find in other eye creams.
Pink silk tree bark extract, for example, keeps the area firm and plump, reducing dark circles and puffiness. Caffeine restricts blood vessels and prevents swelling. Camapu extract and collagen fight wrinkles and reduce fine lines, while hyaluronic acid — this product's star ingredient — provides long-lasting moisture.
While it might take time to notice some of the longer-term results, many customers notice an immediate difference thanks to the light-diffusing pigments that brighten and illuminate the skin, making you look healthy and alert. So in addition to giving you long-term results, this cream is also a perfect quick fix for those difficult post-party morning!
Pros
Fragrance-free
Multifunctional eye cream
Unique botanical ingredients
Cons
Contains harsh ingredients
Not much hyaluronic acid
Rubs off easily
3
Burt's Bees Sensitive Eye Cream
Who doesn't love Burt's Bees? This brand shot to fame thanks to its range of natural lip balms, and has steadily branched out into a whole range of skincare products while remaining loyal to its commitment to 99% natural ingredients.
And as we all know, what is found in nature is often the most delicate on your skin. That's exactly why we think Burt's Bees Sensitive Eye Cream is perfect for those among us whose skin gets irritated easily. This gentle formula moisturizes the skin and minimizes the effects of irritants you might come into contact with, reducing puffiness and redness.
Each ingredient is chosen for a specific purpose: cotton extract softens the skin, rice extract moisturizes, aloe vera soothes, and white genepi extract reduces inflammation. This product doesn't claim to significantly reduce the signs of aging, but it does do a great job at keeping the skin around your eyes looking healthy and beautiful.
Pros
Hypoallergenic
Box made from recycled material
99% natural
Cons
Only treats some concerns
Not hydrating enough for some
Does not absorb very well
4
Neutrogena Hydro Boost Gel-Cream for Eyes
If you've read our Ingredients Guide, you should already know that hyaluronic acid reduces the appearance of fine lines and promotes healthier, younger-looking skin. Neutrogena Hydro Boost Gel-Cream for Eyes combines this miracle ingredient with sodium hyaluronate, which penetrates even deeper into the skin and keeps it plump.
The Hydro Boost Gel-Cream also contains olive extract, which is known for its protective and antioxidant qualities. Thanks to its combination of fatty acids, olive extract absorbs into the skin and forms a protective barrier, locking moisture in and shielding you from external irritants.
This Neutrogena eye cream is recommended by dermatologists, and it's oil-free, dye-free, and fragrance-free and non-comedogenic, so it won't clog pores and should not irritate your skin (but remember to always patch test it first). It also absorbs quickly and isn't greasy, so it's great under makeup.
Pros
Absorbs quickly
Hyaluronic acid
Rich in nutrients
Cons
Isn't the most moisturizing
Can cause flaky skin
Some people report breaking out
5
Olay Eyes Ultimate Eye Cream
According to our research, Olay's Ultimate Eye Cream is the best at fighting dark circles that blight our undereye area. But that's not all it does: thanks to the peptides and vitamin B3 it contains, this cream also helps renew the skin's surface over time, reducing the appearance of fine lines and crow's feet. It's almost like a natural mini-lift!
Many of these changes happen pretty quickly: Users say that the eye cream immediately gave the skin a smooth, moisturized feel, and also reduced the appearance of dark circles within days. The cream tackles dark circles with its Color-Correcting Technology, which matches your skin tone and acts a bit like a concealer (perfect for when you need a quick fix!).
And if that isn't enough to make up for last night's sins, you can add a touch of makeup over the top because this Olay eye cream sinks into the skin without leaving a trace. In fact, this cream is refreshing and light, much like a cool cucumber slice (but without the bother of balancing an actual slice of cucumber on your face!).
Pros
The best at reducing dark circles
Also reduces fine lines
Easily absorbed
Cons
Little difference in puffiness
Iron oxide can cause irritation
Some don't like the color
6
e.l.f. Illuminating Eye Cream
We love e.l.f. cosmetics: As well as being really high-quality, they offer a complete line of vegan and cruelty-free makeup, professional tools, and skincare products, all at extraordinary value. This super nourishing cream helps hydrate the skin, gradually reducing the appearance of dark circles and puffiness. The people at e.l.f. were not lying about the "illuminating" part, as many customers report instantly brighter, glowing skin.
This eye cream is infused with purified water, jojoba, and vitamin E, which keep the skin moisturized, while cucumber helps soothe the skin and prevent irritation. Shea butter and green tea also contribute to making this luxurious-feeling product an effective eye cream.
One thing that customers seemed to notice is that the jar is deceiving, and actually contains less product than it should, which is disappointing. Thankfully, the cream is thick and rich, so a small amount can go a long way.
Pros
Great for under makeup
Illuminating
A small amount is enough
Cons
The size of the jar is deceiving
May cause irritation
Not great for wrinkles
7
Aveeno Absolutely Ageless Eye Cream
Aveeno's story started in 1945, and it has been one of discovery and innovation. By combining science and nature, Aveeno has consistently come up with some of the most interesting skincare products on the market. Its high-quality skincare ranges have earned it a reputation for harnessing the power of dozens of natural ingredients and combining them in creative ways.
Aveeno Absolutely Ageless Eye Cream makes use of blackberries' natural antioxidant properties and combines them with vitamins C and E and other anti-aging ingredients to give you an eye cream that is natural yet effective. Customers say it visibly improves the appearance of crow's feet, under-eye puffiness, and dark circles, leaving behind bright, glowing skin with a youthful appearance.
Like all products in this Aveeno skincare range, the eye cream has a light fragrance that some people absolutely love (it's fresh, flowery, and not too overpowering). Not everyone is a fan of fragrance in eye creams though, as it can sometimes cause an irritation.
Pros
Lovely fragrance
Relies on natural antioxidants
Blends well
Cons
Heavy
Contains parabens
Can be an irritant
8
Cetaphil Hydrating Eye Gel-Cream
Another classic favorite, Cetaphil has been around since 1947 and is responsible for some of the nation's favorite skincare products. Cetaphil Hydrating Eye Gel-Cream is a gel-cream that uses hyaluronic acid to immediately hydrate and protect the skin. Add to that licorice extract, which has been shown to combat the formation of pigments and reduce inflammation and redness, and you have a pretty good eye cream.
This particular drugstore cream absorbs quickly and leaves your skin feeling soft, smooth, and soothed, without leaving oily or greasy traces. Like all Cetaphil products, this eye moisturizer is dermatologist- and ophthalmologist-tested, so should be non-irritating and hypoallergenic (but always patch test!).
While this is a good cream if you're looking for something to keep your skin supple and refreshed, it's not the best choice if you want something that will specifically target signs of aging, such as wrinkles and fine lines.
Pros
Good for sensitive skin
Great value
Trusted brand
Cons
Doesn't target signs of aging
Not very moisturizing
Can flake off when dry
9
Laneige Water Bank Eye Gel
This is the most expensive product in our drugstore eye cream ranking, and while it's not our number one (there can only be one of those, and you know which one it is by now!), it's still a very worthy eye cream. Like the Cetaphil option, this is a gel-type cream that revitalizes and moisturizes the skin around the eye.
Calendula extract soothes the sensitive areas around the eye, while ginkgo leaf extract promotes circulation and limits damage caused by the chemicals we come into contact with on a daily basis. Other ingredients, such as Biogen Technology, olive oil, tillandsia extracts, and quinoa extracts act as hydrators and antioxidants.
This cream is very hydrating, but as a result can sometimes feel a bit thick and heavy on the skin.
Pros
Stylish jar
Absorbs easily
Moisturizing
Cons
Not cruelty-free
Expensive
Feels heavy to some people
10
Yes to Grapefruit Brightening Dark Circle Eye Cream
Yes To is a funky and colorful brand that uses natural ingredients to help your skin look its absolute best. With ingredients ranging from carrots to tomatoes, cucumber, and coconut, it kind of looks like the good people at Yes To have been raiding a healthy pantry and making skincare products out of their loot.
Yes to Grapefruit Dark Circle Correcting Eye Cream uses a blend of fruit acids and other vitamins to reduce dark circles under the eyes. Specifically, the grapefruit fades hyper-pigmentation, while licorice root soothes inflammation and reduces redness.
This is a good cream if you want something to moisturize and brighten, but it doesn't do much for issues related to aging such as crow's feet and wrinkles. And while the grapefruit extract is generally good for skin, it can be too harsh for some people, so avoid this product if you have sensitive skin.
Pros
Natural ingredients
No parabens
Good for tackling dark circles
Cons
Can cause irritation
Grapefruit can be harsh
Few anti-aging effects
Related rankings
Are drugstore eye creams as good as luxury ones?
When it comes to beauty and skincare, one issue we're constantly torn between is whether to splash out for luxury or settle for the drugstore equivalent. We are the first to admit it: there's something amazing about a luxurious product, from the fancy packaging to the stylish container (we're suckers for a classic glass jar!).
And then there are the exotic-sounding ingredients, from rare plant essences sourced around the world, to lush fruit extracts and natural flowery fragrances. But does it really make a difference?
Well, it certainly puts a dent in our bank account. But does low price equal low quality? When it comes to eye creams, certainly not! While there are some seriously amazing high-end luxury eye creams out there, there is also no shortage of great drugstore equivalents.
The key is in the ingredients, so make sure to always read the label carefully. While drugstore eye creams might not have some of the more fancy-pants ingredients, they usually contain the ones that actually make the real difference, from vitamins to retinol and plant extracts.
Make sure you know what you're looking for. Are crow's feet getting you down? Or is it puffiness that's blighting you? Each one of these issues is better tackled by specific ingredients (although good hydration helps with everything), so as long as you have those in your eye cream, whether luxury or drugstore-bought, you'll notice a difference.
Can I use moisturizer instead of eye creams?
Even if you're not into cosmetics and skincare, you'll know that the skin around the eyes is not like the skin on the rest of our face. It's much thinner, more delicate, and more sensitive than other skin, so it ages faster and is susceptible to irritation. It's also a lot more noticeable, as this is the part of the face that people look at and focus on when interacting with you.
But does all of this really warrant an entirely different product?
Dermatologists believe so. First of all, because the skin is so thin, it is susceptible to conditions such as eczema. Face creams have high concentrations of ingredients like retinol, not to mention fragrances and exfoliating agents. All of this is too harsh for the eye area, and can cause or worsen redness, itchiness, and swelling.
Eye creams contain many of the same ingredients, but in lower concentrations, and they are often fragrance-free, which reduces the chance of irritating the skin. Furthermore, eye creams target specific issues related to the eye area, such as dark circles and puffiness. Polymers, which are often found in eye creams, make the skin feel and look tighter, while ingredients such as caffeine tighten blood vessels and reduce puffiness.
At an average of $15, what's holding you back?
What kind of eye cream do I need?
If you choose to use eye cream instead of normal moisturizer, how do you know which one to go for? Some are made especially to combat puffiness, target crow's feet, or reduce dark circles; some eye creams promise to solve all of the above, while some offer simple hydration.
Once you know what you want, make sure you go for an eye cream that targets the specific issue that concerns you. If you just want to keep the skin around your eyes hydrated and healthy, there are many generic and all-around good creams out there for you too.
Another important question to ask yourself is whether you have sensitive skin. Do fragrances and dyes cause red, flaky skin and/or rashes? Do you find yourself itching and scratching after using a new shampoo or moisturizer? In this case you need to be extra careful: go for a cream that is free of fragrance and dye, and check the ingredient list for potentially irritating ingredients.
But you can never be too sure, so always to a test patch on your hand and wait 12 to 24 hours to check for reactions. If you do not suffer from specific allergies, any one of the drugstore eye creams in our ranking will work well.
How do I use eye cream correctly as part of my daily skincare regimen?
Skincare can be confusing: cleansing, toning, moisturizing, not to mention using SPF, oil, primer, concealer, foundation, powder, bronzer… While some steps are optional, others are absolutely necessary for healthy, glowing skin. But where does eye cream fit in?
Because eye creams are made with gentle ingredients, it's important that they go straight onto clean skin, so after cleansing but before moisturizer or SPF. Rather than rubbing in the eye cream, pat it gently with your finger or a pad and let it absorb, and then proceed with your concealer.
If you plan to use makeup over your eye cream, choose wisely. Some eye creams are better than others as a base, due to their various consistencies and whether they sink in quickly or not.
What is the best drugstore eye cream?
If you're looking for a budget, functional eye cream, head straight to your local drugstore and you'll see loads of great options sitting on the shelves. But with so many options, choosing the right one for you can be overwhelming. That's why we aggregated data from dozens of trusted review websites and created our very own drugstore eye cream ranking (you can read more about our methodology above).
These weeks of online research led us to RoC Retinol Correxion Eye Cream, which we believe is one of the best all-around drugstore eye creams. This eye cream tackles all of the most common signs of aging and fatigue, from wrinkles to puffiness and dark circles.
That said, RoC isn't the only amazing eye cream out there. A different option might be better for you, especially if you're targeting a specific issue (for example, you sometimes get puffy eyes but are blessed with wrinkle-less skin) or if your skin is sensitive. No matter what you need, you'll be sure to find it in our ranking, so scroll back up if you still need help making up your mind.
RAVE Recommends
Now you're feeling all bright-eyed and youthful, why not continue the pampering, and maybe treat yourself to a night out? Here are some products that will tighten, lift, and illuminate (and a few more that will help you deal with the aftermath!).

Meg Jacobini
Meg Jacobini is a freelance writer based in a small room somewhere in Europe. Her favorite things in life are Chinese Hot Pot and obscure African records. On Saturdays you'll often find her watching the local soccer team lose their umpteenth game.