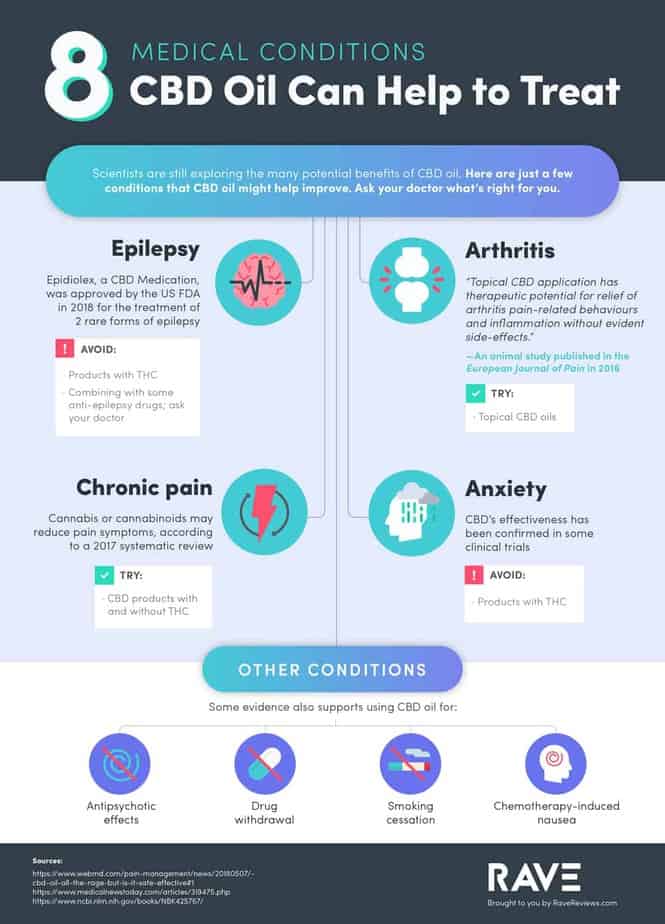 New breakthroughs in the world of CBD oil seem to be happening every day. While cannabidiol (CBD) doesn't have psychoactive properties, it can prove incredibly helpful in treating certain medical conditions. And the good news is, it's available legally in all states.
While scientists are still investigating the efficacy of this oil in different medical conditions, the evidence is piling up. In fact, the first commercial drug to include include CBD was approved by the US Food and Drug Administration in 2018. Epidiolex will be used in the treatment of two rare forms of epilepsy.
CBD has also been shown to be helpful in the treatment of chronic pain. When it comes to arthritis, one animal study published in the European Journal of Pain in 2016 found that "[t]opical CBD application has therapeutic potential for relief of arthritis pain-related behaviours and inflammation without evident side-effects." For other types of chronic pain, as well as chemotherapy-induced nausea, some evidence supports using CBD products — and many patient testimonials also vouch for its usefulness.
Certain types of anxiety, too, can be treated with CBD, according to some criminal trials. It may be more effective when combined with tetrahydrocannabinol (THC), the component in some cannabis products that can have psychoactive effects.
If you're trying to quit smoking or detox from a particular drug, preliminary evidence indicates that CBD may be useful for you, as well.
Not sure whether CBD is a good fit for you? Check out our infographic, and share it with someone you think it might help.
Our CBD Library
– Is CBD Legal?
– The Best CBD Oil for Pain
– The Best CBD Oil for Anxiety
– Best CBD Oil for Vaping
– The Best CBD Oil for Inflammation
– The Best CBD Oil for Dogs
– The Best CBD Oil for Fibromyalgia
– The Best CBD Oil for Cancer
– The Best Overall CBD Oil
– Most Common CBD Uses