We recommend products based on unbiased research from our editorial team. We may receive compensation if you click on a link.
Read More.
Since time immemorial, humans have cared for and lived with animals.
No matter the breed, variety, color, or size, pet owners simply adore their animals. Pets, after all, are treasured members of our families.
From guinea pigs to greyhounds, persians to parakeets, animal owners take enormous care in not only obtaining the best resources for their pets, but also finding places to truly delight in the true joys that animals bring to our lives.
Whether looking for information about which kind of pet best fits your lifestyle or if you need information about the best pet insurance options, pet resources on the web are top-notch and tailored to whatever species you are interested in learning more about.
Maybe you aren't even a pet owner and just love all things animal. There is no lack for entertaining animal antics and heartwarming animal pages. Animal advocacy sites are also active in the digital pet world, giving inspiration to readers who support the causes they are championing.
The top pet websites featured on this list run the spectrum of enthusiastic owners to international pet organizations. Whether it is pedigree or mix-breed, veterinarian advised or owner-to-owner, the animal community's presence online is vibrant, passionate, and fully invested in the care of all creatures.
METHODOLOGY
The selection process for this list of the 50 Best Pet Websites for 2020 was based on triangulated data from current lists at Life Hack, Rover, Top Tere, and Feed Spot along the following criteria:
(1) Pop factor based on traffic, search, and social metrics.
(2) Vet factor based on animal and veterinary health tips and information.
(3) Fun factor based on lifestyle and recreation tips and information.
(4) Fair factor based on sustainability and animal ethics and other best practices for responsible care of pets.
Each rating is calculated on a 25-point Likert scale with a total Rave Meter assigned on a cumulative 100 point scale.
While looking through the list, be inspired by the scope and scale of the sites available. From 1 through 50, this list contains the best and most current sites in the animal community today.
THE BEST PET WEBSITES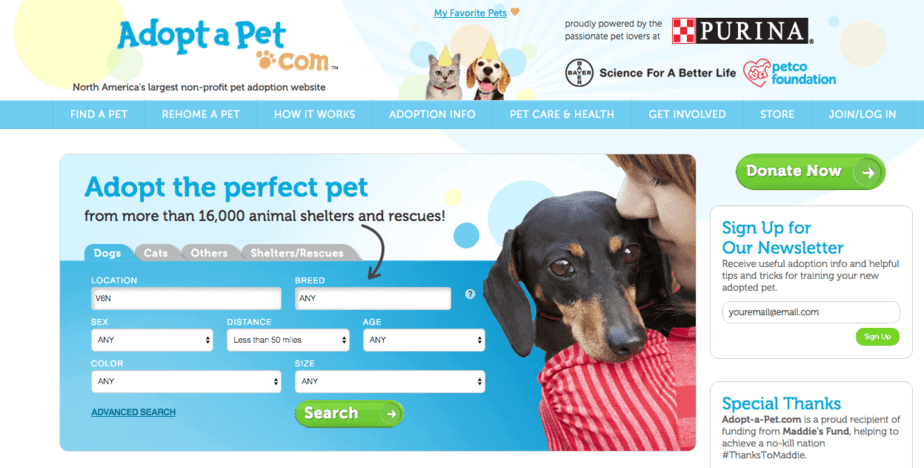 Adopt-A-Pet is passionate about helping connect homeless pets with caring owners. As one of the most expansive non-profit pet adoption agencies, Adopt-A-Pet works together with humane societies, shelters, rescue organizations, adoption groups, SPCA groups and individuals looking to re-home their pets. Adopt-A-Pet makes the adoption process easy for users in any part of the county to find a new animal companion. By providing a common internet forum to advertise homeless pets, in conjunction with television and a toll-free number, Adopt-A-Pet has been a crusader in bringing together animals in need with a loving home and owners. While cats and dogs are advertised, reptiles, farm animals, birds, fish, and many more varieties are included in the Adopt-A-Pet database.
Once the adoption is complete, Adopt-A-Pet has a wealth of support resources to aid owners and promote a long lasting, healthy relationship. With blog articles, manuals, and an active YouTube channel, owners are given insight in pet safety, health, behavior and training by their qualified staff.
Adopt-A-Pet is #8 Top Tere 20 Best Pet Websites. It is #3 SimilarWeb's Top Sites ranking for Pets and Animals > Pets in the world. Their site is also #5 on the Top 100 Pet Blogs And Websites For Pet Owners & Lovers from FeedSpot, making it an all around stellar resource for seeking a new pet or looking to maintain a high quality home environment.
Pop – 5
Vet – 5
Fun – 5
Fair – 5
Rave Meter: 20
VetStreet works to connect pet owners with high quality veterinary care and enable owners with the tools and education to create a happy, healthy and lasting relationship with their pets. Presenting fresh, daily new content and credible information from top trainers, vets, animal experts and owners, VetStreet has a user-friendly feel and a sage amount of insight. Its mix of video content, an Ask the Expert section, a Tip of the Day post, numerous helpful lists and engaging articles are there to teach and affirm the joys of pet ownership. VetStreet also offers their Healthy Pet magazine. Healthy Pet includes features which highlight various celebrities and their pet pals, Cute Pet Photo Contests and another plethora of pet related content for users.
VetStreet is categorized into tabs. Owners can 'Find' top-notch veterinary care in their local neighborhood, 'Learn' about basic animal maintenance and well being and 'Care' for common ailments, research specific health conditions and concerns. Owners are also able to gather insight on how 'Train' or enable better pet behaviors.
VetStreet is the #9 Top Tere 20 Best Pet Websites, listed as #16 on SimilarWeb's Top Sites ranking for Pets and Animals > Pets in the world and is #7 on the Top 100 Pet Blogs And Websites For Pet Owners & Lovers from FeedSpot. VetStreet makes the road to quality pet care simple.
Pop – 5
Vet – 5
Fun – 5
Fair – 4.75
Rave Meter: 19.75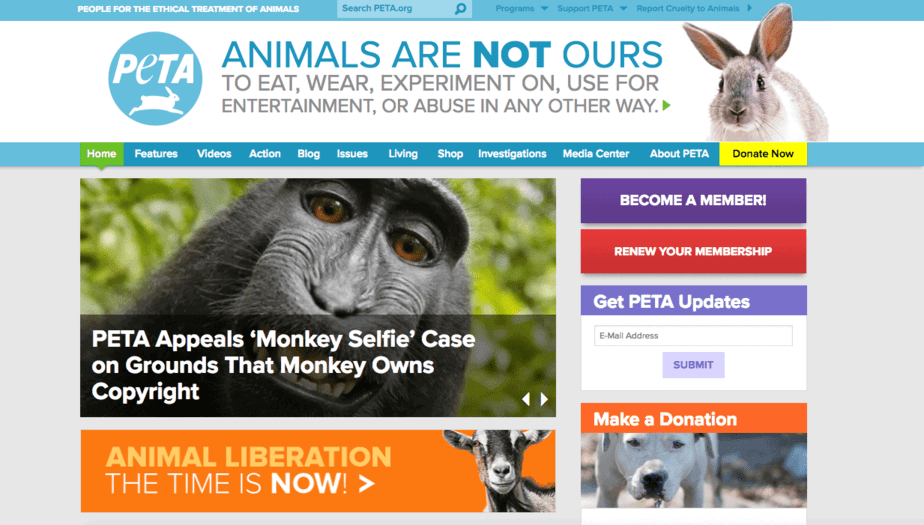 Regarded and commonly recognized as one of the leading voices in animal activism is the non-profit People for the Ethical Treatment of Animals or PETA. PETA was created to give opportunities for positive social change to people who care about animal well-being. The promotion of cruelty-free consumerism and a vegan lifestyle are basic PETA ideals. PETA crusades investigation and public exposure of animal cruelty and abuse through its active donor base, which is full-on internationally.
PETA's website is a comprehensive stop for people who concerned about the goodwill of animals. Here, visitors are able to stay current on animal rights news, read PETA celebrity features, engage in activism campaigns, shop for cruelty-free products in their online store and educate themselves through their extensive glossary of articles and blog postings. One of the most poignant and attention generating sections of their web content is the PETA YouTube Channel, featured in the Video section of the site. With over 1 billion views in 2016, its video messages are a pivotal dimension of the PETA message and educational outreach.
PETA is the #15 Top Tere 20 Best Pet Websites, maintains the #19 position on the LifeHack list of 20 Pet Websites Every Pet Owner Needs To Know and is # 5 on Feedspot's Top 100 Animal Websites And Blogs For Animal Lovers. PETA's website offers premiere information, opportunities and engagement for people committed to animal rights.
Pop – 5
Vet – 4.5
Fun – 4.5
Fair – 5
Rave Meter: 19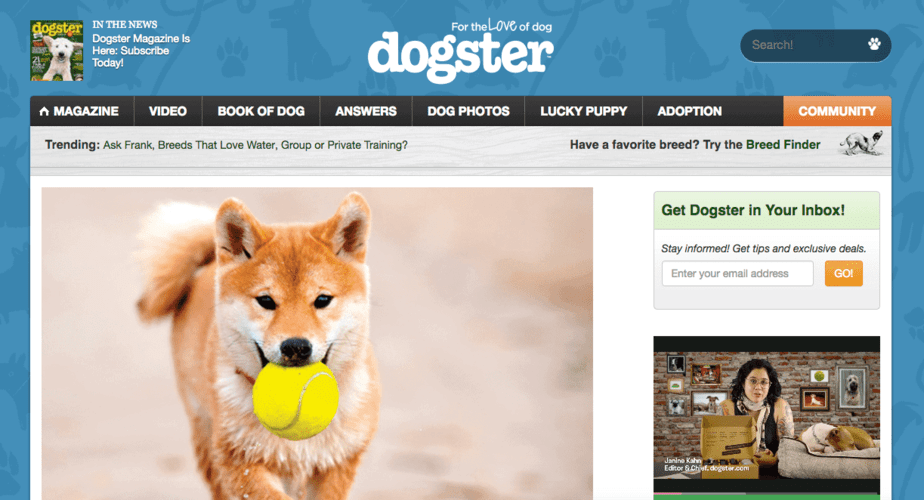 It's in the name: Dogster devotees champion all things canine. This site is our top choice for dog websites, specifically. Dogster seeks to educate, inform, and encourage visitors on how to best care for their dog. It brands a strong point of view toward dog adoption and encouraging patrons to solicit responsible breeders. Weekly website features are from respected vets and trainers. Dogster hosts a bounty of blogs covering all aspects of dog culture and archives a full spectrum of dog know-how, from the silly to serious. With all of this information, Dogster can be a one-stop-shop.
Dogster's site is divided into easy to navigate tabs. Some highlights are its extensive 'Video' gallery featuring original Dogster productions such as The Dog Report, Dogster Obsessions, and The Dog Show. Dogster's 'Answer' tab lets visitors post any question they may have and also search its amassed information. The 'Book of Dog' dishes on dog breeds, health topics, grooming and training. The 'Dog Photos' area gives pointers on how to create the best canine photo op and also gives dog lovers a platform to share shots, from pups celebrating Halloween, yawning or socializing with friends. Dogster also has an active online 'Community' and publishes a six edition per year print magazine.
Dogster is featured as the #17 Top Tere 20 Best Pet Websites and is the #30 on SimilarWeb's Top Sites ranking for Pets and Animals > Pets in the world. It is #3 on the Top 100 Pet Blogs And Websites For Pet Owners & Lovers from FeedSpot. Dogster can answer, entertain, and inspire dog owners and enthusiasts.
Pop – 5
Vet – 4
Fun – 4.75
Fair – 5
Rave Meter: 18.75

The American Kennel Club or AKC is the United States most esteemed registry of pedigreed purebred dogs. It is a non-profit organization that holds considerable influence in dog culture, hosting the National Dog Show, the Westminster Kennel Club Dog Show, and the American Kennel Club's National Championship. These events have been ongoing dating back to 1877 and have garnered the AKC's reputation as a standard of dog authority. The American Kennel Club's website not only provides information about the clubs activities and approved breeders, but also carries maintains the authority.
Divided into tabs, the AKC's clean design lends to a user friendly experience. It gives users the chance to learn more about the specific breeds of the American Kennel Club in the 'Breeds' section and provides registration and support for breeders under the 'Breeder' tab. 'Owners' have resources focused on responsible ownership, health and socialization. All of the Club policies and procedures as well as AKC's 'Events' are available as well. Boasting an extensive 'Shop' with exclusive AKC merchandise, the AKC website may be tailored to clientele who are members, but offers resources that any dog lover will appreciate, click and return to.
The AKC is holds the #1 Top Tere 20 Best Pet Website standing and is #4 on SimilarWeb's Top Sites ranking for Pets and Animals > Pets in the world. Taking information from one of the most established dog organizations is a popular choice among dog devotees.
Pop – 5
Vet – 5
Fun – 3.5
Fair – 5
Rave Meter: 18.5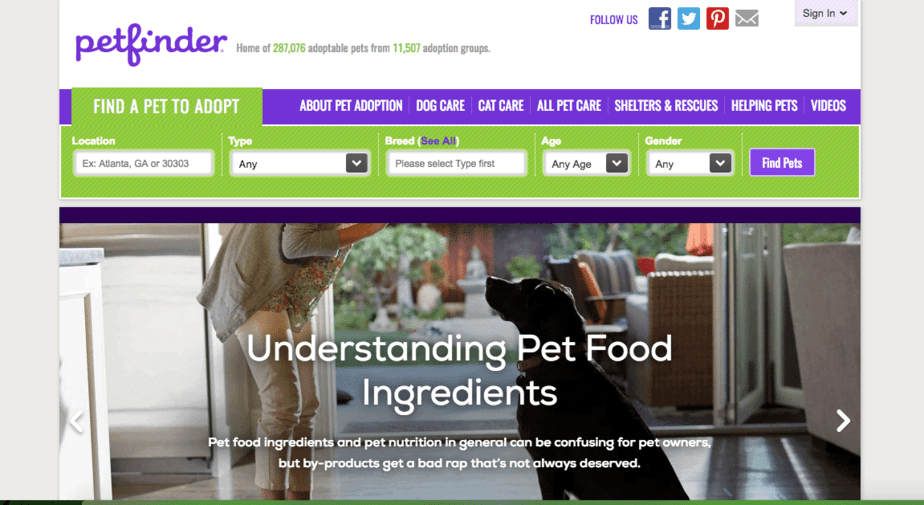 Boasting a 20 year history with over 25 million successful pet adoptions, Petfinder connects high quality, waiting to be adopted pets with new homes and owners. By providing an easily searchable database for patrons to network with over 14,000 adoption agencies and pet shelters, Petfinder has worked hard to promote its goal of ending the euthanasia of adoptable animals. Updated daily and now established in the United States, Canada and Mexico, Petfinder lists dogs, cats, rabbits, birds, reptiles, farm animals, and more.
In addition to its adoption platform, Petfinder provides a welcoming, connective, community feeling space for all pet lovers. Its site shares heartwarming stories of successful pet and human matches, has a lengthy resource section of articles, videos and blog content devoted to tip-top animal care. It also informs visitors of opportunities in animal foster care, connects them with volunteering options in shelters and organizations and even provides pointers on how to start personal pet-adoption organizations. Message boards are also available to keep communication high among visitors. The Petfinder Foundation is another initiative which adds dimension to the mission of the site, giving support and resources to shelters and organizations. All in all, Petfinder works diligently to give greater exposure to animals in need of homes.
Petfinder is #5 on the Top Tere 20 Best Pet Websites and is #1 on SimilarWeb's Top Sites ranking for Pets and Animals > Pets in the world. Petfinder's organized database in conjunction with its commitment to supporting shelters make it a unique stop on the web.
Pop – 5
Vet – 4.5
Fun – 4.0
Fair – 4.5
Rave Meter: 18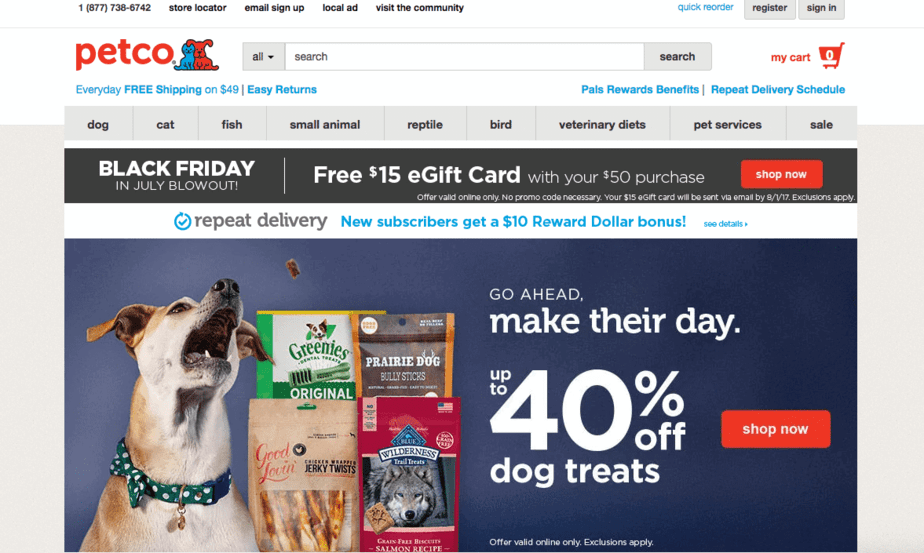 Carrying the mantra of 'Healthier Pets. Happier People. Better World,' Petco is one of the most recognizable names in pet retail. With stores in the US, Mexico and Puerto Rico, Petco is simply synonymous with pet care. Its online presence is no exception, showing its bandwidth not only as an online retailer, but so much more. Providing high caliber resources in pet care and boasting an online community of over 22,000 members, Petco provides information with a human connection.
Petco's care for animals is measured and shown in its commitment to the animal community. A leader in-store pet adoptions, Petco also hosts many in-store events for the whole family. Pet training classes, grooming facilities, veterinary care and even pet sitting can be researched and reserved through their website, adding to its value as a comprehensive stop. Petco and the Pet Care Trust have teamed up to facilitate pets visiting, educating and even finding permanent homes in local school classrooms. The Petco Foundation is the main framework for Petco's adoption facilitation, giving resources to assist in successful adoptions and sharing stories of happily paired companions.
Petco is ranked as #6 on Top Tere's 20 Best Pet Websites and is the prized #1 spot on the Top 100 Pet Blogs And Websites For Pet Owners & Lovers from FeedSpot. A visit to Petco's website will connect you will online retail and neighborhood resources, as well as an online network of pet lovers.
Pop – 5
Vet – 4.5
Fun – 4
Fair – 4.25
Rave Meter: 17.75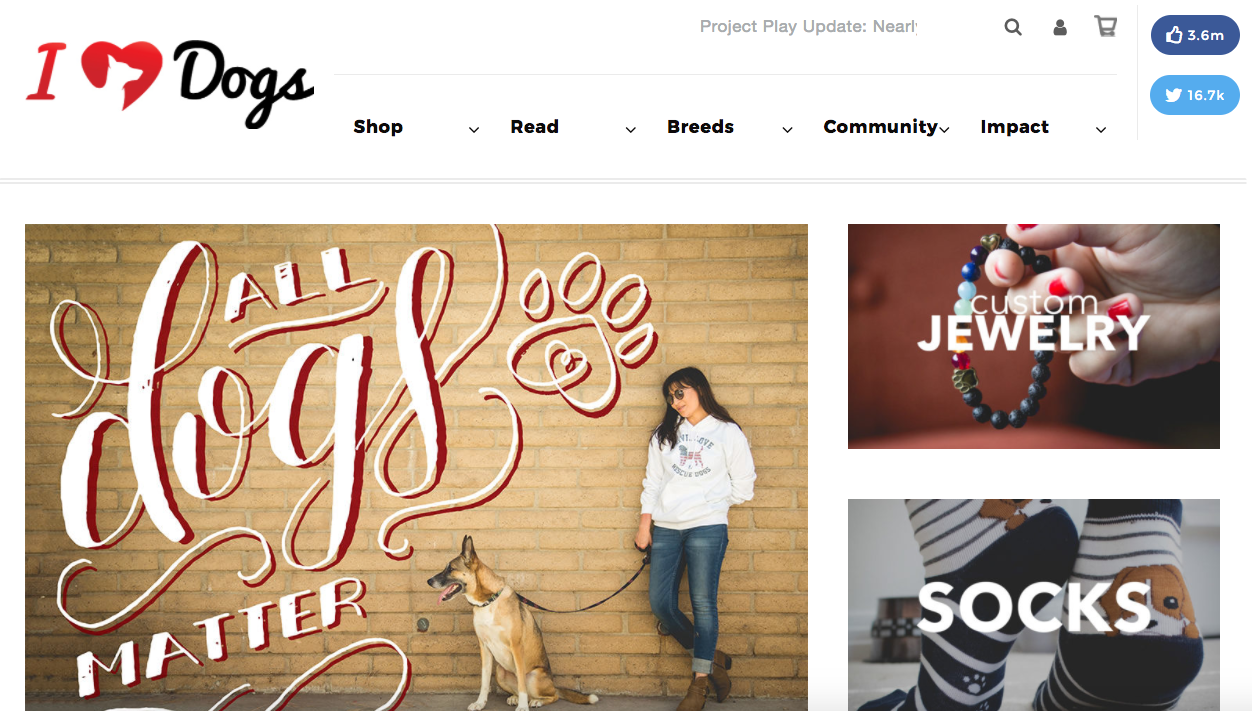 Founded on the motto that 'Every Dog Matters' I Heart Dogs began as a Facebook page only two years ago. Seeking to support shelter dogs, every product sold on I Heart Dogs was valued with a certain number of meals which were then donated to dogs in need. Compassionate consumers ignited the concept and since its launch over 7 million meals have been happily received by dogs over the United States. Now with a full website in addition to active social media and Facebook accounts, I Heart Dogs carries merchandise spanning clothing (human and canine), pet supplies and health care items, housewares, and jewelry.
Extending beyond retail and shelter meal support, I Heart Dogs educates and provides a caring community of canine lovers. With a 'Read' section featuring health articles and information, stories both endearing and humorous, dog lifestyle topics and even online dog training, I Heart Dogs feels modern, young and is extremely user friendly. The 'Breeds' tab provides a wealth of information for users. Not to be overlooked is the popular forum area which connects visitors to through special interest topics and Q & A's. The site features continuous updates tallying the always expanding outreach efforts of the I Heart Dogs community, which creates a feeling of teamwork and enthusiasm on the site.
I Heart Dogs is the #2 spot on the Top Tere 20 Best Pet Websites and is #8 on SimilarWeb's Top Sites ranking for Pets and Animals > Pets in the world. When each purchase helps feed a dog in need, it is easy to see why the dog community loves I Heart Dogs.
Pop – 5
Vet – 4
Fun – 4
Fair – 4.5
Rave Meter: 17.5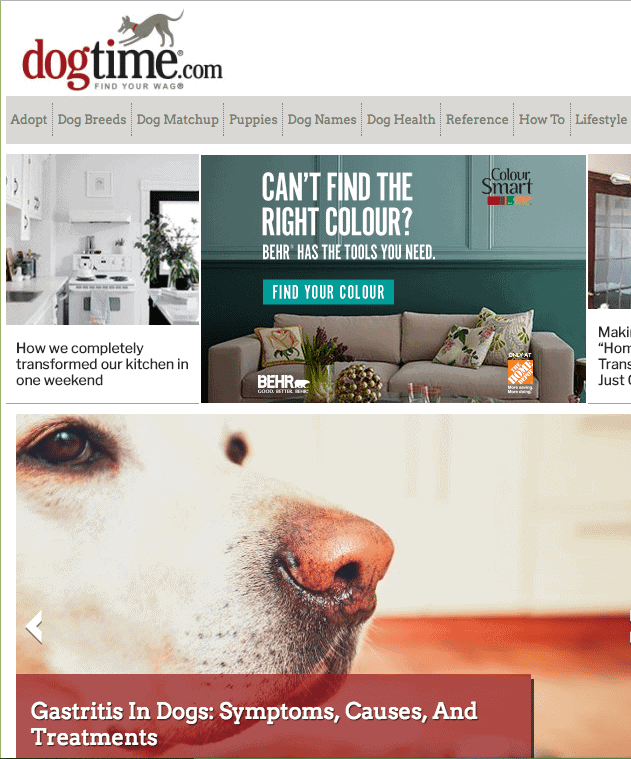 Dogtime truly does cover all things dog. From current events in canine culture to advice and insight. Supplied by stellar team of veterinarians, specialists, trainers and behaviorists, Dogtime's site is packed to the brim with content. Want to know more about pure or mixed breeds? Check out the amazing profile glossary. Looking to adopt? Try their Adoptable Animal Finder. Need a laugh? Check out their photo gallery and video library. Reviews, questionnaires and lists are also prominent on the site, ranging from eco-friendly dog beds to the Dog Matchup Tool.
Dogtime has special sections specific to life with a puppy, giving new owners a comprehensive foundation to research and scour. Having a hard time with your new pal's name? Dogtime not only offers lists of the Top Dog Names, but also specifies names according to breed, theme and sex. The popular Dear Labby advice column, information on dog laws and travel, keeping your house clean with a canine pal and ideas for throwing the best doggone party for your four legged friend are all on this site.
Dogtime is the #3 site on Top Tere 20 Best Pet Websites and is #6 on SimilarWeb's Top Sites ranking for Pets and Animals > Pets in the world. A wealth of information, both educational and quirky, surprising and extensive, Dogtime is worth your time.
Pop – 5
Vet – 4
Fun – 4.25
Fair – 4
Rave Meter: 17.25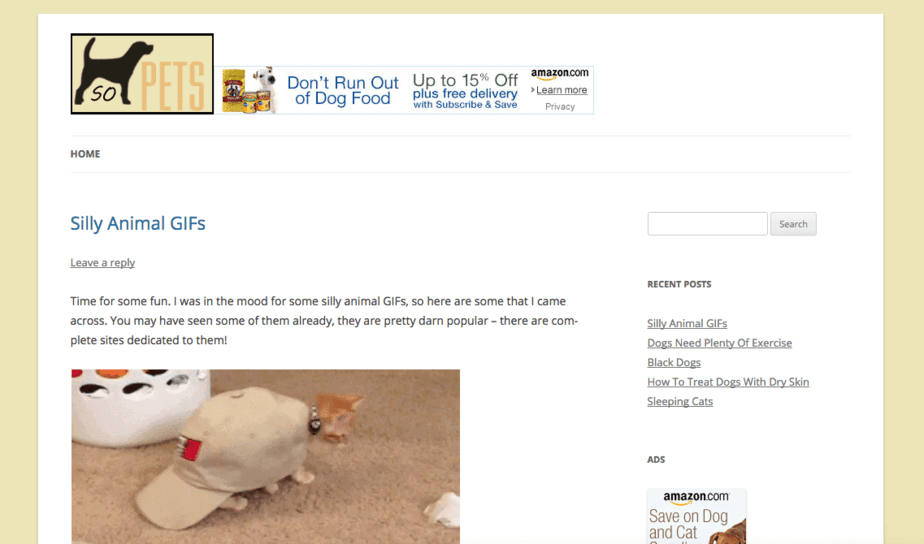 There are few things that can charm a broad and diverse audience more than animal pictures. Whether a video, still shot, gif, or meme, watching animals interact with the world has an almost universal appeal. Cue and enter the website So Pets, a UK based page that collects and showcases beautiful animal pictures, animal gifs, memes, and simultaneously shares some great advice for pet care. Scrolling through So Pets, visitors are bombarded with vivid images running the spectrum from animals raw, natural beauty to their silly and zany antics. Interspersed are articles about everything a pet lover might be interested in, from taking care of aging dogs to keeping your pet cool in the summer. Simple articles matched with high quality photographs make scrolling through So Pets a relaxing and uplifting way to spend time.
So Pets is a clean and clearly designed site. With options to search through archives dating back to 2015 or search via category or popular tag, readers can access content quickly. Whether you are a pet owner, enthusiast or just casual fan, time can fly scrolling through So Pets.
So Pets has a strong fan base and is the #1 site on the LifeHack list of 20 Pet Websites Every Pet Owner Needs To Know. Check it out for its images, some stunning and some plain charming, but all showing the joys of pets.
Pop – 5
Vet – 4
Fun – 4
Fair – 4
Rave Meter: 17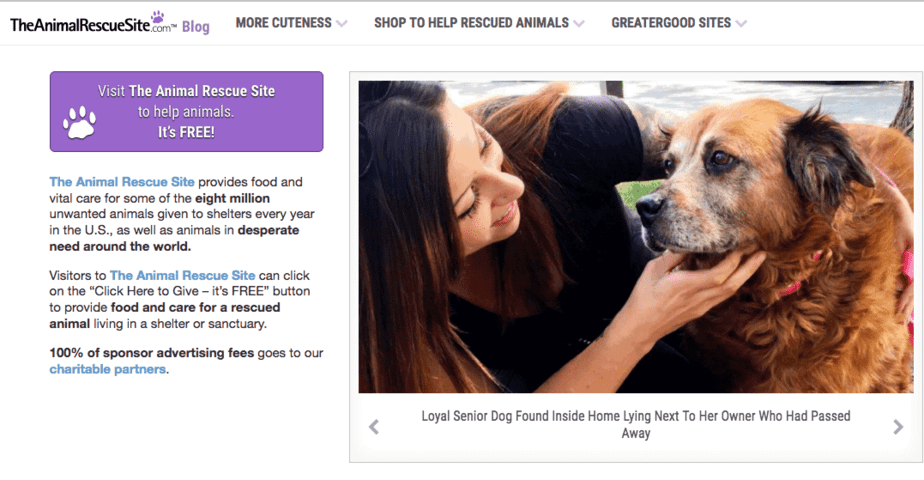 A member of the Greater Good online community of activism sites is their animal division, The Animal Rescue Site. Online patrons support The Animal Rescue Site by clicking on the daily 'free contribution button' which generates ad revenue that is 100% donated to the sites initiatives. Patrons are also able to make separate donations and contribute by purchasing merchandise from its online store, which features animal themed items. These simple actions engage visitors in the mission of The Animal Rescue Site, which is to provide food and vital health to unwanted animals in shelters around the world.
In addition to The Animal Rescue Site's online store and fundraising opportunities, features on the site such as 'Rescue Stories,' 'Hilarious Pets,' 'Pet Health' and 'Recall Alerts' keep visitors returning to the site and informed. Its blog highlights inspirational stories of pet rescue and transformation. With enticing titles and catchy images, it is easy for animal lovers to be drawn into the stories highlighted on The Animal Rescue Site.
The Animal Rescue Site holds the pinnacle #1 spot on Feedspot's Top 100 Animal Websites And Blogs For Animal Lovers. With a daily incentive to return and a heartwarming story just another click away, The Animal Rescue Site is an easy spot to visit and peruse online.
Pop – 4.75
Vet – 4
Fun – 4
Fair – 4
Rave Meter: 16.75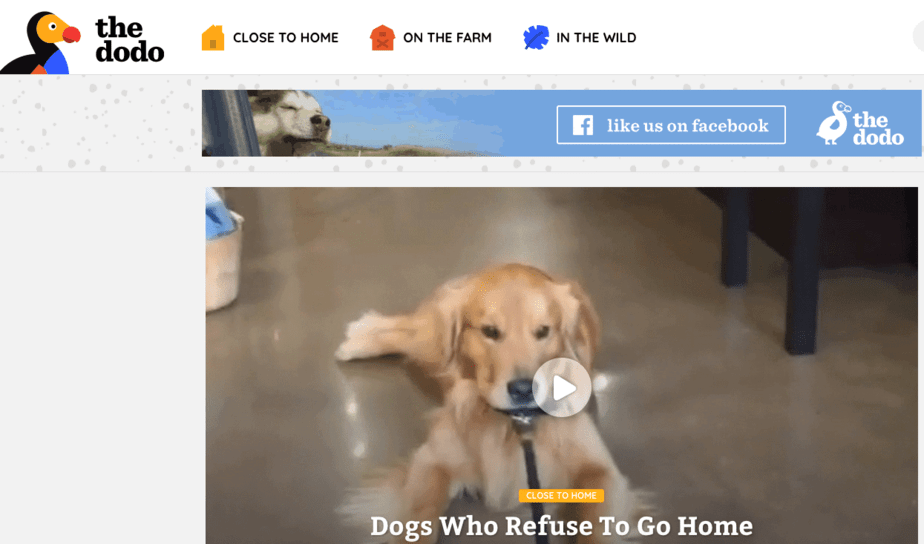 The Dodo was founded as a destination hub of highly engaging animal content. Showcasing videos and stories, The Dodo wants to tap into the natural ways animals create emotional responses in humans and give its visitors high-value interaction with animal content. Designed for people who love animals, The Dodo is splashy, highly-shareable and easy to interact with. As animal enthusiasm is built through The Dodo's stories and videos, opportunities for advocacy and involvement are offered through The Dodo Impact. Given that animal content is some of the most highly shared on social media and that animal welfare is more and more central in people's minds, The Dodo brings it all together.
The Dodo's website is categorized simply. Animal content is divided into the three tabs of 'Close to Home' 'On the Farm' and 'In the Wild.' 'Close to Home' features heartwarming videos and stories about dogs helping other dogs, cats playing in packing peanuts and tips for keeping your pet safe during holiday festivities. 'On the Farm' has highlights from goats doing yoga to a therapy chicken who wears a tutu. The 'In the Wild' tells stories of a goose family being brought to safety on a busy highway and videos of a rescue otter sucking its thumb. The Dodo knows how to draw on human emotion and its highly curated, fresh content makes falling for animals and being brought into their stories easy.
The Dodo is the #20 space on Top Tere's 20 Best Pet Websites. It is also #2 on Feedspot's Top 100 Animal Websites And Blogs For Animal Lovers.
Pop – 4.5
Vet – 4
Fun – 4
Fair – 4
Rave Meter: 16.5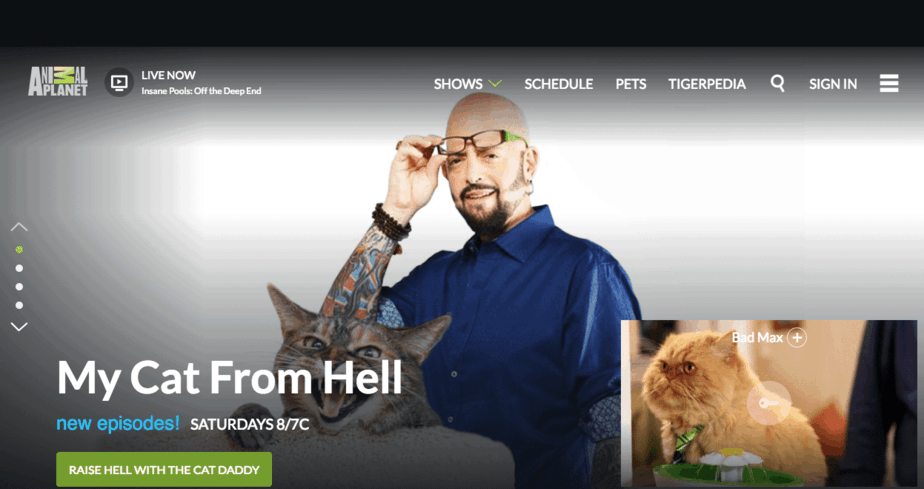 Known by its mantra 'Surprisingly Human' is the Animal Planet. Known as a cable television network, Animal Planet has a large online presence as well. Its website is a shining spot to stop and learn more about Animal Planet's educationally based animal shows. A few of Animal Planet's hits are Pit Bulls & Parolees, My Cat From Hell, Too Cute, and The Vet Life. Watching unlocked episodes online or referencing the online schedule to tune in at home is entertaining and informative entry level for learning more about a specific species of animal. Animal Planet focuses primarily on reality television. Its famed annual Puppy Bowl, a friendly canine field showdown coinciding with the Super Bowl, is a highlight for dog lovers everywhere.
Animal Planet also has a variety of information on its website to support and educate pet owners. Focusing primarily on dogs and cats, Animal Planet has handy guides to pet ownership, question and answer sections, breed selectors and plenty of other information to make pet ownership less complicated. Animal Planet also highlights its Tigerpedia section. Focusing on all things tiger, Tigerpedia has photo galleries, infographics, and plenty of fast facts and information to help educate visitors and provide resources to aid in tiger rescue efforts.
Animal Planet is #16 on the LifeHack list of 20 Pet Websites Every Pet Owner Needs To Know
and it is #3 on Feedspot's Top 100 Animal Websites And Blogs For Animal Lovers.
Pop – 4
Vet – 4
Fun – 4
Fair – 4
Rave Meter: 16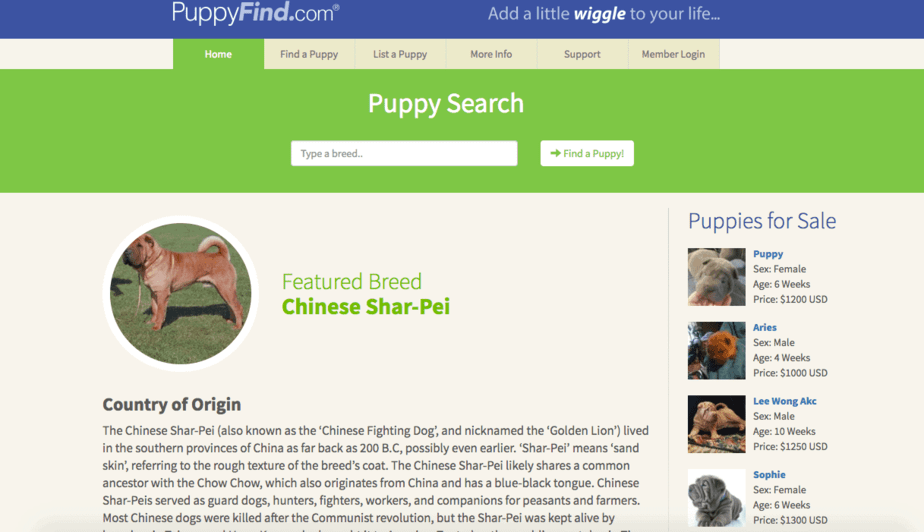 Looking for a first puppy? Or maybe a second or third? PuppyFind could be a resource for you. With over 100,000 active sale agents representing over 50,000 puppies, PuppyFind is well sourced with canine pals and agents who are looking to find forever homes for their pups. PuppyFind gives users a simple and easy way to research, search and find the perfect puppy match. Using their website, patrons can peruse their extensive directory of dog breeders, adoption agencies and personal puppy sales from private parties. Once your puppy has been found, worldwide shipping is available in some cases. PuppyFind is straightforward and easy to navigate.
PuppyFind's patrons and agents are matched together using a bulletin board style layout. 'Find a Puppy' and 'List a Puppy' are the main options tabs for users to navigate on their website. Searching for puppies is done alphabetically by breed and an extensive breed profile is shown to users to make sure this is their perfect selection. To list a puppy either with an organization or as an individual owner is a free service and listings have the potential of being viewed by over 80,000 visitors a day.
PuppyFind is steady as the #14 Top Tere 20 Best Pet Websites and is also listed as #7 on SimilarWeb's Top Sites ranking for Pets and Animals > Pets in the world.
Pop – 4
Vet – 4
Fun – 4
Fair – 3.75
Rave Meter: 15.75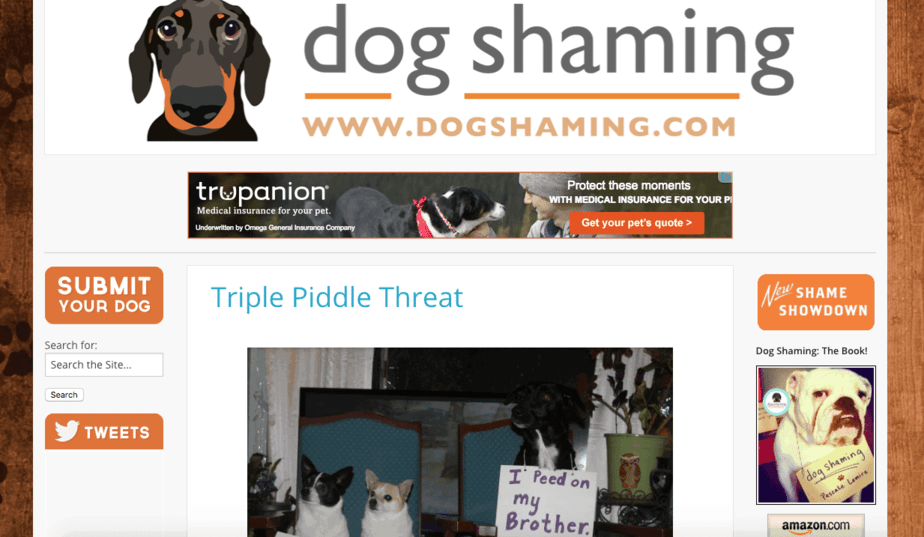 How do owners react when they catch their canine pals behaving badly? Public internet shaming seems to be a popular choice given the success of the Dog Shaming site. Pascale Lemire started the internet phenomenon and popular hashtag in dog culture by accident. She simply caught her Dachshund Beau munching on her financees boxer shorts and snapped a picture of his guilty face with a handwritten caption confessing his mischief underneath. Posting it to her personal site, she had a viral hit and a legion of engaged followers almost immediately. Dog Shaming soon launched into its own site and receives so many submission from other naughty doggies, there is a three to four month backlog before your submission is considered for the main page. The combination of cuteness and comedy is the winning formula for your dog submission to receive public shaming.
A daily photo of shame is the center of the Dog Shaming site and a hearty archive of past shameful hilarity is available to click through. Dog Shamer's can utilize one of the many social media accounts to get their daily dog confessional or just visit Lemire's guilty pleasure in the animal community.
Dog Shaming is #17 on the LifeHack list of 20 Pet Websites Every Pet Owner Needs To Know and maintains the #14 spot on Feedspot's Top 100 Animal Websites And Blogs For Animal Lovers.
Pop – 4
Vet – 3.5
Fun – 4.5
Fair – 3.5
Rave Meter: 15.5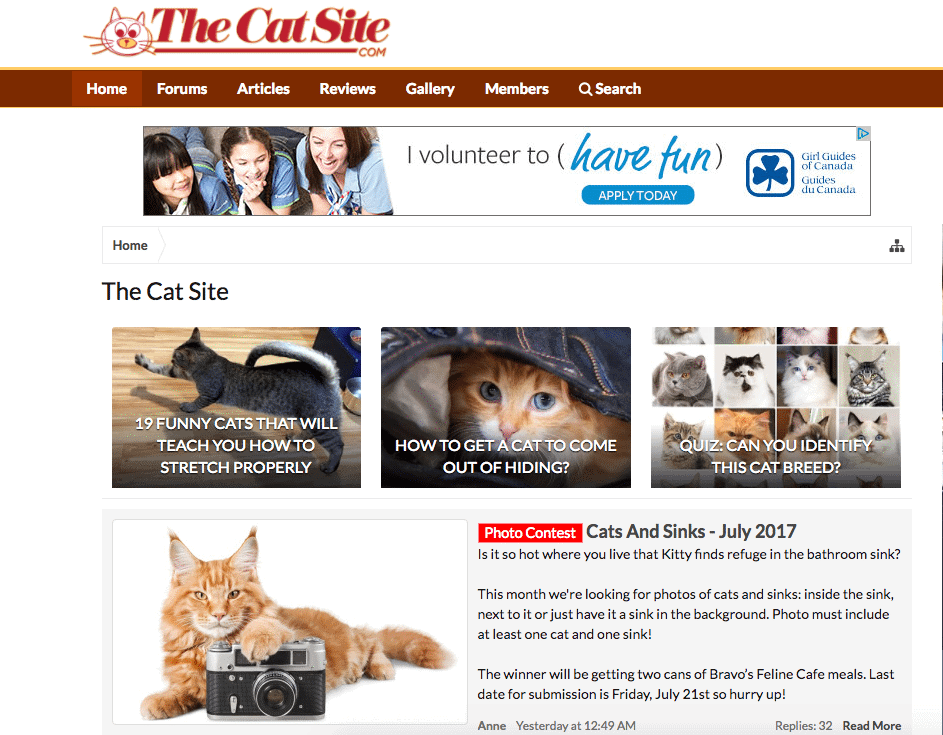 Created in 2000, The Cat Site takes cat care seriously. Intentionally avoiding a overarching focus on cat humor and cat entertainment posts, The Cat Site instead focuses on educating its readers on cat care and the promoting the welfare of their feline friends. This alone differentiates The Cat Site from the many other cat websites. With over 110,000 members in their registry and over 2 million page views per month, The Cat Site has become a destination for cat owners seeking education and cat knowledge.
The Cat Site's dual aims of creating a comprehensive stop for cat care information and also curating a robust community of cat owners is evident. Its website is straightforward and user friendly, with tabs for 'Forums', 'Reviews', 'Articles', 'Gallery' and 'Members.' Do you need chew toy recommendations? Or maybe want to read some reviews of the newest flavor of canned cat food that you saw at your local store? The Cat Site has you covered and its commitment to cat care content is only growing.
The Cat Site is #19 on Top Tere's 20 Best Pet Websites. The Cat Site is also #25 SimilarWeb's Top Sites ranking for Pets and Animals > Pets in the world. Spend some time perusing through The Cat Site and see why so many people choose this site as one of their bookmark classics.
Pop – 4.5
Vet – 4
Fun – 3.25
Fair – 3.5
Rave Meter: 15.25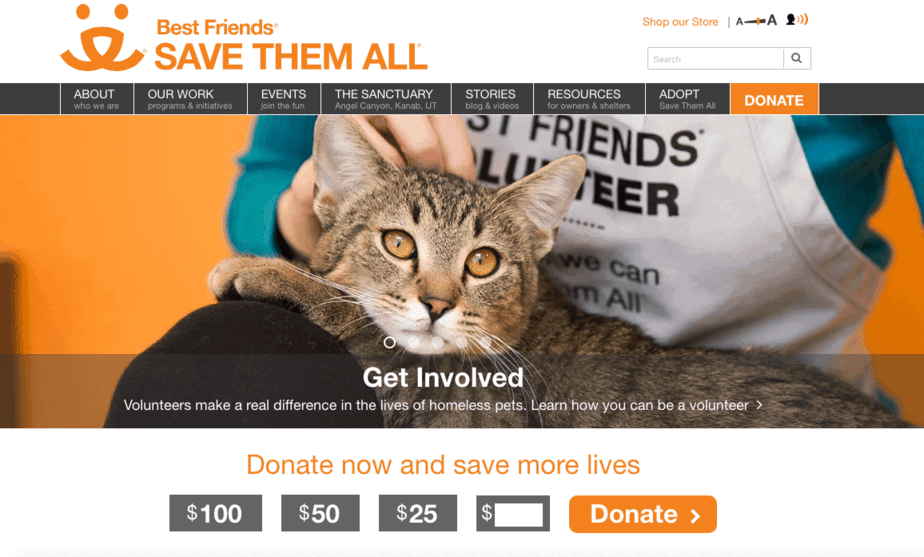 Best Friends Animal Society began as safe haven for unwanted pets on the brink of being euthanized. A group of committed animal lovers in 1984 knew that given proper care and a bit more time, many of animals who were scheduled for euthanasia could be successfully placed in homes and live long lives. This earnest care and commitment is what began the Best Friends Animal Society. Divided into its Utah Sanctuary, a 20,000 acre land haven for companion animals and its regional no-kill shelters in Los Angeles, New York, Atlanta and Utah, Best Friends champions the motto Save Them All. A quarter of a million citizens are members of the Best Friends Society community.
The Best Friends website is filled with information about their important work and gives visitors a chance to understand the roots of the organization. It also shares their extensive adoption events and gives details of how to visit the jewel of the society, their Utah animal sanctuary. Opportunities to support the organization from monetary to time and energy are listed as well as plenty of stories of successful adoptions. Don't miss the photo and video gallery.
The Best Friends Animal Society is #20 on the Top 100 Pet Blogs And Websites For Pet Owners & Lovers from FeedSpot. Best Friends is also #21 on Feedspot's Top 100 Animal Websites And Blogs For Animal Lovers.
Pop – 4
Vet – 3
Fun – 3.5
Fair – 5
Rave Meter: 15.5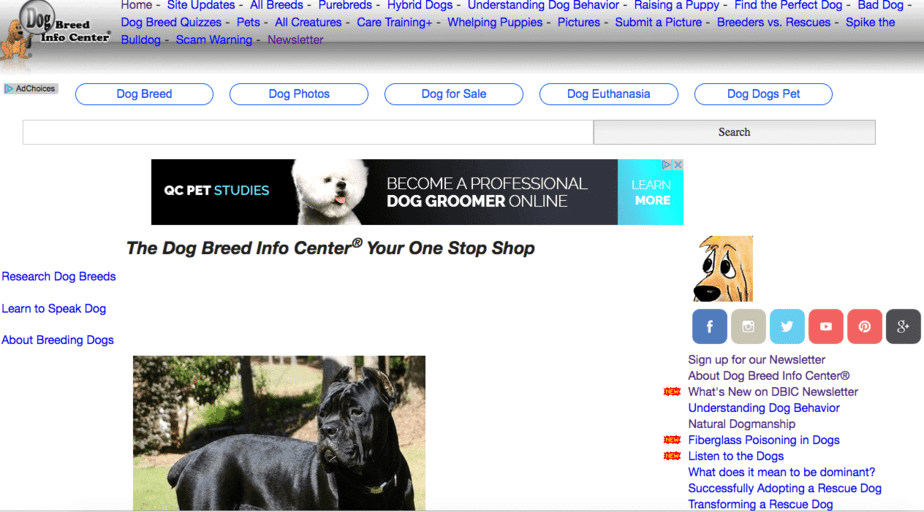 The Dog Breed Info Center is an accessible and informative site, filled with plenty of information for dog owners to peruse. The Dog Breed Info Center is set up to inform and educate owners. Started in 1998, the site particularly promotes a philosophy of 'natural dogmanship.' This is where owners are keyed into to communicating with dogs using the dog's own language. It is also understanding how dogs innately behave and interact with other dogs. When owners understand and can work with their pets natural behaviors, a happier relationship occurs.
The Dog Breed Info Center has an extensive library of content. Beyond researching dog breeds, natural dogmanship and understanding how to best care for your dog, The Dog Breed Info Center gives excellent advice for new and experienced dog owners. How do you handle a jumping dog? Is there a proper way to walk a dog? Do you need tips on successfully adopting a rescue dog? All of this and more are found on their website or in their popular e-newsletter. Dog photos, dogs that are available for sale and dog breed quizzes are also part of the know-how at The Dog Breed Info Center.
The Dog Breed Info Center is the #12 ranked website on Top Tere's 20 Best Pet Websites. It is also #37 SimilarWeb's Top Sites ranking for Pets and Animals > Pets in the world. With easy to follow content and a owner to owner feel, The Dog Breed Info Center is a nice stop on the web.
Pop – 3.25
Vet – 4
Fun – 4
Fair – 4
Rave Meter: 15.25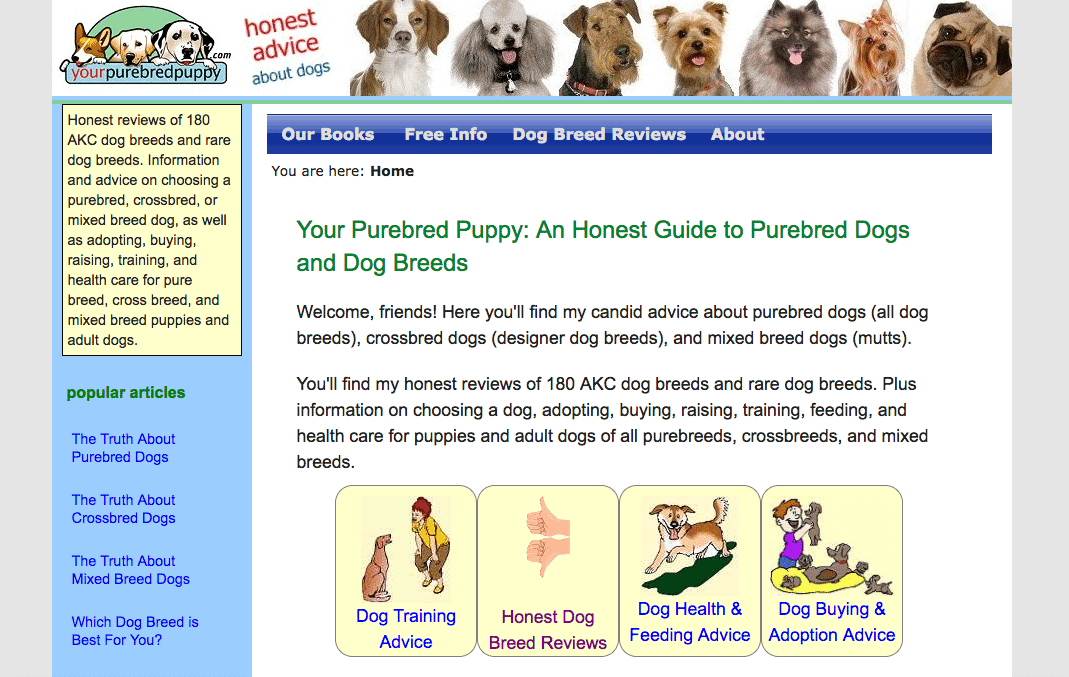 A friendly and welcoming feel emanate from Your Purebred Puppy, a website run since 2000 by Michele Welton. As an dog breed advisor, dog trainer, dog author, and all around dog enthusiast, Welton runs her site with her honest insight from her decades of experience with dogs guiding the conversation. Instead of textbook answers, visitors to Your Purebred Puppy get her sage advice and guidance for understanding and making dog decisions. Written in a conversational tone, Michele communicates easily and does not hold back in her candid assessments of specific breeds. This honest counsel and advice based on real-life interactions differentiates Your Purebred Puppy from other canine sites.
Your Purebred Puppy is divided in easy to navigate tabs. In the 'Free Info' section, visitors can read about dog training, finding a good dog or dog health care and feeding. In the 'Dog Breed Reviews,' visitors can read Michele's positive and negatives about breeds, based on her interactions and research. From tiny sized to giant, Michele really knows a lot about dogs. She also includes many more casual observations about dogs, which give readers a bit more of a well-rounded understanding of breed specifics. A well stocked Q&A area and links to articles and books available for purchase on Your Purebred Puppy as well.
Your Purebred Puppy holds the #18 spot on Top Tere's 20 Best Pet Websites and is #45 SimilarWeb's Top Sites ranking for Pets and Animals > Pets in the world. For advice about dogs that shares the good, the bad and the unique and feels like you are talking to a trusted friend, stop by Your Purebred Puppy.
Pop – 3
Vet – 4
Fun – 4
Fair – 4
Rave Meter: 15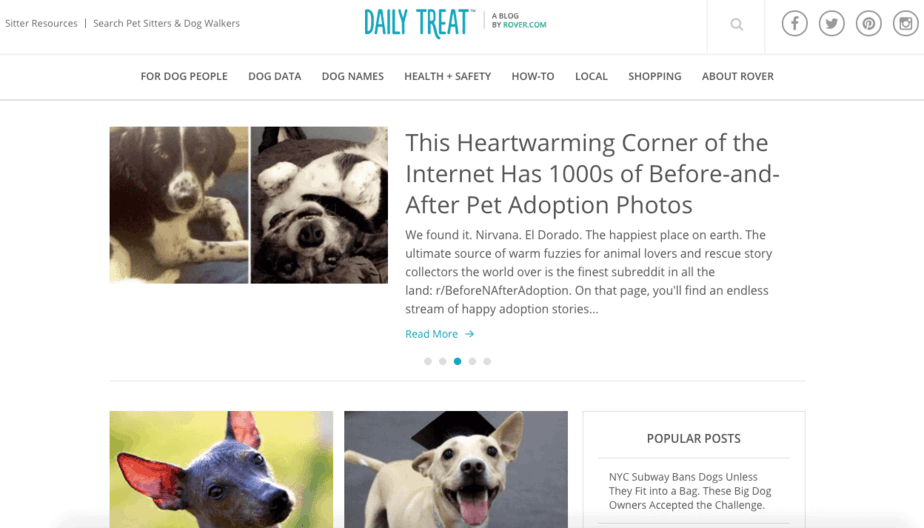 What does a dog owner do when they need doggy day care or must travel without their dog pal? For this and a myriad of other care needs, they can turn to Rover. Rover is the premiere dog sitting, dog walking and at home dog boarding service. Committed to connecting top notch quality care, Rover accepts less then 20% of its potential caregivers, giving pet owners the peace of mind that they are receiving stellar service. Caregivers not only have background checks, insurance and personal reviews, but Rover also provides continuing education opportunities and 24/7 support. With caregivers in over 10,000 cities and 95% of its reviews as 5 star, booking at Rover is a great choice.
On Rover's site is the hugely popular blog The Daily Treat. Filled to the brim with quizzes, community posts, dog current events, videos and so much more, The Daily Treat in combination with Rover's booking services is a destination stop on the web. Do you know how to survive the first 24 hours with your new puppy? Or have you seen the hilarious video of the dog who won't leave the pet store? With a fresh, clean design and plenty of enticing and engaging option to look through, The Daily Treat is a daily read for many in the dog community.
The Daily Treat, formerly known as the Dog Vacay blog, is listed at the top of the list as #2 on the Top 100 Pet Blogs And Websites For Pet Owners & Lovers from FeedSpot.
Pop – 4
Vet – 3
Fun – 4.75
Fair – 3
Rave Meter: 14.75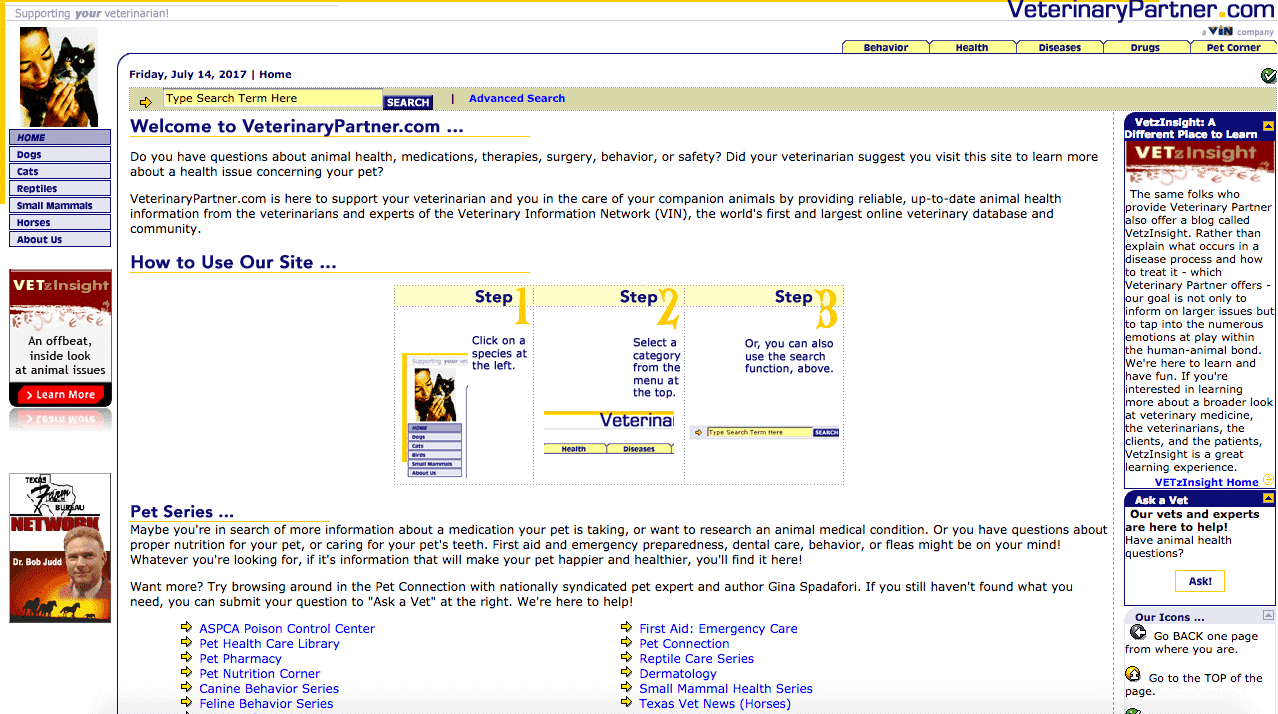 A trusted go-to resource for pet owners is Veterinary Partner. An extension of the highly regarded Veterinary Information Network, Inc. First established in 1991, the Veterinary Information Network is a worldwide and interactive community of veterinarians, vet students and vet industry insiders. A service to its clients, Veterinary Partner was designed specifically to provide clients and owners the education and information they need to keep their pets living to their fullest potential. Established by leading veterinarians and prolific authors, Veterinary Partner seeks to give the most thorough and up to date information to pet owners. With even more detail and candid pet conversation is VetzInsight, a blog that is the work of both VIN and Veterinary Partner.
Organized simply, this no-frills site offers tabs on behavior, health, disease, drugs and a pet corner. In each of these, a table of contents keeps searching for specific information easy and user friendly. The pet corner addresses the how to help pets best during holidays, pet loss and stories of pet life. If a visitor is concerned about a specific species a sidebar helps navigate to that information as well. With its strong user base of veterinarians all over the world and sheer amount of information, a visit to Veterinary Partner site and its blog is an easy and informative experience.
From cat care to vaccination schedules, dog anxiety to pet anesthesia, Veterinary Partners and its blog offers straightforward wisdom, with a no-nonsense approach.
Veterinary Partner is on the Spruce list of Top Websites for Veterinary Advice.
Pop – 2.5
Vet – 4.25
Fun – 3.5
Fair – 4.25
Rave Meter: 14.5
PetSmart loves pets and works hard to provide a myriad of products and support resources to pet owners across the county. With over 1500 retail stores and a robust online presence, PetSmart seeks to not only serve their customers, but also the animal community. PetSmart offers training, boarding, grooming as well as day-camps and in-store adoption services. Some of these services can be researched and booked through their website. PetSmart's website appeals to those wanting to research and shop for specific products to support their pet. It is easy to compare products and make sure that pet owners are smartly choosing what is best for their pet.
PetSmart cares about finding homes for all adoptable animals. Their website is a perfect place to learn more about PetSmart Charities and the work they do. PetSmart works to promote and educate about the importance of spay and neuter clinics. They also provide small grant funding to animal welfare organizations in support of their animal advocacy initiatives. Adoption is a huge source of attention for Petsmart. Each year PetSmart Charities finds homes for over 500,000 cats and dogs. PetSmart's current charitable effort is the Buy A Bag, Give A Meal program, where each purchase of any dog or cat food online or instore is matched by a donated meal from PetSmart to a shelter animal in need. This program is projected to donate 60 million meals in the United States and Canada.
PetSmart is #4 on Top Tere's 20 Best Pet Websites. A savvy stop on the web, PetSmart is a stop for caring consumers.
Pop – 3.25
Vet – 3.75
Fun – 3.75
Fair – 3.5
Rave Meter: 14.25
Developed by the Cornell University College of Veterinary Medicine, Partners in Animal Health was launched in 2005 and is run by faculty and animal experts affiliated with Cornell University. The site is lauded for its educational materials for veterinarians and pet owners. Sponsored through Cornell University's Department of Continuing Education, Partners in Animal Health is dedicated to the health and well being of animals. Its content is specific, thorough and from trusted experts in the field of veterinary science.
The Partners in Animal Health website contains simple categories of Resources for Veterinarians and Resources for Pet Owners. Veterinarians can choose between subfields of Avian, Bovine, Canine and Other. Demos on peripheral nerve blocks in dogs, an atlas of bovine pathology by disease and surgical scrubbing and gloving are addressed. For owners, Home Health Care for Cats and Medical Conditions are the subfields. Here topics ranging from giving your cat liquid medications to caring for your diabetic cat are discussed. If any of these topics are what you are seeking answers to on the web, Partners in Animal Health will give you highly reputable answers from experts at the highest level in their field.
Partners in Animal Health makes The Spruce list of Top Websites for Veterinary Advice. Its easy to navigate layout and special interest topics make it a easy reference for pet owners and vets around the world.
Pop – 2.5
Vet – 5
Fun – 3
Fair – 3.5
Rave Meter: 14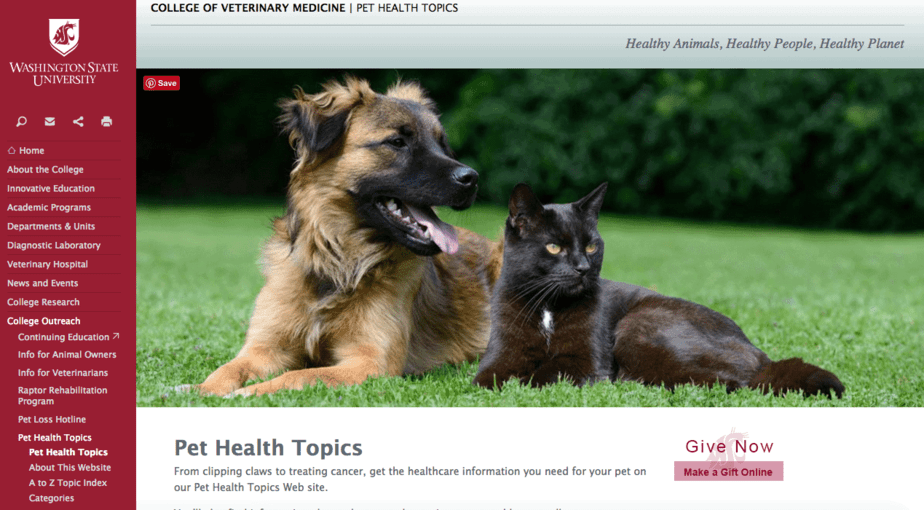 Washington State University's College of Veterinary Medicine maintains a webpage the has a multitude of information for pet owners and veterinarians alike. Focused on preventative care and for owners to us in conjunction with personal veterinary care, Washington State University's Pet Health Topics is packed with information useful to those who care for animals. Its comprehensive A to Z Index of Pet Health Topics provides articles about everything from hypothyroidism in cats to the musculoskeletal system of dogs.
WSU's Pet Health Topics is easy for a user to navigate. Beyond the A to Z index, users can also do their research based on categories like procedures, common problems, diseases, miscellaneous health care topics and anatomy. The anatomy section is particularly well presented, with graphics and thorough descriptions. Owners looking for a better understanding of their pets will find this section accessible and ultra informative. While the website is a free service of Washington State University, donations for further development are accepted. A small area of current important issues related to animals is also available for patrons to access. An additional service is the Pet Loss Hotline, which is staffed by veterinary students who have received some training in grief counseling. This emotional support service is part of WSU's well rounded veterinary training.
Washington State University's College of Veterinary Medicine's Pet Health Topics is on The Spruce's list of Top Websites for Veterinary Advice.
Pop – 2.75
Vet – 5
Fun – 3
Fair – 3
Rave Meter: 13.75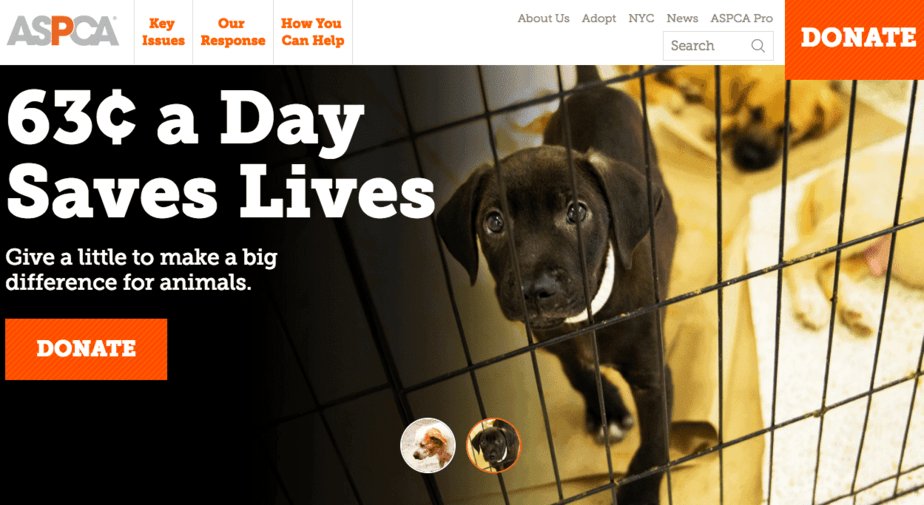 The American Society for the Prevention of Cruelty to Animals is dedicated to the prevention of animal cruelty in the United States. Founded by Henry Bergh in 1866, the ASPCA is based in New York City and created not only animal rescue efforts, but also animal hospitals. The ASPCA is known for its groundbreaking initiatives to help animals. A few noted ones are their dedication to animal welfare during times of emergency or disaster, a poison control hotline and the Meet Your Match pairing system, a research based strategy for placing adoptable animals with new homes.
The ASPCA's website is uncluttered and focused. It is divided into three main tabs of 'Key Issues,' 'Our Response' and 'How You Can Help.' Intent on driving home its mission, the Key Issues section highlights animal cruelty and animal homelessness. ASPCA follows with its response of the rescue, placement and protection of animals. Finally, it gives patrons opportunities to unite with this work and get involved in the society. Through fundraising, donations, adoption and advocacy over $14 million dollars have been distributed to animal agencies and over 10,500 animals have been rescued in one year alone.
The Spruce list's the American Society for the Prevention of Cruelty to Animals as one of the Top Websites for Veterinary Advice.
Pop – 3.5
Vet – 2.5
Fun – 2.5
Fair – 5
Rave Meter: 13.5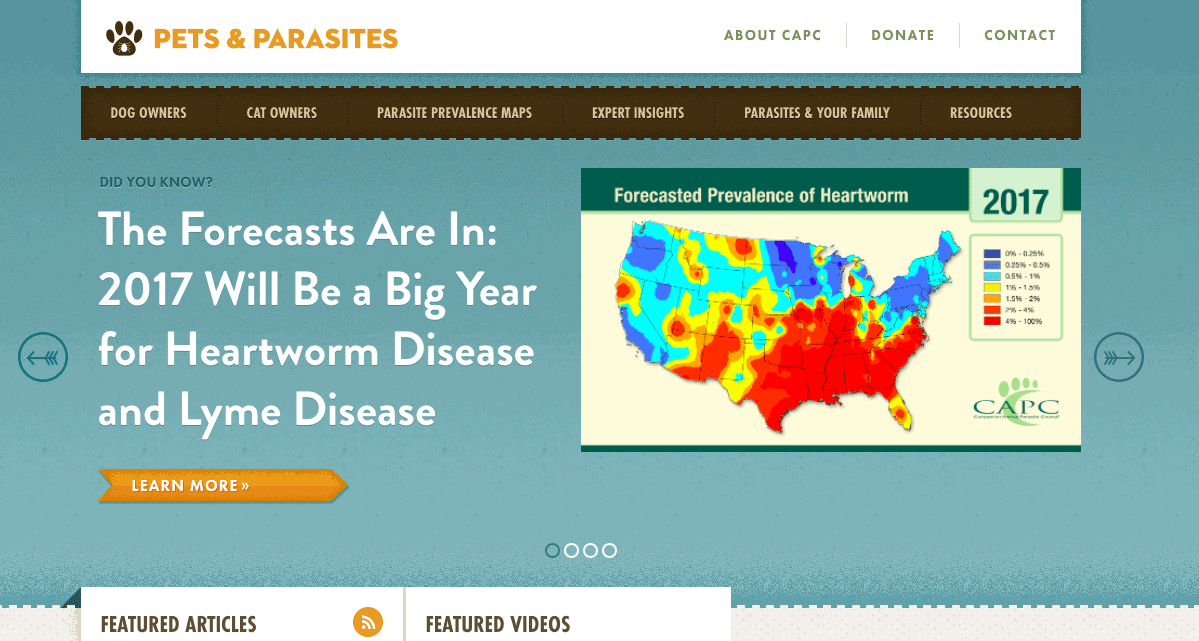 The Pets & Parasites was created in 2002 by the Companion Animal Parasite Council to help develop and promote best practices for how veterinarians and owners handle and treat the internal and external parasites that can harm animal and human health. Convening experts in the fields of veterinary medicine, public health and parasitology, The Pet & Parasites unique research interest gives it a special place on the web. No one wants to see themselves, their pet or the pet population impacted by parasitic infection. The CAPC steps in to work in unison with physicians, veterinarians, owners and other special interest groups to control outbreaks and educate to stop transmission before it gets too far spread. The CAPC also serves as a communicator to drive into the public sphere accurate information and dispel inaccurate materials.
The Pets & Parasites website is arranged in tabs for 'Dog Owners' and 'Cat Owners' and also has a fantastic interactive map to see what parasites are prone to lurk in your area. An extensive resource area filled with brochures and a glossary of terms is a must read. Check out the 'Parasites & Your Family' and 'Expert Insights' tab for a health tips, forecasts and veterinary insights. When you have questions or concerns about parasites and their impact on your pets and family, Pets & Parasites may be the largest cluster of articles, information and know-how on the web.
Pets & Parasites is on The Spruce list of Top Websites for Veterinary Advice.
Pop – 3.5
Vet – 3.5
Fun – 2.75
Fair – 3.5
Rave Meter: 13.25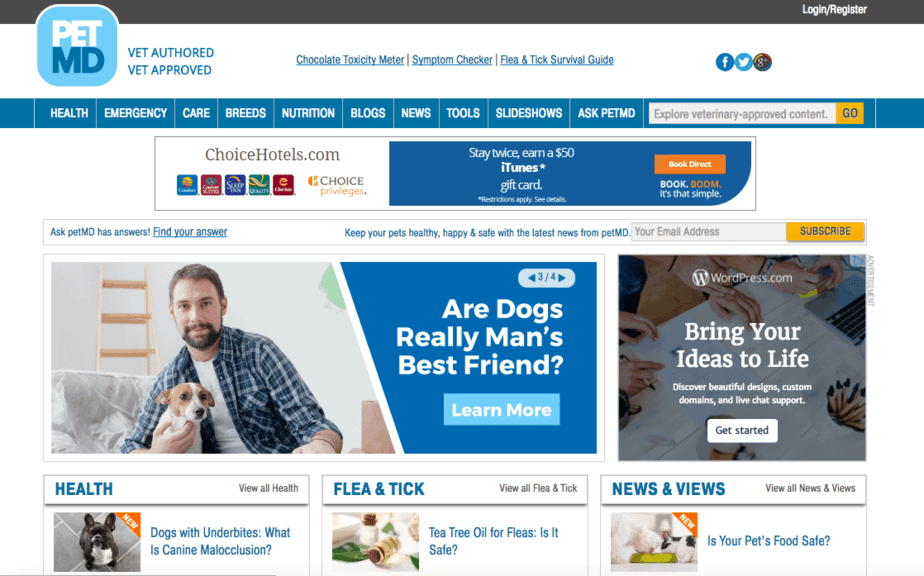 PetMD is a massive compilation of pet health and wellness knowledge on the web. Written and vetted by top veterinarians, petMD has an expansive library with over 10,000 articles, a pet health encyclopedia, a symptom checker to reference what is ailing your pet and a healthy weight calculation tool. PetMD even anticipates the anxiety of dog lovers everywhere who have found their canine pal has eaten chocolate by including a chocolate toxicity meter, allowing owners a quick gauge to see if they need immediate medical assistance.
PetMD covers health, emergencies, nutrition, specific breed characteristics and concerns, shares news and offers tools to pet owners. It also has slideshows and blogs to aid those who care for canines. If your question hasn't been answered in one of these sections, an Ask petMD submission form is available for one of the highly trained vets to respond. Alerts and recalls, quizzes, lists and features on fleas & ticks are a few more of the articulate and clearly written articles and highlights of petMD. Whether you are needing advice as a new pet owner or have just a few unanswered questions after many years with a pet companion, petMD is an all-around solid resource to utilize and read through again and again.
PetMD is the #7 listing on Top Tere's 20 Best Pet Websites.
Pop – 3
Vet – 5
Fun – 2
Fair – 3
Rave Meter: 13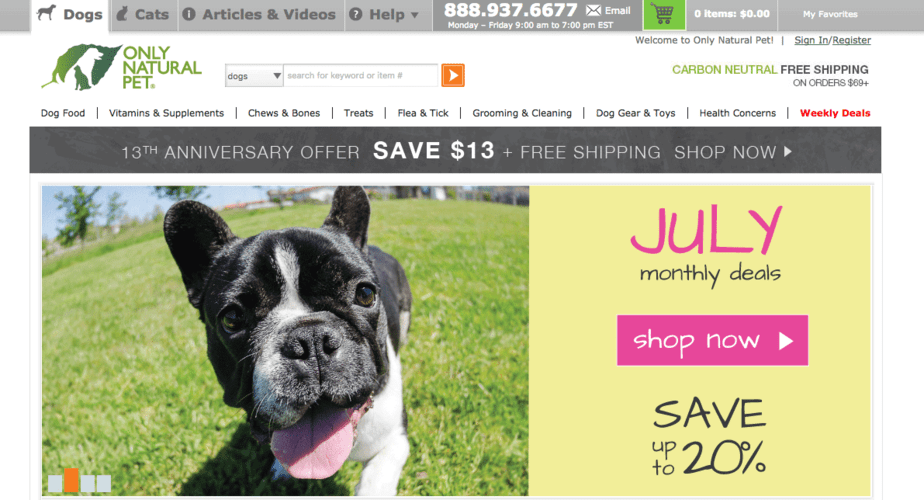 Healthy. Natural. Researched. Honest. These are some of the hallmarks of Only Natural Pet and their commitment to promoting the highest quality pet products. Their online retail is a haven for people committed to providing their pets with the healthiest food and pet supplies. Only Natural Pet stock is approved by holistic veterinarian Dr. Jean Hofve. Some of the high standards employed in their inventory are products with no artificial sweeteners or artificial ingredients in foods and no sulfates, parabens, or DEA in grooming products. They also support food products using grass fed meat and cage free poultry whenever possible. Only Natural Pet is also one of the founders of the Pet Sustainability Coalition, an organization committed to sustainable environmental advancement in the pet industry.
Only Natural Pet's site is devoted to its retail, but also gives visitors so much more. Shopping has tabs to choose from ranging dog gear & toys to vitamins & supplements. Patrons can watch videos on animal health, read through a library of pertinent pet articles, and check out the Only Natural Pet blog. Easy to navigate and packed with natural pet knowledge, Only Natural Pet may be the only stop a holistic pet lover needs to make for high quality supplies.
Only Natural Pet holds the #2 space on the LifeHack list of 20 Pet Websites Every Pet Owner Needs To Know.
Pop – 3.5
Vet – 3
Fun – 3
Fair – 3.25
Rave Meter: 12.75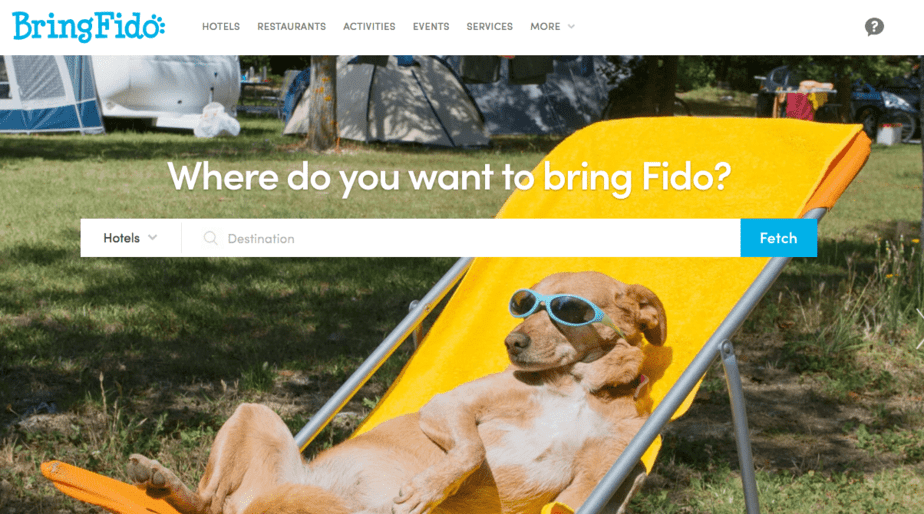 Are you heading out of town, but don't want to leave your pet behind? Bring Fido is the perfect resource for adventurous pet and owner travel planning. Started in 2005, Bring Fido is one of the most comprehensive dog travel directories around and has helped over half of a million people travel successfully with their pet. With honest reviews of lodging and accommodation options, up to date pet policy information and serious dish on how 'pet friendly' a place really is, Bring Fido is an asset for finding a resting stop. What to do about pet friendly restaurants, parks and recreation spaces? They have reviews of that too.
Bring Fido's website contains a plethora of practical information. Categorized in topics of 'Hotel,' 'Restaurants,' 'Activities,' 'Services' and 'Events,' Bring Fido is made for user friendliness and even has online booking options available. Booking directly on Bring Fido is worth pet owners time as it supports their charitable donation program, where a portion of your purchase is given to homeless animals in shelters or who are living in rescue societies and humane societies. Still having trouble finding the perfect place for you and your pet? Bring Fido also offers a toll-free phone line where pet owners can troubleshoot with Bring Fido representatives and find exactly the right place to relax and rest with their own Fido.
Bring Fido is #3 on the LifeHack list of 20 Pet Websites Every Pet Owner Needs To Know.
Pop – 3
Vet – 3.5
Fun – 3
Fair – 3
Rave Meter: 12.5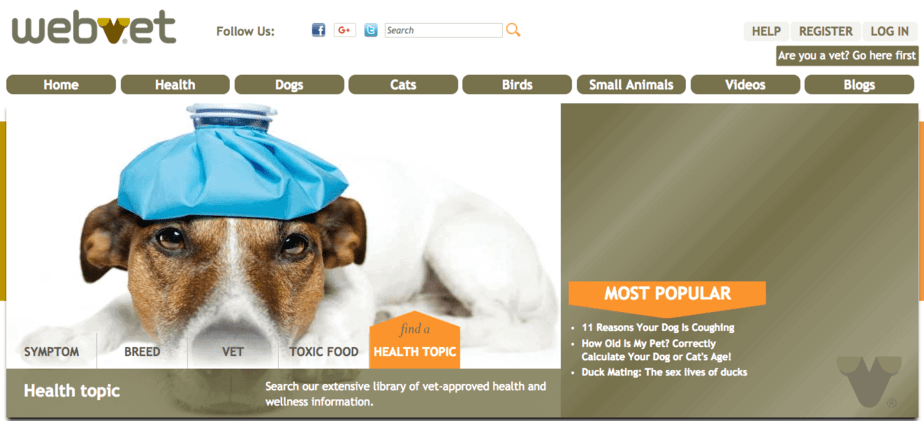 Are you in search of vet-approved health and wellness guidance for your pet? WebVet is your ally. Started in 2008, WebVet wants to be your main resource for holistic, well rounded advice and information that you can trust. When used in conjunction with a personal veterinarian, WebVet is a valuable resource to pet owners and can contribute to a healthier life for their pets. With up to date information on happenings in the animal and veterinary world and a robust archive of articles, visitors can research and read through the blog posts, local resource guides, and their unique Pet-Pods, a downloadable PDF expounding on particular pet topics.
WebVet's clean website design makes it very user-friendly. With tabs offering information on 'Health,' 'Dogs,' 'Cats,' 'Small Animals' and more research is a breeze. Is your pet sick? WebVet helps concerned owners quickly find information by using its symptom search. If you are researching a breed or looking for a local vet, WebVet has search fields ready to assist. From pet first aid to answering what an owner should feed their pet hedgehog, WebVet has it. Check out their lists on Top Pet Illnesses or Top Pet Injuries to see what preventative care you can take as an owner.
WebVet sits at the #4 spot on the LifeHack list of 20 Pet Websites Every Pet Owner Needs To Know.
Pop – 3
Vet – 4
Fun – 2.25
Fair – 3
Rave Meter: 12.25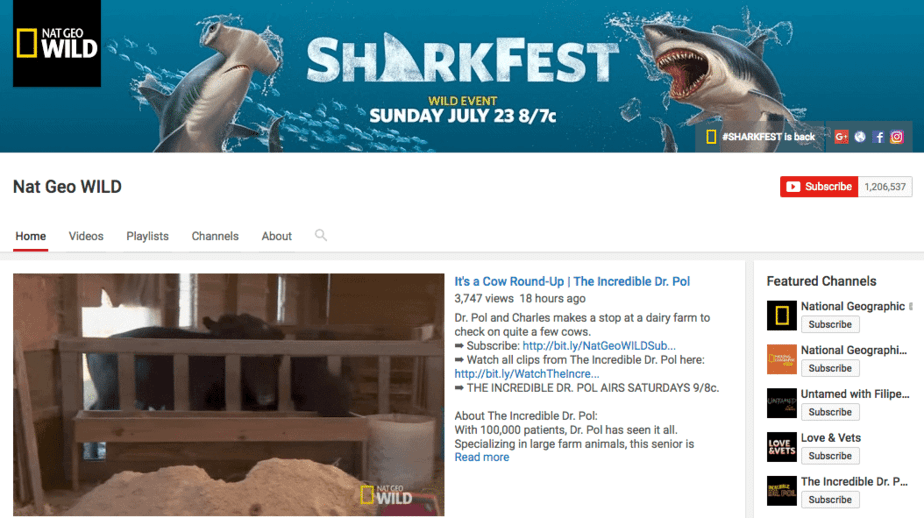 More than ever before, people are getting their animal education from videos and animal shows. Nat Geo Wild is one of the most popular sources for animal programming. Largely reality tv based, Nat Geo Wild offers a myriad of programming appealing to all ages. Some of their most popular shows are easily accessed through the Nat Geo Wild YouTube page.
Here viewers can quickly learn more about a variety of animals, learn and understand complex animal issues and be brought up close to the animals themselves. One of Nat Geo Wild's hits is The Incredible Dr. Pol. Setting a Nat Geo Wild record for viewing, it follows charming Dr. Pol, a large animal veterinarian who has dedicated his life to caring for animals. Set in rural Michigan, Dr. Pol's day is anything but ordinary. A community legend, known for his extreme work ethic and long hours each day Dr. Pol shows no signs of slowing down into retirement. It is no wonder that viewers can't get enough watching Dr. Pol in action and getting a viewer's education by seeing who he is caring for. Another Nat Geo Wild hit is Animal Fight Night, where viewers watch species battle it out in their natural environments. This thrilling showdown encapsulates the intensity of the animal world. Easy to access and perfect for watching on the go, Nat Geo Wild brings viewers into the wild whenever, where ever.
Nat Geo Wild is #4 on Feedspot's Top 100 Animal Websites And Blogs For Animal Lovers.
Pop – 3
Vet – 3
Fun – 3
Fair – 3
Rave Meter: 12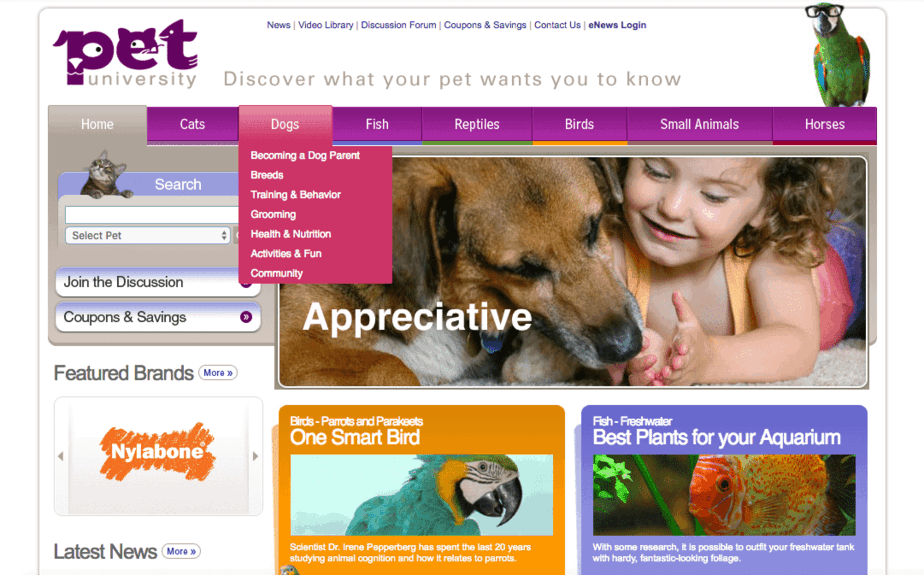 Pet University is an online resource not to be missed. With a comprehensive guide to all things cat and dog, ranging from choosing the best breed for you to behavior tips, Pet University also includes equally extensive know-how on how to best care for less commonly talked about pets. Fresh and saltwater fish, lizards, turtles and tortoises, horses, canaries and finches have robust sections for owners and potential owners to research. With engaging articles and a broadly versed video library, discussion forum opportunities, and an e-newsletter option, Pet University makes schooling oneself in pet knowledge easy.
The website is handily laid out with user-ease in mind. Tabs for particular animal species are available and drop down options from grooming, getting started or daily essentials are available and can be chosen depending on the animal. Check out their Video of the Week, a nice feature of Pet University with video playlists based on species. Pet University offers a list of its most Popular Pages showing what its patrons are most interested in learning about. Whether you need to know what plants to put in your aquarium or want more information on spaying or neutering your pet, at Pet University learning is stress-free.
Pet University is #5 on the LifeHack list of 20 Pet Websites Every Pet Owner Needs To Know.
Pop – 2.75
Vet – 3.5
Fun – 2.5
Fair – 3
Rave Meter: 11.75

Entirely Pets is a site devoted to all things pet care. Started in 1999, Entirely Pets is all about giving patrons convenient access to pet supplies and non-prescription medications. Their site highlights the most popular pet products at the best price points available. Vet supported and with excellence in customer care, Entirely Pets is a favorite place for pet lovers. In addition to sales, Entirely Pets has a fantastic blog that brings to life the joy of pet ownership. The Entirely Pets blog highlights the Fun, the Informative and has amazing Pet Videos to boot. Are you interested in the Top 50 Charities of 2017? Or want to research pet-friendly houseplants? The Entirely Pets blog makes this and so much more simple with its easily interactive and highly click-worthy posts.
The Entirely Pets blog sidebar lists their Most Popular and What's New sections. Each of these contain the quirky, fun and informative posts that the blog has gained notoriety for. What are 4 things you want to know if you work full-time and want to bring a dog home? Or have you heard the heartwarming story of the rebound of the rescued squirrel? The Entirely Pets blog brings these to the forefront and give readers a reason to return and chose more pet-centric posts.
Entirely Pets is #4 on the Top 100 Pet Blogs And Websites For Pet Owners & Lovers from FeedSpot.
Pop – 2.5
Vet – 3
Fun – 3
Fair – 3
Rave Meter: 11.5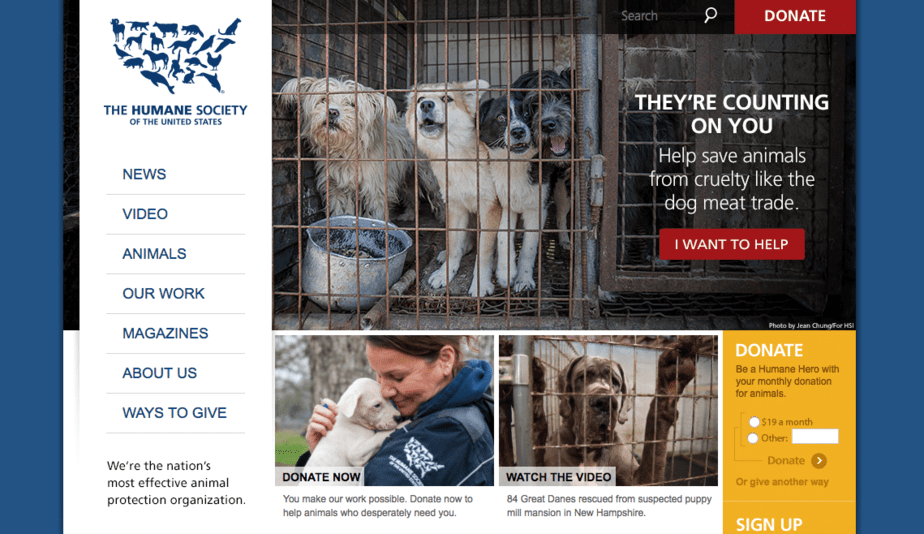 Well known and regarded for its extensive animal advocacy is the Humane Society of the of United States. Offering care to over 100,000 animals each year, the Humane Society was established in 1954 and leads agencies in advocacy, education, promoting legislation, daily operational care and rescue efforts for animals. Focusing on stopping animal cruelty, the Humane Society of the United States has been a diligent leader not only in the United States, but internationally as well. Gripping videos and footage of the current realities animals are being rescued from and opportunities to take action against cruelty are fundamental parts of the HSUS platform. Successful adoption of vulnerable animals through their extensive network of rescue efforts is the fruit of their work.
An important part of the Humane Society of the United States's site is the blog A Humane Nation, written by President and CEO Wayne Pacelle. Daily insight on what is happening in the animal advocacy community, a large selection of video blogs and well researched articles, it is a daily must for many HSUS supporters. Whether you are deeply invested in the organizational efforts or simply curious as to what issues animal advocates are facing, the HSUS is an undeniable resource on the web.
The Humane Society of the United States holds the #6 ranking on Feedspot's Top 100 Animal Websites And Blogs For Animal Lovers.
Pop – 2
Vet – 2
Fun – 2.25
Fair – 5
Rave Meter: 11.25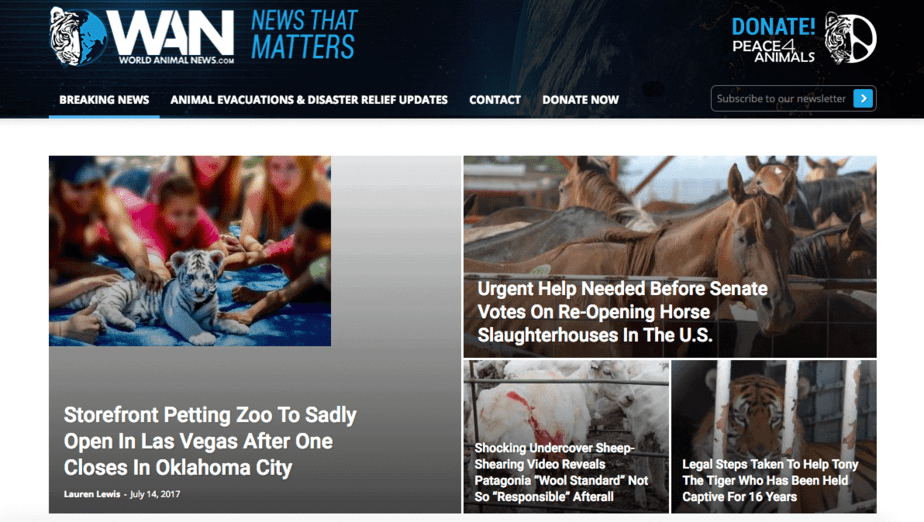 World Animal News is a hotspot on the web where readers can find the most current news in the animal advocacy community. When you are concerned about the status of vulnerable animals due to natural disaster, evacuation or because of specific threats, World Animal News will keep you informed. Besides being a news leader, WAN offers visitors insight on new pet products, charitable causes and celebrity animal happenings. It also runs its own charitable campaign the Peace 4 Animals. Peace 4 Animals is a global campaign, dedicated to building a more peaceful and humane world for animals.
World Animal News is arranged so visitors can know the top animal news stories immediately upon landing on their page. Readers can access Breaking News and Animal Evacuations & Disaster Relief Updates. World Animal News features anguishing stories of animals in crisis, but also gives hope with the many advocates who are resolving the mistreatment. Celebrity advocates for animals are also featured on the site. Check out the list of Editor's Picks and also their most Popular Posts to make sure to be on top of the news that may have been missed.
For those wanting to stay on the pulse of animal rights and advocacy issues, World Animal News is a must-stop and is # 7 on Feedspot's Top 100 Animal Websites And Blogs For Animal Lovers.
Pop – 3
Vet – 3
Fun – 2
Fair – 3
Rave Meter: 11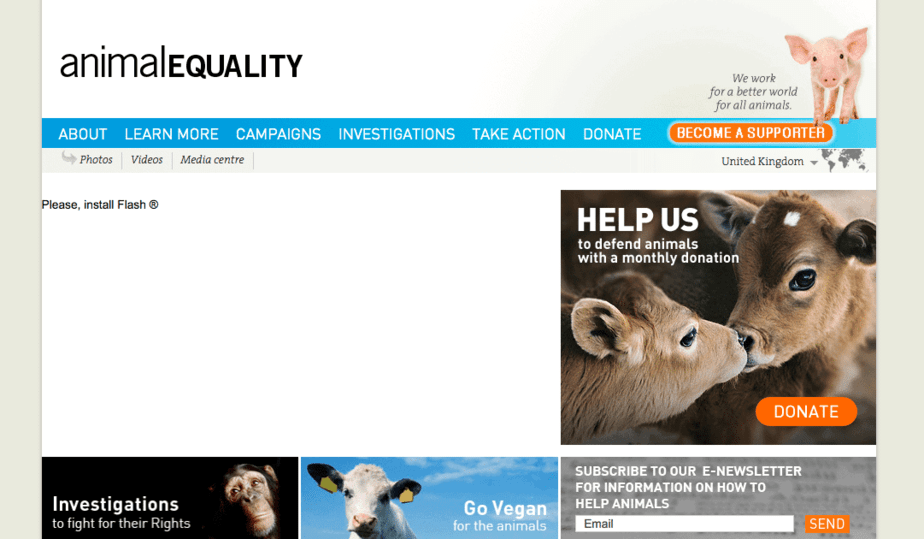 Animal Equality is a animal protection group focused on the fair and humane treatment of farmed animals. Started in 2006 and now represented in 8 countries, Animal Equality is a team of highly trained personnel who launch education initiatives, undercover investigations and engage in political activism. Seeking to work with companies, legislatures, and concerned citizens, Animal Equality not only wants to bring to light inhumane treatment, but also be an integral part of the solution. The Animal Equality site contains articles, photos and videos showcasing their work and quickly sends a message of the real-life issues they take on everyday. The more education the consumers receive in how animals are treated, the better practices can become in the future.
Animal Equality visitors are able to learn more about their work in its subsections of food, entertainment, animal experimentation and clothing. Here videos and articles sometimes graphically show the treatment animals receive in order to entertain crowds or provide a service. Opportunities to join their campaigns and become a part of the organization are easily found on their site and Animal Equality also accepts donations to their cause. Whether in the circus, used for experiments or in a zoo, Animal Equality advocates for animals to be protected and respected.
Animal Equality holds the # 8 place on Feedspot's Top 100 Animal Websites And Blogs For Animal Lovers.
Pop – 2
Vet – 2
Fun – 1.75
Fair – 5
Rave Meter: 10.75
With over 1 million subscribers and 433 million views, Hope For Paws runs a highly visible YouTube channel, called the Hope For Paws Official Rescue Channel. Hope For Paws is a rescue organization aimed at intervening and saving animals who are in abusive conditions, emergency situations or in danger of being euthanized. Run by Eldad and Audrey Hagar, life long animal advocates, Hope For Paws has a committed audience who are passionate about the channel and its work. With new videos being uploaded every week the Hope For Paws audience is taken along for these heart wrenching and happily often heart warming rescues. A before and after picture of the rescued pet is typically included.
Hope For Paws Official Rescue Channel's videos each take the view on a journey. A brief title description gives indication of what to expect and each video lasts between 3-11 minutes. There are also curated playlist compilations which feature videos that have over 1 million views, highlight Hope For Paws' Top Ten videos, a Best Of Hope For Paws and videos focused on animal updates for viewers to see how they are doing now. Hope For Paws has also created several helpful tutorial videos. Garnering celebrity support and featured on major news networks, the Hope For Paws mission has inspired many to engage and advocate for vulnerable animals.
Hope For Paws is # 9 on Feedspot's Top 100 Animal Websites And Blogs For Animal Lovers.
Pop – 2
Vet – 2
Fun – 1.5
Fair – 5
Rave Meter: 10.5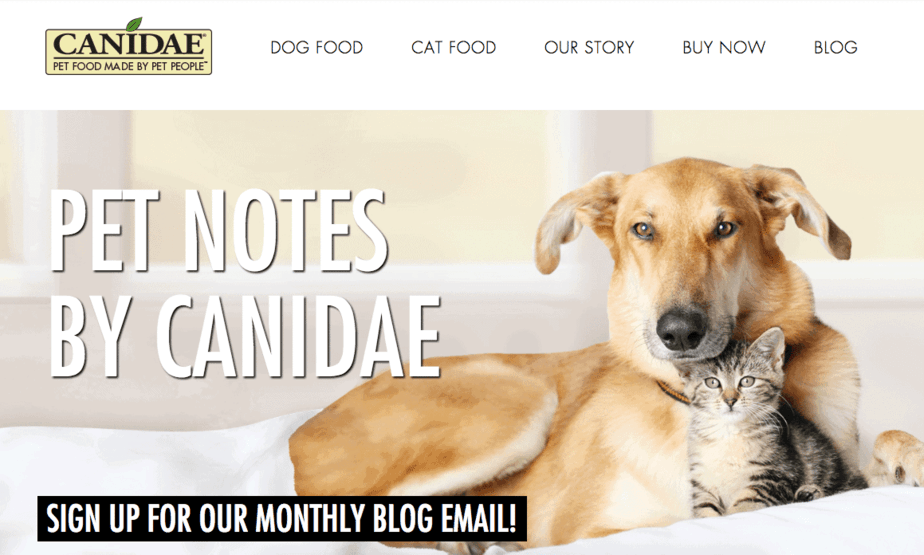 High quality. Independent. Family-Owned. Real Ingredients. These are a few of the truths that represent the Canidae brand of pet food. In a quest to create the healthiest and most wholesome pet food on the market Canidae pet food was created in 1996. Offering grain-free options and using real meats, vegetables and fish, Canidae seeks to not just meet industry standards, but exel over them. Whether looking for dog or cat food, Canidae products are a trusted brand. Its website is a popular place to not only learn about their product and hear their company story through a series of engaging videos, but they also host a fantastic blog, Pet Notes by Canidae.
The Pet Notes blog is filled with some of the same values the company is based on. Honest advice, real inspiration, and articles that aren't just filler. Covering pet nutrition, training, health and more, Pet Notes is a natural extension of the company. The blog asks engaging questions like why do cats meow at night? Or can climate change affect your pet's health? A filter can also be set to only receive posts pertinent to the readers' specific pet needs. A monthly blog e-mail can also be subscribed to.
Whether you are looking for high quality food for your pet from a family operation that truly cares or just want to read blog articles that maintain that same caring ethos, visiting Canidae is an easy stop. It is #8 on the Top 100 Pet Blogs And Websites For Pet Owners & Lovers from FeedSpot.
Pop – 3
Vet – 3
Fun – 2
Fair – 2.25
Rave Meter: 10.25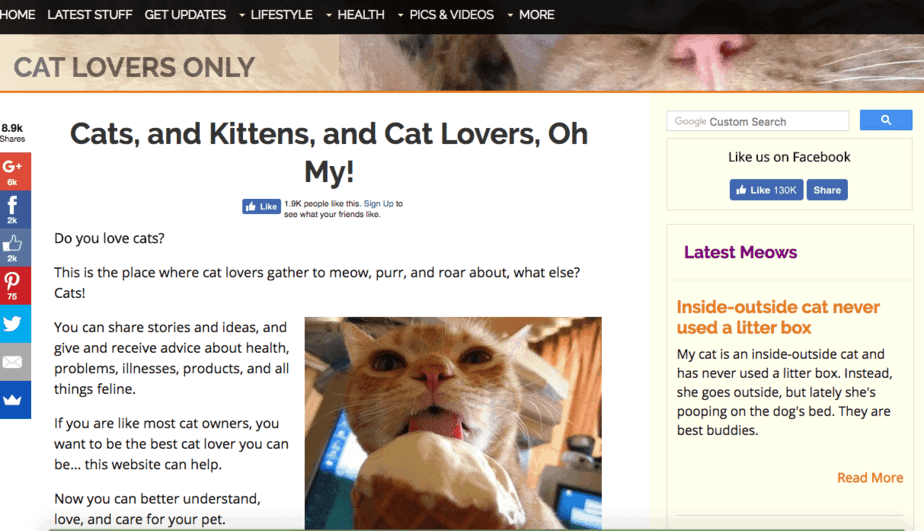 Where can you turn when you want down to earth cat conversation, one cat lover to another? Try Cat Lovers Only, a cat site run by Kurt Schmitt. A self-proclaimed cat lover's cat lover, Kurt writes with a casual banter and wit. In daily conversation with his readers, the 'Latest Meows,' Kurt answers submitted questions with care and honest observation, often deferring to professional veterinary care for definitive solutions. Mixed among the question and answer style are posts highlighting cat products, reviews and other information cat lovers just can't get anywhere else. Visitors can also join Team Cat Lovers, a site mailing keeping readers up to date with the latest cat news Kurt finds engaging.
Notable parts of Cat Lovers Only are not only its quirky humor and plethora of cat puns, but also the diversity of content. From health issues and litter box problems to famous cats and funny cat videos, there are few things related to cats that aren't addressed. Cat cartoons and even cat related contests are part of the eccentricity of Cat Lovers Only. The site even has a virtual mascot, Chloe T. Kitteh who runs some of the social media accounts and makes Cat Lovers Only one of the more unique cat communities on the web.
Cat Lover's Only is #6 on the LifeHack list of 20 Pet Websites Every Pet Owner Needs To Know.
Pop – 3
Vet – 2
Fun – 3
Fair – 2
Rave Meter: 10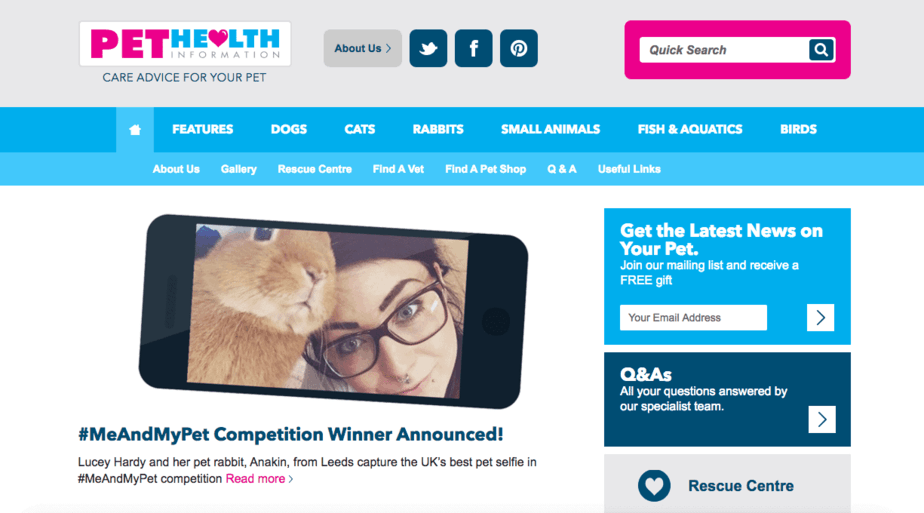 If you are a pet owner who is looking for information on how to best care for your animal companion, Pet Health Information is a tremendous resource. Based in the U.K. and completely ad free, Pet Health Information seeks to enable owners to raise healthy and happy animals. Pet Health Information is organized through the National Organization of Animal Health.
Pet Health Information's website makes navigation easy and browsing pleasant. Visitors can choose between dogs, cats, rabbits, small animals, fish & aquatics or birds to start their research. Or they can flip through the gallery and submit a picture to the Happy Healthy Pets Project. Pet Health information offers a robust selection of information in their Rescue Centre area. It gives links to specific rescue and rehoming centres that visitors (from the UK) may want to utilize. Also included are Find a Vet and Find a Pet Shop links and a Q & A submission form that is answered by the Pet Health Information team of experts. Don't forget to peruse the most Popular Articles area and stay up to date with the Most Recent Articles on the website sidebar. Pet Health Information also offers a newsletter that visitors can subscribe to.
Pet Health Information is #7 on the LifeHack list of 20 Pet Websites Every Pet Owner Needs To Know.


Pop – 2.75
Vet – 3
Fun – 2
Fair – 2
Rave Meter: 9.75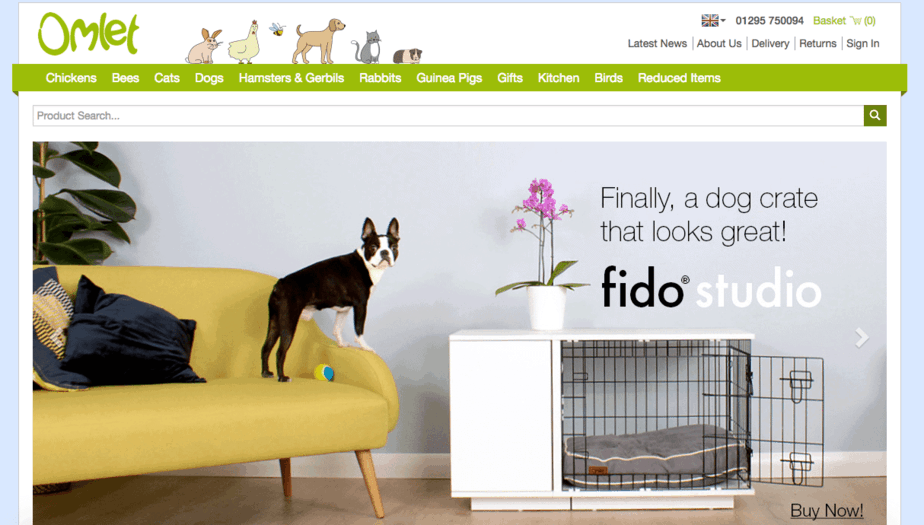 Omlet began when four pals at the Royal College of Art in London designed an innovative chicken cage. Its innovative and iconic design launched the Omlet brand. With smartly designed products, created for pet comfort and user friendly features, Omlet became a manufacturer that pets and owners love and respect. The Omlet website offers not only top-quality ingenuity in its product offerings, but also a news savvy and informative blog. Maintaining the same spirit as the product line, The Omlet Blog is a frequent stop for its faithful crowd of followers. Their prolific posts go back to 2005, giving readers a robust archive to browse through.
The Omlet Blog has features on more animals than most. From chickens to guinea pigs, bees to hamsters and with dogs and cats as well, The Omlet Blog runs a full spectrum. Featuring the newest products, animal tips and recipes and promotions, it is a handy resource to those shopping, researching or just wanting to catch some cute animal videos or photographs. Check out Omlet's Pet of the Month feature. While Omlet is a U.K. based company, they ship internationally. Their top notch news and advice are pieces that any animal appreciator will enjoy.
Omlet sits up at the #8 spot on the LifeHack list of 20 Pet Websites Every Pet Owner Needs To Know.
Pop – 3
Vet – 2
Fun – 2.5
Fair – 2
Rave Meter: 9.5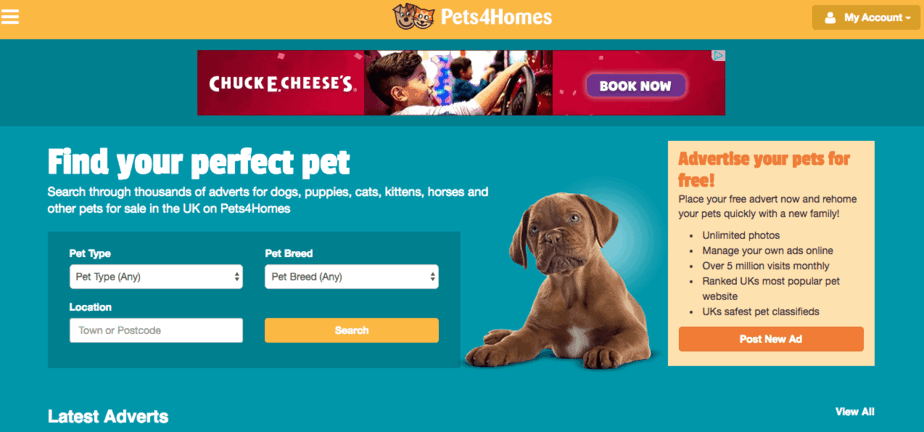 If you are searching for the new perfect pet in the UK, try the free, online classified page Pets 4 Homes. Started in 2005, Pets 4 Homes has grown to be a very popular site, with over 50 million page views per month. Whether you are looking for a cat, dog, bird, horse, fish or rodent, Pets 4 Homes connects you with willing sellers. In addition, they provide resources to new and old pet owners alike and active pet forums with the Pets 4 Homes community. While each advertising seller cannot be fully vetted, Pets 4 Homes takes several precautions to ensure they are dealing with reputable and non-abusive parties. In the end, it is the responsibility of the purchaser to ensure the credibility of the seller. Purchasers with concerns can also flag disreputable sellers and Pets 4 Homes will discontinue allowing them to advertise. Pets 4 Homes has a working relationship with animal welfare organizations which help them monitor and ban abusive breeders from advertising.
A simple search engine greets visitors when they access the Pets 4 Homes site. Entering location, breed and type of pet gives immediate access to the Pets 4 Homes massive index of available animals. Have you found a pet that appeals to you, but you don't know much about? Pets 4 Homes breed selector launch your research and give you insight if this is the perfect pet for your home.
Pets 4 Homes is #5 on SimilarWeb's Top Sites ranking for Pets and Animals > Pets in the world.
Pop – 2.25
Vet – 2
Fun – 2
Fair – 3
Rave Meter: 9.25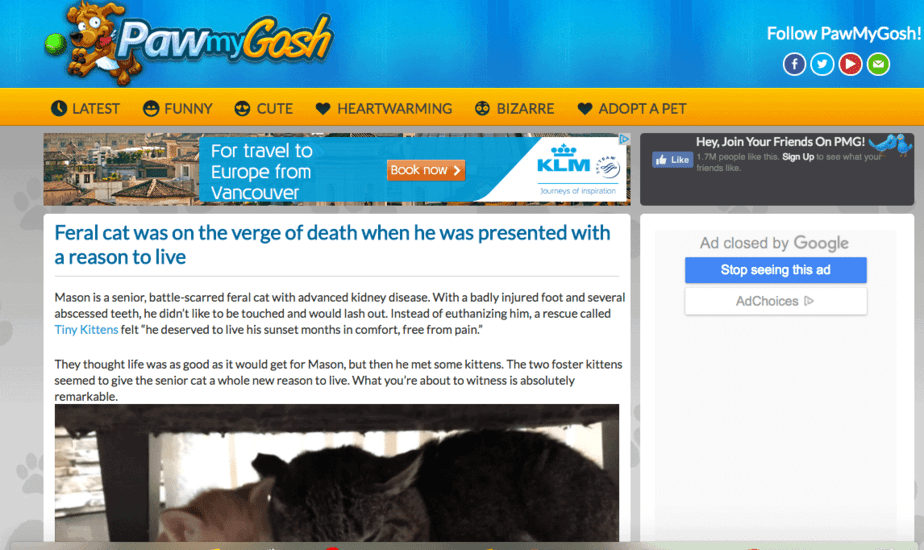 Paws My Gosh is a go-to stop for cute, sweet, bizarre and hilarious animal content. Delivered fresh everyday, Paws My Gosh wants to be a place for all animal lovers to come and celebrate all things pet. Utilizing multiple social media platforms and with a massive legion of followers, Paws My Gosh appeals to those who love reading animal stories and also those who just want a smile or laugh. Whether you want to see '20 hilarious dog memes that will have you busting a gut' or want to see a video of an awesome dog catching his ball, Paws My Gosh can deliver. It is a treasure trove of highly sharable, likeable animal content and an easy place to spend a lot of time being entertained.
Paws My Gosh is arranged with easy to maneuver tabs. Offering 'Latest,' 'Funny,' 'Cute,' 'Heartwarming' and 'Bizarre,' there is simple logic to finding content that matches your mood. Headlines written in a warm and candid tone are highly engaging. From a tender video of a bird visiting a woman at her child's graveside to a dog meeting his newest sibling for the first time, there is something compelling about the power of animal emotions and their ability to create emotional responses in humans. Paws My Gosh expounds on this.
Pets My Gosh holds the #10 space on SimilarWeb's Top Sites ranking for Pets and Animals > Pets in the world.
Pop – 2
Vet – 1.5
Fun – 4
Fair – 1.5
Rave Meter: 9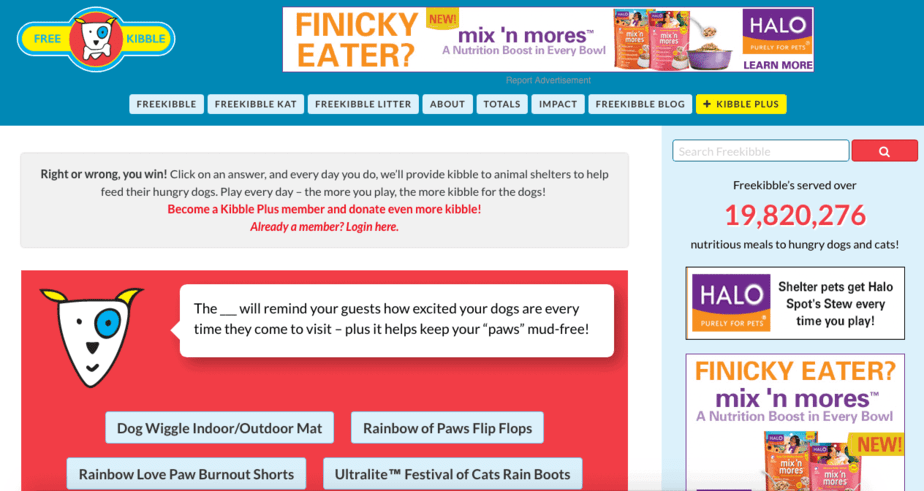 In 2008, Mimi Ausland had a simple idea. A young and enthusiastic volunteer at her local animal welfare shelter, she saw the amount of animals needing to be fed a basic meal. Inspired by other websites where users answer trivia questions and the 'click' generates a monetary gain, Mimi started freekibble.com, where animal lovers clicks earn funds to be used to feed hungry animals. Mimi's idea caught on with overwhelming enthusiasm. Soon she was not only feeding animals in her local shelter, but all over the county and spreading her sites messages on national programs and publications. Since its start, over 19 million meals have been served. Corporate pet food companies have partnered with gusto and now Mimi spends part of her teenage life successfully furthering FreeKibble.
The FreeKibble site maintains its original model. Answer a trivia question, right or wrong, and generate funds for hungry animals. It has also expanded to FreeKibble Kat and FreeKibble Litter, serving even more needs of shelters. With running tabulations of the impact of donations and opportunities for visitors to join the Kibble Plus Program, FreeKibble Cares, Wonderfunders, enter promotions and sign petitions, FreeKibble can be a daily stop for animal advocates. Stopping by to read FreeKibble's news, list and interest story styled blog is another worthy venture.
FreeKibble is #11 on SimilarWeb's Top Sites ranking for Pets and Animals > Pets in the world.
Pop – 2.75
Vet – 2
Fun – 2
Fair – 2
Rave Meter: 8.75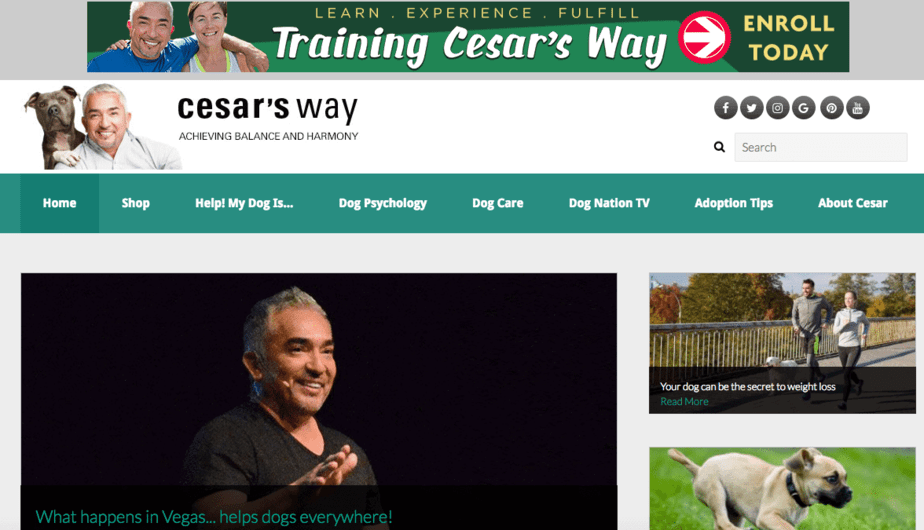 It is no wonder that one of the most well-recognized and lauded dog behaviorists, Cesar Millan, would also host a website that is a magnet for dog lovers everywhere. Cesar's Way is a mecca of resources from the 'Dog Whisperer with Cesar Milan' star and best selling author. Building off of his signature training tip of owners exhibiting 'calm and assertive energy,' adopting Cesar's Way can solve even the most complex dog conundrum. Whether learning how to Master the Walk, control your energy as an owner, or read your dog's body language, Cesar has wisdom and a depth of dog understanding that is rare.
Cesar's Way makes understanding Milan's methods no problem. Readers can click on 'Help! My Dog is …' and find easy to understand solutions to right their dogs wrongs. Do you want to know more about dog psychology? Dog Care? Watch Milan's show Dog Nation or find out more about dog adoption? Cesar's Way can do all that and plenty more, proving its merit as a top pet website. Being an animal behaviorist, Cesar's Way offer more specific behavioral tips than the average site. This detail differentiates it from other web destinations and makes is a unique stop, with resources that may be able to address multifaceted issues.
Cesar's Way is #10 on Top Tere's 20 Best Pet Websites.
Pop – 2.5
Vet – 2
Fun – 2
Fair – 2
Rave Meter: 8.5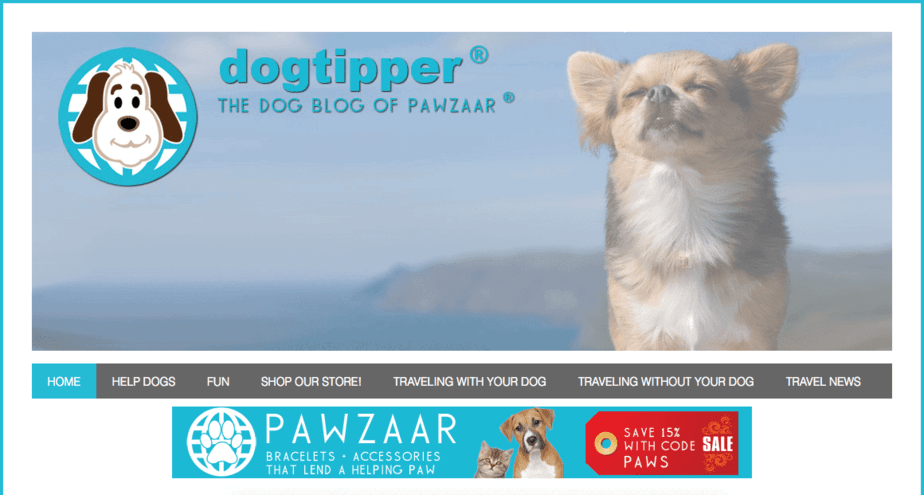 Dog Tipper is the dog blog of the online store PawZaar.com. Started by married writing team Paris Permenter and John Bigley, Dog Tipper serves as a fantastic online source of dog news and pet information, advocacy opportunities and general dog enthusiasm. Keeping you in the know with what is happening in the dog community, Dog Tipper is a popular and well researched stop. With Dog Tipper posts focusing on current events and celebrity dog news, recipes and lifestyle products, there is always new and engaging content to peruse.
Created by dog lovers, for dog lovers, Dog Tipper makes browsing easy. Focusing on travelling with (or without) dogs, helping dogs in need, dog fun and so much more, Dog Tipper has something for every type of reader, from new to seasoned. Have you ever wondered how hot is too hot for your dog or wanted to go camping with your dogs? Dog Tipper has tips for that. Maybe you want to rename your new dog or read about the guide dog of the year. Dog Tipper can help. Whether it is the light hearted or serious, Dog Tipper has both and access to great products at PawZaar.com, where a percentage of the sale helps a featured pet charity.
Dog Tipper is #10 on the Top 100 Pet Blogs And Websites For Pet Owners & Lovers from FeedSpot.
Pop – 2
Vet – 2
Fun – 2.25
Fair – 2
Rave Meter: 8.25
Animal Friends is one of the U.K's top providers of cat, dog, and horse insurance and also a terrific supporter of animal welfare agencies and charities. Started by animal lover Elaine Fairfax, this initiative is not only to offer people a service, but also serve the greater animal community through its charitable contributions. With that same heart is the Animal Friends blog, a page dedicated to sharing the latest animal news. From posts on how to prepare your dog for boarding to amazing, useful pet infographics, Animal Friends carries a substantial archive and has a compassionate, genuine point of view, giving readers access to animal know-how and highly shareable information.
Arranged in a page style index, the Animal Friend's slew of articles span the range of serious to soft hearted, technical and conversational. The Animal Friends site has some video content for visitors to peruse as well. Product reviews, polls, question and answer style formats and fact lists round out the Animal Friends content. Did you know ⅕ of Brits would rather cuddle with their pet than their partner? Animal Friends can tell you all about it.
Animal Friends is #11 on the Top 100 Pet Blogs And Websites For Pet Owners & Lovers from FeedSpot. A visit to Animal Friends is a worthy investment of time and a great example of how one animal advocate can impact the greater community.
Pop – 2
Vet – 2
Fun – 2
Fair – 2
Rave Meter: 8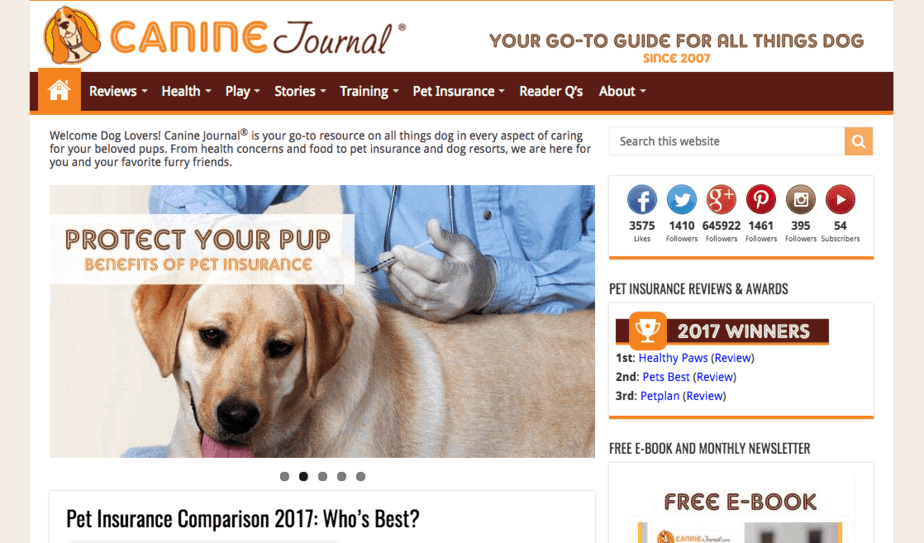 Since 2007, Canine Journal has been a trusted one-stop-shop for all things canine. Pledging to be a resource for everything you need to know about raising a dog, Canine Journal offers a multitude of resources written in a catchy format. Started by a dog lover who wanted to be an advocate for dogs and give owners the content that would help them to raise their dogs best, Canine Journal is a site that easily lends to hours of exploration.
Canine Journal lets visitors zip through its content in easy to use tabs. Offering reviews, health topics, play, stories, training, insurance and pet questions, there is an article detailing most anything a pet owner might wonder about. From dog trivia to animal activism, asking how to stop your puppy from crying in its crate or what foods are toxic for dogs, Canine Journal can help. Don't miss the 'Top Dog' feature, where Canine Journal interviews in a question and answer format a celebrity dog. 'The Family Dog' is a unique feature and a must-read, handy resource for those looking to bring a dog into their household successfully. Canine Journal also offers an e-book from its website and readers can sign up for monthly newsletters so they stay up to date with journal happenings.
Canine Journal is steady at the #11 space on the LifeHack's list of 20 Pet Websites Every Pet Owner Needs To Know.
Pop – 2
Vet – 2
Fun – 2
Fair – 1.75
Rave Meter: 7.75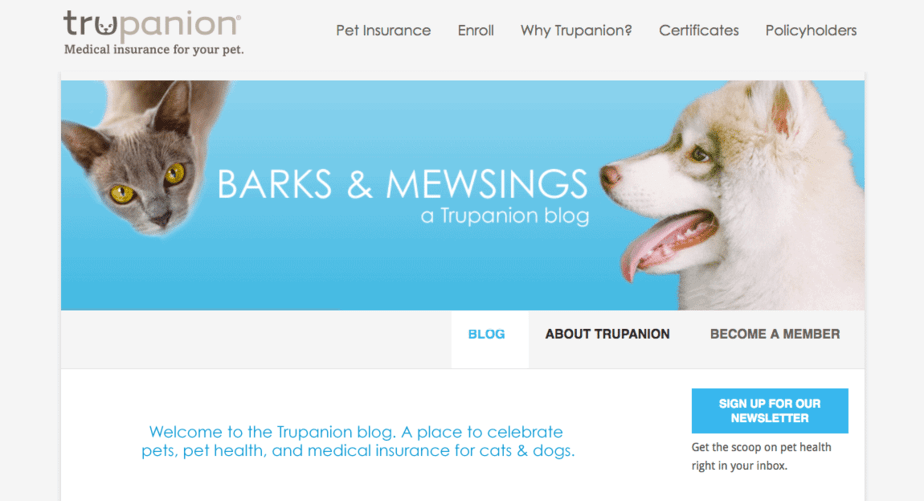 Trupanion is one of the leaders in providing pet insurance that is affordable, simple to use, and good for pets and owners alike. It is a company committed to doing good for animals. It is also the host of Barks & Mewsings, its own blog, which provides top notch animal and insurance related information for cats and dogs. A visit to Barks & Mewings finds a community of caring pet owners to interact with and posts ranging from solidly informative to cute and quirky. Seasonal posts, tips and advice, recipes and veterinary advice can all be found at Trupanion.
The Barks & Mewings blog is simply designed. A drop down category search can bring you to posts like Ask A Veterinarian, Cute & Fun With Pets or Claim of the Week. Pet Health & Tips on the site are all focused on dogs and cats, but all pet owners can find a warm place to visit with Barks & Mewings original content. Posts like When A Veterinarian's Pet Gets Sick, Common Pet Poisons Found in Your Home or Common Mistakes That Can Lead to Costly Vet Bills provide interest for all animal owners. A great archive to peruse and its dedicated, fresh content are both reasons to return to hear the latest Barks & Mewsings.
Trupanion's Barks & Mewsings blog is #12 on the Top 100 Pet Blogs And Websites For Pet Owners & Lovers from FeedSpot.
Pop – 2
Vet – 2
Fun – 2
Fair – 1.5
Rave Meter: 7.5
A terrific site with a strong following is ZooBorns. There is something magical about the birth of a new animal. Watching it interact with its mother, complete first milestones and of course, hearing its new name are animal lovers dreams. ZooBorns keeps a pulse on all the of newest arrivals at zoos and aquariums around the world, ensuring that wherever you may be, you know exactly who is who as they are welcomed to the world. ZooBorns has a large contingency of devotees, who are able to hear the arrival news through their popular website or on one of their active social media accounts. A mood lifter and day brightener, scrolling through the multitude of baby animals is sure to include lots of 'oohs and ahhs.'
ZooBorns is arranged in a user friendly format. Allowing searches by animal type, date or zoo location, readers can quickly find adorable baby animals. After each animal is introduced, there is a short story that may include a bit of their birth story, some facts and educational insight as to their specific breed. Also included typically are thoughts from the zookeepers and caretakers and of course, plenty of precious pictures and often even videos too. Names or plans to reveal names, special zoo events scheduled to welcome the new animal and other tidbits round out the posts. ZooBorns educates and entertains, teaches and tells the tale of the newest addition in the animal zoo.
ZooBorns is #13 on Feedspot's Top 100 Animal Websites And Blogs For Animal Lovers. For all the arrival news and plenty of precious pics, don't miss out on being the first to know the births at zoos around the world.
Pop – 2
Vet – 1,5
Fun – 2
Fair – 1.5
Rave Meter: 7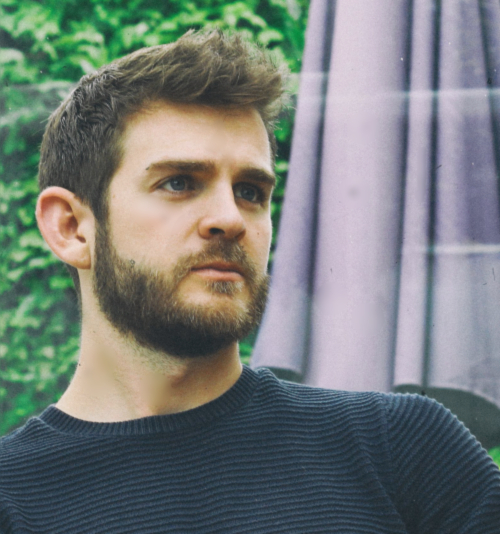 Morgan Bennett
Morgan Bennett is a freelance writer living in the Wicker Park neighborhood of Chicago. He is known locally as a craft beer evangelist and collector of obscure movie trivia.