Imagine standing on a dock adjacent to the morning mists of a mirror-like lake nestled between snow capped mountains. It's the perfect place to do yoga at sunrise or sunset–or really, anytime.
Places like this are few and far between, but they offer an unforgettable yoga experience that's worth traveling to enjoy.
But there's many different components to finding the best yoga retreat in America.
It needs to be accessible (you don't want to have to hire a guide to hike into secluded wilderness).
It needs to affordable (yoga retreats are supposed to relieve stress, not cause more).
There should be other things to do (because it's probably inadvisable to do yoga 24 hours a day).
Key Point: In this guide, we take into account all the most important factors that create the best yoga retreat. And then we bring you the best retreats in the country that provide all the best components.
The History of the Yoga Retreat: Why It's Worth Traveling For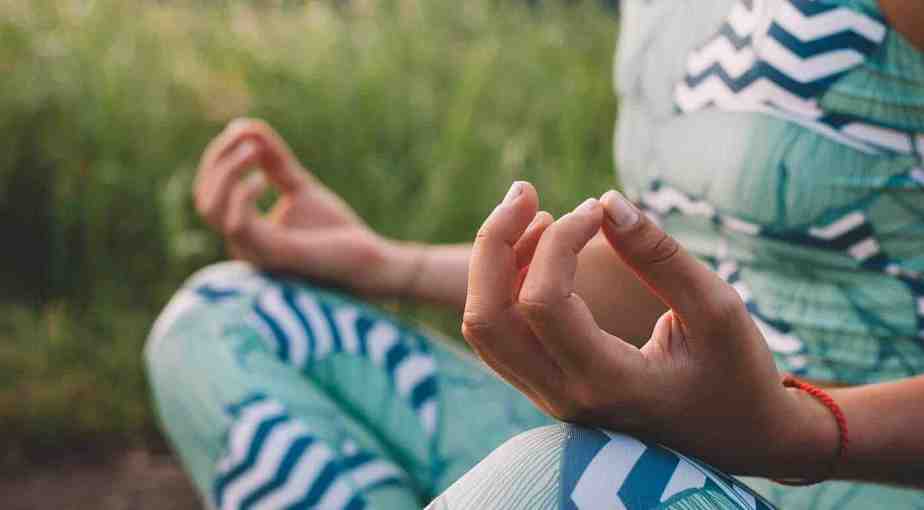 The most simple definition of yoga comes from Sanskrit. In this ancient language, the word yoga means "union."
In India, evidence of yoga practice dates as far back as 3300 B.C.
While practicing yoga, you move from one posture, or body position, to another. These postures or body positions are called asanas.
If you're intimidated by all the unfamiliar terminology in yoga, remember most asanas are named after animals with shapes reminiscent of the posture created by the pose, such as bhujangasana, or cobra pose. Other asanas describe the position by the emphasized body part, such as shirshasana, or head.
In short, yoga is a centuries-old spiritual and physical practice promoting physical and mental well-being with proven results.
The popularity of yoga has spread all over the world. So without a doubt, there's a yoga studio — or maybe even a yoga retreat — near you.
Key Point: But the best yoga retreats in America offer a seductive combination of unforgettable natural environments and superior yoga-centric facilities. This makes them well-worth the trip.
How much does a yoga retreat cost?
Yoga retreats are held all over the world, and the cost of attending one can vary greatly.
How do you know a good deal when you see one? After all, nobody wants to suffer through the Fyre Festival of yoga retreats.
In general, yoga retreats cost anywhere from $500 to $5,000 depending on the location and level of luxury involved.
Here's a rundown of what to look for:
Destination matters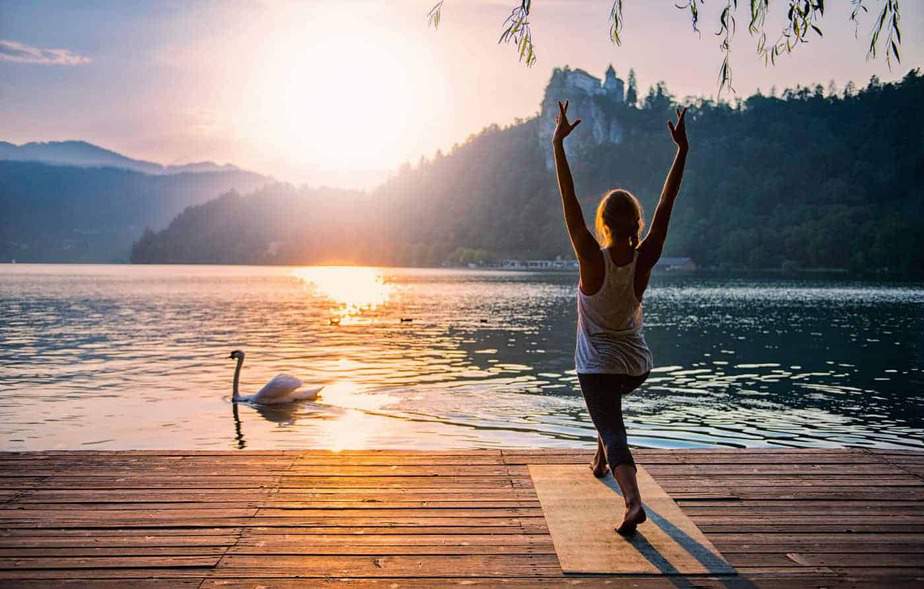 The more exotic the location, the more the retreat will cost.
Intimidated by your first time? Travel with friends.
Then again, you're paying for an experience, so the location of your yoga retreat should be something special. After all, it'd be hard to get all zen in a strip mall out by Wal-Mart, right?
Key Takeaway: In addition to location, be sure to find out how the retreat handles transportation. A yoga retreat in the most amazing place on the planet is one thing, but having to hire your own sherpa to get there is another thing entirely.
What's your style?
There are many different styles of yoga, so whether you're a beginner or an experienced yogi, make sure the retreat you select emphasizes the style that is right for you.
In addition, are there any other workshops, lectures, or classes offered at the retreat? Many yoga retreats also offer the following:
AcroYoga (partner yoga)
Stand up paddleboard yoga
Surfing and yoga
Meditation
Acupuncture
Fasting/cleansing services
If you're feeling extra adventurous, look for a yoga retreat that offers something like a plant medicine ayahuasca ceremony.
Want to get the feeling for a yoga retreat vibe? Check out this video of what to expect from Yoga Fanatic, Allie Van Fossen:
Accommodations and food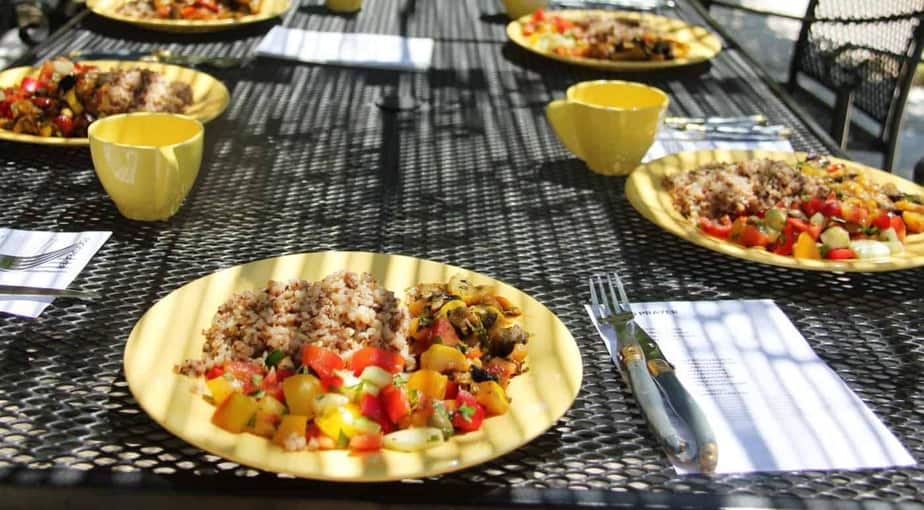 No matter how blissed-out you might feel after a day of practicing yoga, sleeping in some sketchy hotel out by the airport will surely kill the mood.
And, eating from the buffet won't help you reach your health and wellness goals.
So before selecting a yoga retreat, consider the lodging with these questions:
Is it included in the cost of the retreat?
Is it private, or communal?
How does the retreat handle catering?
Can the retreat accommodate dietary restrictions or preferences?
Some other things to consider before choosing a yoga retreat include group size and length of stay.
Keep all of the above in mind to help you choose the best yoga retreat for you.
What is a yoga retreat like?
After selecting a yoga retreat, you may still have some questions about what lies in store.
Here's what to expect:
A new community: Since yoga is about connecting, you just might make friends for life your first time attending a retreat.

Unique experiences: From simply attending the retreat to trying new things while you're there (besides yoga), your first time will be full of new experiences. Get ready!

A healthy diet: Yoga retreats will expose you to different and exciting ways to eat healthy, many of which might carry over into your daily life.

A reason to travel: Choose a yoga retreat somewhere you've always wanted to visit and your experience will only be richer!

Device-free relaxation: Attending a yoga retreat is a great way to unwind and disconnect from the digital world.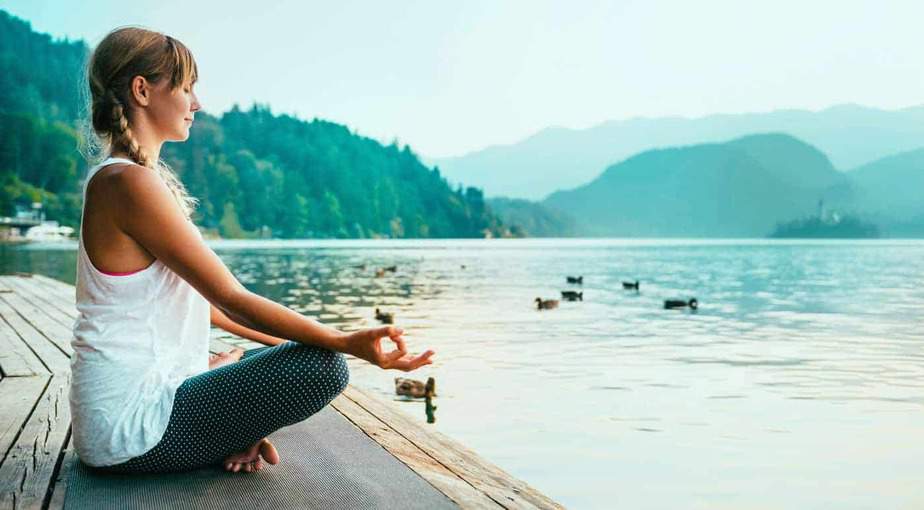 The only thing left to do now (besides packing up your yoga pants and yoga mat) is to select a retreat.
Yoga teaches there's no time like the present, so let's get started. So first, let us explain how we found the best yoga destinations in the country.
Methodology
To compile our ranking of America's 10 best yoga retreats, we at RAVE Reviews first consulted similar rankings from trusted and reputable sources from all over the internet.
We were particularly interested in rankings from knowledgeable yoga professionals, as well as experienced yoga practitioners.
When looking at each retreat, we scored them on the following:
Cost
Location
Styles of yoga offered
Quality of instructors
Extra events offered
Lodging, catering provided
Transportation requirements
Opportunities to interact with other attendees
With this criteria in mind, we can't wait to tell you about the great yoga retreats we uncovered.
The Best Yoga Retreats
Our first pick for America's best yoga retreat is more than just a yoga retreat. What we love about Wanderlust is the variety of events and the fact that they're presented all over the U.S.
Wanderlust's mission is to gather experts, practices, and recipes to lead attendees toward a more mindful and inspired life.
Everything Wanderlust does is based on five pillars: practice, community, sustainability, doing good, and raising awareness.
Wanderlust presents a series of multi-day festivals, 108s, and immersions, from Seattle, WA, to Snowshoe, WV.
In the world's most beautiful city parks, a 108 is like a mindful triathlon, featuring activities like running, yoga, and meditation. At a Wanderlust Immersion, you'll dive deep into your own personal practice at topical workshops led by experts.
The event that's perhaps most unique to Wanderlust is Wellspring, held in Palm Springs, CA. This multi-day event is a wellness gathering of the world's leading innovators, teachers, and socially conscious companies.
The second best yoga retreat in our ranking brings us to The Esalen Institute, located in Big Sur, CA.
The Esalen Institute offers events based around themes ranging from arts and creativity, to nature and sustainability, to the mind and psychology.
Most events are less than a week long.
A weekend retreat that we particularly like is LifeForce Yoga, which teaches you how to manage your moods using evidence-based yoga and meditation protocols to strengthen emotional resilience.
Other things you can do at Esalen include dance, meditation, Qi gong, singing, community art, 12 Step Tribe, and volunteering in the Esalen Kitchen or Esalen Farm Garden.
Registered guests are also welcome to enjoy Esalen's hot springs, with stunning views of the Pacific Ocean.
Accommodations at Esalen include both shared and private options, including Point House Plus, a renovated suite featuring separate bedrooms, as well as a living room with a fireplace, kitchenette, and balcony overlooking the ocean.
Held up high in the Rocky Mountains, our third pick for America's best yoga retreat is perfect not only for fans of yoga, but for fans of cannabis.
Thing is, 420 Yoga Retreats aren't just about yoga. Attendees explore movement, massage, meditation, laughter, and music led by Yogi D, an old school yogi with over two decades of experience.
And what's different about 420 Yoga Retreat is you'll do it all while you're high! It brings new meaning to the phrase, "Rocky Mountain High," doesn't it?
These yoga retreats encourage you to go with your own ganja yoga flow, providing a safe space for you to either chill out, be full of energy, or both!
One of the many events 420 Yoga Retreat presents is Cannabis and CBD High Yoga Retreat, complete with lodging, classes, most meals and a 420 goodie bag.
And, Saturday nights are for celebrating cannabis with a DJ and free flow movement meditation.
With several locations in New York, California, and London, the Standard Spa comes in fourth in our ranking of America's 10 best yoga retreats.
Hosted and catered by Standard Hotels, the Standard Spa combines the ancient and the modern, offering daily classes, workshops, and special programs.
One thing we love in particular about the Standard Spa is H2OM.
H2OM is all about combining the invigorating properties of water with energy-awakening yoga, and it's good for all skill levels.
At BeLove Breathwork, presented in Miami, attendees utilize a diaphragmatic breathing pattern to help access extraordinary states of consciousness.
Also in Miami, there's Meet Your Spirit Guide, a chance to join holistic life coach and hypnotist Catherine Patrick on a journey into higher realms of consciousness.
A membership gets you free unlimited access to exclusive events and lifestyle classes!
Located in Southern California's beautiful Laguna Beach, fifth place in our ranking of America's 10 best yoga retreats goes to the Pearl Laguna.
With both single week and multi-week programs, attendees stay in a 12-bedroom, 14-bath luxurious ashram located in Laguna Canyon.
Guests enjoy a cleansing diet, combined with three core activities: yoga, hiking, and meditation, conceived to flow into one cohesive experience.
Pearl Laguna offers morning Power Yoga, intended to energize, build strength, and flexibility, while evening Flow Yoga promotes peaceful sleep.
Pearl Laguna also offers breathing practices, awareness and focus, tai chi, chakra healing sessions, open air gym, hiking, massage and rest, and organic, vegetarian food.
Sign up for the week-long retreat and you'll gain access to the gym, infrared sauna sessions, outdoor Jacuzzi, and evening events.
6
Breitenbush Hot Springs Retreat
Offering workshops, personal retreats, and day visits, sixth in our ranking of America's 10 best yoga retreats is Breitenbush Hot Springs Retreat, located in Oregon's beautiful Cascade Mountains.
For us, what sets Breitenbush apart is that every year they host 150 workshops and conferences, held May through October — plenty for everyone to choose from!
And the programming is diverse. For example, the Running and Yoga Retreat allows attendees run, eat, and soak for three full days.
We also love that Breitenbush offers something for the whole family. With the Flow Family Yoga Retreat, families with children over age three can meditate, hike, or practice yoga.
The six yoga practices taught at Breitenbush include restorative/sound healing, gentle yoga, and vinyasa.
And perhaps best of all, there are natural hot spring pools to soak in, as well as an organic, vegetarian menu.
7
Sedona Mago Retreat Center
Up next in our ranking of America's best yoga retreats is Sedona Mago Retreat Center, which offers a variety of programs including Tao meditation training, Integrative Ki Energy Healing, and a whole lot more.
If you are looking for more than just yoga, everything at Sedona Mago is based on the spirit of Tao, universal principles intended to promote a harmonious world and a more peaceful existence for everyone.
Unique to Sedona Mago is the healing vortex, a swirling center of energy, believed to be conducive to healing, meditation, and self-exploration.
You can also take in the stunning desert vistas with meditation areas, an outdoor pool, and a Jacuzzi.
While staying at Sedona Mago, you have the option of private or shared casitas. Three meals are provided daily, and any specific dietary needs can be accommodated.
Located near Helena, MT, Feathered Pipe Ranch takes eighth place in our ranking of America's 10 best yoga retreats.
While you are there, take advantage of body work, massage, and other workshops tailored to specific areas of interest.
All sorts of yoga styles are taught at Feathered Pipe, including yoga, yoga therapy, Iyengar yoga, restorative yoga, vinyasa, bhakti yoga, yoga nidra, mindfulness and meditation, and shamanism and self-empowerment.
The Mindful Unplug Experience Retreat combines yoga, mindfulness, and sensory experience to help us all disconnect from the digital world.
Feathered Pipe also offers healing arts, hiking on scenic trails, and water activities. And, accommodations are a mix of private and shared, ranging from chalet rooms to cabins to deluxe wall tents, teepees, and yurts.
For food, the Feathered Pipe kitchen provides creative and wholesome international cuisine, appropriate for all sorts of dietary preferences.
Ninth in our ranking of America's 10 best yoga retreats goes to Sewall House, located in Island Falls, ME.
A variety of yoga disciplines are taught at Sewall House, including Kundalini yoga, restorative yoga, hatha yoga, vinyasa yoga, ashtanga yoga, and occasionally even paddle board yoga.
You can also take advantage of sauna sessions and massage, as well as the opportunity to canoe, kayak, swim, hike, or meditate in the idyllic scenery.
There are also special workshops on writing, cooking, and herbalism.
One thing we love about Sewall House is how they strive to keep your schedule flexible, because they believe one size never fits all, particularly when it comes to practicing yoga.
Staying at Sewall house includes three meals, with vegan and gluten-free options available.
10
Satchidananda Ashram-Yogaville
Located not far from Charlottesville, VA, Satchidananda Ashram-Yogaville is the last pick in our ranking of America's 10 best yoga retreats.
The facility is open to the public all year, in addition to offering programs and teacher trainings.
All offerings at Satchidananda Ashram-Yogaville are based on the philosophy and practice of Integral Yoga, which combines many styles of yoga into one, holistic, comprehensive system, touching on all aspects of a healthy lifestyle.
There is also an organic farm at the ashram, with vegetarian and gluten-free dining options.
This ashram stands out to us for a lot of reasons, one of which being the silent retreats, where you can refresh body and mind through yoga and silence.
Lodging at the ashram ranges from tent camping to shared or private dorms.
Want More Travel Guides?
We've got you covered: