You've tried kayaking, canoeing, white water rafting, and surfing, but have you ever tried stand up paddle boarding?
Paddle boarding is not only a great way to get outside and on the water, it's easy to get started doing. It's not only an excellent full-body workout — especially your core muscles — it's a fun activity all year long.
Best of all, you can even paddle board with your dog, child, or significant other, and it can be as leisurely or vigorous as you choose. Have you ever tried SUP yoga or a SUP tour? You'll want to after reading this article.
In addition to the world's 10 best paddle board destinations — some of which might be closer than you think — this article will tell you what you need to know to get started stand up paddling according to experienced paddle boarders from all over the country.
Once you try it you'll agree — few water sports activities compare with paddle boarding.
One of the biggest benefits of paddle boarding is it's really easy to learn how to do. The primary requisite for any paddle boarder is to simply love the water, says David De Haan of Standuppaddleboardreview.com.
"Do you love the water? Are you looking for a versatile activity?" he says, "If you answered 'yes,' paddleboarding would be perfect for you."
Before we go any further, let's clear up a little bit of terminology. Throughout this article, you'll read paddle board, but also SUP board (or a stand up paddle board), and sometimes just SUP or SUPing. All different names for the same thing.
Now that bit of business is out the way, let's talk a bit about getting started with paddle boarding.
How to Pick the Right Size Paddle Board and Paddle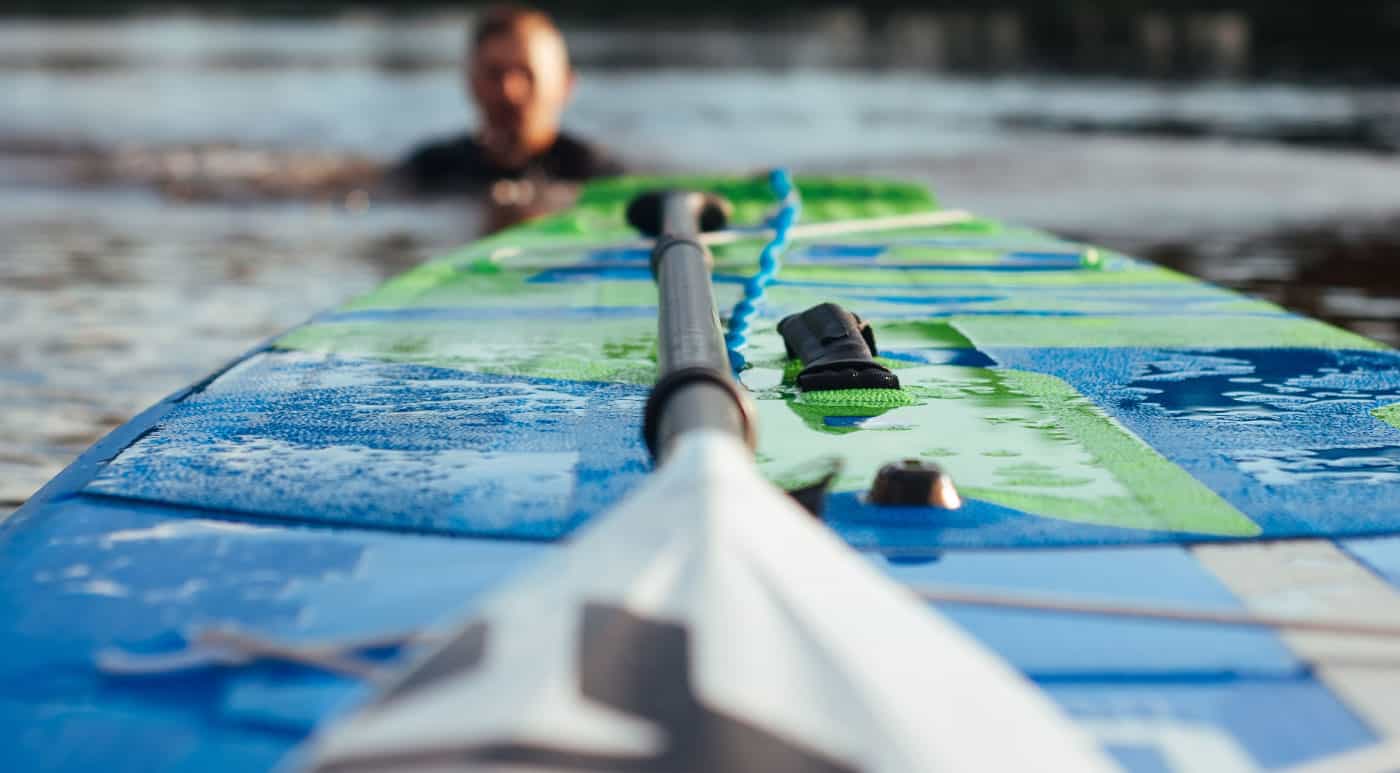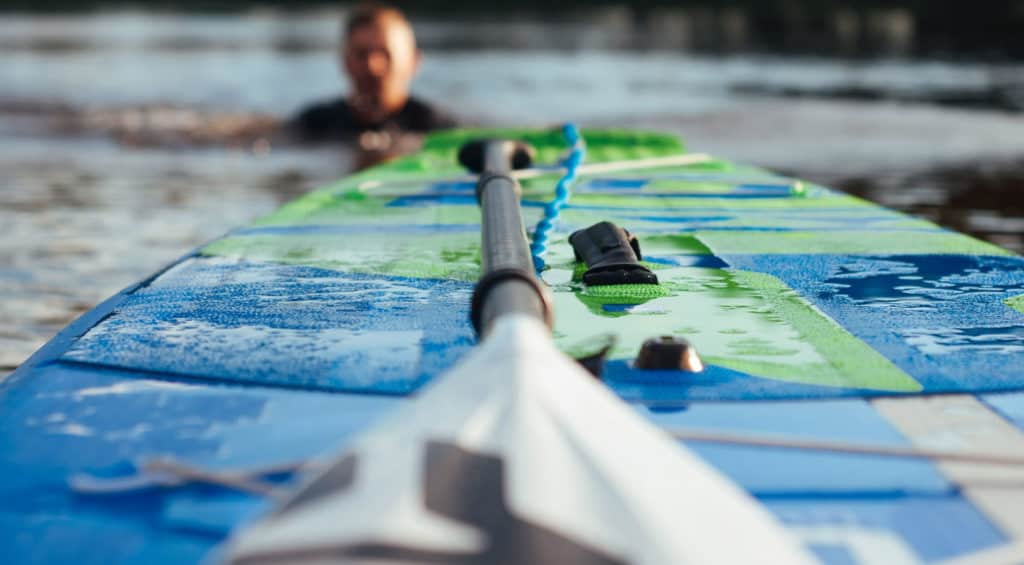 The first thing you're going to need to do is find a paddle board that's sized right for you. There are two different kinds of paddle boards: an inflatable SUP, or a hard rigid board.
Here's how to choose:
Inflatable paddle boards are a good choice for those just starting out, if you're buying a board on a limited budget, if you have limited storage space, or if you travel a lot and you want to bring your board with you on the road.
If you tend to stay close to home when boarding, a hard paddle board could be right for you, or if you prefer SUP surfing, since hard paddle boards handle well and are known to be quick and agile.
In addition to hard and inflatable, there are numerous kinds of paddle boards meant for specific activities once you're out on the water. This includes yoga SUPs and fishing SUPs, as well as touring SUPS, intended for traveling long distances or participating in a race. Touring SUPs are difficult for beginners, however.
Next, you'll need to make sure your SUP is sized right for you.
What Size Paddle Board Do I Need?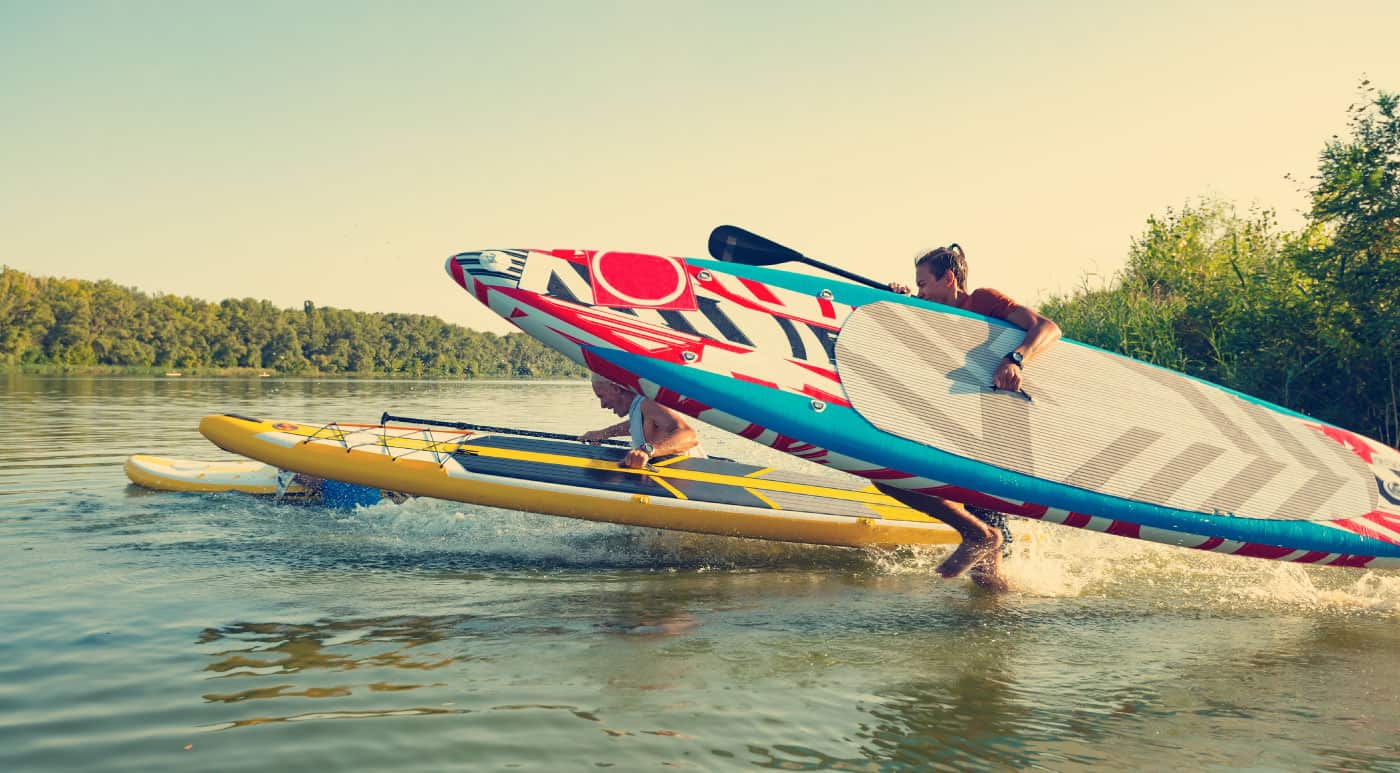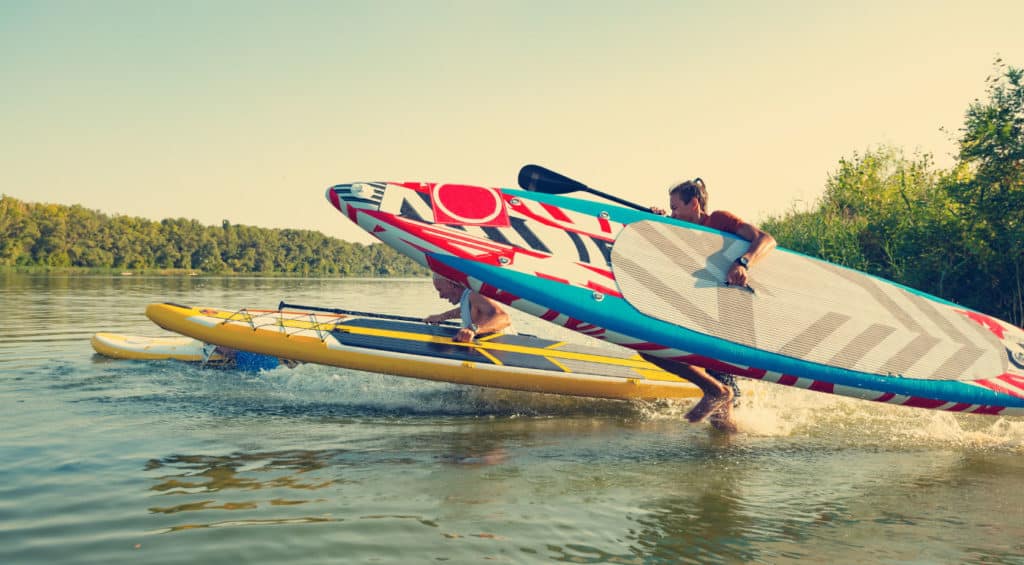 To find a right-size board for you add 9–10 inches to your own height. That should do it!
Size matters when it comes to SUP paddles as well. There are four basic approaches to sizing a paddle.
With the Laird Laird Hamilton's Method, the paddle should be 3–4 inches above your head.
With the hands up method, just extend one arm like you're raising your hand in class while the other arm holds the paddle parallel to your body. The palm of your extended hand should fit comfortably over the end of the paddle board.
A third way to size your paddle is to throw a "Shaka" with your hand, a gesture used by some to mean "hang loose." Put your thumb on top of your head, with your pinky extended upward. Your paddle should be as long as your extended pinky.
Stare it Straight in the Eyes Method
Last, there's the stare it straight in the eyes method. To try this, put the grip on the ground with the paddle pointed skyward. The point where the paddle meets the grip should be exactly at eye level.
Now that you've selected a board and paddle. Here's what to do once you get it in the water.
How to Paddle Board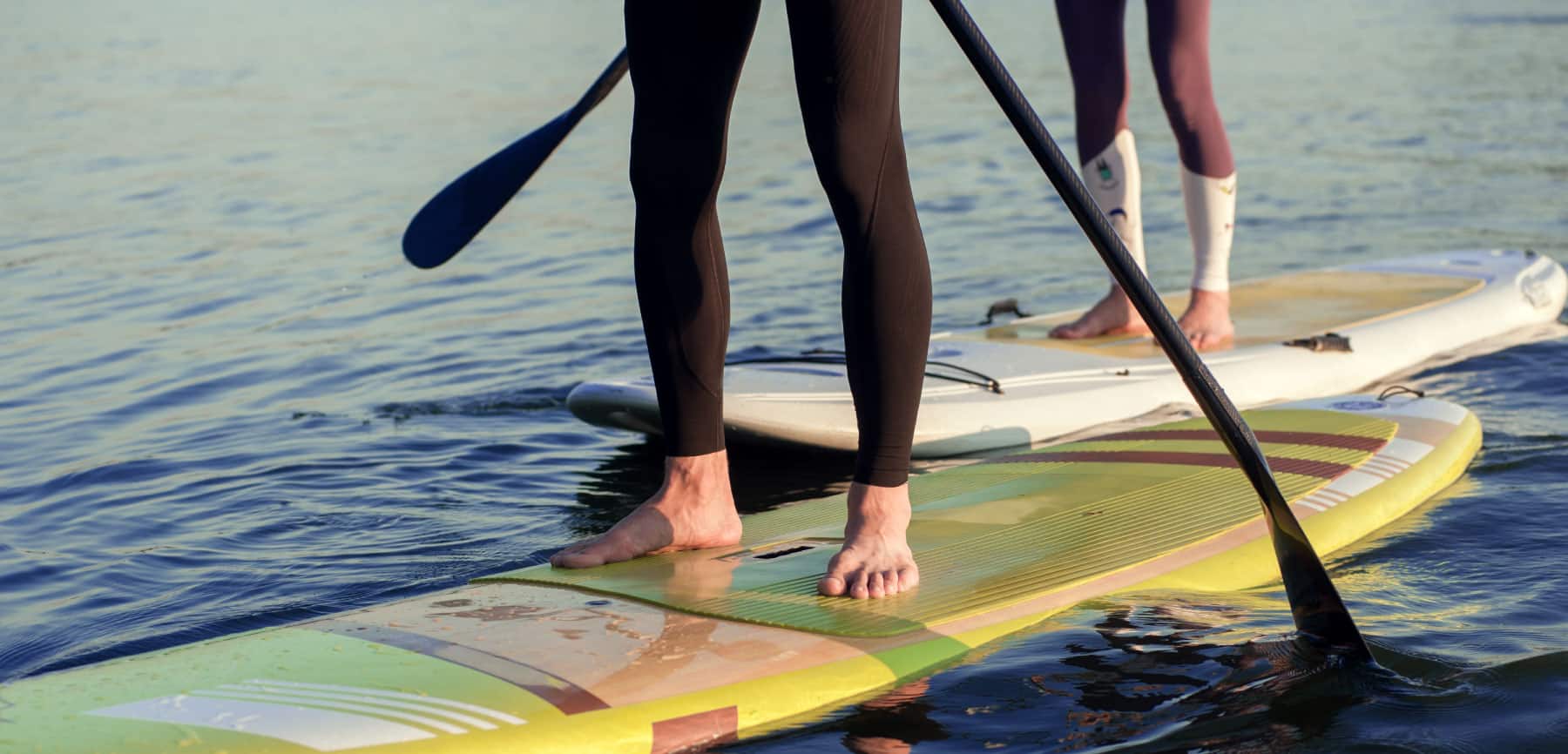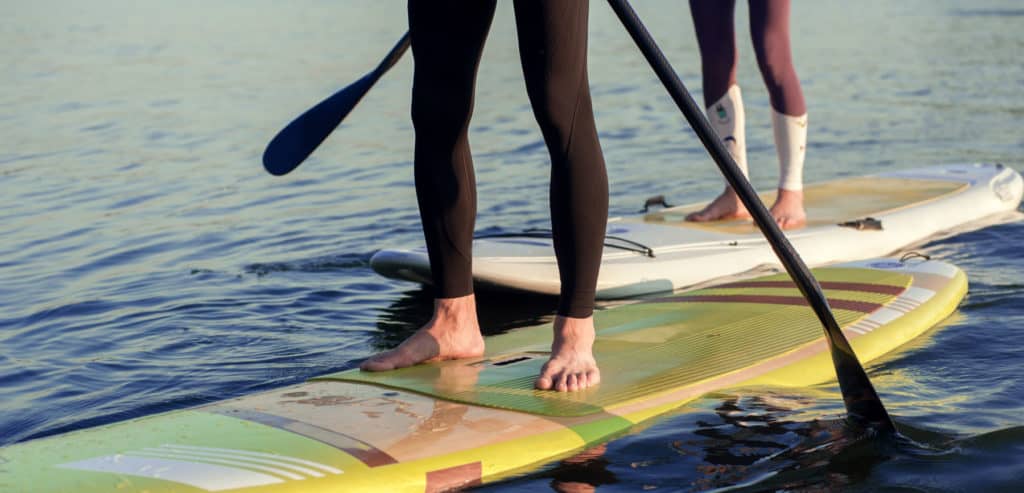 In this ranked list we selected places with plenty of opportunities to take paddle boarding lessons. For an in-depth guide, check out RAVE's complete guide to paddle boarding. For now, here are a few brief pointers.
Make sure you're in water that's deep enough for the fin to be free of the bottom.
Begin in a kneeling postion once you're on the board. Paddle with your hand a bit on either side.
Stand up slowly, one foot at a time. It's important to stay in the middle of the board with your feet shoulder length apart and parallel to the stringer (a thin strip running nose to tail of the board, directly down the center)
Keep your knees bent slightly, and your core centered over the board (Like we said, paddle boarding is a great core exercise).
You're probably going to fall off a few times. That's ok. Just get back up and try again. Since you'll likely find yourself in the water at some point, try a thin wetsuit to keep warm.
Once you're up on the board, try paddling. When paddling your SUP, think of your paddle like a lever. Use your top hand to drive the lever, while your bottom hand acts as the pivot point.
If you're having trouble keeping your balance once you're up on the board, it's probably because you selected a board that's too small for you. Try a board that's a little bit wider and thicker and it should solve the problem.
Now that you've selected a board and a paddle and learned some beginner things to try once you're out in the water, let's begin our ranking of the 10 best paddle board destinations.
Methodology
When we set out to present the world's 10 best paddle board destinations, RAVE Reviews triangulated similar lists from reputable outdoors recreation sites from all across the internet.
We then cross-referenced that research against input we received from experienced paddle boarders, many of whom have tried SUP'ing all over the world.
Everyone knows there are great places to SUP in California, Hawaii, and Lake Tahoe. But we wanted to show you the lesser known hot spots and SUP destinations to try this increasingly popular water sport.
We evaluated each spot on the following:
Type/quality of water
Proximity to lodging and other accomodations
Nearby SUP shops, tour guides, and lessons
Wildlife and marine life viewing opportunities
Scenery
Accessbility
All this combined has helped prepare a complete and thorough ranking of the world's best paddle board destination. Ready to try paddle boarding? Let's get started.