Fantastic features like championship golf courses, nature preserves, a casino, and 10 bars and restaurants makes Wyndham Grand Rio Mar Puerto Rico Golf & Beach Resort the best all-inclusive resort in Puerto Rico.
This sprawling, 500-acre resort just underwent a multimillion-dollar renovation, giving guests the very best of what Rio Grande has to offer. 
Nothing compares to the luxury of an all-inclusive Caribbean resort. You can almost feel your stress melting away from the moment you set foot on the grounds. Explore the golden sands and aqua blue water, a refreshing drink in hand. Spend the day lounging by the pool or have the time of your life on an excursion from your wildest dreams. 
At an all-inclusive resort in Puerto Rico, you really can have it all. These resorts range from adults-only to family-friendly, from massive hotels with hundreds of rooms and hundreds of acres of beachfront land to cozier, more private retreats with only a few dozen guest rooms. Where you stay can make or break your tropical vacation, especially when going all-inclusive. 
How do you begin choosing the best all-inclusive resort in Puerto Rico, especially if it will be your first time visiting the beautiful island? Sit back and relax – we have done the tough part for you. Read on for the inside scoop on the most desirable places to stay in Puerto Rico. 
The All-Inclusive Resorts in Puerto Rico We RAVE About
It's just not a vacation if you aren't staying at one of these can't-miss all-inclusive luxury resorts.
There's something for everyone at Wyndham Grand Rio Mar Puerto Rico Golf & Beach Resort, which boasts a casino, two championship golf courses, two nature preserves, a full-service spa, and 10 restaurants and bars. Explore over 500 acres of on-site fun, or adventure off the resort to the nearby breathtaking El Yunque Rainforest or Bioluminescent Bay. 
Read Full Review
Visit Wyndham Grand Rio Mar Puerto Rico Golf & Beach Resort
Plenty of resorts in Puerto Rico are kid-friendly, even the all-inclusive ones. But none more so than El Conquistador Resort in Fajardo on the east coast. El Conquistador offers a special children's spa program called Ki' Spa, and the resort's all-inclusive package includes complimentary admission to Coqui Water Park (which is fun for all ages) and Camp Coqui Kids Club. 
Read Full Review
Visit El Conquistador Resort
Most travelers think of all-inclusive as referring to dining and drinking, but the inclusive packages at Rincón Surf Resort in Rincón provide a different set of amenities: Activities. Ideal for active guests, these packages include surf lessons with unlimited surfboard rental, snorkel gear rental, and yoga, plus one massage and one excursion or tour of your choice. 
Read Full Review
Visit Rincón Surf Resort
While you've likely heard about the lavish all-inclusive resorts populating places like Mexico, Jamaica, and Punta Cana, less is said about the equally beautiful Caribbean destination of Puerto Rico. Yet that's all changing. 
As Puerto Rico continues recovering from the devastation caused by Hurricane Maria, tourists are showing renewed interest in the island. The New York Times ranked Puerto Rico number one on its list of places to visit in 2019. Tourism is as good for the island's economy as the serene beach settings and take-it-easy island vibes are for vacationers. 
The island of Puerto Rico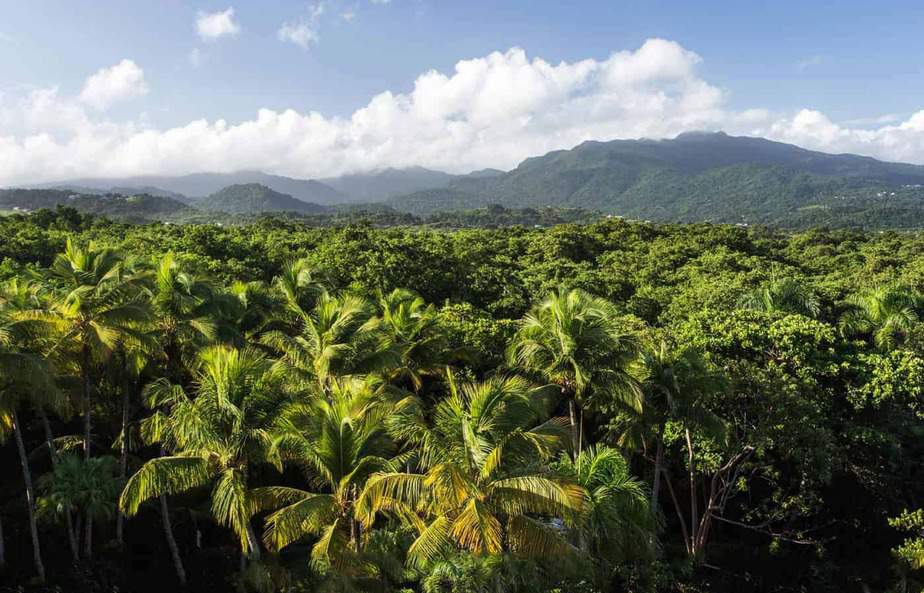 The Caribbean island of Puerto Rico has been a U.S. territory since 1898. Tourism on the island dates back to 1919, when the first upscale hotel was built. By the 2010s, Puerto Rico was attracting upwards of 3.1 million tourists per year, climbing to 3.5 million in 2015 and 3.7 million in 2016.
Damage from Hurricane Maria dealt a major blow to the island and its tourism industry in 2017. Many top resorts in Puerto Rico have since undergone major renovations. 
The 3,500-square mile island that makes up the mainland of Puerto Rico is divided into six regions, each with their own landscapes, attractions, and charm:  
In the

metropolitan area

of Puerto Rico, you will find the capital city San Juan. 

The

east

region of Puerto Rico is home to many resorts in cities like Yabucoa, Rio Grande, Maunabo, Humacao, and Fajardo, as well as El Yunque Rainforest and Laguna Grande, a bioluminescent bay. 

On the

west

coast, which is known for its excellent surfing and diving conditions, there are other top-performing all-inclusive resorts in the cities of Rincón and Guánica. 

The

north region

of Puerto Rico is home to the tourist center city of Dorado and a massive system of underground caves found in Río Camuy Cave Park . 

In

central

Puerto Rico, you will find the Cordillera Central mountain range. 

If you travel to the

south

region of Puerto Rico, the architecture of the city of Ponce is a must-see. 
What does "all-inclusive" mean?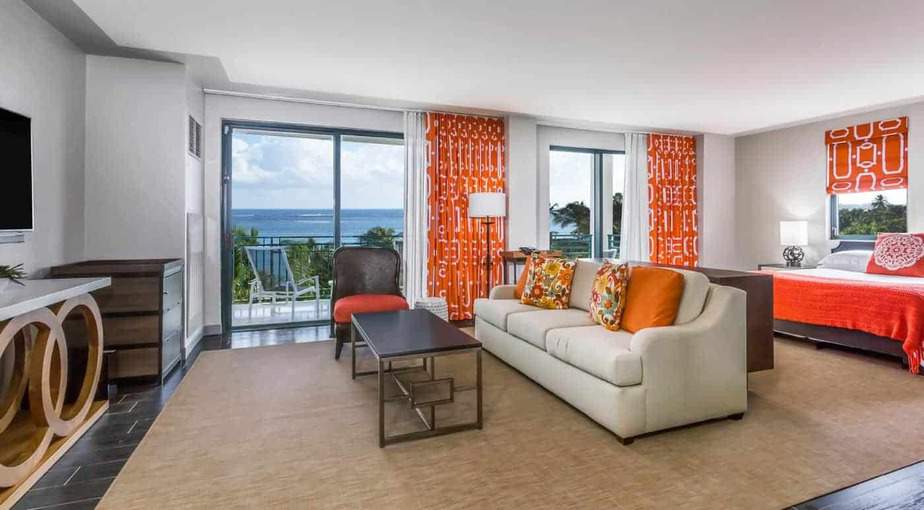 Although the term "all-inclusive" might sound straightforward, travelers often wonder what to expect at an all-inclusive resort. Generally, staying at an all-inclusive resort means the costs you pay for your accommodations also cover some other amenities that wouldn't otherwise be included in a traditional hotel. Exactly what is covered varies by resort. 
Most often, all-inclusive hotels or packages cover some or all of your meals. An all-inclusive resort may have one restaurant or dozens of restaurants. You may have access to a full menu that includes appetizers and desserts, or you may be limited to an entree only or a selection from a special menu. 
Some all-inclusive resorts are generous in their drink offerings, including unlimited alcoholic and non-alcoholic beverages. Others limit the quantity of alcohol included. Some resorts cover non-alcoholic beverages only, and others don't include beverages at all. 
Occasionally, all-inclusive packages cover amenities other than food and drinks. They may include limited or unlimited access to:
Special attractions or programs

Spa services

Water sports rentals

Surfing lessons

Excursions or activities
An activities-inclusive package might not include food and drinks, so you should always find out exactly what is included when you book your stay. 
What isn't included in an all-inclusive package?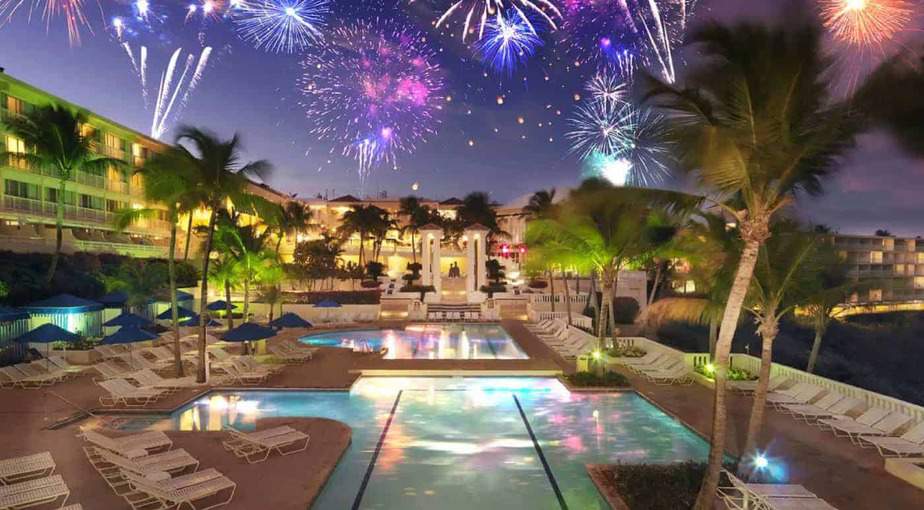 Although the amenities, activities, and experiences included depend on the exact terms of the package, most hotels offer certain upgrades, services, or excursions for a fee. Depending on the hotel's tipping policy, you may or may not be expected to tip bartenders, servers, and other resort personnel. 
Pros and cons of all-inclusive resorts 
The best thing about staying in an all-inclusive resort is the simplicity. You can indulge in the full course dining experience, from appetizer to dessert, without carrying cash or a credit card. 
When you're hungry, get a snack. If you're thirsty, stop by the nearest bar for a refreshing tropical drink. It's a nice change from daily life, which is full of stressful logistics. Because all-inclusive resorts attract travelers looking for luxury, the grounds and accommodations are often magnificently designed and well maintained. 
Of course, there are downsides. All-inclusive packages have a higher up-front cost. If you plan on extensive explorations off the resort, you might end up paying extra for meals and drinks you won't use. 
If you aren't clear about what exactly your package includes, you could be very disappointed in your vacation. The best way to make your all-inclusive experience a good one is to choose the best resort available to you. 
Methodology
Going on vacation is fun. Meticulously comparing the packages and prices of all the different hotel options? Not as much fun.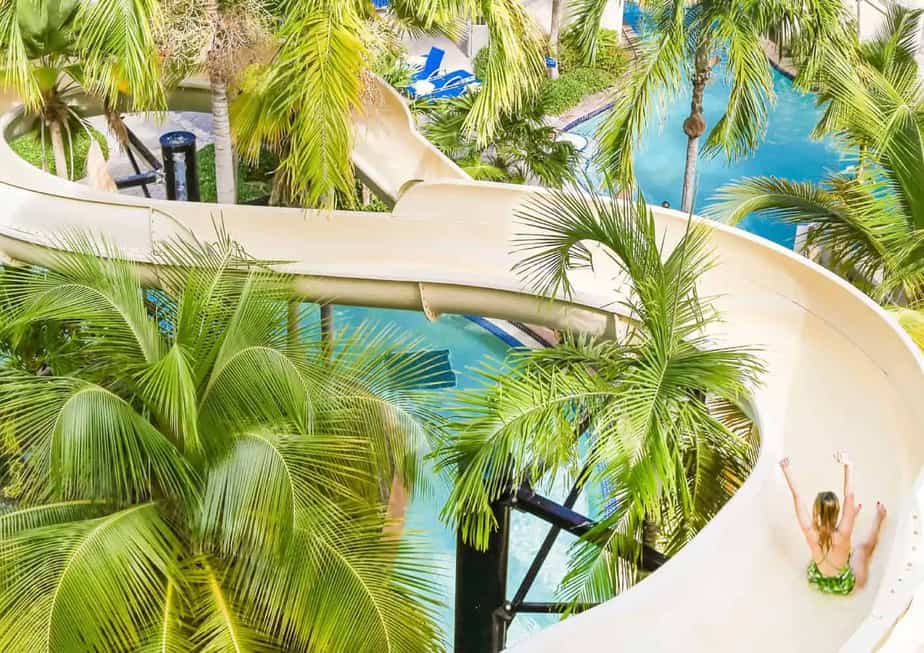 Instead of spending your valuable time combing through hotel fine print and thousands of reviews scattered across dozens of travel websites, let us do the legwork. In narrowing down the top resorts Puerto Rico has to offer, we've considered the factors that matter most to travelers just like you, including: 
Cost

What's included

Dining and drinking variety 

Things to do

Grounds and accommodations 
Pack your bags and get ready to book your trip to one of the best all-inclusive resorts in Puerto Rico! 
The Best All-Inclusive Resorts in Puerto Rico
Related Rankings
What is there to do in Puerto Rico? 
There's no shortage of things to do in Puerto Rico, both on-site at an all-inclusive resort and off-site. When you pay the higher price for an all-inclusive resort, you're paying for the privilege of using that resort's amenities, which may include water sports gear, access (and transportation) to private beaches or islands off the mainland, and pools. 
Many resorts offer daily activities, such as dance and cooking lessons, games, guided tours, arts and crafts, and nightly entertainment such as comedy shows, live musical performances, and dancing. 
Excursions off-site often require extra charges. Some of the most popular spots to visit in Puerto Rico include El Yunque National Forest, the offshore islands of Vieques and Culebra, and the bioluminescent bays. In addition to traditional hikes through El Yunque, ziplining tours are popular. Although bioluminescent bays are rare in the world, Puerto Rico is home to three. 
The point of a vacation is to relax, and what better way to relax than by lounging on the beach? Puerto Rico boasts some of the most beautiful beaches in the Caribbean, including the private Palomino Island, Playa Flamenco, and Culebra Island. All-inclusive resorts are ideal for beach enjoyment because you don't even have to leave the premises. 
How safe is Puerto Rico for tourists? 
Travelers often fear for their safety when going abroad, and it's no wonder when you see scary news reports of violent crimes that occur usually off the resorts. In many of the tropical destinations where all-inclusive resorts are common, guests are advised to

not

leave the resort for their safety. 
Fortunately, this is not the case in Puerto Rico, a destination that is considered safe for tourists. Overall, the violent crime rates in Puerto Rico are relatively low, and lower than many states in the U.S. In 2018,

USA Today

reported most crime that occurs is nonviolent, including pickpocketing and other forms of theft. 
Within the capital city of San Juan, areas like New San Juan, the historic district of Old San Juan, and Ashford Avenue in the Condado neighborhood are among the safest places for tourists to travel. Outside of San Juan, attractions like El Yunque National Forest, Vieques Island, and Culebra Island are generally safe places for travelers to visit. 
In fact, all-inclusive resorts aren't common on the island because there is so much to see and do, and the area is generally safe enough for tourists to travel off the resorts. Many visitors don't want to stay on-site for every meal. Instead, they want to explore, adventure, and sample authentic Puerto Rican cuisine off-site. 
What is the best way to get to Puerto Rico? 
The best ways to get to Puerto Rico include traveling by plane or by boat. Once you arrive, you may wish to rent a car or use transportation provided by the resort in the forms of shuttles, ferries, and catamarans. 
Many tourists choose to fly to Puerto Rico. The island has two international airports. Most travelers fly into San Juan International Airport (SJU), also called Luis Munoz Marin International Airport, in the metropolitan region of Puerto Rico. From San Juan airport, you can drive to a resort in Yabucoa on the east region of the island in under an hour. 
If you're heading toward the west coast to stay in a resort in Guánica or Rincón, for example, you may not want to fly into San Juan airport. It's a two and a half hour drive from San Juan to Rincón, whereas the Rafael Hernández Airport (BQN) in Aguadilla is just 20 minutes away. 
BQN is smaller, and sometimes more expensive, than SJU. However, it's a faster and more direct route for travelers to the west coast of the island. After all, you can't put a price on your time. 
Flying isn't your only option for traveling to Puerto Rico. If you prefer to go by boat, you are in good company. Cruise ships routinely travel to the Port of San Juan, a collection of 16 piers that happens to be one of the busiest ports in the Caribbean. 
What are the best times to visit Puerto Rico? 
Figuring out the best times to visit Puerto Rico's all-inclusive resorts requires you to weigh many different factors. The weather certainly matters, but so do the crowds, costs, and your reasons for visiting. Some activities may be dependent on seasonal factors, and there are events that occur only once a year. 
Generally, mid-April through June is the best compromise between ideal weather and crowding, according to U.S. News & World Report. While cold and bleak in most of the continental U.S., winter offers the best weather in Puerto Rico – but that also means higher costs and bigger crowds. 
Spring in Puerto Rico means temperatures in the mid-80s without the precipitation that characterizes the rainy summer season on the island. Between July and September, resort prices in Puerto Rico tend to drop because hurricane season is in full swing. Hurricane season officially ends with the month of November. By mid-December, it's already peak season for crowds. 
Festivals draw crowds of tourists from around the world, so even during less busy times of year, the timing of these events coincide with increased crowds. If you have your heart set on an outdoor activity like surfing or snorkeling, find out during what time of year the ocean currents are most likely to cooperate. 
What are the best all-inclusive resorts in Puerto Rico? 
It's not easy to choose the best places to stay in a Caribbean island paradise. We at RAVE used rigorous research methodology, aggregating information from the most trusted travel websites out there to determine which resorts really are the best. 
The factors we used to rank the best resorts include: 
Cost:

Even luxurious accommodations should provide great value for the price.

What's included:

Resorts with comprehensive all-inclusive packages scored the highest. 

Dining and drinking variety:

Resorts with more restaurants got the most credit.  

Things to do:

Vacation should be relaxing, not boring. The highest scoring hotels offer the best activities. 

Grounds and accommodations:

Luxury hotels scored higher than simpler hotels.   
Every resort on our list is exceptional in terms of grandeur, variety of activities, or price point. The magnificent settings of the Wyndham Grand Rio Mar Puerto Rico Golf & Beach Resort landed this hotel the top spot on our list, but it's far from the only good all-inclusive option. 
We were especially impressed with the extent of El Conquistador Resort's all-inclusive package, including the variety of on-site restaurants and bars. Candelero Beach Resort's excellent swimming pools and proximity to must-see attractions, including two offshore islands, make it a favorite among tourists. The Rincón Surf Resort offers a fresh twist on the idea of an inclusive vacation. 
Copamarina Beach Resort & Spa offers great on-site amenities including a private beach, and the tiered meal plan system gives you more flexibility. The amazing values offered by the five all-inclusive resorts from Tropical Inns will have families switching from "can't afford it" to "can't wait to get there!"
RAVE Recommends
If you're going to take a tropical vacation, you need some new beach gear.
Lonely Planet Travel Guide ($15): Before you head off on your Puerto Rican adventure, don't forget to pick up Lonely Planet's guidebook. Get a hard copy, an eBook, or both.
Blueline Products Oversize 9'x10′ Waterproof Nylon Parachute Beach Blanket: The last thing you want to worry about on vacation is lugging around an unwieldy, sand-covered beach blanket. This popular waterproof blanket fits eight, includes a zipper pocket for cell phones and metal stakes to keep it in place, and condenses to fit into an easy to carry bag. 
WolfWise UPF 50+ Easy Pop Up 3-4 Person Instant Sun Shelter Tent: If you're traveling with a little one, this easy to assemble tent will protect baby's sensitive skin

without

overcrowding your suitcase. It's large enough for adults to fit comfortably inside as well. 

SIMARI Womens and Mens Water Shoes: These foldable, quick-dry, non-slip water shoes are perfect for the beach, waterparks, water sports, and any other adventure you might encounter on your vacation in Puerto Rico. They come in a variety of sizes for both men and women, with 32 colors and patterns available. 
Odyseaco Aruba Mesh Beach Tote Bag with Insulated Picnic Cooler: Tired of trying to stuff

all

your family's gear into a bag too small to fit, only to struggle to find any one item when you need it? This super roomy, see-through mesh beach tote with a built-in insulated cooler holds four towels with room to spare. 
Krystle Dodge
Krystle Dodge is a freelance writer and lifelong geek whose passions include food, beach trips, tabletop games, all things Disney and Harry Potter, and spending time with her family. She graduated from Rowan University and lives in South Jersey with her husband and son.