Ski trips are not cheap. For this reason, it's crucial to pick out of the best ski resorts in North America so that you get your money's worth out of your vacation.
But this begs the question: what makes a ski resort great?
America's best ski resorts provide options. Great slopes with fresh powder for every level of skill and challenge will please your whole family or group of friends.
Because there's nothing worse than planning an extensive ski trip, only to find some of your group feels left out.
Key Point: In this ranking, we bring you the best ski resorts in America based on the quality and selection of slopes, lodging, and traveler reviews.
What to Pack for a Ski Trip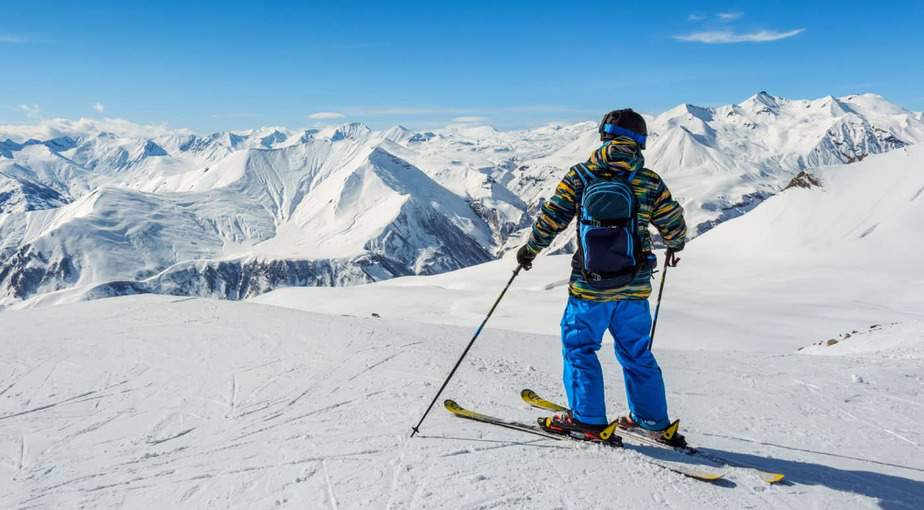 Follow this easy-to-use checklist to make sure you have everything you need on the slopes without overfilling your carry-on.
This is probably the most important thing to get right. From long underwear, leggings, or tights, to long-sleeved undershirts, we recommend bringing along a set of one or two base layer options for a long weekend at the lodge, maybe more if you stay more than a week.
When picking a ski jacket, look for a two-layer shell jacket that's waterproof and easy to move in. The right jacket should work in frigid conditions as well as in the lodge, all depending on the layers you're wearing underneath. This will save you the hassle of packing two bulky jackets.
Mittens (With Glove Liners)
Next, pick up a good pair of ski mittens. We like mittens because they keep your fingers where they belong–together–which maximizes your body heat. The added protection of the glove liner will keep your hands extra-warm on the mountain, while also remaining versatile enough to wear back at the resort.
A good pair (or two) of ski pants are a must-have for your next ski trip, and these days a lot of ski pants are fashionable enough to wear back at the lodge as well!
Like a multi-tool, a good fleece can be worn over base layers or dressed down for cocktails après ski. We say pack two or three fleece options for your next trip.
Don't head up the mountain without a pair of ski goggles to help cut the glare and protect your eyes from wind and snow. We say look for ski goggles with interchangeable, anti-fog lenses.
An ear-warmer headband fits under your ski helmet, keeping your ears and forehead extra warm both on the slopes and afterward on your way to dinner.
A good winter hat will help keep your head and ears warm for times when you aren't wearing your helmet.
What to Wear to a Ski Resort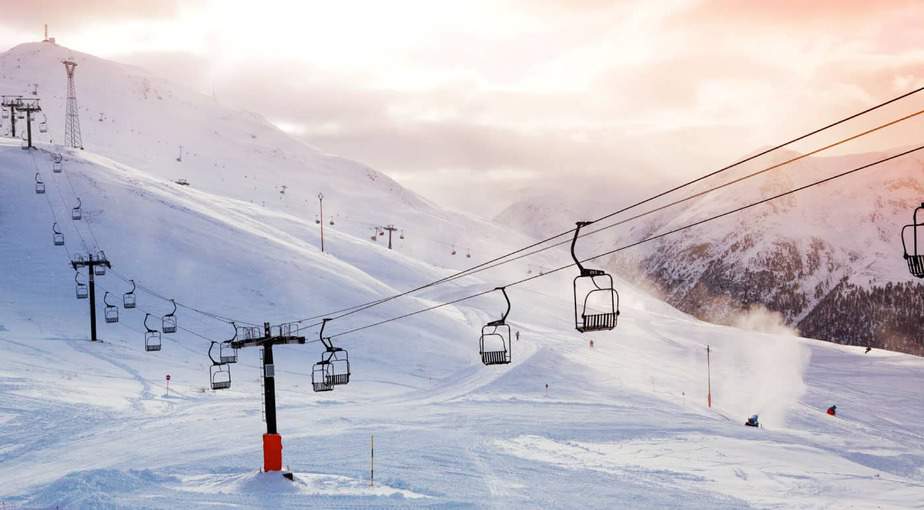 But of course, you won't always be skiing while on your trip, and this ranking is as much about everything else the resort has to offer as it is about the ski experience.
Pack these items (see below) and you'll be well-prepared for après ski.
Casual Clothing
As we mentioned earlier, you'll want to choose clothing and accessories that are versatile for both on and off the slopes. But below are a few items better suited for the lodge than the mountain.
Any casual clothing brought along on your ski trip should be warm enough for cold conditions, but not so warm that you'll overheat indoors.
Pack these items on your next ski trip:
Casual pants (avoid jeans — more on that later)
Sweaters and shirts
Waterproof boots and shoes
A casual coat or jacket
In addition, consider packing Kleenex (cold weather-induced drippy nose is not a good look), warm, winter socks that fit underneath casual footwear, and winter boots what will go well with ski pants, or, for women, leggings or tights.
You'll also want to be sure to pack sun protection (yes, even in winter), including sun screen or just regular sunglasses. And don't forget a scarf, but remember, scarves are a no-no for the slopes where their floppiness creates a safety issue. To keep your neck warm when skiing, wear a neck gaiter. For back at the lodge, a scarf will do just fine.
What Not to Wear for Skiing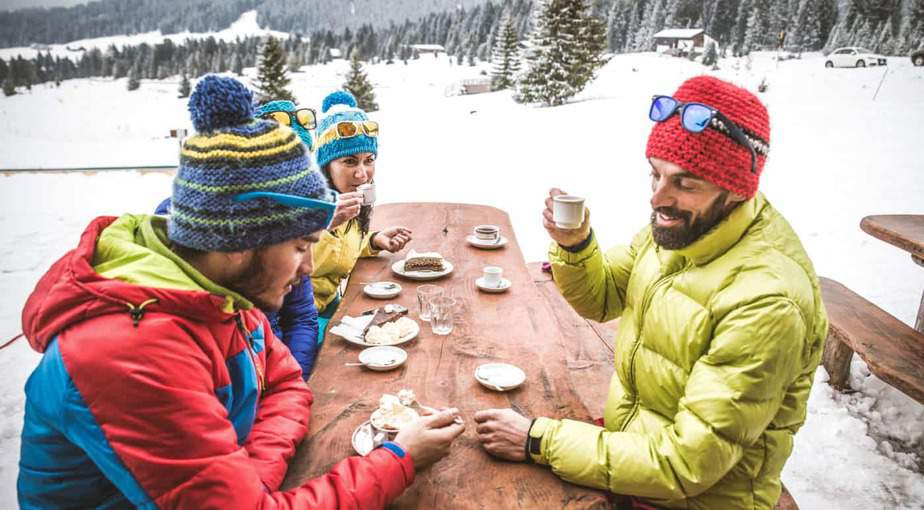 Now that we've given you some pointers about what to wear while skiing, let's now talk about what to avoid wearing on the slopes. We're all for raiding your closet before spending a bunch of money on new gear, but if you do, stay away from these items you might already have on hand:
Avoid denim in the snow at all costs. The fabric just won't handle the wetness and denim isn't known for heat retention.
Thick Socks (Or Multiple Socks)
Extra-thick or multiple pairs of socks can cut off circulation to your feet, making them extra cold. To test if you're running the risk of cutting off circulation in your feet, use the toe wiggle test. If you can wiggle your little piggies, then chances are you won't cut off circulation.
want to learn more about what to wear to a ski resort? Check out this helpful video for more information.
Methodology
Staying at a ski resort isn't just about skiing. It's about après ski, lodging, nightlife, convenience, location, and a whole lot more. Maybe you're traveling with a snowboarder, or someone who might be interested in snowshoes, skating, or just hanging around and shopping while you're out on the slopes.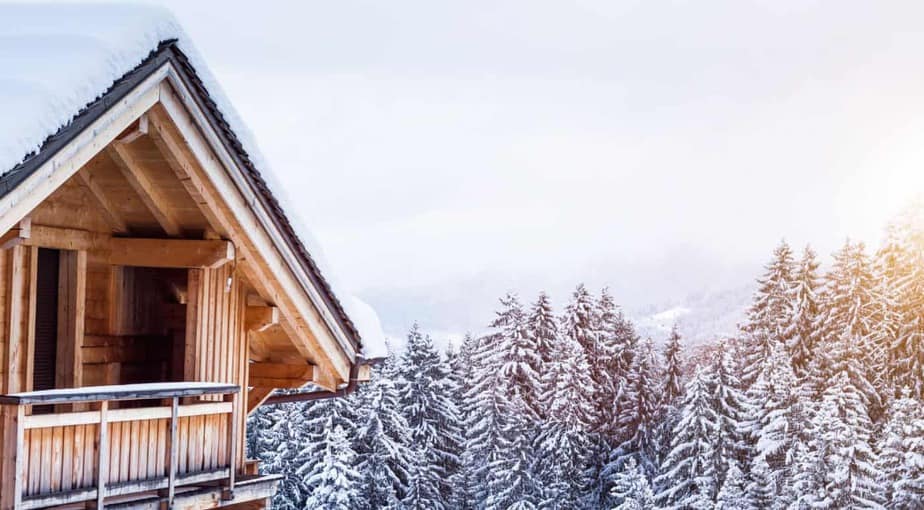 With all this in mind, RAVE Reviews considered the following when putting together this ranking of America's 25 best ski resorts.
Vertical drop
Top elevation
Base elevation
Skiable area
Number of runs
After consulting trusted and reputable sources from all over the internet, RAVE Reviews factored in these additional data points to each resort's final score:
Number of available lifts
Snowfall in inches
Terrain parks
On-mountain lodging
Night skiing
Après ski
All together, we feel this painted the most complete picture of what each resort has to offer. So keep reading and find out what we picked as America's best ski resorts.