Conjure up an image of ice fishing in your mind.
Like many, sitting on a stool next to a round hole in the ice is likely the first picture that comes to your mind, and that's not too far from the truth—just like an old cartoon. But these days, ice fishing is a lot fancier than that.
What's important to know is that ice fishing requires ice—it's kind of right there in the name, isn't it? And ice means a tough climate. But with the right gear, like an ice fishing sled or even an ice fishing house, ice fishing can be a fun and satisfying adventure.
In addition to America's ten best ice fishing destinations, this article has everything you need to know to get started ice fishing, so bundle up—even though it's winter, there's still plenty of fishing to do.
Finding America's 10 Best Ice Fishing Spots
It takes a very special fisherman to see a frozen lake and think, "I want to fish there." But that fisherman is you, and you're here to find out how to start ice fishing.
The truth is, there's a lot to know about ice fishing. Not least of which is, what kind of ice fishing gear do you need to get started?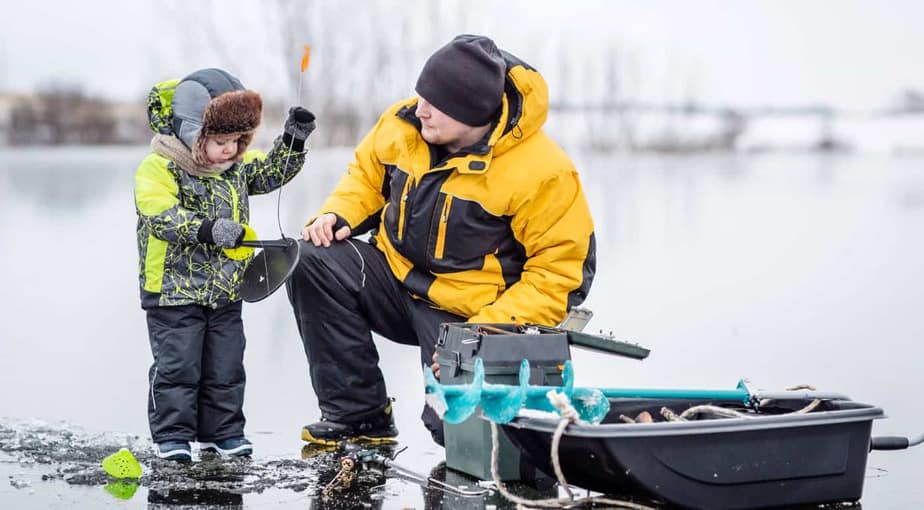 At its most basic, all you really need to try ice fishing is frozen water and a fishing pole or spear. You can build your own ice fishing house, sometimes called an ice shanty, ice shack, fish house, shack, bob-house, or ice hut. Or these days, just buy one.
Some ice houses are even heated with bunks, so you can make your ice fishing trip a multi-day excursion. In addition to bunks, bring along a generator and a satellite TV and binge your favorite shows right there on the ice—no promises about the Wi-Fi though.
Here are some other advantages of using an ice house or ice shanty when you're ice fishing:
Giving your feet a break from standing on ice
Shelter from the wind (especially on sunny days)
A break from the bitter cold
And remember: Any time you're dealing with icy conditions and frozen water, it's important for inexperienced ice fishermen to bring along an experienced friend.
How Dangerous is Ice Fishing?
Like any outdoor activity, safety comes first, especially in the wintertime. A good guideline is the ice should be at least 4 inches thick to be safe to walk on.
In addition to the very real risk of falling through thin ice, other risks associated with ice fishing include frostbite and exposure to the elements, as well as carbon monoxide poisoning from improperly used heaters.
What Can You Catch Ice Fishing?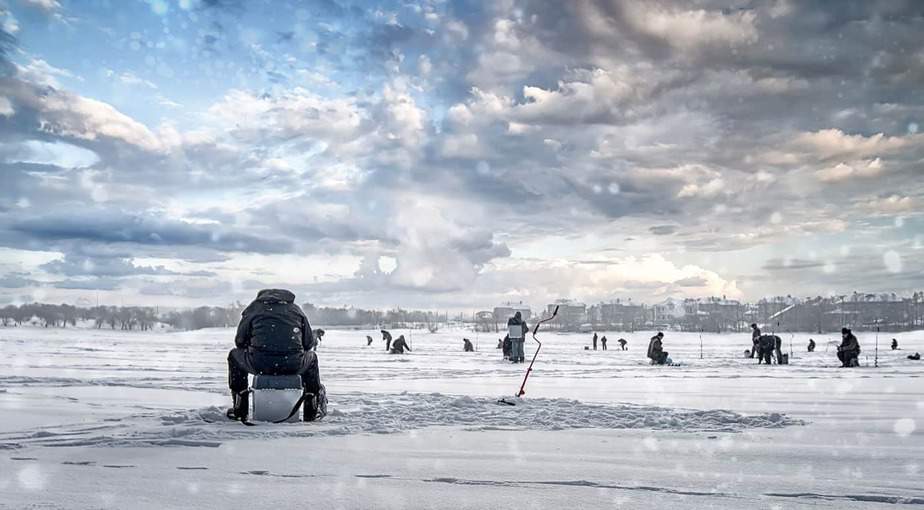 The point of any kind of fishing is, of course, to catch some fish.
What you catch ice fishing is not so different than what you catch fishing any other time of the year, including bluegill, sunfish, perch, crappie, trout, pike, walleye, and sturgeon.
And do you want to know a secret?
It's even EASIER to catch some of those fish in the winter since the cold temperatures make the fish extra sluggish—sensible fish, they are.
To rouse these fish from their stupor, try chumming, or simply tossing some tasty fishy snacks in the ice hole, like smashed up minnows, wax worms, or spikes. Like an old-fashioned dinner bell, this will make the fish come running—er, swimming, that is.
Regular old worms, also called red "wigglers," also work for ice fishing bait. Or, try mealworms or "mealies" instead.
Besides a pole or spear, an ice fishing house, and some bait, what other equipment do you need for ice fishing?
Ice Fishing Gear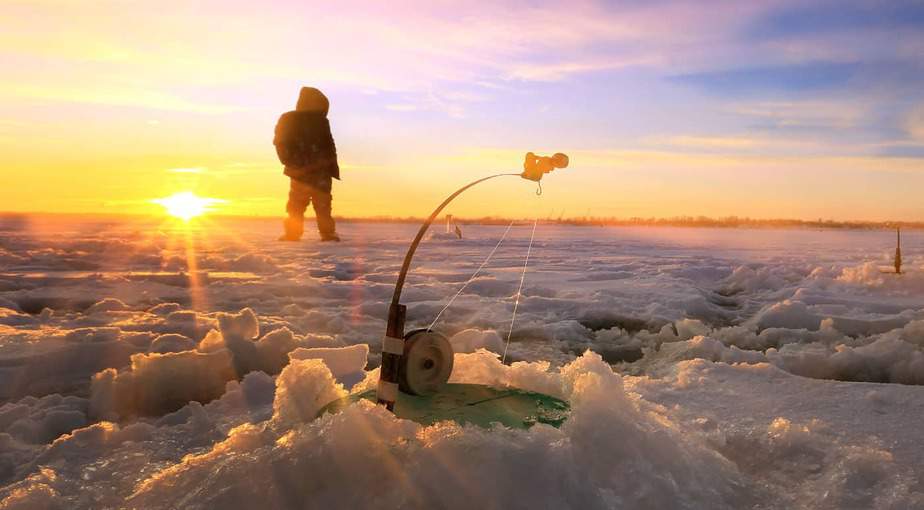 In addition to what we've already covered, here's some equipment every ice fisherman needs before heading out on the ice:
Ice auger
You'll use an ice auger to cut your ice hole, anywhere from about 5 to 8 inches. Ice augers come in two varieties, manual and power.
Manual ice augers are cheaper and take a little more oomph to use. Power ice augers do a lot of the hard drilling for you, but you pay for the convenience.
The size of your ice hole depends a lot on the kind of fish you're hoping to catch. Six inches will do for perch, crappie, and many walleyes—anything larger and you're gonna need a larger hole.
Ice fishing seat and sled
Like other kinds of fishing, there's a lot of hurry-up and wait with ice fishing. But unlike stretching out in the sunshine, as you can do in the spring and summer, ice fishing requires something to sit on while you wait for the fish to bite.
A simple bucket can serve this purpose. You can also toss your fish in the bucket when you're done for the day. Or, buy an ice fishing bench instead. An ice fishing sled helps you get all your gear out onto the lake quickly and easily.
These are just a few examples of basic ice fishing gear to get you started. But we'll leave it at that for now, and move on to what we're all here for: America's ten best ice fishing spots.
Methodology
Here at RAVE Reviews, we didn't want to show you just any frozen puddle. We promised you the very best ice fishing destinations and we delivered. Here's how we did it.
First, we consulted the opinions of experienced fishermen as well as trusted and reputable authorities on the sport.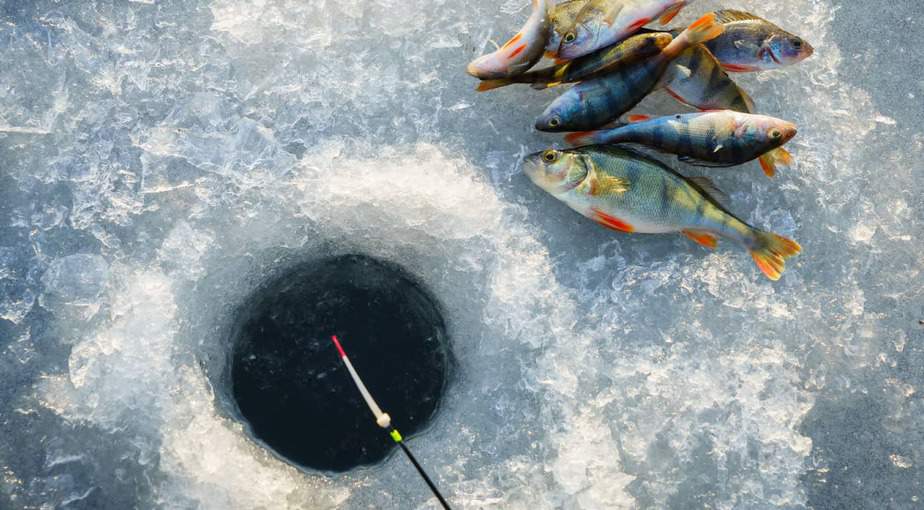 We evaluated each destination on the following:
The opinion and feedback of those who've ice fished at each location
The size, depth, and elevation of each body of water
Diversity of fish
Popularity, or crowd size
Nearby towns and amenities
Guides or trip planning services nearby
We are certain this criteria covers everything that makes any ice fishing destination one of the best. Keep reading and we're confident you'll agree these ice fishing spots are indeed America's very best.
America's Best Ice Fishing Spots