Ready, set, Tokyo! The 2020 Olympics launches on 23rd July 2021. If they're already a little behind schedule, you can bet the roster of international Olympians will do their best to catch up.
Athletes are discouraged from glancing back over their shoulders. But Rave Reviews reckons this false start is an opportunity to look back at the top Olympics medal winners of all time. And, since talk of Olympics big-hitters tends to center on US domination, we chose to highlight the top Olympian from every country that competes. We awarded points for each medal won: gold = 4 points, silver = 3, bronze = 1.
The Olympics has a gender gap, so we also found the top woman Olympian if a country's most successful was a man. Plus, while we were adding things up, we also figured out the sport where every country has the biggest medal success.
We found:
135 countries have won at least one Olympic medal, but 38 of those have never won gold.
The most successful athlete is male in 104 countries out of 135 (77%), and female in 27 (20%) (the rest are tied).
The most successful male national athlete is US swimmer Michael Phelps with 100 points from 28 medals (23 gold, 3 silver, 2 bronze).
The most successful female national athlete is Russian gymnast Larisa Latynina with 50 points from 18 medals (9 gold, 5 silver, 4 bronze).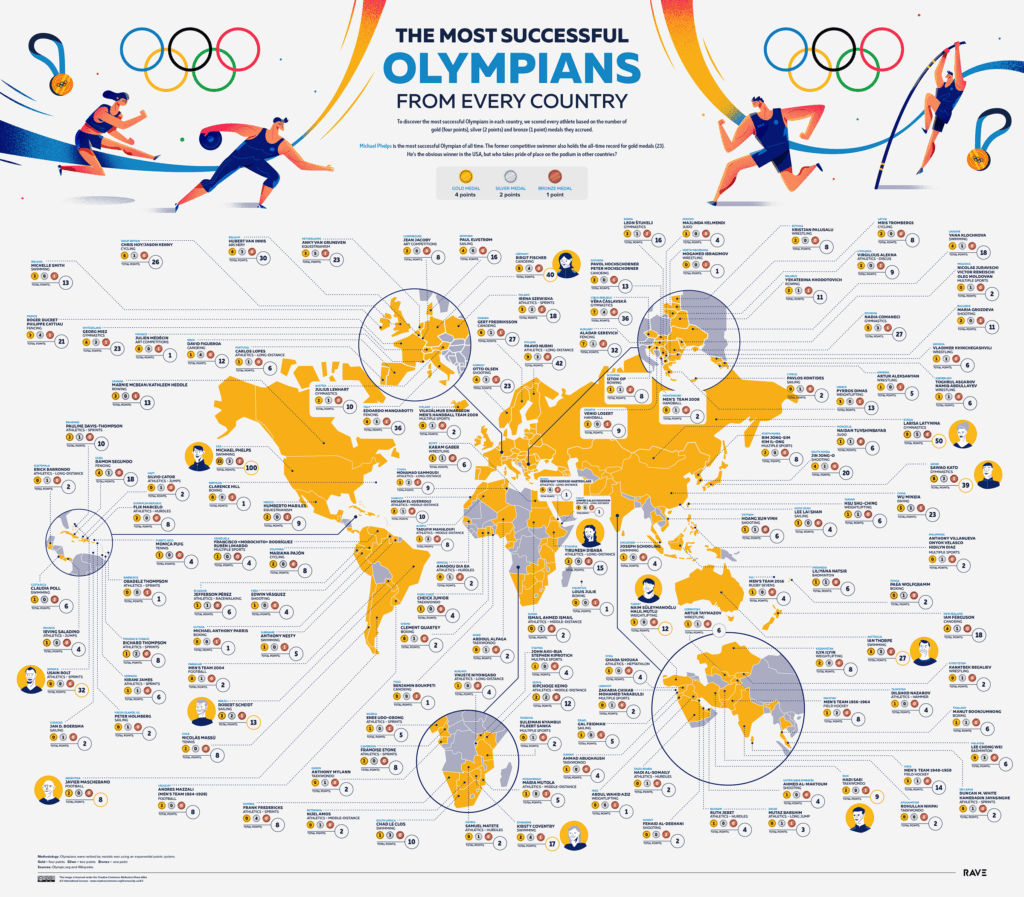 Click on the map to see it in full size
Below, we'll take a deep dive into each continent to highlight local heroes around the world. But first, let's look at the most successful female Olympian from each country, the sport at which each country has won the most medals, and the overall top 15 Olympians ever.
Russian Gymnast is Olympics' Most Decorated Woman
Women were forbidden from competing in the first modern Olympics. The Games' founder, Pierre de Coubertin, wrote that the "feminine semi-Olympiad is impractical, uninteresting, ungainly and, I do not hesitate to add, improper." It took until 1976 (Montreal) for female participation to rise past 20%, and until 2012 (London) for every country to send at least one woman.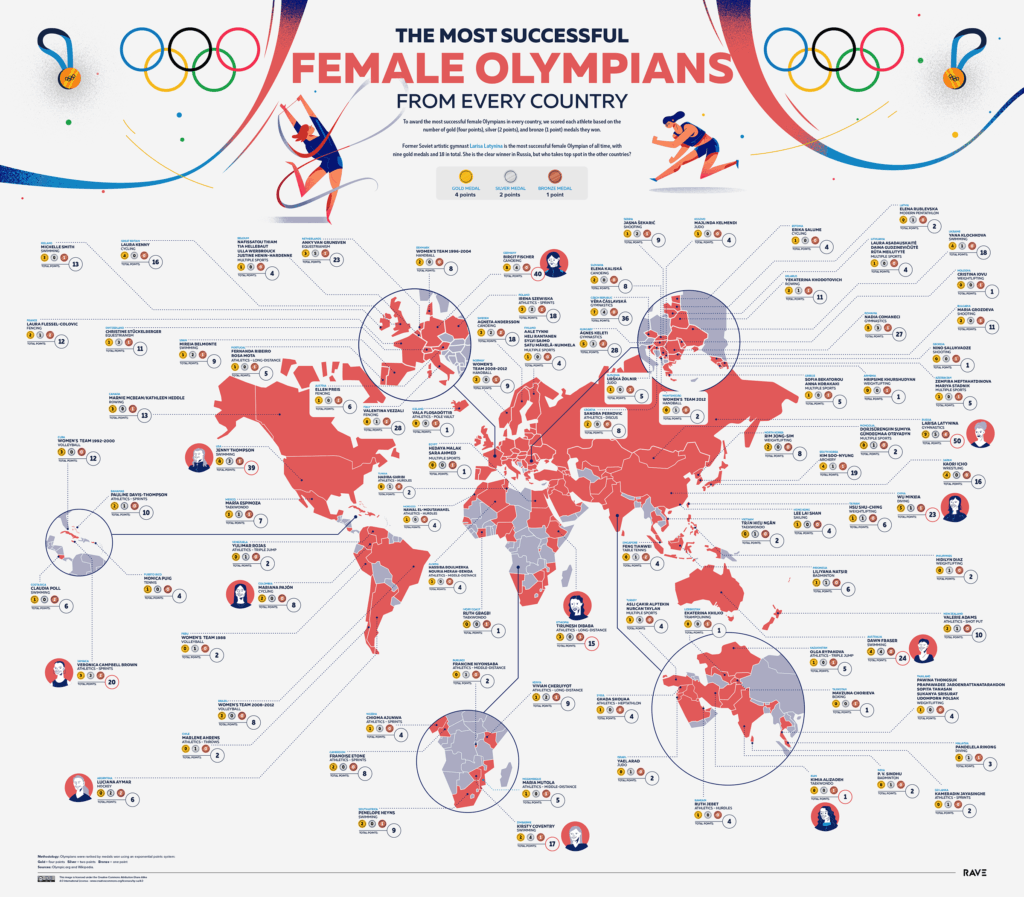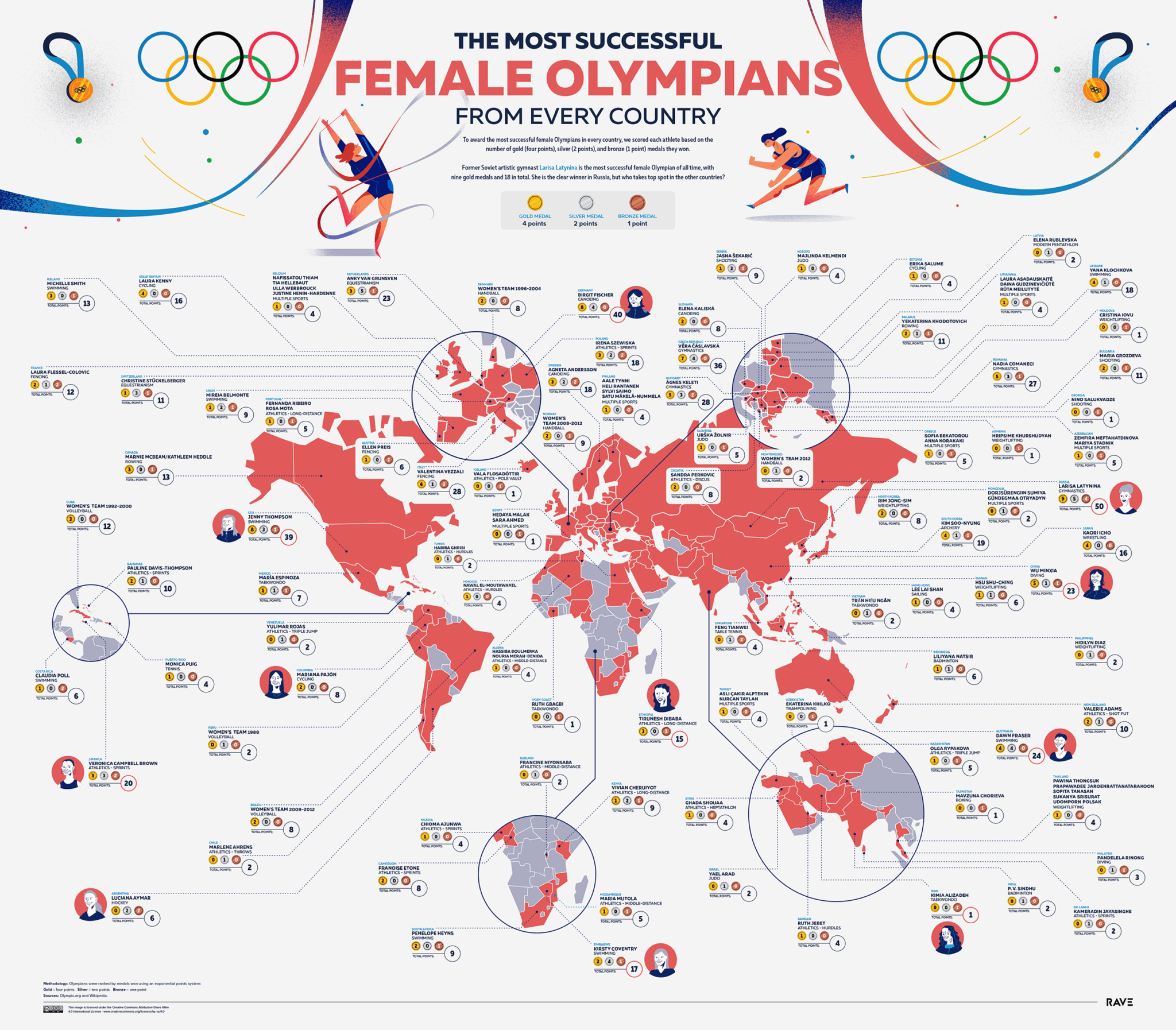 Click on the map to see it in full size
Gymnasts dominate the top 10 most successful female national athletes (four out of 10). The legendary Larissa Latynina held the record for the most Olympic medals (regardless of gender) for nearly half a century, from 1964 until 2012 – 18 awards, including nine golds.
The Olympic Sport Where Each Country Excels
Different athletics events accounted for the top sport in 39 countries. And 16 countries (including Cuba, Poland, Argentina, and Kazakhstan) have a boxer as their most successful Olympian. A wrestler is the national treasure of 12 countries, including Sweden, Finland, and Turkey.
Click on the map to see it in full size
The United States has the 'national sport' with the highest success rate. American swimmers have accumulated 1,463 points, including 246 Olympic golds. This is nearly triple second-placed Russia, whose swimmers are their most successful Olympians (596 points).
Michael Phelps is the All-time Most Successful Olympian
Before we deep-dive on the top performers on each continent, here are the 15 most successful Olympic medal-winners ever, regardless of country. Michael Phelps' size 14 flippers and 80-inch (203cm) 'wingspan' helped him swim faster than everyone in the world, propelling him to 23 Olympic gold medals, including a record eight golds in 2008 (Beijing) alone.

After Larisa Latynina, German kayaker Birgit Fischer is the top female national treasure. She represented both East Germany and, after reunification, Germany. Fischer has been both the youngest- and oldest-ever Olympic canoeing champion, winning both her first (aged 18) and final Olympics (aged 42) – the latter having twice announced her retirement already.
North America
It's easy to throw the word 'legend' around when talking of Olympians, but Jamaica's fastest man – in fact, the fastest on the planet – has a good claim. Usain Bolt doesn't come second at the Olympics: with 8 golds, he's racked up 32 points and possible GOAT status. He even named his daughter Olympia Lightning Bolt.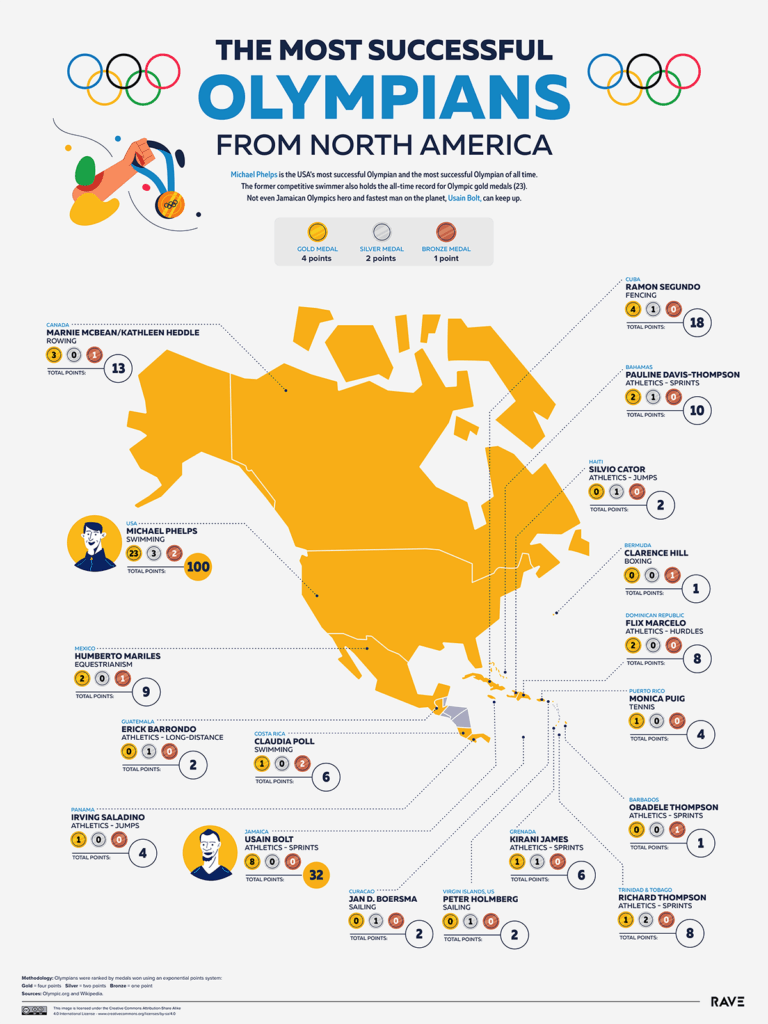 Click on the map to see it in full size
The Bahamas also has a runner for its national hero. Pauline Davis-Thompson debuted in 1984 but got both her golds aged 34 in her final Olympics in 2000 (Sydney). In fact, she didn't receive her 200m gold until 2009, when original Sydney winner Marion Jones was stripped of her title for doping.
South America
Uruguay and Paraguay each have 'shared honors' at the top – both countries have football teams as their most decorated Olympians. Paraguay's 2004 runners-up have two points per player, while the eight Uruguayans who took the country to gold in both 1924 and 1928 have eight points each. On the strength of these victories, Uruguay was selected to host the first World Cup in 1930 – and they won that, too.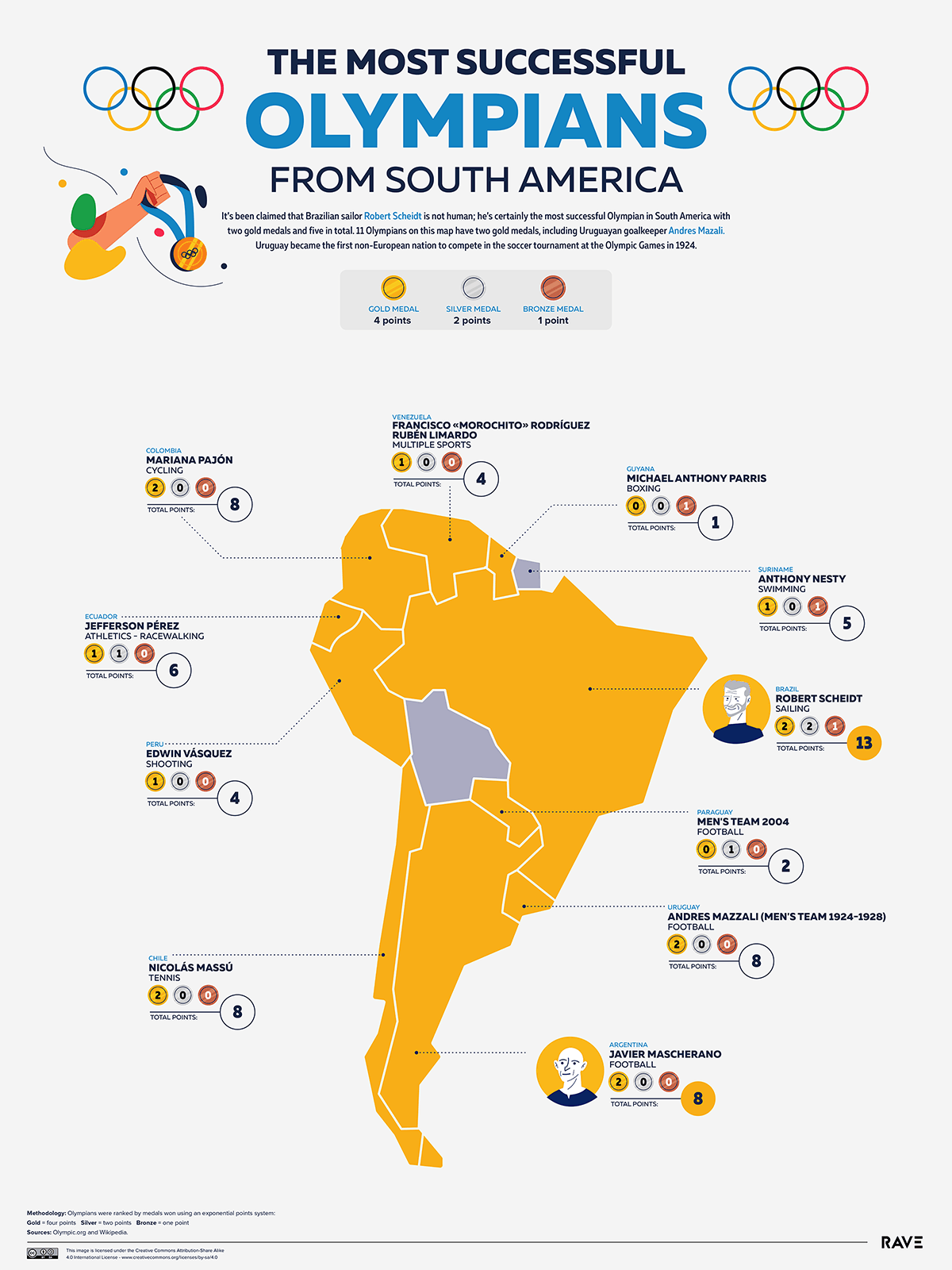 Click on the map to see it in full size
That eight-point total is matched by Mariana Pajón, Colombia's most decorated Olympian. The BMX racer leads the pack in more ways than one: "When I started the sport, there were no girls," she told the Olympic Channel. "I led the way so others can follow behind me. Initially, they shut the door on me and told my parents that girls shouldn't do this."
Europe
Three of Europe's top five national Olympians are women. Aside from Larysa Latynina and Birgit Fischer, Czech gymnast Věra Čáslavská makes the grade. Čáslavská swooped seven Olympic golds for what was then Czechoslovakia. Having spoken out against the Soviet invasion, she spent the three weeks ahead of the 1968 Games in hiding and "kept in shape by swinging from trees and practicing her floor exercises in a meadow."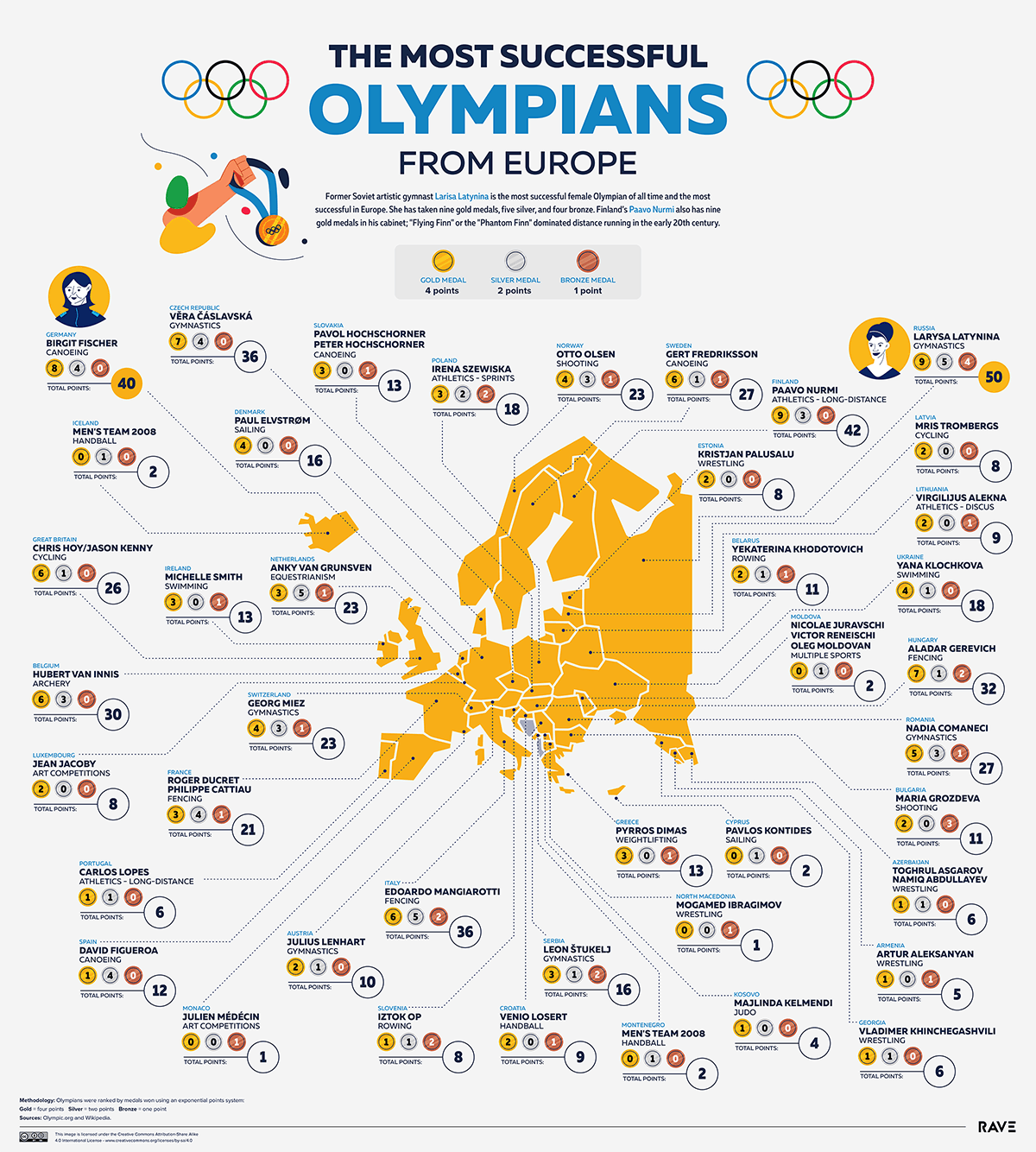 Click on the map to see it in full size
Paavo Nurmi – "the Flying Finn" – is the third-most decorated Olympian ever. The middle-distance and long-distance runner set 22 world records. Known for winning 1500m and 5000m gold medals in the same afternoon, Nurmi's success didn't make him happy. "Worldly fame and reputation are worth less than a rotten lingonberry," he told an interviewer, one year before his death.
Middle East & Central Asia
This region is not well-represented at the Olympics. Turkish weightlifters Halil Mutlu and the late Naim Süleymanoğlu share the spoils, each with 12 points from three golds. At 1.47m, Süleymanoğlu was nicknamed "the Pocket Hercules" and is celebrated for lifting three times his body weight in the clean-and-jerk.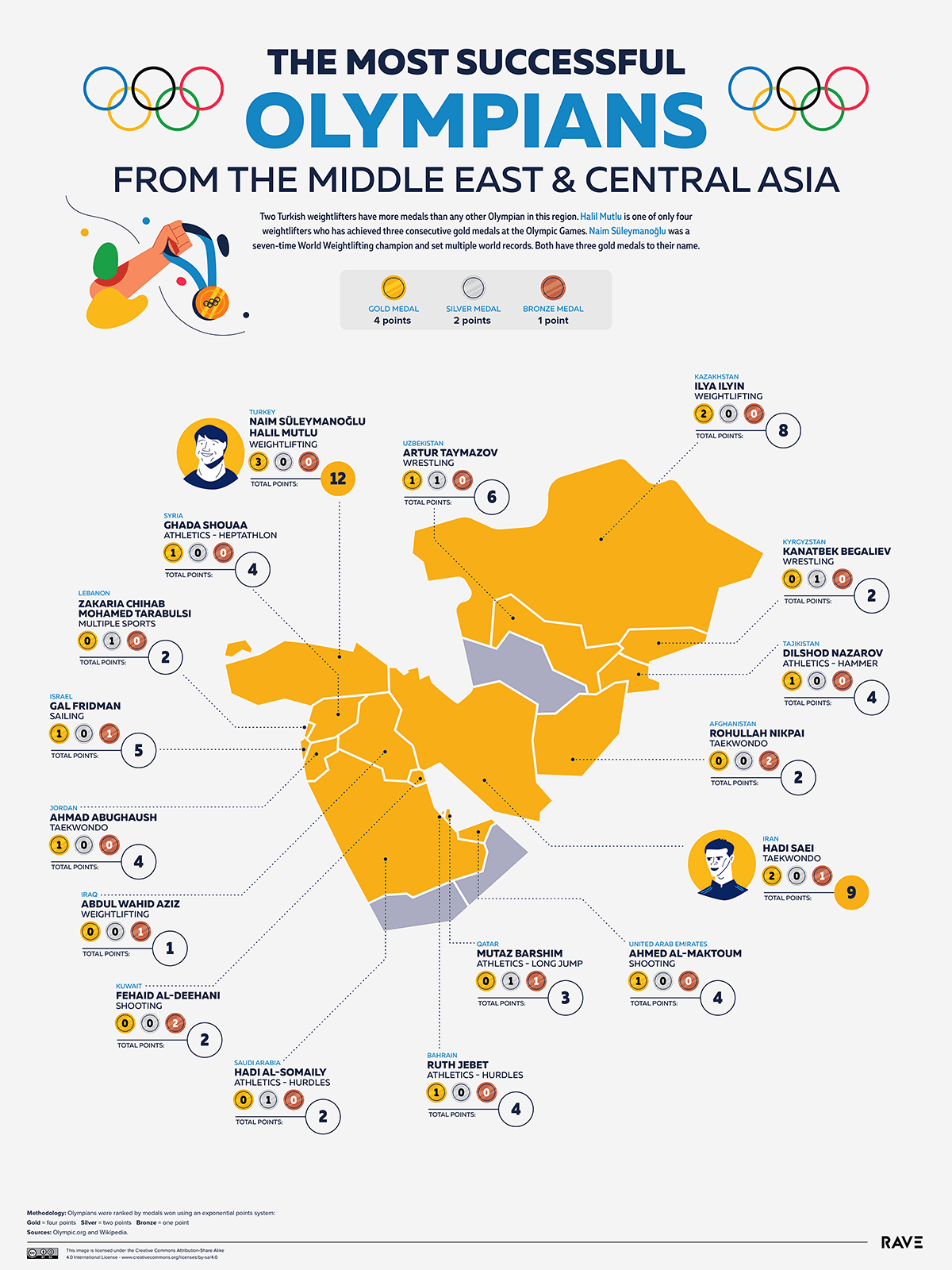 Click on the map to see it in full size
Ruth Jebet was Bahrain's local hero, scoring gold in the 3000 m steeplechase in 2016 (Rio). But the Kenyan-born runner is currently serving a four-year ban. She tested positive for man-made EPO, a hormone that stimulates the production of red blood cells. She retains her gold medal, although later wins were ruled out.
Rest of Asia & Oceania
The gymnast Sawao Kato is the most awarded Asian Olympian (Takashi Ono has more medals but fewer points). Japan's national treasure competed in the late 1960s and '70s, a golden age for Japanese gymnasts – and a time when they faced fierce competition from Russia.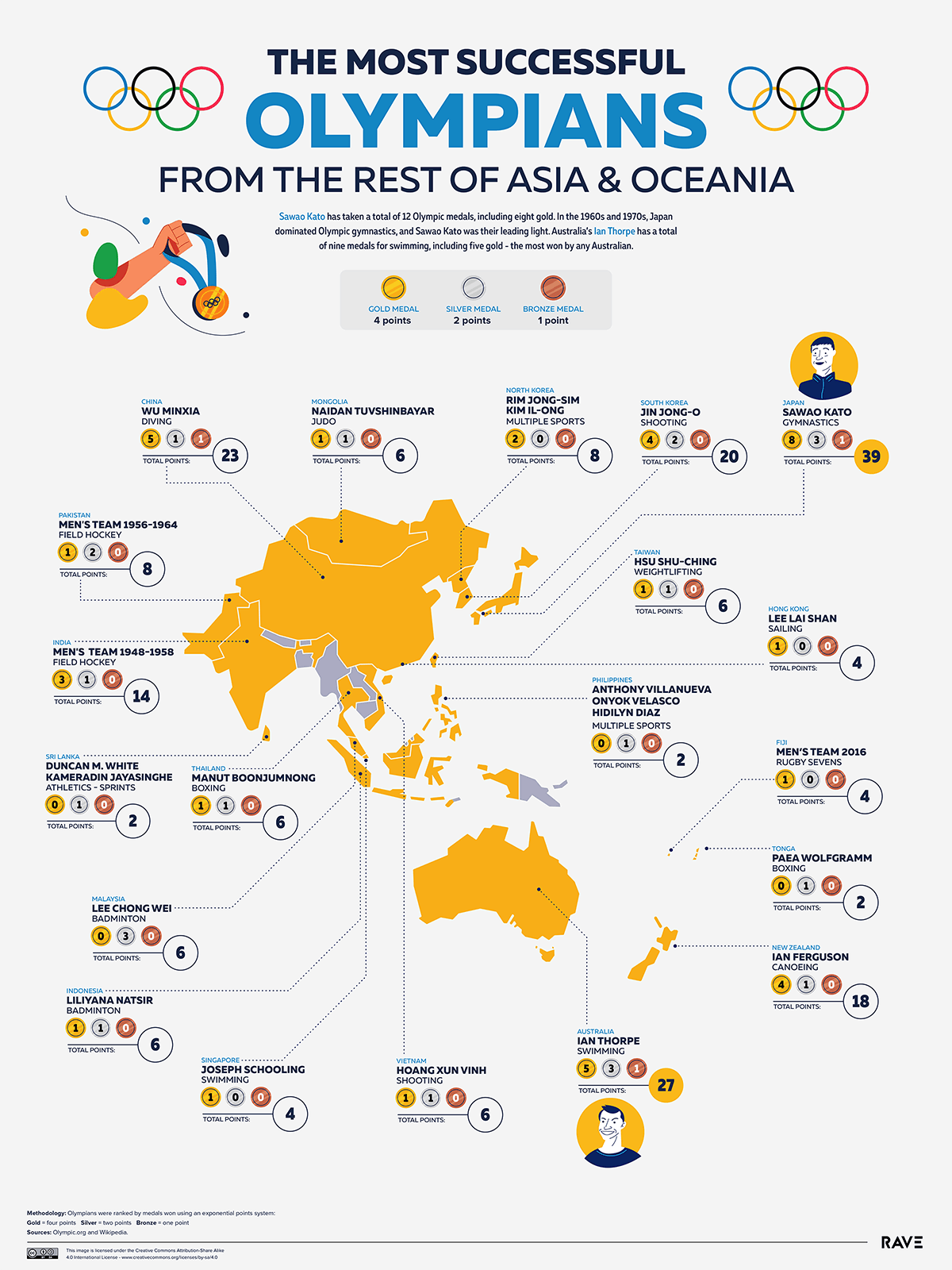 Click on the map to see it in full size
Wu Minxia is the most successful female Olympian from this region. The most decorated woman diver ever counts 7 Olympic medals (including 5 golds) among her haul. She retired in 2016, saying the "story of Chinese diving didn't start with me and it won't end with me."
Africa
Africa's top two national treasures are both women. Kirsty Coventry has won seven of Zimbabwe's eight medals and has since been appointed Minister of Youth, Sport, Art, and Recreation by the President of Zimbabwe. Coventry campaigns on various issues, including anti-doping and the reduction of youth drowning rates. However, she remains a controversial figure as a minority white figure in Zimbabwe's complex political landscape.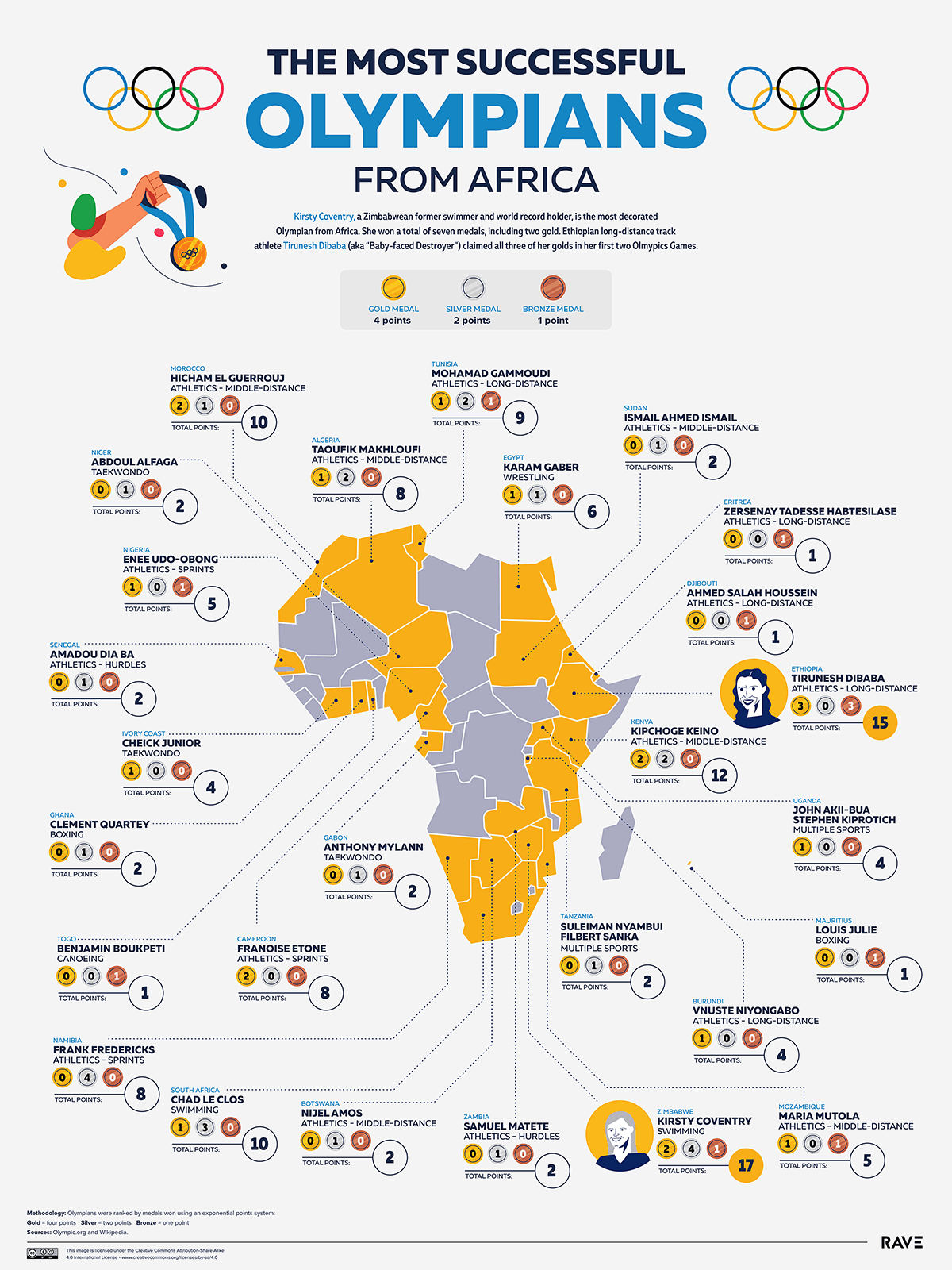 Click on the map to see it in full size
Tirunesh Dibaba is an Ethiopian long-distance runner with three gold medals to her name. She comes from a dynasty of decorated athletes and says that for Ethiopia, nothing short of gold will do. "Our country is not like other countries," Dibaba told CNN. "Silver and bronze in our country is no better than finishing fifth or sixth."
With the 2020-21 Olympics around the corner, new heroes will be made. And athletes with medals at home already will strive to cement their place in their national halls of fame. Which Olympians will you be cheering to success?
METHODOLOGY & SOURCES
Athletes were ranked based on the Olympic medals they won using an exponential points system (gold = four points, silver = two points, bronze = one point). To determine each country's most dominant sport, the same principle was applied.
Athletics was subdivided into Sprints, Middle-distance, Long-distance, Hurdles, Relays, Jumps, Throws, and Combined Events.
In the event of a tie on points, an athlete or sport with more total medals was deemed the most successful in that country.
Olympic athletes and their medals won for representing countries that no longer exist (e.g., Soviet Union, Yugoslavia, Czechoslovakia, East, and West Germany) were counted as representing the historical successor countries, i.e., Russia, Czech Republic, Serbia, and Germany. The medal count for any given individual Olympic athlete only includes medals they won while representing the same country.
Sources: Olympic.org, Wikipedia
Data gathered in March 2021.