We recommend products based on unbiased research from our editorial team. We may receive compensation if you click on a link.
Read More.
It's time to ditch the army of remote controls linked to your home media players.
With a universal remote, you'll have simplified control over all your music and movie gadgets. No more shuffling through remotes like a pack of cards.
The problem with selecting universal remotes comes down to lack of competition. Certain brands dominate this market, with few others competing. This leaves the remaining market share open to cheaper manufacturers and unreliable or shoddy products.
Whereas reviews can often be biased, our recommendations are based on consumer input. We've scoured the internet to bring you the best universal remotes based on aggregated review scores. Our category winners are high-quality products tried and tested by television lovers worldwide.
The Universal Remotes We RAVE About
For something that won't break the bank, but doesn't sacrifice quality, there's our best budget remote. Alternatively, if money's no object, the best luxury remote looks the part alongside your other gadgets. Avid streamers should pick up the best streaming remote, or for convenience, the best voice-activated remote wins.
What Are the Best Universal Remotes?
We've combined real customer feedback from numerous product review websites to bring you this breakdown of the best universal remotes. Our ranking comes based on the products that consumers have tried, tested, and deemed top of their class. Here's what we found:
The Best Luxury Universal Remote: Logitech Harmony Elite
The Best Budget Universal Remote: Logitech Harmony 350
The Best Voice-Activated Universal Remote: Amazon Fire TV Cube
The Best Streaming Universal Remote: Inteset INT-422 4-in-1
In some cases, the category winners were nearly beaten by strong contenders. The Philips SRP 5018/27 8-in-1 remote was a runner-up for best budget remote, while the Logitech Harmony Companion was a close second for the best streaming category.
Best Luxury Universal Remote
When only luxury will do, the Logitech Harmony Elite's full-color touchscreen fits right in alongside your other smart devices. If you have a remote for the TV, streaming device, and cable subscription, the Elite will make all three obsolete. You won't get a universal remote like this on a low budget.
Alexa compatibility extends your smart home environment, while support for 15 devices doubles the capability of most other universal remotes. What's more, the touchscreen has more than just a glorified set of TV controls. Power on and automatically fine-tune your devices with a single tap, or even switch your smart lights on and off.
Best Budget Universal Remote
With the Harmony 350, you'll get support for up to 8 devices. For most people, this will be enough to consolidate all the remote-controlled gadgets in the house. What matters here is that the Harmony 350 typically comes in over five times cheaper than the Elite.
Functionality-wise, you're not penalized for spending less. There may be no touchscreen, but you'll still have programmable commands, compatibility for over 225,000 devices, and a sleek, black chassis. It's simplicity, without having to shell out a lot of money.
Best Voice-Activated Universal Remote
With Amazon, you already know you're getting a quality, reliable product. The Fire TV Cube represents the obvious choice for an Amazon Echo household. Alternatively, the Cube makes a worthy upgrade to the existing Fire TV Stick.
Using nothing but your voice, the Cube lets you switch on the TV or the lights. You'll also have voice-activated access to Play, Pause, and Rewind functions, as well as web browsers for online browsing.
Best Streaming Universal Remote
Developers will love the freedom that the Inteset INT-422 4-in-1 brings. Built-in 'Macro Programming' allows customized strings of commands. Moreover, the Device Code Database feature brings tons of customized macros shared by other device owners.
Whether you're streaming from Apple TV, the Xbox One, or Kodi, this remote comes pre-programmed for these devices and more. The Inteset INT-422 even has volume and channel lockdowns to prevent the kids from overriding your choices. Finally, LED backlighting brings a touch of class to an inexpensive product.
What Does a Universal Remote Do?
In the past, it wasn't uncommon to have to leave the sofa to change the channel on your TV. Remote controls revolutionized TV viewing and made our lives a whole lot easier. Unfortunately, the explosion of entertainment devices in the home has brought an army of remotes to our coffee tables.
A universal remote makes your existing hoard of remotes redundant. That doesn't mean you should throw them away – after all, they are expensive. Rather, you'll be able to synchronize their functions into a single unit, provided they're compatible.
How Do Universal Remotes Work?
Most remotes utilize infrared light spectrums to send instructions to a receiver within their device. The device interprets this signal as a command or set of commands. Signal strength and modulation vary from one manufacturer to another, so as not to cause conflict.
Universal remotes come armed with programmable memory. This feature allows you to capture the unique signals generated by individual remotes, and consolidate them into one device. Your new universal remote remembers these commands and thus you have control over every device from a single unit.
What Devices Can Be Used with Universal Remotes?
Universal remotes have support for televisions, sound systems, cable TV boxes, streaming boxes, and some games consoles. However, the definition of 'universal' can vary from one remote to another. While a universal remote may work with one specific brand and model of device, it may not work for another.
There is a wide variation in the number of devices supported by different remotes. For example, the Logitech Harmony 650 supports over 225,000 devices, whereas the Inteset INT-422 supports over 100,000.
Always check that your devices will be supported. You should consult product listings and user manuals before committing to a purchase. Some manufacturers, such as Logitech, provide a database for checking compatibility with a specific device.
RAVE Recommends
So now you know the best universal remotes to simplify your viewing habits. You'll also want to check out these related top tech products, recommended by customers worldwide: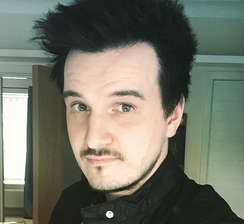 Chris Barry
Chris Barry lives in Dorset, England with his wife. When he's not writing product reviews, Chris can usually be found furiously writing and editing his first novel, or watching horror movies.