RAVE's pick for the best overall headphones are Samsung Galaxy Buds.
These Bluetooth enabled earbuds provide a truly wireless connection with 6 hours of playtime on just one charge, and 13 hours total playtime with charging case. Perfect for any active lifestyle.
Maybe you're a podcast junkie. Or maybe just can't get through your day without some fresh tunes in your ears. Either way, headphones are an indispensable part of modern life — whether they're wired, over-ear, wireless, or earbuds, you don't want to be caught on a subway ride without some.
And no matter what you're headphone style happens to be, RAVE Reviews wants to help you find your next pair. In our effort to present only the very best pairs of headphones, we examined brands like Sennheiser, Bose, and Sony. We considered hours of battery life, sound quality, and noise cancellation — 'cause let's face it, you don't want to spend your after-work commute home listening to that guy snore.
But most of all, the best-sounding, high-quality earphones need to keep you looking fly day and all night, so buy your next pair from our ranking of the 10 best headphones.
The Headphones We RAVE About
If great sound and versatility are what you're after, then head straight for the Samsung Galaxy Buds, RAVE's pick for best overall headphones, complete with three adjustable ear tip and wingtips for premium comfort and style. 
Read Full Review
Shop Samsung Galaxy Buds
If you're not looking to spend a small fortune on a new pair of headphones, RAVE says look no further than the JBL E45BT Wireless Headphones, our pick for best cheap headphones in this price range. With these headphones you'll get seamless device switching, a tangle-free cable, and a comfort fit headband, with 16 hours of battery life!
Read Full Review
Shop JBL E45BT Wireless Headphones
If you're an audio professional, you need something more than just any pair of cans. If this is you, pick up a pair of Sennheiser HD 650 Headphones, setting the standard in quality, comfort, and convenience. And what's most important for an audio professional or serious audiophile, an unparalleled soundstage.
Read Full Review
Shop Sennheiser HD 650 Headphones
Finding the Best Headphones
Before telling you about the best ear headphones, let's get to know all the different kinds of earphones, and learn a little bit about the pros and cons of each style. Most headphones are compatible with most devices, from iPhone to Android and other kinds of smartphones. 
So whichever style you end up choosing is really a personal decision, based on lifestyle, how you use your headphones, and any preferences about how you'd like your headphones to look and feel.
What is a Wired Headphone?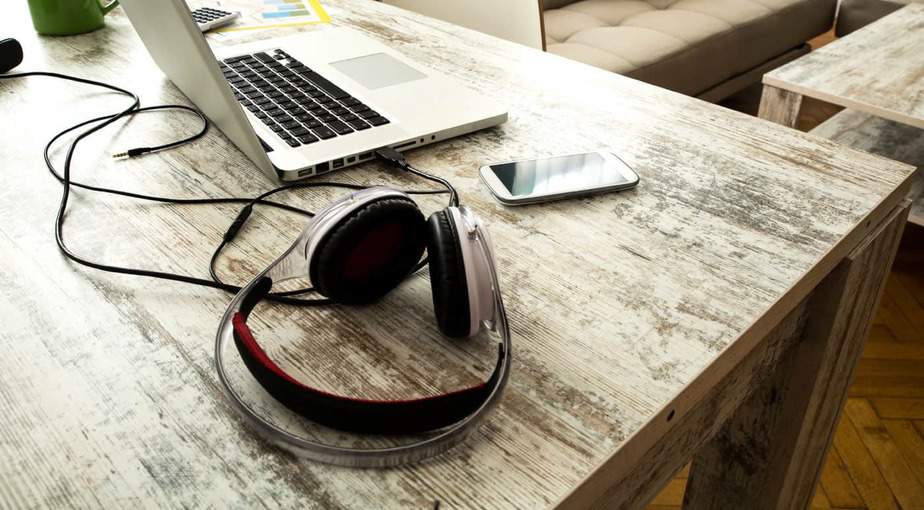 A little like it sounds, wired headphones fit on your ear and are connected to your device via a wire, cable, or cord. 
Dragging a wire around with you can be a little inconvenient, but there are a few pros to this style of headphones, including price (wired headsets are often a little cheaper than wireless earphones), draining hours of battery life (wireless headphones use more battery power), and better audio quality.
Some feel wired headphones sound better than even the best wireless headphones, but these days, technology has advanced to the point there really isn't much difference in the sound quality. 
Plus, many prefer the look and feel of wired headphones as opposed to wireless headphones or earbuds.
Are you a desk jockey, audiophile, or do you have issues with your hearing? Then wired headphones could be the right choice for you.
What is a Wireless Headphone?
Wireless headphones are not connected to your phone or device by a wire. Some people prefer this style of earphone, since it's a little more convenient for traveling and your overall movement is not constrained by the wire. 
However, wireless headphones are more expensive, and drain your battery. 
What about the best true wireless headphones? Wireless headphones still have a wire connecting each side of the ear pieces, but no wire connecting the headphones to your device. 
True wireless headphones have no wire at all, between each ear, or connecting to the device — taking convenience to the max, but making the headphones a little tough to keep track of.
If you frequently travel, if you're a gamer, or if you're looking for a set of headphones for jogging or for working out, wireless headphones might suit you the best.
A definite advantage to wireless headphones is that many they are Bluetooth compatible. 
The Difference Between Bluetooth and Wireless Headphones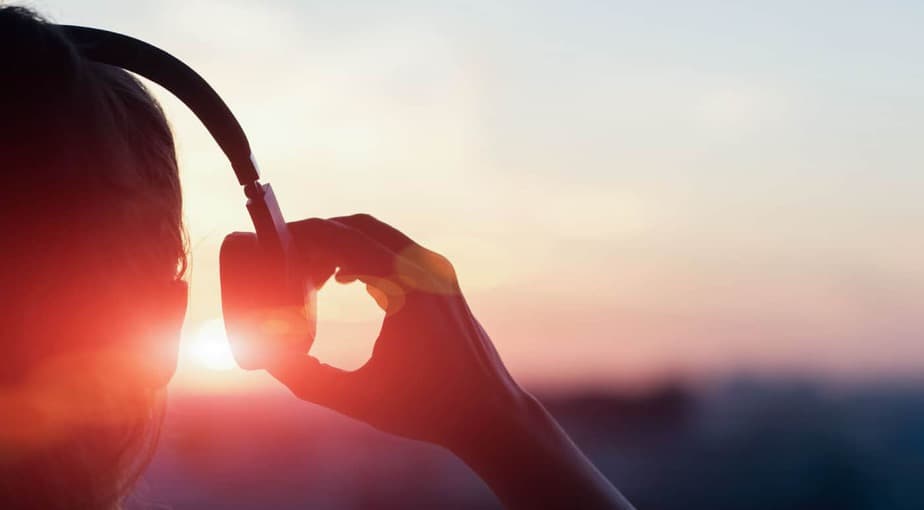 Bluetooth and wireless headphones are similar in some ways, with a few key differences.
Neither Bluetooth or wireless headphones have any wires. Wireless headphones connect to your device using radio frequency, while Bluetooth uses radio waves. 
This means the biggest difference between wireless and Bluetooth headphones is distance: wireless earphones work up to a range of about 100 feet or 30 meters, while Bluetooth headphones have a range of only about 30 feet or 10 meters. Though some advances in Bluetooth technology have greatly increased this range.
So what's the advantage of Bluetooth? In addition to audio, Bluetooth signals can also handle voice and data, and Bluetooth signals are secure. 
Which is Better: On-Ear or Over-Ear?
Another difference between headphones is whether they're on-ear or over-ear. Most audiophiles like one or the other based on looks and comfort, but there are also some audio quality issues to take into consideration. 
On-ear and over-ear refers to whether the ear cups fit on or in your ears. On-ear headphones sit on your ears, and they tend to be a little smaller. They don't create a seal between your ear and the outside world, degrading the quality of the audio.
Over-ear headphones, on the other hand, completely cover your ear, sealing out all other sound, meaning the sound quality is a little better than on-ear headphones. 
So how to choose? On-ear headphones are a bit smaller and more compact, and some people find that more comfortable and that it better suits their lifestyle. Over-ear headphones are bigger, however, and some people prefer the extra stability and improved sound quality.
Earbuds vs. In-Ear Headphones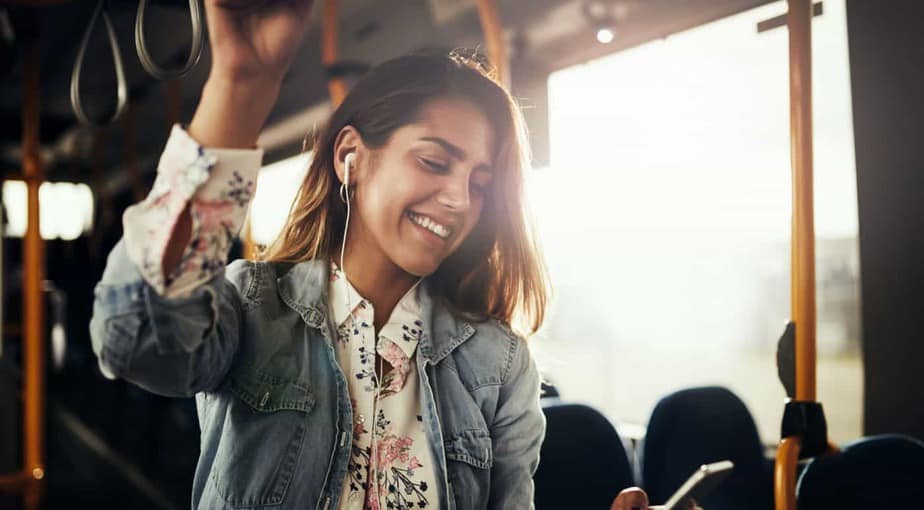 Let's now cover-earbuds and in-ear headphones. Earbuds are small and highly portable, resting just at the edge of the ear canal. In-ear headphones are very similar, with one primary difference: they're actually inserted into your ear canal. Wireless earbuds are also an option.
Both styles of earphones are good for anyone looking for something highly portable and compact. There is some concern, however, about these styles of headphones causing hearing damage.
Other features of headphones include noise-cancellation, battery life, Apple Airpods, and closed-back headphones. 
We'll cover this and a whole lot more in our ranking of the 10 best headphones. So let's get started. 
Methodology
In our effort to bring you a full review of each headphone in our ranking, RAVE Reviews considered the opinion of audio professionals, serious audiophiles, gamers, and casual listeners of music, movies, and podcasts. We also looked at headphones for an office professional looking for a good set of headphones while at work.
We did read the product descriptions, but we're not here just to earn an affiliate commission. We're here to get you into the best set of headphones for your lifestyle, and we stand by each and every product on our list.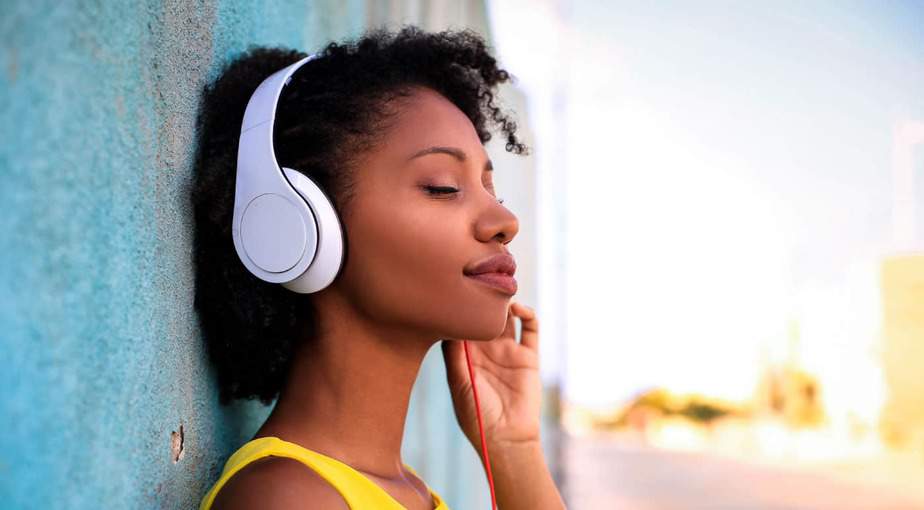 When evaluating each headphone, we considered the following:
Are the headphones Bluetooth enabled?
Are they wireless or true wireless?
Are the open or close-backed?
Are they compatible with  Google assistant and Alexa?
Battery life
Noise cancellation
All other special features and functions?
We also considered:
Style
Price
Warranties
Manufacturing details
With all this in mind, we're excited to present to you the very best headphones available. So let's get started.
The Best Headphones
What's better, open-back or closed-back headphones?
Still haven't decided if you prefer open-back or closed-back headphones? Let's take a closer look. 
The first thing to think about before making this decision is where you most often use your headphones — at home, at work, or while travelling. And how you like to experience your music in general — in private, an audiophile experiencing every aspect of the sound, or are you just looking for headphones to help you pass the time on your daily commute. 
Here's what else you need to know when deciding between open-back and closed back headphones. 
Open-back headphones, by definition, have sound drivers that are open to the world. Your music will sound "bigger." These are headphones for a serious audiophile, not for someone looking for headphones for the office, because since they're open-back, other people will be able to hear your music. 
The advantage of closed-back headphones is that they block out ambient sound better than open-back headphones. In addition, the very fact they're closed-back means less audio will leak from the headphones, disturbing those around you.
This sound isolation property makes closed-back headphones common among audio professionals. Looking for a lot of sound isolation? — get a larger pair of closed-back headphones, and both types comes in on-ear and over-ear models. 
What do noise canceling headphones do?
Noise cancelling headphones do just that: cancel ambient noise around you. They're good for sleeping on an airplane, for example, or when you really need to focus on what you're listening to in an otherwise noisy space.
How they work is pretty neat. To cancel lower-frequency sound, they use a microphone to measure the ambient sound around you. To neutralize the ambient sound, they create a waveform that's the exact negative waveform of the ambient sound around, mixing it with the signal of whatever you're listening to. 
To handle the higher frequencies, noise cancelling headphones use sound proofing, and the amount of noise they "cancel" is measured in decibels.
Again, noise cancelling headphones are a good choice if you're easily bothered by noise when you sleep, or if you really need to concentrate on what you're listening to. 
There are a few drawbacks however:
They're more expensive than average headphones.
Noise control requires power, most often from a USB port or a battery. That means periodically recharging and replacing the battery. On the plus side, some noise cancelling models act like regular headphones without a battery.
Noise cancelling headphones are larger than regular headphones, since they have extra circuitry.
And all that active noise cancelling circuitry can reduce audio quality, which seems like a contradiction. But the noise cancelling properties can also result in a higher perceived audio quality, so there's a tradeoff. 
What headphones work with Google Assistant?
It's a wired world, with virtual assistants popping up everywhere from companies like Amazon and Apple. These days, your fridge knows you're out of milk before you do. And now, Google is getting into the game with Google Assistant-enabled headphones. 
Why would you need Google Assistant enabled headphones? Google Assistant allows you to get notifications from your phone, or otherwise take complete control of your device, initiating all sorts of commands by just using your voice.
Most wireless headphones and earbuds offer "virtual assistant support" but only headphones with full Google Assistant integration have the app running natively in the headset, meaning you don't need your device at all. 
Advantages to this include:
Greater functionality
Faster information retrieval 
Your headphones reading incoming message to you
The ability to respond to messages with your voice
Real-time translation in some models
Setting timers and reminders with your voice
Media playback
In addition, you can make calls and contact-related commands, like calling or texting a specific person. You can check voicemail, and even ask for someone's address.
All by just saying, "Hey Google!"
One drawback to Google Assistant-integrated headphones, however, is they can't at this time play podcasts from the app, but it does allow for playback control of music. 
What are the best headphones?
After extensive research and careful consideration RAVE Reviews is ready to tell you what you came here to find out: what are the best headphones. We broke it down into three categories: best overall, best cheap, and best headphones for an audio professional or serious audiophile. 
Samsung Galaxy Buds take our top spot for best overall headphones. There are lots of reasons why, but we'll just mention a few. Bluetooth enabled, these puppies are comfortable, and versatile for your on-the-go lifestyle, and best of all, they look and sound great!
Not everyone can invest a bundle in a new set of ear cradles. If that's you, then RAVE says buy a set of JBL E45BT Wireless Headphones. A great choice for an office setting, these headphones offer device switching, a user-friendly cable, and a comfortable fit. 
And for audio professionals and real audiophiles, we have an answer for you as well. Our choice for the best headphones for audio professional are the Sennheiser HD 650 Headphones. This product offers precision sound damping, improved frequency response, and a whole lot more. If you need a cutting edge set of headphones, you won't go wrong buying a pair of Sennheiser HD 650s. 
RAVE Recommends
Now that you've picked up a new set of headphones, check out these other items to take your listening experience to the next level: