Enormous 75-inch flatscreen TVs used to be a thing for the rich and famous, but as prices go down (and sizes keep going up up up!), owning one is no longer the stuff of dreams.
Vizio PX75-G1 is our favorite, thanks to its beautiful design, excellent image quality, and surprising Smart functionality. This TV is a game-changer, especially if you're an iPhone user. Keep reading to find out why.
Whether you have a big blank wall you want to fill, or you simply realized that having a home cinema is no longer just a pipe dream, getting a 75-inch TV isn't a bad idea. As TV ad film production quality seems to be growing by the day, investing in a TV with great image quality will let you truly enjoy films, series, and games in the way their creators intended.
Until recently, 65 inch TVs were the most popular option in the "giants" league, but 75-inch TVs are now cheaper and more attainable than ever. So why not go a size up? Most of the options we looked at in our ranking measure 75 inches, with a few 77-inch exceptions.
These TVs boast so much more than great image quality and sleek designs: They also offer easy access to all your favorite streaming services, from YouTube to Netflix and more. And if you're a gamer, 75-inch TVs offer the most breathtaking, immersive experience you could hope for.
The 75 Inch TVs We RAVE About
Buying a new TV can be daunting, especially when you are hit by a ton of technical jargon: 4K, LCD, OLED, viewing angle, HDR… what does it all mean? We put together this handy guide so that before you delve into our ranking, you'll know exactly what you're looking for. But first, a few words on size (it's not that important guys…not always, anyway).
How Big Should Your TV Really Be?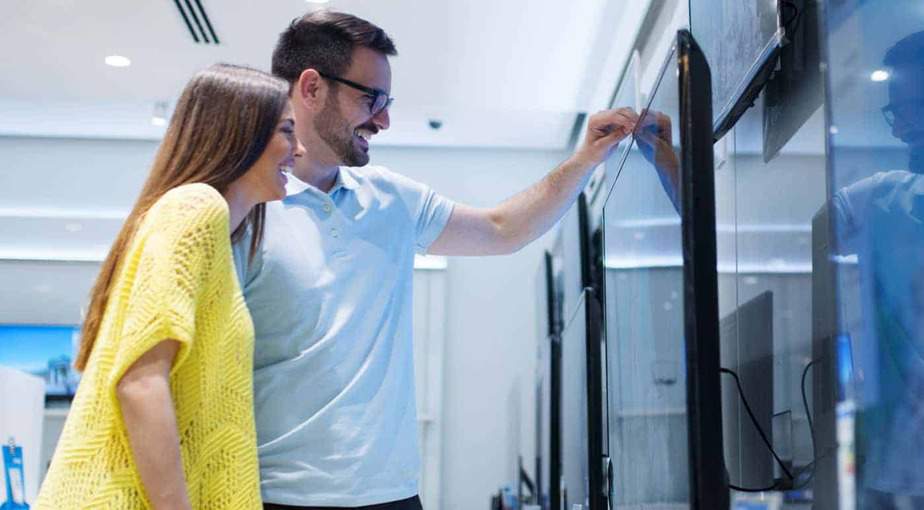 As long as you're not limited by the size of a TV cabinet or wall, there is really no limit to how big your TV should be. While a 75-inch TV may seem humongous, you'll get used to it soon enough. And as TVs get larger, their bezels (the frame around the screen) keep shrinking, meaning that you get more bang for your buck. And, TVs these days occupy less wall space than you think.
Though, of course, the size of your TV depends on many factors, including your budget and the size of your room. If your space doesn't allow you to sit back from the TV, you probably shouldn't get a huge one. Is there a way to calculate how big you should go?
In short, yes. Most people sit an average of 108 inches (9 feet) away from their TV, give or take. The Society of Motion Picture and Television Engineers (SMPTE) recommends a 30-degree viewing angle (you can find a really helpful angle calculator right here). So if you consider the average 108-inch distance, the ideal TV size is 65 or 70 inches.
But this isn't really a hard science, so take it as a guideline rather than a rule.
Understanding Resolution
Simply put, a TV's resolution refers to the number of pixels that compose the image on the screen. A pixel is basically one of the tiny dots on the screen that compose the whole image. The higher the number of pixels, the less grainy the image, and the smoother and sharper it looks.
To give you an idea, older TVs have more or less one million pixels (720p), but the TVs we look at today (and usually any TV over 50 inches) have around 8 million pixels, commonly referred to as 4K. The newest (and most expensive) go up to an incredible 33 million pixels (8K), but the visible difference is so minor that we wouldn't recommend spending the extra money.
You'll often see the term UHD used, too, which stands for Ultra High Definition, and is another term for 4K resolution.
But is resolution the most important feature on a TV? The short answer is no. A TV with slightly lower pixels but with a High Dynamic Range (HDR) will give the image better contrast and more vivid colors, as compared to a 8K TV, for example, with a lower HDR.
What are HDR and Dolby Vision?
HDR is the newest buzzword in the world of big TVs, and most good 75-inch TVs are HDR-compatible. But what does it mean exactly? HDR dramatically improves contrast, brightens highlights, and expands the range of color, giving the images more depth and an unbelievably realistic quality.
And almost all new top movies and TV series are now made in HDR. So with an HDR TV, you can enjoy them the way creators meant you to. The current industry standard for HDR is HDR10, but you can go even better with HDR10+.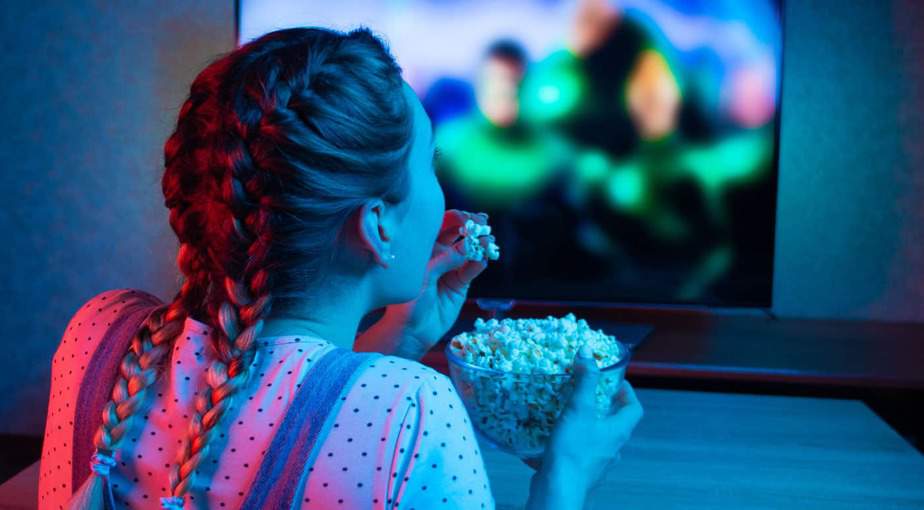 While HDR is the standard that comes with most 75-inch TVs nowadays, Dolby Vision is a brand name of the same system, developed by the folks who brought us Dolby Surround. So between HDR10 and Dolby Vision, which one is superior? Technically, Dolby Vision can create a more dynamic, brighter, and vivid picture, but it greatly depends on the TV set you use. Ultimately, both systems deliver excellent images, and we doubt you'll be disappointed.
LCD, LED, OLED, or QLED?
The screen is obviously a fundamental part of the TV, so make sure you know what you want while you decide where to put your money. Here are the main types of TV screens available:
LCD is a TV display technology that works by a backlight shining onto a layer of liquid crystals.
LED is a type of screen that uses LED lights to backlight the display, rather than the standard cathode fluorescent lights.
OLED TVs use self-emitting bulbs, meaning they adjust the luminosity of each pixel individually. This technology offers the deepest blacks, great contrast, and overall incredible picture quality.
QLED is a brand name used by Samsung to describe their newest display technology, which uses the traditional LCD panels lit by LEDs, but with energy reactive nano-particles between the two layers. This technology filters light in a way that creates some of the best colors out there… but it comes at a price.
Methodology
In order to bring you the ultimate 75-inch TV ranking, we at RAVE Reviews spoke to TV lovers, tech experts, movie nerds, and gamers all over the country and carefully noted their opinions. We also trawled all corners of the internet, reading through specialized TV websites, consumer publications, and countless product reviews.
We may have even watched a few hours of TV ourselves (love our job!). Note also that we have also reviewed our favorite universal remotes to go with your new TV.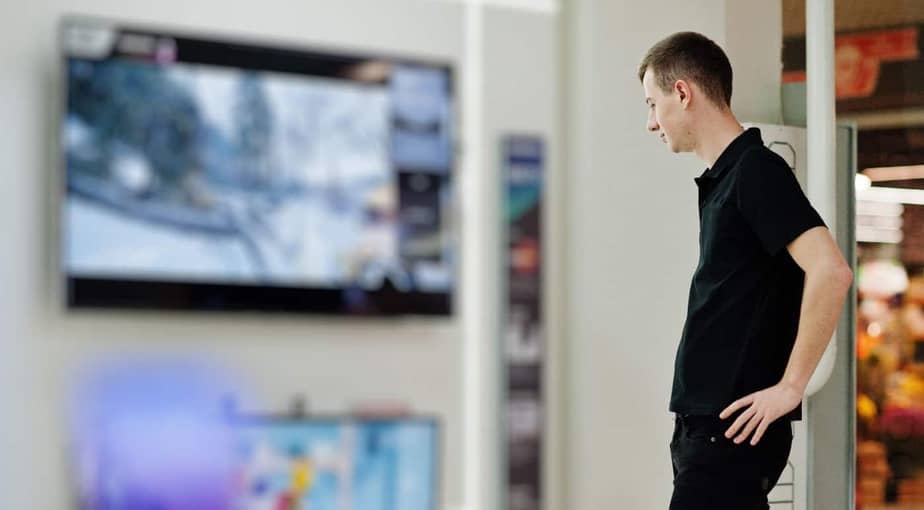 While evaluating each TV, here is the criteria we kept in mind:
Type of screen (LCD, OLED, or QLED)
Overall image quality and 4K resolution
HDR compatibility
Design
Practical stand or wall mount
Smart platform functionality
Number of HDMI ports
Price
Sound quality
The Best 75 Inch TVs
Our best 75-inch TV delivers incredible image quality at an unbelievably low price. To put things into perspective, a 75-inch model by the likes of Samsung will set you back around $4,800. The Vizio is a fraction of that cost and it doesn't skimp on quality, either.
Featuring an LCD screen with 4K UHD (3840 x 2160) resolution and 240 Hz refresh rate, it is HDR compatible. It also boasts outstanding picture quality in SDR and HDR, producing deep blacks, intense peak brightness, and a great local dimming feature.
Vizio recently updated its operating system to the SmartCast 3.0 which has a user-friendly, fast interface. The most notable feature here is the inclusion of Apple AirPlay 2 and Apple HomeKit, meaning this 75-inch TV is great for Apple users. We can't recommend this TV enough!
Pros
Great peak brightness
Deep blacks
Very good value
Apple AirPlay 2 and HomeKit
2
Samsung Q90R 4K QLED Smart TV
If money is no issue, you might as well go for the best of the best: The Samsung Q90 boasts a 4K UHD display that, with its steady contrast and consistent color, offers a near-perfect picture. In fact, Samsung's Ultra Viewing Angle is better than any other LCD TV we reviewed, and it's a great option for watching TV in big groups (home cinema, anyone?).
The smart platform is also very impressive. Rather than using Android TV or Roku, Samsung uses its very own operating system called Tizen. Customers love that it is easy, fast, and makes swapping between apps as easy as changing channels.
This TV looks good, too. Rather than having "feet," like many other large TVs, it comes with a small (but heavy), pedestal-style stand so you can rest the TV on a small surface.
Pros
Unparalleled off-angle viewing
Extremely bright
User-friendly Tizen system
Cons
Expensive
Loses quality in bright HDR
3
Sony X950G 4K LED Smart TV
Good old Google Android TV—either you hate it or you love it. But no matter which side of the fence you sit, there is no denying that Android TV and Sony TV make a great couple. After a period of trial and error, Sony finally figured it out, and the X950G's updated system loads and runs incredibly fast.
According to Sony, the new system runs up to 60% faster than older versions. You'll notice the difference when you switch between various apps and screens with ease. The system boasts all the key apps such as Netflix and YouTube, and will soon offer AirPlay, too.
The X950G also produces good picture quality, top HDR performance, and great peak brightness. And you know what else we love? The gorgeous metallic frame around the screen, giving this TV a minimalist, sleek, and modern design.
Pros
Fast Smart functionality
Attractive design
Very bright
Cons
Sub-par off-angle viewing
Expensive for image quality
Sub-par black levels
4
LG OLED77C9PUB C9 Series Smart TV
The LG C9 OLED TV actually comes in at 77 inches rather than 75. But now that we've gotten that detail out the way, let's get to the important stuff: This TV has one of the absolute best image qualities out there. Thanks to its flawless black levels and accurate color, it delivers an unparalleled viewing experience.
Like OLED TVs generally, this LG model looks great in a dark room, thanks to its deep blacks, and its sleek design also looks great (literally) in any light. Low motion blur also makes the option great for gamers. So why is it only our fourth-best TV?
Well, the LG OLED77C9PUB is very expensive, and you can get LED TVs that perform almost as well at a much smaller price. Whether the difference is worth the cost is up to you. As with most OLED TVs, there is a small risk of temporary and permanent image retention.
Pros
Unparalleled image quality
Very low motion blur
Great off-angle viewing
Cons
Very expensive
Small risk of image retention
No HDR10+ support
Here at RAVE, we love a good deal, and it really doesn't get much better than TCL's 75S425 75. This Smart TV costs practically half of what other budget options do. Of course, the low price does come with some compromises, but you still get a lot for your money.
The best part of this budget TV is the built-in Roku TV platform, which is one of the fastest and most comprehensive on the market. Roku gives easy access to basically every streaming app out there, including Netflix, YouTube, Hulu, Sling TV, Amazon Prime, and Pluto TV. And you can always improve, thanks to the frequent system updates and downloads.
Overall, this TCL Series 4 offers good picture quality with great contrast. It doesn't get very bright, so it won't perform well in a bright room. However, thanks to its low input lag (the delay between the TV receiving the signal and it being displayed on the screen), it is a good option for gamers as well as casual TV and movie fans.
Pros
Incredible value for money
Great Smart functionality
Low input lag
Cons
Not very bright
Poor off-angle viewing
Average color range
Samsung's flagship Q90 QLED is a dream for many TV lovers, but let's face it, with that price tag it really will remain just a dream for most of us. Thankfully though, Samsung offers a great alternative which lets you experience incredible picture quality on a low budget. The QLD 4K Q70 series also boasts excellent overall image quality, but at a fraction of the cost.
This model features inky blacks, accurate colors, and good peak brightness, which performs well in bright rooms. It looks good, too. Despite the low price, Samsung has managed to create a sleek, high-quality TV.
This TV includes Samsung's very own voice assistant, Bixby. While Bixby works relatively well for simple commands, it is not in the same league as Google Assistant or Alexa. Its Smart TV Operating system, powered by Tizen, is fast and smooth and offers all the usual streaming services.
Pros
Great overall image quality
Excellent Smart functionality
Attractive design
Cons
Simple voice assistant
Average sound quality
More expensive than similar TVs
The Sony XBR-75X950G is a great mid-range TV that delivers good image quality and decent brightness despite its low price. Compared to other TVs in this price range, the Sony XBR-75X950G boasts incredibly wide viewing angles, making it a great option if you want to use this TV for a home theater.
It also has very good motion handling, so that images never blur, even when they are moving very fast on screen. Like the majority of Sony TVs, the X950G runs the Android TV smart platform, which has recently been updated and is as fast, smooth, and comprehensive as ever.
Because Sony has a relatively high input lag, it's not the best option for serious gamers, but it will do just fine for casual gamers. It's also not the best performer in a dark room. However, these compromises are relatively small, and this is a good mid-range TV.
Pros
Wide viewing angle
Good motion handling
Affordable price
Cons
Relatively high input lag
Not the best in the dark
Average audio
Another relatively budget TV with above-average picture quality, the LG 75UM7570PUD, which was introduced in 2019, boasts good color depth and contrast, and above-average sound (which is rare for flatscreen TVs). This LG model's viewing angle is also much wider than the average flatscreen TV.
The LG 75UM7570PUD's powerful Quad Core Processor upscales even from low-resolution sources, guaranteeing a high-quality picture.
LG TVs were the first to integrate both Google Assistant and Alexa with LG ThinQ AI technology, LG's intelligent voice control. This enables you to control your entire home and enjoy personalized entertainment. And, as usual, you can access streaming services such as Netflix, Hulu, and YouTube.
Pros
Very affordable
Good Smart platform
Good Sound
Cons
No HDR10+ capability
No Dolby Vision
Some XBox connectivity issues
Another great yet affordable TV from TCL, the 75R617 offers surprisingly good picture quality thanks to its deep black levels, accurate color, and good contrast. Like other TCL TVs, this model uses the popular Roku smart TV platform, which is simple yet comprehensive, including all the most popular streaming services (and so much more).
The TCL 75R617 boasts a unique full-array local dimming feature, which TCL calls Contrast Control Zone—but it's just their marketing speak, and means the same thing. Having more dimming zones means you can control the brightness more precisely, giving you a better overall picture.
Design-wise, this model is one of the best-looking out there, with a shiny and modern metal finish instead of black plastic. The TV can work with both HDR10 and Dolby Vision, and is overall a good TV at a great price.
Pros
Affordable
Roku Smart platform
Local dimming feature
Cons
Below average brightness
Average sound quality
Not HDR10+ compatible
10
Hisense 75-Inch Class LED H6570G 4K Ultra HD Android Smart TV with Alexa Compatibility
As one of the cheapest TVs on the market, the Hisense 75-inch television offers a decent viewing experience at a tiny cost. While the overall picture and sound quality may reflect the low price, the TV's smart platform does not: The brand utilizes Alexa, one of the most popular smart TV platforms out there.
With its easy interface and a seemingly infinite choice of streaming services and apps, it's hard to beat Alexa compatibility. So if you're someone who likes to have options, but isn't too concerned about having top quality, the Hisense is a good choice.
This TV performs well with HD/SDR content, but it does even better with 4K HDR content, offering vivid colors and decent resolution (especially considering the price). Blacks are not as deep as they are in more expensive models, but unless you are looking for the absolute best quality, it shouldn't be an issue.
Pros
Very low price
Good colors
Roku TV
Cons
Sub-par contrast
Unremarkable design
Disappointing sound quality
Why should I get a 75-inch TV?
A 75-inch TV may seem like a bit much, but these huge TVs are actually becoming increasingly popular. While a 55-inch was the largest we could go just a few years ago, technological advances and falling prices have made 65- and 75-inch TVs the norm. But is such a large TV actually necessary?
Most TV owners will tell you they got used to the size pretty quickly, and many wish they had gone even bigger. But the benefits of owning a 75-inch TV would be insignificant if it weren't for the super high quality of most models these days. Getting a 75-inch TV is only worth it if the TV also boasts 4K/UHD, which adds incredible detail and sharpness to the picture.
You also get a better sense of depth with 4K, as well as strikingly vivid colors. It would be a real waste not to take advantage of the incredible 4K images by watching a small TV. Watching high-quality content on a 75-inch screen will give you a fully immersive, breathtaking experience.
What should I look for when I choose my new 75-inch TV?
There's more to consider with TVs than just the size. First things first, think of your budget, as 75-inch TVs can vary greatly in price. Set a limit and only look at models you can afford within your budget.
Secondly, think about what you need from your new TV. The TVs currently on the market offer different resolutions, screen types, and Smart platforms, all of which suit everyone differently. Make sure your TV is 4K—which is now the norm for TVs—as it will give you the best possible picture, and that it is HDR compatible.
You should also know the difference between LCD, OLED, and QLED TVs. You can read about this in more detail above, but here is a quick rundown:
LCD TVs are the most common—and the cheapest—and they work by having a backlight shine onto a layer of liquid crystals. OLED TVs are considered the best on the market, and because each bulb is self-emitting, they produce excellent contrast and accurate color. QLED TVs are Samsung's very own technology, and they use a backlight to illuminate quantum dots, which give a vibrant and sharp picture.
But while the screen is important, it's not everything. Take note of the type of Smart platform the TV uses, for example, as this will determine which streaming services and apps you can access.
What's the best time to buy a new 75-inch TV?
We know it's tempting to splurge on the newest, shiniest TV, but that seldom makes financial sense. Several models are released every year, usually in spring and early summer. Unless money is not an issue, try and resist the temptation to buy them then and there. Even the newest TVs often become less expensive just a few months down the line, and they drop drastically in price once an even newer model is released.
As is the case with most products, you can get great deals on TVs during sales, especially on Black Friday, so it's worth waiting a while and saving hundreds of dollars.
What is the best 75-inch TV?
With so many different great brands and TV models on the market, choosing the best 75-inch TV isn't an easy feat. However, we at RAVE spent weeks researching all the different options, using various metrics to determine the best 75-inch TV you can get your hands on right now.
The Vizio PX75-G1 combines great quality with an affordable price, making it the favorite large TV for thousands of customers. With its LCD screen, 4K resolution, and great Smart functionality (compatible with Apple AirPlay 2 and Apple HomeKit) this is a great choice. But, as our ranking shows, it is not the only one. 
There are nine more of the best 75-inch TVs for you to check out, and all of them made it to our ranking because of their excellent quality. So if you haven't made your choice already, scroll back up and take a look.
RAVE Recommends
As the famous saying goes, a 75-inch TV is only as good as the TV room around it (okay, we may have just made that up). Here are a few products that will transform a few hours of TV-watching into a time of pure bliss.
Bose Solo 5 TV Soundbar Sound System: Even the best TVs are somewhat lacking in the sound department, and bass sounds are often not as good as they could be. That's why supplementing your new TV with a top-notch sound system is a great idea. The Bose TV soundbar is an outstanding and less pricey option that will revolutionize your whole experience. 

Large Backrest Reading and TV Pillow: Filled with dense, shredded memory foam, this pillow conforms around your body and provides all the comfort and support you need while you relax in front of your new 75-inch TV. It also comes with handy side pockets, so you won't have to waste time looking for the remote (or your bag of chips). 

Adjustable TV Tray Table: If you can't tear yourself away from your wonderful new TV (we don't blame you!), you'll want snacks, drinks, and the TV remote at your fingertips. This TV tray's height is fully adjustable, and you can angle it up or down. It's perfect to use in bed or on the couch. 

15 Color LED TV Backlight with Remote: Watching TV in the dark can hurt your eyes, but these lights limit the damage by elevating ambient light and reducing eye strain. Plus, it looks SUPER COOL!

Meg Jacobini
Meg Jacobini is a freelance writer based in a small room somewhere in Europe. Her favorite things in life are Chinese Hot Pot and obscure African records. On Saturdays you'll often find her watching the local soccer team lose their umpteenth game.