Many of us have patiently waited for projection technology to develop to the point where it competes with the best UHD TVs. Well, the time has arrived and in this article we explore the best 4k UHD projectors that will deliver the incredible viewing experience that we've been waiting for.
Do you have a large space in your entertainment room where you've always imagined installing a massive TV? Unfortunately, once you start looking at 4k TVs larger than 75 inches, prices begin to soar into quadruple digits. 4K UHD projectors–on the other hand–offer the potential to scale a 'screen' to as large as 120 inches if you have the space.
But purchasing a 4K TV with these dimensions would run you nearly double the cost of a good 4K UHD projector. This is the true value of a projector, not to mention the superior portability and flexibility. Does this sound too good to be true?
Well, until now projection technology suffered from inherent limitations. Many users would find the colors less lively, the picture less vivid, and other issues in the picture quality. Today though, recent advances in projection technology have all but vanquished these limitations–making it the perfect time for skeptics to reconsider these products. In this guide we will walk you through the best 4K UHD projectors, and what makes them superior to previous iterations!
The 4K UHD Projectors We RAVE About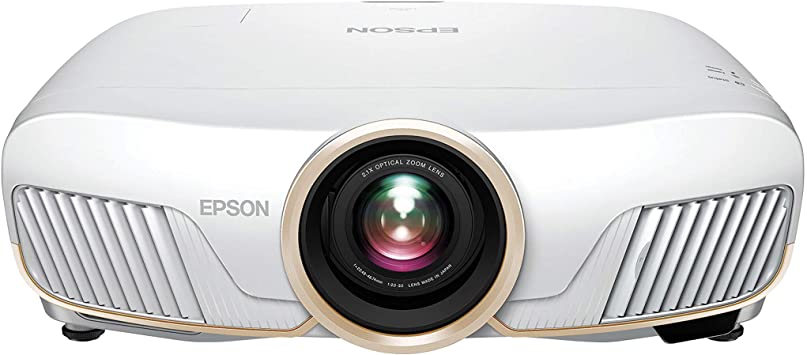 Best Overall
Epson Home Cinema 5050UB 4K PRO-UHD 3-Chip Projector with HDR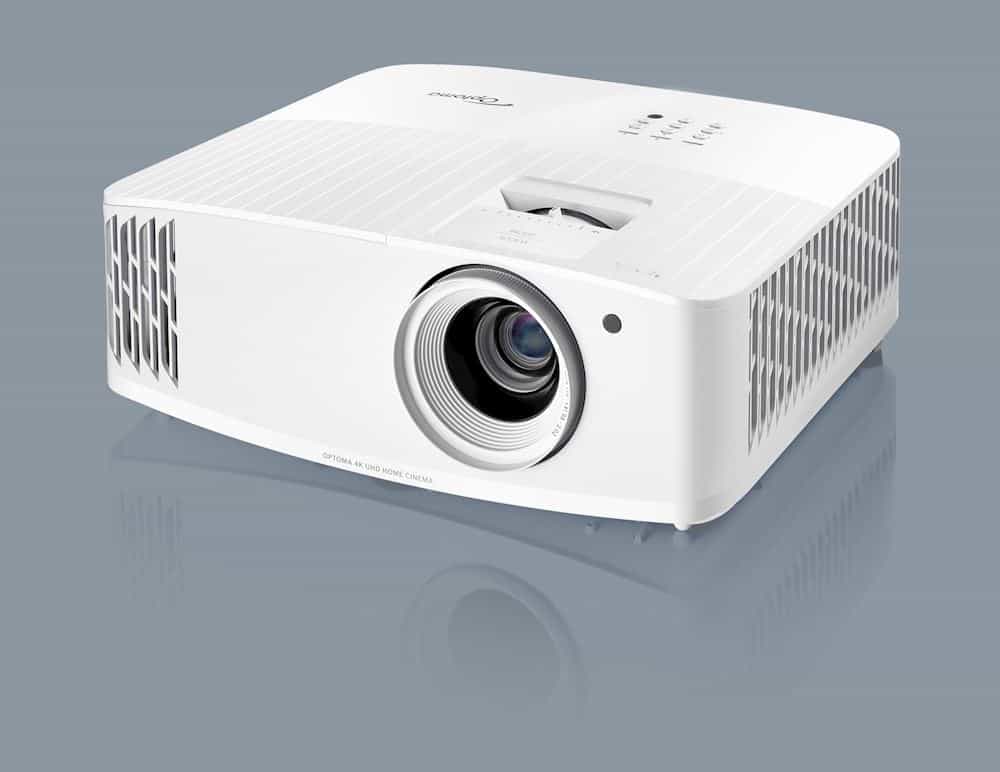 Best Budget
Optoma True 4K UHD Gaming Projector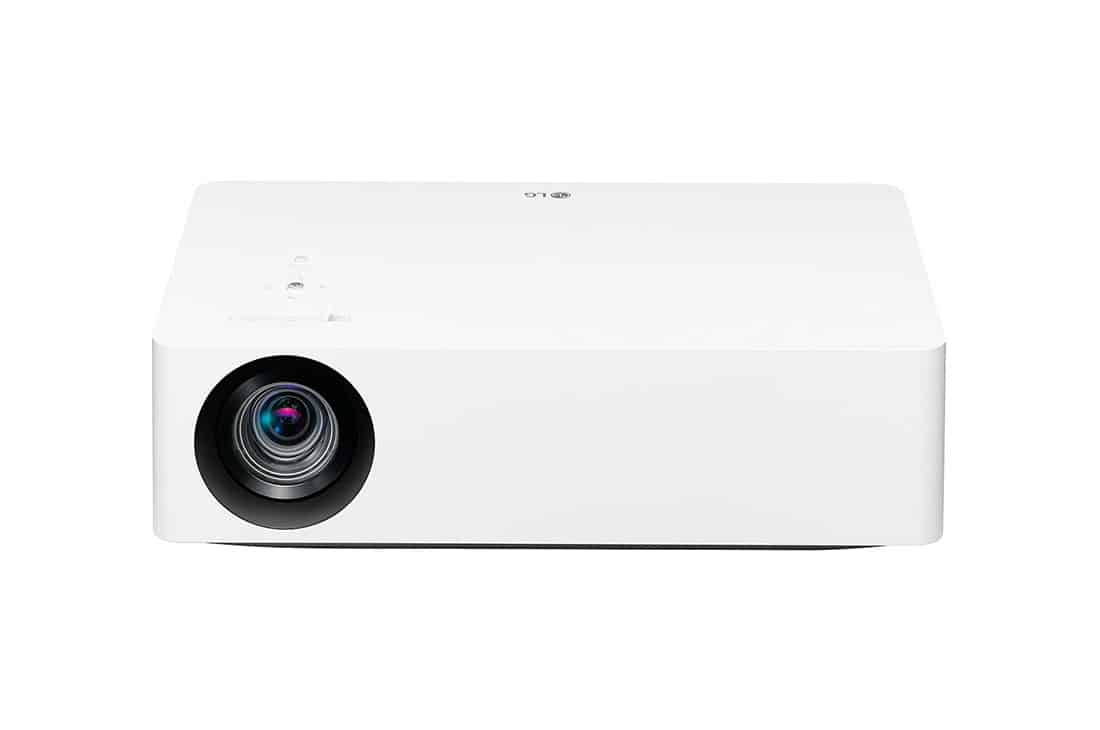 Best Color
LG HU810PW 4K UHD Smart Dual Laser CineBeam Projector
The Lowdown on 4K UHD Projectors
Despite the favorable value comparison of projectors to similarly sized TVs, owning one of the best 4K UHD projectors will cost you a couple grand. So let's discuss whether this purchase makes sense for you.
The best 4K UHD projectors for the home will deliver the best quality image in terms of color depth, crispness of the image, and smooth visual transitions. You also want a projector that has high Lumens in order to have visibility in most ambient light settings, something that lower-end projectors usually can't deliver. (Though for the very best image quality, you will still likely want to use your projector in a dark place.)
4K projectors also feature the ability to adjust the lens and keystone through innovative software or makes it easier to manually manipulate the lens to create a square image.
Want to switch from viewing to gaming? All 4K projectors can be used for gaming, but some go a step farther and provide low input lag gaming that's faster than a gaming monitor–making a projector a surprisingly competitive option for competitive gamers. A 4K projector for home theater, movies and video games can provide a truly immersive experience for both gaming and cinematic interests.
Methodology of Ranking the Best 4K UHD Projectors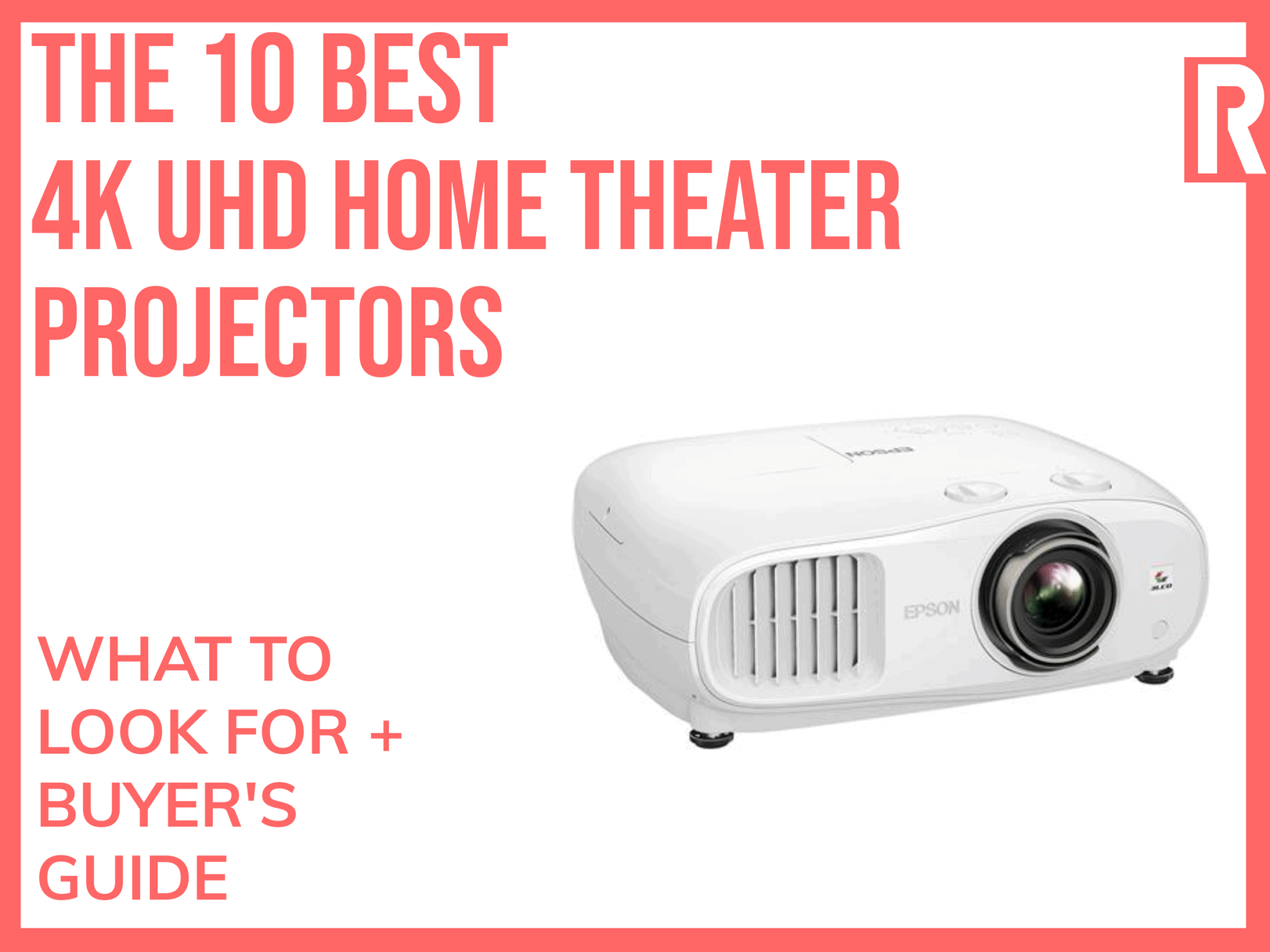 There's a lot to like when it comes to the selection of 4K projectors on the market, especially now that prices are dropping to affordable levels. So let's take a look at the factors we believe are the most important in determining the best of these products.
Value Comparison: How do the specs of a 4K UHD compare to those of a high-end 1080p projector? Does the 4K UHD projector demonstrate superior value in this context?

Performance in Ambient Light: How well does the picture quality hold up in rooms with ambient light?

Ease of Adjustability: Is it a user-friendly process to adjust screen size, brightness, and color?

Overall Picture Quality: Does the projector truly produce an image worthy of ditching traditional UHD TVs?

Lifespan: How well does the projector hold up over time? Does the image quality begin to fade with use?

Customer Satisfaction: We've surveyed customer reviews to find the projectors that leave the most satisfied customers.
The Best 4K UHD Projectors
1
Epson Home Cinema 5050UB 4K PRO-UHD 3-Chip Projector with HDR
The Epson Home Cinema 5050UB 4K PRO-UHD projector features 3LCD technology to display 100% of the RGB color range and produce colors that are clean, crisp and accurate. The 3LCD technology also features digital image processing with pixel shifting to create a sharp 4K image.
The projector bulb has 2,600 Lumens for color and white brightness, and features Epson Ultra Black proprietary technology that suppresses stray light from creeping into the signal. The lens features a 3 axis motor for precision adjustment of the image along with the ability to save the setting in one of 10 lens memory presets. 
The 5050UB does not have a built-in speaker or Bluetooth connectivity. It's also a hefty unit that comes in at just under 25 pounds which has the potential to make mounting the unit a difficult task. The wireless transmitter loses signal strength at a distance of 10 feet which may require the use of a HDMI transmitter to boost the signal.
Cons
No Bluetooth connectivity
2
Optoma True 4K UHD Gaming Projector
Are you looking for a projector that switches seamlessly between video and gaming? You'll like what the Optoma True UHD35 has to offer for both types of viewing. The unit features an Enhanced Gaming Mode that produces a 4.2ms input lag, and is the lowest input lag on a 4K gaming projector.
The low latency rivals that of high-end gaming monitors so you can blast away at virtual enemies as fast as you can press buttons. Plus you'll have the advantage of playing on a screen that's larger than any monitor. You'll get all the details with the unit's UltraDetail technology that delivers enhanced image sharpness for a crisp, clean image. An 8-segment color wheel serves to increase the color ratio while the Dynamic Black Technology creates a high contrast to deliver detail in low-light scenery. 
The projector bulb has 3,600 lumens of brightness and 15,000 hours of lamp life. It can create a 120″ image at a distance of 13.1 feet, and can project up to a 300″ image. The UHD35 has four corner correction for keystone adjustments in the vertical and horizontal planes, and each corner can be individually adjusted. It comes with a backlit remote for ease of use in a darkened room. The unit has ports that include HDMI, VGA, 3.5mm audio port, and S/PDIF.
One potential negative to consider is that it does not have a speaker or Bluetooth capability.
3
LG HU810PW 4K UHD Smart Dual Laser CineBeam Projector
The LG HU810PW stands out from the pack with its use of a dual red/blue laser/LED that generates 2700 Lumens for projecting an image instead of using a bulb. This means the projector can be used during daylight and still project a TV quality image with a simple adjustment of the contrast and brightness levels. It features High Dynamic Range (HDR) to display a broader range of colors and increased saturation. The projector uses eARC sound technology to create high-fidelity sound. Other features include AirPlay, Bluetooth, and screen mirroring for iOS and Android. 
The webOS on the projector is limited in terms of functionality, and LG is slow to roll out updates. Don't rely on this unit to deliver an all-in-one experience when it comes to operating like a smart TV. Another issue is Netflix's incompatibility with webOS. Rainbow artifacts are a known issue during high contrast scenes and can be irritating for some viewers. The unit weighs 24 lbs which can be a drawback for some users.
The BenQ HT3550i is a feature-laden 4K projector that runs on Android TV for an all-in-one user experience. It also comes in a non-Android TV version if you prefer to use iOS or other input devices. The unit delivers its highly detailed imagery through the use of CinematicColor technology that features a high native contrast ration and an RGBRGB color wheel to deliver color fidelity. Different color modes enable you to watch movies in different light conditions without losing brightness or detail. The HT3550i allows the user to adjust the projected image either by manual zoom and focus, or by using the auto vertical keystone adjustment to square up the edges. 
The HT3550i uses a DLP bulb with 2000 Lumens and weighs in at a slim 13.25 pounds. The fan in the unit is a little noisy, but is easily drowned out by the sound from whatever you're watching. There is some input lag which isn't a problem for watching TV, but it is a problem if you're looking to play video games through a projector.
5
Samsung Premiere Projector w/ Elite Screens Aeon CLR 2 Series
The Premier Projector is a 4K projector from Samsung that uses lasers, 4K resolution, and a unique location for projection: The image is delivered from the top rear of the unit instead of the front. It's also in the class of 4K projectors short throw and can project an image onto a projector screen or wall from 8 feet away.
The unit has Alexa and Bixby assistants built into the OS for connectivity to the internet and smart home devices with a spoken word. It features a smart TV interface powered by TIZEN and an UHD processor that delivers 4K picture quality. PURCOLOR technology delivers clean colors that are crisp and vivid. T
he Samsung 4K projector also has a built-in 2.2 channel sound system with sound that rivals a high-end external speaker system.
The BenQ TK850 is a true 4K projector with 3840 x 2160 for clarity and crisp, detailed images and features a 10-element crystal lens array to provide sharpness and correct light levels. The 3,000 Lumen DLP light source used in the TK850 is used by iMAX and traditional movie theaters around the world, bringing movie theater quality images into your home.
This 4K projector is aimed at sports lovers with a dedicated sports picture and sound mode with motion enhancer to make it feel like you're in the game with the players. An on-board speaker delivers high-quality sound that features different sound modes that include game, music, cinema and sports. 
The LG HU85LA CineBeam is a 4K projector with an ultra short throw of 7 feet from the front of the projector. The projector uses a Class 1 laser that generates up to 2,700 ANSI Lumens, and has a sensing feature that shuts off the laser if someone's directly in front of it.
On-board technology includes LG webOS lite, Alexa, LG ThinQ AI, a digital TV tuner with an F-Type coaxial connector, and has Bluetooth connectivity. The unit isn't aimed at gamers, but it does have a low input latency of 50ms which is suitable for most gaming needs. The LG HU85LA can project a screen up to 120″ in size and has an image warping function that enables the user to fine-tune the image through 12 areas of adjustment.  
This model is known to have some noise issues, but audio from the projected video easily overcomes any noise emanating from the unit. It does not have a lens shift which can make adjusting the image difficult. The webOS lite does not have YouTube, and there are no planned updates for the OS from LG.
8
Sony VW325ES 4K HDR Home Theater Projector
The Sony VW325ES is a 4K projector short throw with a minimum distance of eight feet. This 4K projector from Sony is at the top of the line when it comes to on-board technology. The projector uses Sony's X1 processor that performs high-precision frame analysis for color, contrast, and clarity. It also uses Dynamic HDR for a wide range of color contrast.
The unit has full native 4K resolution thanks to its 3 SXRD panels with 4096 x 2160 pixels on each unit, and Motionflow ensures that the video images are as smooth as possible. It also has a mode called Reality Creation that upscales physical Blu-ray or DVDs to almost 4K quality. The unit isn't advertised as a 4K gaming projector, but it features input lag reduction to create an enjoyable gaming experience. 
If you're looking for the best 4K projector for home, this is it. The SonyVW325ES delivers solid performance no matter what is being asked of it, and is a shining example of Sony's reputation for creating the best in entertainment technology.
Pros
Improves blu-ray and DVD quality
9
Optoma UHD50X True 4K UHD Projector
The Optoma UHD50X lays clam to having the lowest input lag on a 4K projector. The unit is billed as a 4K gaming projector with a 16ms response in Enhanced Gaming Mode or 26ms in 4K UHD. It's the first 240Hz home theater projector on the market with 8.3 million addressable on-screen pixels.
UltraDetail technology creates sharp, clear images and an 8-segment color wheel creates rich, saturated colors while Dynamic Black technology creates bright whites and deep blacks. The 240Hz refresh rate creates blur-free images that deliver a smooth, responsive experience for gamers, and clean imagery for videos. The lamp has up to 15,000 hours of life and the lens is easily adjusted with a manual lens shift and keystone correction. 
The unit does leak light through the vents, but isn't a problem if the unit is placed on a ceiling mount. It doesn't support 4K 120Hz HDMI technology found in the latest versions of the XBOX and Playstation, but it does work with computers at 120Hz. It does put out 240Hz in 1080p mode. Using the Dynamic Black feature causes the unit to increase the power to the fan, making it noisy.
10
LG HU70LA 4K UHD Smart Home Theater CineBeam Projector with Alexa Built-In
The LG HU70LA features LG's CineBeam technology and Amazon's Alexa for up-to-the-moment information and connectivity with smart home devices. It also comes with LG webOS lite and a Magic Remote for accessing the interface and major streaming apps such as Netflix, VUDU, Amazon Prime and more. The unit is capable of a 4K UHD display of up to 3840 x 2160 and has a 1.25 x zoom feature with remote focus.
The LG HU70LA uses HDR 10 with dynamic tone mapping and TruMotion technology to create high-color and smooth visuals. It also uses a 4-channel LED with wheel-less technology that has almost no color loss when compared to DLP, LED and dual LEDs that use color wheels. 
The unit comes with multiple HDMI and USB inputs, and features Bluetooth connectivity for audio and other connectivity options. Miracast technology enables users to mirror the content on their mobile devices to the unit. The light output on the projector is up to 1500 ANSI Lumens for maximum brightness and contrast. About the only drawback to this projector is the fact that LG has no plans to update the webOS lite. It's one of the best 4K projectors with HDR available.
FAQ: More on Purchasing 4K UHD Projectors
Purchasing an expensive 4K UHD projector is a big decision, and it's understandable if you have more questions. In our experience, taking the leap comes down to actually comparing a projector to a specific UHD TV that you have in mind. If you'd like to do this, then you can check our other ranking of the best UHD smart TVs on the market.
Otherwise, stick around and we'll walk you through some additional info on purchasing your projector.
Is a 4K Projector Worth It?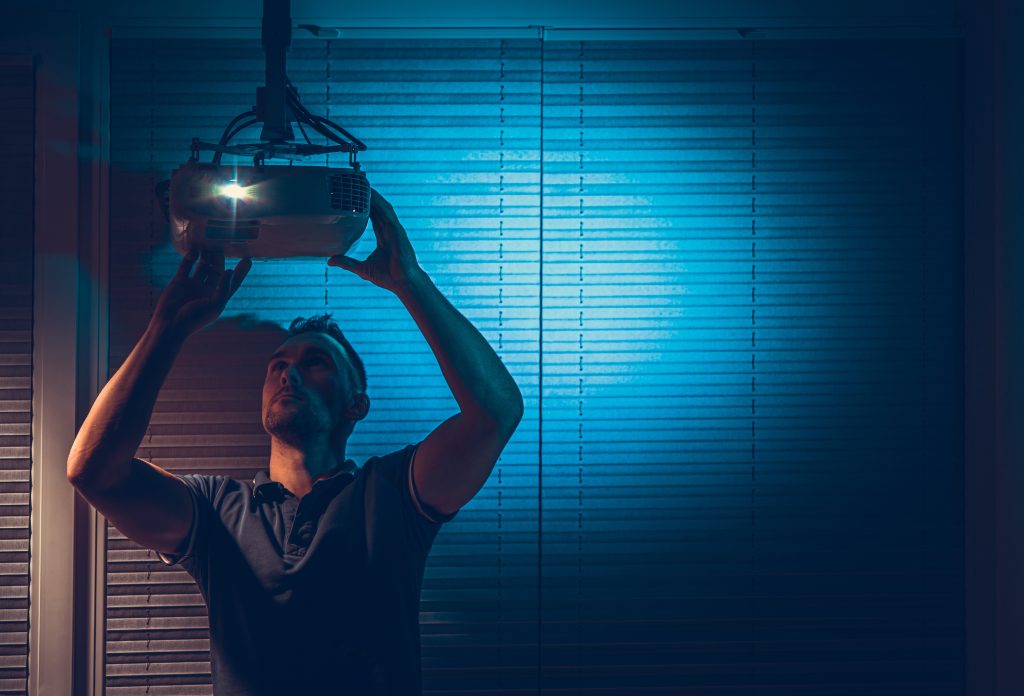 Yes, a 4K projector is worth paying the extra cost, especially if you want to get the cinema experience in your home. Many of the higher-end 4K HD projectors have image quality that rivals that of an OLED flat-screen TV.
In fact, you probably won't notice the difference between the picture quality of 4K projectors home theater and most flat-screen TVs available on the market. 4K projectors for the home theater are technology-driven in that they use the latest in light-emitting bulbs or lasers and feature processors and software that are designed to get the most out of the projector's hardware.
Compare this with lower-end projectors that max out at 1080p and can't overcome the "screen door" effect that comes from a lower resolution and low-end image reproduction technology. The bulb on an HD projector can be very bright, but the brightness may not be strong enough to make the image viewable during the day. HD projectors cost less, but they will never be able to perform as well as a 4K projector.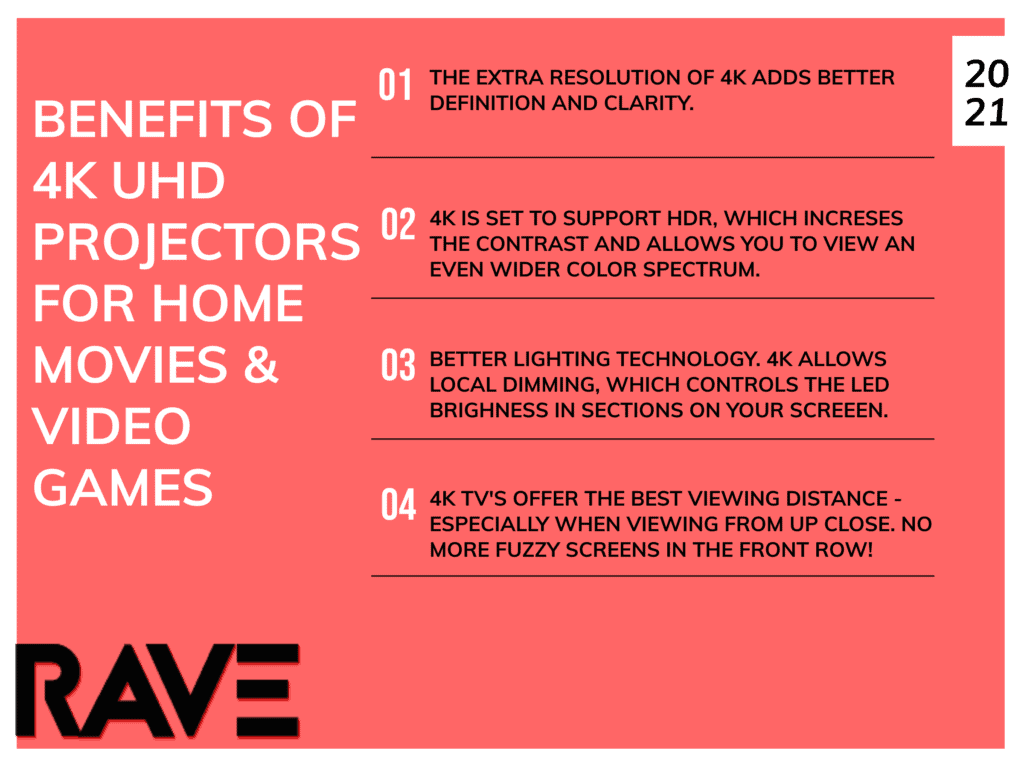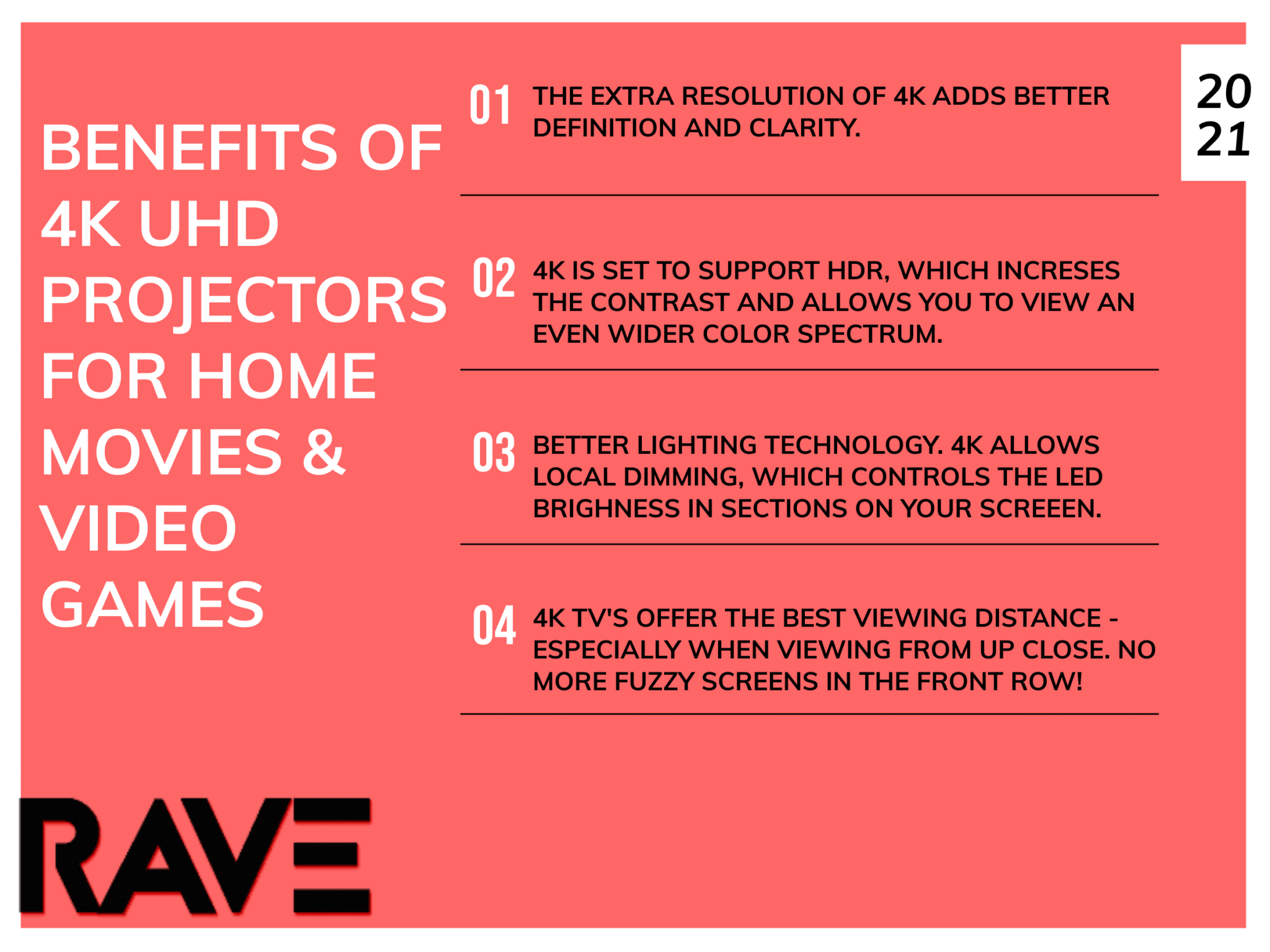 What Makes 4K Better Than Other Projectors?
4K projectors are made to a different standard than lower resolution projectors. They're designed to deliver the best possible picture quality and color saturation through the use of the latest in 4K projector technology at large screen sizes. It's true that the 4K projector is an expensive proposition, but you are getting a quality piece of technology for the amount you're paying.
Still not sure about buying a 4K projector? Compare the features available on the best 4K projectors for home theater against a 1080p HD projector, and you'll see that you really do get what you pay for.
1080p projectors are a great alternative to a TV because of their portability, low cost, and ability to project images up to 300″ in size. However, they don't always deliver on the picture quality if they're less than 1080p or have a bulb with low Lumens, and the image can't be viewed easily on a sunny day.
A 4K projector delivers a crystal clear image that rivals that of an OLED TV in some cases, can be used in most daylight conditions without loss of quality, and is much less likely to have issues with image artifacts that can occur when processing the image for projection. You'll get far more pleasure out of watching entertainment and playing video games on a 4K projector than you would with a 1080p projector.