There's more to pillows than you might have previously thought. There's pillows for side sleepers, pillows for back sleepers, and pillows for stomach sleepers.
And then there's innovative pillows that provide specialty offerings like temperature control, superior firmness, or unique shapes. Each type of pillow will appeal to a different type of person.
So to find the right pillow for you, you'll need to learn where to buy a pillow that matches your preferences and desired comfort.
Key Point: In this article, we'll look at the best places to buy pillows–based on available selections and price ranges.
How Do I Know Which Pillow is Right For Me?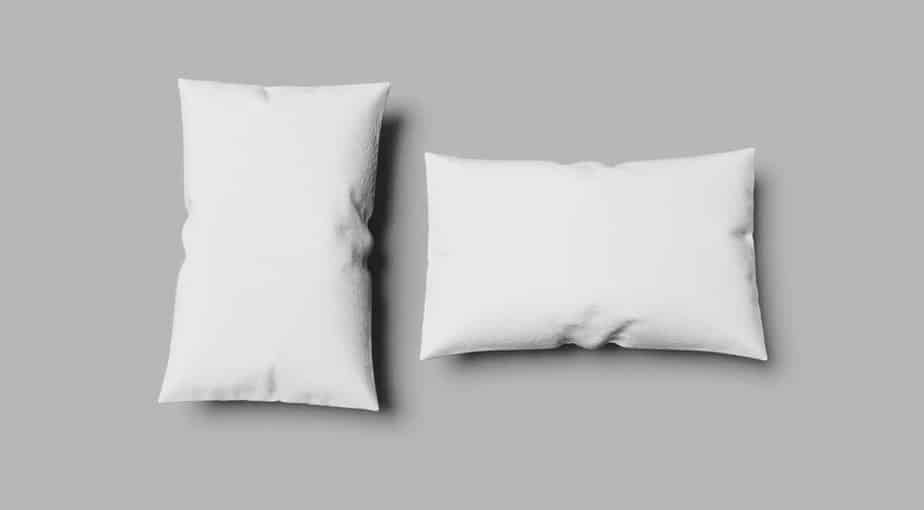 Here's an easy-to-use guide to the kind of support you need in a pillow, based on your preferred sleeping position:
Back Sleepers
If you're a back sleeper, you'll want a medium-firm pillow for proper support under the head, neck and shoulders, as well as a pillow that supports the natural curvature of your spine.
Side Sleepers
Side sleepers need firm support and extra contouring under their head, neck, and shoulders. There are pillows designed specifically for side-sleepers, so keep that in mind if side-sleeping is your preferred sleeping position.
Stomach Sleepers
Stomach sleepers need a soft pillow. Be sure to check if the pillow turns your head at any unnatural angles.
The next question you want to ask yourself when shopping for a pillow is "How would I like my pillow to feel?" This will help you decide what your pillow should be made out of.
What Should My Pillow Be Made Of?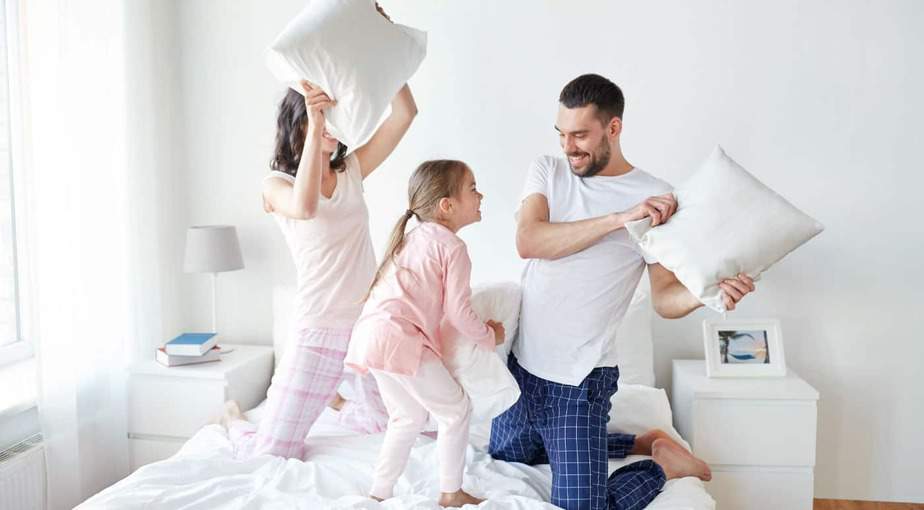 Here's a quick rundown on what your pillow should be made of, based on how you like your pillow to feel.
Soft and Fluffy
If you like your pillow as soft as can be, choose a down, down-feather, or poly-cluster pillow.
In the Middle
Need just the right amount of softness and firmness in your pillow? If so, consider a synthetic fill pillow.
Firm and Supportive
Is a firm — and maybe even a little dense — pillow what you're looking for? If so, go with a memory foam pillow.
Maybe you have a pillow in mind, you just need to know where to buy it. Coming up next, we answer where exactly to buy the pillow of your dreams.
Where to Buy a Pillow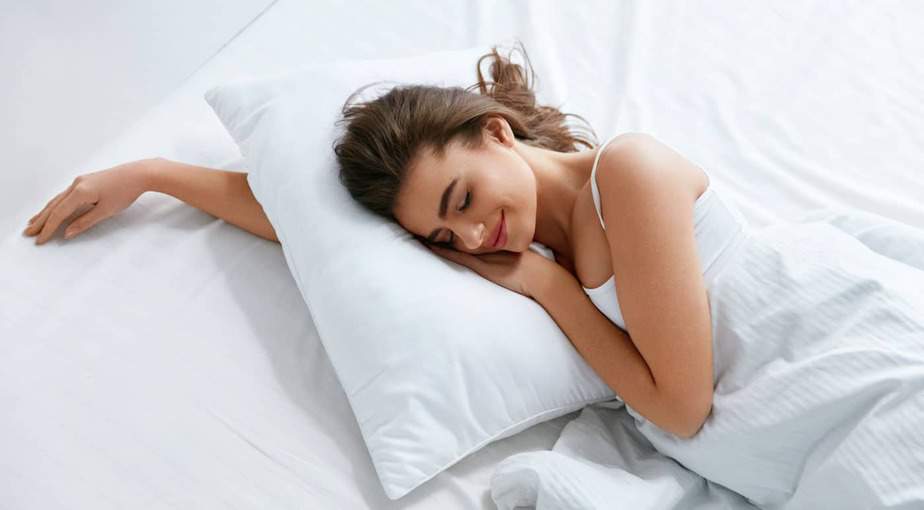 You can, of course, buy your pillow wherever you'd like! But these days, there are two primary places to buy almost anything: in a store, or online. You might spend a little more money in one place, and a little less in another. Maybe one website offers free delivery, and another doesn't.
But if the pillow is in stock with several retailers — online or in-store — what difference does it really make?
That's what we wanted to find out.
Methodology
Our approach to answering the question, "Where to buy a pillow?" was to break down online retailers versus traditional brick 'n' mortar stores. We looked at five pros and five cons to buying a pillow from a website, or buying a pillow over the counter.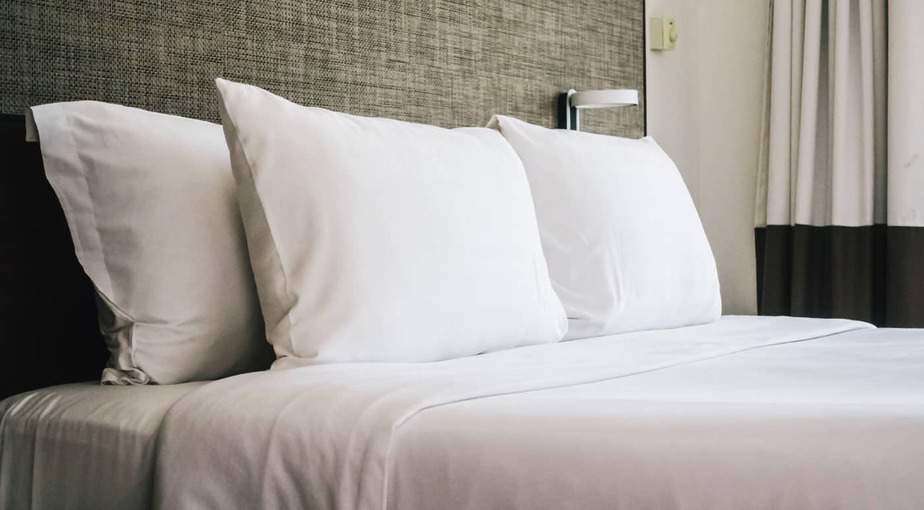 Our objective was not so much to tell you where to buy a pillow, but give you the information you need to make an informed decision on your own–though we do provide online and in-person store suggestions.
When evaluating websites and traditional retail, we looked at the following:
Average price
Shipping options
Selection
Customer service (before and after purchase)
Tools with which to make an informed buying decision
Ability to try, touch and feel products before you buy them
After listing the pros and cons of where to buy a pillow, we offered a few reputable options in the categories of online or traditional retail.
Maybe you have your own idea about where you'd like to buy your pillow. But keep reading, because our ranking may just change your mind.
Where to Buy a Pillow: Online Retailers
Educate yourself to the pros and cons of shopping online.
Pros of Shopping Online
The internet never closes
Prefer to shop for a pillow from…well, bed? Buy your pillow online and you can.
There's no aggressive sales people
When you shop for a pillow online, you'll avoid pushy sales people. You'll be able to browse at your leisure, check consumer reviews, and make your mind up for yourself.
There's no long lines
Hate crowds? Avoid them by shopping online. You'll also save money on gas, and you won't have to deal with parking.
They have better customer service
Seeking customer service from an online retailer can yield better results. Online customer service representatives are often better trained than customer service representatives in a brick 'n' mortar store, who sometimes are in the pillow section after coming all the way from automotive.
You save money
Not only can online retailers offer better prices on products like pillows, they can also more easily apply coupons, matching competitor's pricing, and add-on benefits like free shipping, or free upgrades to expedited shipping.
Cons of Shopping Online
You can't try the product first
Shopping online means you can't visually inspect, touch, or feel your pillow before you buy it. This can be of particular concern when buying a pillow.
Your pillow could be backordered
Your pillow may actually be backordered with an online retailer, but you won't know until a few weeks after you make your purchase.
There's better data safety
These days, online commerce is usually very safe. But you just never know when you enter your credit card into a website if they're a legitimate retailer.
There's more difficulty with returns and refunds
Even though you got free shipping from a website, you may still have to pay for return shipping if the product isn't what you expected. And the fact you have to ship your pillow back and wait for a replacement is also a hassle.
You're always dealing with someone different
Heading down to your local store increases the odds you can work with the same sales clerk if an issue arises with your pillow. Shopping online, however, means you could be dealing with someone different every time you need to ask a question or address an issue.
Top 2 Online Retailers
If you do decide to buy a pillow online, here are some reputable websites to choose from:
Wayfair
There are a lot of reasons why Wayfair is a great place to shop for pillows, not the least of which is their color-coded guide based on comfort level, preferred sleeping position, ideal fill material, and even the material your pillow covering is made from.
Amazon is your place to buy everything, including pillows. At Amazon, you'll find a great selection and seemingly unlimited customer reviews to help you feel confident in your purchase.
Where to Buy a Pillow: Brick 'n' Mortar
If you decide to go brick 'n mortar, here's what you need to know…
Pros of Brick 'n' Mortar
You'll get your pillow immediately
Finding your pillow right there on the shelf? All you have to do is take it to the counter, buy it, and bring it home — no shipping, no waiting, no risk of having your package stolen off your front porch.
Is your pillow not in stock? Special ordering is much easier and more convenient in a traditional retail store.
You can talk to an actual human face-to-face
Have a question about your pillow? You can talk to an actual person. And the same goes for returns, exchanges, or defective product.
You know what you're going to get
With traditional retail, you'll get the pillow you you want because you pulled it right off the shelf. No shipping errors, and no damage in shipping.
There's less environmental impact
Despite the fact you're saving money on gas by shopping online, there's still a tremendous amount of fuel spent on shipping pillows purchased online. Truly concerned with environmental impact? Walk or bike down to your local retailer.
You'll be supporting your community
Spending money at a local store keeps your money local, engages you with your community, and keeps local persons in a job.
Top 2 Brick 'n' Mortar Retailers
If you do decide to buy a pillow in a store, here are some retailers we recommend:
Target has a great selection of all sorts of pillows, and their prices can't be beat. What we liked most about Target was their mix of pillows ranging from average to fancy — but no matter what you choose, it's always quality.
In addition to being able to touch and feel your pillow, Bed Bath & Beyond offers a generous return policy and plenty of ways to save money with 20% off coupons and more.
Final Thoughts on Where to Buy a Pillow
Deciding where to buy a pillow should be the least of your worries when making the choice to treat yourself to a better night's sleep.
So review our list of pros and cons to shopping online or in-store and consider our recommendations for both so you can focus on what really matters — your pillow, not the store.
Conclusion: Whether shopping in-store or online, the best place to buy a pillow will be the place that sells the type of pillow you want. So don't be afraid to shop around and branch out if you're not finding what you're looking for!