Back when memory foam was invented in 1966, it was a big hit and transformed the way we sleep.
It grew famous for the way it molded around your body, a feature that often hindered support.
And some people didn't like that "sinking" feeling — like laying on silly-putty. Not to mention that memory foam is polyurethane chemically enhanced for density, which is not breathable, so people were waking up in a sweat.
The New Purple Mattress
An alternative soon appeared: Latex! Mattresses made with latex are hypoallergenic, breathable, and "springy." They're responsive, and they push back against the body, targeting pressure points.
I'll put it this way: While memory foam molds around your body, latex hugs your body. Some people liked this characteristic better, but many found it too firm. Plus, there was that rubbery smell which could take days to disappear, if it did at all!
And then, for 40 years, sleep technology made no new leaps.
The Next Chapter of Sleep Technology
Purple mattresses represent the next big phase of sleep tech. Not too sinky, not too springy. They are a new, category-breaking type of comfort between the worlds of firm and soft, between comfort and support.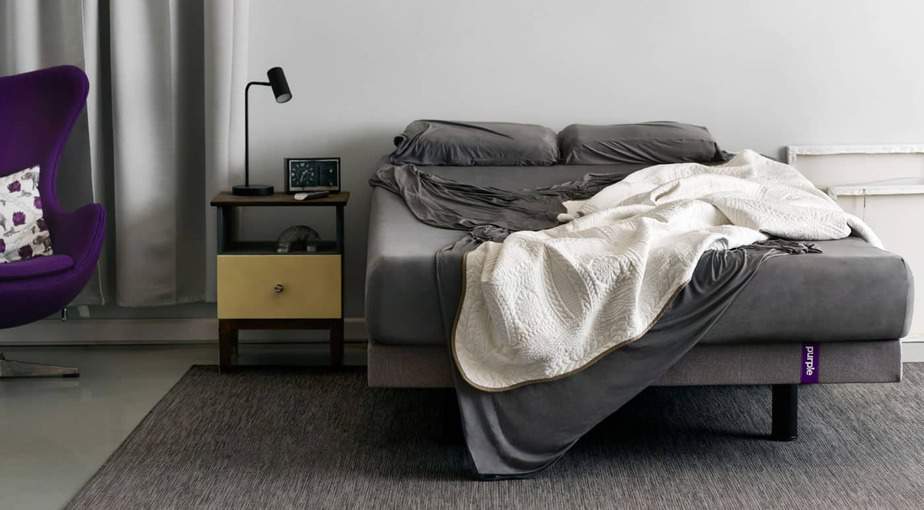 Made from Hyper-Elastic Polymer, Purple mattresses are one of a kind. The gel-like material in these mattresses is actually patented, so you won't find it anywhere else on the market.
Purple makes it a point to eliminate the problems commonly associated with memory foam. In terms of temperature neutrality, no mattress ranks higher, making it the best bet for a night of cool sleep. It is also more responsive than the putty-like softness of memory foam.
Purple focuses on avoiding the pitfalls of latex mattresses, too. The company is careful about what it puts into its Hyper-Elastic Polymer so their mattresses are both nontoxic and off-gas free. You can sleep on them the moment you unbox them.
While Purple certainly advances the standards for comfort technology, Purple is not necessarily the perfect mattress. It may be a good alternative for sleepers who have not been satisfied by either memory foam or latex, but it still has some weak points.
Read on for a full profile of Purple mattresses.
The History of Purple
Tony and Terry Pearce, brothers and natives of Utah, got their start designing a lightweight carbon-fiber wheelchair, but they had trouble finding material for a cushion that successfully prevented pressure sores for patients who had to remain seated all day. They experimented with several gels and foams, but they were either too uncomfortable or too expensive.
Finally, in 1995, they concocted a new material in their own invention factory: a strong, stretchy, gel-like Hyper-Elastic Polymer, which is what they use in their mattresses today.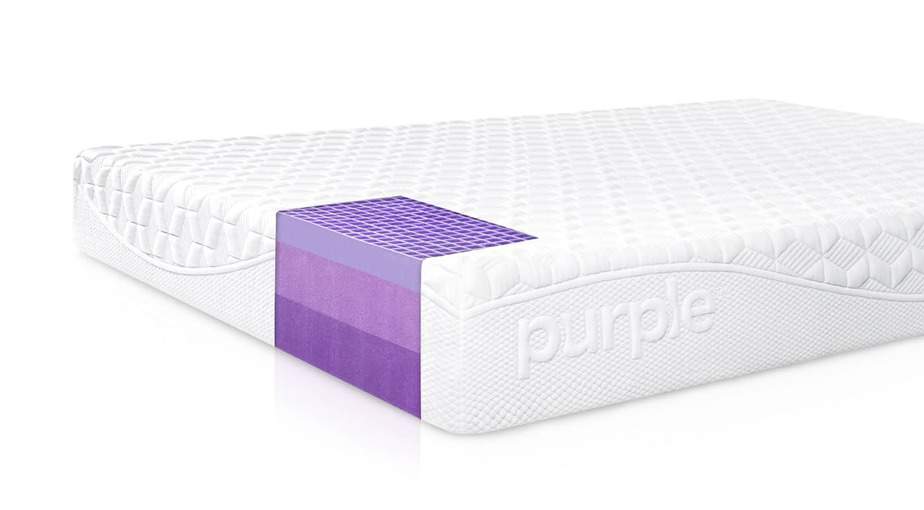 The predecessor to the Purple mattress may have been a wheelchair cushion, but their invention was rapidly licensed to major brands. Dr. Scholl's uses the same polymer for their blue shoe insoles, and Stryker uses it in critical care hospital beds.
See a trend?
I'll put it simply: The Purple mattress is a feat of engineering tracing its origins to the medical field. It was designed to maximize comfort for people at their most delicate and vulnerable state, promoting healing by relieving points of pressure on the human body — and it can do it more effectively than gel, foam, or cotton.
In 2013, they patented a new invention, the Mattress Max. This machine presses their non-toxic Hyper-Elastic Polymer (dyed royal purple) into distinctive latticed gel rectangles like a waffle iron, to use in their Purple mattresses.
In less than a year, the mattresses were so popular they were being sold faster than Purple could create them! New customers had to join a waiting list to get their mattress, even if the Mattress Max worked around the clock.
Supply could not keep pace with demand, so the brothers launched a Kickstarter campaign and published a series of plucky marketing videos explaining the science behind their mattresses. The videos went viral and they met their Kickstarter goal of $25,000 after only five days. About a month later, the campaign ended with 320 backers pledging $171,560 — over six times the original goal!
The brothers had more than enough to relocate to their current factory: a 574,000 square foot space in Tooele, Utah. There, they have four Mattress Max machines churning out fresh purple slices of Hyper-Elastic Polymer every day.
About the Product
Purple manufactures two — only two — mattresses: the Original Purple Mattress and the All-New Purple Mattress. Either one can be purchased in any size, from Twin to Cal King. Each has a top layer of the trademark non-toxic Hyper-Elastic Polymer in its distinctive "grid" mold.
Specs for both Purple mattress models
Durability: From the Hyper-Elastic Polymer to the reinforced perimeter, this bed has a high tolerance for abuse and will last many years.
Motion isolation: You can move around, get out of bed, or crawl into bed without disturbing your sleeping partner. They won't even know you're there.
Conforming: The layer of Hyper-Elastic Polymer is molded into a grid pattern, offering support and relieving pressure points.
Temperature neutrality: Few mattresses test as well as Purple in this category. No matter if you run hot or cold, the Smart Grid distributes body heat more efficiently than memory foam.
Noise: The Purple is quiet, so you won't disturb anyone by moving around.
Positional: Purple mattresses — particularly the All-New — are good for any sleeping position.
Who Should Buy This Mattress?
For those who can afford it, there are at least three people who should consider Purple over other brands.
Hot sleepers: If you tend to become uncomfortably warm while you sleep, Purple is a great choice.
Active sleepers: People who move or change position while sleeping will benefit from this mattress. It's well-suited to just about any sleeping style, and good motion isolation means that your tossing and turning won't affect your partner.
Sensitive sleepers: If you've experimented with memory foam, latex, or innerspring mattresses and haven't been satisfied, the Purple Hyper-Elastic Polymer might be the alternative for you.
People with sensitive pressure points: If you've got pain in your lower back, shoulders, or neck, this mattress will promote proper sleep posture and can help reduce aches and pains.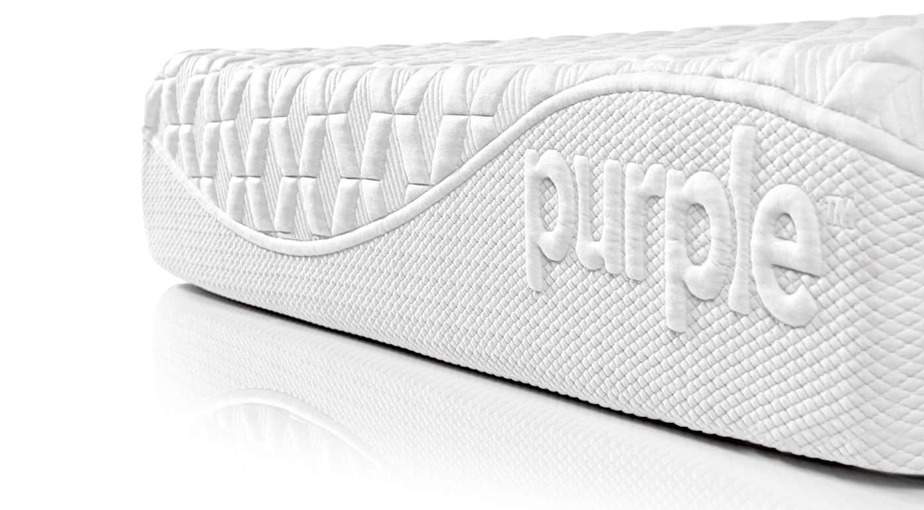 The Original Purple Mattress
This is the one that started it all. The Original is comprised of three layers. On top, there's a 2-inch layer of Purple's own Hyper-Elastic Polymer. This gel-like material is molded into a "grid" pattern, which is ideal for relieving painful pressure points causing aches and soreness (they've tested it). This grid also helps distribute body heat, so the parts of your body touching the mattress don't sweat.
There are two layers of polyurethane foam beneath the first layer. The higher the layer, the less dense the material. The Original usually rates at a medium, or 6.5 on the Firmness Scale.
The All-New Purple Mattress
The Original was a good flagship product, but the All-New kicks things up a notch, reflecting a maturing company that has perfected its craft and taken consumer feedback to heart.
Like the Original, the All-New is topped by a layer of Hyper-Elastic Polymer. However, it has multiple thickness options in 2, 3, and 4 inches. And, instead of polyurethane all the way down, the All-New offers a layer of responsive support coils. This feature ups the price significantly, but it makes up for it in performance. You can also select your preferred firmness at firm (7-9), medium (4-6), or soft (2-3).

Company Reputation
Consumer experience is wildly positive, with Purple raking in glowing praise. However, when you are browsing ratings and reviews, it's important to take note of trends: Does everyone praise (or complain about) the same things?
While it's true that Purple has six 5- or 4-star ratings for every 3- to 1-star rating, most of the positive reviews are brief and seem to have been given by customers shortly after they received their mattress. Meanwhile, the more negative the review, the more likely the customer had slept on the mattress for an extended period of time.
Here's what the reviews tend to show:
1. Purple has excellent customer service.
Whether they were happy or angry about the product itself, most customers speak positively about the company and its employees. Two major customer-service related points that keep coming up are the company's response time and how easy it is to take advantage of Purple's free return policy. The folks at Purple seem friendly and eager to please.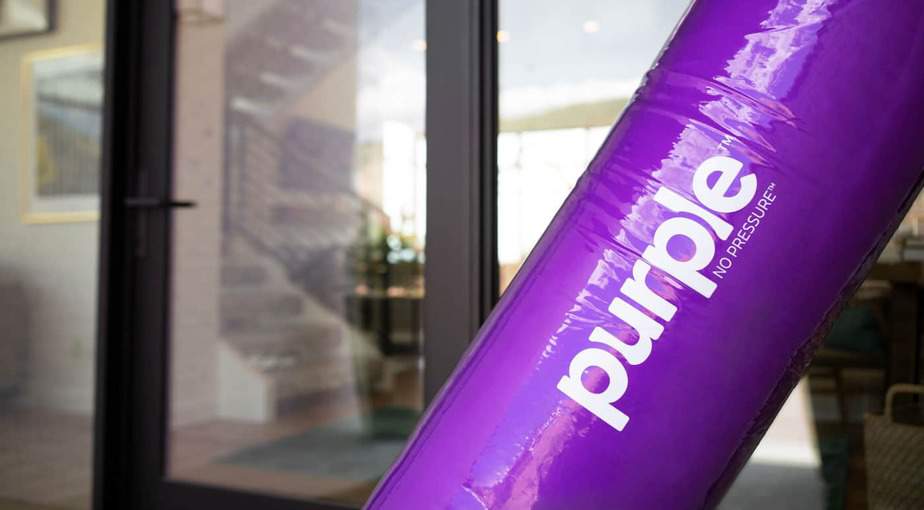 2. Purple mattresses seem to lose responsiveness in as little as two years.
For Purple mattresses, a recurring complaint is that, over time, depressions form where the body usually lies.
The story usually goes that a customer is happy — even exuberant — with their mattress at first, but over time, the material compresses and no longer gives the support it once did. For couples sleeping on either side of the bed, a ridge forms between them.
For single sleepers, the change is noticed more easily. One reviewer who slept alone on a queen-sized bed decided to sleep on the other side for the first time: "The change in firmness was extreme," he writes, "It was as if I'd climbed onto a different mattress. The side that I've been sleeping on sags much more under my weight, whereas the unused side has much more firmness and support."
This problem is, to an extent, unavoidable. It is the way of all mattresses. However, the crux of this complaint is tied to the enormous price tag: "This mattress is about twice as expensive as other online competitors," says the reviewer, "but I went through with it because I thought I was paying for quality."
3. Purple has a dodgy warranty.
Purple promises a 10-year warranty for all of their mattresses. However, it is difficult to use. Many customers have taken advantage of it after experiencing the depressions mentioned above.
The warranty stipulates that, in order to qualify, the human-sized indentation must be (1) visual and (2) at least 1-inch deep. Most customers have no problem with the latter, but because of the gridded design, the depressions are not visible to the eye once the sheets are removed, though they can be felt by hand. Customers often believe this uncertainty is unfair and submit negative reviews.
Unboxing your new mattress
So, what happens when you get your Purple mattress delivered to your door?
First of all, I say "unboxing," but your mattress doesn't technically arrive in a box.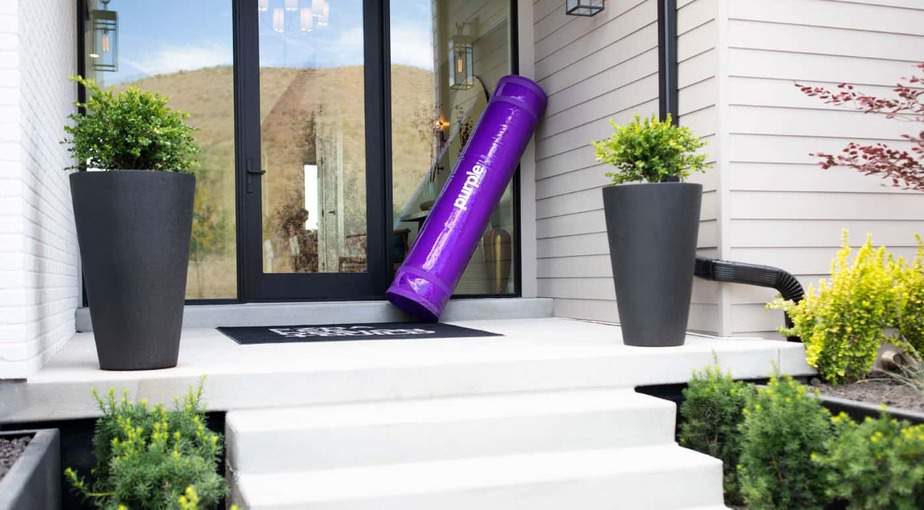 Your Purple Mattress arrives rolled up in a tube of clear plastic like an enormous purple cigarette (great band name, by the way). The tube is pressure-sealed, so you have to cut it open with a razor, which is provided. You can use your own razor or scissors, but be careful not to puncture the mattress.
What happens next is likely a two-person job.
After discarding the tube, unroll the mattress wherever it is you plan to sleep that evening. It will be flat — more like a mattress topper — but don't worry, it will begin to expand to its normal size almost instantly. Remove the protective plastic covering the mattress, and give it a few minutes to reach its full size.
Then you're done!
Customers do not report any smell or off-gassing, so you don't need to air out your mattress before throwing on the sheets.
Pros and Cons
Here's a quick breakdown of what a Purple mattress brings to the table:
Pros
Available in any size
Thickness options
Firmness options
100-night trial
Free returns
10-year warranty
Free shipping
Hypoallergenic
Non-toxic
Cons
Expensive
Very heavy
No thickness options for the Original
No firmness options for the Original
As you can see, there's plenty to love about Purple's mattresses — especially the All-New Purple Mattress.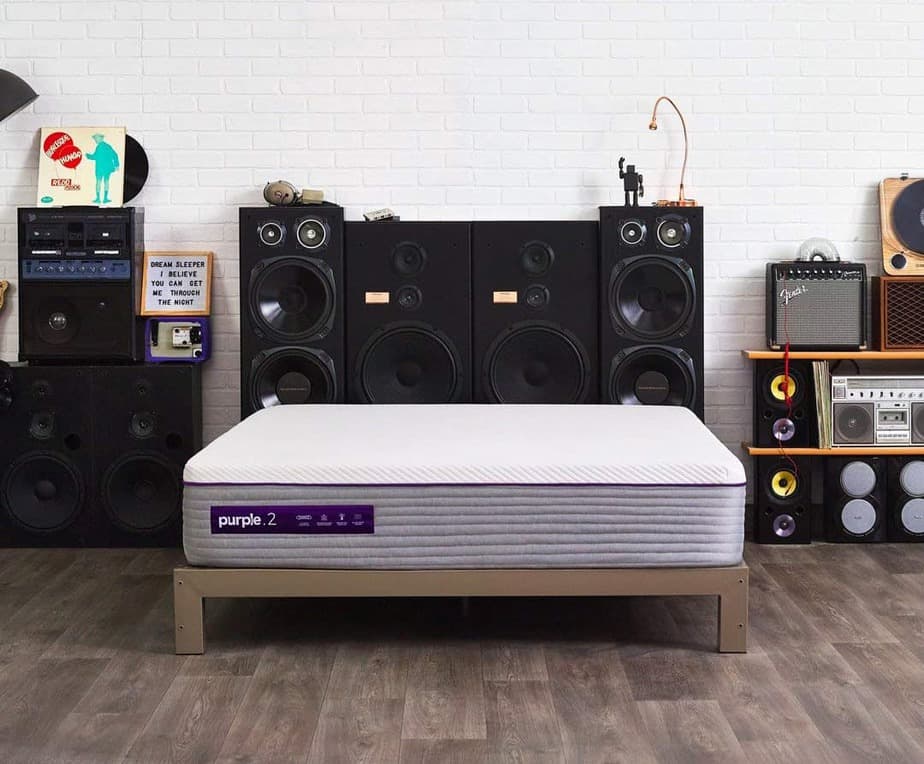 Related Rankings

Blake Adams
Blake Adams is a widely published educator, journalist, and copywriter. He lives with his wife and cat in...*throws dart at a map*...Elburn, IL.