We do not take the importance of weighted blankets lightly.
After many sleepless nights, we've confirmed the Weighted Blanket by Baloo should be a buyer's first choice when it comes to picking the best weighted blanket. You might find weighted blankets that perform better in certain categories — coolness, softness, etc. — but nothing scores as high in every category and still arrives at such a competitive price. Durable, machine washable, cool, thoughtfully designed, and did we mention gorgeous? Still not convinced? Maybe you should sleep on it.
You might be hearing about weighted blankets for the first time, but they are not a new invention. Beginning in the early 20th century, they first appeared in hospitals and care centers to treat children with severe autism, attention-deficit/hyperactivity disorder (ADHD), and post-traumatic stress disorder (PTSD). In time, weighted blankets would be used by adults to alleviate symptoms associated with insomnia and anxiety.
However, the weighted blanket isn't just for individuals with these issues. It imitates how human beings used to sleep before light-weight textiles. Even if you don't have anxiety or autism, a weighted blanket could improve and deepen your sleep. While there were many attempts to do so, the weighted blanket didn't become mainstream until the company Gravity launched their product with some savvy marketing in 2018.
The range and variety of weighted blankets on the market now is almost too much to sort through. That's why we did your homework for you. Our buyer's guide to the best weighted blankets hits all the major points. Every item on this list is an excellent product — we don't waste time reviewing poor ones. You can't go wrong with any of these options. The only question is, which one is best for you?
The Weighted Blankets We RAVE About
Best Overall
Baloo's Weighted Blanket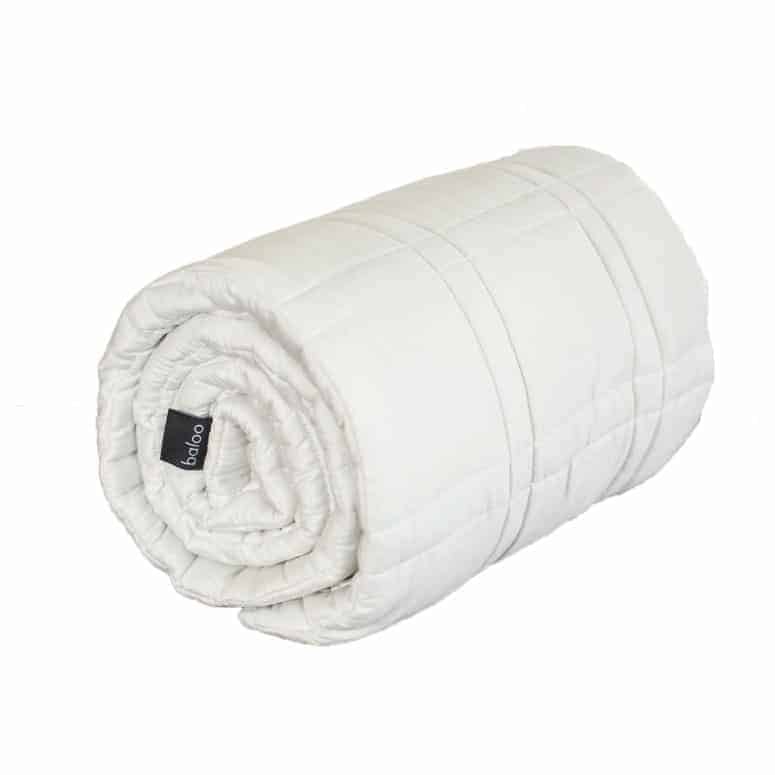 Best for Kids
YnM Cooling Weighted Blanket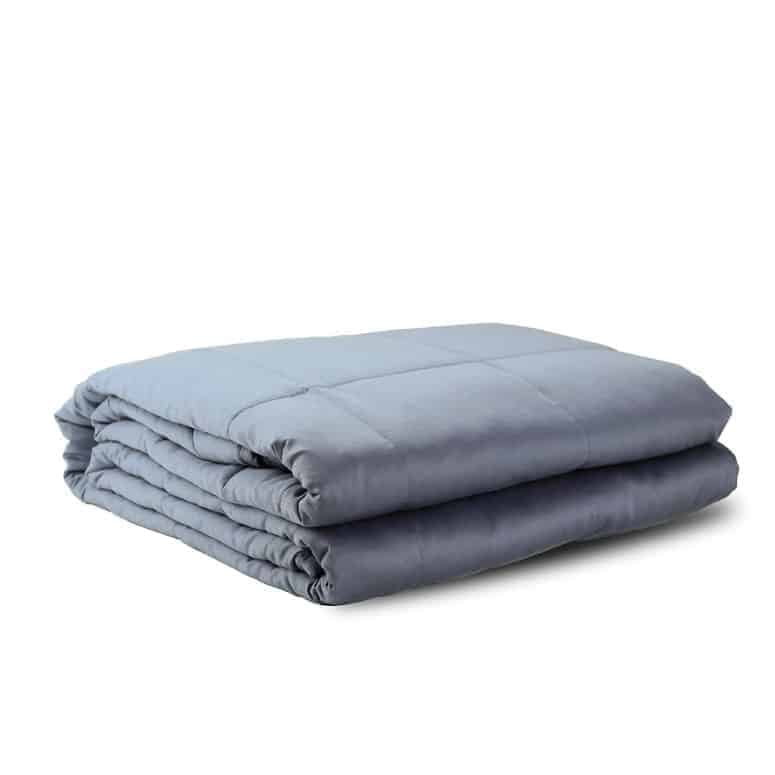 Best Price
Chilla Deluxe Weighted Blanket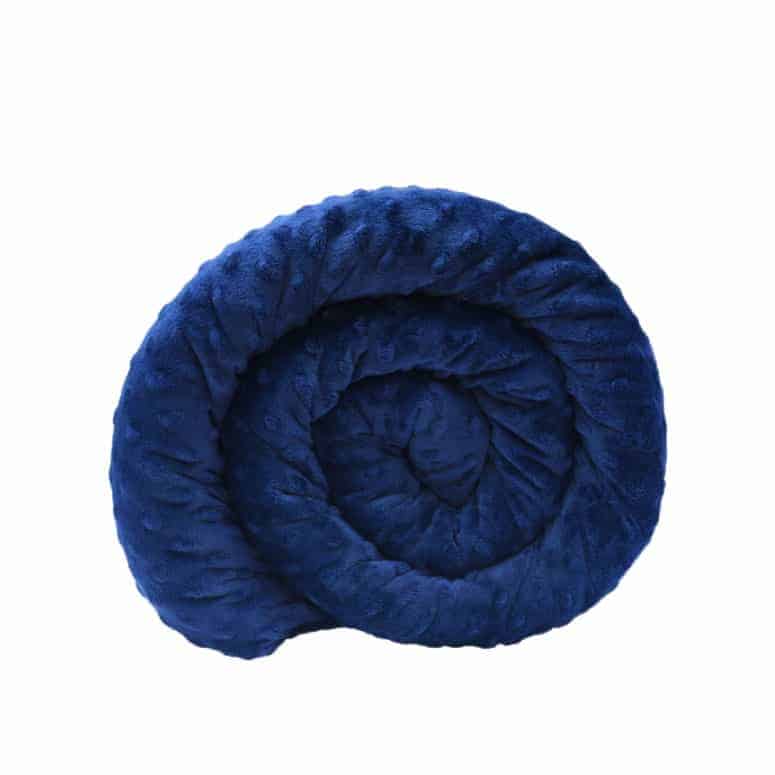 The Science of Weighted Blankets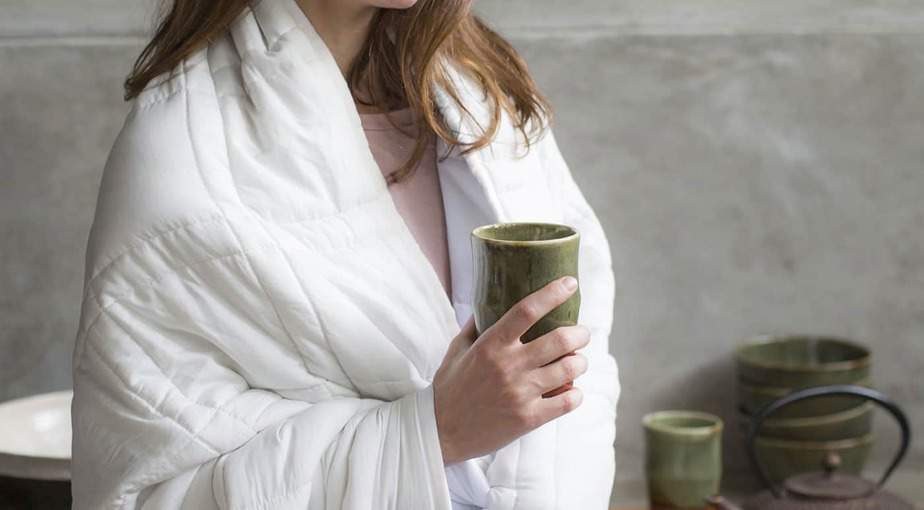 Weighted blankets first appeared as a therapeutic measure for individuals with autism or ADHD. Since going into the mainstream markets, they have been used to alleviate symptoms associated with more general health issues like anxiety and insomnia. At first, therapists observed that their patients enjoyed the "hugging" sensation of weighted blankets. The sense of security it provided improved sleep, though this was not tested until recently.
In one study, Swedish scientists at the University of Gothenburg conducted experiments to learn if weighted blankets could treat insomnia. 31 adults slept with weighted blankets for two weeks while electrodes measured their brain and muscle activity. Results showed the participants moved less in their sleep and slept "deeper" mentally. Participants also slept longer and with fewer disturbances. All reported they slept better than usual.
It remains unclear why, exactly, weighted blankets have this effect. It may be traced to our childhood — a memory of being bundled up in mother's arms. Or it may simply mimic how human beings have traditionally slept before factories arose which churned out mass-produced lightweight textiles.
It may be the case that all of us, without weighted blankets, are sleeping abnormally.
Weighted Blankets Are for Everyone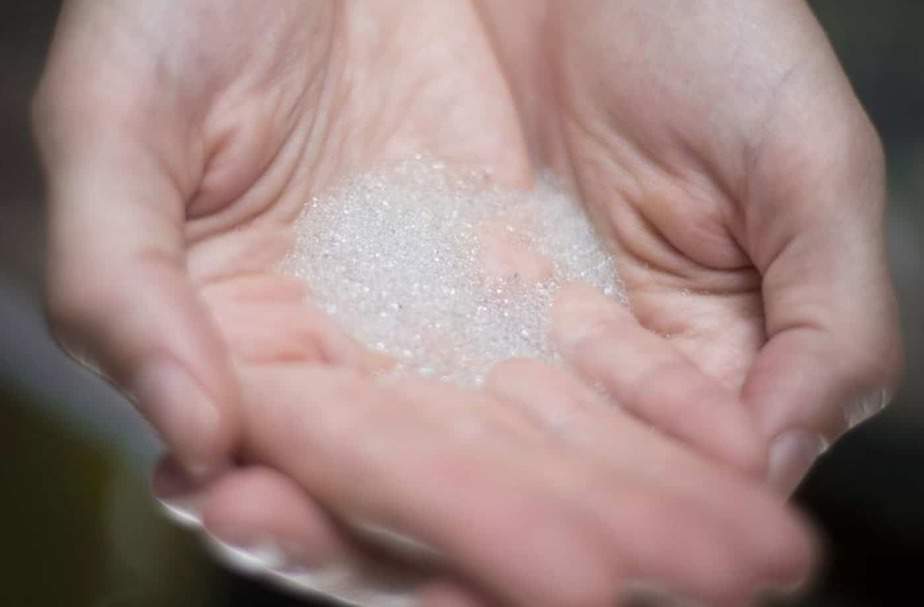 Ever had that dream? You know, the one when you are trying to run or walk, but your toes can barely graze the ground? There are many versions of the dream, but many people have had it. In some versions, the dreamer is becoming weightless. In others, they are underwater. In any event, their feet have no purchase. They have no gravitas. If you have ever been disturbed by this dream more than once, you might be someone who would benefit from a weighted blanket.
Weighted blankets are designed to provide a sensation known as grounding. This occurs when moderate force is applied to the body, pushing it further into the sleeping surface. Those who enjoy this sensation don't describe it as grounded. To them, it just means being cozy, bundled, or "snug."
In fact, if cozy, bundled, or snug are words that comfort you, a weighted blanket might be a dream come true (or a bad dream avoided).
Subconsciously, weighted blankets promote a sense of safety. No one burrows under a heavy blanket without feeling shielded from the outside world. This tricks the brain into producing hormones like melatonin which can relax the body, calm the nervous system, and moderate the natural sleep cycle.
But all that sciency talk just confirms what people already know: Sleepers often feel more safe, cozy, and relaxed under a heavy blanket. This promotes a more rejuvenating and undisturbed sleep. Weighted blankets aren't just for individuals with anxiety, ADHD, autism, or PTSD. It might be able to deepen and prolong your sleep, whoever you are.
Misconceptions about Weighted Blankets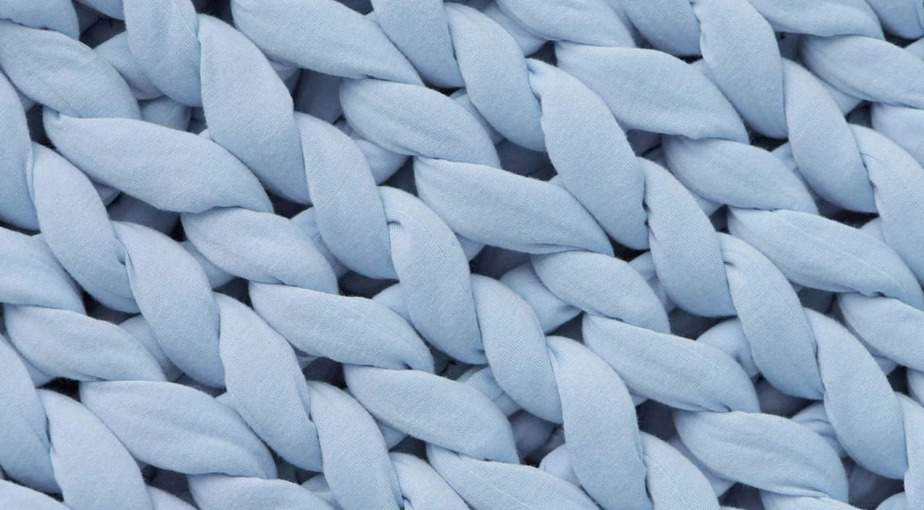 Since Gravity Blankets brought weighted blankets into the mainstream in 2018, a number of misconceptions about weighted blankets have emerged. Let's set the record straight and separate fact from fiction.
Misconception #1: The weight of the blanket doesn't matter
Most manufacturers have more than one weight option for you to choose from. Not only does it matter which you choose — it is the most important choice you need to make. The most popular weight is 20 lbs, but you should select a blanket that is about 10-15% of your bodyweight.
But even this is a loose estimate. You might be more comfortable with a blanket in the 20-25% range, or lower in the 5-10% range. Experiment a bit and find your cozy place. While doing so, remember the weight/size ratio. Obviously, a 20 lb queen-size blanket is going to distribute the weight more widely than a 20 lb twin-size blanket. The latter will condense the weight and feel heavier.
Misconception #2: Weighted blankets sleep warmer
There's some truth to this one. As might be expected, weighted blankets tend to run thick. They are also made of dense materials that distribute heat poorly. However, more recent models have found ways to overcome this flaw.
Here are a few hot takes: Consider what material is being used to weigh the blanket. Glass tends to sleep cooler than plastic poly-pellets, so avoid the latter if you can. Blankets with minky or braided duvets also promote airflow more effectively. Materials like wool and viscose bamboo also naturally wick away moisture, which help them thermoregulate.
Misconception #3: Weighted blankets are only for patients with ADHD, anxiety, or autism
Hopefully, by this point I've made this case clear: Weighted blankets may help you sleep better, no matter who you are. While they were originally designed for patients with ADHD and autism, they have been found effective at promoting a deeper, longer, and more relaxed sleep in general for all users.
Methodology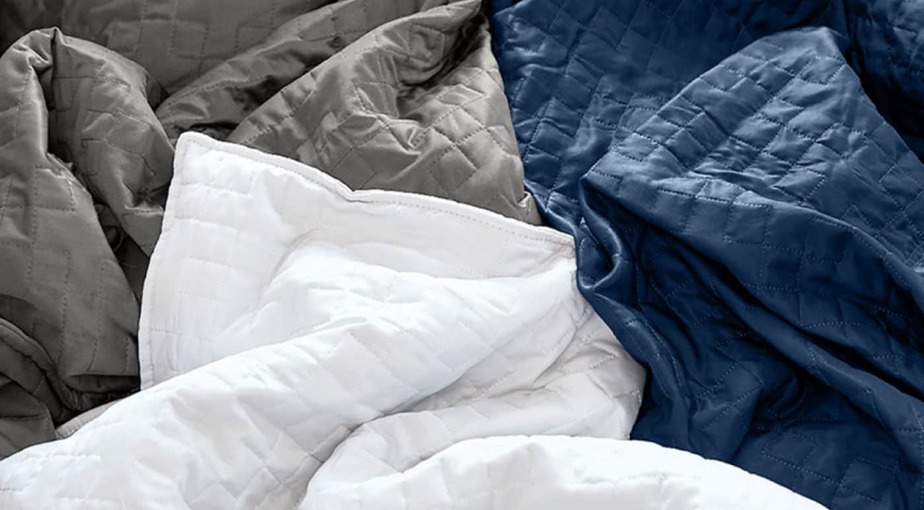 The results of this review came from cross-referencing product tests (both by companies and individuals), applying critical analytics to hundreds of customer experiences, researching the policies, principles, credentials, and methodologies of manufacturers, and also citing "sleep authorities" on particular brands. In short, we have strived to put ourselves in the position of customers. The only difference is we've done the research for them.
Below are the criteria we looked for when compiling this list:
Health: Hypoallergenic, anti-toxic, flame retardant, and antimicrobial mattresses will be given favor.
Durability: You want a weighted blanket that can take years of abuse and cycles in the washing machine without tearing or fading.
Size: Weighted blankets that are available in more than one size will be given favor.
Weight: Weighted blanket that are available in more than one weight will be given favor.
Softness: Weight alone doesn't cut it. Customers need to enjoy snuggling with their products.
Weight distribution: Weighted blankets that evenly distribute their weight and require zero to minimal fluffing or adjusting will be given favor.
Coolness: Weighted blankets have a reputation for trapping moisture and redistributing heat poorly, so favor will be given to products that overcome this flaw.
Fair price: Favor will be given to products which have a price proportionate to (or lower than) their quality.
Sleep trial: The longer the sleep trial, the more we will favor the product.
Eco-friendly: Companies that demonstrate environmentally conscious practices will be given favor.
The Best Weighted Blankets
1. Can weighted blankets cure ADHD, autism, anxiety, and more?
No. When weighted blankets were first invented, they were a single element in a broader treatment program for individuals with ADHD and autism. They were known to relax patients, which helped them sleep better. Despite how effective they might be at treating patients, weighted blankets have never been known to cure these illnesses and disorders.
As if to prove that weighted blankets cure nothing, they are now used to treat a broad range of conditions. Beyond ADHD and autism, they are currently recommended to individuals with anxiety, depression, sensory processing disorders, insomnia, and even PTSD. Weighted blankets are less a miracle cure than a sort of ibuprofen for the brain.
2. Are weighted blankets only for individuals with ADHD, autism, anxiety, and PTSD?
No. While they have their origins as a form of treatment for individuals with ADHD and autism, this doesn't mean weighted blankets are useless for the general population. Weighted blankets are not prescriptive. Like ibuprofen, they are available for anyone who can find comfort in them.
Before the weighted blanket, Temple Grandin, an animal scientist, invented the "hug box" for autistic people like herself. She got the idea when she noticed the cattle on her cousin's ranch relaxed when they walked through a narrow chute. The hug box was designed to imitate the "deep pressure stimulation" of a hug, which comforted and relaxed patients.
But the cattle, which Grandin observed relaxing in narrow chutes, were not autistic — in fact, psychologically healthy people might have enjoyed the hug box as much as autistic patients! What Grandin discovered — the calming effects of deep pressure stimulation — was not something unique to autism, but something human beings generally enjoy, and that has special applications for the treatment of autistic individuals.
3. How do I choose the correct weight?
The most popular weight for any weighted blanket is 20 lbs. But you should select a blanket that is about 10-15% of your bodyweight. Still, this is just a rule of thumb. The real measure is your comfort level. You might be more comfortable with a blanket that is 20-25% your bodyweight, or lower in the 5-10% range. Experiment a bit and find your cozy place.
When selecting the weight for your blanket, remember to account for the weight/size ratio. A 20 lb queen-size blanket is going to distribute the weight more widely than a 20 lb twin-size blanket. Meanwhile, the latter will condense the weight over less square-footage, so it will feel heavier when you crawl under it. Make sure you take this ratio into account when making your purchase.
4. What are the best weighted blankets?
Every individual has their own idea of comfort. While we can suggest rules which tend to apply generally, it is up to you to know what helps you relax and feel safe. The best weighted blankets apply deep pressure stimulation and create a calming sense of grounding. For most, these blankets weight around 10-15% of their body-weight, but exceptions to this abound.
The best weighted blankets distribute their weight evenly. If they are weighed with glass beads or plastic poly-pellets, the blankets is designed to prevent these somehow from moving around or collecting in bunches. This seeps the weight of the blanket off the front of the body and along the sides, which reduces deep pressure stimulation. If this happens, the blanket may require adjusting during the night.
The best weighted blankets sleep cool, drape beautifully (not stiffly), and can be paired with a duvet cover. Hopefully, it's included! A duvet cover dramatically promotes cleanliness and prolongs the lifespan of your blanket. The size of the blanket will vary, depending on your needs.
RAVE Recommends
Think of a weighted blanket as just one, essential part of a much larger sleep-enhancing picture. It's irreplaceable, but a substantial sleep package requires more than just a blanket. Maximize the number of undisturbed nights by looking at these other sleep-related products.