Who knows better about what you need during your pregnancy than a fellow mom?
The Leachco Snoogle Total Body Pillow, uniquely designed by a Registered Nurse and a mother, is our number one pick for the best pregnancy pillow. It's the one pillow that takes the place of multiple pillows: Not only does it follow the natural contour and shape of your body, but it can also double as a lower body cushion when sitting, a cushion for tummy support during or after pregnancy, and an upper and lower body elevation pillow. Seriously, the Leachco Snoogle Total Body Pillow does it all.
Pregnancy is a beautiful thing. You're growing a human inside you and then devoting your life to raising this child into adulthood. Before you're able to meet your tiny little ray of sunshine, though, you have to go through 9 months of labor carrying that baby inside of you. That's hard work! Picture this: You've just finished a long day of work, food shopping, cooking, cleaning the house, and showering, and now you're exhausted and ready to crawl into bed. But something stops you from having a peaceful and relaxing sleep — your baby bump.
Night after night it's the same issue. You struggle to find a comfortable sleeping position that will offer your belly support and allow you to get the peaceful sleep you deserve. We have 2 words for you: pregnancy pillow. The amazing thing about pregnancy pillows is that they're designed specifically for pregnant women! Shocker, right? They're created with the purpose of supporting your baby bump throughout the night (or anytime you'd like to kick back and relax a little) and they assist your body with easing into a comfortable position so that you can get the relaxation you deserve.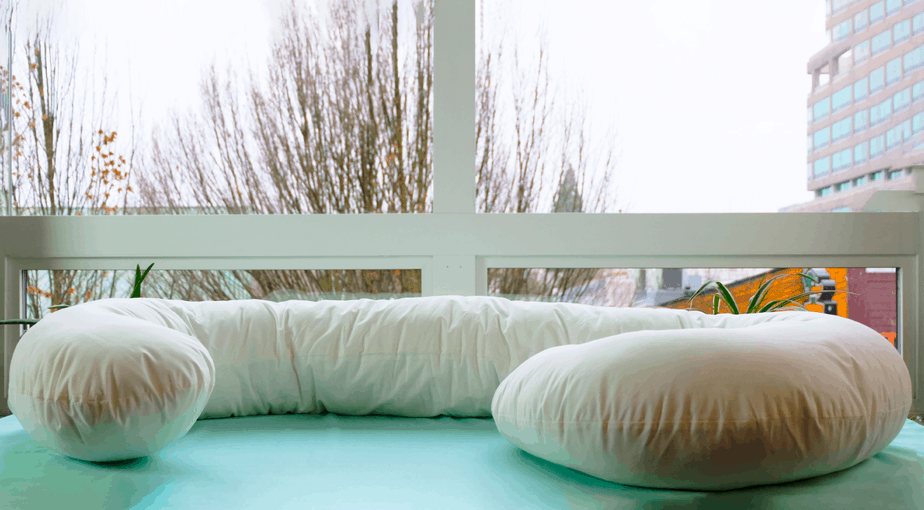 Carrying a baby for 9 months takes a toll on your body, but a good pregnancy pillow can have you feeling like a brand new person. Check out our list of the best pillows for your pregnancy.
The Pregnancy Pillows We RAVE About
Here are our top pregnancy pillow picks to help you ease the discomfort of that baby bump.
This multi-talented pillow does it all. Since it was designed by a Registered Nurse and a mother, we're not surprised! Conforming to fit the shape of your body, the Leachco Snoogle Total Body Pillow supports you in any position you can imagine.
Read Full Review
Shop the Leachco Snoogle Total Body Pillow
You don't always have to sacrifice quality for the sake of your budget, and the Hiccapop Pregnancy Pillow is the perfect example of this. With 2 sides of different thickness, this versatile wedge-shaped pillow adjusts to meet your changing needs, making sure you're comfortable throughout all stages of pregnancy.
Read Full Review
Shop the Hiccapop Pregnancy Pillow
Most pregnancy pillows focus only on your belly bump, but the Leachco Back 'n Belly Contoured Pregnancy Pillow knows how important back support is too. So this pillow is designed to address both! No pillow adjusting or fluffing required — and you can rest easy knowing it's environmentally friendly, too.
Read Full Review
Shop the Leachco Back 'n Belly Contoured Pregnancy Pillow
The Pains of Pregnancy
Pregnancy can be a magical 9 months, filled with memories, bonding experiences, and exciting milestones. But the truth is, many pregnancies are far from strictly sunshine and rainbows. Back pain, joint pain, heartburn, restricted breathing, and having to wake up every few hours to pee are only some of the many challenges preventing pregnant women from getting their full 8 hours of sleep each night. It can be extremely difficult to find a sleeping position that supports your body throughout the night and allows you to get some shuteye. This often results in a type of pregnancy insomnia. And with all the energy that soon-to-be bundle of joy is taking out of you each day, we know how much each minute of sleep counts. When your nights become sleepless, your entire attitude toward pregnancy can shift. So what can be done?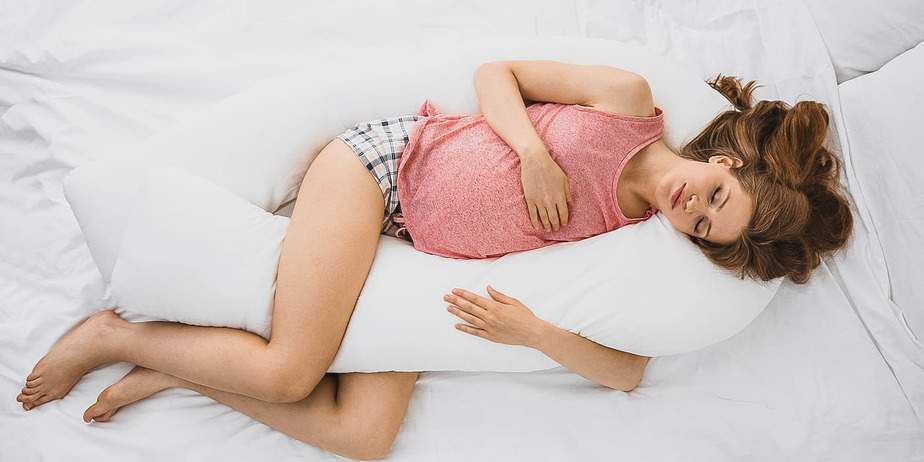 Fortunately, there's an easy way to help pregnant women actually get their 8 hours of sleep. Yes, you heard that right! Finally something that will help you get the rest you deserve. The solution is much simpler than you may think, and it's a pregnancy pillow.
How Pregnancy Pillows Can Help
The best thing about pregnancy pillows is — wait for it — they are created specifically for moms-to-be, and most of them are designed by other moms. Who would've thought! Pregnancy pillows come in many shapes and sizes, and they are definitely distinct from your average pillow. One thing rings true for all of them — they offer you the support you need during pregnancy. And we're not just talking belly support. We're talking knee support, hip support, and back support as well. Pregnancy pillows feature various shapes, curves, and padding to support all areas of your body, especially your belly. They take the stress and strain off of you so you can get the sleep you deserve. Seriously, you're going to wake up in the morning feeling refreshed and wondering why you didn't invest in one of these bad boys sooner! Regardless of how you slept pre-pregnancy, there's a pregnancy pillow out there that will adjust and conform to not only your body shape but your sleeping preferences as well.  We gathered together some of our favorite pregnancy pillows to save you the time and energy of having to track them down yourself. You're already making a ton of sacrifices during your pregnancy — your restful night of sleep doesn't need to be one of them!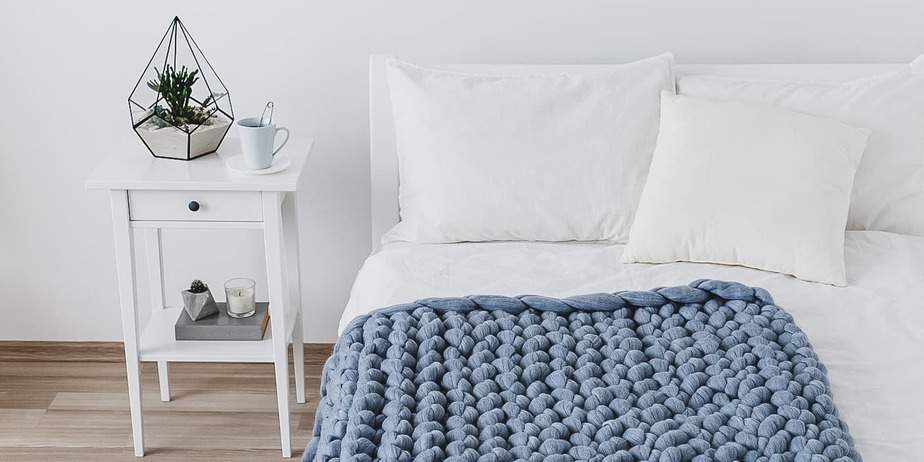 Methodology
When it comes to finding the best pregnancy pillows out there, we take our methodology pretty seriously. Every pillow on our list has been carefully assessed on a number of factors, including:
Price point

Whether or not they're eco-friendly

Pros and cons

Customer ratings and reviews

Warranties

Materials used to manufacture the product

Popularity

Overall quality
All of these criteria go into the calculation of a RAVE Meter score for each product. Based on this analysis, we're confident in our final selections of the very best pregnancy pillows available today.
Related rankings
Who should use a pregnancy pillow?
The answer to this question may seem pretty obvious, but it goes a bit deeper than you think. The first and foremost best candidate for a pregnancy pillow would be none other than a pregnant woman. Pregnancy is a tough 9 months, and it takes a serious toll on the body. Neck pain, back pain, joint pain, belly pressure, and hindered breathing are just some of the many issues pregnant women face. It doesn't stop there, though. The truth is pregnancy pillows are amazing not only for pregnant women, but for anyone out there who needs extra support while they sleep. Pregnancy pillows target those areas of the body that often need a little extra tender love and care, like the neck, back, and hips.
Why are pregnancy pillows important?
We already know there are tons of rules and guidelines pregnant women must follow during their 9 months of pregnancy. These rules include abstaining from certain foods, certain types of medicine, and alcohol. They have to avoid participating in some activities, and they have to be conscious that their growing baby is getting the nutrients they need. Well, these rules and guidelines also follow pregnant women to bed. There are certain ways pregnant women should and should not sleep during the night. This can obviously put a strain on a pregnant woman's night of sleep, especially when they're no longer able to sleep in their favorite position. Pregnancy pillows ensure pregnant women are sleeping in positions that are safe for not only themselves, but their baby as well. Not only do pregnancy pillows comfort the body, though. They can also provide serious benefits to a pregnant woman's mind. Pregnancy can take a serious mental toll on women, and getting a full 8 hours of sleep can have a big impact on whether they're mentally prepared to make it through their day. Pregnancy pillows are the perfect solution for giving pregnant women, as well as anyone else who suffers from chronic body aches and pain, the restful sleep they deserve.
How can pregnancy pillows help?
Just like many products out there, there is no one-size-fits-all when it comes to pregnancy pillows. Even though most women experience many of the same burdens and milestones with pregnancy, no 2 experiences are exactly alike. Pregnancy pillow makers understand this. That's why there are tons of different pregnancy pillow variations out there for you to choose from! The underlying purpose of each pillow, though, is the same, and that is to offer the support you need to get a peaceful and refreshing 8 hours of sleep. This is true whether you're pregnant or just someone who suffers from chronic pain and aching joints. These pillows conform to fit the contours of your body and then cushion the areas you're most likely experiencing pain, such as the neck, belly, back, hips, and knees. With a pregnancy pillow hugging the natural shape of your body, you'll finally wake up feeling refreshed and energized rather than groggy and in pain.
What are the best pregnancy pillows?
We've searched the Internet high and wide in order to gather together the best of the best when it comes to pregnancy pillows. We know how stressful a pregnancy is to begin with, and so we made it easy for you to find the pillow that best fits your needs. Our top 10 picks can be found up above, along with the most vital information for each pillow. And we even included the pros and cons of each pillow for you, because we know nothing is perfect. When it comes to the best pregnancy pillow overall, the Leachco Snoogle Total Body Pillow is our winner. This pillow has everything you'd want in a pregnancy pillow. Its ability to twist and contort itself into different shapes ensures that this pillow can give you the support you need whenever you need it — not just during sleep! Take a look at our full list of the 10 best pregnancy pillows that will have you sleeping like a baby.
RAVE Recommends
Pregnancy pillows aren't the only things that can make your pregnancy more comfortable. Check out some of our other favorite pregnancy and post-pregnancy must-haves.