Why buy a memory foam pillow? Marketing hype aside, sleeping on memory foam pillows can make the difference between getting 'okay' sleep and getting 'great' sleep.
It's understandable to be skeptical. I mean, how great can a pillow really be? Well the truth is that the science behind the development of memory foam pillows is solid. Just as new technology advances many industries, the evolution of sleep science in the modern day urged new approaches to our practices of slumber. And this is a good thing considering just how much of our lives we sleeping and in the pursuit of sleep.
According to the data, we spend one-third of our lives sleeping!
That's a lot of time spent unconsciously laying in bed, dreaming about quitting our jobs and spending the rest of our lives traveling around the world and crossing every last thing off our bucket lists. Okay, maybe not all of us dream about that exact thing. But you get the idea. If we spend one-third of our lives sleeping, I'm prepared to argue that we spend about half of that time laying in bed, staring at our ceilings, just trying to fall asleep (or at least it feels that way).
Time is money, so if we waste time on trying to get a good sleep–we're wasting money. This stands as a good argument for why you should consider investing in a better pillow. In this article, we'll present you with the science behind what makes a good pillow–and whether they will really help you sleep better. We'll use the science to evaluate the best sleep pillows on the market–and then we present you with the best of those that are backed by good science.
Memory Foam Pillows can Give You Better Sleep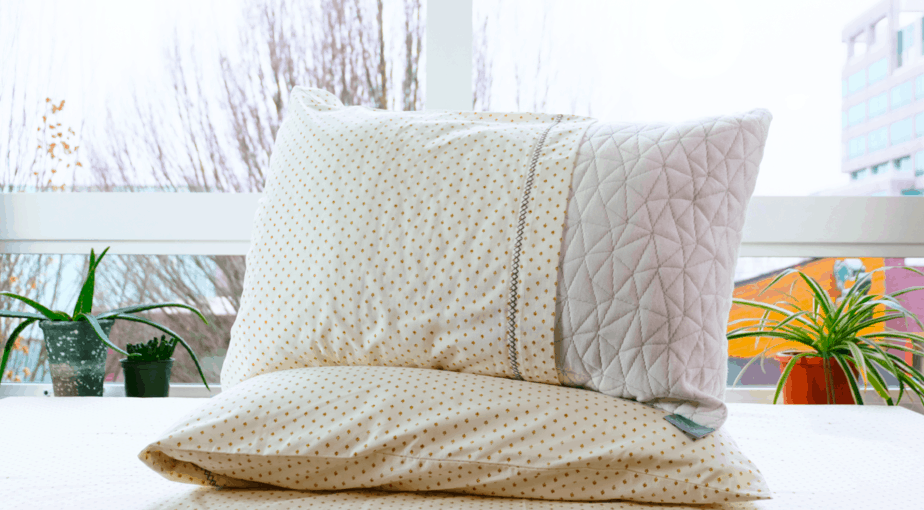 The National Sleep Foundation, roughly half of Americans report feeling sleepy throughout the day. Additionally, between 10% to 30% of American adults struggle with some form of insomnia, while more than 35% of all Americans report getting less than the recommended amount (7 hours). Some experts believe the sheer severity and commonness of sleep problems represents a verging epidemic, but it's not all doom and gloom.
Scientists are getting better at identifying the causes and bad actors in the poor sleep equation. Do you take long to drift off to sleep? Will anything wake you up? Do you mornings start with yawns and feelings of exhaustion?
If you tend to blame these situations on the worries of your day or that annoying drip in the sink that suddenly seems so loud, it's time to place the blame elsewhere. And yes, I'm pointing at your pillow.
According to Consumer Reports' review of data on sleep quality and specialty pillows, a good pillow can relieve pressure on your neck as your rotate positions throughout the night. But the largest factor of whether a pillow will help you sleep is the fit of the pillow. And memory foam pillows are designed specifically to mold themselves to fit your body better.
Before we get into our choices for the best memory foam pillows, let's break down our methodology for this ranking.
Methodology for Ranking the Best Memory Foam Pillows
Anyone who loves a specific type of pillow will tell you, a pillow isn't just a pillow. A great pillow provides a level of comfort so that you wake up refreshed and feeling good, rather than sore or tired. But because the most important factor in this equation is the fit of the pillow, we heavily weighted memory foam pillows that seemed to offer the greatest ability to mold to different sleepers–of all shapes and sizes.
Beyond this, we looked at customer reviews and industry experts to determine other various factors that contributes to a pillow being best of class. Here's what we came up with:
Durability: Does the memory foam pillow retain its function for an extended period of time?

Materials: Were quality materials used?

Customer Reviews: We scoured customer reviews to find the most well-loved products.

Support: Does the pillow provide support to one's neck, spine, and head to reduce tension during sleep.

Flexibility: Will the memory foam conform to shapes comfortable for side, stomach, and back sleepers?

Cooling: Some of the best memory pillows offer cooling technology that promotes a nice cool feel throughout the night.

Hypoallergenic: Many memory foam pillows offer hypoallergenic qualities to help those with allergy issues.

Affordability & Value: We evaluate how well the price of the pillow represents the level of quality on offer.
The Memory Foam Pillows We RAVE About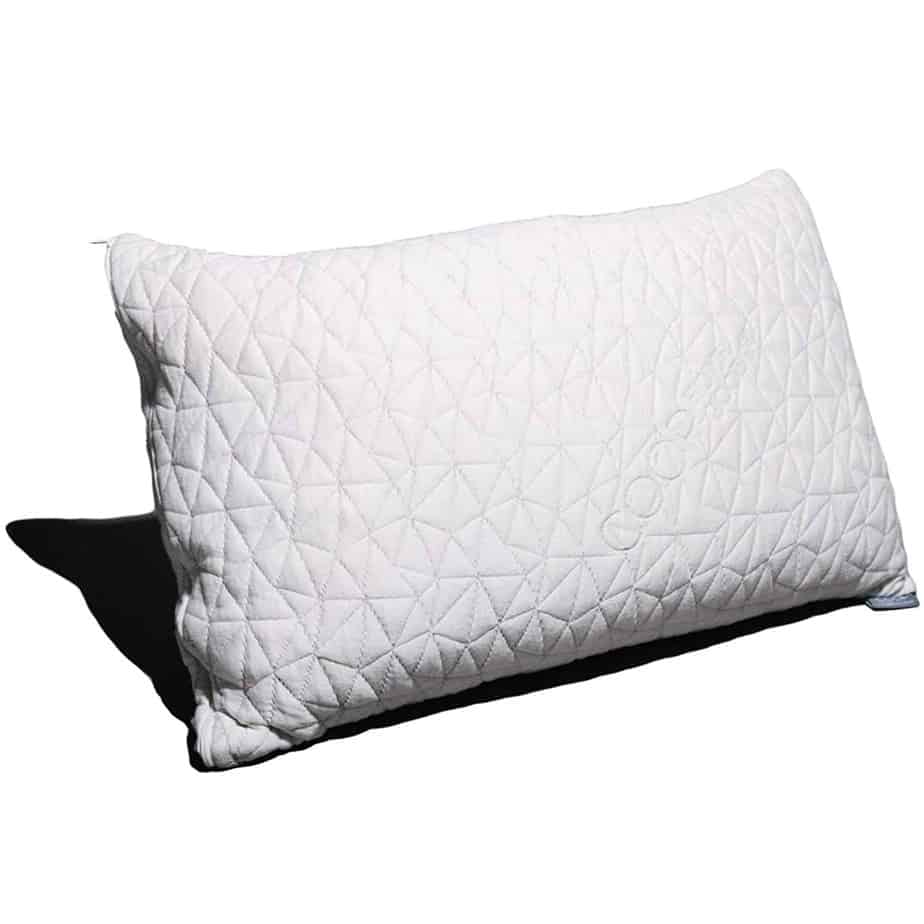 Best Overall
Coop Home Goods Original Pillow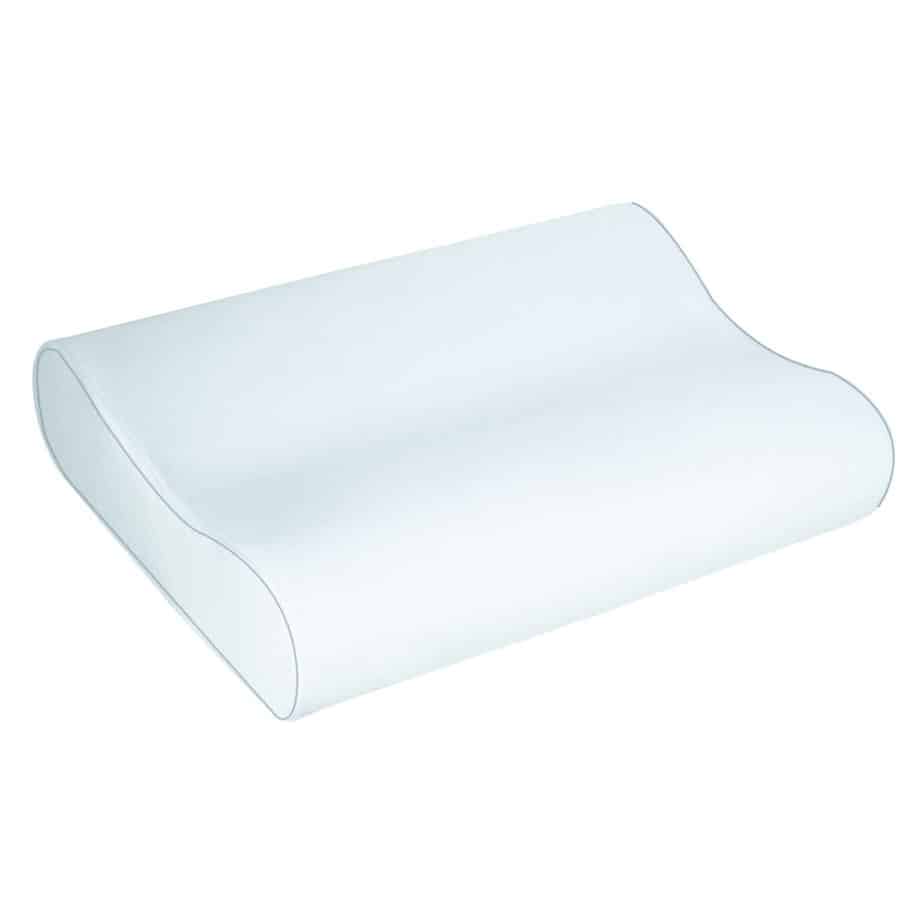 Best Budget
Sleep Innovations Memory Foam Contour Pillow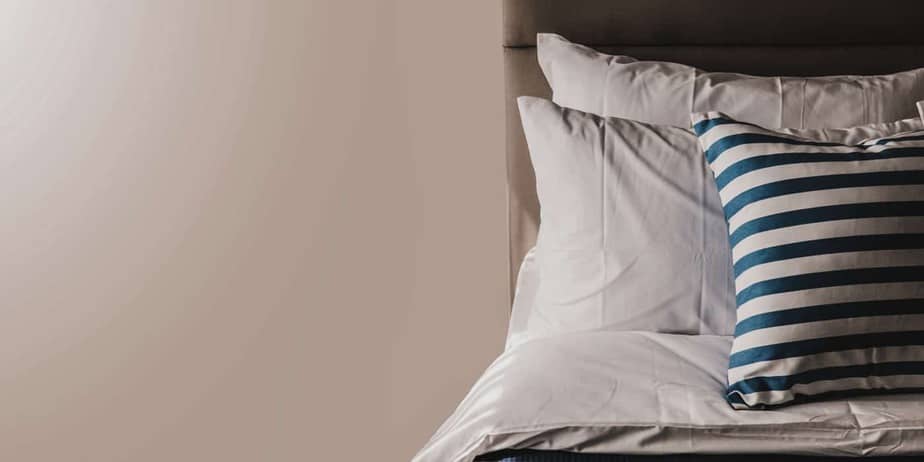 Choosing the Right Memory Foam Pillow
When it comes to memory foam pillows, there isn't a one-size-fits-all product. So while we've done our best to present you with the best products, you might need to undertake some experimentation to see which factors matter most to you in a pillow.
Depending on the sleep-related issues you experience, you're going to want to find a pillow that will cater to your specific needs.
We'll get into that in more depth in the FAQs down at the bottom of the article. It's a good idea to take the time to learn about each potential pillow to prevent any future headaches (or neck aches, or backaches…). To help keep this process as streamlined as possible, we've created a list of the 10 best memory foam pillows. Choosing any of the pillows on our will be a solid choice in the service of getting better sleep.
The Best Memory Foam Pillows
1
Coop Home Goods Original Pillow
Number one on our list of the best memory foam pillows is the Coop Home Goods Original Pillow. This pillow ranks number one because it offers a ton of amazing features while still being affordable.
The Coop Home Goods Original Pillow is loved by many, and it's easy to see why. Made from CertiPUR-US Certified materials, this pillow's fill is certified safe. And it's adjustable, ensuring good alignment while meeting all your comfort needs. It's coated with premium microfiber, which gives you much-needed support while somehow managing to still feel like a down pillow.
Coop Home Goods even offers a 100-night sleep trial so you don't have to make your decision right away! Instead, sleep on it (literally) and then decide this pillow is right for you. And, once you make the decision, you can rest easy for a long time to come: The pillow includes a 5-year warranty.
Pros
Machine washable
5-year warranty
100-night sleep trial
2
Sleep Innovations Memory Foam Contour Pillow
The Sleep Innovations Memory Foam Contour Pillow is a bit different than the 2 pillows prior, as it features a contour shape which adapts to your head, neck, and shoulders for enhanced support. This ensures that pressure points do not form and proper spinal alignment is maintained. All this adds up to a night of rejuvenating sleep.
This pillow features a higher and lower contour, allowing you to choose which direction works best for you. Customers report that the pillow holds its shape exceptionally well over time. Sleep Innovations even offers a 5-year warranty on the product. Perfect for back and side sleepers, this pillow features SuperTemp foam.
This type of foam improves airflow and keeps the temperature regulated. Because it isn't suitable for stomach sleepers, the Sleep Innovations Memory Foam Contour Pillow comes in at number 3–but would have ranked much higher otherwise. So long as you're not a stomach sleeper, you can't go wrong with this one!
Pros
5-year warranty
Contour shape for neck support
Great price
Cons
Initial odor that can linger
Not very cooling
Can lose its contour
3
InteVision Foam Wedge Bed Pillow
A wedge-shaped memory foam pillow may not be at the top of your list of pillow prospects. But you might be surprised to learn that this pillow is ideal for anyone who suffers from acid reflux, snoring, allergies, sleep apnea, or any other condition in which breathing may be impaired in a supine position.
And this shape is new and improved, featuring a 1.5″ memory foam layer on top of a firm base foam for better comfort. The pillow also has built-in channels between the top memory foam layer and the base foam to enhance air circulation. When it comes to comfort level, this pillow absolutely gets the job done, allowing your head and upper body to conform and fit comfortably into it.
This pillow is multifunctional and can be used to elevate the legs. However, due to its shape, the Foam Wedge Bed Pillow is only suitable for back sleepers. As a result, it ranks at number 4, but we highly recommend it back sleepers looking for something to offer extra full-back support.
Pros
Comfortable and supportive
Great for breathing conditions
Great air circulation
Cons
Very high
Not for stomach or side sleepers
Can be too firm for some people
4
Classic Brands Conforma Ventilated Memory Foam Pillow
The Conforma Ventilated Memory Foam Pillow features premium memory foam that cradles the head and neck in proper sleep position. The shape is specially designed to provide pressure relief and support. Ventilated memory foam promotes airflow throughout the pillow, keeping you cool during sleep.
Its medium-firm foam reduces pressure points between shoulders, neck, and back. The firmness also ensures your neck doesn't sink down too much, making this pillow perfect for back and side sleepers. It is naturally antimicrobial and resistant to allergens, mold, bacteria, dust, and mites. As an added bonus, the cover is removable and washable.
Though this pillow is an amazing pick, it's ranked at number 5 since it isn't suitable for stomach sleepers. It will cost you a pretty penny, too.
Pros
Machine washable cover
Great support for head and neck
Ventilated to keep you cool
Cons
Not for stomach sleepers
Costly
May need to be broken in
5
Xtreme Comforts Hypoallergenic Bed Pillow for Side Sleepers
This pillow is fully adjustable and ideal for most sleeping positions, featuring an inner zipper that allows you to adjust the pillow thickness. This adjustability means that the pillow can be made suitable for just about anyone's needs.
It even comes over-stuffed so there's no need to worry about not having enough foam to get the desired amount of fluff. Made from CertiPUR-US certified foam, and ultra deluxe premium quality shredded memory foam, this pillow will never go flat or feel lumpy. It provides your head and neck with the support it needs for optimal alignment with your spine.
Featuring a micro-vented Kool-Flow technology bamboo cover, this pillow is soft and breathable. It is also mold-resistant and mite-resistant. Although it ranks at number 6 because it does need to be re-fluffed from time to time, it is suitable for most sleepers and gives you the comfort you need. However it is most highly recommended for side-sleepers, since those who sleep on their side often require highly specific pillow thickness.
Pros
Holds its shape all night
Helps align your neck
Adjustable
Cons
A bit pricey
Requires re-fluffing
Not for stomach sleepers
6
SlimSleeper Shredded Memory Foam Pillow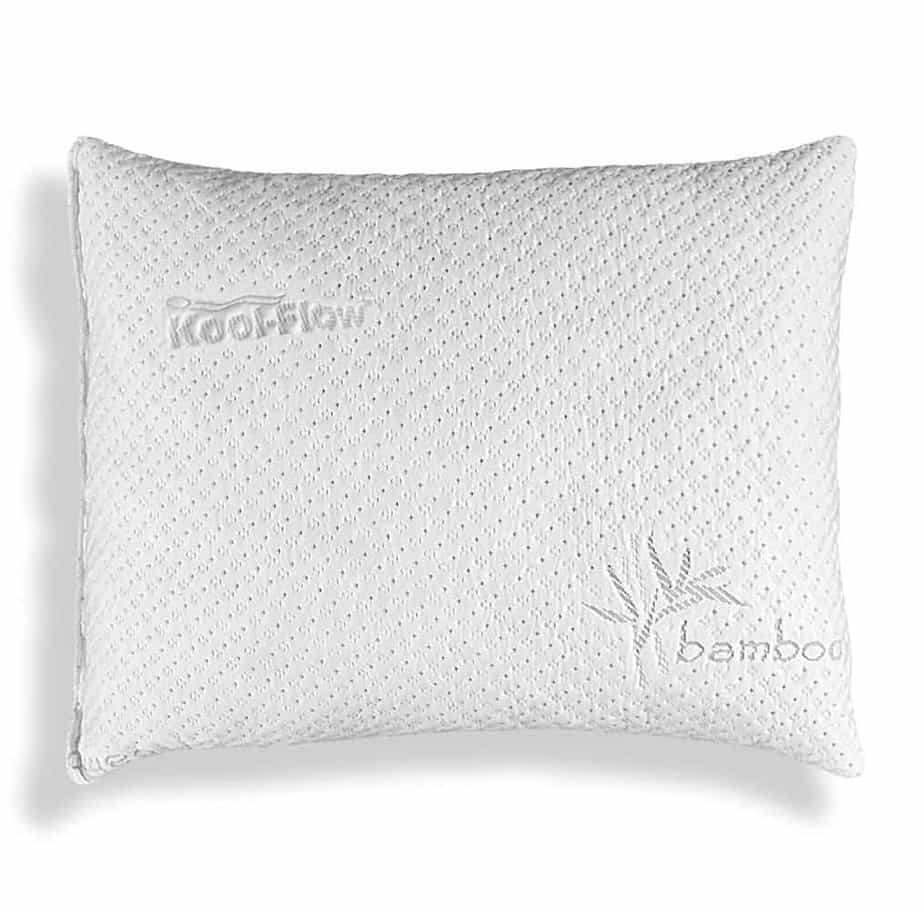 Like the Hypoallergenic Bed Pillow above (also from Xtreme Comforts), this SlimSleeper Shredded Memory Foam Pillow is made from CertiPUR-US Certified Foam. It is designed to give you the ultimate comfort required to get a good night's sleep.
While it is ideal for stomach sleepers, this pillow is also well-suited to anyone who prefers a slimmer pillow. This pillow contours to your neck, promoting proper back, neck, and spine alignment with helps with back and neck pain, insomnia, migraines, snoring, and orthopedic problems.
A bamboo cover made of Micro-vented Kool-flow technology makes this pillow as soft as a cloud and provides air circulation and breathability while keeping the pillow cool all night long. And if you run into any problems, the 6-year warranty has got you covered. This pillow may take a while to break in compared to others and it's slimmer size might mean you need other pillows for support in some positions, which is why it's featured here at number 7.
Pros
6-year warranty
Lower loft is great for neck pain
Good for all sleepers
Cons
May require fluffing
Can have an odor
Can take a little while to break in
7
Sleep Innovations Cool Memory Foam Contour Pillow
Like our other featured pillow from Sleep Innovations, this Cool Memory Foam Contour Pillow helps you to experience less pain and stiffness thanks to the therapeutic support from its contoured shape. This design features a layer of open cell memory foam, which adapts to your head, neck, and shoulders.
The result is top-notch support and gentle alignment that also provides cooling comfort. This pillow is ideal for side and back sleepers. Its contour design cradles your head and neck perfectly. Stomach sleepers may want to think twice about purchasing this one, though.
Due to the fact that this pillow isn't great for stomach sleepers and also may be too soft for those who sleep with a "heavy head," this pillow ranks in at number 8. Overall, it is still a great memory foam pillow for the majority of sleepers and its sleek design might just win you over.
Pros
Contour supports head and neck
Cooling comfort
5-year warranty
Cons
Can be too soft
Can lose its shape
Not for stomach sleepers
8
Classic Brands Reversible Cool Gel and Memory Foam Pillow
The thing about this pillow that makes it different from the rest is that it contains cool gel material that disperses body heat. The gel creates a cooler sleeping surface, eliminating the need to flip the pillow over to the cool side. The other side is made from memory foam, which allows your head to sink in and experience pressure-relieving comfort all night long.
This pillow includes a knit cover that allows for breathability and is resistant to allergens, mold, bacteria, and dust mites. It is also reversible for all types of sleepers. The gel side is medium-firm and the memory foam side features a moderately plush feel.
While this pillow is reversible and perfect for all types of sleepers, it isn't as adjustable and customizable as previous pillows we have featured. That's why it ranks at number 9, but if you value a cool pillow over such customization–then this pillow will be perfect for you.
Pros
Reversible
Cooling gel
Machine washable cover
Cons
Not very adjustable
Cannot be customized
Not a soft pillow
9
PharMeDoc Contour Memory Foam Pillow
The PharMeDoc Contour Memory Foam Pillow pairs memory foam with cooling gel technology that diffuses heat. Thanks to the cooling gel, you won't find yourself waking up to flip your pillow over to the cool side. Its curved contour design aligns your spine and can reduce neck, shoulder, and back pain.
This pillow comes with a hypoallergenic pillowcase that is dust mite resistant and removable for quick and easy washing. You can even choose from 2 different pillow heights for a more customized fit. Its lifetime manufacturer warranty ensures that any problems you run into will be solved with no issue.
While this pillow ranks at number 10 because it might not be soft enough for some sleepers, it's still a great choice if you prefer a denser pillow with more rigid support.
Pros
Choose from 2 different heights
Reduces pressure on your neck
Cooling gel technology
Cons
Musty smell that lasts a while
Very dense
Not adjustable
FAQ and Related Rankings
Because finding the right pillow will follow a different process from one person to the next, we've compiled this section for those who might have lingering questions, or who might not have found their dream pillow in the ranking above.
But don't worry, if memory pillows aren't for you, we've compiled our rankings of other types of pillows here:
The power of a good night's sleep should never be overlooked. When it comes to getting the night of rest that we want, we look to a number of factors: what mattress we're sleeping on, what time we're going to bed, if we're putting our electronics down early enough, and so on.
What we often fail to recognize, though, is this: The very thing we're resting our heads on can be what's preventing us from getting the sleep we deserve. Many of us did our research when it came to buying the perfect mattress, but did we do that when it came to purchasing a pillow? Probably not. We're here to let you in on a secret: Memory foam pillows just might be the solution to all your problems.
Why Memory Foam?
The benefit of memory foam pillows is that they're created from materials designed specifically to give you the utmost comfort and support. Most memory foam pillows are manufactured such that:
They'll never go flat

They'll never lose their comfort

They'll never have you flipping your pillow over to get to the cool side

They'll conform to the contours of your neck and head for support and comfort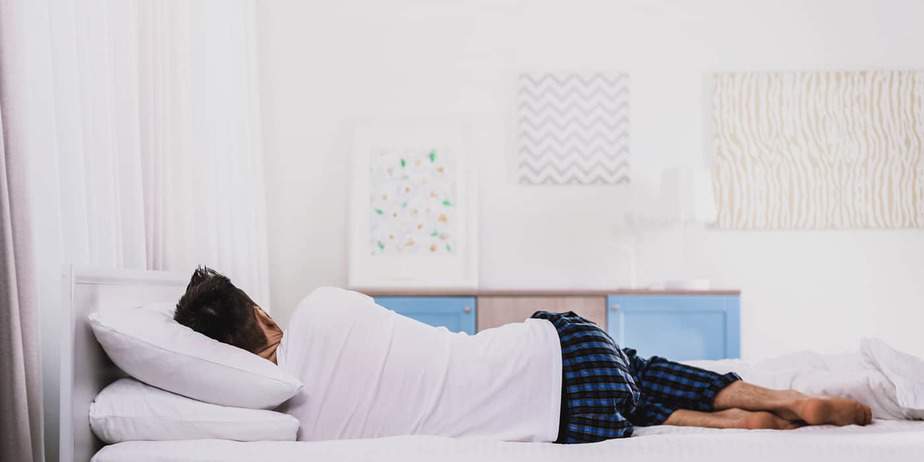 Different Types of Memory Foam Pillows
Though most memory foam pillows share tons of similarities, they aren't all made exactly the same. When it comes to choosing a memory foam pillow, there are some things you'll want to consider:
Do you want a normal pillow shape or a wedge shape?

Do you want your pillow to be flat or contoured?

How much are you willing to spend?

Are sustainable, eco-friendly business practices important to you?

What sorts of issues do you want to address?
Different pillows use different technologies. For example, some memory foam pillows feature cooling gel. Some memory foam pillows are shaped like a wedge, while others are flat. Some are firmer and offer more support, and some are softer and more snuggly. Once you've figured out the basic features you wish to have in your pillow, you can get to the fun part — choosing your pillow and getting that full night of sleep that you deserve.
Pillow Maintenance
Maintenance is another thing you'll want to consider when looking for a new pillow. Be sure to think about the following questions:
Is the pillow itself machine washable?

Is the pillowcase removable and machine washable?

Does the memory foam have an initial odor?

If the pillow has an odor, how long will it take to go away?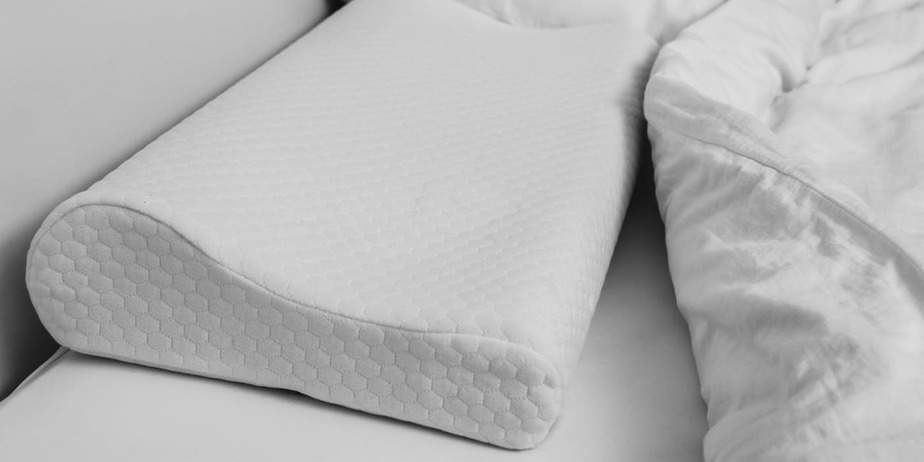 And, on top of maintenance, it's always important to check the return and refund policy. If you have any issues with your pillow upon receiving it, will the company refund you or allow you to return it? Does the company offer a warranty? If anything were to happen to your pillow, will the company replace it?Some memory foam pillows can be quite the expense, so you always want to make sure you know what you're getting into before purchasing one.
Is a memory foam pillow right for me?
No matter what issues need to be addressed, there is a memory foam pillow out there. Different memory foam pillows have different shapes.
From the wedge pillow to pillows with contours to your average flat pillow, whether you sleep on your stomach, your back, or your side, you can find a memory foam pillow that will fit your sleeping preferences perfectly and ensure you get the most restful sleep possible. Memory foam pillows are ideal for those of you who suffer from chronic neck pain.
When searching for the perfect pillow, check to see if each pillow candidate is good for people with neck pain. You might be surprised to find that most memory foam pillows are designed specifically for people who suffer from that issue. Can you imagine waking up without a crick in your neck? If you can't, it's time you toss your old pillow and purchase a memory foam pillow.
Can memory foam pillows be washed?
Though not every memory foam pillow itself can be washed, most of these pillows do come with a cover or a case that is machine washable. Always check the description of the pillow before purchasing it to see if that pillow can be washed, or if only the case is meant for your washing machine.
Most, if not all, memory foam pillows are created from special materials that are hypoallergenic and prevent dust mites from enjoying that good night's sleep with you. Because of this, you don't need to worry if your pillow itself isn't machine washable. Just think, when's the last time you washed the pillow you have now and not just the cover? As long as you're using a pillowcase that is machine washable and you're making sure to wash it about once a week, you have nothing to worry about.
Are memory foam pillows toxic?
Like any product out there, some pillows can be made using materials that aren't the safest for you. However, for the majority of memory foam pillows on the market, there is nothing to worry about.
The pillows that are featured on this list are all made using non-toxic materials.
Brianna Perry
Brianna is a 23-year-old New York native and certified yoga instructor up to the 200 level. You can most often find Brianna tucked away with her nose in a book. She has an affinity for all things floral, dreams of living in the wilderness, and would never, ever turn down a Reese's Peanut Butter Cup.