If you're looking for the mattress you can love for a lifetime, look no further than the WinkBed.
It earns my top spot for best mattress for sex because of its springiness, comfort, reinforced edge support, and durability that will stand the test of time — and force.
When it comes to great sex, there is one, CRUCIAL non-negotiable variable that reigns supreme. That's right, I'm talking about that good-good; that hot, sexy, sweaty, adamant, and enthusiastic consent!
But what's variable number two, you ask? A really f*cking fantastic mattress. Or in other words, a really fantastic f*cking mattress.
With this in mind, I picked out the mattresses that will give you just the right cushion for the pushin'. Here are the best mattresses for you, your plus one, plus two, or however many people with whom you share your sheets. As they say, life's too short for bad sex — and it's definitely too short for a bad mattress.
The Mattresses for Sex We RAVE About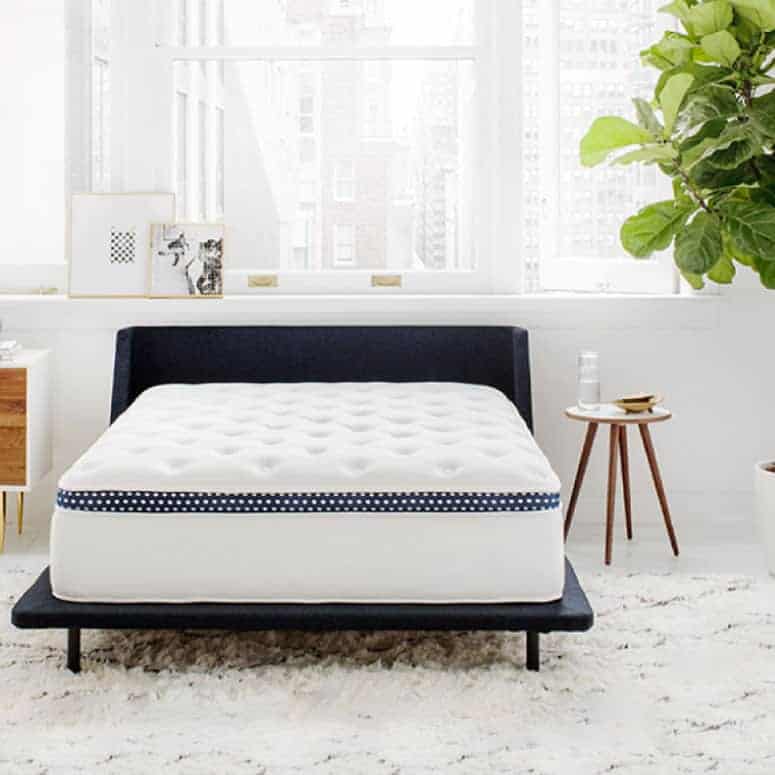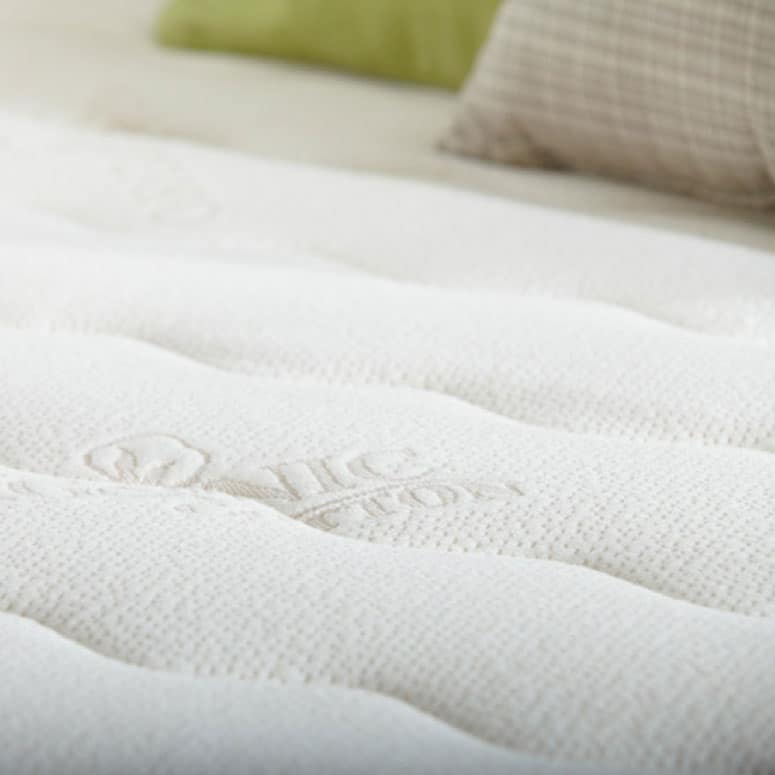 Best Luxury
The Botanical Bliss Organic Latex Mattress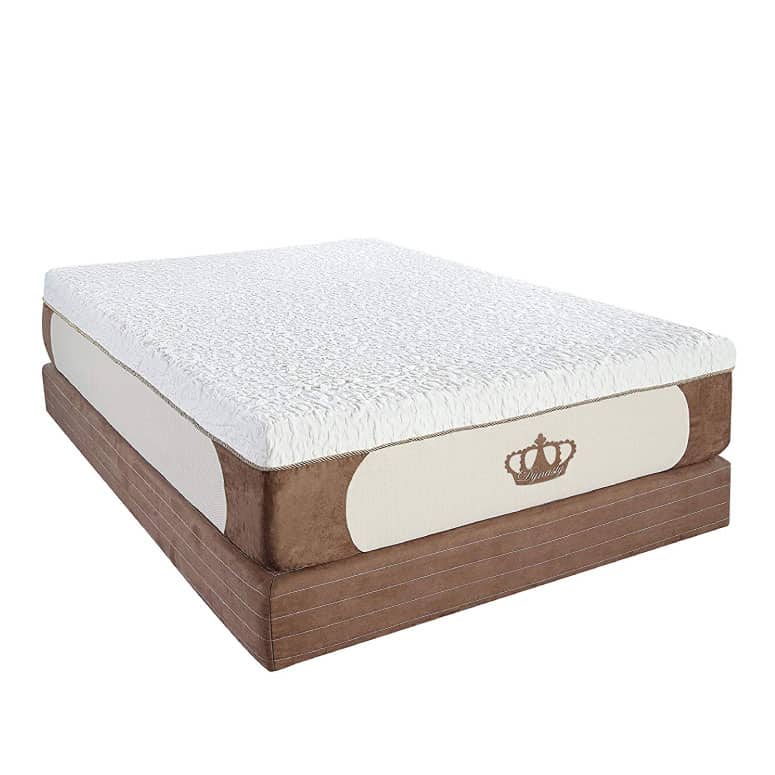 Best Economy
DynastyMattress New Cool Breeze
The word "mattress" stems from Arabic "matrah," meaning "something thrown down" or "a place where something is thrown down." And, when it comes to where you're going to throw down — or up, or sideways — you have several options.
Choosing the best mattress for sex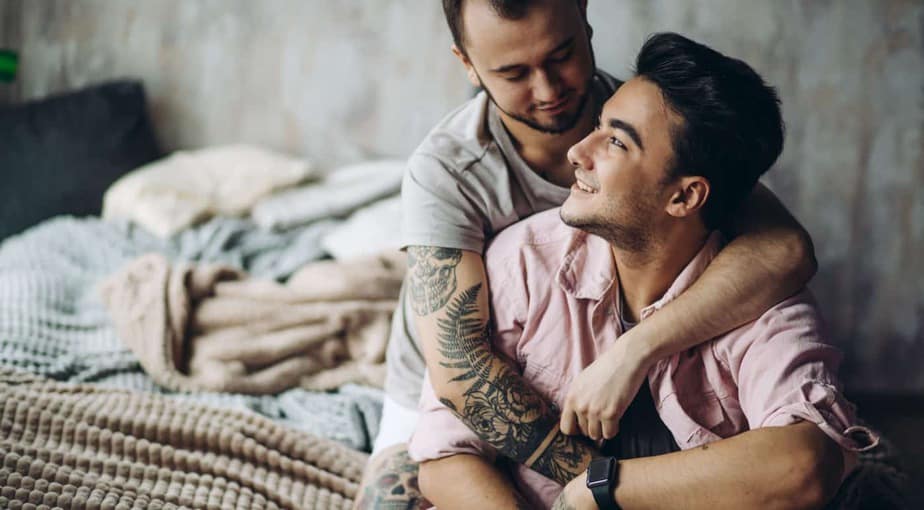 When you are choosing the best mattress for your love life, consider the type of mattress that best meets your needs.
I chose to focus on four main models: innerspring, hybrid, foam, and latex. Airbeds and waterbeds are also options, but considering this review is for 18 and older and not written in the '70s, I chose to leave those two off my list.
The different types of mattresses
Made using steel coils or "springs," innerspring models are the most common type of mattress. The springs are padded and covered with fabric, so unless the mattress is very worn out, the coils aren't noticeable.
The more springs there are, the firmer innerspring mattresses are, so it's easy to customize exactly how hard you like it… They typically run on the cheaper side, and because the coils are surrounded by air, innerspring models also generally keep cooler than other options.
What's more, springs are like any experienced sex partner: they give good feedback. They respond to your movement well, providing excellent support for the push.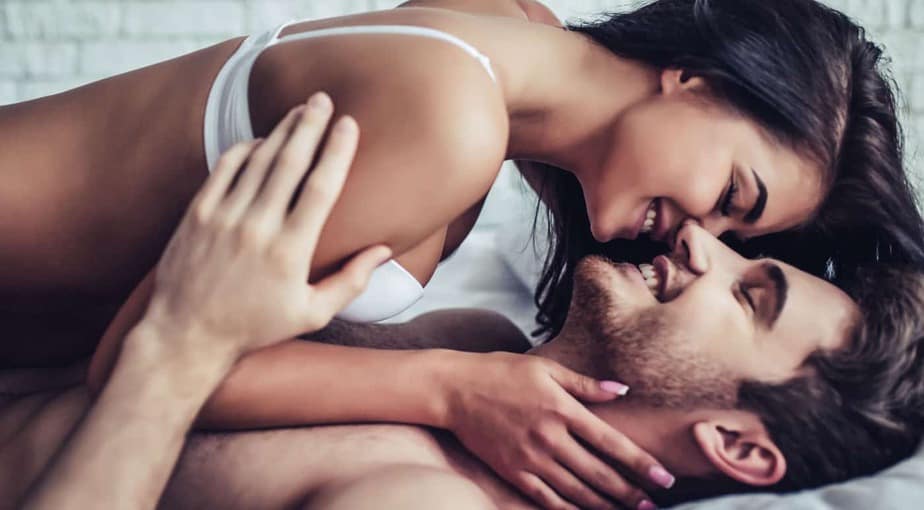 That said, traditional spring mattresses run the risk of making that classic spring mattress sex-squeaking noise. Springs also tend to wear out and sag over time.
A hybrid mattress uses the time-tested spring technology with an added layer of foam on top. This foam ranges from memory to latex and is immensely comfortable for sleeping (if you're into that sort of thing).
Depending on the type of foam it uses, a hybrid mattress can range from your sex life's best friend to a hot, sweaty sinkhole of regret. If the foam is built solely with comfort in mind, it can cause a feeling like quicksand, and trap heat.
They're also expensive, so you might find yourself trying to justify "keeping at it" rather than swapping for something more suitable. So, if you're going to invest in a high-quality hybrid mattress, make sure to test it out — and I'm talking more in terms of "Eyes Wide Shut" than shut-eye.
Polyfoam
Now let's talk about choosing to go poly. No, I'm not talking about ethical non-monogamy, silly! I'm talking about foam. Mattresses in the overarching foam category use polyurethane foam, or a combination of both memory foam and polyfoam.
NASA originally developed memory foam technology for crash protection, so you can tell your sex partners that your bed is out of this world. In all seriousness, with the ability to mold to your body, foam mattresses have gained popularity for their unmatched comfort.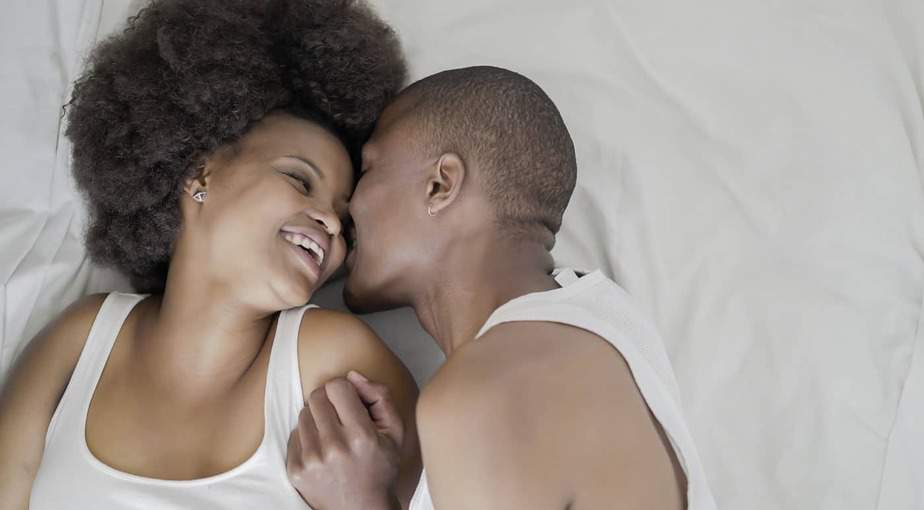 If you are considering a foam mattress, keep an eye out for its density rating. A higher density rating means a higher-quality foam, so look for something with a rating above 1.8 PCF.
A high-quality foam mattress will cost you, but they generally last the longest. While they're great for sleep, the sinking, coupled with their tendency to trap heat, may leave you wanting to move things from the bed down to the floor — which might be fun that one time on vacation, but isn't sustainable in the long run.
When it comes to sex, foam is like the Birkenstock of mattresses: It might be super comfortable and conform to your body, but it most likely won't keep them coming back for more.
Latex
Finally, consider latex — for more than just a questionable one night stand. Latex mattresses are an object of desire when it comes to sex for their ability to both conform to the body and bounce back. What's more, they're durable and come in a wide range of firmness levels.
Latex mattresses range from natural to synthetic. A natural latex mattress is made from the sap of a rubber tree, whereas a synthetic mattress is made from styrene-butadiene rubber (SBR).
If you're willing and able to spend big money on your mattress, I'd recommend going au naturel. While more expensive, natural latex tends to last longer and keeps cooler. After all, when it comes to your love life, it's a marathon, not a sprint.
Other considerations
No matter what type of mattress you choose, edge support is always a plus. Keep an eye out for mattresses that will give you extra support around the perimeter while you expand your boundaries.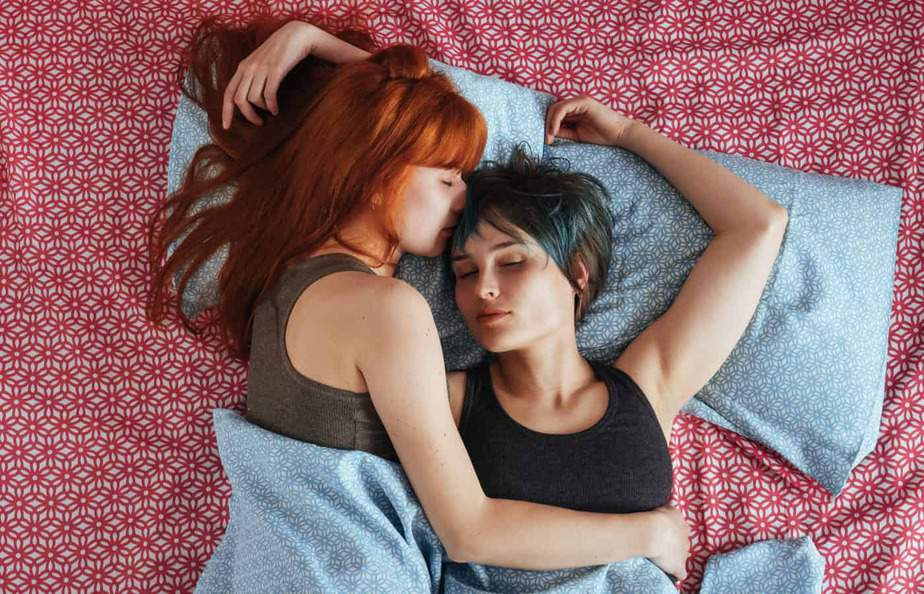 When it comes down to it, a great mattress is all about how you use it. And remember: Don't be afraid to do your research and try new things — in all aspects of your life, lying down or standing up on occasion!
Methodology
I received more than a few applications to help me test out my top picks. And, while personal preference came into play, I also read hundreds of reviews and kept the following factors in mind:
Durability: I selected mattresses that won't let you break the bed, no matter how hard you try.
Noise: Whether you live with a group of giggling roommates or at a cabin in the woods, a bad case of the squeaks is a sure-fire way to ruin the mood.
Responsiveness: When it comes to hanky-panky, tension is vital. Sexual tension gets things rolling, and surface tension keeps you rolling.
Temperature: Experts say the key to maintaining stamina during a workout is temperature regulation. I looked for mattresses that won't cause you to overheat, so you can keep things hotter, longer.
Edge support: I'm here to say that sagging around the edges is 100% acceptable when it comes to bodies (love yourself!), but not when it comes to your mattress.
Price: I recommend investing in what you can afford. After all, love is priceless. That said, I looked for mattresses that won't break the bank, so you can be "giving" in other ways.
Thickness: Girth — often undervalued, just as important.
The Best Mattresses for Sex
Who knew the people of Watertown, WI were so good with their hands? The WinkBed mattresses are made by hand in this small town of under 24,000, and the results on your love life are hard to beat.
The WinkBed is comprised of six layers: high-density foam, steel coils, a lumbar support pad, stabilizing gel foam, a comfort foam layer that bounces back quickly, all surrounded by high-density foam edge support, crucial components in any good sex bed.
In other words, this mattress has all the features of super luxurious beds with a more approachable price tag. But, what I love most about this mattress is the lifetime warranty and top-notch temperature control. It uses high-quality materials to wick away heat and sweat, and two coil units to maintain airflow. You can even upgrade to a cool control base, which allows you to control the temperature of your mattress using your phone!
So, if you're looking for that lifelong partner that will keep you cool and supported while things get hot and heavy, the WinkBed is the mattress for you.
Pros
Temperature control
Lifetime warranty
Edge support
Comfortable
Think of the Saatva as the mattress version of those crazy Kangaroo Jump Shoes. If responsiveness is your highest priority, the Saatva should bounce its way into your top pick — and your bedroom.
What's more, dual coil layers allow for airflow. Because they're pocketed with fabric, this mattress makes minimal noise (no noise guarantees on your partner, though). With three firmness options and above-average edge support, Saatva gets top points for being an excellent pushin' platform.
Because it's an innerspring mattress, it won't last quite as long as foam or hybrid models. But, if sex is your top priority, consider the quality of years spent in the Saatva, rather than the quantity.
Pros
Great feedback
Efficient temperature control
Edge support
Affordable
Cons
Not as durable
Not as comfortable
3
The Botanical Bliss Organic Latex Mattress
This all-natural, organic, hypoallergenic mattress comes equipped with three organic layers: a latex base, topped with New Zealand wool for cooling breathability, covered by cotton for comfort and moisture absorption.
What's more, there are four firmness options, so you can choose what works best for you and your partner(s). Best of all, it ranks highly for durability and is virtually silent, so you can go wild without needing to replace it or waking up the entire neighborhood.
Unfortunately, you'll pay a pretty penny for the Botanical Bliss's high-quality organic construction. And, it offers a low amount of edge support, so it's not ideal if your favorite bedroom activities occur around your mattress's perimeter. But if you're looking for a mattress that will give your sex life a luxurious boost, the Botanical Bliss is worth the price tag.
Pros
All natural
Bouncy, but durable
Cooling
Adjustable
Silent
Cons
Expensive
Low edge support
This eco-friendly medium-firm mattress is made with both latex and coils, providing an ideal surface that's both soft and reactive.
What puts the Awara mattress near the top of the list, however, is its noise-canceling properties, year-long trial period, and lifetime warranty. Even better, Awara plants a tree for every mattress sold. You can rest easy knowing that while you planted seeds in your mattress, and your mattress planted seeds in the earth.
At around $1500, this mattress is on the expensive side. It would likely beat out the Botanical Bliss if it had the luxurious feel of a thicker bed. But, if you want an environmentally friendly mattress with enough support for all your adult adventures, the Awara is a top contender.
Pros
Lifetime warranty
Quiet
Eco-friendly
Cons
Relatively expensive
Thin
5
DynastyMattress New Cool Breeze
As you may have gathered by now, foam mattresses are less than ideal when it comes to baby-making. It's hard to have sex when things are just a little too "soft" — if you know what I mean. Plus, foam tends to trap heat, and doing it in a sauna is never as sexy as it sounds.
But, if you're trying to get down on a budget, foam is likely your best option. Luckily, the DynastyMattress New Cool Breeze was created with four inches of AirFlow foam and three inches of gel foam to keep the temperature down while you keep the friction going. And, its medium firmness yields enough feedback for that hole-in-one feeling, rather than a sinkhole.
Like with most foam mattresses, the Dynasty has an initial off-gassing period. And, while gas is never a welcome guest at any adult soirée, the smell dissipates in a matter of days. Plus, at under $500 for a queen size, you can crack a window and smell the sweet aroma of money well saved.
Pros
Inexpensive
Relatively firm
Gel layer
Cons
Hot
Not responsive
Off-gassing
Bear specifically designs their mattresses to help athletes — or more generally, people who put a lot of physical strain on their body — recover. And, since you're reading this review, it's safe to assume you're the LeBron James of lovemaking.
So, if it's made to help you recover, how does it hold up on helping you get sore? With four layers of foam and pocketed coils, the Bear Hybrid provides enough support, comfort, and sound insulation for any solid session.
This mattress is unique in that it uses Celliant, which promises to take your body's energy and reflect it back via infrared yarn technology, leading to an increase in oxygen and blood flow. Celliant has the potential to help you recover (and get back at it) more quickly, but you'll likely notice its cooling properties more.
My main concern with the Bear Hybrid is the memory foam, which creates a sinking feeling that works better for sleep than sex. But, at under $1,000 for a queen size, this mattress is excellent to help you stay active longer and recover quicker.
Pros
Affordable
Cooling
High-tech
Cons
Minimal edge support
Sinking memory foam
7
Brooklyn Bedding Bowery
If you love foam but don't have a huge budget, consider opting for the Brooklyn Bowery. Combining Energex foam with high-density polyfoam, the Bowery avoids the ultimate sinking feeling of memory foam and maintains some of its shape while you move. Plus, the cotton cover keeps it relatively cool for an all-foam bed.
That said, the foam construction and minimal edge support make this mattress comfortable for sleeping, but not ideal for sexy time. But, if you have a smaller budget and are willing to put in just a little more work in the bedroom, the Bowery is right for you.
Pros
Inexpensive
Durable
Relatively cool
Cons
Sinking foam
Not reactive
Minimal edge support
If you run hot and don't want to turn your body into your sex partner's personal sprinkler system, consider the New Purple Mattress. Utilizing Smart Grid gel above two layers of polyfoam and support coils, this mattress is specifically designed to keep you cool.
That said, the top layer is made to form to your body, which makes for minimal leverage during sex. It also has low edge support, and because it's a new technology, it's hard to say how it'll hold up over time. Plus, it's pricey.
But if you're willing to spend extra to stay cool, opt for the New Purple.
Pros
Temperature control
Quiet
Cons
Unknown durability
Low edge support
Expensive
Unresponsive
Avocado is leading the pack in eco-friendly mattresses — they even offer a vegan option if you want to be an animal in the sheets, without any actual animals in your sheets.
Made using both latex and pocketed coils, the Avocado mattress is soft and responsive. It also allows for airflow that provides relatively good cooling and boasts excellent edge support.
So why isn't the Avocado higher on the list? It's a bit too soft, but what squeaked its way to the bottom was this mattress's tendency to make noise when bearing weight. And, since you're looking for a mattress that can bear weight, force, and everything in between, I'd only recommend this mattress if you are looking for the true vegan experience.
Pros
Vegan
Eco-friendly
Edge support
If you care about your sex life but need a memory foam mattress, Loom & Leaf is your best option. The firm model is relatively responsive, and the silent foam assures that your activities are undetectable to the average human's eardrum.
The Loom & Leaf ranks at the bottom of my list for a few reasons: First, the foam provides little bounce, and the cooling gel foam doesn't go far enough to control temperature during sweat sessions. And it's expensive, so if you don't need memory foam, you might end up paying more money for a sinking sex life.
That said, if memory foam is a must, I'd recommend Loom & Leaf.
Pros
Silent
Relatively responsive
Cons
Expensive
No edge support
No bounce
Runs hot
Related rankings
When do I need a new mattress?
The quick answer is every eight years. Experts say that a mattress is ready for retirement in its seventh to 10th year, on average. But, I wouldn't exactly say that's a hard-and-fast rule.
So, keep an eye out for sagging. If your mattress has a you-sized dent, it's time for a new one. Changes in weight can affect your mattress, so if you've gained significant weight or added another sleeper, it's time to burn some sage and start fresh.
If your mattress is uncomfortable, causing you pain, or affecting your sleep, it's time for a new mattress — no matter how old it is. Sleep is essential to not only your mental and physical health but, more importantly, the health of your sex life.
Is my mattress dirty?
It's safe to say your mattress is pretty dirty — and not in a Xtina Aguilera dirrty with two R's kind of way. Your mattress quite literally gains weight over the years from accumulated sweat, oil, and dead skin, so it can range from gross to disgusting depending on its age.
What's more, it not only holds you while you have sex and sleep, but it also provides a home to hundreds of tiny dust mites that eat your dead skin cells and drink the water you produce with body heat. In other words, you're not the only one making love on your mattress.
Beyond buying a mattress protector and replacing it reasonably frequently, there's not a whole lot you can do about this fact of life.
What size mattress should I get?
Whether you're using your mattress to rest or for exercise, you spend a lot of time in bed. I would recommend getting the largest size you can both fit and afford, because sometimes bigger is better.
As for specific sizing, you can look out for the following standard dimensions in inches: A twin mattress measures 38 inches by 75 inches, a full is 53 by 75, a queen is 60 by 80, a king is 76 by 80, and a California king is 72 by 84.
If you want to go all-out, consider special-ordering a Texas king, which rings in at 80 inches by 90 inches. Likely excessive for the average-sized person.
What is edge support?
Edge support is a term used to describe the amount of resistance a mattress maintains around its perimeter. A mattress with strong edge support has a more frame-like appearance, while mattresses with lower edge support have a sloped appearance.
Manufacturers achieve edge support by adding an extra structure, high-density foam, or coils along the sides of the mattress. Higher edge support generally leads to a more comfortable mattress, but it can also be useful when it comes to adult activities.
To be more specific, edge support allows you to sit comfortably at the edge of the mattress. I can think of several scenarios where this would come in "handy," but I'll let your imagination take it from here.
Is it a bad idea to order my mattress online?
While ordering a mattress online seems daunting, many companies offer trial periods, in which you can return your mattress after a certain period of time if you're not satisfied.
It's an ideal situation, as you can avoid pushy salespeople at mattress stores, avoid the awkwardness of negotiating a price, and keep an eye out for online discounts. Plus, if you're reading this review, you'll likely take your time testing out a new mattress before you commit.
What is sex?
Ask your mother.
RAVE Recommends
SafeRest Hypoallergenic Waterproof Mattress Protector: Use this mattress protector to save your bed from sweat, mites, coffee, wine, water — and any other… fluids… it might encounter.
Jersey Slumber Sleep Mask: This affordable sleep mask is made of 100% silk — and it makes for a great blindfold when you're awake.
White Noise Sound Machine: This white noise machine comes with six soothing sounds to drown out outside noise while you sleep — or inside noise while you're "up." Plus, you can feel like you're making love in the rain, without actually making love in the rain.
Flexible Mirror Sheets: These mirrors stick to the wall, ceiling, floor, and wherever else the visual learners out there desire.
Dr. Kasey Nichols, N.M.D.
Dr. Kasey Nichols, N.M.D. focuses on sleep disorders and drug-free pain management utilizing both conventional and alternative medicine at his private practice,
Onyx Integrative Medicine and Aesthetics
, located in Gilbert, AZ. He served as the Director of Medical Operation and Administration at a national substance abuse disorder corporation with 16 facilities across seven states. He graduated from Cleveland University-Kansas City with a Bachelor's of Science in Human Biology, graduating with honors, and holds a Doctorate from The Southwest College of Naturopathic Medicine. He holds licenses in both Arizona and Kansas. Dr. Nichols has given numerous talks to professional organizations, given interviews for newspapers across the United States, and numerous television news interviews with ABC 15/CW 61 in Arizona, Channel 3 in Arizona, and others. Dr. Nichols has appeared in
Cosmopolitan
,
Reader's Digest
,
WebMD
,
Healthline
, and many other health and lifestyle publications.