After sleeping on the question, we've determined the Level Sleep Mattress is the overall best mattress for sciatica — and any other joint or spinal trouble, for that matter!
The minds at Level Sleep are transparent about their research, which is why this product is recommended highly by chiropractors and physical therapists. Once you sort through real-life consumer experiences, the science seems to hold up. The ingenious TriSupport design "zones" firmness levels, so every part of the body gets the ideal degree of support and cushion it needs. Add to that some generous company policies (like a "forever" warranty and a year-long sleep trial), a fair price, plus all-American CertiPUR-US memory foam, and you've got the mattress of your dreams.
A few things need saying about sciatica right off the bat. First, it is a relatively common condition. Sciatica is caused by a nerve which begins at the base of the spine. The sciatic nerve branches through the hips and buttocks, and then travels down each leg. Typically, pain results from something touching or compressing the nerve. The culprits are diverse: herniated disk, bone spur, narrowing of the spine, and so on. Something as simple as a torn back muscle can cause sciatica as well.
Second, most forms of sciatica are treatable through simple lifestyle changes and do not require surgery. The most effective treatment is to reconsider your mattress. A poor mattress that doesn't offer the support you need may be a leading cause behind your sciatica. At any rate, there are several mattress designs on the market that seek especially to relieve joint or spinal issues. Purchasing one of these is the first step toward recovery.
The products below were selected with sciatica patients in mind. However, most of these mattresses would also promote healing for generic joint or back pain. We tend to judge these mattresses on their queen-size models. We also prioritize firm or medium-firm options. If you know yourself to prefer less firmness than the average sleeper, a softening mattress topper might be in order. So, that being said, scroll down to see our list of the best mattresses for sciatica.
The Mattresses for Sciatica We RAVE About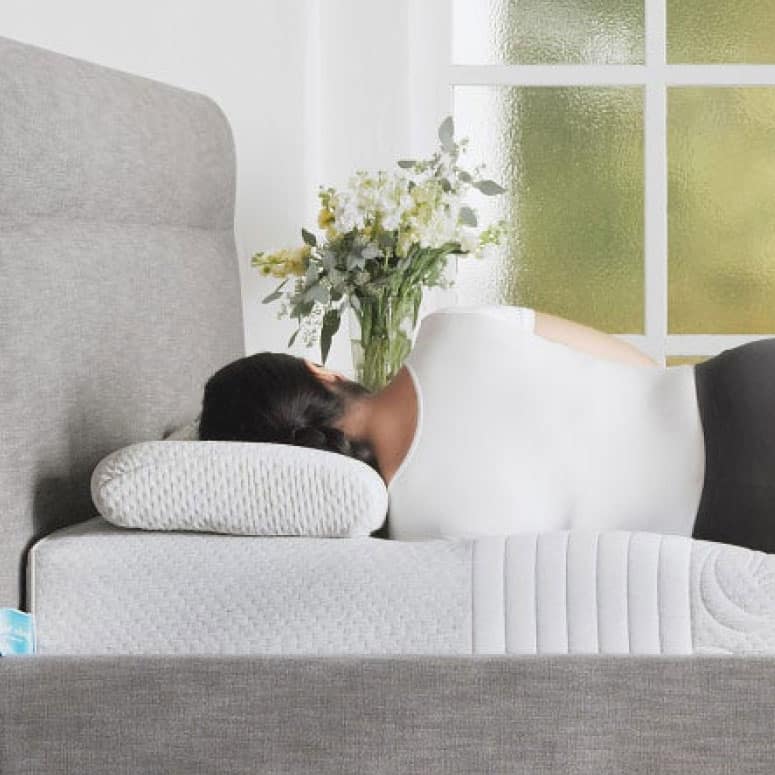 Best Overall
Level Sleep Mattress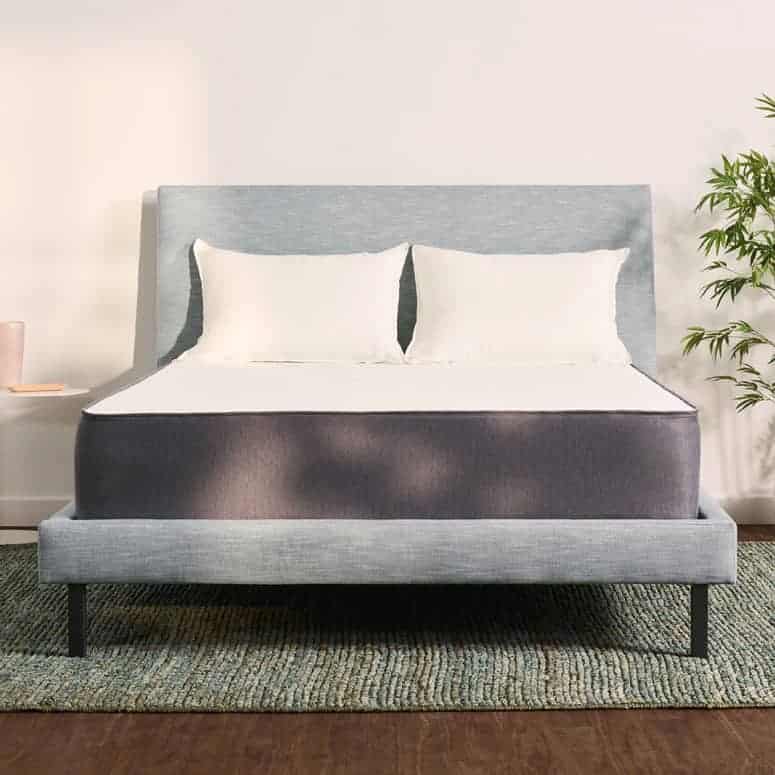 Best Results
The Casper Mattress Hybrid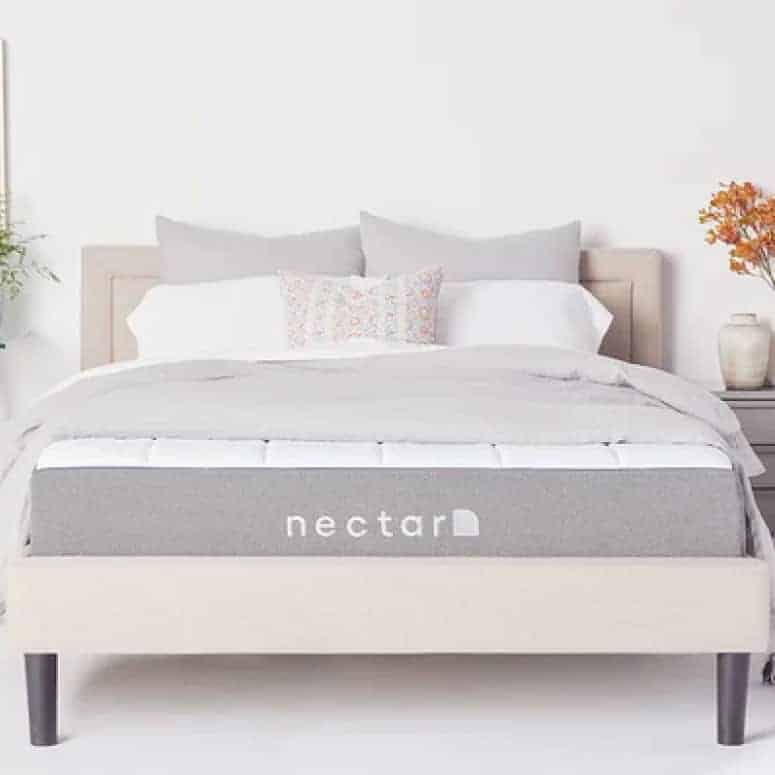 Best Price
The Nectar Memory Foam Mattress
Why is Finding the Best Mattress for Sciatica Important?
Sciatica is a little-known word for such a prevalent condition. According to Harvard Health Publishing, up to 40% of all people in the world will suffer from sciatica at some point in their lifetimes. The odds that you will contract sciatica only increases with age. The risk also rises if you are obese, an avid smoker, or if you spend a great deal of time sitting.
What Is Sciatica?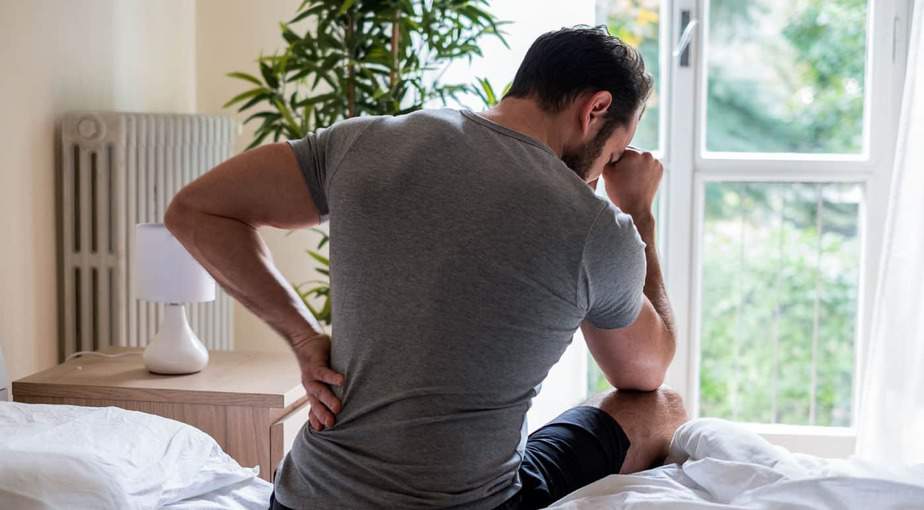 Sciatica is often mistaken for typical back pain, but it is a little different. Back pain, for example, can be muscular in origin. But sciatica results when the sciatic nerve is pinched or irritated. Your body has two sciatica nerves. Each nerve is about as thick as your pinkie finger. Both originate at the lower lumbar spine, pass through the buttocks, and branch down each leg to the tips of your toes.
You know it's sciatica when you can feel it from your lower back all the way down the back of your leg — but not necessarily down both legs. You can feel the pain at any point down your leg along the nerve's branch — low back, buttocks, leg, calf, or foot.
Sciatica often goes undiagnosed because the range of pain is broad. Sciatica can feel like a dull ache. Or it can feel numb. Or tingling. It can also feel like an electric jolt, throbbing hot, or stabbing. It can strike and recede suddenly or endure at a simmer for hours. The pain can be merely annoying or debilitating so that it becomes difficult to walk, stand, or lift.
The causes of sciatica are varied. Common culprits include a herniated disk, bone spurs, or just a torn back muscle. Most cases of sciatica resolve themselves after a few hours, but some cases can last for days, even months if they do not receive the proper treatment.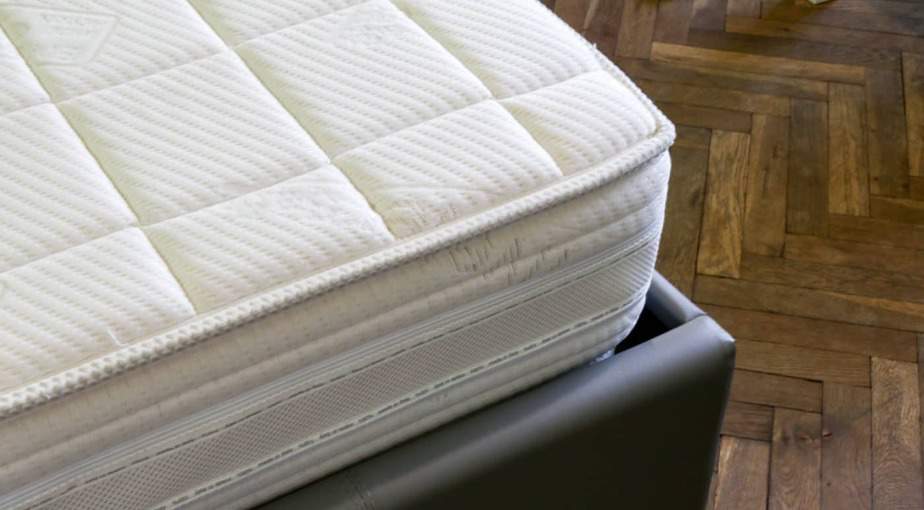 For all cases of sciatica, it is imperative to examine your sleeping conditions. Does your current mattress offer sufficient support and promote neutral spinal alignment? If not, you could be (1) aggravating the condition if you already have sciatica, or (2) increasing the possibility that you will contract it. Prolonged sitting and smoking are some factors that increase the odds of sciatica. Sciatica is frequently found in individuals who already experience chronic or frequent back pain. The right mattress is the first step to a life free of sciatica.
A mattress is not a final form of treatment for sciatica. While it will promote recovery, applying ice, and taking anti-inflammatory drugs like ibuprofen or naproxen are a good place to start. If pain persists, steroids may be in order, or even surgery in extreme cases. Please consult your doctor before beginning any treatment.
For preventing sciatica, a supportive and comfortable bed may significantly improve your odds. Still, the best way to prevent sciatica is to lead a more active lifestyle. Start a low-impact workout regiment or buy a standing desk.
What Elements Go into the Best Mattresses for Sciatica?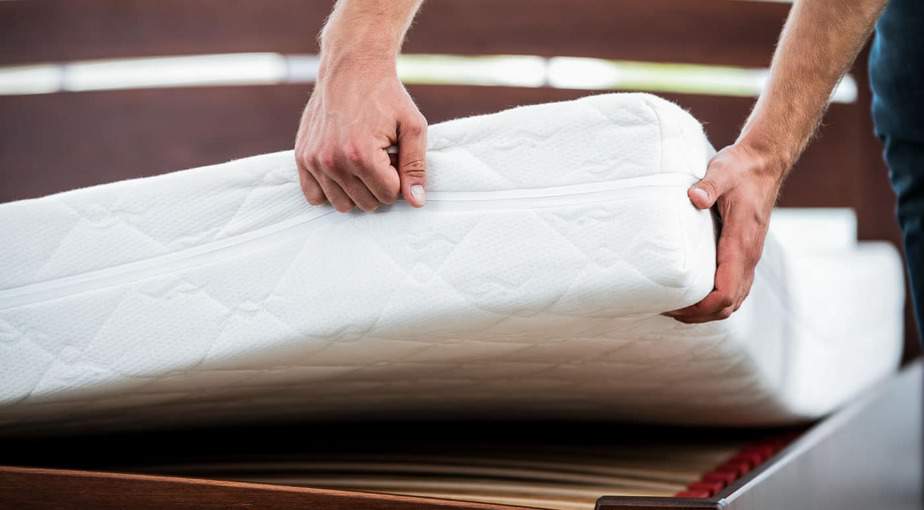 There are hundreds of different types of mattresses on the market. Which ones are best for sciatica and lower-back pain, and what practices are best to make the most of them? The goals are simple and include a neutrally aligned spine ( meaning your spine, viewed from the back, is straight) and cradled pressure points (pressure is concentrated at the hips and shoulders).
Here's the list of features you need to know to find the best mattresses for sciatica:
Firm to Medium-Firmness Levels
One must keep good posture — even while you sleep! You want mattresses that promote a neutral spine.A neutral spine requires a mattress that is neither too firm or too soft. If too firm, the arches along your back, neck, and hips won't get any support, which will cause the torso to droop toward the sleeping surface. If too soft, your body will sink, and the same thing will happen.
For ideal spinal alignment, prioritize mattresses that are Firm to Medium-Firm.
Memory Foam, Latex, or Hybrid Materials
Traditional spring or downy mattresses seldom offer sufficient cradling support. In the past, doctors recommended firm mattresses for individuals with back troubles, but this usually results in a trade-off with comfort. Luckily, materials like memory foam, latex, and hybrids respond to your body. You can find the ideal firmness level without compromising comfort.
Re-examine Your Sleeping Style
Most of the mattresses on this list try to accommodate any sleeping style. However, the fact remains that side sleepers and back sleepers are more likely to experience the healing benefits. If you sleep on your side, consider investing in a quality neck pillow for additional support.
Methodology
The results of these reviews came from cross-referencing product tests (both by companies and individuals), applying critical analytics to hundreds of customer experiences, researching the policies, principles, credentials, and methodologies of manufacturers, and also citing "sleep authorities" on particular brands. In short, we have strived to put ourselves in the position of customers. The only difference is we've researched these products.
Below are the criteria we looked for when compiling this list:
Health. Hypoallergenic, anti-toxic, flame retardant, and antimicrobial mattresses will be given favor.
Durability. You want a mattress that can take years of abuse.
Size. Mattresses that are available in more than one-size will be given favor.
Softness/Firmness. Especially for side-sleepers, a range of softness/firmness options is desired.
Coolness. Memory foam mattresses have a reputation for trapping moisture and redistributing heat poorly: favor will be given to products which overcome this flaw.
Fair price. Favor will be given to products which have a cost proportionate to (or lower than) their quality.
Sleep trial. The longer the sleep trial, the more we will favor the product.
Eco-friendly. Companies that demonstrate environmentally conscious practices will be given favor.
Warranty. How long is the warranty, and what does this tell us about the product?
Reviews. What are the sleeping experiences of users? Are they positive?
The Best Mattresses for Sciatica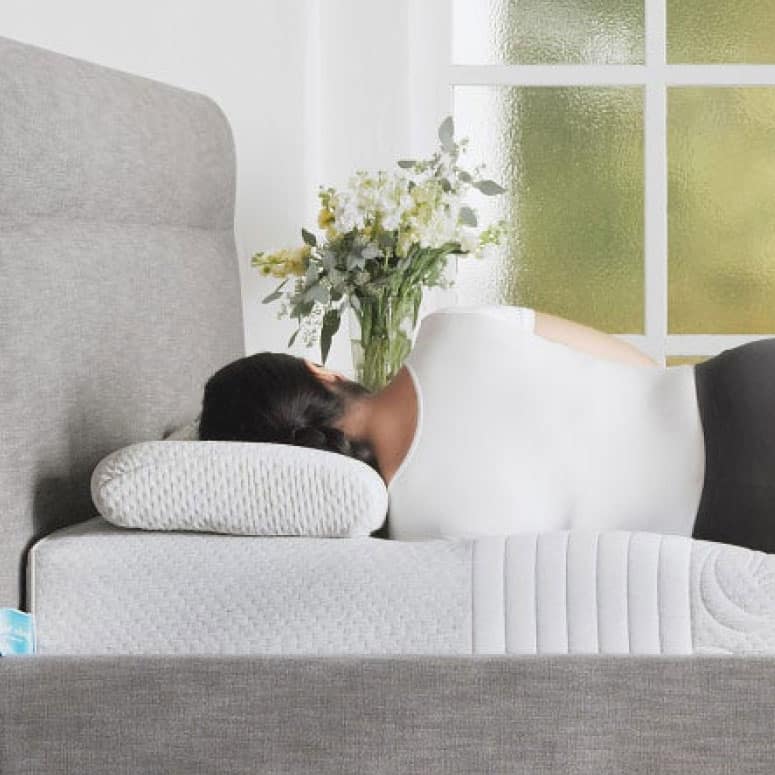 It's not the most affordable item on the market, but no mattress is more likely to relieve your sciatica than the Level Sleep Mattress. Most mattresses stack their layers like pancakes. The layers on top tend to be the thinnest and the most soft, whereas the ones on the bottom are thicker and denser. But the Level Sleep Mattress organizes its layers sideways in a row — like 3-flavored ice-cream.
The top, where the head and shoulders fall, is soft. The middle is firm, supporting the core. And from the waist to the feet, the firmness is at a medium level which contours to your hips. This design is so simple, but it isolates support and comfort where the body needs it more effectively than traditional mattresses. No design is better at promoting a neutrally aligned spine.
The Level Sleep Mattress isn't all theory. It is backed up by the recommendations of many chiropractors and customers. Its high-end, all-foam design has been clinically tested to alleviate pain and reduce morning stiffness. And the manufacturers stand by those tests with a "forever" warranty and 365-night sleep trial. If you do not experience relief, you get your money back.
Pros
365-night sleep trial
Forever warranty
Chiropractor recommended
2
The Casper Mattress Hybrid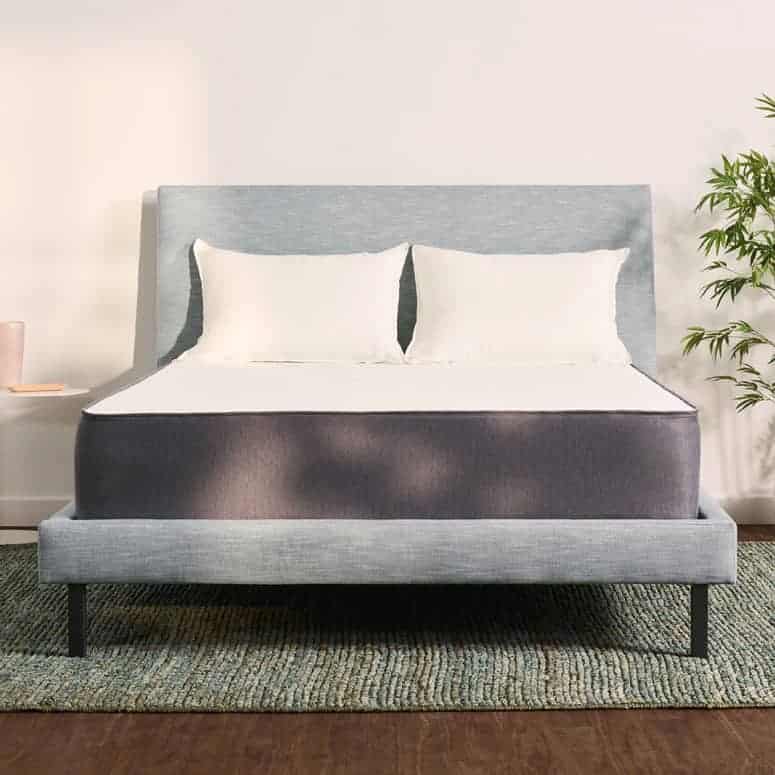 The Casper is our runner-up for the best mattress for sciatica — indeed, for all sore and achy joints. If that price tag were a bit lower and company policies more generous, it might even have the top spot. The Casper is like a higher-quality, more durable version of the Level Sleep Mattress. For those who want only the best of the best, go to bed with Casper.
The Casper features a "zoned support" model similar to the Level Sleep Mattress. The surface is soft under the head and shoulders, firm at the core and hips, and soft again at the bottom.  The "zoned support" guarantees the ideal ratio of support and comfort for every point of the body. However, the Casper also leverages the "pancake" design of traditional mattresses, so it's the best of both worlds.
The Casper is a top-shelf choice for all types of sleepers, especially those with joint or spinal trouble. This product is endorsed by the American Chiropractic Association for promoting spinal alignment and it is made of CertiPUR-US certified memory foam. It is one of the few on the market to use springs (good ones), which helps dissipate body heat.
Pros
Endorsed by ACA
100-night sleep trial
10-year limited warranty
3
The Nectar Memory Foam Mattress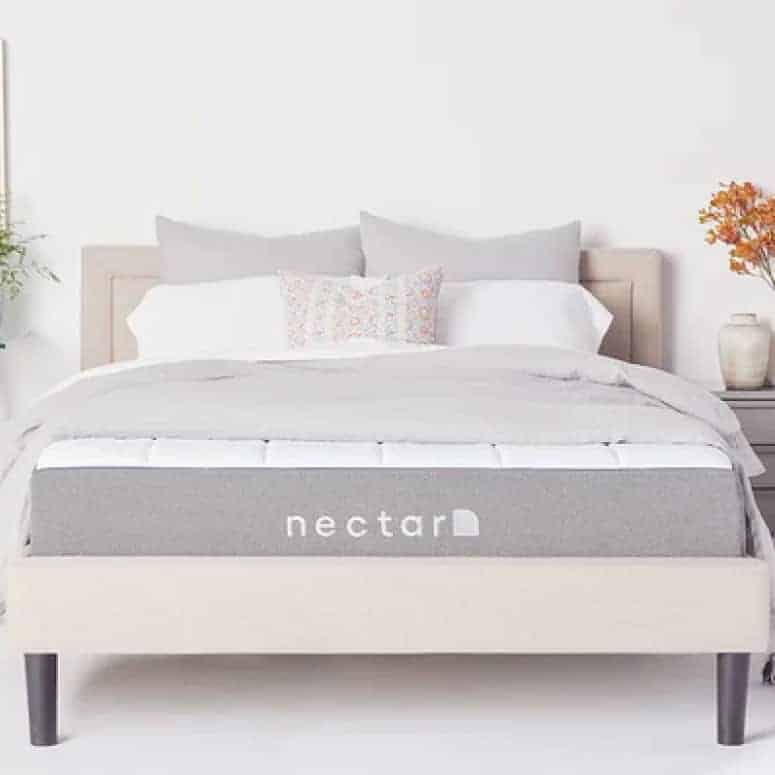 The Nectar is our first choice for achy backs on a budget. But don't let the price tag fool you. The Nectar mattress is a high-quality product in its own right, with positive customer reviews to match. Nectar is one of the most popular online brands right now. And with good reason: You won't find quality for this price anywhere else.
The Nectar is made of CertiPUR-US certified memory foam at a cozy medium-firm level.  Medium-firm is not only the preferred level for most people, but it is best for joint and spinal troubles, too. Too soft, and the body sinks without any support, which adds pressure to bendable points of the body. Too firm, and you get the same problem in reverse.
The Nectar is not a basic (if high-quality) mattress. It is deceptively complex. It is neither a solid block of foam, nor does it feature a modest 2 or 3 layers. This thing boasts four layers total, plus a Tencel cover that wicks away moisture and helps you stay cool. Each layer has a specific job: contour to the body, distribute body weight, supply support, and bounce, and hold it all up. The Nectar is  suitable for any sleeping position.
Pros
365-day sleep trial
Forever warranty
Optional white glove delivery
Cons
Weak edge support
No firmness options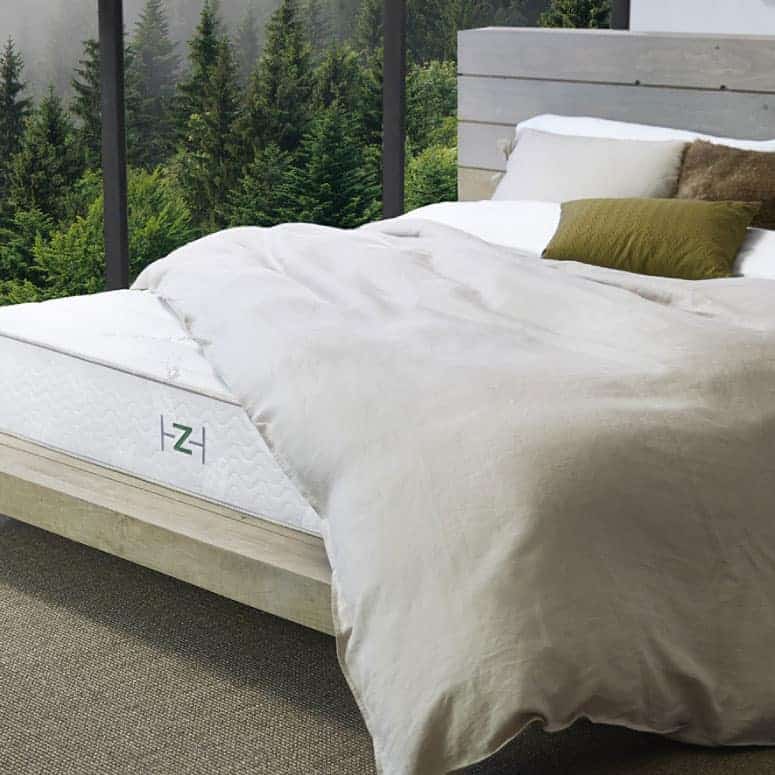 For sleepers eager to go green, the Zenhaven Mattress is made of 100% American Talalay latex. Talalay is "clean" in many senses: Not only is it hypoallergenic, odor-free, antimicrobial, inhospitable to dust mites, and mildew resistant, but Talalay is one of the most low-impact, environmentally responsible materials out there.
The body does not sink into latex  as it does with memory foam. Latex pushes back, cradling the body. "It was the supremely supple yet buoyant feel of Talalay latex that won our hearts — and our backs," says the manufacturers. The Zenhaven mattress also has a reversible design. One side is Firm (7); the other is Medium Soft (4). This product gives you more firmness options for the price of one mattress.
What sets this mattress apart is perforations. Many mattresses include perforations to improve breathability, but the minds at Zenhaven vary the distances between the holes. Variation in hole distance creates a "zoned support" feature similar to that seen in the Casper or Level Sleep mattress. This offers targeted support which helps keep the body balanced and the spine aligned.
Pros
120-day sleep trial
20-year warranty
Reversible design
Cons
On the pricey side
A bit heavy
The WinkBed is the dream choice for heavy individuals who weigh 300 lbs or more. The WinkBed has reinforced edge support, which increases your usable sleeping surface by 15% and the foam enhancement provides additional support through the lumbar region of your body. This prevents the lower back from sagging and misalignment of the spine.
The WinkBed is like a luxury bed you would expect at the Ritz-Carlton or some other high-end hotel. Every square-inch indicates a scheme to make you as comfortable as possible. The top layer incorporates a 3-step back relief system — zoned support lite if you will. This is designed to eliminate muscle tension and align the spine by relieving pressure and providing multiple targeted levels of back support.
While the price tag will provoke a long whistle, the cost translates into a highly complex luxury product. The unique tempered support spring system has 5 zones, providing individualized support for each area of your body. While it lacks the pedigree of other mattresses, it places a high premium on your comfort.
Pros
120-night sleep trial
Lifetime warranty
Firmness options
Cons
Extremely pricey
Poor customer service
Overly complex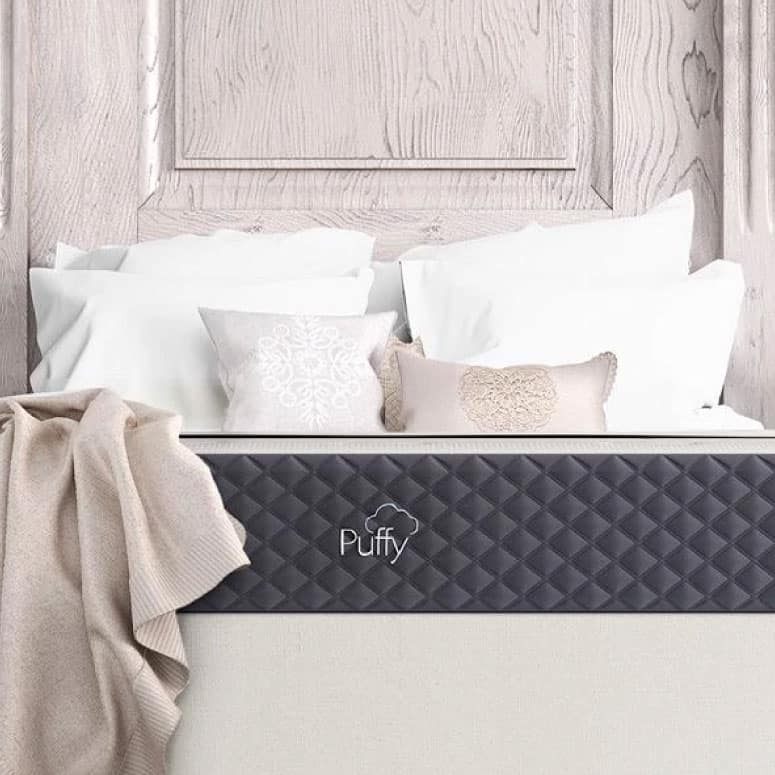 Following up on the WinkBed, the Puffy Lux Mattress is our top choice for lightweight sleepers. For individuals who are 230 lbs or less, the Puffy has a cloud-like quality that accommodates any sleeping position. The Lux is distinct from the Puffy Original because it adds one extra 2-inch layer that makes it more effectively at adapting to the body.
Despite so small a change, the Lux has managed to draw much attention and praise. HighlightReviews.com awarded it the top mattress of 2019. The top layers are gel-infused to help redistribute body heat. The Oeko-Tex Standard 100 Certified memory foam conforms closely to the body, cradling pressure points and alleviating aches and pains. For spinal alignment, it will prove especially effective for side sleepers.
Puffy mattresses can only be purchased online, and shipping is free. The Lux sleeps much cooler than most memory foam mattresses — a credit to the ClimateComfort layer and the gel-infused foam. Sleepers can expect the mattress to feel warm in the winter and cool in the summer.
Pros
Stain-resistant cover
Lifetime warranty
101-night sleep trial
Cons
A bit pricey
No firmness options
A bit heavy
7
Alexander Signature Hybrid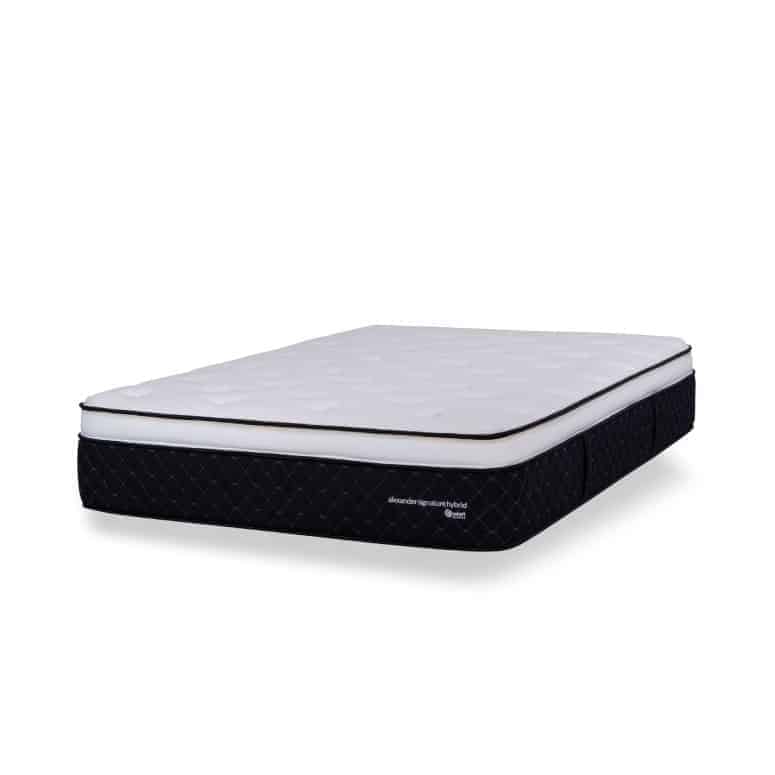 The Alexander Signature Hybrid mattress, by Nest Bedding, scores high marks for all sleeping positions across all weight classes. It is a hybrid because it combines memory foam and good old-fashioned coil springs. The coils permit the Hybrid to offer more support and comfort than most solid memory foam mattresses.
Most of this bed is coils. They form the 8-inch base of the mattress. Each coil is individually wrapped and offers zoned support, similar to that seen in the top choice on this list. The top foam layer is  four individual foam layers, each with its unique feature and none thicker than 1.5-inches. The first is gel-infused, the second has Next Bedding's patented thermoregulation technology, the third is copper-infused — which makes it antimicrobial and antifungal — and the fourth is dense, supporting polyfoam.
The Hybrid is available in multiple firmness levels, but individuals with sciatica should probably opt for the medium-firm option. All foam is CertiPUR-US certified. The manufacturers swear the Hybrid "is the most comfortable mattress on the internet" — a statement they stand by with a lifetime warranty.
Pros
Lifetime warranty
Hybrid support
Free shipping
Cons
A bit pricey
A bit heavy
No sleep trial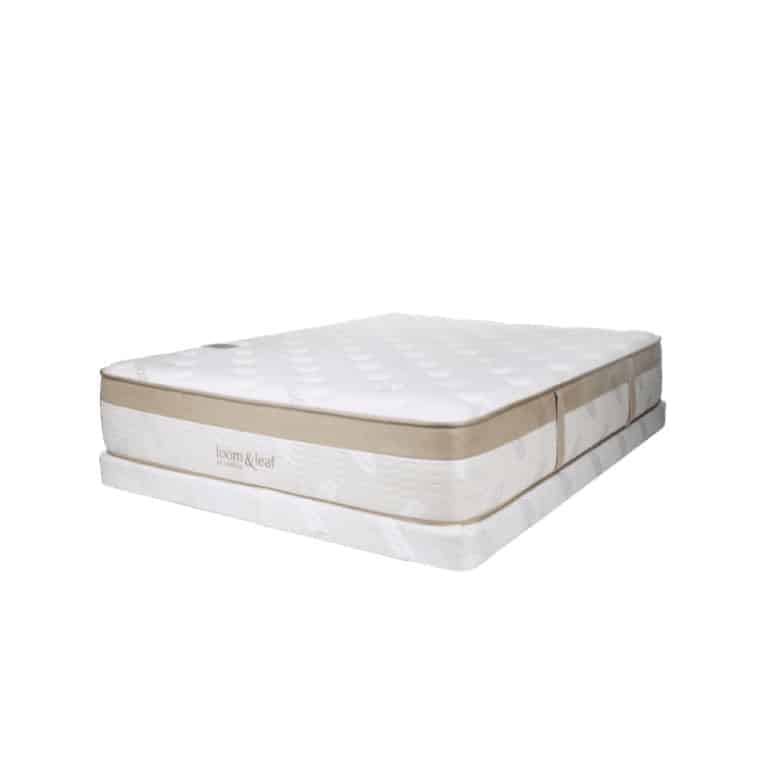 The Loom & Leaf comes in two firmness options: Relaxed Firm (6) or Firm (8). It's  challenging to get a precise firmness measurement since the Loom & Leaf's distinctive plush foam allows for a range of firmness experiences. The Relaxed Firm, depending on your weight, could feel like a firmness level of 5, 6, or even 7! The Relaxed Firm is their flagship mattress, as well as their best-seller.
While the Loom & Leaf will perform best for average-sized individuals (between 130 and 230 lbs), it has high marks for all weight classes and most sleeping positions. The organic cotton cover adds a touch of snug softness and breathability that promotes a cool sleep in the summer and a warm sleep in the winter. This makes it  an excellent choice for those who sleep hot.
The Loom & Leaf is comprised of 4 CertiPUR-US certified foam layers. These are "progressive," meaning each layer is incrementally firmer and denser the further down you go. This is an effective if uninspired, approach to establishing comfort and support. While better mattresses for sciatica can be found at a fraction of the cost, this is a solid choice that is reported to have cured many a happy customer's back pain.
Pros
120-night sleep trial
15-year warranty
White glove delivery option
Cons
Very pricey
Heavy
Uninspired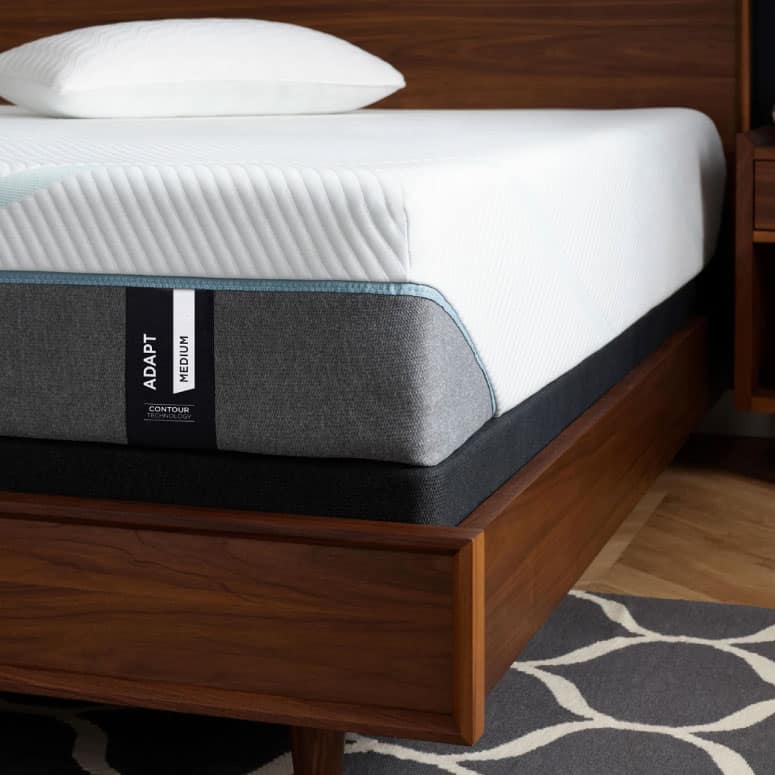 TempurPedic might be the most widely recognized brand for memory foam mattresses. They were pioneers of the material back when it was invented in the 70s. They broke it out into the mainstream by capitalizing on the therapeutic properties of the foam. The price tag is daunting, but it is backed up by a long history of recovered backs and alleviated aches.
Tempur-Pedic's products carried the endorsements of chiropractors and physical therapists and continue to do so. And the TEMPUR-Adapt is their flagship item. It features three layers: a top comfort layer, a support layer, and a bottom layer of coils for zoned support — all wrapped in a thermoregulating phase-change cover which is cool to the touch.
The price tag is daunting, but it is backed up by a long history of recovered backs and alleviated aches. It runs on the firmer side, and there are no firmness options. If you want something softer, a mattress cover might be in order. TempurPedic is practically another word for "the most classic memory foam mattress ever," and no review list would be complete without it.
Pros
90-night sleep trial
10-year limited warranty
Legendary brand
Cons
Extremely expensive
Extremely heavy
No firmness options
10
Layla Memory Foam Mattress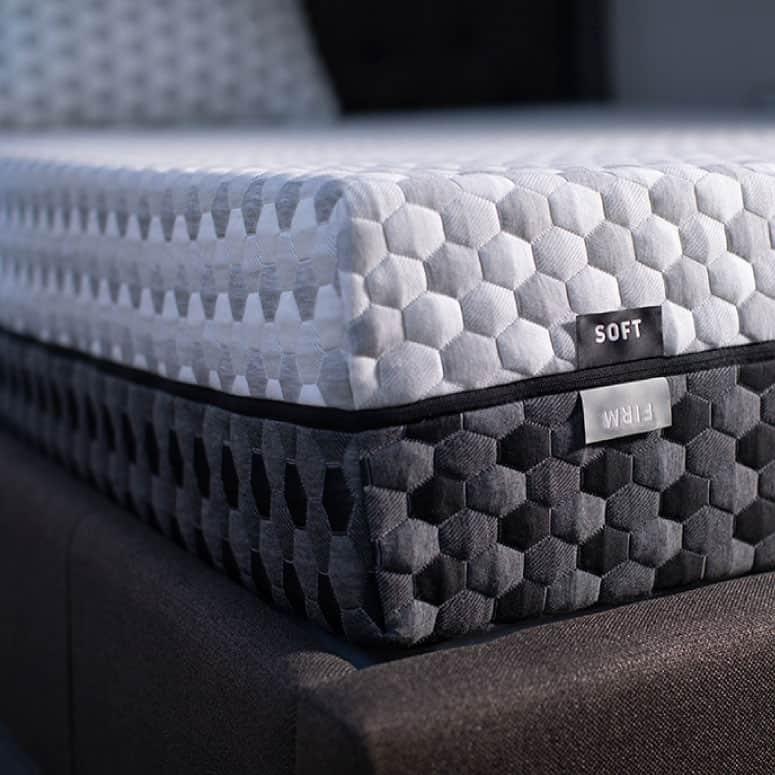 The Layla Mattress seeks to correct the traditional flaws of memory foam while supplying a high-quality product for customers who are "sleep intelligent." The Layla Mattress is "flippable": one side is soft, the other is firm.  Essentially this mattress is two mattresses in one. So instead of purchasing an entirely new mattress, you can instead accessorize to find your comfort level.
The unique construction of the Layla Topper includes copper gel beads embedded in the foam, which are intended to absorb heat from your body while you sleep. The result is a cooler sleeping experience that's perfect for those who sleep hot, even if they've found other memory foams too hot to be comfortable.
The Layla mattress meets the conforming standards of most high-quality memory foam mattresses. It conforms closely, relieving pressure points and aligning the spine. While it endeavors to accommodate all sleeping positions, back and side sleepers have the most to gain from this all-online product.
Pros
120-night sleep trial
Lifetime warranty
Sleeps cool
Cons
No thickness options
Heavy
Difficult to flip
Related rankings
1. Is sciatica different from back pain?
Yes, but it is more accurate to say that sciatica is one cause of back pain.
Sciatica is often mistaken for common back pain, but it is a little different. Back pain, for example, can be muscular in nature. But sciatica results when the sciatic nerve is somehow pinched or irritated. Your body has two sciatica nerves. Each nerve is about as thick as your pinkie. Both originate at the lower lumbar spine, pass through the buttocks, and branch down each leg to the tips of your toes.
You know it's sciatica when you can feel it from your lower back down your leg — but not necessarily down both legs. Sciatic nerve pain can occur at any point down your leg along the nerve's branch — low back, buttocks, leg, calf, or foot. The pain can be annoying or debilitating so that it becomes difficult to walk, stand, or lift.
The causes of sciatica are varied. Common culprits include a herniated disk, bone spurs, or just a torn back muscle. Most cases of sciatica resolve themselves after a few hours, but some cases can last for days, even months if they do not receive the proper treatment.
2. I have other health issues in addition to sciatica. Which mattress should I get?
Most of the mattress on this list include features that make them more healthy and hypoallergenic. But if you want to play it safe, you have some options.
In this list, we only recommend memory foam, latex, and hybrid mattresses. These strike the right balance between buoyancy and cradling comfort that promotes healing. For memory foam, make sure your mattress has either the CertiPUR-US or PURGreen certifications. This means that all mattresses are made without chlorinated hydrocarbons, CFCs, heavy metals, or other toxic or eco-unfriendly substances.
Unless you are allergic to latex, it tends to be a healthier choice — both for you and the environment. Latex is naturally hypoallergenic and antimicrobial. It is also more effective at fighting dust mites than other materials. Latex is marketed as a greener alternative to other materials. While memory foam is a chemical compound, latex is made of all-natural botanical materials. Check to see if the latex is GOLS-certified.
3. Does my sleeping position change what kind of mattress I should buy?
It's very likely, yes.
Your main concern is your long-term health. You want a mattress that offers the right support and will align your spine correctly. If you sleep on your stomach, a mattress with a high firmness rating is more desirable. A soft mattress will cause the center of the body to droop downward, which "pinches" the lower back and puts pressure on the spine, which could cause later issues.
However, if you tend to sleep on your side, a softer mattress is the healthier choice, usually Medium-Firm to Soft. A soft mattress will accept the contours of the body and give support to pressure points. Side sleepers should also consider a high-quality neck pillow, a pillow to hold to the chest, and a pillow to wedge between the thighs for added support.
If you change your sleeping position every few days or multiple times a night, then a medium-firm mattress is the way to go. This will give you more options and allow freer movement. However, it is best for spinal health to find your preferred sleeping position and stick with it, purchasing the correct mattress and pillows accordingly.
4. What are the long-term effects on my spine from a mattress that's too firm or too soft?
If a mattress is too soft, it won't offer the needed support. This could result in issues as minor as muscle aches or as severe as spinal misalignment. This raises the risk of bone spurs or herniated discs, which can cause sciatica. An overly soft mattress tends to create pressure points. Where those points appear depends on the sleeping position.For example, if you sleep on your stomach, this creates a pressure point in the lower back.
Meanwhile, if the mattress is too firm, the key points of the body won't be cradled or find the necessary support. Pressure points inevitably form at the shoulders and hips. These carry the brunt of your weight, which will produce aches and increase the risk of injury.
While there is no established scientific proof showing that you will undergo irreversible damage or stunted growth based on the firmness level of the mattress you use, a too-firm or too-soft mattress will certainly promote discomfort and aggravate any joint- or spine-related conditions.
5. What are the best mattresses for sciatica?
There are several factors you need to prioritize when purchasing a mattress to help treat (or prevent) sciatica.
The best mattresses for sciatica promote neutral spinal alignment. This means your spine, when viewed from the back while lying down, is straight, not bent or curved. This allows the muscles connected to your spine to relax and recover while you sleep. If a mattress is too hard or too squishy, spinal alignment is compromised.
The best mattresses for sciatica and lower-back pain are also clinically tested or are endorsed by chiropractors or physical therapists. Clinically tested mattresses tend to be better at distributing human body weight. This dissipates pressure points and prevents bedsores, but it also helps cradle and rejuvenates the joints and spine.
Finally, the best mattresses for sciatica offer generous benefits, like a sleep trial period or a lengthy warranty. At the very least, distributors should provide a money-back guarantee. Your first purchase should be seen as experimental. Especially if you are ordering online, you should be allowed to take your mattress out for a test spin for committing to the purchase. The last thing you need is to be stuck with a mattress that's a pain in the back.
RAVE Recommends
There is a sleep crisis. Fewer and fewer working adults are getting the sleep they require to maintain healthy and productive lives. But it's not just the amount of sleep they need — it's also the quality of sleep. So when you're done perusing the best mattresses for sciatica, check out these other products that will help you win many nights of deep, rejuvenating, undisturbed rest.
Layla Memory Foam Mattress Topper: Boost the softness (or firmness) of your mattress by adding a topper. It's like a mini-mattress, but it's usually more affordable.

Beckham Hotel Collection Gel Pillow: What good is a mattress without pillows that match in quality? These are the most cooling you are likely to find!

Ergonomic Sleep Mask: This light-blocking sleeping mask is made for both women and men. Its 3D contoured "super soft," comfortable, and adjustable nighttime mask uses Best Blinder memory foam and comes with a blindfold for travel with purchase.

Mayfair Linen Egyptian Cotton Sheets: Adorn your bed in the softest and most durable cotton sheets on the market. At least, that's our opinion.

Dr. Kasey Nichols, N.M.D.
Dr. Kasey Nichols, N.M.D. focuses on sleep disorders and drug-free pain management utilizing both conventional and alternative medicine at his private practice,
Onyx Integrative Medicine and Aesthetics
, located in Gilbert, AZ. He served as the Director of Medical Operation and Administration at a national substance abuse disorder corporation with 16 facilities across seven states. He graduated from Cleveland University-Kansas City with a Bachelor's of Science in Human Biology, graduating with honors, and holds a Doctorate from The Southwest College of Naturopathic Medicine. He holds licenses in both Arizona and Kansas. Dr. Nichols has given numerous talks to professional organizations, given interviews for newspapers across the United States, and numerous television news interviews with ABC 15/CW 61 in Arizona, Channel 3 in Arizona, and others. Dr. Nichols has appeared in
Cosmopolitan
,
Reader's Digest
,
WebMD
,
Healthline
, and many other health and lifestyle publications.