You need a new mattress, so we won't waste any more time: The best mattress for heavy people is the Titan from Brooklyn Bedding.
Go with Titan, and you'll get a 1-inch layer of quilted gel memory foam, and 2 inches of patented TitanFlex foam. What you can expect is responsive contouring and unparalleled pressure point relief.
Like Eric Cartman says, you're not fat, you're big boned!
And anyway, there is no shame in being heavy — you've been this way your entire life, and you make no apologies. The thing is, not just any mattress can handle your greatness. So to help, RAVE Reviews researched and ranked the 10 best mattresses for heavy people.
In this article, we'll tell you everything you need to know as you shop for the best mattress for heavy people, including firmness, thickness, foam density, edge support, and temperature control.
What mattress holds up the best if you're heavy? Keep reading to find out.
The Mattresses for Heavy People We RAVE About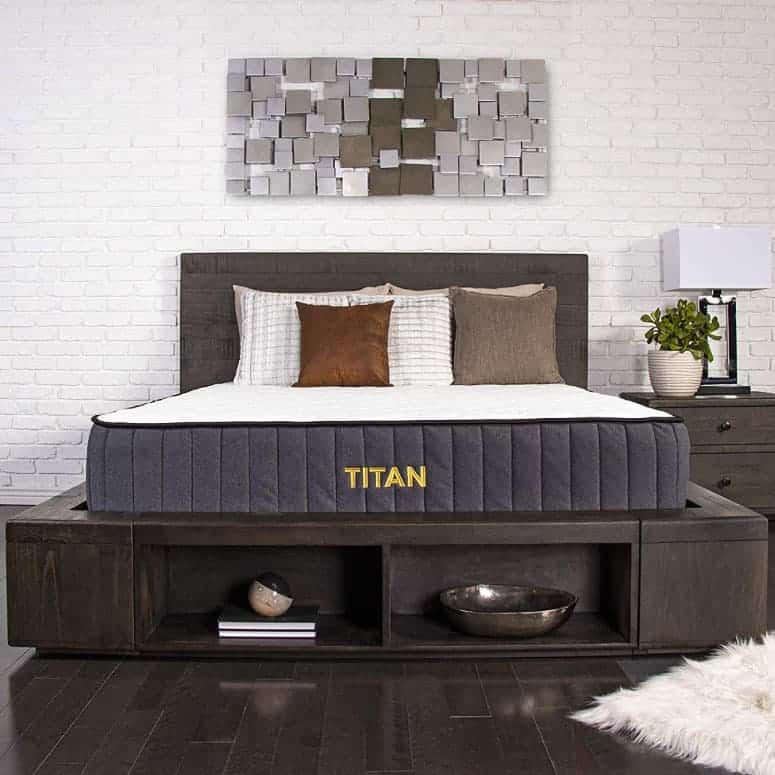 Best Overall
Brooklyn Bedding Titan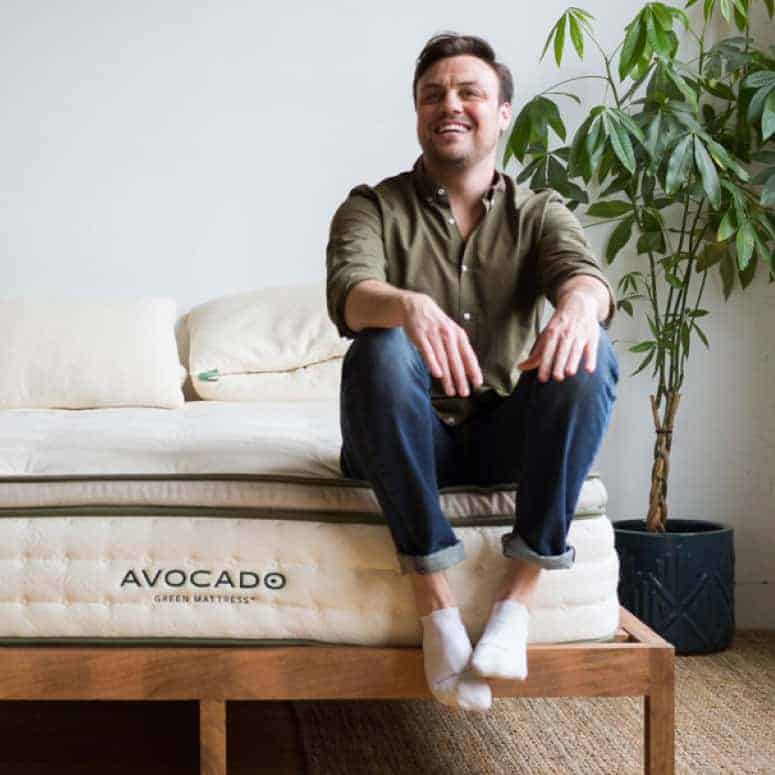 Best Eco-Friendly
Avocado Green Mattress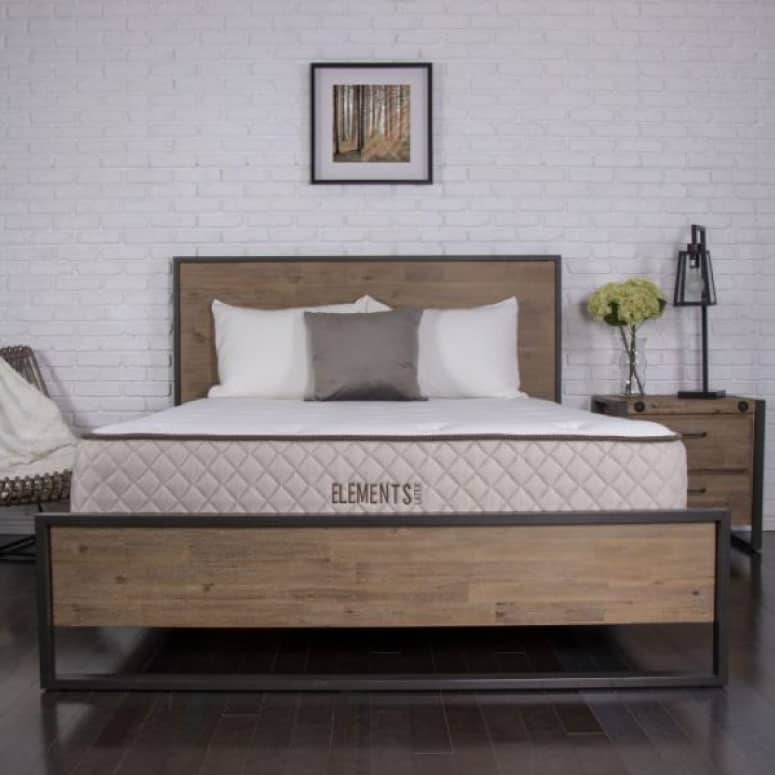 Best Price
Dreamfoam Bedding Aspen Latex Mattress
Finding Your Own Best Mattress for Heavy People
"Heavy" means different things to different people. So what do we mean when we say "the best mattress for heavy people"? Do mattresses even have a weight limit?
Most mattresses don't, but box springs and foundations do. Most box springs can hold up to 300 pounds, with some going as high as 450 pounds.
The new Dromma One Base, as another example, can handle over 1,500 pounds — that's heavy!
For our ranking, "heavy" means any person weighing at least 300 pounds.
If mattresses don't have a weight limit, what's so important about finding the best mattress for heavy people?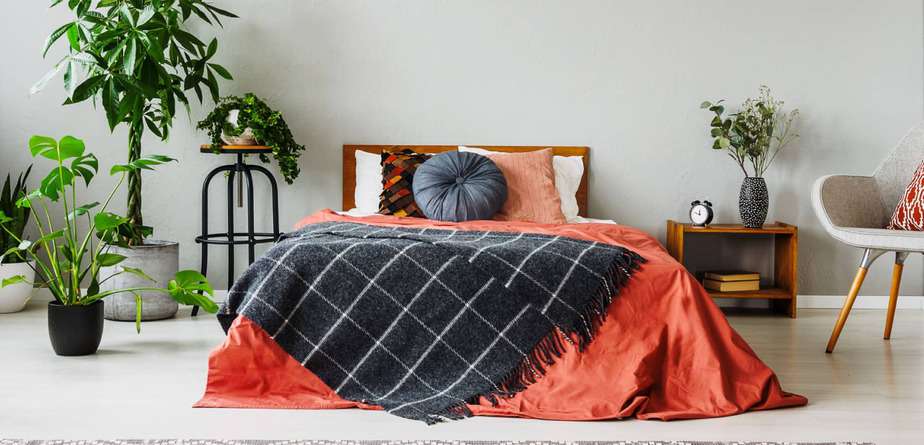 It turns out it's very important, and here's a few reasons why…
Firmness
If you're heavy, you sink into your mattress more than other folks. You'll want a firmer mattress, especially if you sleep on your side or stomach.
Mattress firmness is ranked on a scale of 1 to 10. So, if you're heavy and shopping for a mattress, look for a mattress firmness somewhere between 6 and 8.
Mattress Thickness
If you're heavy, you'll want a mattress on the thicker side. Mattress thickness is usually between 6 and 14 inches, sometimes more.
Look for a mattress that's at least 12 inches thick. Steer clear of all-foam mattresses, as they tend to be thinner than other mattresses. Opt instead for an innerspring or hybrid mattress.
Mattress Foam Density
But wait, regardless of what the core of your mattress is, almost all mattresses have some layer of foam, whether that's polyfoam or memory foam.
So how thick should that layer of foam be if you're a heavy sleeper?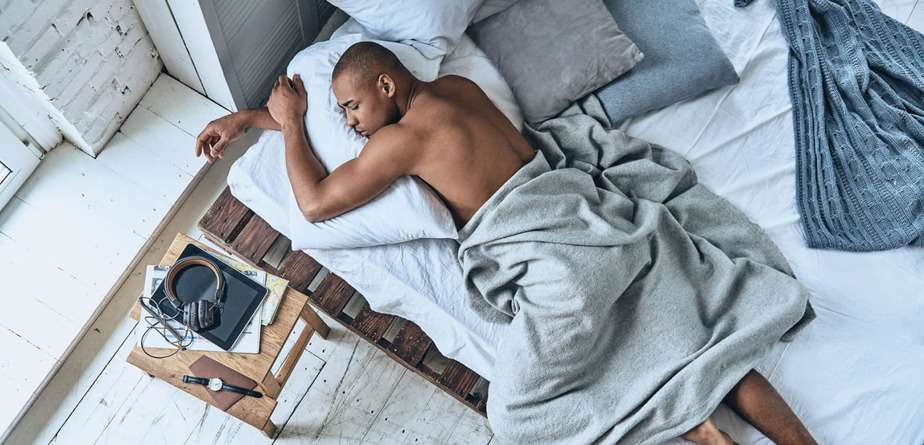 Foam thickness is measured in PCFs, or pounds per cubic foot. If you're a heavy sleeper, look for the highest foam density, at least 6 PCF for memory foam and at least 1.8 PCF for polyfoam.
Edge Support
It's particularly crucial to consider edge support if you're a heavy sleeper: If you're heavy, you're going to put a lot more stress on the edges of your mattress, possibly causing the sides to collapse.
Hybrid spring and foam mattresses offer the best edge support, but you can find excellent edge support in high-quality foam mattresses, designed with extra thickness and better edge support.
Temperature Control
More body mass means more body heat — it's science. If you tend to overheat at night or "sleep hot," keep temperature control in mind as you shop for a new mattress.
Here's what you need to know: Innerspring and hybrid mattresses are more breathable, while foam (including memory foam) has a reputation for trapping body heat, allowing you to overheat while you sleep.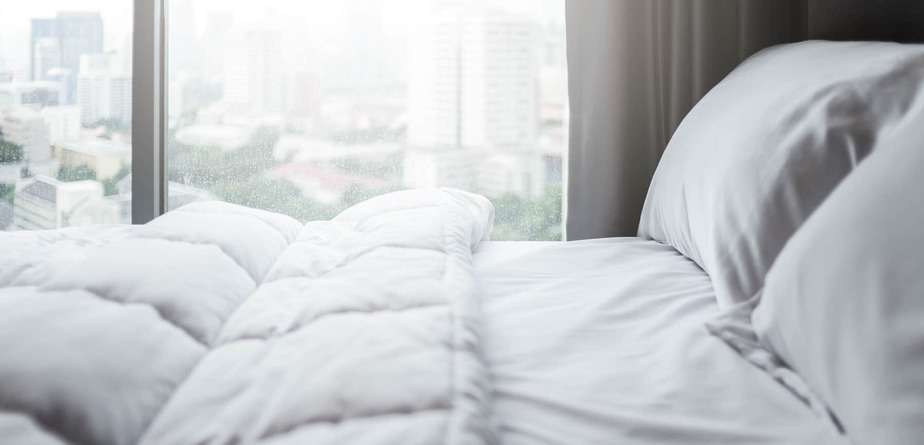 Even if you go with a foam mattress, there are gel-infused foams, as well as foams made from copper and graphite to significantly improve breathability. Look out for features like these while you shop.
So now we've covered what your mattress should be made of if you're heavy, but how about the kind of mattress you should choose based on your preferred sleeping position?
Side-Sleepers
Generally, side-sleepers should choose softer mattresses. But as we mentioned earlier, soft mattresses can be problematic if you're heavy. If you're a side-sleeper, we still say buy a firmer mattress.
Back-Sleepers
Back-sleepers are a mixed bag in terms of what type of mattress suits them best. It's important to consider lumbar support and proper alignment of the spine. Try a few, and see what works best for you.
Stomach-Sleepers
If you're a heavier stomach-sleeper, it's important to sleep on a firm mattress. A mattress that's too soft will cause your hips and shoulders to sink, and that can be painful. Your mattress should keep your spine in neutral alignment.
Combo-Sleepers
Like most people, you probably don't sleep in just one position. You change positions throughout the night, and you need a mattress designed for versatility. We suggest trying a coil mattress.
Co-Sleepers
If you and your partner have very different ideas about what constitutes a comfortable mattress, there's hope: Look for any mattress with dual-sided firmness.
So there you have it. The only thing left to do is buy a mattress from our ranking of the 10 best mattresses for heavy people.
Methodology
When we researched and compiled our ranking of the 10 best mattresses for heavy people, we considered the input of sleep experts, while triangulating similar lists and rankings from trusted and reputable sources all over the internet.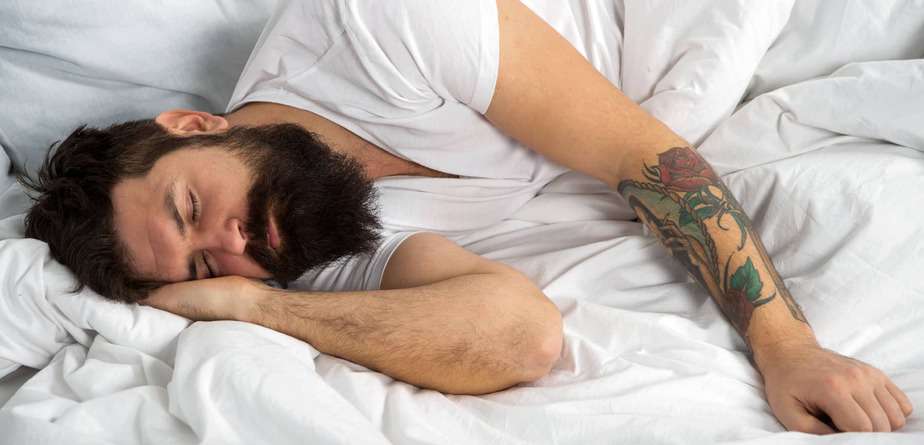 We then ranked each mattress on the following criteria:
Firmness
Mattress thickness
Mattress foam density
Edge support
Temperature control
We also took sleeping positions into account:
Side-sleepers
Back-sleepers
Stomach-sleepers
Combination-sleepers
We also kept cost, warranties, return policies, and ease of shipping in mind.
We feel this approach produced the best possible results. So if you're a heavy person looking for the best mattress, we have what you need.
The Best Mattresses for Heavy People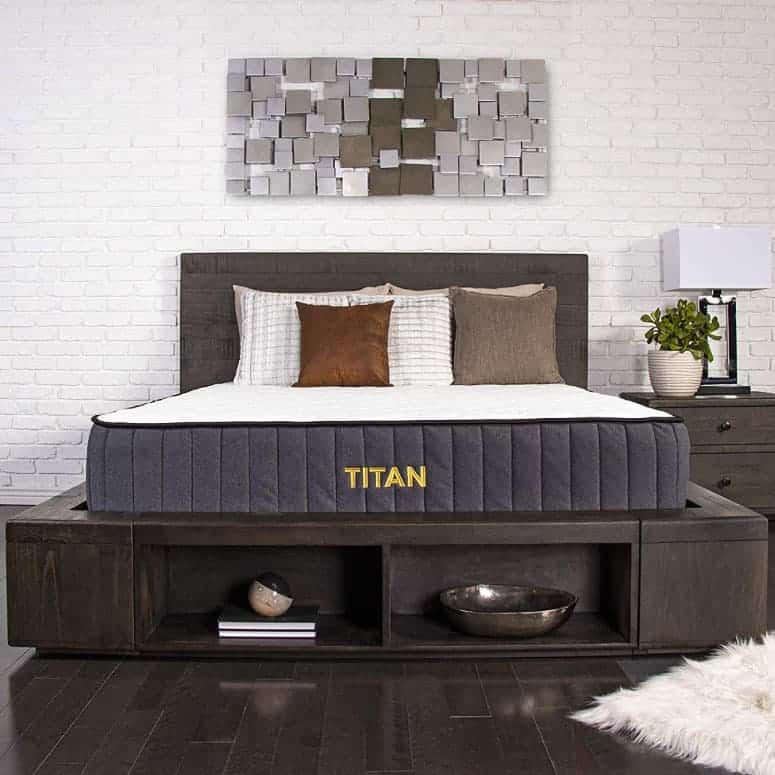 You gotta figure a mattress called "Titan" would be a pretty good choice when it comes to the best mattress for heavy people, right? Well, you would be right. Taking the number one spot in our ranking of the best overall mattress for heavy people goes to the Titan from Brooklyn Bedding.
What caught our attention right away about the Titan is the 1-inch layer of quilted gel memory foam, as well as a 2-inch layer of patented TitanFlex foam. With both of these layers, you'll get responsive contouring and pressure point relief.
The mattress' 6-inch core of over 1,000 individually encased TitanCaliber coils creates excellent motion isolation and support, with just the right amount of pressure point relief and a stable surface for sleepers of all shapes and sizes.
What we didn't like about the Titan is that it takes a full 24 hours after delivery for the mattress to expand and the odors to dissipate. But that's a small price to pay for a quality mattress from Brooklyn Bedding.
Pros
TitanFlex foam
Quilted gel memory foam
TitanCaliber coils
Cons
24 hours to expand
Odor after shipping
Only a 10-year warranty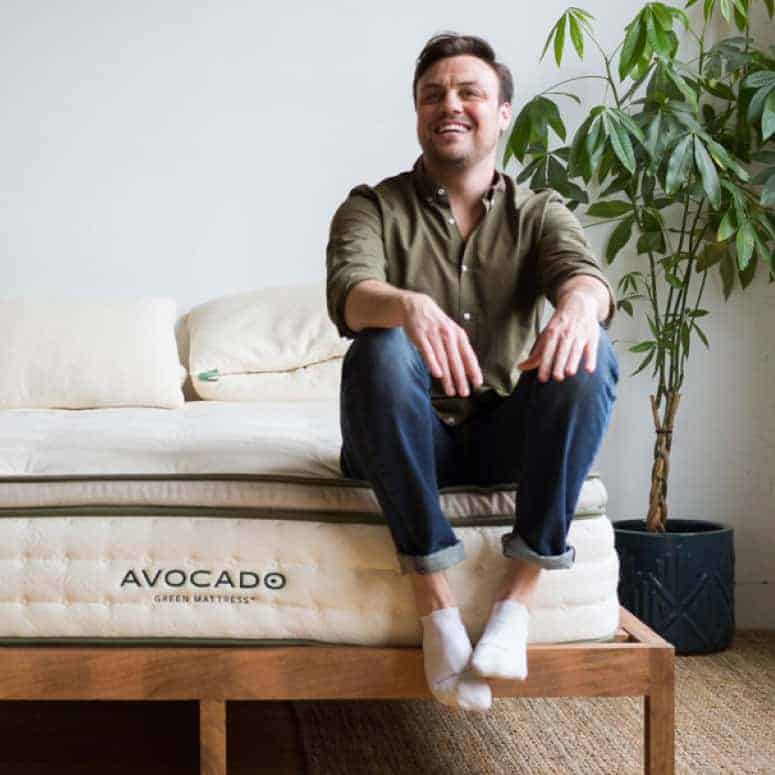 The second mattress in our ranking is excellent if you not only want the best mattress for a plus-sized sleeper, but an eco-friendly mattress as well.
The Avocado Green mattress is all-natural, made from GOLS-certified organic latex, GOTS-certified organic wool, GOTS-certified organic cotton, and over a thousand pocketed support coils.
There is no polyester, polyurethane foams, or toxic fire retardants used in the making of this mattress.
The fully reinforced steel perimeter supports the edge, while best-in-class motion transfer keeps your back aligned, distributing weight more evenly to help your pressure points.
This mattress also has individually tuned steel coils in 3 gauges that are arranged ergonomically in 5 distinct zones for comfort.
Plus, we love Avocado's one-year sleep trial and 25-year warranty.
Pros
Organic latex
Organic wool
Organic coils
Cons
Pillow-top costs extra
11 inch mattress
Medium-firm
3
Dreamfoam Bedding Aspen Latex Mattress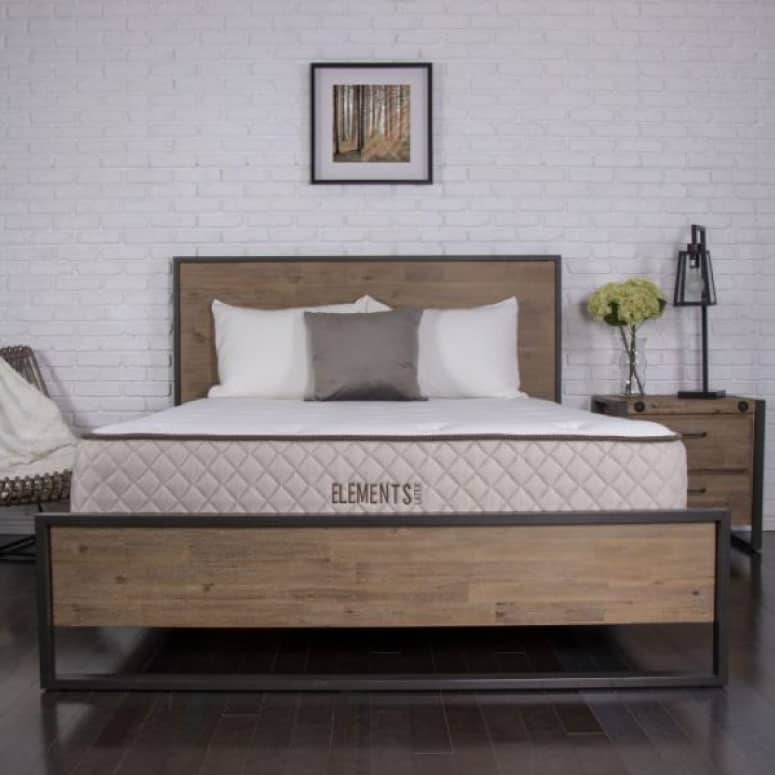 The next mattress in our ranking of the best mattresses for heavy people is the Dreamfoam Bedding Aspen Latex Mattress. This is also our pick for the best priced mattress for heavy people.
Besides the great savings, we also liked the 3 levels of firmness, allowing sleepers to choose the level of support they need in order to get a good night's rest.
There's also a 3-inch top layer of Oeko-Tex Class 1 Talalay latex. This layer contours to your body, providing exceptional relief for all your pressure points.
The Dreamfoam mattress has a custom-crafted 1-inch quilted top with super soft reflex foam, as well as a 5.5-inch, high-density, convoluted base foam to increase airflow, conformability, and durability, which are all important features in a mattress for heavy people.
What we didn't like about the mattress is the somewhat limited 10-year warranty, but Dreamfoam Bedding does offer a 120-night risk-free trial period.
Pros
Three firmness levels
Talalay latex
1-inch quilted top
Cons
Shipping issues reported
Only a 10-year warranty
Not ideal for hot sleepers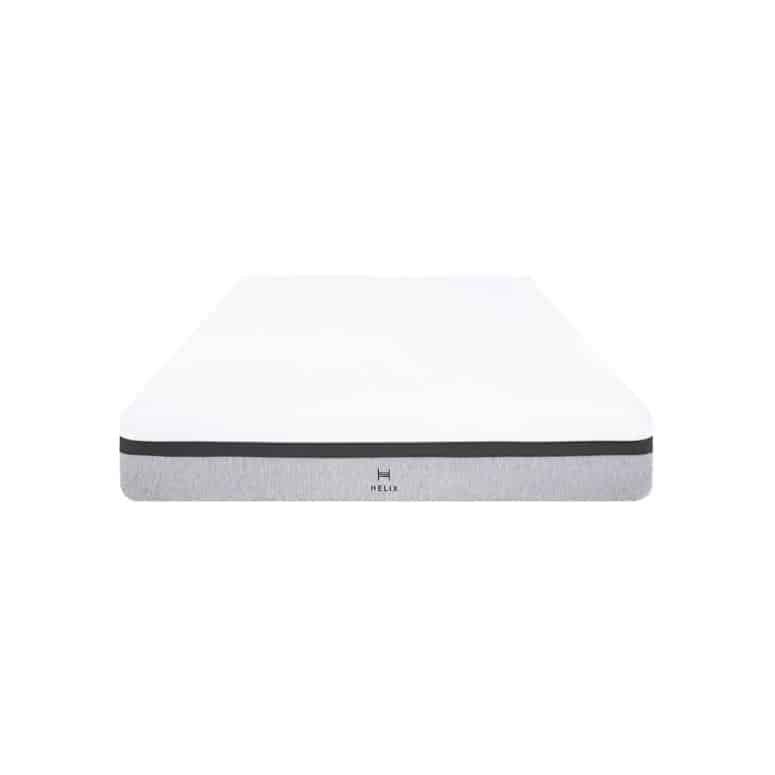 Taking fourth place in our ranking is the Helix Nightfall.
This mattress is made from high-density materials, with an extra layer providing comfort, support, and durability.
We also really loved the medium-firm top, specially designed with Helix Dynamic Foam. This foam gives you just the right amount of body contouring for deeper sleep, while hundreds of individual taller coils support heavier weight. Also, the reinforced perimeter provides maximum edge support.
There's also a breathable cover, and the hybrid design increases airflow, keeping you refreshed all night long.
Helix only offers a 10-year warranty and a somewhat limited 100-night sleep trial, ranking this mattress a little lower on our list. Nevertheless, Helix without a doubt belongs in the top five, and the mattress is very affordable.
Pros
Medium-firm top
Supportive tall coils
Reinforced perimeter
Cons
Limited sleep trial
May return after 30 nights
Dimensions vary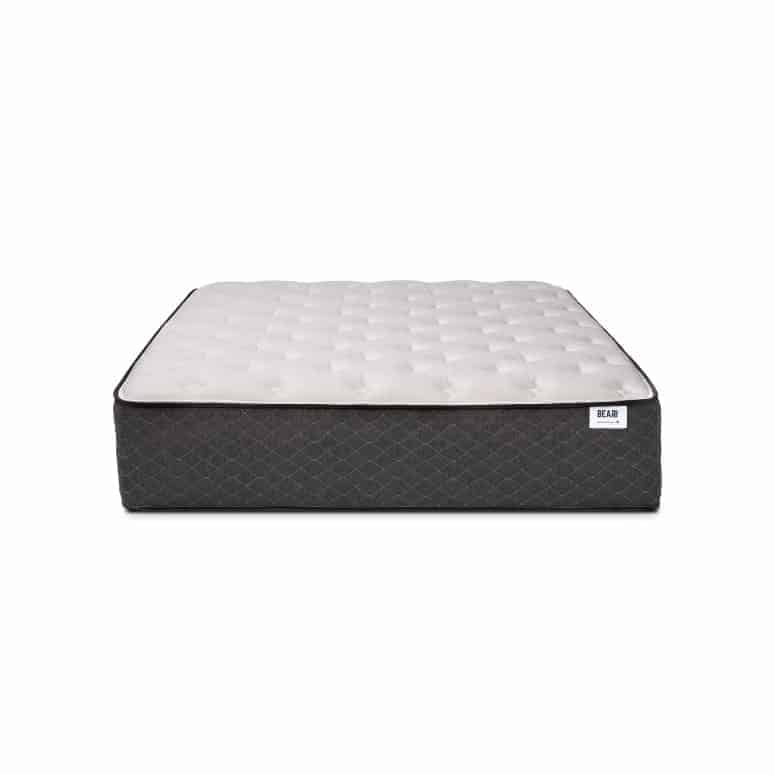 Looking to hibernate like a bear? If so, head straight for our fifth-place pick in our ranking, the Bear Hybrid mattress.
With a hand-quilted Celliant fiber top, hypersoft cooling gel foam coupled with premium comfort foam to adapt to all body types and sleeping positions, and a responsive transition foam, the Bear Hybrid offers airflow and pressure relief.
The Serene comfort layer reacts to your pressure points, keeping you comfortable whether you sleep on your side or your back, while the pocketed coil system reduces motion transfer.
When it comes to edge support, Bear uses a quantum edge coil system for superior edge support alignment, and the high-density support foam gives the mattress long-lasting durability.
Bear Mattress offers a 100-night sleep trial and 20-year warranty as well.
Pros
Celliant fiber top
Cooling gel foam
Pocketed coil system
Cons
Expensive
Firmer options available
Only 100-night trial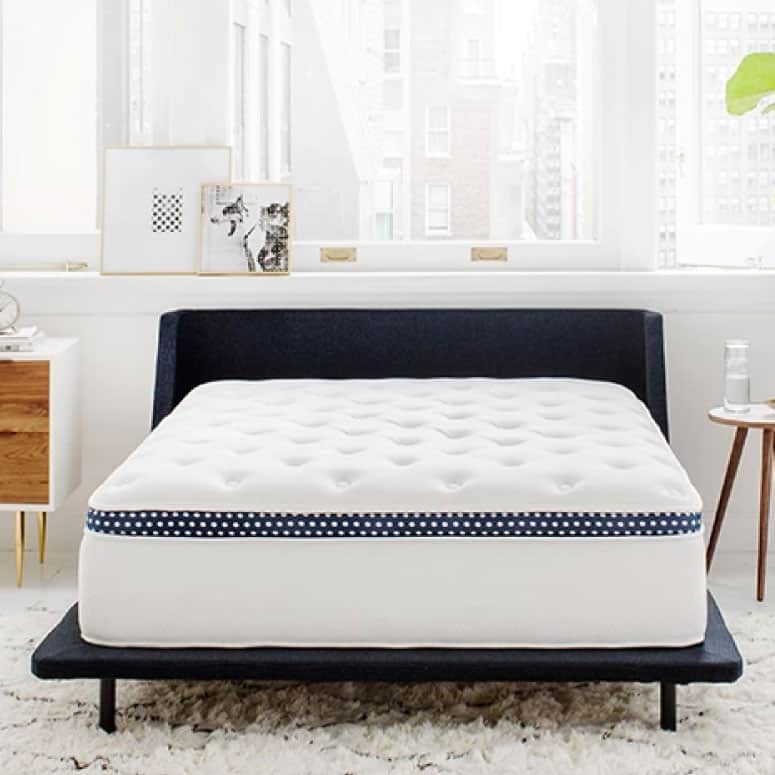 If back pain is a big reason why you're shopping for a new mattress, check out our sixth pick in our ranking of the best mattresses for heavy people: the Winkbed Plus.
This mattress may relieve your back pain with its three-step back relief system, designed to eliminate muscle tension, keep your spine and joints aligned, relieve pressure, and provide multiple, targeted levels of support for your back.
We also like the Lumbarlayer, an exclusive feature in WinkBed mattresses that prevents lower back sagging and misalignment.
There's also triple-layer Heat Disperse tech, Sleepcalm motion isolation, Extra-Edge Anti-Sag support, and a lifetime Duratech durability system.
You'll pay up for WinkBed mattresses, but with a lifetime warranty, it's worth it!
Pros
3-step back relief system
Lumbarlayer
Heat Disperse tech
Cons
Expensive
Firmer options available
Co-sleeping issues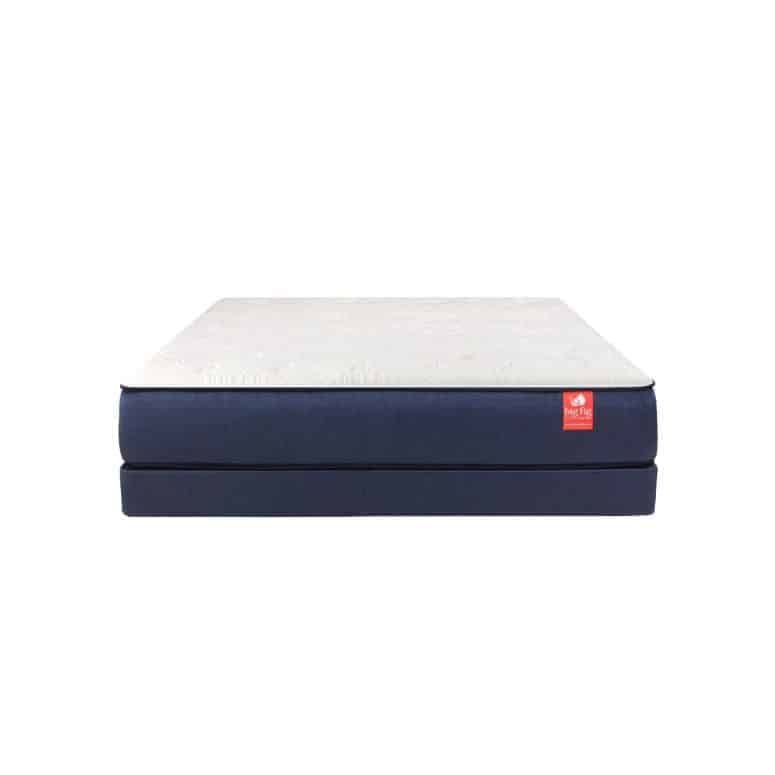 If you sometimes feel like a big fig, you need a mattress from Big Fig, the next mattress in our ranking of the 10 best mattresses for heavy people.
Big Fig mattresses are made with a hybrid construction, cooling technology, and a strong foundation. There are 1,600 individually wrapped coils, which is 50% more than other premium innerspring mattresses on the market.
Big Fig's ThermoGel treated fabric helps regulate body temperature, while perforated gel-infused latex foam creates airflow.
There are also high-density polyfoam layers for no-sag cushioning, with edge foam adding extra strength and enhanced edge support, and the mattress is tufted in 16 places to help prevent shifting over time.
However, this mattress is too firm for some people, and not ideal for hot sleepers.
Pros
1,600 individual coils
ThermoGel treated fabric
Tufted in 16 places
Cons
Too firm for some
Bit expensive
Sleeps too hot for some
8
Loom & Leaf Memory Foam Mattress
The eighth pick in our ranking of the 10 best mattresses for heavy people comes from Loom & Leaf. We liked that this memory foam mattress features an organic, quilted cotton covering that's breathable, comfortable, cool, and safe.
And speaking of comfort, there's also a cooling spinal gel to help regulate temperature and provide extra lumbar support, while the multi-layer eco-friendly support foam creates deep body contouring — perfect for heavy sleepers.
The 5-pound eco-friendly memory foam is naturally cooling, and best of all, there's no off-gassing.
Memory foam is not as ideal as hybrid construction for heavy people, and the mattress is pretty pricey. Information on Loom & Leaf's warranties is also difficult to find.
Pros
Cooling gel
Extra lumbar support
Cotton covering
Cons
Expensive
Memory foam
Limited warranty information
The Saatva HD is ninth in our ranking of best mattresses for heavy people. This mattress is designed for people weighing as much as 500 pounds, with plush upper layers, as well as a highly durable coil base.
If back and joint pain are issues for you, we especially liked the HD's patented Spinal Zone active wire, adding extra support in the center third of the mattress. Additionally, five-zone Talalay latex provides maximum relief for all your pressure points.
And the HD will last, with 12.5-gauge steel coils, stronger than the industry standard, helping to prevent any sagging or dipping.
If you're a hot sleeper, the HD is layered with breathable organic cotton, and made from 100% natural latex, with open coils to create maximum airflow for a cool night's rest.
What we didn't like was the price. If you can swing it, this mattress is great. But there are more inexpensive options available with better warranties. If you prefer to shop in-store, tough luck — this mattress is only available online.
Pros
Spinal Zone active wire
12.5-gauge steel coils
100% natural latex
Cons
Only sold online
Very expensive
Better warranties available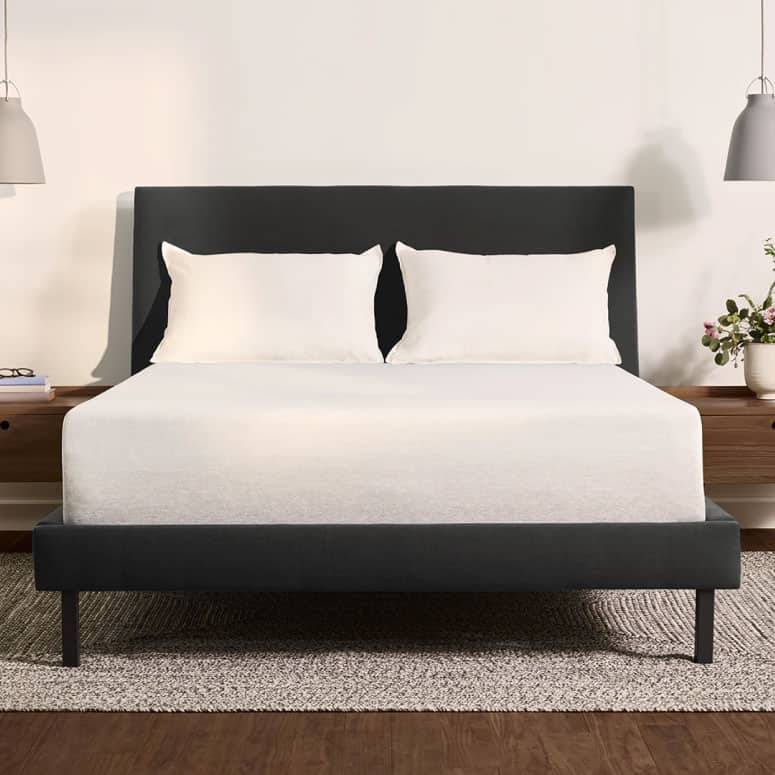 The last mattress in our ranking is the Wave Mattress, a relatively new product from Casper.
The Wave Mattress is ideal for heavier people because it comes constructed in one of 2 ways: all foam, or hybrid foam and springs — your choice.
This mattress is also 13 inches, with 5 layers of premium foam, hyper-targeted support, a velvety soft top layer, and a humidity-fighting wool cover.
On top of all that, there are targeted gel pods to support your hips and core. The hybrids also feature enhanced edge support, with a firm perimeter, which makes getting into and out of bed as easy as possible.
We'd love for this feature to come in the all-foam option as well, and you will end up paying quite a bit for this mattress. For the price, we wish Casper would offer something longer than a 10-year warranty, but they do at least back their product with a 100-night sleep trial.
Pros
Targeted gel pods
Enhanced edge support
Two construction options
Cons
Very expensive
Only a 10-year warranty
Some features not in foam
Related rankings
For heavy people, buying the best mattress is only the first step. What else do heavy people need to get a good night's sleep? We have the answers.
What is the best bed frame for a heavy person?
In addition to the right mattress, heavier people need to have the right bed frame. Here's what to look for in a new bed frame.
Weight limit: The weight limit is the most important factor. Make sure the bed frame can handle your weight and the weight of your partner, or any weight fluctuation in the foreseeable future.
Under-bed storage: Under-bed storage may be a priority when you buy a new bed frame, whether you're heavy or not. We suggest going with any bed frame that will give you at least 8 inches of space under your bed.
Easy assembly: The best bed frame for a heavy person is easy to assemble because getting up and down off the floor can be challenging. We say go for a bed frame that folds out and locks in place.
Slats and slat spacing: Slats that are close together help reduce sagging in your mattress. Too far apart and your mattress may sink or sag between the slats. If your slats are close together enough, you might not need a box spring at all!
Mattress type: And of course, make sure the bed frame can handle the mattress you bought from our ranking. Most bed frames can handle all sorts of different mattresses, but not all of them, especially memory foam, gel, and latex mattresses.
What is the best box spring?
You have your mattress, and you have your bed frame. Next, you need a box spring. Here's how to find the best box spring for your new bed.
First off, we'll answer what a box spring is for in the first place. Most importantly, box springs lift your bed off the ground, making it easier for you to get in and out of bed, relieving pressure on your joints. Box springs also help extend the life of your mattress.
Here are the different kinds of box springs, and some pros and cons of each:
Steel Foundation Box Springs
Pros:
Lightweight
Easy to move and assemble
Affordable
Cons:
Not ideal for foam-based mattresses. The slats are too far apart, and foam-based mattresses sink into the space between.
Wooden Box Spring
Pros:
Durable
Height
Breathability
Cons:
Another thing to consider is whether you want a low profile or high profile box spring. Also, consider your height, as well as how tall you want your bed to be when all the parts of your new bed — frame, mattress, and box springs — are put together.
You can also get standard or split box springs. Standard box springs provide excellent stability, but they're not so great when it comes time to move. Split box springs come in two pieces and are much easier to move.
Last, there's the price. Box springs can run you as little as $50 and upwards of $750 for a top-of-the-line model. However, a good price range to expect to pay on a quality box spring is right around $150.
What's the best pillow for a heavy head?
Okay, your bodyweight doesn't have much to do with what kind of pillow you should use, but what if you have a big, heavy head?
In fact, sleeping position combined with the size and weight of your head can make a big difference in the kind of pillow you should use to support proper head alignment and prevent headaches and neck or back issues.
Whether you're a back-, stomach-, or side-sleeper, we say if you've got a heavy head, pick a pillow with a high loft. The loft of a pillow measures the height and thickness of the pillow, and high loft pillows are more than 5 inches.
Lastly, pillows are made from all sorts of materials. And if you have a heavy head, it doesn't matter too much which one you choose. We recommend staying away from down pillows, as they are too soft to support your neck, which can lead to a miserable night's sleep and neck issues.
What's the best mattress for heavy people?
To answer this question, we broke down our research into three categories: best overall mattress, best eco-friendly mattress, and best priced mattress for heavy people.
Our pick for the best overall mattress for heavy people is the Titan from Brooklyn Bedding. With the Titan, you'll get responsive contouring and pressure point relief.
For an eco-friendly mattress, we recommend the Avocado Green Mattress for a fully reinforced steel perimeter, and best-in-class motion transfer.
Try the Dreamfoam Bedding Aspen Latex Mattress for the best priced mattress. With Dreamfoam, you'll get three levels of firmness, and the right level of support, no matter what your preferred sleeping position is.
RAVE Recommends
In addition to your new bed, with these items, your new sleeping sanctuary will be complete.
TRANZZQUIL Bed Pillows: These pillows from TRANZZQUIL are hypoallergenic, made from shredded memory foam with a bamboo cover, and the adjustable loft is perfect for big 'n' tall back and side sleepers.

Reazeal Anti Snoring Tongue Device: Snoring keeping you or your partner awake? Try this anti-snoring device from Reazeal. These devices are made from transparent silicone and are lightweight, effective, and easy to use anywhere.

Amazon Essentials Men's Big & Tall Knit Pajama Pant: Find pajama pants that truly fit with Amazon Essentials Men's Big & Tall pajama pants, with elastic waistband, drawstring, and single-button fly.

IN'VOLAND Women's Plus Size Shorts Pajama Set: Sleep in comfort and luxury with this spandex plus-size shorts pajama set from IN'VOLAND.

The snuggL Pillow — Total Body Pillow: Maintain proper alignment of your spine with this L-shaped, hypoallergenic total body pillow.

Dr. Kasey Nichols, N.M.D.
Dr. Kasey Nichols, N.M.D. focuses on sleep disorders and drug-free pain management utilizing both conventional and alternative medicine at his private practice,
Onyx Integrative Medicine and Aesthetics
, located in Gilbert, AZ. He served as the Director of Medical Operation and Administration at a national substance abuse disorder corporation with 16 facilities across seven states. He graduated from Cleveland University-Kansas City with a Bachelor's of Science in Human Biology, graduating with honors, and holds a Doctorate from The Southwest College of Naturopathic Medicine. He holds licenses in both Arizona and Kansas. Dr. Nichols has given numerous talks to professional organizations, given interviews for newspapers across the United States, and numerous television news interviews with ABC 15/CW 61 in Arizona, Channel 3 in Arizona, and others. Dr. Nichols has appeared in
Cosmopolitan
,
Reader's Digest
,
WebMD
,
Healthline
, and many other health and lifestyle publications.