We recommend products based on unbiased research from our editorial team. We may receive compensation if you click on a link.
Read More.
If your back is hurting, you want relief and you want it quick.
So we'll get to the point: Our pick for the best mattress for back pain is the Nectar Mattress. It's both firm and giving, keeping your spine aligned and helping your back feel better. Sleep on this mattress, and you'll wake up refreshed and ready to face your day.
Does your back hurt in the morning? It's probably your mattress.
Do you wake up a lot throughout the night with back pain, or find yourself tossing and turning to get comfortable? It's probably your mattress.
An old, low-quality, or otherwise unsuitable mattress can worsen back pain from a health condition or injury. Your mattress itself can even be the direct cause of back pain.
Find out how to identify the right mattress to help your bad back feel better with our ranking of the 10 best mattresses for back pain. And if you'd like to see our favorite mattresses for joint pain — and our favorite adjustable mattresses, and organic mattresses, and a whole lot more besides — don't miss our overall ranking of the best mattresses.
The Mattresses for Back Pain We RAVE About
A bad mattress can put you in a world of hurt. Find relief with these top picks.
How to pick a mattress that won't cause back pain
Do you sleep on your stomach, your back, or your side? Maybe you sleep upside down. It really doesn't matter, because a bad mattress can cause back pain no matter what your preferred sleeping position might be.


If your mattress is too hard, it can push on pressure points, creating misalignment and causing you pain. If it's too soft, your body sinks into the bed, resulting in bad posture — which can also lead to back pain.
The right mattress will help you maintain correct sleeping posture. After all, you can spend up to 9 hours a day on your mattress, so it should be comfortable.
Besides replacing your mattress, here are a few other things you can do to help relieve back pain:
See your chiropractor: Before you jump into buying a new mattress, get an adjustment from your chiropractor. Listen to their advice on the best sleeping position for you, as well as any pointers on how to improve your posture.
Stretch your back: Just a few moments of stretching before getting into bed and after getting out of bed can increase spine flexibility and reduce pain.
Change your sleeping position: If you're prone to back pain, experts recommend sleeping on your side with a pillow between your legs. This position helps support your hips and lower back.
Change your pillow: The wrong pillow can contribute to back and neck pain. Check out RAVE's ranking of the 10 best pillows for neck pain.
But if none of those steps have fully resolved your back pain, then a new mattress is the way to go.
How do I choose a mattress?
You're experiencing back pain, and you've decided it's time to replace your mattress. You've established your budget, and it's time to start shopping.
But what else should you consider before making your mattress-buying decision?
Here are some terms to look out for while shopping for a new mattress. If you understand what these terms mean, you're more likely to end up with a mattress that's exactly what you want.
Memory foam mattresses: Memory foam mattresses are some of the most popular on the market, thanks to their supportive, pressure-relieving qualities. However, they tend to retain a lot of body heat, and some sleepers don't like how far they sink into this type of material.
Latex mattresses: If you prefer a springy mattress, look for latex. To get a feel for exactly how firm your mattress will be, look at the density and thickness of the material. These are some of the priciest options on the market.
Innerspring mattresses: Innerspring mattresses are bouncy. They tend to minimize motion transfer when your sleeping partner gets out of bed or moves around at night, but they're not as durable as other types.
Air-filled mattress: If you like more control over your sleeping surface, consider an air-filled mattress. Air-filled mattresses allow you to adjust the amount of air in the mattress via remote control. You and your partner can even set up separate firmness preferences.
What is the healthiest sleeping position?
Your preferred sleeping position is an important factor in choosing a mattress.
If you sleep on your side, we suggest a memory foam mattress. If sleeping on your stomach is more your style, you might prefer a hybrid mattress, dense innerspring, or an air-filled mattress.
If you like to sleep on your back, your options are a little more open. Try out all sorts of mattresses to find out which one suits you best.
Do you or your partner toss and turn a lot? If so, consider a memory foam or latex mattress to keep motion transfer to a minimum.
But we're here to talk about how to get that back of yours feeling better. So here's what you need to know:
If you're a back sleeper with back pain, pick a mattress firm enough to support your back, but still soft enough to conform to your body.
If you're a stomach sleeper with back pain, select a firmer mattress to keep your spine properly aligned.
Side sleepers with back pain should pick a slightly softer mattress that allows the hip and shoulder to sink.
Got it? Good. Up next, it's our ranking of the 10 best mattresses for back pain.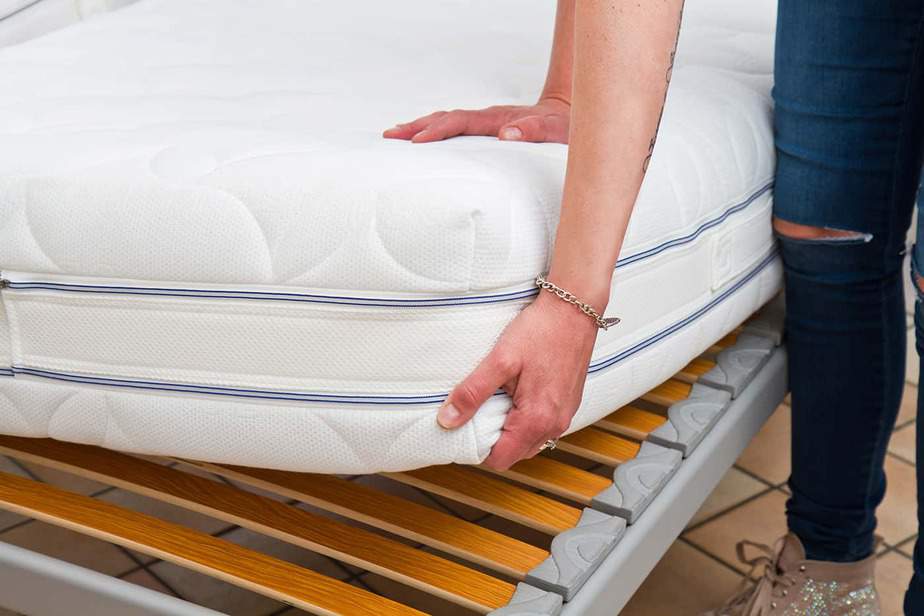 Methodology
As we compiled this ranking, we carefully examined the advantages and drawbacks of dozens of mattress models from a wide variety of brands. We triangulated similar lists from authoritative sites across the internet, while also taking into account the opinions of industry professionals and the hundreds of customers who've tried, tested, and approved these products.
For each mattress, we considered the following:
Brand reputation
Price to value ratio
Material type
Quality of construction
Sleep trial length
Warranty
Durability
Customer service
Unique or innovative features
Given our extensive analysis, we feel confident this ranking will help you find the best mattress for back pain.
Related rankings
You've picked out the best mattress for back pain. Relief is in sight. Now, let's look at a few other commonly asked questions about the mattress-buying process.
What is the best month to buy a mattress?
You might not expect the month in which you buy your mattress to have much effect on the price. But the fact of the matter is it does make a difference.
May is the best month to buy a mattress. The mattress industry tends to bring out new products in June, with peak selling season lasting through September. By May, companies are looking to clear out their older models, and offering big discounts.
Here are some other pointers to save a little money on your mattress purchase:
Buy online
Prices online are often lower than in brick 'n' mortar stores, and you can buy from anywhere in the world and have it delivered to your doorstep.
Buying online, however, prevents you from testing the feel of the mattress before making your purchase — a definite disadvantage compared to buying a mattress the old-fashioned way.
Shop on a holiday
Because it's in May, Memorial Day might be the best time to buy a mattress.
Other holidays during which mattresses are often discounted include Labor Day, the 4th of July, President's Day, and Martin Luther King, Jr. Day.
Look for deals
Shopping on Cyber Monday, on Amazon Prime Day, or from a store that's going out of business or having an overstock sale can also save you a few dollars on a new mattress.
Why are mattresses so expensive?
Mattresses are pretty expensive. But if you take a deep dive into the numbers, you'll see a new mattress is worth the investment.
The average cost of a mattress is about $2,500. Not cheap. But if you break that down based on how many days there are in a year, that becomes roughly $6.86 a day.
And if you're sleeping for an average of 8 hours a night ("yeah, right," we scoff — but seriously, do at least try to listen to your doctor on this one), that's $0.85 per hour spent sleeping on your new mattress. Share your mattress with a partner, and that number becomes a mere $0.43 per hour.
Pick a high-quality mattress, and the sleep you'll get will make that price more than worth it.
Why is sleep so important? Sleep affects mental and physical health, and getting enough of it can improve the quality of almost all aspects of your waking life. The right amount of sleep will boost productivity, improve emotional balance, and strengthen the immune system, as well as promote the health of the brain and heart.
You didn't know you were getting so much done while you were asleep, did you?
Investing in the best mattress for your back pain will not only help your back feel better — it will make YOU feel better. How can you put a price on that?
What is the best mattress for back pain?
When choosing a mattress to help relieve your achin' back, it's important to keep the following in mind:
You want a mattress firm enough to support your pressure points.
You want a mattress soft enough to contour to your body.
You need a mattress that will suit your preferred sleeping position.
In other words, you need a mattress that's just right. To find that mattress, you may need to test out a few, and you might want to consult with a medical professional before you make a final decision.
Our overall winner for the best mattress for back pain is the Nectar Mattress. Capable of molding to anyone's body, the Nectar Mattress provides optimal firmness, while also keeping you cool and comfortable. It's firm enough to support you where you need support, but also gentle and soft for unmatched comfort.
If you prefer a coil mattress, our pick for the best mattress for back pain is the Saatva Mattress. Featuring unique "coil on coil" construction, the Saatva has 2 comfort zones to help you get the rest you need —  a lower zone of connected, hourglass-shaped steel coils, and a top zone to contour to your body shape.
And if a foam mattress is more your style, go for the Tuft & Needle Mattress. Constructed from proprietary T&N Adaptive Foam, this mattress provides support, while remaining adaptable to all sorts of sleeping positions.
RAVE Recommends
Buying the best mattress for back pain isn't the only thing you can do to get a better night's sleep. Check out these 5 great mattress accessories, and we'll see you in the morning. G'night!
William Kennedy
William Kennedy is a staff writer for RAVE Reviews. He lives in Eugene, OR with his wife, daughter, and 2 cats, who all politely accommodate his obsession with Doctor Who and The Smiths.