If you know RAVE, you know that choosing The Best of Everything is what we do.
But it's pretty hard to choose THE BEST mattress, because they all vary so much. There are ones that are great for sex but not so great for joint pain, while others are dreamy for side-sleepers but nightmarish for those of you who prefer to sleep on your stomach. With dozens of brands, materials, firmness options, and sizes out there, how will you know which one to choose?
By reading our ranking, of course.
Luckily, we've done the hard work for you. We looked at hundreds of different mattress models and chose the best ones for each of 11 categories.
So if your mattress is sagging, your back is hurting, or you're missing a bit of extra bounce, you've come to the right place.
We've included America's best-loved mattress brands, as well as some exciting newcomers. So don't sleep on your mattress-buying decision any longer — get something to really sleep on!
The Mattresses We RAVE About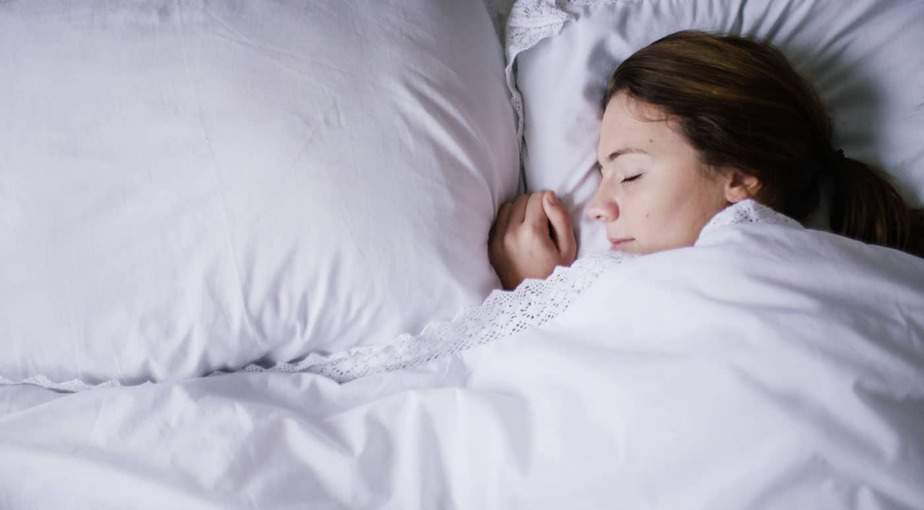 Getting a good night's sleep is essential to staying happy and healthy, but having the wrong mattress can lead to sleepless nights and painful joints.
And mattresses can cost thousands of dollars, so you definitely want to know you're making the right choice before investing a small fortune. To get you up to speed, here's what you need to know about the different types of mattresses.
Coil
Coil (also known as innerspring) mattresses vary a lot in quality and design. The quality is mainly — but not only — determined by the number and distribution of coils, which affects how well the mattress will support your body.
Different models of coil mattresses are good for different kinds of sleepers, so whether you like to sleep on your back, on your side, or on your belly, there is a good coil option out there for you. That said, coil mattresses — especially the lower-quality ones — may not be ideal for side sleepers, or for those with back pain.
Memory foam
Memory foam is a great choice, especially if you're looking for comfort and a bit of extra support. It's popular because it adapts to your body as you sleep, basically molding itself into the perfect mattress for you.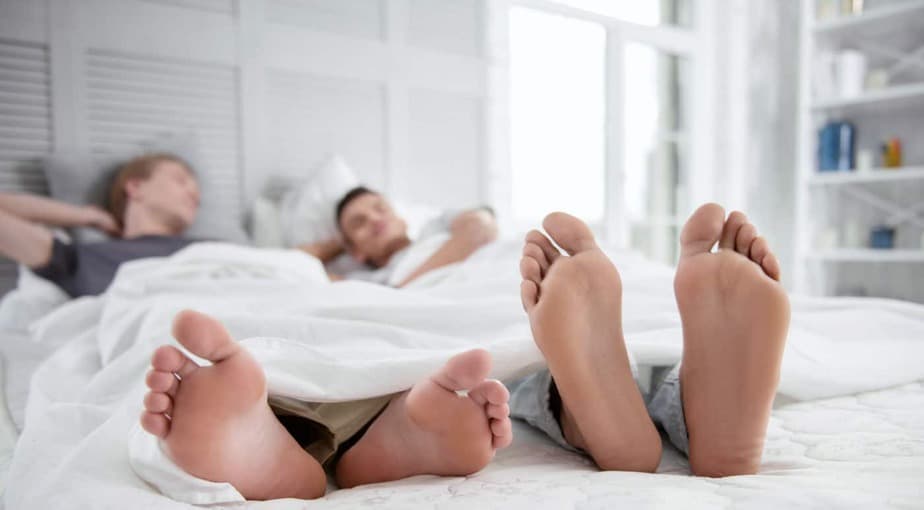 The best memory foam mattresses also contain several layers of foam, which makes the mattress less likely to sag, even after a lot of use.
However, memory foam does retain a lot of heat, so it may not be your first choice if you tend to sleep hot. Be sure to look for something that includes design elements to improve airflow and heat distribution.
Latex mattresses
Latex is made from the sap of the rubber tree, Hevea brasiliensis, and is naturally elastic. This material supports your back in a neutral position, relieving pressure and enabling healthy circulation. It tends to have more "spring" and less "sink" than memory foam.
These mattresses do tend to be some of the priciest on the market, however.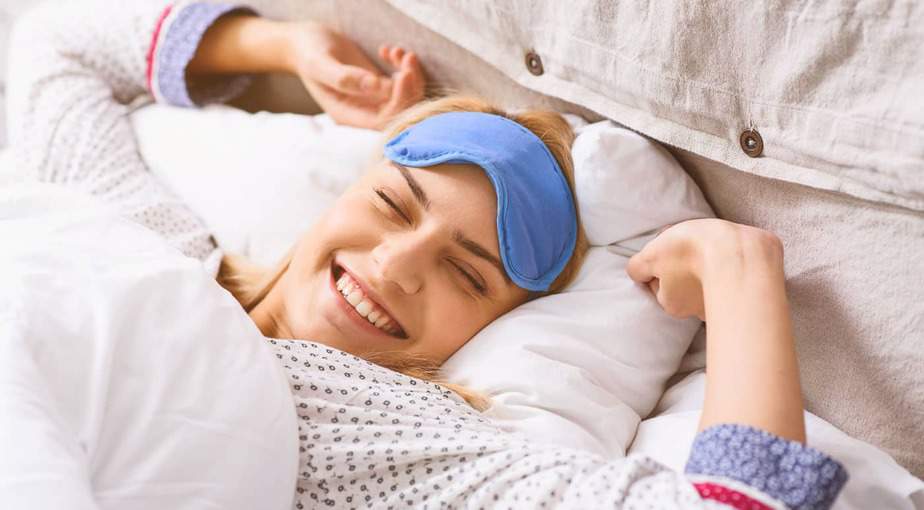 Hybrid mattresses
Good for the indecisive among us, hybrid mattresses combine a coil support core with a layer of latex or memory foam, which makes the mattress more comfortable.
The support core of a hybrid mattress is typically outfitted with pocketed coils, which are encased in fabric or cloth for more support and less motion transfer.
Waterbeds and airbeds
We won't focus on waterbeds or airbeds in this ranking, but remember that these are a quirky and comfortable option too. (And if you like the sound of airbeds, don't miss our ranking of the best air mattresses.)
You can also add a pillow top to your mattress. Perfect for side sleepers, pillow tops and other mattress toppers can be placed on top of a mattress for extra cushiony softness. They allow your body to sink a little into the upholstery, relieving some pressure from your hip and your back. Pillow tops are often used with coil mattresses, and they come in varying levels of thickness and softness.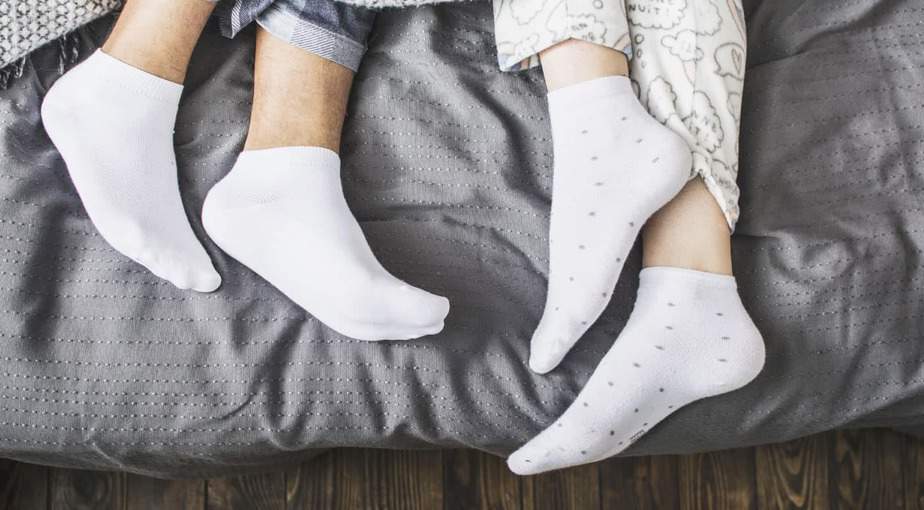 And, while this isn't strictly about materials, we wanted to say a few words about adjustable bases and mattresses (which come in any of the materials mentioned above).
These beds can be adjusted to elevate your feet, your head, or to provide more back support, so they are perfect for addressing specific issues such as backache and heartburn. But they're also great if you just want to treat yourself to a bit of well-deserved luxury!
Other things to consider
Now that you know about the different materials out there, you're almost ready to go and get your new mattress. But don't forget to ask yourself these questions:
What do you need most from your new mattress?
How long is the warranty?
What is the company's return policy?
Does the company offer any financing options?
How long is the sleep trial period?
Does delivery cost extra?
If you still have doubts about buying yourself a new mattress, just remember: You can't put a price on a good night's sleep!
Features that All of the Best Mattresses should Have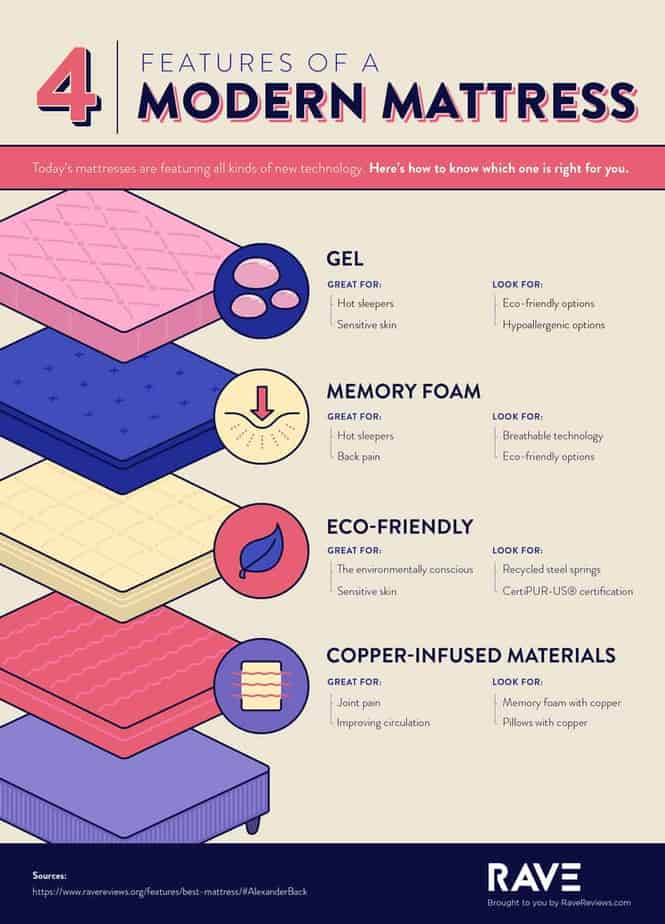 Few things are more valuable than a great night's sleep. It empowers you to meet your day head-on, no matter what challenges it may bring. That's why it's worth your while to find the best mattress for you.
Not sure where to begin? Start with what you need most in a mattress. Here are some of the most popular modern materials hitting the market today, and how they can help you sleep more soundly.
Gel
Are you a hot sleeper? Do you have sensitive skin? If either of these describes you, a mattress that includes a gel component may be the right fit for you. Gel mattress toppers, especially, are great for cooling you off all night long — and if you look for hypoallergenic models, you'll ensure that your mattress doesn't cause any frustrating skin irritation.
Eco-Friendly
For the environmentally conscious, the advent of the eco-friendly mattress has been fabulous news. But going green doesn't have to mean sacrificing comfort. You can find certified green mattresses with materials such as recycled springs that are just as cozy — and just as great for people with sensitive skin — as any other mattress.
Copper-Infused Materials
If you suffer from joint pain, try a memory foam mattress or pillows that are infused with copper. This material also improves your circulation.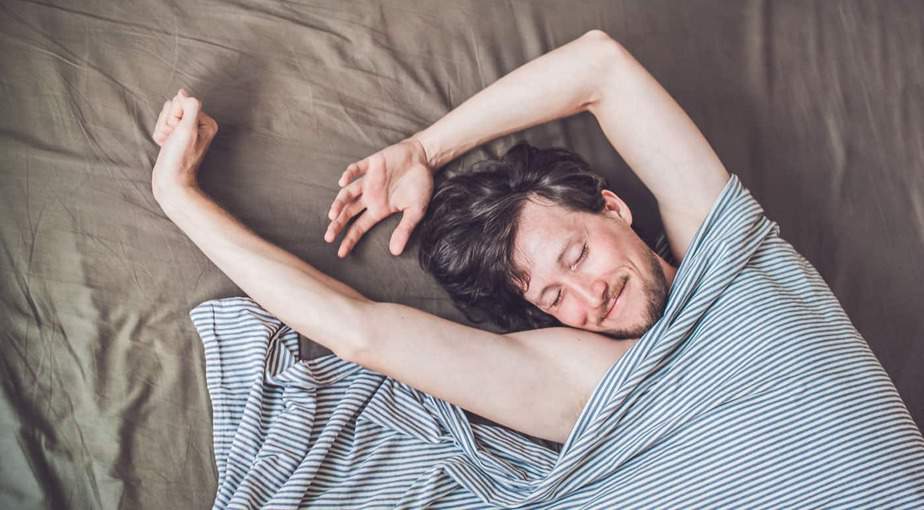 Methodology
It took us weeks to build this definitive mattress ranking. We trawled through thousands of consumer reviews by people who've been sleeping, romping, and napping on these mattresses for years. We also took advice from sleep experts and mattress fanatics, to get a real sense of the brands that are the best of the best in the mattress industry.
We created a scoring system to rate each mattress based on this real-life feedback. Using a scale of 0-100, we formulated an average across different criteria categories for a final tally and built our ranking from there. Since mattresses are all so different, we chose to pick 3 of our favorites for each category. In all categories, we were paying special attention to these factors:
Mattress lifespan
Comfort
Value
Price
Type and quality of materials used
Reputation of the company
Warranty time
Quick Navigation
Best Organic Mattresses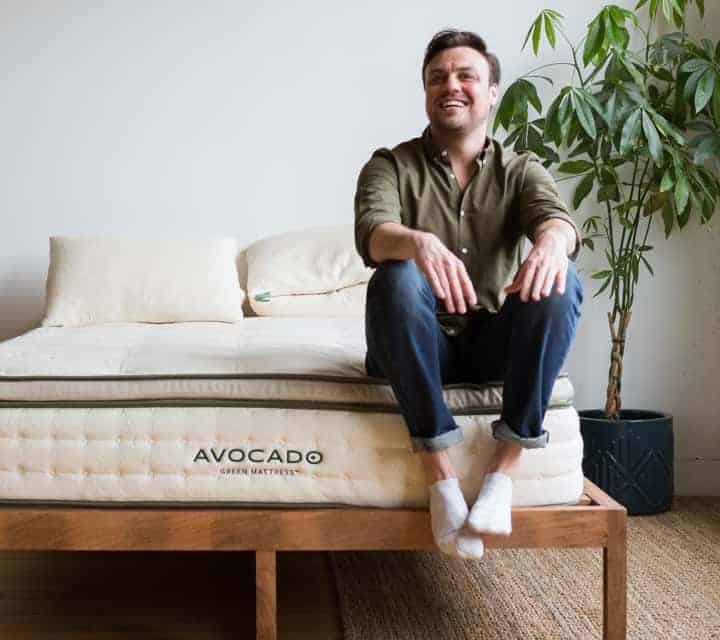 Avocado Green Mattress is made with natural and organic materials, including latex from sustainable sources, organic certified wool, and organic certified cotton. These materials are eco-conscious, durable, and comfortable.
Wool, for example, is resistant to dust mites, naturally antimicrobial, and great for temperature control. The latex conforms to your body shape, offering an ideal level of support and pressure relief.
You can choose a pillow top option if you like a medium feel, especially if you're a side sleeper who suffers from hip or shoulder pain, or you can skip the pillow top if you prefer a medium-firm mattress and like sleeping on your back or belly. Avocado mattresses all have great edge support, so you won't slide off when sitting on the edge of the bed.  And one more perk: Free shipping anywhere in the USA!
Pros
25-year warranty
2 firmness options
Great pressure relief
Cons
Can be noisy
Very heavy, difficult to move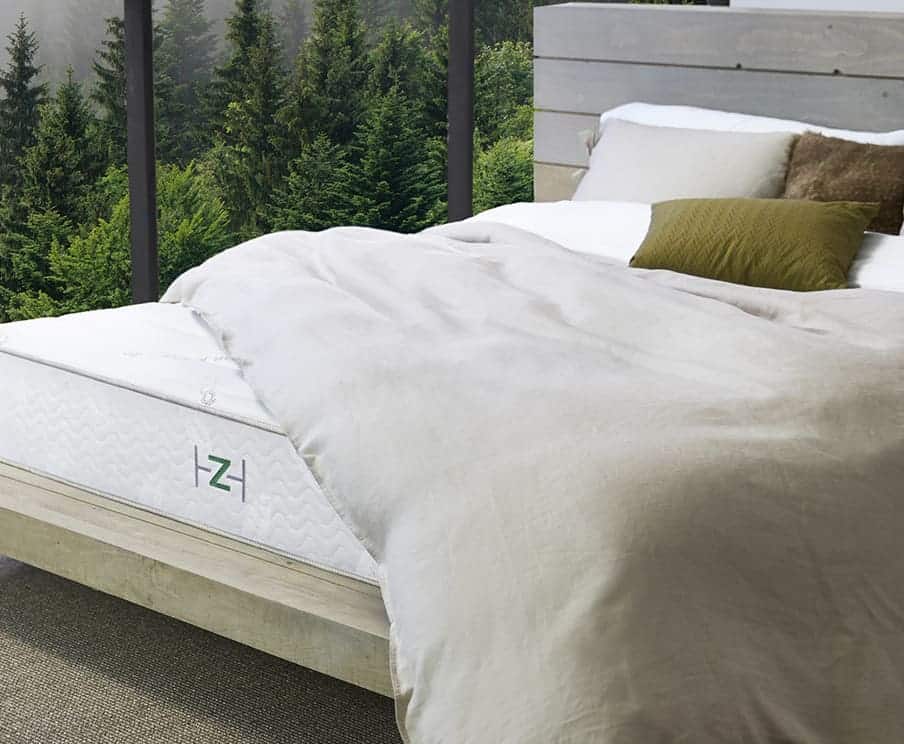 The Zenhaven is a latex mattress with an innovative double-sided design. On one side, the mattress has medium-soft firmness, while the other is firm. You can choose between the 2 depending on how your back is feeling, or who your guests are.
Latex is a great organic option, as it is both natural and extremely comfortable. It instantly responds to the curves of your body to give you the best possible support. This material also resists mold and microbes, so with the right maintenance, this mattress will stay clean and fresh for a long time.
Zenhaven is part of mattress company Saatva, so you can trust their trademark reliability and good customer service.
Pros
20-year warranty
2 different firmness levels
Not noisy
Cons
Heavy
Long delivery times
3
Tuft & Needle Mint Mattress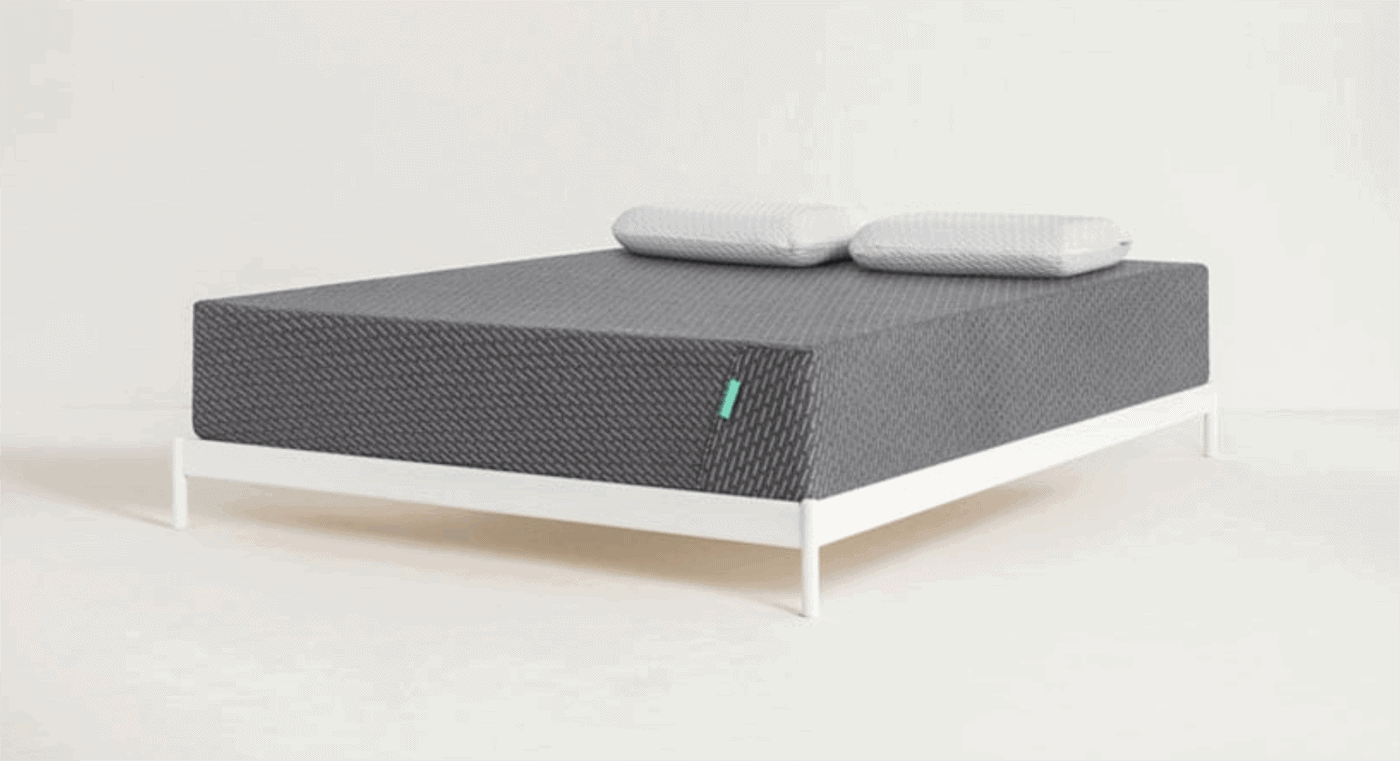 Tuft & Needle is a relative newcomer on the mattress scene, but they have been extremely successful since they started. And it's no wonder: Their mattresses are known for providing excellent motion isolation and not producing any noise when bearing weight – making this a perfect mattress if you move around a lot (alone or with company!).
Although Tuft & Needle's mattresses are usually in the budget range, their new Mint Mattress model is an upgraded option. It features added support and a plush top layer, as well as improved edge support. Like its predecessor, the Mint is made with unique graphite-infused gel memory foam for improved temperature regulation.
One important note: The Mint mattress is an honorary mention rather than a true organic mattress. The foam in T&N mattresses, although technically synthetic and not organic, is certified by 3 leading safety and environmental agencies (CertiPUR-US, OEKO-TEX Association, and UL GREENGUARD GOLD) to be free of harmful chemicals, including carcinogens, ozone depleters, and PBDEs.
Pros
Affordable
Above-average pressure relief
Improved edge support
Cons
Only 10-year warranty
Not great for heavy people
Only ideal for side sleepers
Best Adjustable Mattresses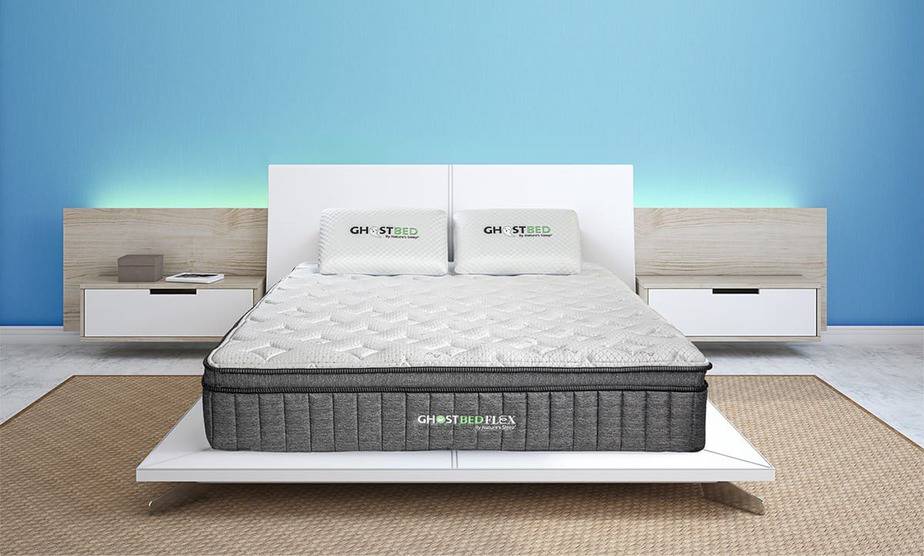 GhostBed is widely considered one of the best bed-in-a-box brands around, and yet it continues to innovate and improve. The new GhostBed Flex hybrid mattress offers both the robust support of individually wrapped coils and the premium comfort of gel memory foam. Out of the brand's lineup, this is GhostBed's most plush mattress.
But that is putting it simply. The GhostBed Flex has 7 layers, expertly designed to support your pressure points, relieve aches and pains, and cool your body. The innovative use of gel foam throughout the mattress absorbs and dissipates body heat, letting air circulate through the foam to keep you cool.
You can combine this mattress with one of GhostBed's super-technological adjustable bases, which provides several ergonomic positions, incredible massage technology, under-bed LED lighting, USB ports, wireless remote control, and more.
Pros
20-year warranty
Great for back and joint pain
Not noisy
Cons
Expensive
Not the best motion isolation
Not great for all side sleepers
2
Lucid Latex Hybrid Mattress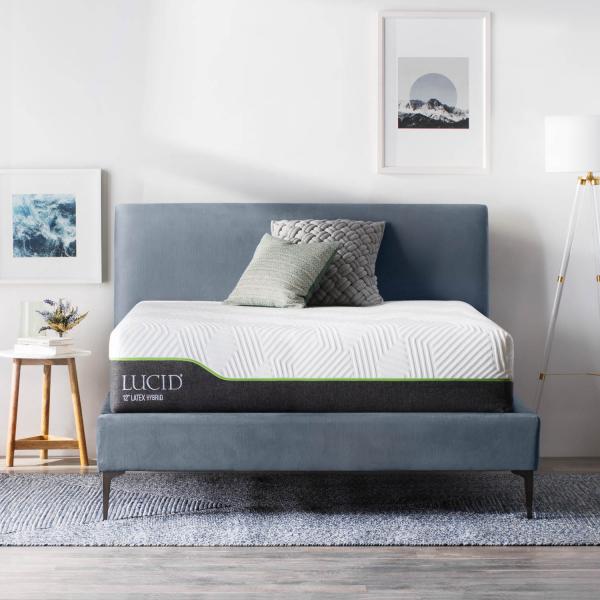 Another well-known bed-in-a-box brand, Lucid makes a wide range of mattresses and accessories to help you sleep tight. This Latex Hybrid Mattress offers more support and push-back than standard memory foam. There are several thickness options, but we particularly love the 12-inch mattress. This is the perfect mattress for you if you want the comfort of memory foam and the hypoallergenic properties of latex.
The layered latex, memory foam, and transition foam on top of individually encased steel coils provide support, comfort, and motion isolation — meaning you won't feel jostled about when your bed companion moves.
You can combine this mattress with one of Lucid's adjustable bed bases. (Check out this great offer, which gets you a Lucid Adjustable Bed Base with Full Latex Hybrid Mattress for only $950.) The adjustable base offers a head incline (0 – 60 degrees), foot incline (0 – 45 degrees), and dual USB charging stations on both sides of the bed base.
Pros
Incredible value
Good edge support
Great for couples
Cons
Plastic-like odor when new
Below-average durability
10-year warranty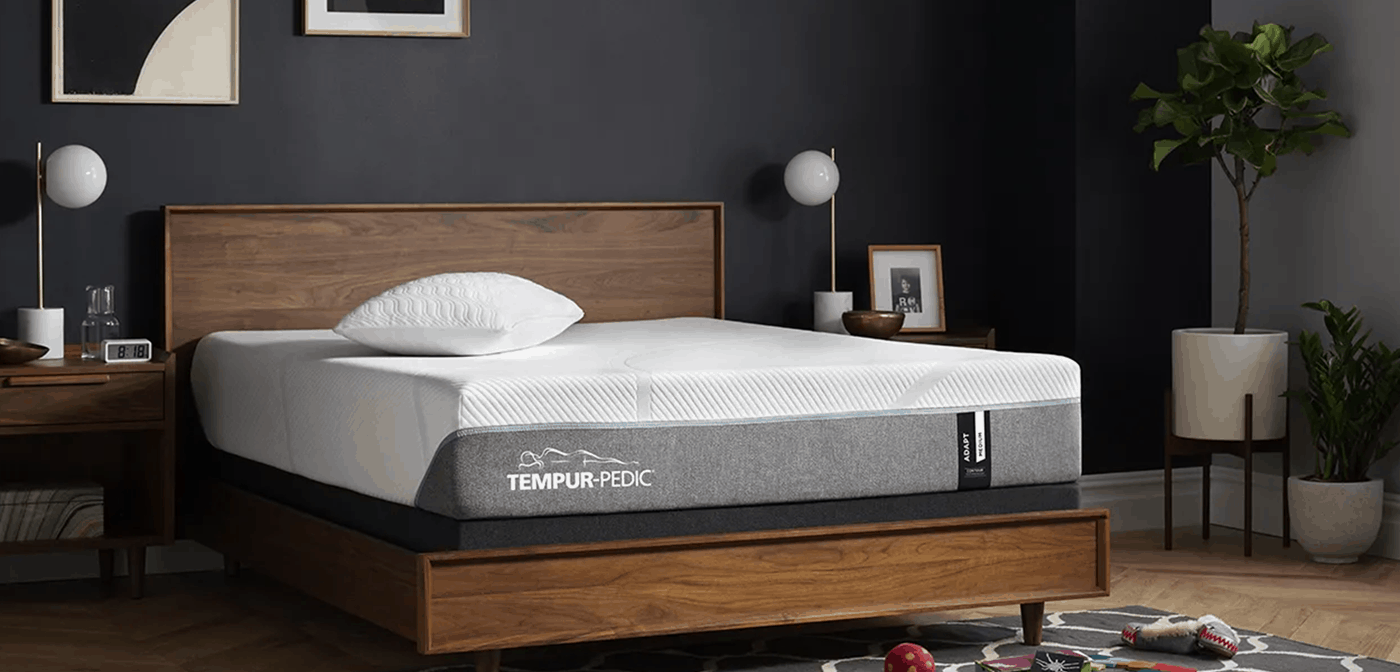 TEMPUR-Adapt mattresses come in an all-foam option and a hybrid option. We particularly love the hybrid: The foundation layer is made of 1,000 spring coils that are individually wrapped to reduce motion transfer, but still offer plenty of support. It also comes with a knit cotton cover with cooling gel technology that keeps you comfortable while you sleep.
Along the sides of the mattress is a thick layer of foam that acts as a border for the coils, and gives the edge some extra support. Like its all-foam sister, the hybrid model has a medium feel, and both are good for people sleeping in all positions. However, if you're someone who moves around a lot, you might feel like the memory foam slows you down a bit.
Combine this mattress with one of Tempur-Pedic's amazing adjustable bed bases, which come in a variety of models with loads of different functions. These beds are pricey, but there's no doubt they're some of the best on the market.
Pros
Good for all body types
Trusted brand
Active cooling cover
Cons
Not great for side sleepers
…or for people who move a lot
Long "break-in" period
Best Cheap Mattresses
1
LinenSpa Latex Hybrid Mattress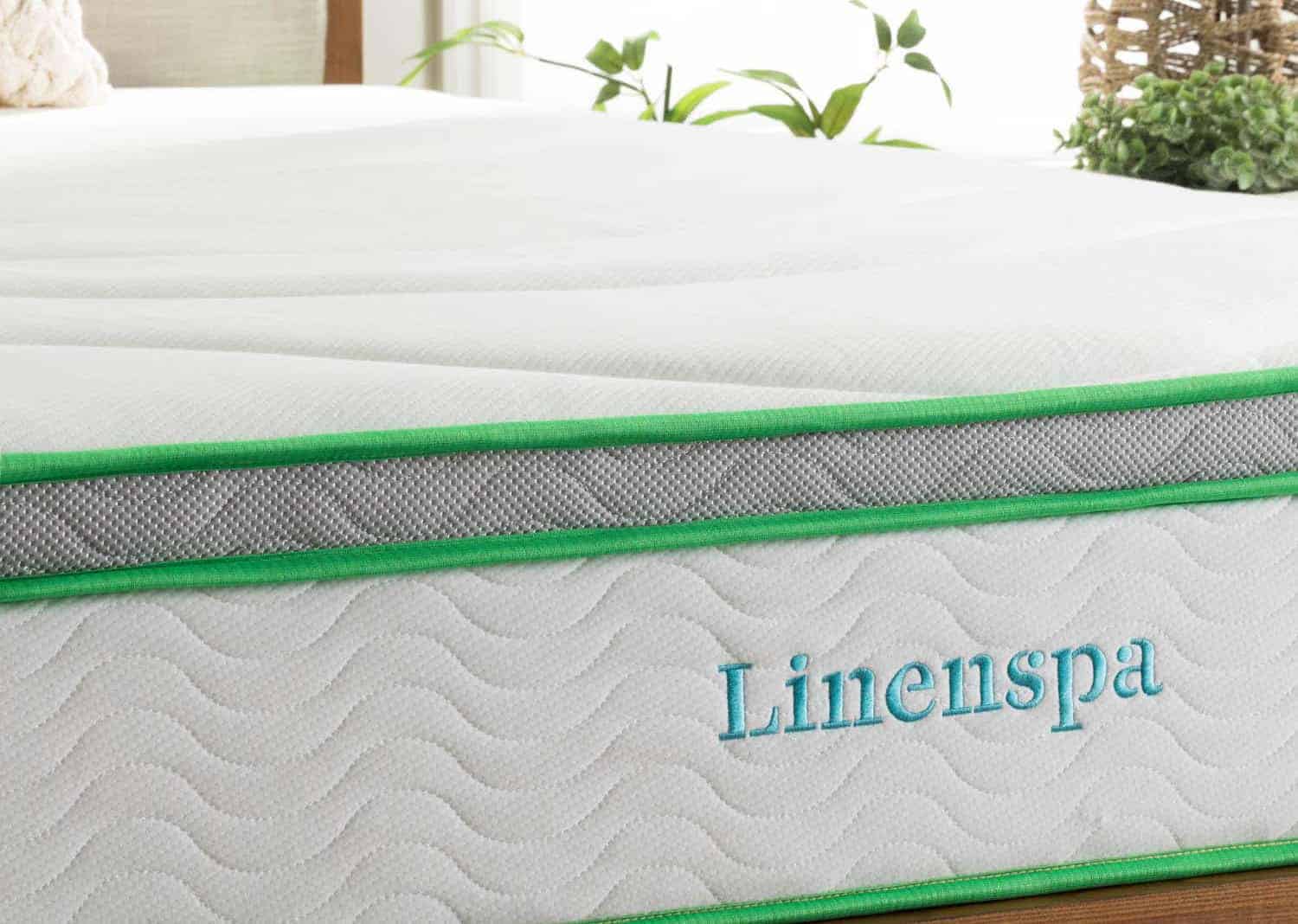 If you're on a budget, the LinenSpa Latex Hybrid Mattress is a godsend. It combines the support of latex with the bounce of individually wrapped coils, but doesn't cost a fortune. The coil base is topped with 3 inches of foam and latex, so the mattress responds quickly and molds around the curves and angles of your body.
Although the individually wrapped coils are supposed to limit motion transfer (meaning in theory, you could be sipping a glass of wine while your bed companion bounces around), they don't offer total movement isolation — which is hardly surprising for a mattress at this price point.
Still, that's a minor complaint, as this mattress is pretty great overall. Because it is a hybrid that combines lots of different elements, it will be a good fit for most body types and sleeping styles. The price on Amazon varies a lot, so keep an eye out for great offers.
Pros
Good for all body types…
…and types of sleepers
Great value
Cons
Not American-made
Average movement isolation
Can get hot
2
Zinus Green Tea Mattress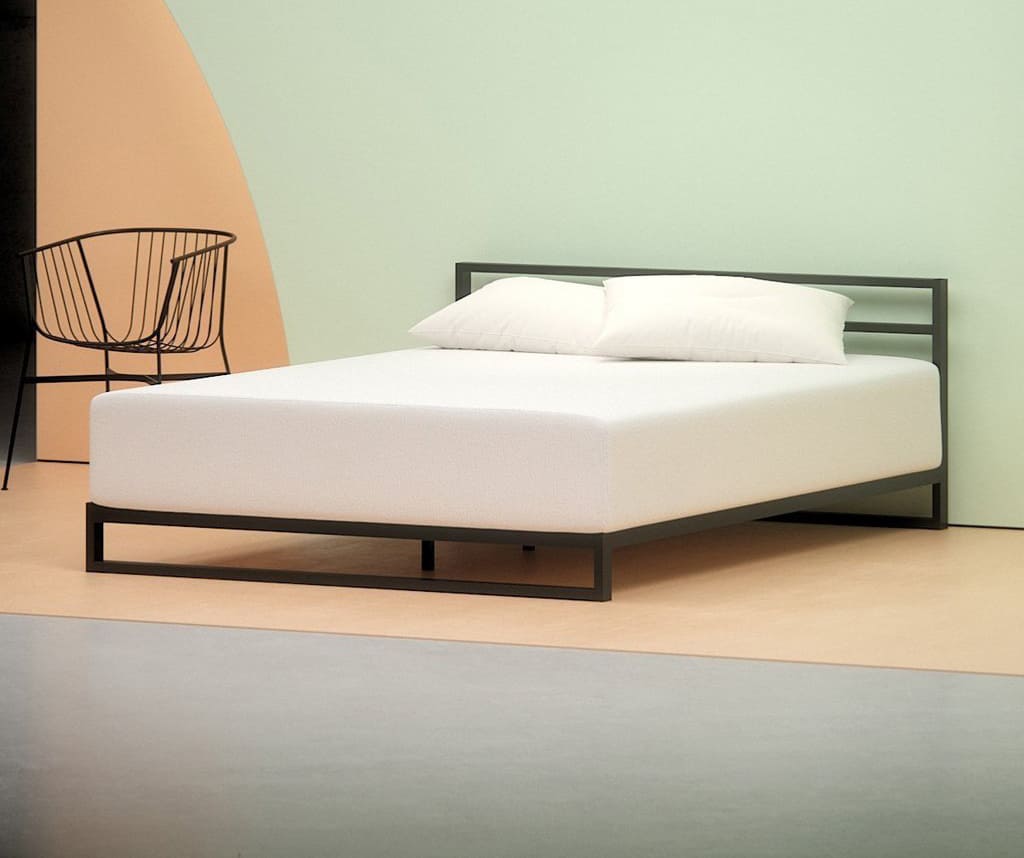 If you love the feeling of memory foam but don't have a fortune to spend, the Zinus Green Tea Mattress is a great option. This super comfy mattress is made with 3 inches of memory foam, 2 inches of comfort foam, 3.5 inches of well-ventilated high-density foam, and 3.5 inches of base support foam.
That's a lot of foam! All those layers are great at supporting your body and providing you with the proper spine alignment, which can help banish your aches and pains. And the whole thing is infused with natural green tea extract to keep the mattress fresh and clean.
Like most foam mattresses, the Zinus isn't the coolest one around. This is not to say you'll wake up sweating, but you might want to go for lighter sheets as opposed to heavier ones. And again, as with many foam mattresses, you might find a strong chemical smell when you open your new mattress — but that should not last long if you air it out.
Pros
Good motion isolation
Great value
Infused with natural extract
Cons
Too firm for some
Strong smell when new
Not great if you need extra support
3
Lucid Gel Memory Foam Mattress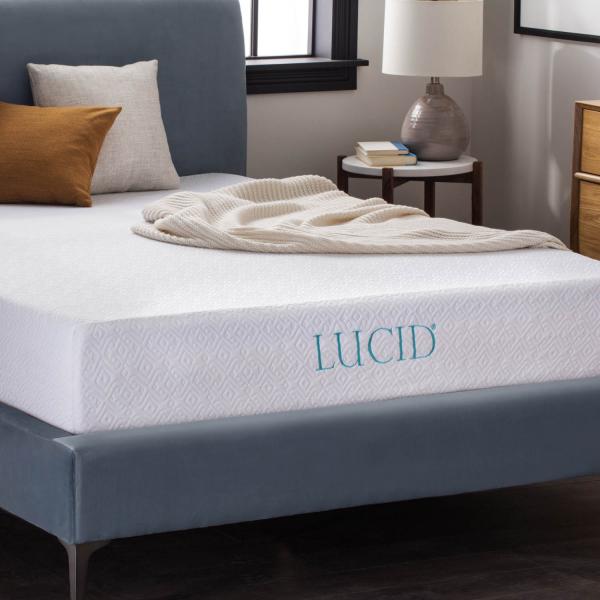 By now, you probably know that we love a good bargain, and that's why we love Lucid mattresses. In addition to making one of our favorite mattress/adjustable bed combos, they also make some excellent budget options. The popular Lucid 10-Inch Gel Memory Foam Mattress is a good all-around mattress, and it happens to be one of their bestselling models.
The mattress has a medium-firm feel (although many folks say it's firmer than they expected) and is great for back sleepers. Although it is only a fraction of the price of most mattresses, the Lucid Gel Memory Foam Mattress still offers good support and comfort: The memory foam conforms to your body to alleviate pressure points, while the ventilated design helps to increase airflow, keeping you cool and comfy.
You can also add a topper to make the mattress softer if you need it (and remember, you can always make a mattress softer, but you can't make it firmer!).
Pros
Excellent value
Breathable
Good budget topper options
Cons
Very firm
Can "collapse" after some time
Below-average edge support
Best Mattresses for Side Sleepers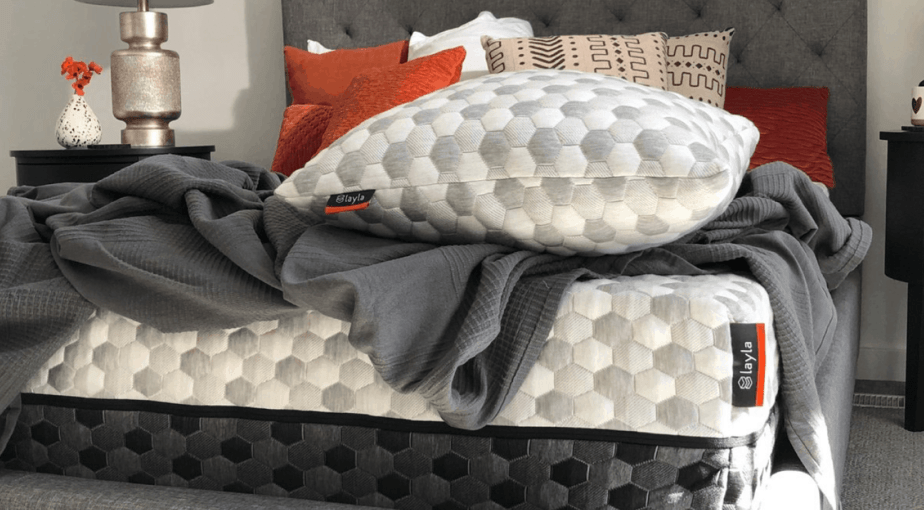 Another favorite of ours: The Layla Mattress is an all-foam, copper-infused, flippable mattress that offers 2 different firmness options for the undecided among us. The copper has cooling benefits as well as antimicrobial properties, meaning you'll be able to sleep cooler and keep your mattress clean for longer.
The copper also enhances the support that the foam provides naturally, making this a perfect mattress for side sleepers. You'll be sinking just enough to feel like you're enveloped and supported in all the right places.
Layla only offers one mattress, which means they're pretty confident about their product. That must be why they offer a lifetime warranty, too. As with other foam mattresses, this one can smell pretty strongly when you first open it. But as long as you make sure to air it out a bit before you use it, we can (almost) guarantee you'll be happy with it.
Check out our full ranking of the best mattresses for side sleepers.
Pros
Flippable design
Infused with copper
Lifetime warranty!
Cons
Below-average edge support
Flipping is not easy
Some off-gassing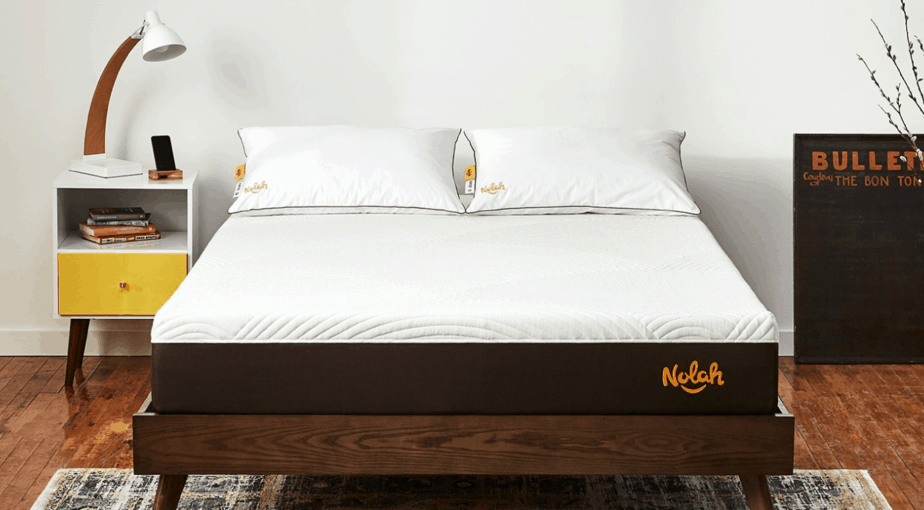 The design of the Nolah Original ensures that your hips and shoulders can sink while you sleep on your side, meaning they don't have to take all the pressure of your body weight. Because of this, the Nolah is a great option for side sleepers of all weights and sizes, and it's not bad for back sleepers either!
Because it is made of foam and doesn't have much bounce, this is a good option for couples — you'll be able to sleep peacefully even if your partner rolls around on their side (one of the more annoying aspects of sharing a bed!).
Nolah mattresses are exclusively available for sale on the Nolah website, so you won't be able to try it out in traditional retail shops. While this is an inconvenience for some folks, consider: Nolah allows you to adopt and support a wild animal when buying this mattress, which we think is cute and big-hearted.
Pros
Ideal for many body types
Great motion isolation
Great pressure relief
Cons
Below-average edge support
Not much bounce
Some off-gassing
Another one for the side sleepers: The Nectar Mattress molds to your body, relieving pressure and preventing aches and pains that sometimes come with firmer mattresses. But don't worry about sinking into it, as the Nectar is still firm enough to provide good support.
This is due to Nectar's use of gel memory foam, which prevents you from feeling like you're "stuck" — a common feeling in many memory foam mattresses. It also helps you to stay cool by regulating temperature while you sleep.
If all of this sounds good to you, go ahead and order yourself a Nectar: You can try it out at home for a whole 365 days. And if you do love it (as we suspect you might), Nectar offers a lifetime warranty. But beware: If you like to sleep on the edge of the bed (or you end up sleeping there due to overcrowding), you'll want to consider something different.
Pros
365-night sleep trial
Lifetime warranty
Good motion isolation
Cons
Weak edge support
Unreliable customer service
Strong chemical smell when new
Best Mattresses for Stomach Sleepers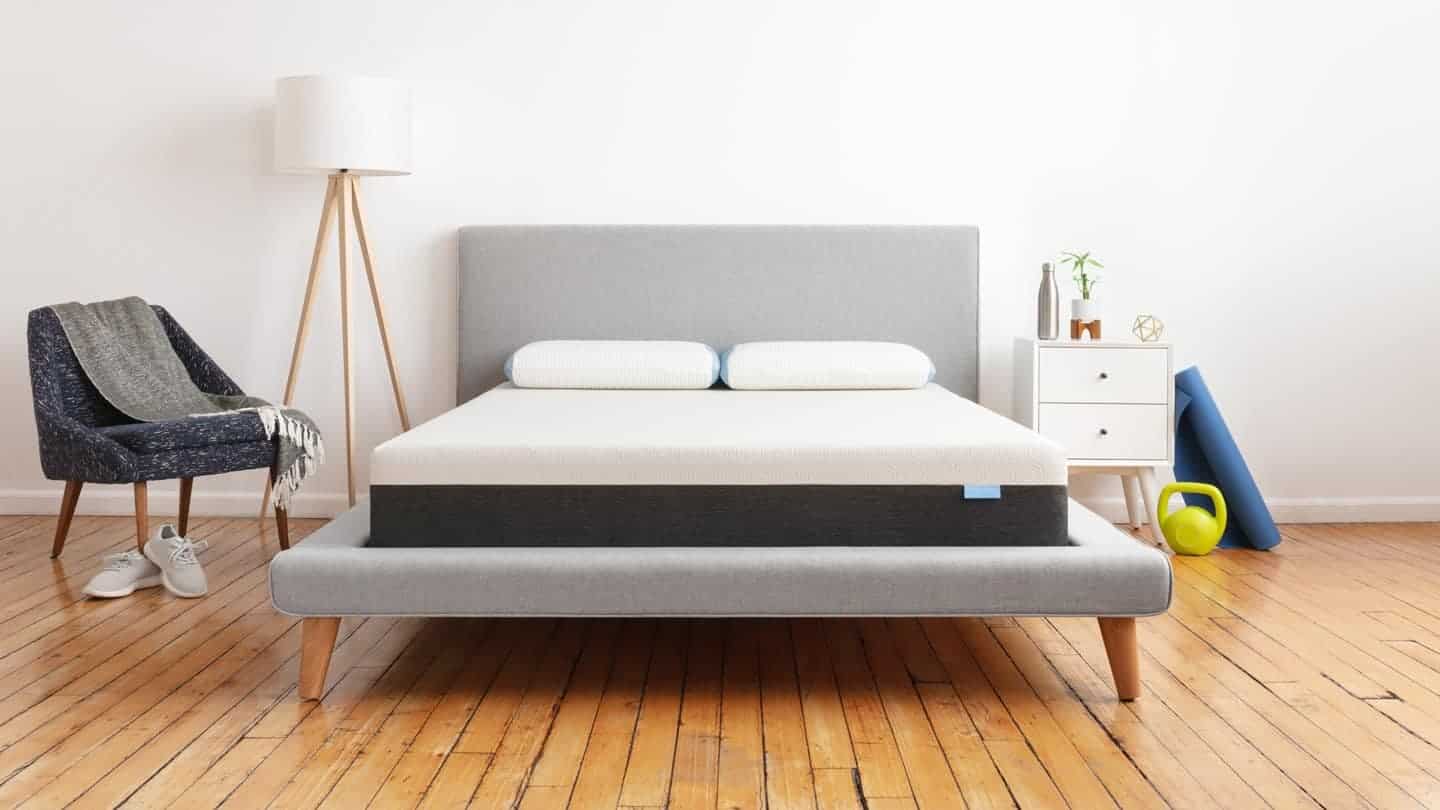 If you like sleeping on your stomach, you'll want to go for something that isn't too soft, so that you don't feel like you're sinking into the bed. The Bear Mattress is a great option, as it has the perfect medium-firm feel thanks to its innovative construction and high-quality materials.
This product was specially developed with athletes in mind, so it's good at soothing achy joints and muscles. Its top cover uses Celliant technology, which is proven to reduce aches and pains. Just beneath that is a graphite-infused gel foam layer, which will help keep you cool.
This is a great mattress for stomach sleepers who suffer from painful backs, but it might be too soft if you're on the heavier side. If you'd consider yourself a heavier-than-average person, keep reading — we'll cover the best mattresses for heavy people in a bit.
Pros
Celliant cover reduces aches
Great price for quality materials
No off-gassing
Cons
Only one firmness option
Can be a little plush
Lacks edge support
Foam is known for its contouring and conforming properties, which makes it perfect for side sleepers. But what if you sleep on your stomach and you love the feel of memory foam? We have the perfect solution for you: Saatva's Loom & Leaf mattress has all the qualities of a good foam mattress, but it won't make you feel like you're sinking face-down in quicksand.
Even better, Loom & Leaf comes in 2 firmness levels, Relaxed Firm and Firm, so you can personalize your mattress depending on your size, weight, and personal preference. Many stomach sleepers choose the firmer option, which is great for heavier people too. If you're petite and prefer a plush feel, the Relaxed Firm might still work well.
This product also utilizes cooling technology that allows the mattress to disperse heat efficiently, ensuring you don't get too hot. The Loom & Leaf is a bit more expensive than other foam mattresses, but if you have room in your budget, you won't regret investing in such a durable and comfy mattress.
Pros
2 firmness options
Above-average motion isolation
Good for heavier-weight sleepers
Cons
Expensive
Weak edge support
Can get hot
Leesa is a mixed foam mattress that is medium-firm and extremely popular with stomach sleepers. Like its hybrid sister mattress, the Sapira, the Leesa has a plush feel to it and offers a perfect balance between support and comfort as it relieves pressure from your shoulders and pelvis.
The Leesa is composed of a polyfoam layer, a memory foam layer, and a supportive base layer made of high-density polyfoam. Because the materials are high quality, the mattress is quite breathable and should keep you comfy and cool through the night.
If you're a heavier person, you might want to skip the Leesa and look at a firmer option. For average and lighter-than-average stomach sleepers, though, the Leesa is a tried-and-true favorite.
Pros
Sleeps cooler than most foam
Strong motion isolation
Relatively light and easy to move
Cons
Not great for heavier people
One firmness option
Average edge support
Best Mattresses for Sex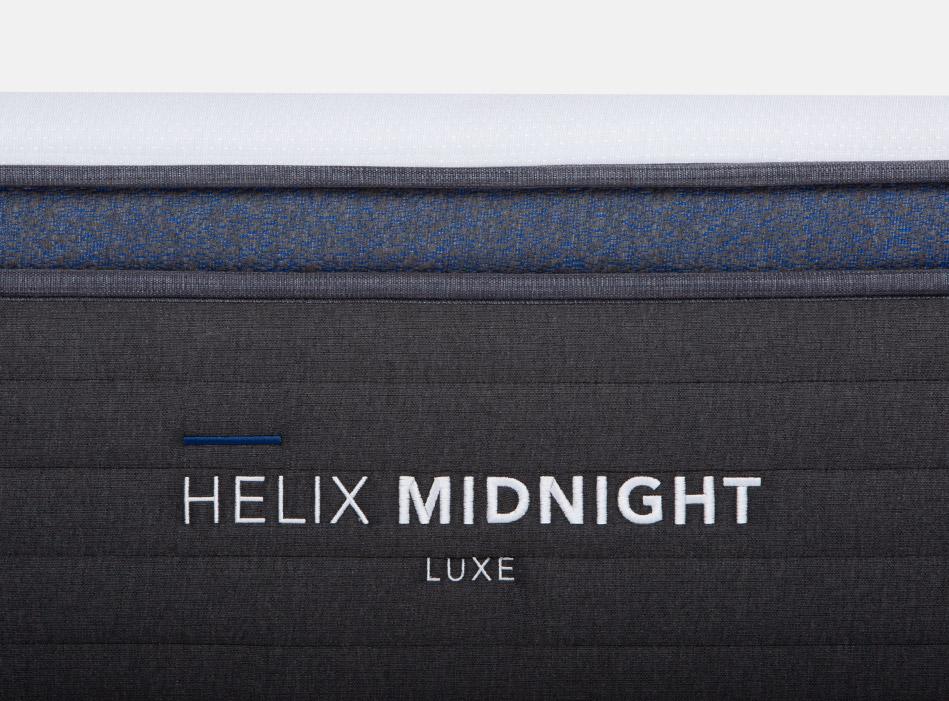 What should you look for in a mattress if you plan on having countless hot and steamy nights (lucky you!)? First of all, you need to think about the response time, meaning how fast the mattress adjusts to your movement and your change in positions. If the response time is too slow, you might feel like you're being slowed down (which is not always a good thing!).
Helix mattresses are known for having great response time, making this our favorite mattress for getting it on. We especially love the Midnight Luxe model, which comes with an innovative and luxurious pillow top and helps absorb all that extra heat.
The Helix Midnight is of medium firmness, and it offers some super comfy targeted cushioning. Once you're ready to fall asleep, don't worry about being woken up by your bed companion tossing and turning — the Helix is great at motion isolation, too.
Pros
Good motion isolation
Not noisy
Customizable mattress firmness
Cons
Not the most durable
Limited height options
Not great for bigger people
2
DreamCloud Luxury Hybrid Mattress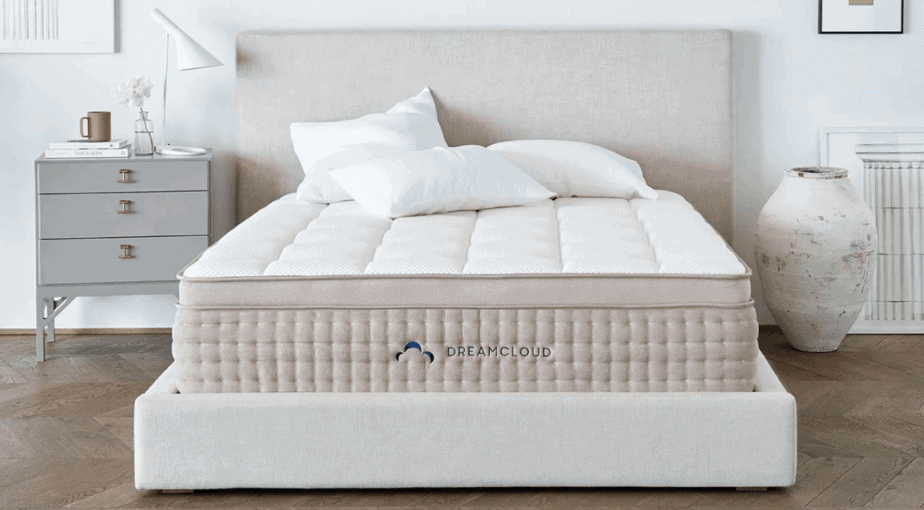 Hybrid mattresses are generally great for couples wanting to have fun, as they are bouncier than their foam counterparts. The hybrid DreamCloud meets our criteria for what a great sex-bed should provide: It's comfortable, bouncy (but not too bouncy — nobody wants to worry about going flying into the ceiling), and supportive.
It is made of 8 unique layers, from a tufted cashmere cover that improves airflow to gel memory foam in the uppermost comfort layer (both of which help keep you cool), all the way to the bouncier latex and coils in the core. Although there are several foam layers in the DreamCloud, don't worry about getting that sinking-in-quicksand feeling that comes with many foam mattresses.
If one of you is a side sleeper, you might find this mattress a bit uncomfortable once all the action is over, as it's a bit firm and might hurt your shoulder and hip. But give it a try before you decide, since it's all up to personal taste. And in that regard, you're in luck: DreamCloud offers one of the longest sleep trials in the industry, so you have time to decide!
Pros
365-night sleep trial
Luxurious but good value
Lifetime warranty
Cons
Below-average edge support
A bit too firm for some
Not great for small side sleepers
3
Love & Sleep Mattress from Nest Bedding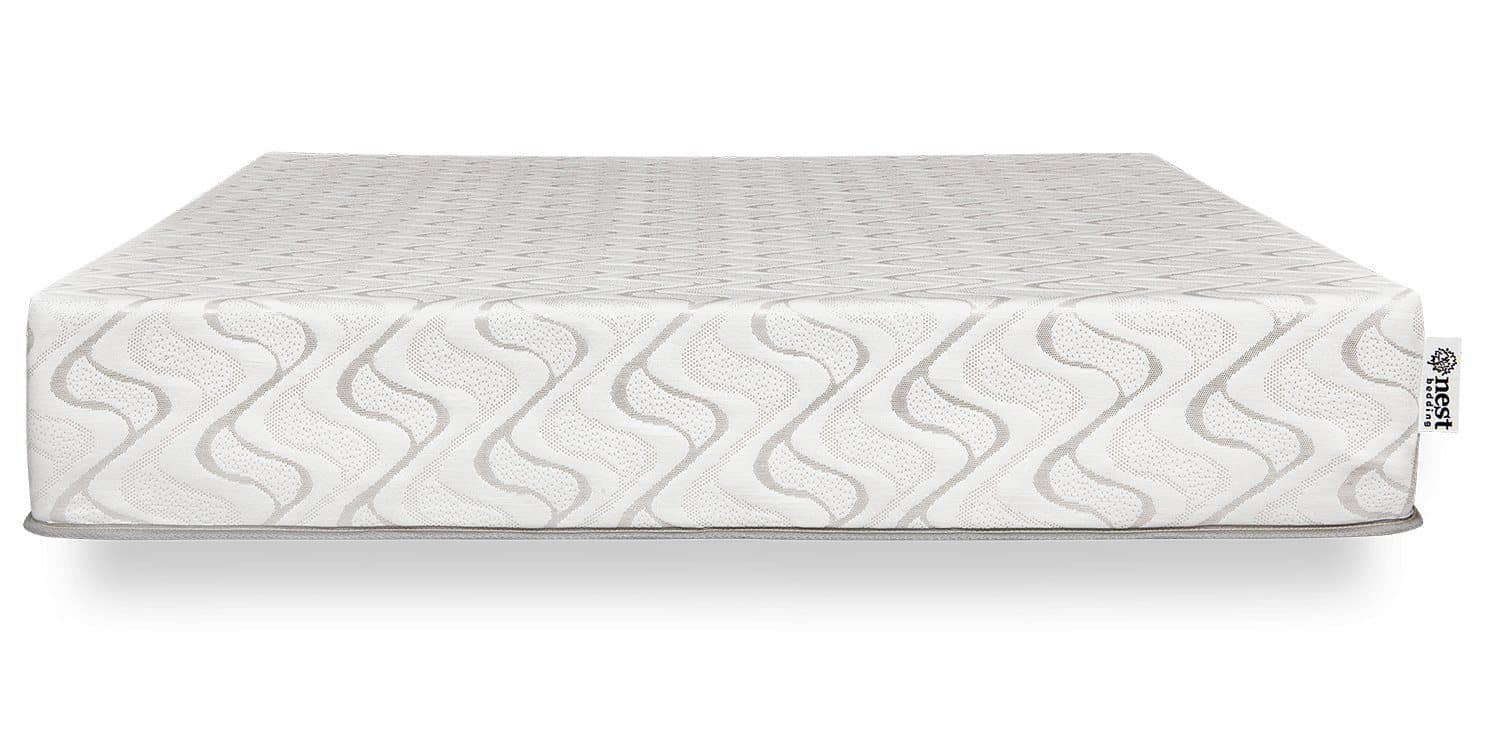 Nest Bedding was one of the first direct-to-consumer companies to sell bed-in-a-box mattresses. Right now, they offer 6 different models, all of which are pretty great. The Love & Sleep mattress is perfect for those sleepless nights (the fun kind!), as it is supportive and soft, as well as breathable and bouncy.
Although memory foam mattresses are often too soft to be ideal for sex, the Love & Sleep manages to give you that memory foam feel without making you disappear into the bed. The mattress is available in 2 firmness options, and it's designed with layers of memory foam and polyfoam.
Nest Bedding says that the Thermic Phase Change Cooling Fabrics in this mattress help you get cool after your romp, and stay cool while you rest. However, some consumers say that it's not as cool as it claims to be.
Pros
Very quiet
Great motion isolation
Conforms to your body
Cons
Weak edge support
Strong odor when new
Can be hot
Best Mattresses for Heavy People
The Big Fig is a hybrid mattress specifically designed for heavier-than-average people. It's 13-inch thickness gives a medium-firm feel with minimal sagging, so your shoulders and hips won't sink. At the same time, there is enough flexibility in the mattress to relieve the pressure off the main contact points.
The top layer is made of ventilated, gel-infused latex, and it's followed by 3 individual layers of high-density polyfoam. Most hybrid mattresses only have 2 layers, but the extra layer makes a big difference when you're heavier than most.
In addition to being supportive yet comfortably plush, the mattress is also treated with cooling technology that activates with body heat, keeping the mattress well-ventilated and cool. This mattress also has great edge support, which will make it easier for you to get out of bed in the morning.
Pros
Designed especially for heavier people
Keeps you cool
Great edge support
Cons
Difficult to move
Takes a while to break in
Only one firmness option
2
Titan from Brooklyn Bedding
The Titan from Brooklyn Bedding is a memory foam hybrid. Its design is tailored to suit the needs of heavier people. It's a rather firm mattress made with layers of gel memory foam and polyfoam, with pocketed coils that keep the surface flat for excellent support and pressure relief.
Thanks to great air circulation built into the mattress, the Titan helps to keep you cool while you sleep. It's also pretty quiet, making this a good option for couples.
Compared to many hybrids, the Titan is on the cheaper side, but don't let that fool you — this mattress doesn't skimp on quality.
Pros
Designed for heavier people
Durable
Good value
Cons
30-night break-in period
Too firm for some sleepers
Average motion transfer
3
The New Purple Mattress
Generally, high-quality mattresses are good for people of all shapes and sizes, so you don't necessarily need to look for a specific mattress if you're on the heavier side. However, there are a few different design and functionality features that can help you sleep comfortably.
The hybrid New Purple Mattress incorporates a lot of these features: A gel layer is great for relieving the pressure you might experience on various parts of your body (depending on whether you sleep on your side, back, or stomach), and it also does an excellent job of keeping you cool. The Motion-Isolating Cushion is great for reducing motion transfer, so your partner will be able to sleep even if you're tossing and turning.
The New Purple is available in 3 thicknesses (11-, 12-, and 13-inch) and firmness ranges, depending on which model you select. In our humble opinion, this mattress is worth every penny.
Pros
Keeps you very cool
Good motion isolation
Various firmness options
Cons
Expensive
Heavy
Long delivery times
Best Mattresses for Back Pain
If you suffer from back pain and need a mattress with good support as well as comfort, the Nectar is a great choice. It provides the right contour and necessary support for those with spinal alignment issues and back pain.
Nectar Sleep uses better-quality foam materials relative to many of its competitors, and it offers its mattresses at a much lower price. Using gel memory foam quilted into the bottom of the cover and a layer of memory foam beneath, the Nectar contours well, but doesn't have the "hug" often associated with memory foam beds. Both the gel memory foam and that lack of hug mean the Nectar sleeps significantly cooler than most memory foam models.
A support core consisting of high-density polyfoam is built to withstand the test of time. Given its makeup, we expect the Nectar to last at least 7-8 years, making it a durable option. The Nectar is hard to beat at this price, so if you're looking for an affordable bed built with quality materials, your search can end here.
If you're not quite sold on the Nectar, be sure to check out our full ranking of the best mattresses for back pain.
Pros
Conforms well to your body
Good value
Great motion isolation
Cons
Weak edge support
Some off-gassing
Inconsistent customer service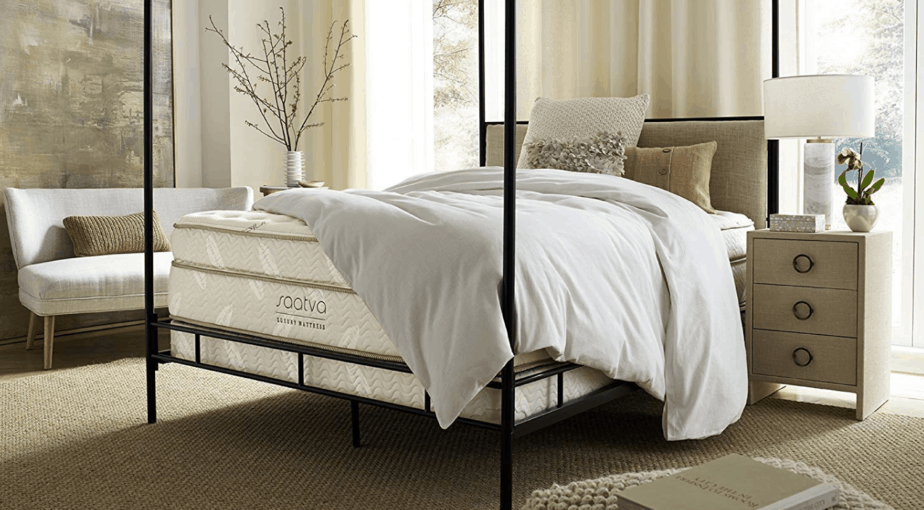 The Saatva Mattress is specially designed to reduce and prevent back pain. It contains patented Spinal Zone sleep technology that has been proven to reduce stiffness and achiness by providing the correct spinal alignment.
Besides the Spinal Zone, the mattress's innovative construction also helps support your back: The "coil on coil" construction contours to the body, and supports you in all the right places. You should notice a difference from the very first night of sleeping on the Saatva, but will only experience a marked improvement after one year.
If you really want to up your bed game, pair this fantastic mattress with an adjustable bed base, which is another way of combating your aches and pains. Saatva uses environmentally friendly materials throughout their bed and have an all-round eco-conscious approach to their work, which we love.
Pros
Great support
Eco-friendly
Multiple firmness levels
Cons
Terrible motion isolation
Not very durable
Heavy and cumbersome
3
DreamCloud Luxury Hybrid Mattress
The Luxury Hybrid Mattress from DreamCloud offers 8 layers, scientifically optimized for maximum support, and 5 comfort zones for a uniquely comfortable sleeping experience. For many people with back pain, this is exactly the kind of thoughtful, targeted design they need for restful sleep.
The DreamCloud's excellent support and pressure relief comes mainly from the patented "BestRest" Coils that make up the mattress's base. On the top layer, there's a hand-tufted cashmere blend cover offering exceptional softness and breathability.
The mattress is CertiPUR-US certified and covered by the company's Everlong limited warranty. There are a few reports of this mattress becoming somewhat compressed over long periods of time, however, and this questionable durability is what pushes the DreamCloud down to third place.
Pros
Eco-friendly
365-night sleep trial
Cashmere blend cover
Cons
Limited warranty
May compress over time
Reports of off-gassing
Best Mattresses for Joint Pain
1
Sealy Optimum Elite Courage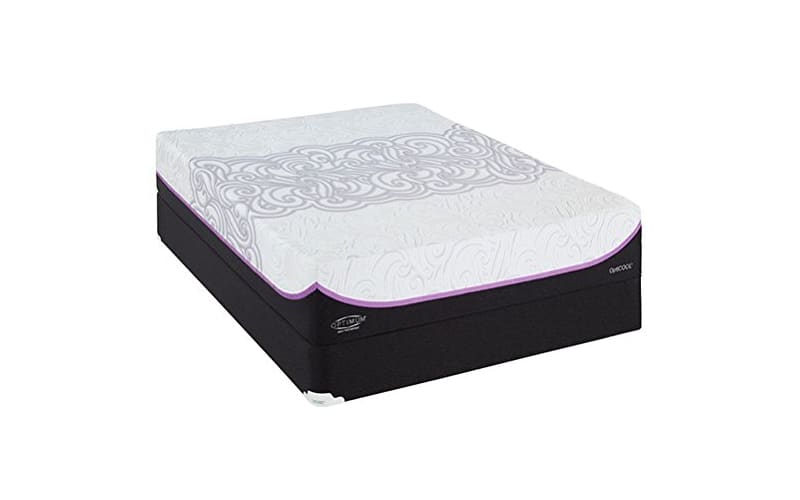 Do you wake up stiff and achy every morning? Is it hard to get out of bed? Joint pain can have many causes, but one thing is for sure: A good mattress can help reduce the pain, or even prevent it. Sealy's Optimum Elite Courage conforms to your body, giving you the feeling of being hugged and perfectly supported, as if the mattress were made just for you.
The Sealy is made with various "comfort," "quilting," and "support" layers. The Opticool Gel Memory Foam, for example, is great at removing excess heat and keeping you cool, while the quilting layers eliminate the chemical odor typical of foam mattresses. And last but not least, the "CoreSupport Center" provides the firmest support for the center third of the mattress, offering added pressure relief for your lumbar area (which is often the problematic one).
Sealy is a trusted, reliable company, so we're not surprised at the relatively high price tag. And as much as we love a bargain, you really shouldn't skimp on your health!
Pros
Great lumbar support
Conforms to your body
Does not overheat
Cons
Weak edge support
Expensive
Too soft for some
One of Leesa's best-loved mattresses, the Leesa Hybrid Mattress is a popular medium-firm option for people who love the contouring feeling of foam and the slight bounce of coils. This mattress is great at relieving pressure from your spine and your joints while you sleep, which many sleepers find is helpful for alleviating aches and pains.
The top layer of the Leesa Hybrid is a cooling, high-density foam that contours to your body, but doesn't cause you to sink or feel stuck. Just beneath it, the memory foam molds around the shape of your body, providing targeted pressure relief.
Although the Leesa Hybrid is reportedly quite durable, the warranty is only 5 years, so make sure to take care of it! Good news is that the Leesa Hybrid is a pretty good value, and it is good quality for what you pay. Even better, Leesa has a philanthropic approach to their work, and they've devised a mattress donation program to help people in need.
Pros
Gentle for achy joints
Strong edge support
Very conforming
Cons
Only one firmness option
Strong smell when new
Expensive
Amerisleep is well-known for making high-quality foam mattresses, of which they offer several models with different firmness. The AS3 features a layer of memory foam on top of the support core, which uses "Surface Modification Technology" to support your hips and back.
The mattress, which is Amerisleep's most popular, blends strong support with cozy softness, so it's great for people who change sleeping positions a lot and don't want to be left feeling stuck. It's also a good option for couples with different sleeping styles, and, of course, it's a top choice for people with hip, back, and neck problems. The Bio-Pur foam excels at keeping you cool through the night.
If you need some extra help with your joint pain, try combining this mattress with an adjustable bed foundation so that you can customize your bed's position to be exactly what you need.
Pros
Great for relieving joint pain
20-year warranty
Celliant layer
Cons
Quite expensive
Below-average edge support
Can be a bit too firm
Best Mattresses for Kids
1
Restonic Comfortcare Cushionfirm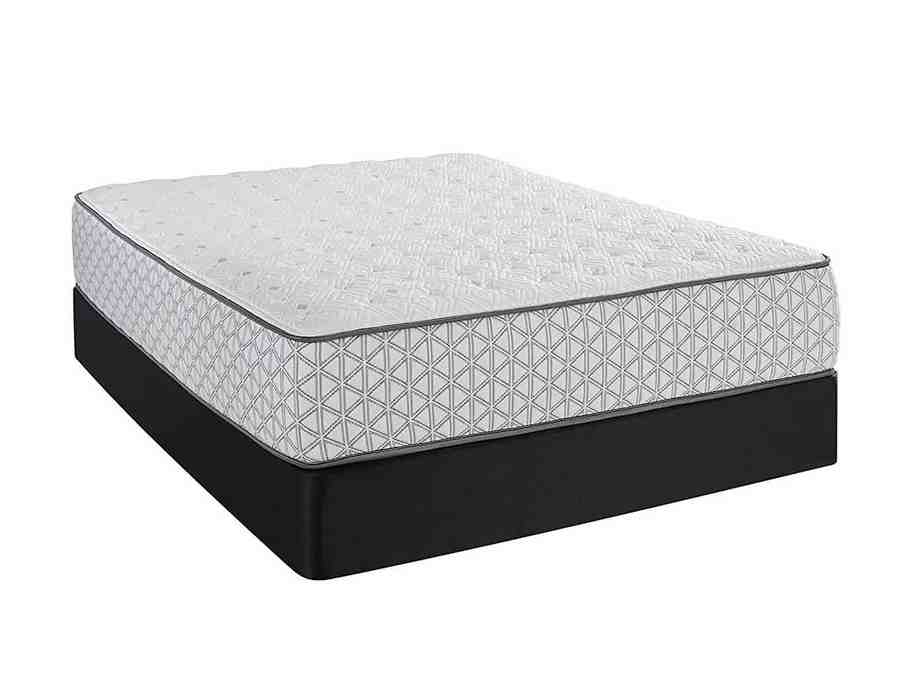 Picking the best mattress for your child is extremely important, and not always easy. A good mattress should be able to support them as they grow, and it should also be hardy enough to withstand the inevitable bouncing and spilling. And, of course, you want the materials to be high quality to avoid possible allergies.
Restonic is not a children's mattress, but its Comfortcare model is nonetheless perfect for the job. Not only is it high quality, it also features gel memory foam comfort layers, and support cores with foam-encased pocketed coils and high-density base polyfoam. Comfortcare models are available in 4 firmness ratings: Euro Top, Pillow Top, Cushion Firm, and Firm.
The Cushion Firm is particularly great for children, thanks to its body conforming qualities and the support it provides, ensuring your child's spine will be aligned in a healthy position. It's also got just the right amount of bounciness to keep it fun.
Pros
Supportive
Lots of firmness options
Bouncy and comfortable
Cons
Not the most durable
Average customer service
Lack of product information
2
Simmons BackCare Kids 2
The Simmons BackCare Kids 2 is designed with children in mind. The barrel-shaped pocketed coils conform naturally to your child's body, giving them just the right amount of support.
The folks at Simmons obviously understand the realities of having children, as they have incorporated a MoistureBan layer that repels liquid but still manages to stay breathable and durable. So next time your kid spills their drink all over the place, you won't have to panic! The liquid will simply roll off the fabric without penetrating the fibers.
And last but not least, they have infused the mattress with AllergyCare, an anti-allergen and antimicrobial preservative that protects against microbes and dust mites. This safe and non-toxic substance will ward off fungus and creepy-crawlies, keeping your kid healthy and allergy-free.
Pros
Customizable sizes
Anti-allergen and antimicrobial
Great back support for kids
Cons
Some off-gassing
Below-average durability
Minimal motion isolation
3
Casper Essential Mattress
Casper has taken the bed-in-a-box industry by storm, and their brand is now recognized as one of the best in the industry. They offer 2 memory foam mattresses and a hybrid foam and latex mattress, all of which are great.
We love their Essential Mattress, which gives your child everything they need — without putting too big of a dent in your bank account. The Essential offers comfort, support, and breathability in 3 layers of foam, which cradle your kid's body without letting them sink too deep.
If the kids are hoping to have a bounce on their new bed, though, they might be disappointed: Like most memory foam mattresses, the Casper Essential isn't very bouncy at all. Remember to let the mattress air out when it's first delivered to get rid of that foam smell.
Pros
Great value
Keeps kids cool
Soft but supportive
Cons
None of the bounce kids love
Weak edge support
Some off-gassing
Related Rankings
What should you consider when choosing a new mattress?
First of all, ask yourself what you need from your mattress. Do you sleep on your side, on your back, on your stomach, or do you switch it around? Are you a couple who will be spending a lot of passionate nights in the bedroom? Do you suffer from back problems? Are you heavier than average, and do you tend to sleep hot?
All of these things are very important when choosing a mattress.
A good place to start researching your new mattress is — you've guessed it — right here: We list the best mattresses for each of 11 categories, as well as highlighting the different materials, firmness, bounciness, and cooling properties of each one.
Remember to check whether the mattress brand will let you "test drive" your new mattress, and what their return policy is. And last but not least, remember to check out and hold onto that warranty: A good mattress should have a minimum 10-year full replacement or non-prorated warranty.
How much should I pay for a good mattress?
These days, you can find mattresses costing anywhere between $100 and $5,000 (and more, for the really luxurious ones). Prices vary so much because of differences in materials, durability, brand name, type, size, height, and other features.
The type of mattress impacts the price more than anything. Memory foam mattresses, for example, vary a lot depending on the thickness and types of foam, and whether they include gel or other infused materials.
The cost of innerspring, or coil, mattresses also depends on the materials: More expensive models may have a larger number of coils, plus memory foam or latex in the comfort layer (cheaper ones will feature polyfoam instead).
These days, there is such a huge variety of mattresses available online that you're sure to find the perfect one for you, whatever your budget.
How long can I use my mattress?
You'll often hear that you should use your mattress for no longer than 10 years. But the truth is that the figure can vary widely depending on the type of mattress, how much you use it, and how well you take care of it. So how do you know when it's time to bite the bullet and invest in a new mattress? Generally, you'll know it's time when:
Your mattress is no longer comfortable: This may seem pretty obvious, but you might not notice if it's a gradual change that occurs over years. The change could be due to normal wear and tear, but could also be because of changes in your body, from weight gain or weight loss, pregnancy, or surgeries. Whether it's the mattress or your body that's changed, there is no reason to hold on to a mattress that is uncomfortable — invest in a new one.
It is no longer supporting you properly: As mattresses age, they lose support, which is crucial for a good night's sleep and a healthy back. When one part of the mattress is dented or softer than the rest, it's time to let it go.
You think you might have dust mites: No one likes to think about creepy-crawlies living in their bed, but the truth is that after many years, it's quite probable that they're in there. Getting your mattress professionally cleaned can prolong its life, as will the use of a mattress protector. No matter how hard you try, though, your mattress won't live forever.
Your back hurts: If your back or neck is stiff or hurts when you wake up, but feels better as the day goes on, it might be because of your mattress.
What is the best mattress?
As the number of mattresses in our ranking shows, there is no one answer to that question. The perfect mattress for you depends on your personal preference, your age, your size, and other requirements.
That's why we divided our search for the best mattress into 11 categories and did weeks of research to choose the best for each one (you can read about our methodology above). Our winners were chosen based on the quality of the mattress materials, its durability, and its overall construction.
You can trust big brands to sell quality mattresses, but smaller and newer companies also sell some pretty interesting and innovative new models, so we've included a few of our favorites in the ranking.
Make sure to take a look through our full ranking — we have something for everyone in there. You're bound to find the perfect mattress for you, your partner, and your kids.

Meg Jacobini
Meg Jacobini is a freelance writer based in a small room somewhere in Europe. Her favorite things in life are Chinese Hot Pot and obscure African records. On Saturdays you'll often find her watching the local soccer team lose their umpteenth game.