Great news! The solution to nighttime back pain isn't all that complicated.
A mattress topper can make all the difference in the world whether you have a wrecked back or a pain-free one. Out of the hundreds of options out there, the Avocado Green Organic Latex Mattress Topper comes out on "top" as our best mattress topper for back pain. It's affordable, organic, cooling, and supportive. All the things a tender back wants in a mattress.
Ever have one of those nights where you can't get comfortable? You start on your side, but then your shoulder starts to hurt. You turn onto your stomach, but then your neck starts to hurt. Things don't feel much better when you toss over onto your back and by then its 2 a.m.!
For many Americans with chronic back pain, the process of getting to sleep can be a nightmare. More often than not, the mattress is the culprit! It's either too firm or too soft; too new or too worn-out. We spend a third of our lives in bed, so it's crucial to find a sleep setup that fits our particular body type and sleep habits.
Sometimes a plain old mattress just doesn't cut it for giving you sustained relief from back pain while you sleep. A mattress topper is an affordable way to improve your sleep situation dramatically. It's amazing what a couple more inches of padding can do for your back.
The Mattress Toppers for Back Pain We RAVE About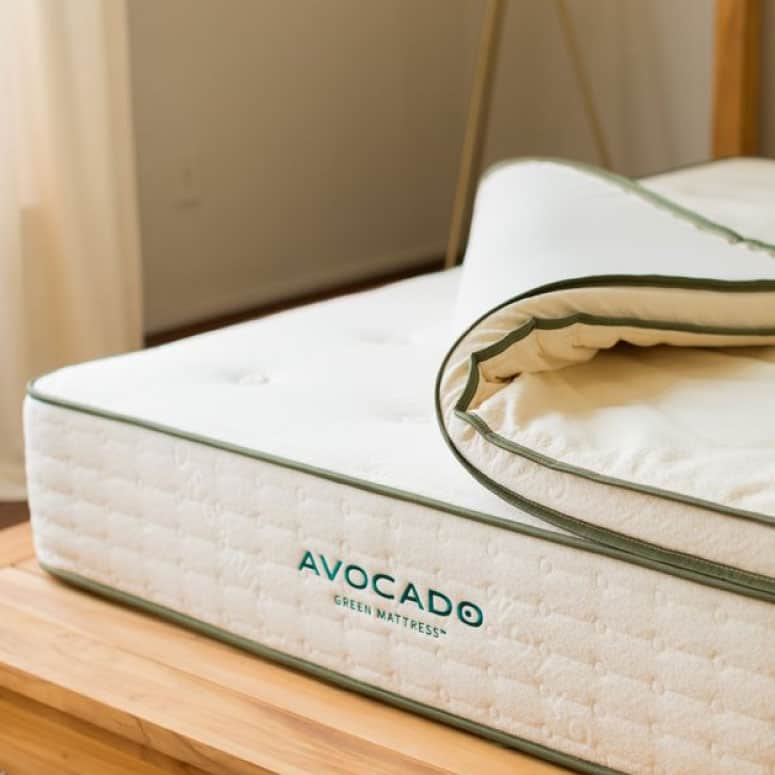 Best Overall
Avocado Green Organic Latex Mattress Topper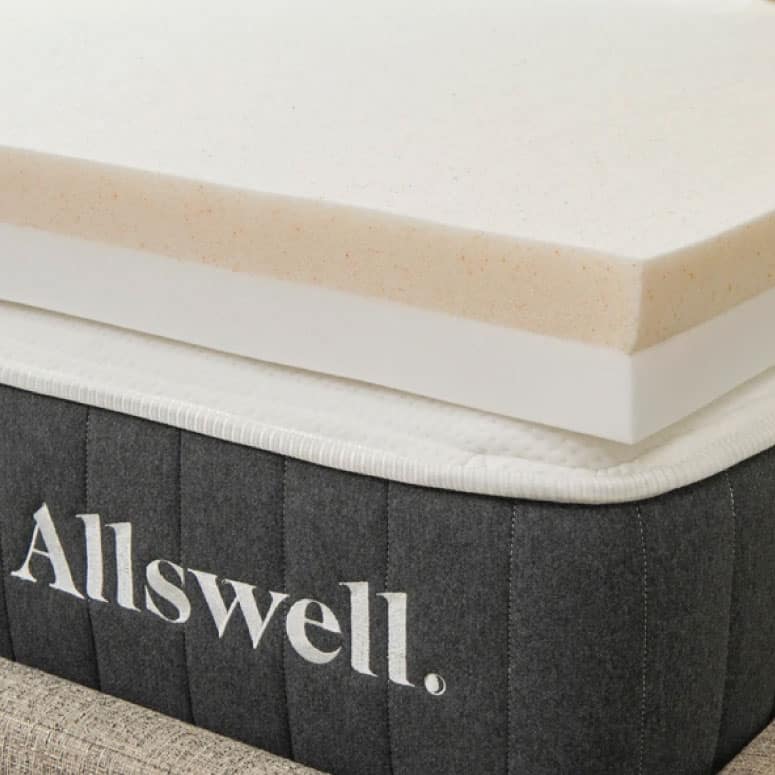 Best Price
Allswell 4" Memory Foam Mattress Topper Infused with Copper Gel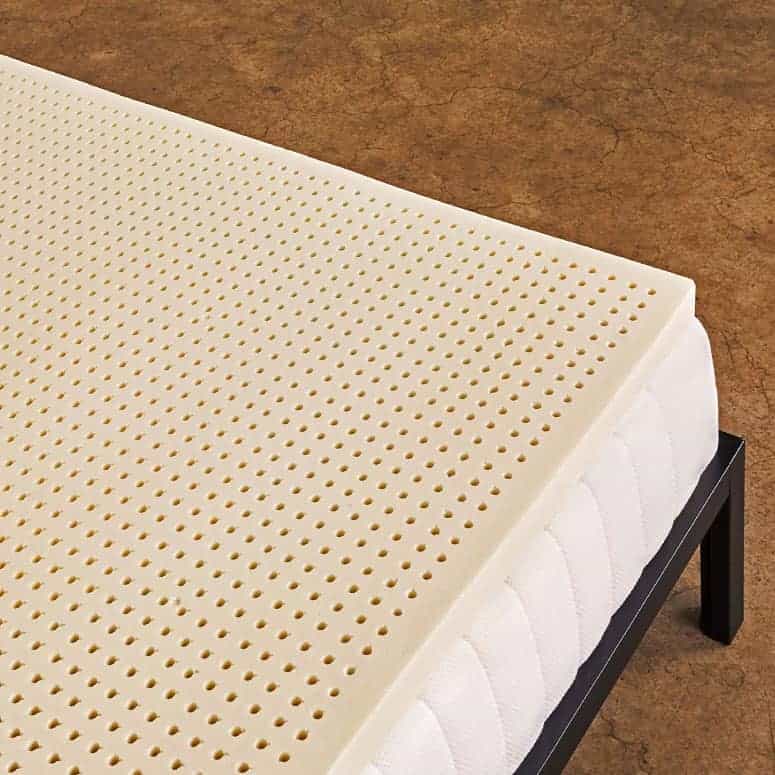 Most Eco-Friendly
Pure Green 2″ Natural Latex Topper
Why The Best Mattress Topper Makes for Better Sleep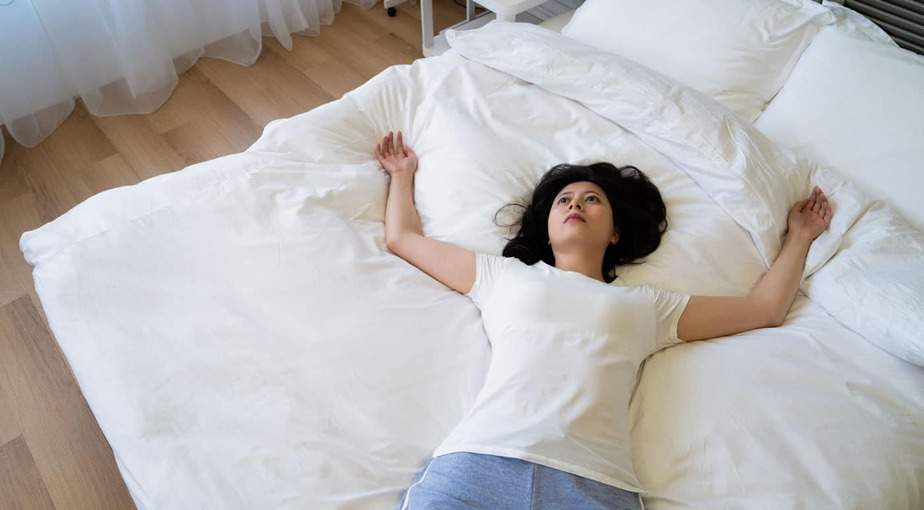 We get it—if you've already spent the money on a new mattress, why go out of your way to spend more on a mattress topper? Well, to put it plainly, sleep matters. Sleep matters even more when you're dealing with chronic back pain. Whether your bed is the cause or just a prolonger of your back pain, you must figure out a way to catch some z's pain-free.
Numerous studies back up the fact that not getting enough sleep contributes to increased sensitivity to pain throughout the day. Thus begins a vicious cycle—you can't sleep because of back pain, and you have back pain because you can't sleep!
Most adults need 7-10 hours of sleep each night. That's a lot of hours to be horizontal, especially if you're in pain! A mattress topper gives you the extra boost and support that your back needs to rest easy.
So what are the top factors to consider when you're looking for a mattress topper to fix your sore back? Let's break it down into a few essential sections: Topper Firmness and Topper Material.
What Kind of Sleeper Are You?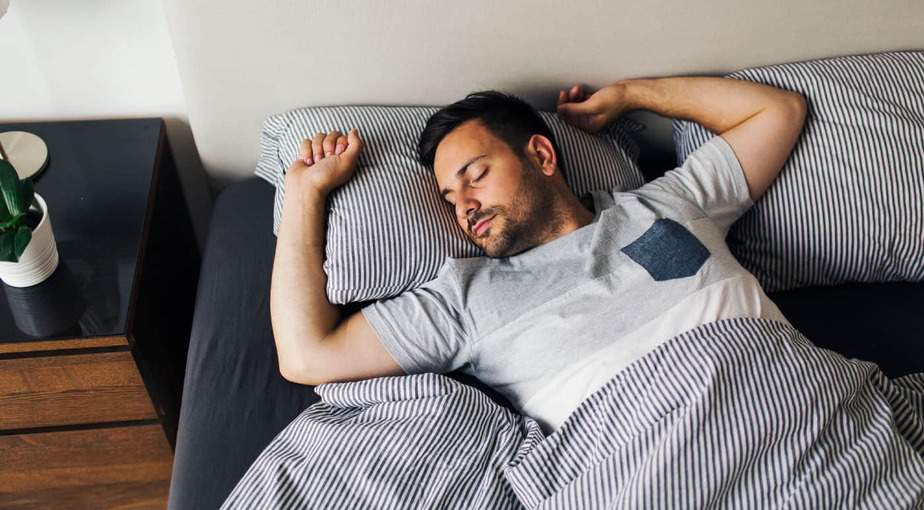 First, it's essential to analyze what position you typically sleep in at night. We've got options, folks. People generally are side sleepers, stomach sleepers, back sleepers, or some combination of all of the above. There is no "correct" way to sleep. Everyone is different. But determining your favored position can help lead you to select the appropriate firmness for your mattress topper.
Side-Sleepers: Side-sleepers tend to develop pain in their lateral body—especially the shoulders and hips. Side-sleepers should seek out soft mattress toppers to accommodate for the curvature of the body. You want a bed that can support and cradle the gaps of your natural shape.
Back-Sleepers: The consensus is that sleeping on your back is generally the healthiest position for your spine. When it comes to a mattress topper, back sleepers should look for a medium to firm mattress topper—something that will keep your spine in alignment without sagging too much.
Stomach-Sleepers: In general, sleeping on your stomach is discouraged for back health. It puts pressure on your lower back and forces your neck into a twist. But if that's how you snooze best, try a firm mattress topper. Firm mattresses will prevent your hips from sinking too far and throwing off your alignment.
What Kind of Material is Right for You?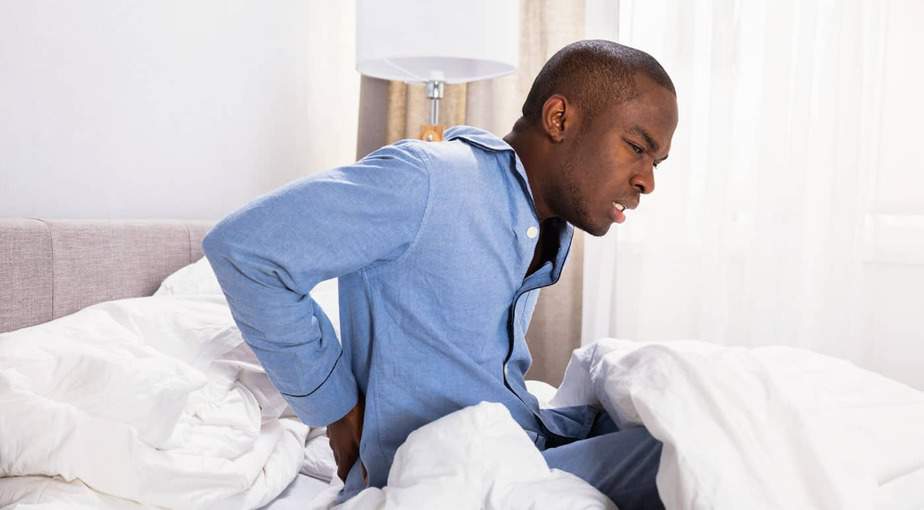 Not all mattress toppers are built the same. Depending on a couple of factors—breathability, firmness, weight, etc.—you'll find that different topper materials yield widely varying results.
There are, however, some common materials out there. The two biggest in the biz are Memory Foam and Latex. It may seem like we're splitting hairs here to compare the two, but honestly! These little details make a big difference. Let's take a closer look:
Memory Foam
Memory foam, believe it or not, was initially invented by NASA to improve the safety features in airlines. It soon found commercial popularity, though, for its viscoelastic base that conforms to the touch. Unlike spring mattresses, a memory foam pad absorbs movement. Absorbed movement means your back will always be supported, no matter your position.
Here's the downside. Because of its density, standard memory foam tends to retain a lot of heat. Retained heat can cause issues. It's no help at all for sleepers who run hot (and it can start to get stinky if you don't stay on top of maintenance).
Enter Gel-Infused Memory Foam. By inserting temperature-regulating microbeads, gel-infused memory foam sidesteps the heat issue. The microbeads create more space inside the memory foam to allow the heat from your body to be absorbed.
Latex
Whereas memory foam is dense and form-fitting, latex takes a lighter approach. If you're looking for a more general compression (rather than memory foam's all-encompassing fit), latex is right up your alley. The pads themselves also tend to deal with heat better than memory foam. Many have aerated pockets that allow the body-bed heat transfer to happen seamlessly.
One downfall to latex is that it tends to demand a higher price point than memory foam. The material is durable and eco-friendly, but you have to invest financially in that quality.
In the end, it all comes down to preference! If you want a snug mattress topper that fits your shape, go with memory foam. If you're more interested in a lighter, breathable topper, then latex is your answer.
Methodology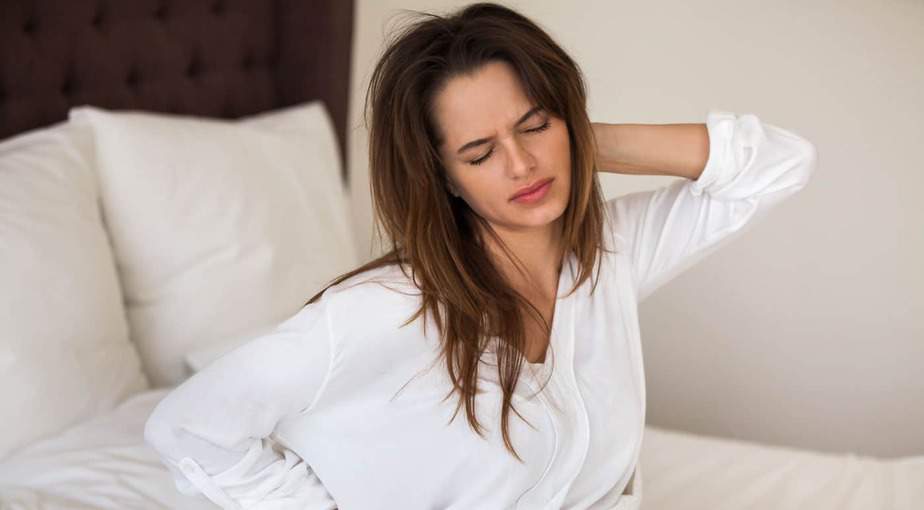 Here at RAVE Reviews, we pride ourselves on considering all the factors at play when selecting quality products on our rankings. Our air-tight methodologies look at both quantitative and qualitative factors: industry trends, customer reviews, material quality, expert opinions, company reputation, and more. When it comes to mattress toppers, our top criteria—and the data we think you'd be most interested in—boil down the following:
Price
Material Quality
Customization
Longevity (Warranty)
The Best Mattress Toppers for Back Pain
1
Avocado Green Organic Latex Mattress Topper
With the company name "Avocado," it is no doubt they have super green, environmentally friendly, all-natural values—and that is why we RAVE about them. The Avocado Green Organic Latex Mattress Topper is a home run for comfort and durability, plus this company cares about both your health and the health of Mother Earth. This mattress topper is our top pick for back pain. It will have you sleeping like a baby at night with a clear conscience knowing you made a good choice for both you and the planet.
Avocado's mattress topper is made from 100% organic, sustainably sourced latex. Unlike mattress toppers made from synthetic foam, latex allows ventilation to keep you cool at night. Plus, it is both supportive and flexible, meaning it supports the weight of your body with enough give to allow for proper back alignment. To top things off (pun intended), this mattress topper is covered in GOTS (global organic textile standard) certified organic wool and cotton. Both materials are not only eco-friendly but soft, comfortable, and cooling.
This mattress topper also comes in two firmness levels: firm or plush. For those that like more support (which is typical if you have back pain), the firm option will be your new bestie. For those who have always wanted to sleep on a cloud, go with plush. Avocado's mattress toppers are handmade in the U.S. and come with a 10-year warranty. Prices start at $349 for a twin and go up to $649 for a California king.
Pros
All eco-friendly materials
10-year warranty
Two firmness levels
Say goodbye to tossing, turning, and counting sheep and hello to a restful sleep with the Casper mattress topper. It was designed to provide support and comfort to your existing mattress, so you don't have to worry about replacing your mattress if you have back pain. In other words, you can transform your mattress as easily as unrolling the mattress topper onto your bed and boom: Easy as pie.
Casper's mattress topper is constructed with three layers of foam to provide unique levels of support. The bottom layer is viscoelastic foam, which is the most supportive. This layer prevents you from sinking too much into the mattress. It helps keep support in your heaviest areas, like your hips. The middle of the mattress topper sandwich is the graphite latex layer. This layer is also super supportive but allows some give to ensure that your spine stays aligned. Plus, the graphite promotes circulation to keep you from overheating at night. To top things off, the alt-latex top is the ultra-breathable, cushy but not too cushy icing on the cake.
This mattress topper is covered in a polyester, rayon, lycra fabric. It is soft and comfortable and has some stretch to it. One thing to note is that polyester is a synthetic fabric, unlike cotton or bamboo, which we see in some other mattress toppers. The best part is, you can try the Casper mattress topper for 100 days to decide if it is perfect for you. If not, you can send it back free of charge. Prices range from $195 for a twin to $355 for a California king, which is pretty reasonable for the quality.
Pros
100-day trial
Three layers
10-year limited warranty
Cons
Synthetic fabric covering
Only one firmness option
3
Allswell 4" Memory Foam Mattress Topper Infused with Copper Gel
Adding a mattress topper can be a game-changer for your comfort and sleep (and save you from having to buy a whole new mattress). Allswell's 4-Inch Memory Foam Mattress topper is a home run for not only comfort but price as well. With prices starting at $99 for a twin ranging up to $155 for a king, this mattress topper is a no-brainer.
The mattress topper itself is composed of two 2-inch layers. The bottom layer is a high density, open-cell memory foam that conforms to your body, but with the resilience to keep its shape. You will sink into the foam just enough to feel cozy but not so much to feel like you are sinking into a black hole. The top 2-inch layer is also memory foam infused with copper gel and graphite to keep you cool while you sleep.
Allswell's memory foam is CertiPUR-US certified, ensuring that it is free from things like mercury, lead, formaldehyde, and phthalates. Knowing which products contain these materials is essential for your health and indoor air quality. Unlike many other mattress toppers, there is no fabric top layer on the Allswell topper, which can make it more difficult to clean. Allswell offers a 30-night risk-free trial, which is pretty dang cool, but not as generous as the 100-night trials other mattress toppers offer.
Pros
Antimicrobial copper gel
Two layers of memory foam
CertiPUR-US certified foam
Cons
Short trial period
No fabric top layer
4
DreamFoam Bedding 2″ Gel Swirl Memory Foam
The DreamFoam Bedding 2″ Gel Swirl Memory Foam Topper is a simple yet effective model that gets straight to the point. Designed specifically for cooler, more comfortable nights of sleep, this topper utilizes some of the best technology out there.
The gel swirled infusion memory foam creates a great balance of both firmness and softness, especially suitable for back sleepers. The topper also includes open cell technology that boosts the airflow from your body to the bed. This is DreamFoam's #1 selling mattress topper. They believe in it so much that buyers get a free 30-night trial to test it out.
One compelling element in favor of this topper is rooted in the company's mission and story. DreamFoam is an Arizona-based bedding company that prides itself on being a closed-circuit business. The mattress toppers are all designed, constructed, and shipped out of that one location.
Pros
30-night trial, 3-year warranty
Comes in up to 8 different sizes
Highly affordable
Cons
Initial chemical odor
Less supportive than others
No anti-slip surface
5
Zinus 4″ Gel Memory Foam
The Zinus 4″ Gel Memory Foam Topper takes a double-decker approach to pain-free sleeping. The bottom, 2-inch layer acts as a supportive base. It is made out of high-density memory foam. On top of the base layer, you'll find 2 inches of gel memory foam. This gives four total inches of breathable support.
Side-sleepers of the world, take note because the 4-inch depth and flexible firmness of the Zinus topper is a winner for hip and shoulder pain. If you're not sure that you need 4 inches of memory foam, Zinus has three more models that could work—1.5-inch, 2-inch, and 3-inch. However, only the 4-inch topper has double layer technology.
Zinus uses the latest technology in memory foam—Biofoam—to help cut down on the typical "out-of-the-box" odor. The topper is infused with green tea extract, natural plant oil, and active charcoal. This helps absorb unwanted moisture, freshen up the smell, and keep you sound asleep.
Pros
Great for side-sleepers
Biofoam technology
5-year limited warranty
Cons
Two layers split apart easily
Too hot for some users
Only comes in four sizes
6
ViscoSoft 3″ Cooling Gel Memory Foam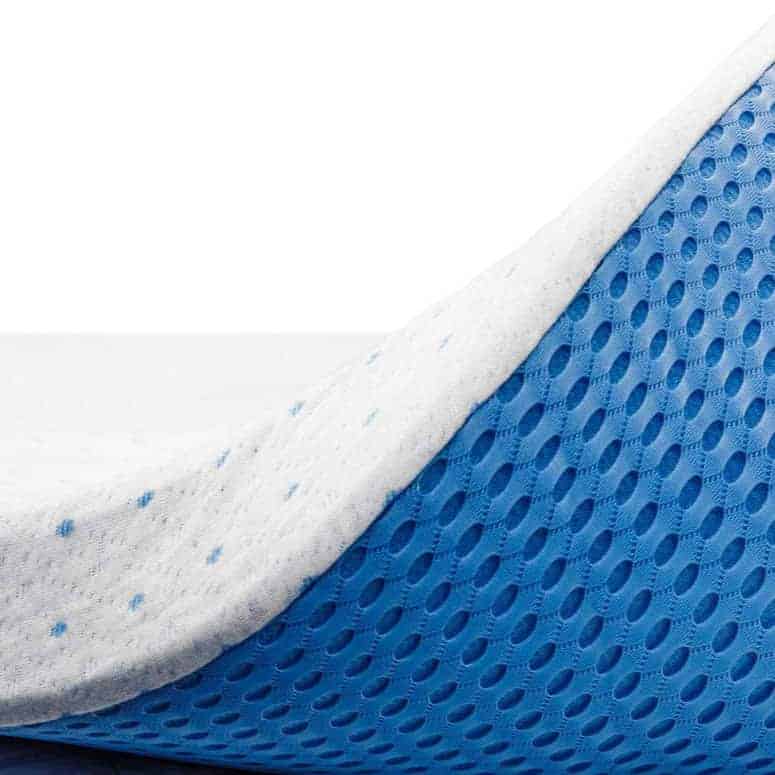 The ViscoSoft 3″ Cooling Gel Memory Foam stands out from the rest of the bunch for its commitment to breathability, among other features. The topper is made out of gel-infused memory foam, which prioritizes temperature-controlled sleeping.
The ViscoSoft topper goes the extra mile by including a removable cover that is ventilated. That means your mattress topper will be protected without stifling an airflow while you sleep. The topper cover is made out of hypoallergenic bamboo-rayon material and is totally machine washable. Even more, the cover comes with four straps on each corner to be secured to your mattress.
Sometimes it's those little extra features that go a long way. This ViscoSoft topper includes these features. Another perk is a 60-day guarantee in which you can receive a full refund if the topper isn't up to par. And if anything happens to your ViscoSoft topper, you're protected by a 3-year warranty.
Pros
Ventilated with elastic straps
60-day money-back guarantee
Cover is removable and washable
Cons
Straps occasionally slip off
Bad for stomach sleepers
In the higher price range
7
TempurPedic 3″ Tempur ProForm Supreme
A giant in the sleep business, TempurPedic has a mattress topper on the market that earns high marks. The TempurPedic 3″ Tempur ProForm Supreme Topper is a product that is 25 years in the making. It has been revised and revisited by the TempurPedic engineers to create optimal comfort and pain-free sleep.
The topper itself is overlaid with the classic Tempur material. It includes a removable cover that can be machine-washed and dried. This topper cover is allergen-resistant and fully breathable. The 3-inch ProForm Supreme Topper is more firm than others on this list, which makes it great for back or stomach sleepers.
While it is one of the most expensive mattress toppers on our list ($253 for a queen-size), TempurPedic ultimately believes in a quality product. That's why they back this Tempur ProForm Supreme Topper with a 10-year warranty. You can be comforted in knowing you're making a one-stop purchase.
Pros
10-year warranty
Great for stomach sleepers
Free gift with order
Cons
Higher price point
Washing cover can be tedious
New product odor lingers
8
Pure Green 2″ Natural Latex Topper
As first latex-based mattress topper on our list, the Sleep on Latex Pure Green 2″ Natural Latex Topper already is doing something different. But it's also changing the game by introducing a 100% natural option to the market. There are zero synthetic latex materials in this topper. This, in turn, means it is healthier for you and healthier for the planet!
As a company, Sleep on Latex has made it a mission to provide an entirely natural product. The Pure Green topper is certified by Greenguard Gold, eco-Institut, and Oeko-Tex—all of which test for harmful emissions.
Not only is the material a departure from the rest of the list, but the mattress topper feel is also different. The Pure Green 2″ Natural Latex Topper brings a firmer, more robust density. It is naturally heat-neutral, unlike memory foam. While the 2-inch topper is the most popular version for users, Pure Green also advertises a 1-inch and 3-inch option.
Pros
100% natural latex
Customizable depth and firmness
Free shipping/returns
Cons
Higher price point
Covers purchased separately
Tears easily
9
Memory Foam Solutions 3″ Topper
A simple design is sometimes the most effective one. The Memory Foam Solutions 3″ Topper keeps things simple. It features a 3-inch gel swirl memory foam pad. Instead of gel beads—which are sometimes found in gel-infused memory foam—this one uses a gel swirl. This gives a more integrated and dispersed temperature regulation ability.
Memory Foam Solutions has made a concerted effort to design not only a comfortable product but also an environmentally conscious one. This mattress topper has earned the PURGreen certification. Essentially, this means it has been tested for unsafe chemicals and passed with flying colors!
You can order the Memory Foam Solutions Topper in six different sizes (Twin, Twin XL, Full, Queen, King, California King). If something out of the ordinary happens, don't sweat it—a 3-year warranty covers all of the toppers at Memory Foam Solution.
Pros
Certified by PURGreen
Multiple depth options
Helps with chronic back issues
Cons
Strong initial chemical smell
Can be too soft for some
Expensive
10
DreamFoam Bedding Ultimate Dreams 3″ Talalay Latex
The second topper on our list from DreamFoam and the second latex-based topper, the DreamFoam Bedding Ultimate Dreams 3″ Talalay Latex Topper is a firm approach to back pain. Although it is the most expensive mattress topper on our list, it brings a few features to the table that you won't find elsewhere.
This topper is made out of Talalay latex, which is a blended material that is proven to be four times more breathable than memory foam. While the latex option is more firm than the memory foam in general, this 3-inch topper can be further customized to one of three firmness options.
The entire topper is encased in a breathable bamboo cover that is natural, hypoallergenic, and resistant to dust mites. While you will be spending a bit more on this mattress topper ($354 for a queen-size) the Ultimate Dreams Talalay Latex Topper comes with a 10-year warranty.
Pros
Very breathable
Natural bamboo cover provided
Customizable firmness
Cons
Uses blended latex
Susceptible to tearing
Very expensive
Related Rankings
Are some materials in mattress toppers toxic?
A legitimate question that some people ask before buying a mattress topper is, "Is it safe?" It has long been known that foam mattresses and mattress toppers require chemical compounds to be made. Whether or not those chemical compounds are safe for us is the big question.
Back in 2004, the U.S. began requiring mattresses and toppers to be fireproof. This is an excellent push toward safety, in theory, but in reality, it caused a significant uptick in the use of chemicals in foam mattresses. The most significant red flag chemical to watch for is polyurethane foam. It has been proven to cause skin reactions, respiratory issues, and more.
As a general rule, you should leave your mattress topper out in the open air for at least 48 to 72 hours after unboxing it. This will give it time to finish "off-gassing fully." Off-gassing is the process in which the chemical compounds in a product expand and mingle with the environment around it. There is no direct link between off-gassing and bodily harm. However, it's a necessary process—not one to skip!
If you want to avoid harmful chemicals in your mattress topper altogether, look for one that is 100% natural (without synthetic foam). Alternately, you can verify that your mattress has been tested by off-site environmental protection agencies such as PUREGreen, Eco-Institut, or Greenguard Gold. We've done some of that research for you—take a look!
How long do mattress toppers last?
If you're making a more substantial investment in a mattress topper, you probably want to know how long you can expect to have it. Well, the short answer is: it depends! It all depends on the quality of the material. If you get a poor quality topper, then it will probably deflate in 1-2 years. However, a high-quality topper could last you up to 10 years.
Latex toppers tend to last longer than memory foam toppers. This is especially the case for non-synthetic latex. A quality latex mattress topper could last you 8-10 years, while a quality memory foam topper is more likely to last 6-8 years.
Here's the catch, though; good quality does not always correlate with a higher price tag. Don't let a higher sticker price fool you into assuming the cost matches the quality. A better indicator of the quality of your topper is the warranty. Companies who believe in their product will often offer a better and more extended warranty.
Aside from the warranty and some quick investigation into the quality of materials, an easy check for a mattress topper's longevity is customer reviews. First-hand experience is always helpful. Whatever you decide, your back pain will be grateful for the extra boost!
What are the best mattress toppers for back pain?
In the world of mattress toppers, there most definitely winners and losers. Some toppers out there will make you feel like you're sleeping on a cloud, and others will have you waking up with more back pain.
Here at RAVE Reviews, we've scoured the market to find only the best of the best. After all, when it comes to back pain, you don't want to mess around. You won't find 10 better options out there. As you now know, not all mattress toppers are the same! Out of our top 10 list, you'll find quite a variance in some of the following factors:
Depth (inches)
Material (memory foam vs. latex)
Firmness (soft, medium, firm)
Price ($50 to $350)
We selected three mattresses out of this bunch that we think are especially strong—but all for different reasons! Here's a look at those winners:
Best Overall: Avocado Green Organic Latex Mattress Topper
Best Price: Allswell 4" Memory Foam Mattress Topper Infused with Copper Gel
Most Eco-Friendly: Pure Green 2″ Natural Latex Topper
All in all, you can't go wrong any of these mattress toppers. All you need to do is assess your particular needs (and possibly those of your sleeping partner) in terms of sleep position, back pain location, and temperature preferences. If you have those in mind, you'll have no problem finding the best fit for your back. Sweet dreams!
RAVE Recommends
If you're as serious about sleep as the team at RAVE Reviews, then we're not done with you yet! Here are a few more items that we highly recommend:
Snuggle-Pedic Memory Foam Pillow: This is one of the best pillows for neck and back pain. It's fill-adjustable, made from bamboo-shredded memory foam, and hypoallergenic to boot!

Marpac Dohm White Noise Machine: Sometimes the biggest issue is just falling asleep! This white noise machine houses an actual two-speed fan and will have you snoozing in no time.

YnM Weighted Blanket: Shown to improve sleep quality and reduce anxiety, the YnM Weighted Blanket is a down comforter evenly distributed with small glass beads. It also uses breathable fabric to help regulate temperature.

Dr. Kasey Nichols, N.M.D.
Dr. Kasey Nichols, N.M.D. focuses on sleep disorders and drug-free pain management utilizing both conventional and alternative medicine at his private practice,
Onyx Integrative Medicine and Aesthetics
, located in Gilbert, AZ. He served as the Director of Medical Operation and Administration at a national substance abuse disorder corporation with 16 facilities across seven states. He graduated from Cleveland University-Kansas City with a Bachelor's of Science in Human Biology, graduating with honors, and holds a Doctorate from The Southwest College of Naturopathic Medicine. He holds licenses in both Arizona and Kansas. Dr. Nichols has given numerous talks to professional organizations, given interviews for newspapers across the United States, and numerous television news interviews with ABC 15/CW 61 in Arizona, Channel 3 in Arizona, and others. Dr. Nichols has appeared in
Cosmopolitan
,
Reader's Digest
,
WebMD
,
Healthline
, and many other health and lifestyle publications.