Don't lose sleep trying to narrow down which is the best IKEA mattress.
Loaded with high-end features like cooling gel-infused memory foam and 3 layers of pocket spring, the HOLMSBU medium firm pillowtop is the best all-around mattress. True to IKEA's reputation for value, this bed's under $800 price tag is well below many competitors' prices for comparable mattresses.
For many shoppers, IKEA is more than a store. It's a lifestyle. It's no surprise that IKEA enthusiasts are eager to trust the retailer with their precious quality of sleep. We spend a third of our lives sleeping. Your mattress can mean the difference between waking up refreshed or waking up with aches, pains, and a sluggish brain that struggles to focus.
When IKEA is your go-to home shopping solution, you've already answered the major question of where to search for your mattress. Instead, you're asking yourself (and the internet) which of the many IKEA mattresses is right for you. IKEA offers an array of different mattresses, ranging from 3 inches to almost 18 inches thick, from ultra firm to plush pillowtop beds.
Whatever your budget, you'll find an IKEA option you can afford, but will that mattress be the best quality? You don't have time to waste testing every mattress on the sales floor. Even if you did, that won't tell you how the mattress holds up over time – but RAVE's extensively researched list of the best IKEA mattresses will.
The IKEA Mattresses We RAVE About
Why choose between the support of spring coils, the squishy comfort of memory foam, and the plush softness of a pillowtop mattress when you could have it all? HOLMSBU is IKEA's thickest mattress, stuffed so full of layers with individually-wrapped springs, soft fiber filling, and gel-activated memory foam that it towers to a staggering 17 ¾ inches high.  
Read Full Review
Shop HOLMSBU Pillowtop Spring Mattress
If you tend to sleep hot, you may have been told that memory foam isn't an option for you. IKEA's well-reviewed KNAPSTAD bed is a game-changer, incorporating a highly-effective layer of gel that keeps the sleeping surface cool even as the memory foam contours to cushion your body perfectly – without breaking the bank.
Read Full Review
Shop KNAPSTAD Memory Foam Mattress
Sleeping should refresh and rejuvenate you, but sleepers with allergies to commonly-used mattress materials too often wake up feeling worse than when they went to bed. IKEA's MAUSUND mattress uses natural materials, including 85% natural latex, coconut fiber, cotton, and wool, that make the bed ideal for sleepers who find that traditional mattress materials aggravate their allergies and asthma.
Read Full Review
Shop MAUSUND Natural Latex Mattress
What Shoppers Need to Know About IKEA Mattresses
Unlike many bed-in-a-box companies that have popped up in recent years, IKEA is a name consumers worldwide already know and trust. Regardless of how you feel about Swedish meatballs or the notorious assembly instructions, shoppers love IKEA's modern and clean aesthetic, fun styles, innovative ideas, and affordability.
What's under your mattress matters. IKEA recommends a slatted bed base or mattress base under most of its mattresses. Some reviewers speculate that IKEA mattresses work best with IKEA-made bed frames, and that the many complaints, saying the mattress doesn't feel like it felt in the store, results from using the wrong kind of base.
Types of IKEA Mattresses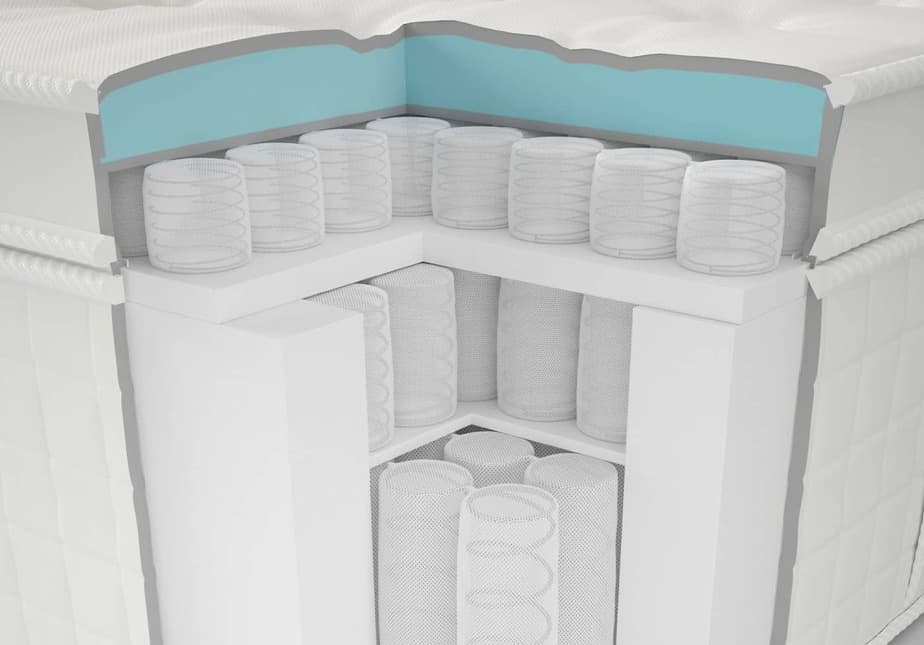 IKEA offers several different varieties of mattresses in 2 major categories: spring mattresses and foam and latex mattresses. Spring mattresses use traditional steel coils to support a sleeper's frame. Memory foam and latex foam mattresses are made of contouring layers of foam materials.
Both types of beds have pros and cons. Spring beds tend to offer superior support but adjust less fully to your exact shape and sleeping position. Memory foam beds may get uncomfortably warm and lack sufficient spinal support. The best beds of either type incorporate features that enhance their strengths and reduce their weaknesses.
Getting Your IKEA Mattress Home
Like many trendy direct-to-consumer mattress manufacturers, IKEA now roll-packs many of its mattresses. Machines carefully compress the mattress so that it is thin enough to be rolled up. A roll-packed mattress allows it to fit much more readily in most vehicles. It also allows the mattress to be packaged more sustainably.
While IKEA has both foam and spring mattresses that come roll-packed, not all IKEA mattresses are rolled. In fact, whether a particular mattress is roll-packed is a deciding factor for some customers.
For mattresses that are not roll-packed, you can try to squish the bed into your vehicle and maneuver it yourself or pay an additional fee up to $100 or more for professional delivery.
IKEA's Mattress Exchange Policy
It's every mattress shopper's biggest fear: spending hundreds (or thousands) of dollars on a new bed, only to regret their purchase for years once they start sleeping on it. Depending where you purchased your bed, by the time you realize you bought the wrong mattress, it could be too late.
Spending mere minutes testing a mattress on the IKEA sales floor doesn't tell you what it will really feel like to sleep on the mattress night after night, year after year. That floor model has already been noticeably broken in by the number of other shoppers testing it. Your real bed could feel quite different.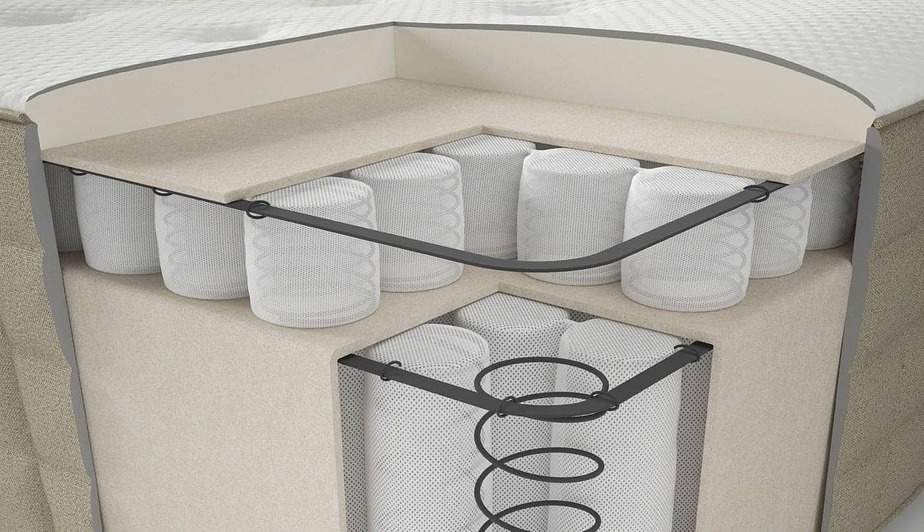 To ease shoppers' fears, IKEA applies its "love it or exchange it" 365-day return policy for all purchases to its mattress sales. However, while other products can be returned for a full refund, mattresses may only be exchanged for another mattress, so there's no taking your business elsewhere. You also only get one exchange, not duplicate do-overs throughout the year.
If you fear you've made a mistake the first time you lie on your new mattress, don't panic. IKEA recommends taking a month to get acquainted with your new bed, because that's how long it will take to break in the new bed and for your body to get used to the feel, and especially the firmness, of a new mattress.  
IKEA's Warranty
Every IKEA mattress comes with a 25-year limited warranty. That's longer than the warranties offered by many top mattress manufacturers, which last 5, 10, or, at the most, 20 years. However, like other manufacturer warranties, the limits of this limited warranty matter.
IKEA's warranty covers "defects in materials and workmanship" in the coils of spring mattresses and the core materials of foam or latex mattresses. "Normal wear and tear" is specifically not covered by the warranty, yet it's the breakdown that results from this nightly wear and tear that most often makes a new mattress necessary.
Does this warranty mean your IKEA mattress will last 25 years? Unfortunately not, especially if you're using the mattress on a regular basis. In a seldom-used guest room, the mattress might not suffer much wear and tear to require replacement.
IKEA recommends purchasing a new mattress every 8 to 10 years. Why should you replace a mattress that's still under warranty? For one thing, all mattresses lose comfort as their support materials break down over time. The warranty won't cover sagging, softening, or hardening of a mattress. Additionally, allergens that collect on a mattress over time can make sleepers sick.  
Methodology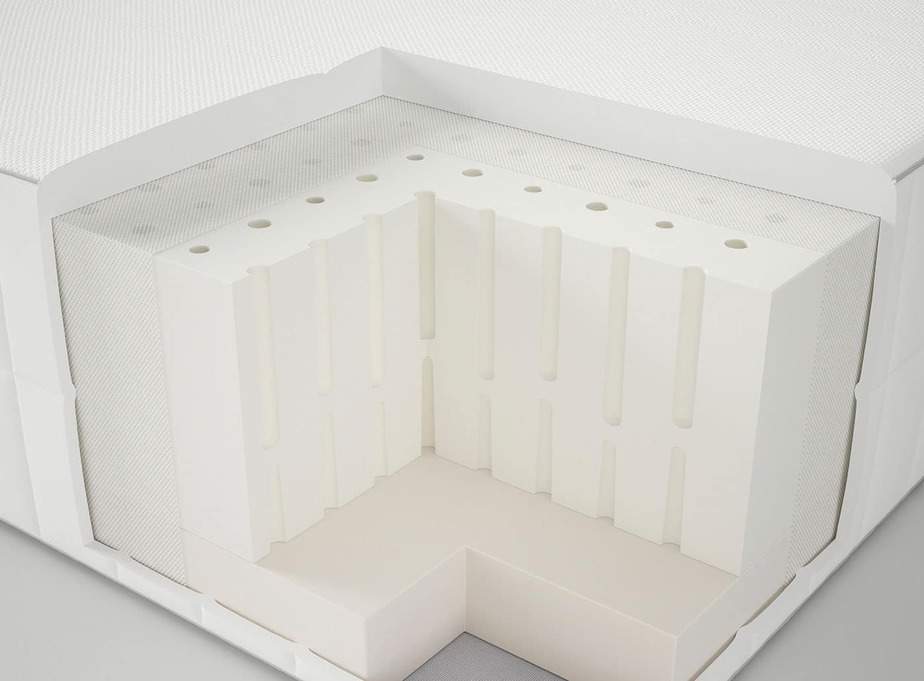 Mattress comfort is subjective. The perfect bed for one person may be entirely too soft for another person, yet too firm for a third person. So how can anyone say with certainty which mattresses are the best? Instead of focusing on soft vs. firm, we based our rankings on the most important objective factors that every mattress shopper should consider:
Quality of materials

Amount of support

Thickness

Cost

Cooling features
Read on. Your ideal IKEA mattress is waiting for you.
The Best IKEA Mattresses
Related rankings
Are IKEA Mattresses Any Good?
If you're skeptical about the quality of IKEA mattresses, you're not alone. Many would-be purchasers question the quality not only of IKEA mattresses, but of mattresses made by any company other than established mattress manufacturers. Generally, the answer is that it depends on the specific mattress you're looking at and what you need in a mattress.
For a queen bed, IKEA's mattresses cost anywhere from $229 to $899. That's quite a price range, and it represents a spectrum of features, from the simplest foam bed to hybrids with integrated pillowtops, gel-activated cooling layers, and mini pocket coils. The cheapest IKEA mattresses may not be any good, depending on your standards, but the more sophisticated ones are.
The best way to determine if IKEA mattresses are worth a look is through research. What features do IKEA mattresses offer? What do purchasers and expert reviewers have to say about the mattress? How durable is it, based on customer reviews, warranty policies and exchange policies?
Most IKEA mattresses have generally positive ratings on the retailer's website. It's rare to see a mattress with fewer than three out of five stars, and very common to see four-star and five-star ratings. Even among mattresses with ratings in the three-star range, you will find many glowing reviews. What's clear is that many purchasers are happy with their beds.
If you need more evidence that many IKEA mattresses are worth buying, consider the company's 25-year warranty. Many mattress companies don't stand behind their beds nearly as long as IKEA does. The retailer clearly expects products to last. Purchasers often mention that they are finally buying a new mattress to replace a previous IKEA mattress that lasted for many years.
Are IKEA Mattresses Safe?
Getting enough sleep, and good quality sleep, is so important to your health that it's no wonder purchasers worry about the safety of their mattress. Mattress safety can refer to many different aspects of quality, from the materials used to make the mattress to the extent of spinal support. By most standards, yes, IKEA mattresses are very safe.
The core of IKEA mattresses are steel coils or foams. While some IKEA spring mattresses use rows of connected, hourglass-shaped Bonnell coils, every spring mattress on our list uses individual fabric-encased pocket coils that move independently for better contouring and support. The best IKEA spring mattresses have a generous layer of foam or soft filling that cushions the support coils.
IKEA's memory foam is made of polyurethane ranging in density from 1.5 lb./cu.ft. to 3.1 lb./cu.ft. Most latex IKEA mattresses are made with synthetic latex. Some mattresses incorporate gel into the memory foam for a cooler sleep surface.
Although there's nothing inherently unsafe about synthetic materials, some sleepers prefer the experience of sleeping on a bed made with natural materials. IKEA now offers both a spring and a foam mattress made with natural materials that include natural latex, coconut fibers, natural wool fiber fillings, and sustainably-sourced cotton. For asthma and allergy sufferers, natural materials may be less aggravating.
Whether roll-packed or traditionally packaged, a new mattress may give off a smell, known as off-gassing, when unrolled or unboxed. The smell can be mild or strong and can last a few hours to a few weeks. Although the smell can be disconcerting, IKEA asserts that offgassing "isn't harmful or toxic," and it doesn't mean your mattress is unsafe.
How Much Does an IKEA Mattress Cost?
A mattress is a big purchase that costs hundreds, or even thousands, of dollars. Price points and values vary from one brand (or mattress) to the next. To determine a mattress's value, compare not just costs, but features. For a spring bed, how many coils are there, and how are they constructed? For a foam bed, how dense is the foam?
The cost for an IKEA mattress ranges from under $100 for a thin and no-frills twin foam mattress, to over $1,000 for the king size of the retailer's luxury natural latex foam bed. To some degree, you get what you pay for, as you can't expect the very best mattress with the most cutting-edge features for a couple hundred bucks.
However, IKEA has a reputation for value. The retailer's products are inexpensive, but they don't look or feel cheap. The best IKEA mattresses share this attribute, with purchasers reporting that the mattresses often look and feel more high-end than the reasonable price tag would convey.
If you buy the cheapest IKEA mattress available, you probably won't get much in the way of comfort and support. Don't be surprised if the mattress doesn't last long. On the other hand, a mid-range or high-end IKEA mattress is still more budget-friendly than many beds from other manufacturers, and many of these mattresses have features comparable to their higher-priced competitors.
The mattress isn't your only expense. To support your mattress, you'll need a slatted bed base or mattress base, which costs between $30 (for a basic twin base) and over $300 (for a high-end king base). For a firm bed, you may want a mattress topper. Don't forget delivery fees if you're not able to transport the mattress yourself.  
What Size Are IKEA Beds?
One worry many consumers have about buying an IKEA mattress is whether it will fit with "normal," non-IKEA bed frames and bedding. In the past, differences between European standard sizes and American standard sizes could pose problems for consumers. Today, most of IKEA's mattresses sold in North America come in sizes very close to American standard sizes.
Generally, American mattresses come in the following sizes:
Twin: 38 x 75 inches

Full: 54 x 75 inches

Queen: 60 x 80 inches

King: 76 x 80 inches
There are other sizes – like the twin XL, often used in college dorm rooms, and the wider but shorter California King – but the above 4 standard sizes are the most popular.
IKEA stores in North America sell mattresses in each of these popular sizes. These mattresses are generally in line with standard sizes, even if their measurements aren't exactly the same:
IKEA's twin: 38 ¼ by 74 ⅜ inches

IKEA's full: 53 ⅛ by 74 ⅜ inches

IKEA's queen: 59 ⅞ by 79 ½ inches

IKEA's king: 76 by 79 ½ inches
Because IKEA's mattresses are within an inch of standard mattress sizes, purchasers usually have no problem fitting an IKEA mattress on a non-IKEA frame. If your bed is such a tight fit that a fraction of an inch could prevent the mattress from fitting on the frame, it may be wise to break out the tape measure before you buy.
One additional mattress size factor you should consider when shopping at IKEA is thickness. Although thickness is usually the same whether you purchase a twin or a king size of the same mattress, it can be drastically different between mattress models. IKEA's thinnest mattresses are under 4 inches thick, while its thickest mattresses stack up to nearly 18 inches thick.
What Are the Best IKEA Mattresses?
To figure out which IKEA mattresses are the best, we did more than just test out a couple of mattresses. We delved deep into the data, exploring each bed's features and materials and combing through hundreds of customer and expert reviews on the most trusted review sites across the internet.
Ultimately, we based our ranking methodology on the factors that every mattress purchaser needs to consider, regardless of their preferred sleeping style or comfort level. These 5 most critical factors are:
Quality of materials

, giving credit for responsive foams, encased pocket coils, and natural materials

Amount of support

, considering number and quality of coils in spring mattresses and density of memory foam mattresses

Thickness

, awarding more points to thicker mattresses

Cost

, recognizing that a good night's sleep shouldn't break the bank

Cooling features

, rewarding features like gel and natural fibers
The HOLMSBU pillowtop spring mattress boasts the most impressive features, but it's far from the only IKEA mattress worth buying. In fact, some simpler mattresses, like the budget-friendly HAUGESUND spring bed and the cooling KNAPSTAD memory foam bed, had even more glowing customer feedback than the high-end, full-featured HOLMSBU.
Many IKEA mattresses, including the HESSTUN Eurotop spring bed, the HAUGSVÄR hybrid mattress, and the HJELLESTAD pillowtop mattress, combine elements of spring and foam beds for the ultimate sleeping experience. If the materials inside your mattress matter to you, then either the HIDRASUND spring bed or the MAUSUND latex bed, made of natural materials, is a great choice.
The mid-priced, medium firm MYRBACKA latex mattress wins over sleepers who find other IKEA beds too firm. The affordable MORGEDAL foam mattress offers more value for your money, with features you wouldn't expect at its modest price point. There's truly a bed for every budget, and every sleeping preference, on our list of the 10 Best IKEA Mattresses.
RAVE Recommends
Once you've found your perfect mattress, it's time to customize your bed for your ideal sleeping experience. Check out these can't-miss products that will transform your mattress into the cozy, comfy, perfectly personalized bed of your dreams.