Here at RAVE Reviews, we take good sleep seriously.
You spend nearly a third of your life in bed. So when we set out to find the best heated mattress pads, we looked extensively across brands, companies, and styles to bring you only the best. Though we recommend all ten of our chosen heated mattress pads, one stands out from the rest—the Sunbeam Waterproof Heated Mattress Pad. With ten heat settings, this pad also boasts a 200 thread count and 100% cotton construction, making it the overall best heated mattress pad in our ranking.
When looking for a new (or your first) heated mattress pad, there are many factors to consider. Of course, you'll want to think about your budget and a price that works for you. But you also want to think about style, form, and settings. And perhaps most importantly, you should ask yourself why you want a heated mattress pad and what your expectations are.
Adding a heated pad to your bed not only increases comfort and ensures a better night of sleep. It can also help your body heal as it rests. And not to be understated, there's nothing better than climbing into a warm bed on a cold winter night. There is truly a heated mattress pad for everyone. In fact, everyone should consider upping their standards of luxury to include one of these best heated mattress pads!
The Heated Mattress Pads We RAVE About
Best Overall
Sunbeam Waterproof Heated Mattress Pad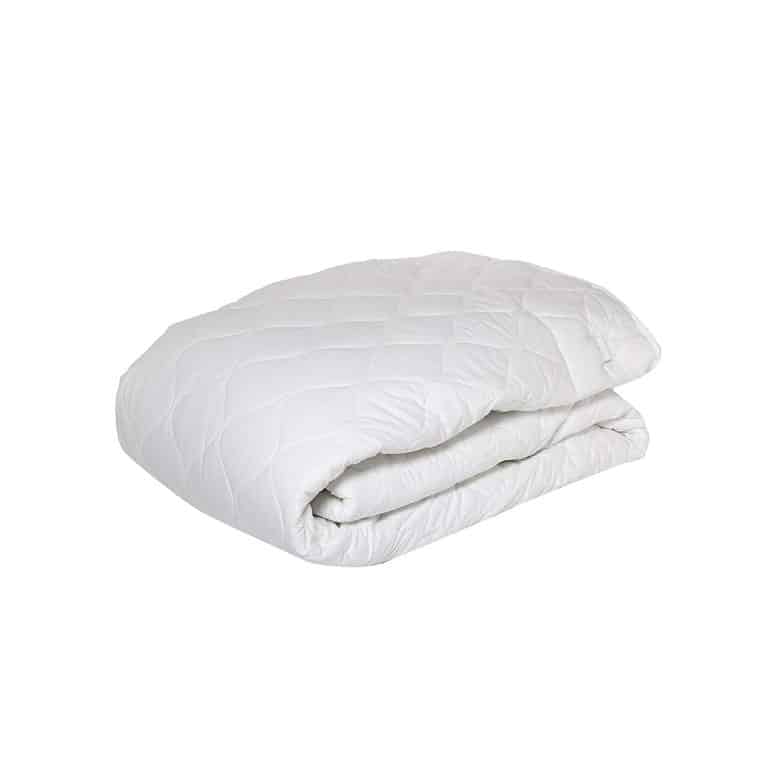 Best Budget
Serta 233-Thread Count Electric Heated Mattress Pad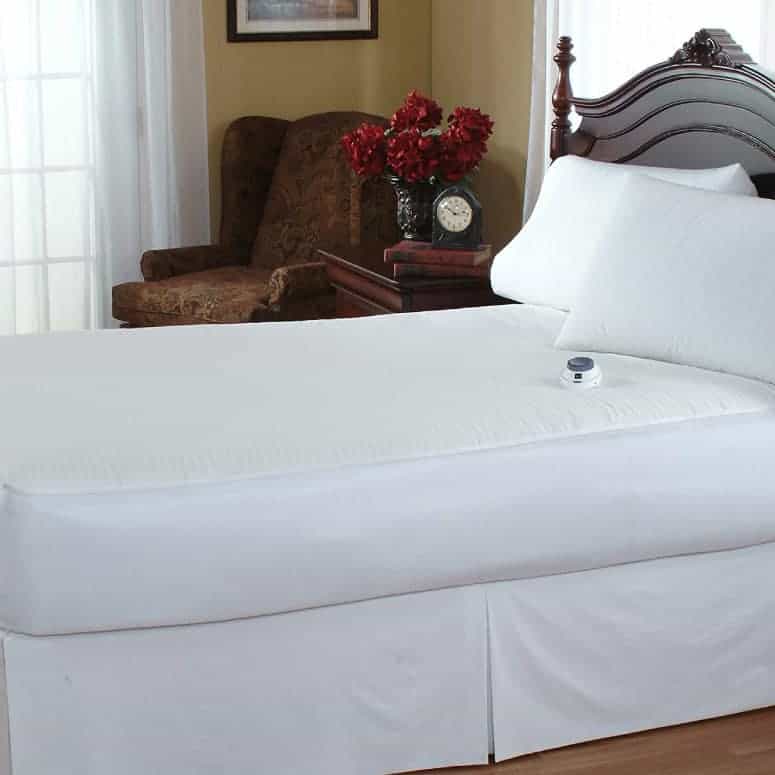 Best Safety Features
SoftHeat Smart Heated Electric Mattress Pad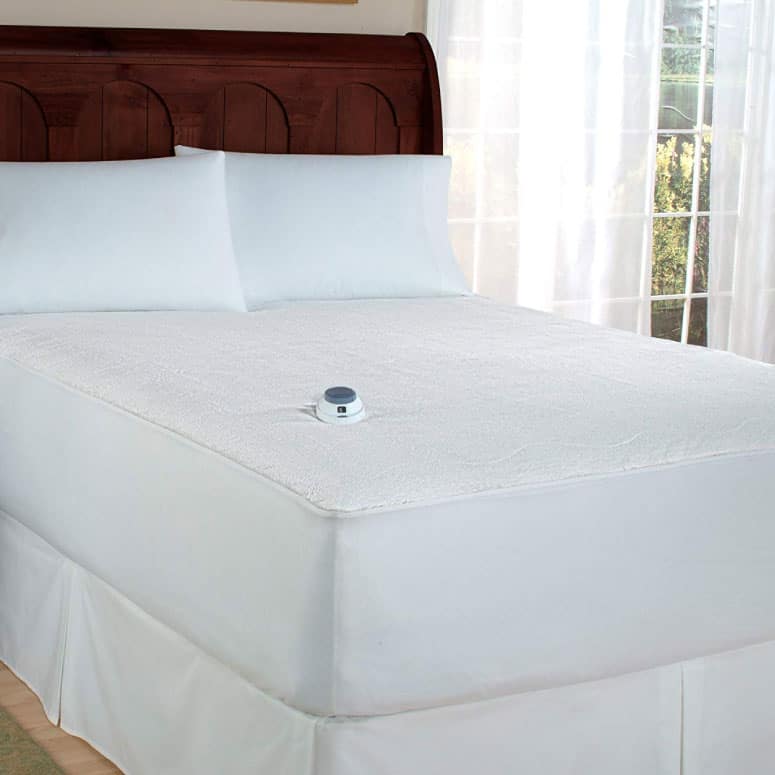 How To Find the Best Heated Mattress Pads
Heated mattress pads offer more than just some added luxury or cozy accessorizing to your sleep set-up. Though, of course, they do those things too! But additionally, by adding a heated mattress pad to your bed, you are investing in the quality and health of your body.
So while many began buying these pads to enhance the warmth of their sleep in cold months, today it is well recognized that many health benefits come with the purchase of a heated mattress pad.
Don't Cut Corners on Quality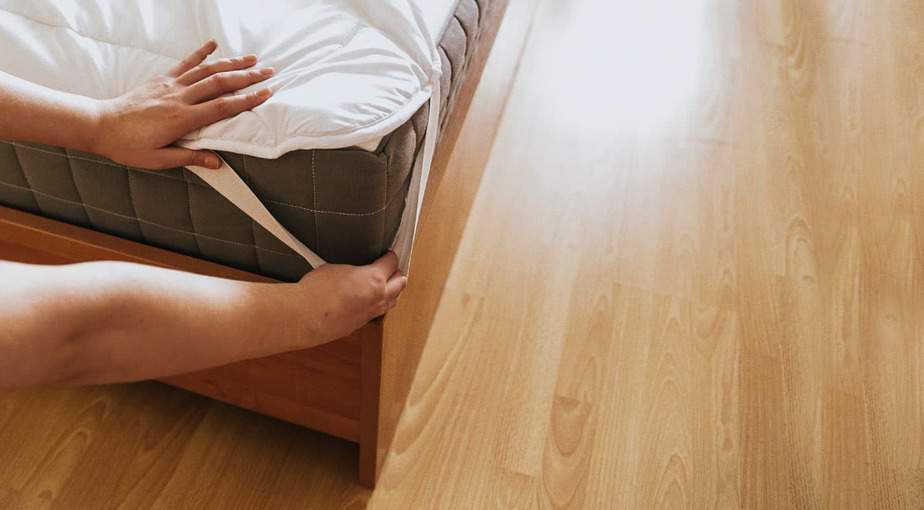 These pads are not all the same, though they are the best. While some offer up to twenty control settings, others feature micro-velour fabric and high thread counts. And, of course, some offer both.
And just like shopping for a mattress and box spring, quality counts. For that reason, let's walk through some of the different fabric varieties of these heated mattress pads. That way, you can determine what is best for you.
Polyester: A safe choice against spills, polyester resists moisture, though it is not as soft as other fabric choices. It also does not breathe as well as other fabrics such as cotton. But polyester does tend to be more affordable, and it holds heat better.
Cotton: The softest option, cotton will give your sleep experience a warm but breathable quality. If it's within budget, 100% cotton is a great way to go.
Quilted: Not a fabric per say, but a quilted mattress top is a unique feature that enhances the density and softness of the pad. Quilted also ensures a long life for the mattress pad, as it contains the pad's filling in place for many years.
In addition to the actual materials that make up your mattress pad, you will also want to consider some important features.
Find Your Own Features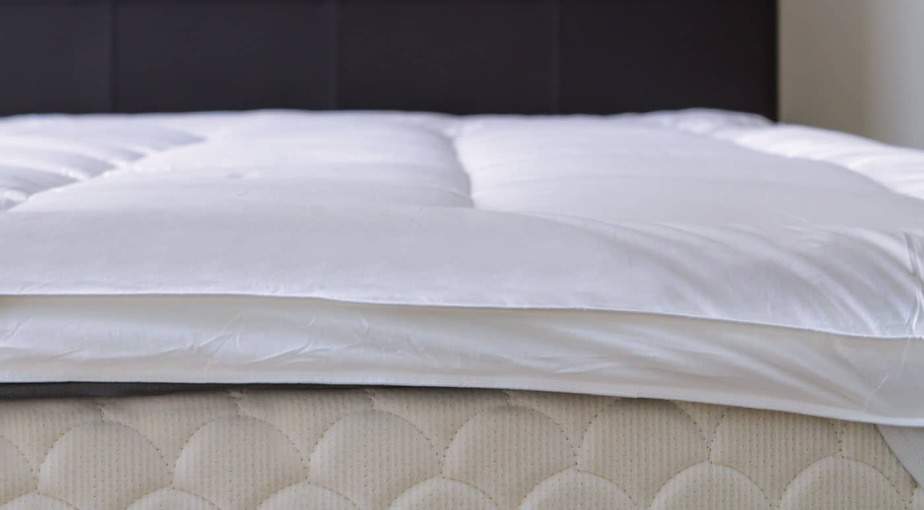 From heat settings to safety, there are several crucial questions you should be asking yourself, such as:
Is there a warranty? Some of these products come with a five-year manufacturer's warranty. Meaning, if this product fails you in some way for the first five years, you can get it replaced or refunded. Five years is quite a commitment from these companies, so keep an eye out for a warranty promise!
How many temperatures settings are there? While some pads have eight temperatures settings, others have twenty! And while some pads heat the whole bed, others can be specifically set to warm two sides of the bed separately. If you and your partner have different heat needs, consider dual-temperature control.
What is the safety guarantee? When it comes to introducing electricity to your bed, safety is more than important. All of these pads are super safe, but some specifically offer a safety guarantee.
Washer and dryer safe? Some of these pads can be easily cleaned at home in your washer and dryer. We've been sure to note which.
Save Money and Your Back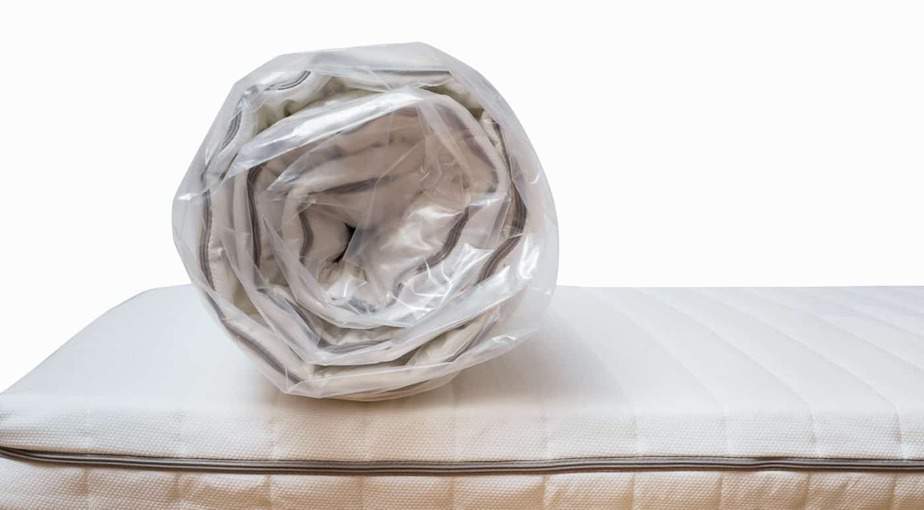 As we said above, a heated mattress pad not only ups your sleeping game by bringing in enhanced comfort and warmth; it helps your body heal while you rest.
If you suffer from back pain, the added heat while you sleep will help your muscles relax. When muscles are cold, they contract, which keeps your blood from moving freely. But when they are warmed, as would happen on a massage table, your muscles can more quickly recover from injury and stress because blood flow is moving.
But you won't only save your back. Watch as your electric and/or heating bill lowers each month. By incorporating a heated mattress pad, you will require less wall or floor heat. Studies have shown that heated mattress toppers and blankets can help you save each wintry (or cold spring) months.
Save yourself a trip to the chiropractor, turn the thermostat down at night, and jump into a warm bed. You'll wake to find yourself rested, your body relaxed, and a day that is brimming with possibilities.
Methodology
While it is challenging to rank heated mattress pads that have so much variation, at RAVE Reviews, we believe it is crucial to find the very best. So, we developed a careful methodology that considers all the necessary information—product specs, customer reviews, company reputation, and so much more.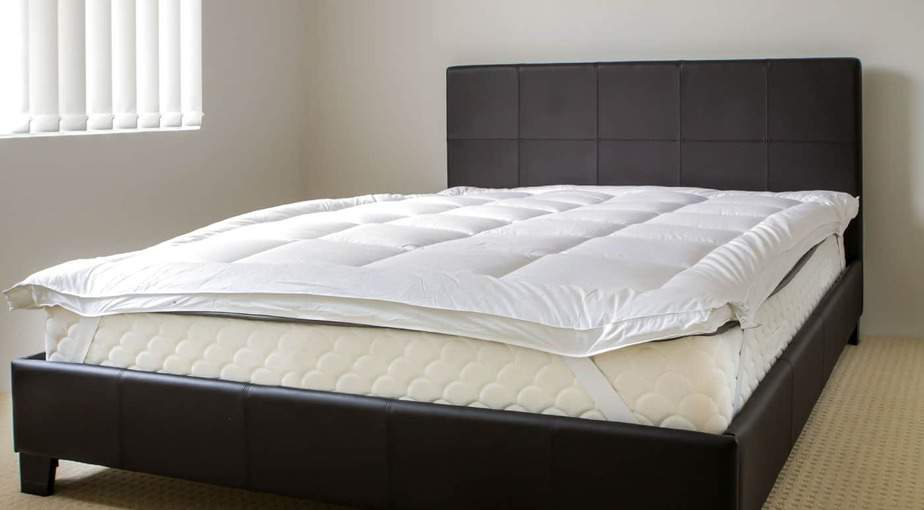 There are hundreds of heated mattress pads out there. Don't choose just any. We've boiled down our calculations to factor in the following core criteria:
Price of the Heated Mattress Pad
Quality and Design of the Material
Safety and Warranty
The Best Heated Mattress Pads
Are heated mattress pads safe?
Of course, it makes sense to wonder about the safety of a heated mattress pad. It's electricity running through your sheets! But, do not fret, they are in fact, very safe. And just to assure you, look for the following before making your purchase:
Automatic shut-off: All of these mattress pads include an automatic shut-off, usually at around ten hours. This feature ensures your mattress pad will never overheat, even if left on its highest setting. Automatic shut-off is a crucial component to any heated mattress pad for protecting you and your home.
Warranty: As we wrote above, a warranty ensures that you have the best product. And that, if it does malfunction, you can quickly return or replace it. A warranty also reflects the manufacturer's confidence in its product.
Washable: Perhaps counter-intuitive, but a washable heated mattress pad signals a well-designed, and therefore safe, pad. We have written more on how to wash your mattress pad below.
To make your mattress pad even safer, you'll want to make sure it properly fits your bed, taking time to measure your bed first. Also, if you take good care of the mattress pad, washing and using it as instructed, it will last longer.
It is also a good idea to keep the controls out of reach of any small children. Not because the controls are dangerous, but because leaving the pad on when it is not in use drains the pad of its longevity.
Can I wash my heated mattress pad?
Not all heated mattress pads can be washed! Please read the instructions carefully. But for those that are washable, you are in for a treat. Washable pads increase the life of the mattress pads and keep you cozy for longer.
To wash your mattress pad, first, check the manufacturer's instructions for specifics. Generally, though, you will remove the wires and controls first, of course. Before removing, be sure the power cord has been disconnected from the wall!
Pre-soak the pad for ten to twenty minutes then wash it on warm and gentle settings in your washer, adding a small amount of detergent (we recommend something clean of dyes and scents). Rinse with cold water.
Some pads can be dried too. Again, dry it on gentle settings, adjusting the heat to cool. Only dry for fifteen to twenty minutes, then hang it out for it to finish drying. Make sure the pad is entirely 100% dry before plugging it back in!
A few other "don'ts" before you begin washing your heated mattress pad:
Do not use bleach
Do not use dry cleaners or industrial dryers at laundromats
Do not use softeners or sprays
Do not iron your mattress pad
Do heated mattress pads use a lot of electricity?
When you buy a heated mattress pad, you are investing in quality sleep and better health. But, of course, the cost is an important consideration. One (big) perk of having a heated mattress pad is a lower thermostat. You will not need to keep your bedroom nearly as warm as you did before you had the heated pad. This will help you save throughout the cold months.
But, does running electricity through your bed each night use up a lot of power? Some, but not as much as heating an entire room! In fact, you can save a bundle by lowering the thermostat by around 10 degrees at night and turning on your mattress pad.
Because the pad is beneath your sheets (and you!) the heat it conducts will stay in the bed, rather than drift up and out of the room. You can, therefore, run the pad for just a few hours but reap the warm benefits all night long.
If you live in a poorly-insulated house or a part of the country with several below-freezing nights, re-calibrating your energy habits through a heated mattress pad is a wise way to save by lowering that heating bill. If you want to stretch your dollar even further, invest in a pad constructed with hybrid materials, such as cotton and polyester.
How long will my heated mattress pad last?
This is a great question! And, unfortunately, a highly subjective one. Which does not mean we cannot answer it, just that some nuance is involved.
Foremost, the longevity of the pad depends on what kind you buy. If you invest in a pad with higher thread counts, quilted design, and water resistance, then you are investing in a pad with a longer lifespan. If you can wash your heated mattress pad, then again you will be able to use it for years and years.
Here at RAVE Reviews, however, we recognize that people live on budgets, that it is not always possible to buy the best of the best. That said, you can still purchase a mattress pad that will stick with you for five or more winters. Here's what to look for:
Again, a warranty or product guarantee
Washing and drying capabilities
60 or 90-day satisfaction guarantee
Waterproof or resistance
Low voltage
Evenly distributed filling
If you can find a pad that boasts even some of these features, then you are in good shape. A heated mattress pad with several (or all) of these qualities should last you upwards of five years, if not more.
What is the best heated mattress pad?
Deciding which heated mattress pad is best for you depends a great deal on your own personal preference–how hot you want the mattress pad to get and what materials do you prefer? We recommend that you first decide what you're looking for in a heated mattress pad and read through our article to see the ten best options before making a decision.
However, we get that time can be of the essence, which is why we at RAVE have also selected three of the best heated mattress pads to choose from based on overall quality, budget and safety features.
For best overall heated mattress pad, we recommend the Sunbeam Waterproof Heated Mattress Pad. With two controls, you and your partner will both sleep happy. Control each side of the bed to your preference and set the timer for up to ten cozy hours of sleep. Luxurious, practical, and still affordable, this mattress pad cannot be beat.
For those looking to shop on a budget, we suggest the Serta 233 Thread Count Electric Heated Mattress Pad. Just because it is the most affordable does not mean Serta skips on functionality and comfort. With a 233 thread count, this pad is as soft as most of the others. It also offers an energy-saving control.
If you're a shopper that is most concerned with overall safety, you can't go wrong with SoftHeat Smart Heated Electric Mattress Pad. The only one on our list to boast a patented safe, low voltage and non-hazardous certification, the SoftHeat Smart Heated Mattress Pad offers the best safety features. It is also the only one on our list that does not emit EMFs and utilizes low voltage to ensure safety and save energy.
RAVE Recommends
If you're thinking about ways to save energy, how to enable better sleep, and where to invest your hard-earned dollar, then our staff here at RAVE Review recommends you check out these similar products: