When it comes to turning your bed into the ultimate snooze haven, you need the best down comforter you can get your hands on.
The Alberta Euro Down Comforter is precisely that. Its lightweight comfort is paired with a luxurious fill that will take your bed to the five-star, breakfast-in-bed status in no time. All you're missing is a personal chef!
You got your bed frame, your box spring, and your mattress, but one thing is still missing from the soon-to-be, cloud-like sanctuary that is your bed. No, we're not talking about that sheet set that also includes a top sheet and a bed skirt, because let's be real, does anybody use those things? Nope, we didn't think so.
What we're talking about is that luxurious, fluffy, cocoon-like shell that pulls your entire bed together and makes it worth not going out for the night. Just think: would you want to spend all day in a bed that only had sheets on it? Or, even worse, a quilt? Absolutely not! A bed without a comforter is, quite frankly, a bed we don't want any part of.
When we talk about comforters, we don't mean just any comforter, however. We're talking about the king of all comforters here. Yup, you guessed it! A down comforter. A down comforter is not only super fluffy and comfortable, but it will also take your bed to the next level. And we gathered together the ten best down comforters you can get your hands on.
The Down Comforters We RAVE About
Best Down Comforter Overall
Alberta Euro Down Comforter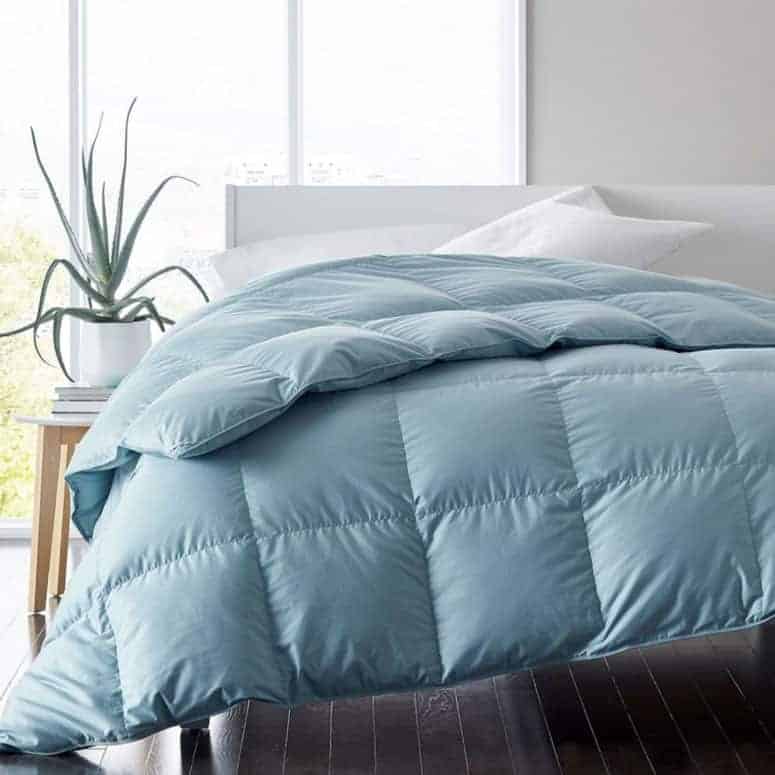 Best Down Comforter for Hot Sleepers
Buffy Cloud Comforter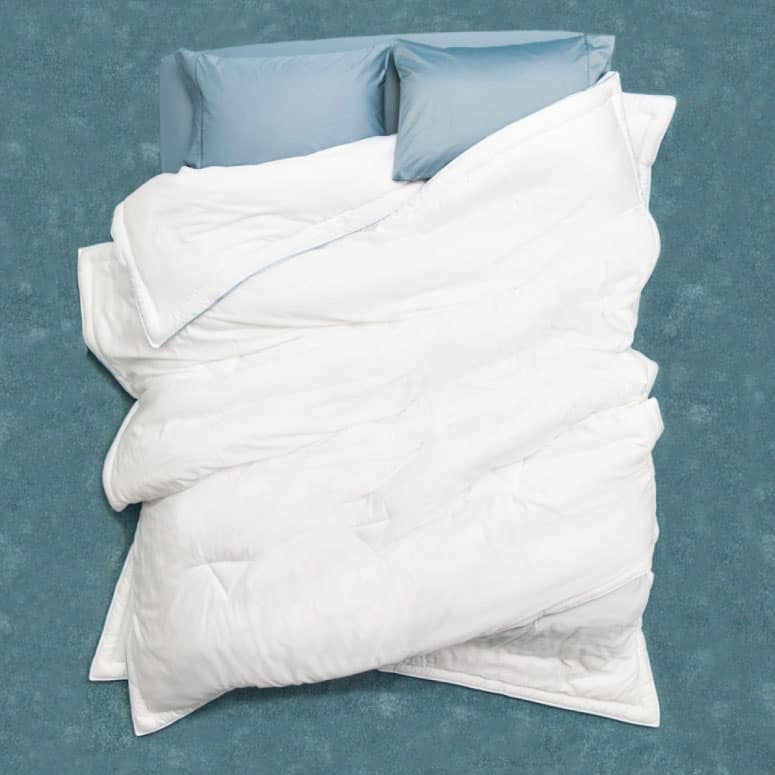 Best Hypoallergenic Down Comforter
Brooklinen Down Alternative Comforter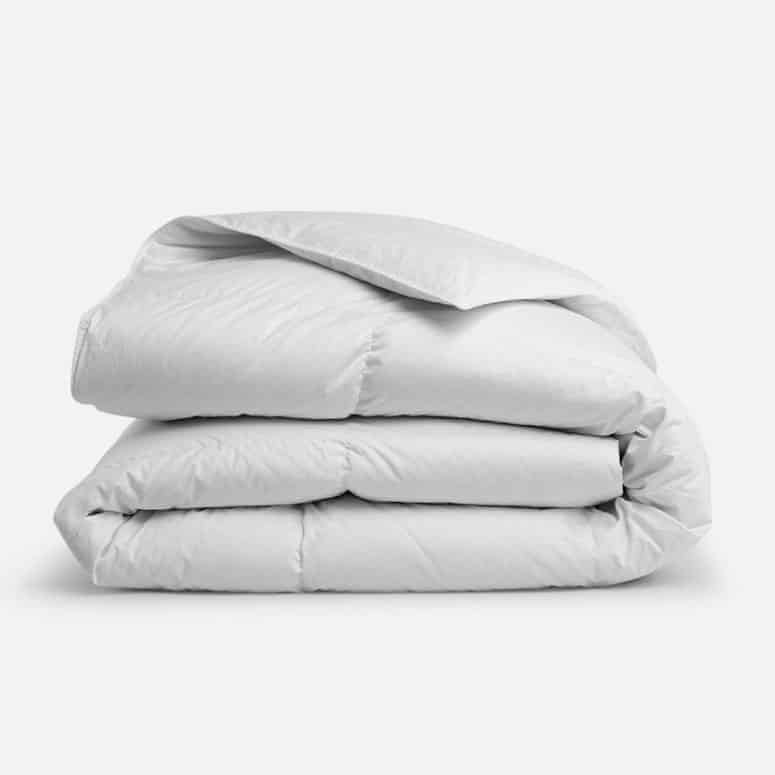 Why Do I Need a Down Comforter?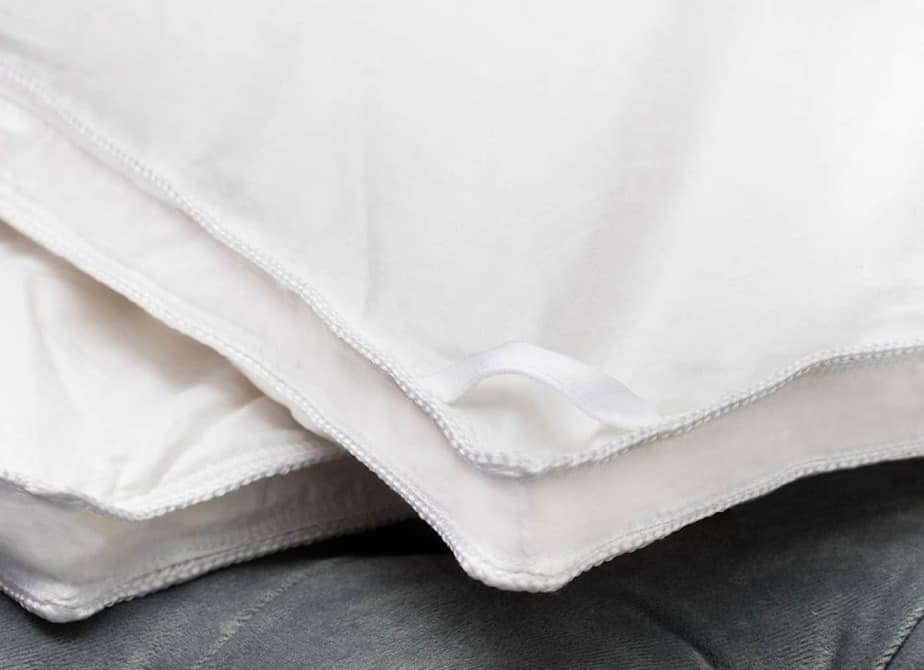 The real test of getting older is seeing how excited we get over things that never used to phase us as children, like purchasing a new appliance or paying off a bill. Besides these changes, we've also made one other significant change, and that change is going from hating naps, to anxiously look forward to when we can crawl back into bed.
It's hard to believe that with crazy schedules, never-ending to-do lists, and an overwhelming tower of responsibilities we use to dread being able to escape reality for a few hours to catch some Z's. And now that we crave it more than ever, there's one essential thing to focus on — being comfortable, of course!
Looking forward to some much-needed shut-eye and then laying down on an old, scratchy comforter is a sure-fire way to burst your bubble. Having the right bedding can take you from counting sheep to cashing in eight (or more) hours of sleep. And, whether we'd like to face it or not, finding the right comforter is about much more than looks.
Quality Over Design
Our beds are the focal point of our bedrooms. While crazy patterns and bright colors may catch our eye during our comforter search, the real test of whether or not a particular comforter is the right choice for you depends on pretty much one thing — its comfort level. Because what matters more for a good night's sleep than being comfortable?
In Walks the Down Comforter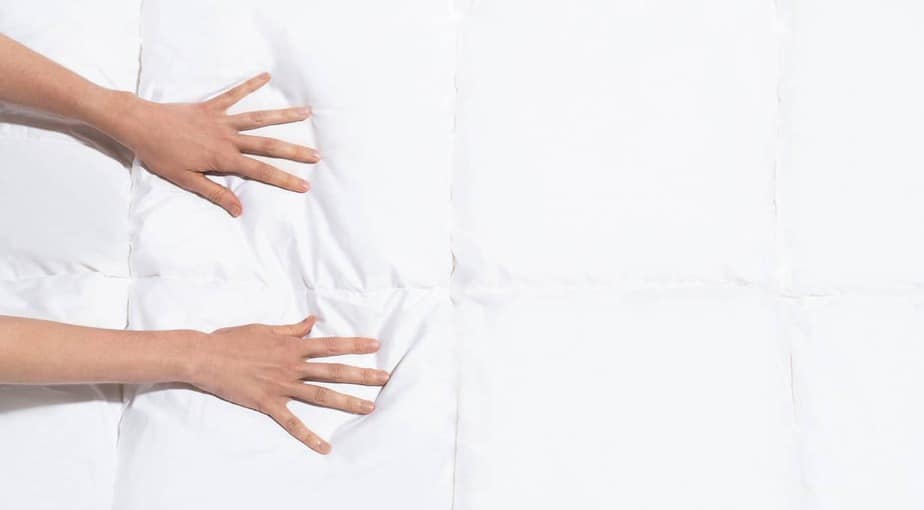 Down comforters are the comforter of all comforters. The comforter king, if you will. They're known for their extreme comfort (is that where their name came from?) and the fact that the material they're made from is lightweight, soft, and luxurious all rolled into one. Once you make the switch to a down comforter, you won't be able to turn back.
With that said, however, not all comforters are created equal. Just because two comforters are both down comforters doesn't necessarily mean they'll deliver the same experience. We know, it's crazy. Have no fear, though! We're here for you, and we want to make your life as easy as possible. So, let's answer the question we know you're asking…
How Do We Choose the Best Down Comforter?
The right down comforter for you is the one that feels the best to you. It's as simple as that. You can never be wrong when it comes to what you like — it's all personal preference. With that said, there are some things you may want to look out for when purchasing a down comforter.
These traits include:
Thickness/fill power
Care instructions
Materials
Thread count
Construction
Cost
Thickness/Fill Power
For down comforters, thickness and fill power measures the quality of the down. It's a good indicator of how high the comforter will puff up. Typically, the higher the fill power, the warmer, fluffier, and longer-lasting the comforter will be. So for all of those cold sleepers, keep an eye out for a high fill power.
Thread Count
Thread count, on the other hand, measures how tightly the outer shell is woven. The higher the thread count, the tighter the thread is woven, which in turn means less breathability and more heat trapped under the blanket. If you're looking to stay super cozy and warm, you're going to want a comforter with a high fill power and high thread count.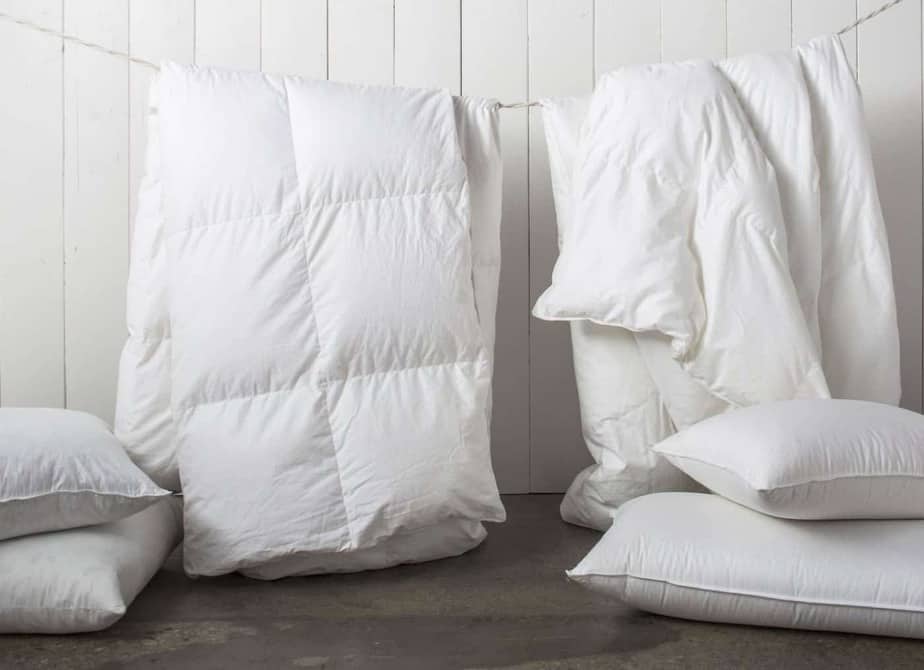 Construction
The construction refers to how the comforter is stitched together. For example, blankets that have a pattern stitched throughout the comforter (think of a quilt) will help to keep the down in place and prevent it from bunching up altogether, which potentially causes clumps. We know no one wants a lump filled blanket.
Which Down Comforter Is Right For You?
As you can see, there is much more to choosing a comforter than you may have initially believed. However, when it comes down to it, we genuinely believe a down comforter is the best on the market. They're not cheap, we will tell you that, but a good quality comforter can last you years and is worth the money if you're able to swing it.
If you're feeling overwhelmed at this point, take a deep breath and relax your shoulders. We assumed this point would probably come, so we did all the work for you. Below are ten of the best down comforters you can get your hands on, all you have to do is find the one you like the best!
Like we mentioned earlier, the best comforter for you is the one that makes you never want to leave your bed. Alarm who? These comforters will swaddle you up and have you sleeping like a baby once more, but this time you'll love every single second of that sleep!
Methodology
When you're on the hunt for a new product, we know how overwhelming it can be. There are so many different varieties, brands, and styles of the same product that sometimes you'll want to give up your search before even fully beginning it. That's why we took the time to do all the hard work for you. All you have to do is choose.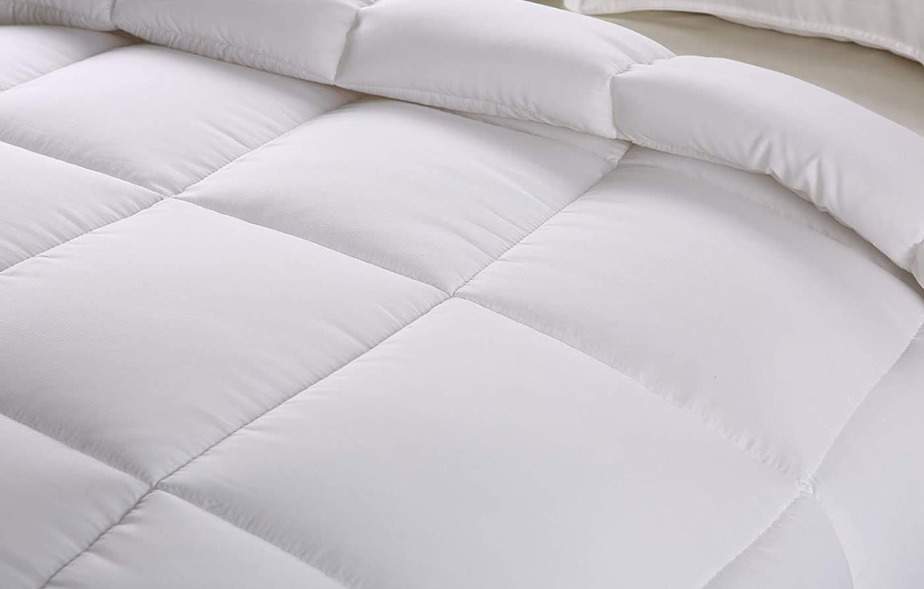 We're not going to show you just any down comforters out there, however. We base our search on several different factors, so we're only suggesting products that we believe in and would use ourselves. We judged each of these down comforters based on the following factors:
Cost
Brand
Material used
Thread count
Fill Power
Construction
Popularity
Customer ratings and reviews
No matter which comforter you choose from this list we know you won't be disappointed. Take your pick, jump into bed, and let a night of comfortable and cozy sleep take you away.
The Best Down Comforters
Are there different types of comforters for different kinds of sleepers?
While there aren't different types of down comforters for different sleeping positions (back sleepers, side sleepers, or stomach sleepers), there are different types of down comforters depending on how you sleep. For example, if you're a hot sleeper or a cold sleeper, and a lot of this comes down to the construction of the blanket itself.
Like we mentioned earlier, two things you'll want to look out for when purchasing a down comforter are the thread count and the fill power. Comforters with a high fill power and high thread count will keep you warmer, while comforters with a low fill power and low thread count are suitable for those who sleep hot.
Another great thing to look at when you're purchasing a down comforter is the construction of it. For example, if you toss and turn a lot, you'll want a comforter that has a lot of stitching throughout it, because this will help prevent the down from clumping together in certain spots.
Fill power, thread count, and the stitching are all things you'll want to keep an eye out for judging on what sort of sleeper you are. However, there is no "one size fits all" when it comes to down comforters. Whichever one feels most comfortable to you is, of course, the one you should choose.
What's the difference between a down comforter and any other comforter?
The difference between a down comforter and a non-down comforter comes down to what the comforter itself is made of.
Down comforters are made from the light, fluffy clusters that come from beneath the feathers of ducks and geese. This material is known to make the comforters super soft and comfortable. When you pay attention to things like the fill power and the construction of the comforter, you can customize it to fit your preferences.
Non-down comforters, on the other hand, can be made from several different materials such as rayon, polyester, or cotton, to name a few. Non-down comforters are great options for anyone allergic to down feathers or for anyone who lives a vegan lifestyle and wouldn't want a product that comes directly from an animal.
Although non-down comforters aren't as efficient at regulating your body temperature and may not be as comfortable as down comforters, they're much easier to clean and maintain. They're also often a lot cheaper than your typical down comforter.
So when it comes down to it, it's all just personal preference. Would you rather splurge and spend money on something that will last, or be more environmentally conscious using a product that comes from a non-animal source? The choice is yours, but down comforters are a great purchase.
What's the best down comforter?
In this list, we're giving you ten of the best down comforters that we believe are top-notch choices on the market. We could argue that all of these comforters are the best one. However, there's always a favorite with everything, and in this case, we believe the best down comforter is the Alberta Euro Down Comforter.
The Alberta Euro Down Comforter finds the perfect balance of lightweight softness and luxurious comfort and will most likely leave you feeling like you're sleeping like royalty. It's made from 300-thread count combed cotton with fine combed yarns that create a lightweight shell, helping you sleep comfortably without overheating.
Another fantastic feature of this comforter is that it's available in three different warmth levels, and offers a 600-650 fill power. So you really can customize it entirely to your preferences. It's also machine washable, which is not something you often find with down comforters.
This comforter comes in 5 colors and features a cross-stitch throughout the entire thing, so there's no need to worry about any of the down bunching up and leaving you with a lumpy, uncomfortable blanket. When it comes down to it, the Alberta Euro Down Comforter has some fantastic features and is our top pick from the bunch.
RAVE Recommends
The perfect night of sleep can be tough to come by, trust us, we know. However, if you pair one of these comforters with any of the products below, you'll be sleeping like a baby in no time (disclaimer: you may also be sleeping through your alarm!).