There are tons of really great affordable mattresses on the market, but the second we laid eyes on the Lucid 10 Inch Plush Memory Foam Mattress, we knew it would be at the top of our best budget mattress list.
Perfect for any type of sleeper, this mattress has some really amazing features you won't ever get enough of.
Special gel beads help regulate your body temperature, a feature that isn't always seen in memory foam, so you can sleep comfortably and soundly. This mattress also offers tons of support while still being super soft, and it decreases motion transfer so you can sleep soundly next to someone else without being disturbed. You can't go wrong with this mattress, so try it out for yourself!
For the average person ⅓ of our life is spent sleeping, so you can say our relationships with our beds are pretty serious. If we know anything about relationships though, we know that both partners have to put in 100% for it to work, so just think: why would you spend ⅓ of your life in a bed that you hate?
Nobody wants to go through a really long and stressful day to just fall into a bed that's lumpy, stiff, and downright uncomfortable. However, on the flip side, I'm sure none of us are too keen on breaking the bank and spending thousands of dollars on a mattress when there are tons of other things we have to spend money on.
Have no fear, though! There are tons of great mattresses out there that are totally affordable yet don't compromise any of their comfort and luxury, and we gathered together 10 of the best ones out there. Start getting the best sleep of your life with one of these best budget mattresses, and keep your wallet full in the process.
The Budget Mattresses We RAVE About
Best Budget Mattress Overall
Lucid 10 inch Plush Memory Foam Mattress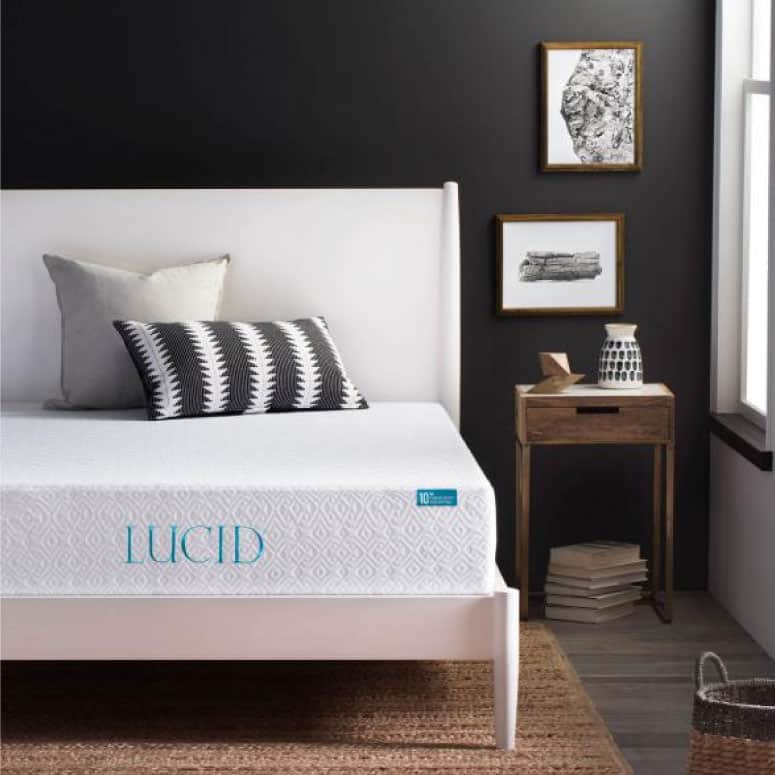 Best Memory Foam Budget Mattress
The Nectar Memory Foam Mattress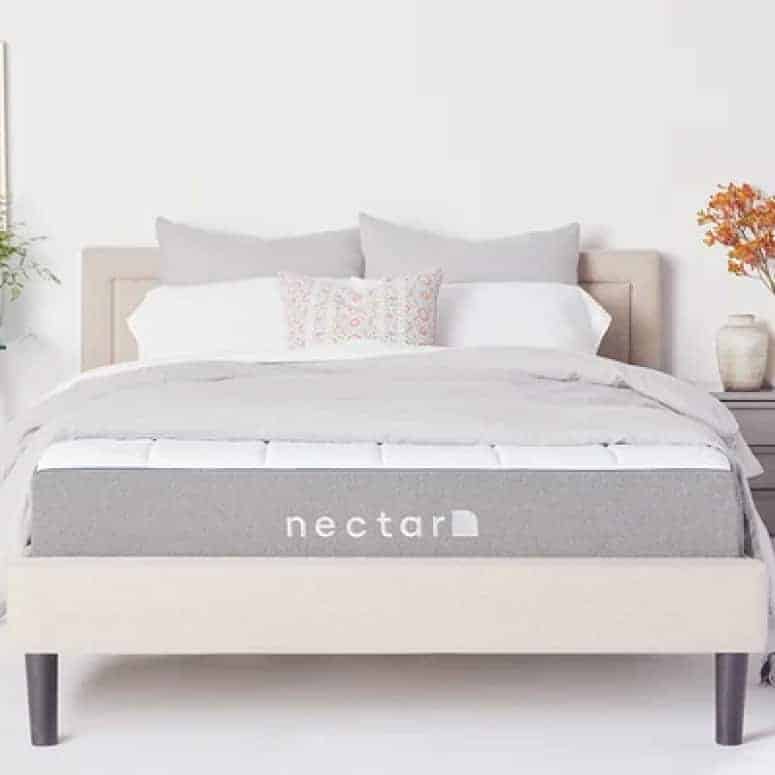 Best Hybrid Mattress
The Allswell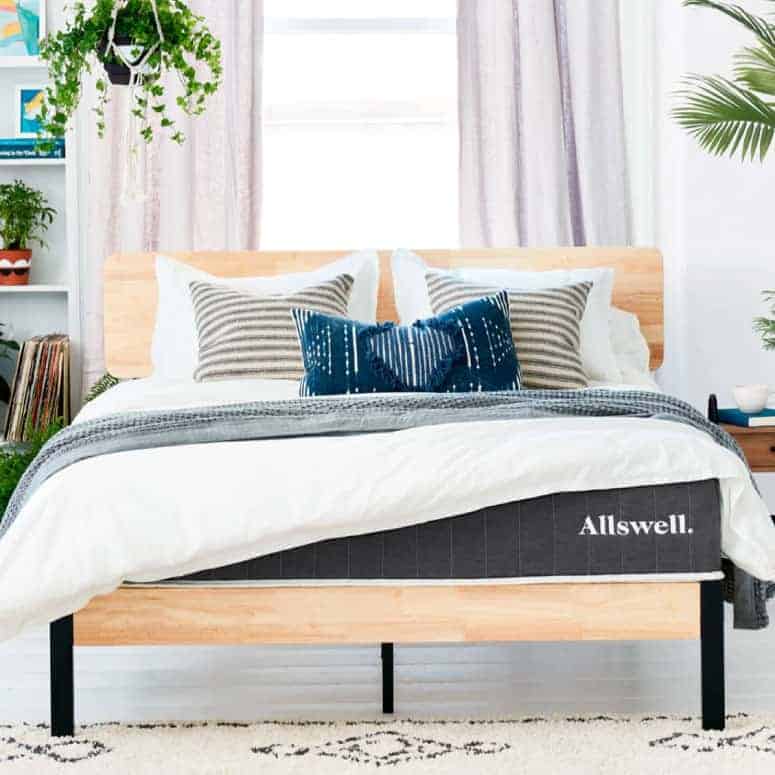 Have you ever really sat down and thought about how much time you spend catching some serious z's in bed? Maybe not, but we have. And upon our investigation, we discovered that the average person spends about ⅓ of their life sleeping in bed — that's a serious amount of time!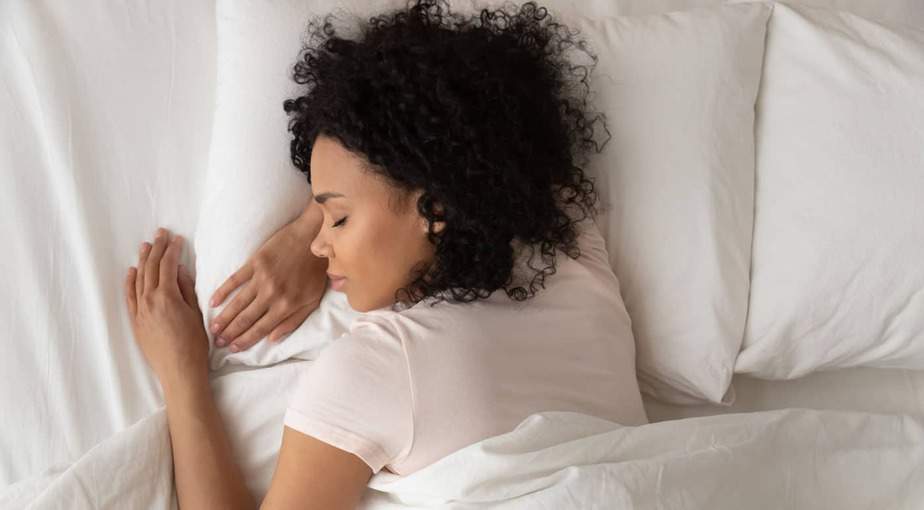 While many of us place a ton of emphasis on splurging on certain items such as a new car or a designer clothing item we've been eyeing for quite some time, many of us don't put our money where it really matters, like spending it on a good, quality mattress for example.
And when we think about the time we spend in bed on top of sleeping, like watching a movie or reading a book, it's hard to believe that many of us will just purchase the first mattress we come across rather than really doing our research, reading reviews, and finding one that will last and support us in ways we need it to.
When it comes down to it, mattresses are expensive.
Mattresses definitely aren't cheap, we'll give you that, and that may be why so many of us don't give our mattress search the love and care it deserves. There are so many other fun and exciting (or responsible) things we can be spending our money on, and a mattress isn't always at the top of that list.
The truth is though, there are tons of really great mattresses out there that can give you the love, support, and comfort you need without breaking the bank — you just need to know where to look! Before beginning your journey though, there are some things you need to sort out first in order to get exactly what you're looking for.
What sort of sleeper are you?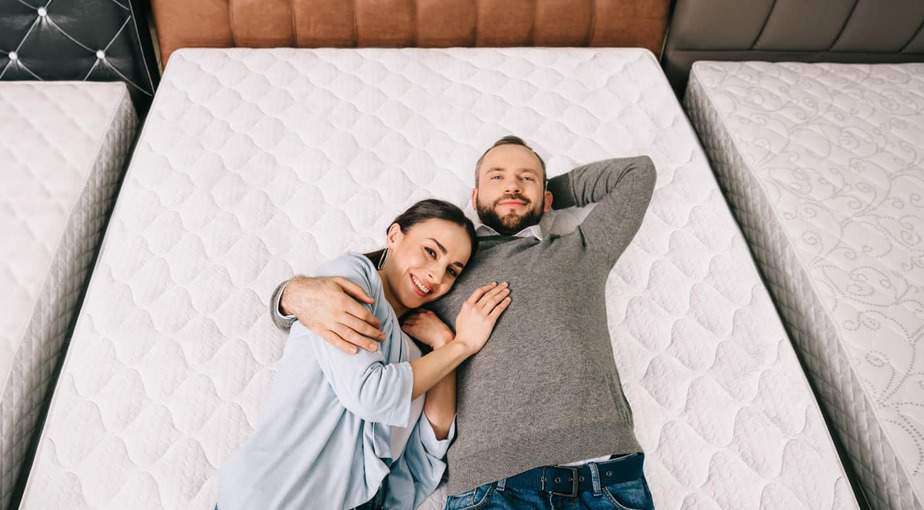 We can guarantee that the second you lay down in your bed at night prepared to catch some z's, you fall right into your favorite sleeping position. Now whether this sleeping position is on your back, stomach, or side, it's okay, none of them are wrong, but it is important to take note of this position.
The type of sleeper you are determines what firmness level your mattress should be, whether it's super soft, firm, or somewhere right in the middle.
If you're a back sleeper, you need the support that will keep your spine in proper alignment, preventing unnecessary stress from being put on your joints. In this case, it's best you choose a medium-firm mattresses since too much softness or too much firmness can disrupt proper spinal positioning.
For side sleepers, since there are more curves on the side of your body, your mattress should be a bit on the softer side, as this type of mattress will give your body the support it needs yet at the same time cradle your hips and shoulders to prevent joint stress.
Stomach sleepers, especially ones who reach their arms up and around their pillows, should look for a firm mattress that will offer tons of support, as your hips can sink into a mattress that's too soft and cause unwanted pressure and stress on your lower back.
Once you figure out what type of sleeper you are, you can move on to the next step and figure out how you'd like your mattress to be constructed.
Memory foam, spring mattress, or hybrid?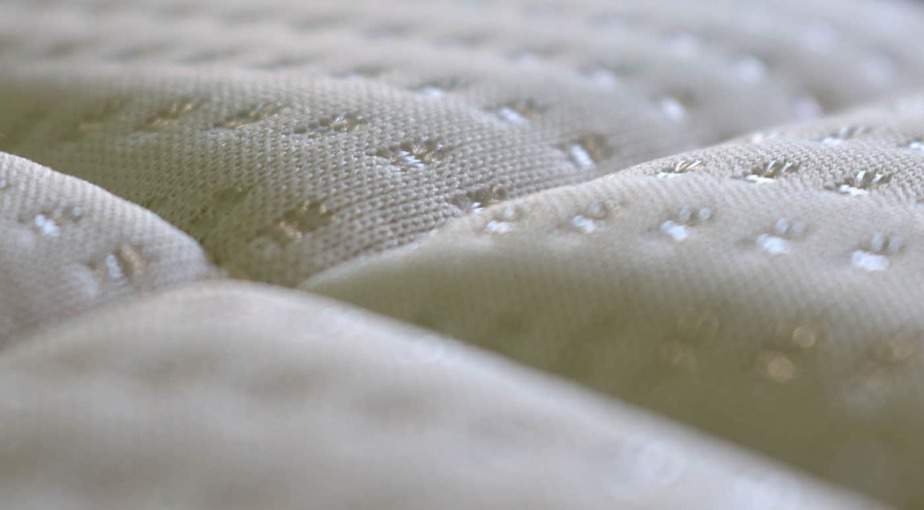 Typically, mattresses can be made from memory foam, can have springs inside, or can be a combination of both. Let's look a bit deeper into this.
Memory foam mattresses are known for being super soft mattresses that cradle your body and conform to your every curve. While this is mostly true, memory foam mattresses can also be a bit on the firmer side, while still giving your body that comfort and support it needs.
Mattresses that have coils inside are the most popular types of mattresses, as they provide great support, are super durable, and are typically amazing at regulating your body temperature.
Lastly, you have your hybrid mattresses, which are a combination of both memory foam and spring coils. These mattresses are amazing because they're the best of both worlds and can give you both the qualities that people look for in a memory foam mattress, but also the qualities people would like to get out of a spring mattress.
Let's get down to business!
Now that you understand that there are some very important differences between mattresses, it's time to put your knowledge to the test! Don't worry, you're not being quizzed! First you just need to figure out what type of sleeper you are, and then allow everything else to naturally fall into place!
We already gathered together 10 of the best budget mattresses on the market, now all you have to do is choose which one is your favorite! Whether you'd like a softer mattress or one on the firmer side, and whether you'd prefer a memory foam, spring mattress, or hybrid, we're confident that the perfect mattress for you lies right here in this ranking!
Methodology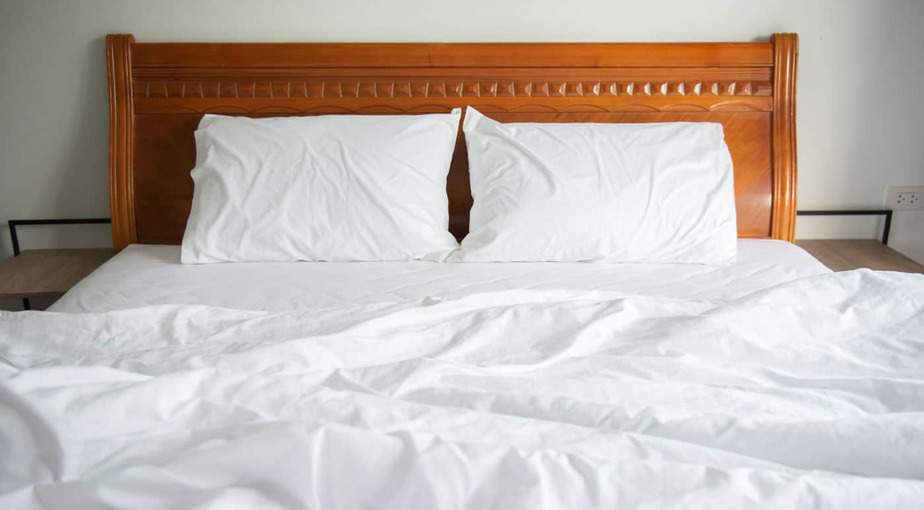 We know how important it is for our health (and our sanity) to get a good night of sleep each night, and in order to do so you need a really great mattress. That's why we really take the time to choose only the most high quality mattresses on the market.
We searched high and low to only show you mattresses we would use ourselves, and we based our search on a number of factors including:
Price
Brand
Type of mattress
Materials used to make the product
Popularity
Overall quality
Customer ratings and reviews
So, rest assured and sleep soundly knowing that no matter which mattress you pick from this list you're going to absolutely fall in love with it. Simply take your pick, make the purchase, and start catching some serious z's.
The Best Budget Mattresses
Related rankings
Are there different mattresses for different types of sleepers?
Everyone needs sleep, but not everybody sleeps the same way, and because of this there are different types of mattresses out there depending on what sort of sleeper you are. Whether you're a back sleeper, a side sleeper, a stomach sleeper, or a combination of any of those 3, there's a mattress out there that will keep you comfy all night long.
For back sleepers, you'll want a mattress that will keep your spine in proper alignment so no stress gets put on your joints and pressure points. Because of this, back sleepers sleep best on medium-firm mattresses since a mattress that is too soft or too firm can prevent you from getting that proper spine alignment.
Being there are more curves on the side of your body than your back, side sleepers should be a little more particular when choosing the mattress that works best for them. For this reason, side sleepers would sleep best on a softer mattress that will give needed support yet cradle the hips and shoulders to prevent stress on joints.
Stomach sleepers are at a much higher risk for back and joint pain if there isn't proper support in their mattress, so these types of sleepers should look for firm mattresses, as a mattress that's too soft can allow your hips to sink into it, thus causing unwanted pressure and stress on your lower back.
Combination sleepers can pretty much try out a few mattresses and see what firmness level works best for them. Just always keep in mind what sort of sleeper you are when purchasing your mattress to ensure you'll wake up feeling refreshed and rejuvenated rather than waking up stiff and in pain.
Are there different types of mattresses?
No two mattresses are exactly the same, and when it comes to them, and as explained above, different mattresses can come in different firmness levels. Because of this, you'll definitely want to figure out what type of sleeper you are before purchasing a new mattress so that you'll know what firmness level to get.

In addition to this, there are different types of materials mattresses can be made from, and this can be a big factor in determining the firmness level of the mattress to begin with. In this ranking you'll find mattresses made from memory foam, some that are made with coils, and some hybrids — mattress that are a combo of both memory foam and coils.

In general people typically think memory foam mattresses are super soft, however there are some firm memory foam mattresses out there (and some of them can be found in this ranking!). Memory foam cradles you when you sleep, and distributes your weight evenly to reduce pressure points as well as the need to toss and turn to get comfortable.

Mattresses with coils, or spring mattresses, are strong and durable while providing your body with more than enough support to get a cool and comfortable night of sleep. The coils themselves can vary within the mattress giving you a different sleep experience, but generally they're known to give you the support your body needs and they stand as the most popular mattress type.

Both memory foam and spring mattresses are great mattresses, and both have their set of pros and cons. Being they both come in different firmness levels, we recommend choosing a firmness level that works best for you based on what type of sleeper you are and then choose whether you'd like a memory foam or spring mattress after.
What is the best budget mattress?
This ranking is full of 10 of the best budget mattresses on the market, and while they're all great picks in their own, unique ways, we can't seem to get enough of the Lucid 10 Inch Plush Memory Foam Mattress. Judging by the reviews many customers absolutely fell in love with this pick, and we know you will too.

The Lucid Memory Foam Mattress features 3 inches of gel-infused memory foam for a super comfy medium-plush feel. Plus, this memory foam is temperature regulating, pulling the heat away from your body during the night so that you don't have to spend the night in a battle between you and your blanket, kicking your foot out from under it all night long.

This memory foam not only regulates your body temperature though, it also helps to isolate movement and decrease motion transfer, meaning you can comfortably sleep next to your partner and not get woken up during the night from them tossing and turning and being a crazy sleeper.

For side, stomach, back, or combination sleepers, we really think the Lucid 10 Inch Plush Memory Foam Mattress would be an absolutely great match, and tons of happy, satisfied customers agree. Many claim they're now getting the best sleep they've ever gotten with this mattress, so why don't you get in on the hype yourself! It's time you try out this bad boy.
RAVE Recommends
We all know our bed is the focal point of our bedroom, but just having an amazing mattress isn't all you need to turn your bedroom into your own personal sanctuary. Take a look at these products below that will help turn your bedroom into a private oasis you won't ever want to leave.
Room Darkening Blackout Curtains: One of the worst things is waking up earlier than you planned on because the morning sun decides to blind you through your windows, however these room darkening blackout curtains will keep your room looking like it's the dead of night — meaning more sleep for you (and who wouldn't want that?!).
Aromatherapy Essential Oil Diffuser: We all know falling asleep with candles lit is a major fire hazard, but this aromatherapy essential oil diffuser will keep your room smelling fresh and delicious all night long sans risk — pair it with some relaxing essential oils and wake up feeling renewed and refreshed!
Cosmos Star Projector: Bring the starry night indoors with this amazing star projector that allows you to pick from 5 different colors and will turn your bedroom into your very own planetarium.
Reading Pillow: After purchasing one of these budget mattresses you'll literally never want to leave your bed, and this reading pillow makes that possible, giving you all the back support you need to get cozy while sitting up in bed so you can get some work or reading done with an ease.