Ever heard of a bed in a box?
Yep, you read that right. What if we told you that you don't need to sacrifice quality for convenience when it comes to your mattress? Here at RAVE Reviews, we've selected 10 of the best bed in a box–beds you can order online–options for you. But one stood out from the rest and rose to the top—the Puffy Mattress. This bed in a box brings breathability, practicality, affordability, and (most importantly) comfort right to your doorstep.
Along with shopping for groceries, clothing, and shoes, buying a mattress has gone the way of the future—home delivery! A bed in a box is just what it sounds like—a bed that comes in a box. This new method of mattress ownership is changing the way we sleep, and definitely for the better!
Before you jump to any conclusions, let's get this out of the way: ordering a bed online is certainly not the traditional way to do it, but that doesn't mean these mattresses are any less comfortable or lower quality. In fact, these mattresses feature some of the most innovative sleep technology out there. It's just a cherry on top that the bed gets delivered to your door!
If you're looking for a new mattress, just let it be known that there is another way other than hauling an over-priced mattress home on the top of your car from the big-box mattress store National Lampoon-style. Simplify things! Order a bed in a box online. You'll get it within the week (likely sans shipping costs), and you'll be snoring away on it soon after.
Are you ready to revolutionize the way you get a better sleep? Then check out our list of the best beds in a box below.
The Beds in a Box We RAVE About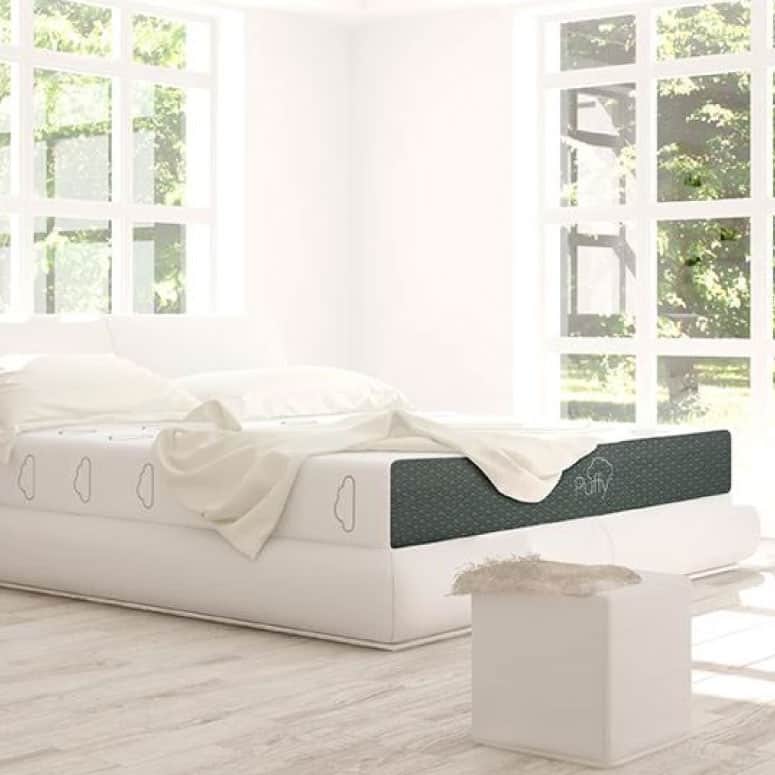 Best Overall
Puffy Mattress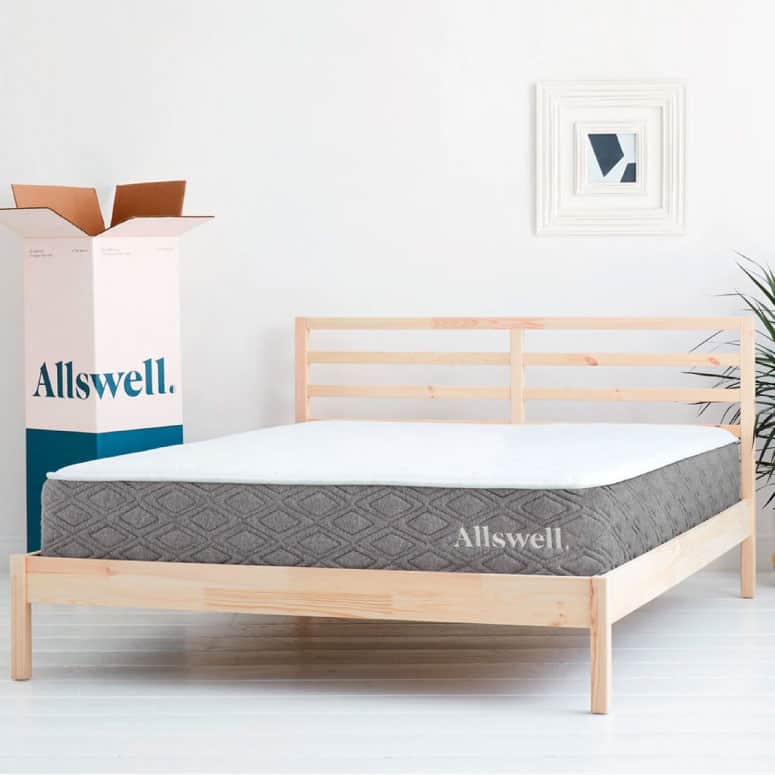 Best Price
Allswell Luxe Hybrid Mattress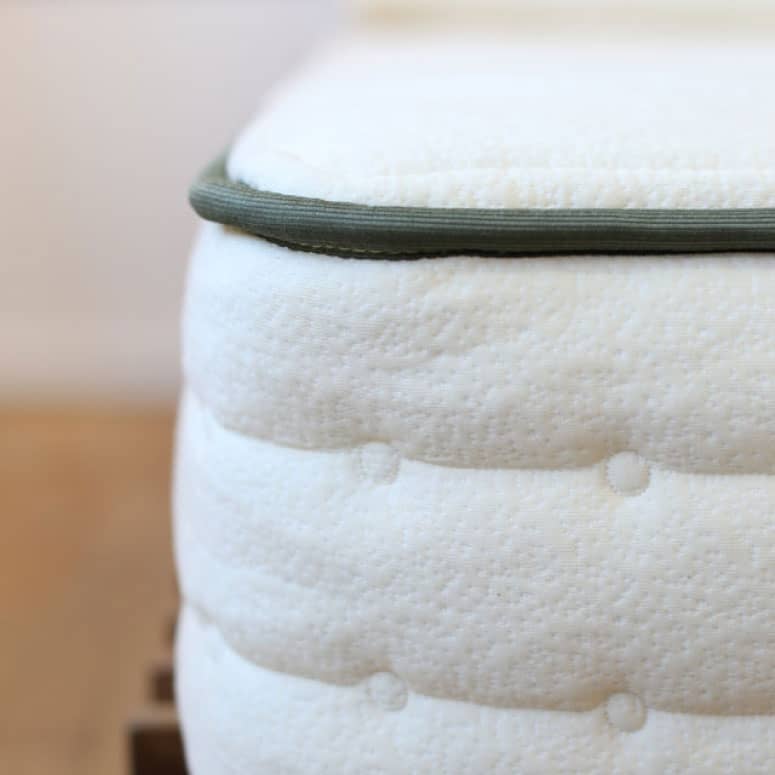 Most Eco-Friendly
Avocado Green Mattress
How to Get The Best Bed in a Box?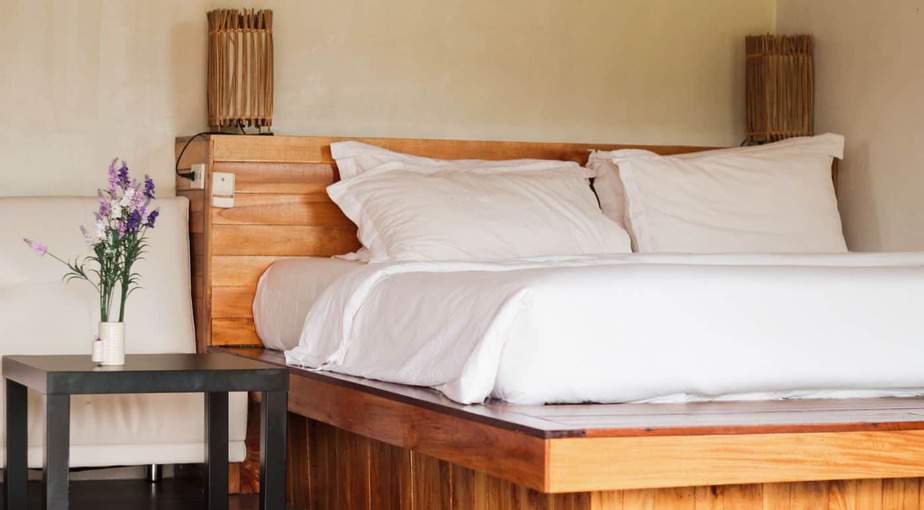 Have you purchased a mattress recently? If not, let me remind you of the usual process. It looks a little like this…
You walk into a large warehouse store filled with mattresses. Big and small, tall and short, fluffy and rigid. A middle-aged guy in a tucked-in polo shirt gives you an earnest (though a little too earnest) sales pitch on why that $2,800 mattress will be "life-changing." You nod along politely.
After laying down on approximately 43 different mattresses, you can't clearly tell any of them apart, and the salesman is starting to ramp up his pitch for the 44th time. You end up choosing one out of mere exhaustion. The mattress costs more than your last used car, and you pay an extra $150 to have it loaded onto a truck and sent to your house.
Whew. Sound like fun? Trust us, that version of mattress shopping is not fun. But there is an alternative to that madness. A bed in a box is the new way to shop for mattresses. It lets you side-step all of the mess of traditional mattress stores: the sales pitches, the extra hidden fees, the waste of a full afternoon.
Instead, you can order a new mattress with the click of a button. You'll find it on your doorstep a few days later. And that's that! A bed in a box!
What Is a Bed in a Box?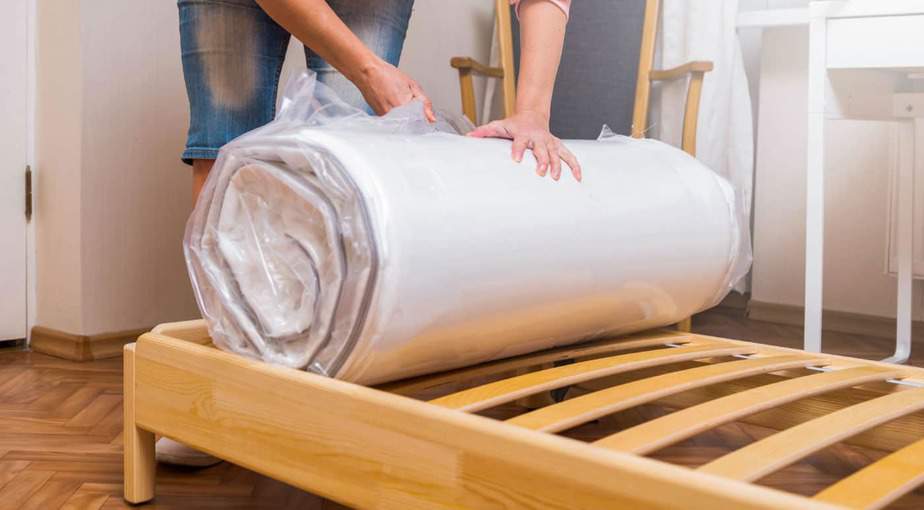 It's confusing, we know. A bed in a box? A bed shipped to your house? A bed that inflates!? Take a deep breath. We'll clear the air right now!
A bed in a box uses the best and brightest sleep technology out there to compress a regular-sized mattress into a compactable (and shippable) box. The mattress is typically constructed out of a foam-based material. This allows it to be vacuum-sealed and folded into a box. The bed in a box concept hit the market back in 2007 and has only been gaining in steam since.
Don't be alarmed when you see your bed in a box mattress for the first time. It will be approximately half the size of a regular mattress. But that's normal—we promise it will inflate! Do you remember those sponges shaped like animals that would expand when you added water? Same concept, except without the water. Never put water in your mattress.
Okay, so just to break it down for you skeptics out there, here are your instructions:
Order your bed in a box
Fist-pump when it arrives 3-5 days later
Unbox said bed in a box in your bedroom
Break the vacuum seal (careful not to puncture the actual mattress)
Watch it inflate before your very eyes
Get your favorite jammies on and start snoozin'!
It's pretty easy. Buying a mattress can be so much more straightforward than the tedious process of window shopping. We get that it's scary just to order a mattress from the internet, though. So here are a few things to consider as you start your search for the best bed in a box.
What Should You Look For in a Bed in a Box?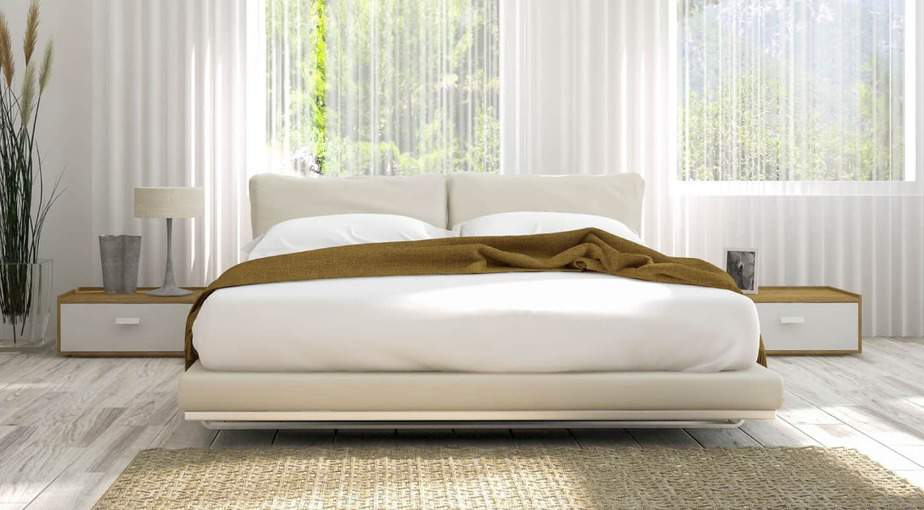 Mattress Materials
Perhaps most importantly, you'll want to consider the "stuff" that's inside your bed in a box mattress. While these mattresses share similar technology (namely, the ability to shrink a mattress into a shippable box), not all bed in a box mattresses are the same!
By and large, these mattresses will be filled with 1-4 layers of memory foam. But this isn't just your regular old memory foam. One great new technology is the gel-infused memory foam, which absorbs your body heat throughout the night and disperses it, keeping you cool as a cucumber.
Firmness Level
You'll also want to think about the firmness level of your mattress. Whether you're a side-sleeper, back-sleeper, stomach-sleeper, or upside-down-legs-behind-your-head-sleeper, you'll be able to find a mattress that fits your style. Most mattresses on our list fall within the 5-7 range on a firmness scale of 1-10. But some of these mattresses even come with dual-firmness options—one side is soft, and the other side is firm. You've got choices!
Trial Period
We know that a lot of sleep preferences are super subjective. It's hard to tell if you've found the right mattress without spending a few nights on it! The great thing about the bed in a box concept is that all of them include a generous trial period.
Here's the deal. Once your mattress arrives, you'll have 100 to 120 nights (depending on the company) to try out your bed. Take some time to feel it out. How does your back feel in the morning? Are you staying cool throughout the night?
In general, these mattresses are so well-liked that customers keep them for good. On the rare chance that your mattress is not the right fit for you, it's no problem! You'll ship it back (or some companies even pick it up for you), no questions asked.
Methodology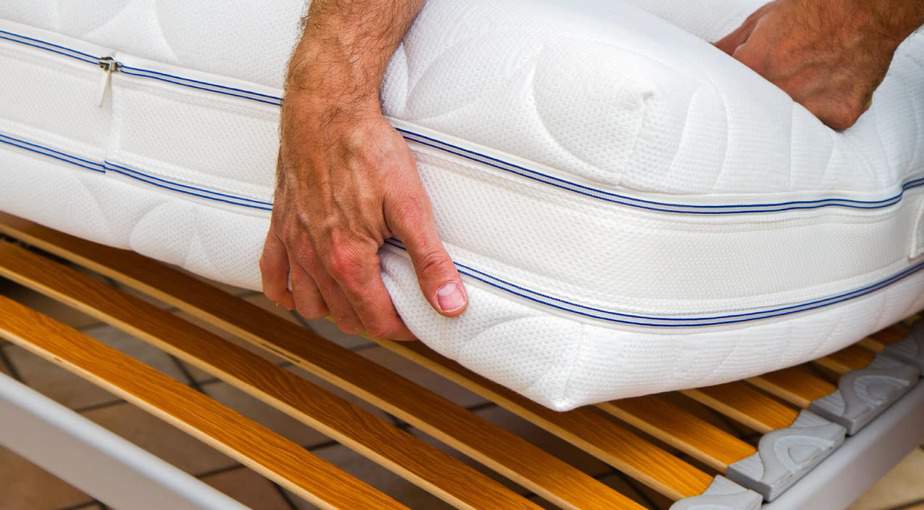 In our search for the best bed in a box, we crafted a methodology that would factor in all the essential data that the consumer (that means you) needs to know. This includes not only the objective elements like how much the mattress costs, but also subjective elements, like the nitty-gritty of a customer review. Here's a quick rundown of our data points:
Mattress price
Trial period length
Materials used
Warranty
Customer reviews
Industry rankings
Company customer service
The Best Beds in a Box
You'll be hard-pressed to find a better bed in a box option than the Puffy Mattress. Deemed "America's Most Comfortable Mattress," this bed has gotten a positive buzz from top reviewers like Forbes, Consumer Reports, and Ellen. We decided to see for ourselves what all the chatter was about.
Here's the gist of it. The Puffy Mattress is constructed out of 4 different layers that control firmness and breathability: the Firm Core support foam, the Climate Comfort foam, the Body-Adapting dual foam, and the Cooling Cloud foam. All of that is bundled in a stain-resistant mattress cover that you can zip off and toss into the washer whenever.
The Puffy Mattress was made to accommodate all types of sleepers. It generally falls into a 5-7 on a 10-point scale of soft to firm. And hey, if it's not quite right for you, take advantage of the free return policy. You've got 101 nights to decide. If the Puffy Mattress is right for you, though, you're covered by a lifetime warranty!
Pros
Lifetime warranty
Stain-resistant, removable cover
For all sleeper types
Cons
No customizable firmness options
Slow depth recovery
Lacks strong edge support
2
Allswell Luxe Hybrid Mattress
The most noteworthy thing that sets the Allswell Luxe Hybrid Mattress apart is its crazy low price—just $585 for a queen-size mattress. But affordability is not the only stand-out feature on the Allswell Luxe Hybrid Mattress. All of the Allswell mattresses utilize a hybrid model, which combines memory foam with spring coils.
The Allswell Luxe Hybrid Mattress is serious about comfort. Once it is fully expanded, this mattress stands 12 inches tall. The height, combined with the hybrid coil and memory foam material, gives all types of sleepers the support and ergonomic give they need. The company ranks this mattress at a 5.5-7 firmness level.
If it weren't enough that the Allswell was the most affordable mattress on our list, you'd also be happy to know that it comes with really reasonable financing options. You can set up a 0% APR payment system that starts at just $49 per month. Your mattress will arrive with free shipping, and you'll have it paid off in less than a year.
Pros
Most affordable
Doesn't need a box spring
Hybrid model materials
Cons
Only 4 sizing options available
Add-ons cost extra
Runs on the firmer side
All you purple-loving people out there! The Purple Mattress is a game-changer in the bed in a box industry. Constructed out of 3 purple-tastic memory foam layers, the Purple Mattress is the first in the game to use a grid system. Here's how it works!
The Hyper-Elastic Polymer Purple is a gridded material that dynamically adapts to the pressure it receives. That means the gridded walls will either support or fold depending on the weight. The result is a pressure-releasing, air-flowing, motion-isolating, deep-snoozin' experience that comes highly recommended by its users.
Quick note: the Purple Mattress itself is not purple (unfortunately). But it ships directly to you in a lovely purple cylinder (rather than the standard box). The mattress is hypoallergenic and non-toxic. If it's not right for you after 100 nights, Purple will pick it up, and you'll get a full refund, no questions asked.
Pros
Uses pressure-releasing grid
Hypoallergenic and non-toxic
Sleeps very cool
Cons
Heavy mattress (tough to move)
Relatively new company
Bad edge support
4
Layla Memory Foam Mattress
The coolest feature of the Layla Memory Foam Mattress is its dual firmness options. One side is soft, accommodating memory foam, while the other side provides a more firm, supportive surface. Both sides utilize cooling technologies to keep you sweat-free overnight. That means no matter what kind of sleeper you are; this mattress has got you covered.
The Layla Memory Foam Mattress also has a secret weapon. Want to know what it is? Copper! It turns out; copper is the wonder-ingredient for mattresses. It acts as a structural support, bacteria killer, and a heat absorber, all packed into one mattress!
The Layla Mattress gives you not only the flippable feature option but also a hugely generous trial period of 120 nights. That's nearly one-third of a full year to figure out if this mattress works for you. If for any reason, it's not a good fit, Layla will have you donate it to a charity, and you still get your money back!
Pros
Flippable firmness options
Copper-infused memory foam
Generous trial period
Cons
Required 2 week trial
Complaints of off-gassing
Box spring recommended
The Tuft & Needle Mattress knows that simple is often better. This mattress values affordability and functionality over the extra bells and whistles. That's part of the reason Tuft & Needle rivals the Allswell mattress in affordability. This one costs just $595 for a queen-size mattress (only $10 more than the Allswell Luxe Hybrid Mattress).
The Tuft & Needle mattress itself is made out of just 2 layers: a support base and a Tuft & Needle Adaptive memory foam layer. The memory foam has been created to optimize pressure relief. Encasing the entire Tuft & Needle mattress is a cover that uses cooling gel and wicking graphite to keep your nights breezy and comfy.
No matter what kind of bedroom setup you have—a futon frame, a box spring, or a platform—the Tuft & Needle mattress will work perfectly. This company allows customers 100 nights to try out the mattress, but usually, they don't hear a peep of complaint after the delivery. In fact, 95% of folks who buy the Tuft & Needle mattress end up keeping it!
Pros
3-day delivery period
Affordable mattress
The mattress fits any base
Cons
Too firm for some users
Not good fit for heavier users
Limited edge support
If you're a side sleeper, pay close attention! The Nolah Mattress is especially praised for its perfect amount of side-sleeping pressure release and support. It's been proven to put 4 times less pressure on your hips and shoulders than other memory foam mattresses.
The Nolah Mattress gives you 10 inches of layered rest. At the base is a high-density foam to provide a foundation. Then you'll find a 1-inch high-resilience core foam. Finally, the top layer is a 2-inch cooling Nolah AirFoam. This will give you the most pressure relief while still allowing for airflow and breathability.
One of the coolest things about the Nolah Mattress is that the mission goes beyond just a good night of sleep. For every mattress that is purchased, 7% of the profit goes to wildlife preservation efforts. You can rest easy knowing that your mattress is serving a larger purpose.
Pros
Great for side sleepers
Uses air foam
Profits benefit wildlife
Cons
Only one firmness option
30-night mandatory trial
Initial smell after unboxing
The Helix Mattress is all about customization. Helix delivers over 9 different options, depending on your personal preferences around firmness, sleep position, body type, and more. The most popular choice, the Helix Midnight Mattress is a medium-firmness bed that caters especially to side-sleepers.
Helix does things a little differently than others. The Helix Mattresses use a wrapped coil technology in addition to memory foam, which gives an extra vertical layer of support. While other mattresses tend to lack edge support, the wrapped coils in the Helix Mattress provides full support from top to bottom, and everywhere in between.
The Helix Mattress comes with a 100-day trial period. But the company wants to make sure you honestly give it a college try, so you won't be able to make any returns within the first 30 days. Most likely, you won't need to anyway, because Helix has a mattress for everyone.
Pros
Lots of firmness options
Low APR financing available
Uses wrapped coils and foam
Cons
Extra costs for add-ons
Complaints with heat regulation
Heavier mattress
If you're "going green," why not go all the way and get a green mattress? Based out of California, the Avocado Green Mattress model is rooted in all things organic. Your mattress will be full non-toxic. That means completely natural materials, zero polyurethane foams, and 100% organic certified.
The Avocado Green Mattress has nothing to hide. You'll have the rare privilege of being able to read exactly what your mattress is made of, from the stuffing down to the thread. This mattress uses an innovative hybrid model of latex and foam pressure-point support.
In addition to an unprecedented 1-year trial period, the Avocado Green Mattress includes a 25-year warranty. This is an excellent indication that you're working with a company that believes in its product. And while this mattress is the most expensive of the fleet ($1,399), in the end, you're investing in a product that is good for you and good for the environment.
Pros
100% organic
One year trial period
Hybrid latex and foam
Cons
Most expensive
Mattress is especially heavy
Higher motion transfer
9
Brooklyn Bedding Signature Mattress
Using a hybrid model, the Brooklyn Bedding Signature Mattress stays closer to the traditional mattress model while still pulling out some surprises. While it runs on the higher price end, you'll find that the added features (in customization, materials, and customer service) make that wholly justified.
First of all, this mattress is built to last. The 11-inch BB Signature starts with a solid base of over 1,000 Ascension coils. On top, you'll find a layer of Energex foam followed by a layer of TitanFlex foam. Each layer is infused with TitaniumGel, which ensures that you'll not only sleep cooler but also sleep cleaner. It includes antibacterial ingredients.
One of the best features of the Brooklyn Bedding Signature Mattress is that you get to personalize your mattress. It comes in 3 different firmness levels: soft, medium, and firm. Whatever kind of sleeper you are, then, this mattress will give you the exact support you need.
Pros
Hybrid model
Great edge support
Ability to choose firmness
Cons
More expensive than others
The mattress is quite heavy
Initial chemical smell
10
Nest Alexander Signature Hybrid Mattress
Nest Alexander Signature Hybrid Mattress does not let its untraditional bed-in-a-box model dictate its limits on luxury. This mattress emotes a large and in charge, sleeping on a cloud kind of vibe. It's one of the largest mattresses on this list—standing at over a foot tall. The Nest Alexander Signature Hybrid Mattress is at the nexus of luxury and convenience.
One of the big comfort factors in this mattress is its hybrid model. This one has 8 inches of its core packed with Quantum Edge Pocketed Support Coils. The 4 inches of foam layers on top have a dual purpose. The SmartFlow Support foam provides minimum motion transfer while still supporting your body's most vulnerable points. The TitanChill Endurance foam prevents you from overheating.
Similar to other models, the Nest Alexander Signature Hybrid Mattress utilizes copper as an integral cooling and sanitizing material. The price tag on this one is higher than some, but you're guaranteed a lifetime warranty. Sleeping well for a lifetime, I'd say that's worth the money.
Pros
Extra padding/layers
Lifetime warranty
Effective cooling technology
Cons
Very heavy/difficult to move
Initial off-gassing smell
More expensive than others
How long does a bed in a box mattress last?
We all want to know that our financial investments in a product will yield long-term results, right? Of course! So how long can you expect to own your mattress? There is a long and a short answer. The short answer is roughly 7 to 10 years. The long answer is more involved.
The lifespan of your bed in a box mattress really depends on a few factors:
Quality of Materials: Your mattress might look fancy, but is it made with quality materials? In general, latex has a longer lifespan than memory foam. Similarly wrapped coils stand the test of time much better than polyurethane foam.
Warranty: Take a close look at the warranty on your bed in a box. They'll range from 10 years to a lifetime guarantee. A lifetime warranty sounds great, but make sure you read the fine print. Is the company willing to replace your mattress altogether if it breaks down? Are there limits to the coverage?
Usage: Treat your mattress as you would like to be treated. That's how that saying goes, right? But really, a mattress wasn't made to be a dining room table or a sofa. It was made for sleeping! The fewer wine spills, the better (we get it, though. Netflix and chill).
Spending anywhere from $500 to $1,500 on a mattress might seem like a lot (and it is) for an item you'll have to replace in 10 years. But when you think about how much time you'll spend on it, the investment is just a handful of change per day. Make it last!
What is a good firmness level for my mattress?
Not all sleepers are the same, obviously. But that also means that not everyone needs the same firmness level on their mattress. It probably feels a little strange to order a mattress online when you can't feel for yourself what level of firmness each one embodies. The good news is that bed in a box companies are extra explicit about the firmness of their mattresses.
We get it that firmness is somewhat of a subjective measure. However, most of these companies use a scale of 1 to 10 (1 being the softest, and 10 being the firmest) to give consumers a sense of what they're purchasing. Some companies, like Layla, feature mattresses in which one side is soft, and the other side is firm!
Just a reminder, if you don't know what kind of firmness level you should seek out, here's a quick general guide to sleep styles and their corresponding firmness types:
Side-Sleepers: To give extra cushion to your hips and shoulders, side-sleepers should look for mattresses that are on the softer side.
Back-Sleepers: Back-sleepers tend to have an easier time finding a mattress because it is generally the healthiest position for your spine. You'll be good to go with a medium to firm mattress.
Stomach-Sleepers: In order to prevent your hips from sinking down too far and throwing off your back alignment, stomach-sleepers should choose a firm mattress.
Plus! Always keep in mind that your bed in a box mattress has a built-in trial period. So if you choose a mattress that isn't quite the right firmness level for you? No problem. Send it back (no extra fees involved) and try a new one!
What are the best bed in a box mattresses?
Well, this is where we leave you! We've taken stock of all the bed in a box mattresses out there (of which there are many) and have come up with the top 10 options. Here at RAVE Reviews, we have our own methodology and rating system. But that doesn't mean we're the ultimate authority!
When it comes down to it, only you can decide what bed in a box mattress you want to order. As you saw above in the Category Winner's Box, we've narrowed down the list to a few specific categories we thought would be helpful:
Best Overall: Puffy Mattress
Best Price: Allswell Luxe Hybrid Mattress
Most Eco-Friendly: Avocado Green Mattress
But that's just the start! There are 7 other fantastic options out there to consider. For example, if you're someone who does better with a hybrid mattress (one that uses material other than just memory foam) start with these options:
Allswell Luxe Hybrid Mattress
Avocado Green Mattress
Brooklyn Bedding Signature Mattress
Nest Alexander Signature Hybrid Mattress
Or if you're looking for a mattress with the longest trial period, take a look at these first:
Layla Mattress (120 days)
Nolah Mattress (120 days)
Avocado Green Mattress (365 days)
Come to think of it, check out all 10 of these mattresses! You're bound to find one that works for you. Goodnight and good luck.
RAVE Recommends
Before you snuggle into your new bed in a box for the night, here are a few more items that RAVE Reviews recommends for your nighttime routine:
InnoGear Aromatherapy Diffuser: Kiss nighttime stress goodbye with this InnoGear Aromatherapy Diffuser. This functions as a mood-light, humidifier, and essential oil diffuser all at once to lull you into a blissful, sweet-smelling sleep.

Mydethun Moon Lamp Night Light: Want to fall asleep to a full moon every night? This amazing USB-charged night light is a 3D replica of the moon. It can serve as a calming glow as you drift off, or the perfect mood lighting for when things get steamy.

Bedsure Sherpa Bed Blanket: Even the best mattress is not complete without a cozy blanket! This double-sided blanket gives you both smooth fleece and fluffy Sherpa wool. It comes in 12 different colors and guarantees a super snug night.

Dr. Kasey Nichols, N.M.D.
Dr. Kasey Nichols, N.M.D. focuses on sleep disorders and drug-free pain management utilizing both conventional and alternative medicine at his private practice,
Onyx Integrative Medicine and Aesthetics
, located in Gilbert, AZ. He served as the Director of Medical Operation and Administration at a national substance abuse disorder corporation with 16 facilities across seven states. He graduated from Cleveland University-Kansas City with a Bachelor's of Science in Human Biology, graduating with honors, and holds a Doctorate from The Southwest College of Naturopathic Medicine. He holds licenses in both Arizona and Kansas. Dr. Nichols has given numerous talks to professional organizations, given interviews for newspapers across the United States, and numerous television news interviews with ABC 15/CW 61 in Arizona, Channel 3 in Arizona, and others. Dr. Nichols has appeared in
Cosmopolitan
,
Reader's Digest
,
WebMD
,
Healthline
, and many other health and lifestyle publications.