Ever heard of a bed in a box?
Yep, you read that right. What if we told you that you don't need to sacrifice quality for convenience when it comes to your mattress? Here at RAVE Reviews, we've selected 10 of the best bed in a box–beds you can order online–options for you. But one stood out from the rest and rose to the top—the Puffy Mattress. This bed in a box brings breathability, practicality, affordability, and (most importantly) comfort right to your doorstep.
Along with shopping for groceries, clothing, and shoes, buying a mattress has gone the way of the future—home delivery! A bed in a box is just what it sounds like—a bed that comes in a box. This new method of mattress ownership is changing the way we sleep, and definitely for the better!
Before you jump to any conclusions, let's get this out of the way: ordering a bed online is certainly not the traditional way to do it, but that doesn't mean these mattresses are any less comfortable or lower quality. In fact, these mattresses feature some of the most innovative sleep technology out there. It's just a cherry on top that the bed gets delivered to your door!
If you're looking for a new mattress, just let it be known that there is another way other than hauling an over-priced mattress home on the top of your car from the big-box mattress store National Lampoon-style. Simplify things! Order a bed in a box online. You'll get it within the week (likely sans shipping costs), and you'll be snoring away on it soon after.
Are you ready to revolutionize the way you get a better sleep? Then check out our list of the best beds in a box below.
The Beds in a Box We RAVE About
Best Overall
Puffy Mattress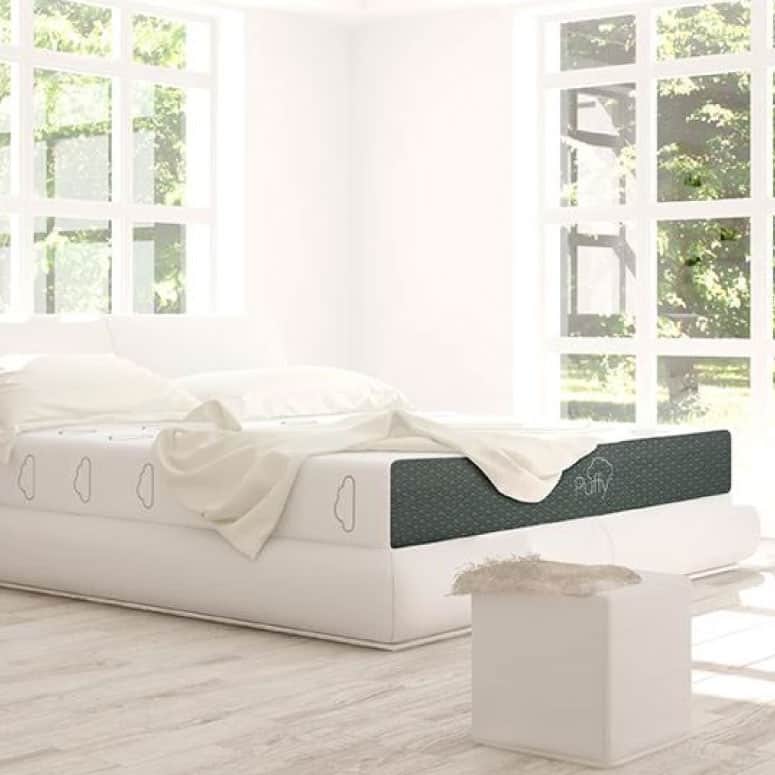 Best Price
Allswell Luxe Hybrid Mattress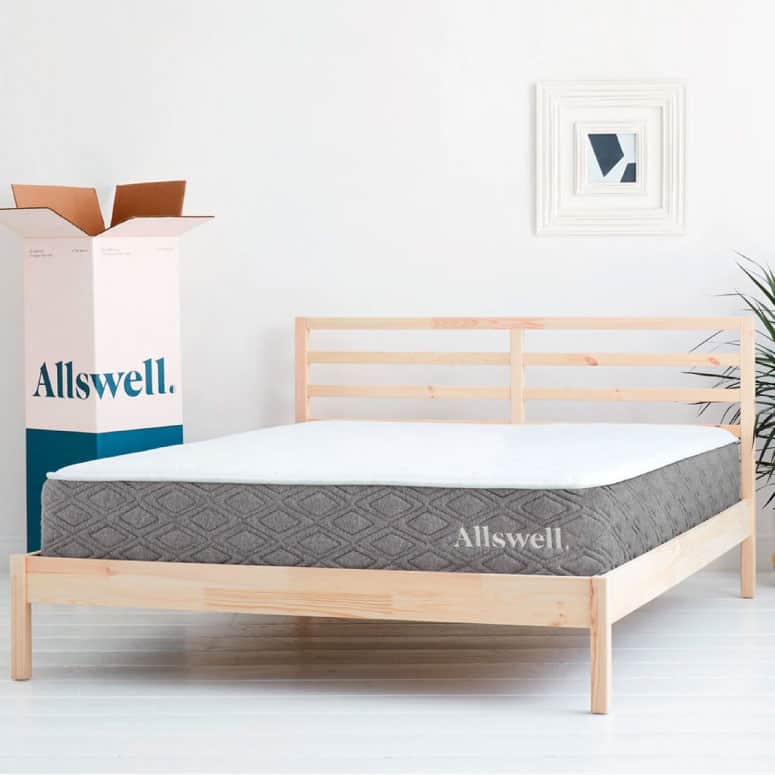 Most Eco-Friendly
Avocado Green Mattress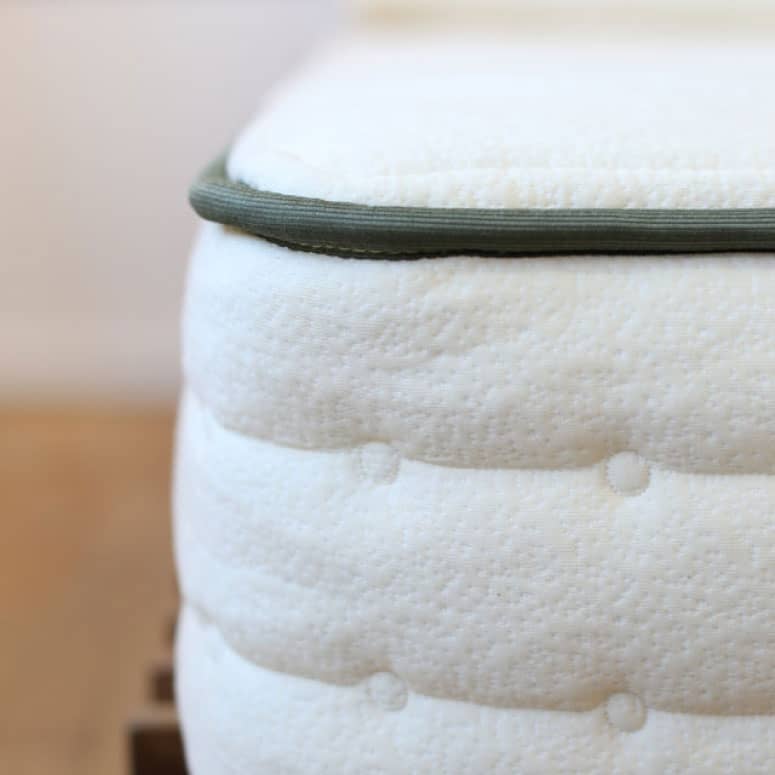 How to Get The Best Bed in a Box?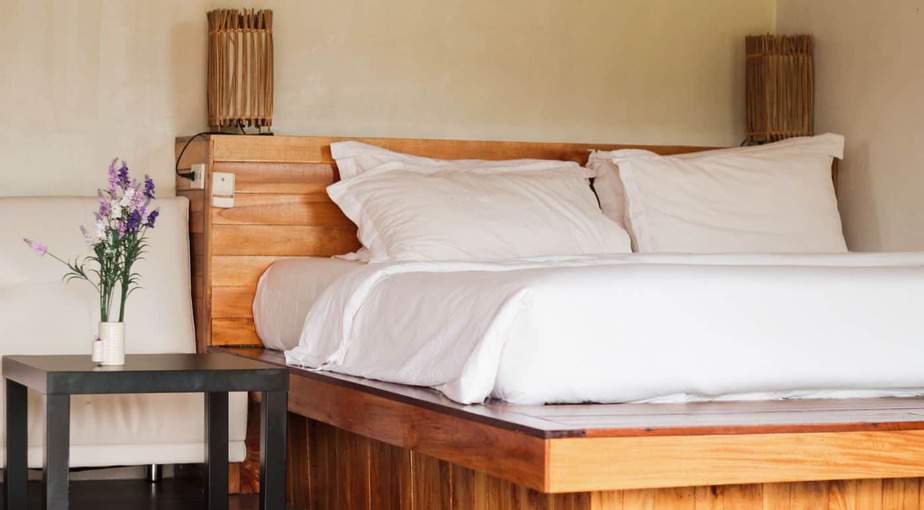 Have you purchased a mattress recently? If not, let me remind you of the usual process. It looks a little like this…
You walk into a large warehouse store filled with mattresses. Big and small, tall and short, fluffy and rigid. A middle-aged guy in a tucked-in polo shirt gives you an earnest (though a little too earnest) sales pitch on why that $2,800 mattress will be "life-changing." You nod along politely.
After laying down on approximately 43 different mattresses, you can't clearly tell any of them apart, and the salesman is starting to ramp up his pitch for the 44th time. You end up choosing one out of mere exhaustion. The mattress costs more than your last used car, and you pay an extra $150 to have it loaded onto a truck and sent to your house.
Whew. Sound like fun? Trust us, that version of mattress shopping is not fun. But there is an alternative to that madness. A bed in a box is the new way to shop for mattresses. It lets you side-step all of the mess of traditional mattress stores: the sales pitches, the extra hidden fees, the waste of a full afternoon.
Instead, you can order a new mattress with the click of a button. You'll find it on your doorstep a few days later. And that's that! A bed in a box!
What Is a Bed in a Box?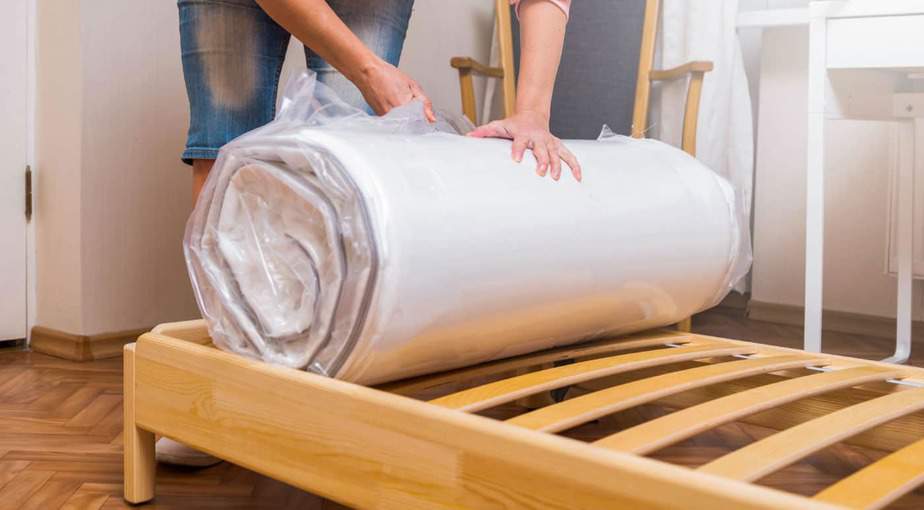 It's confusing, we know. A bed in a box? A bed shipped to your house? A bed that inflates!? Take a deep breath. We'll clear the air right now!
A bed in a box uses the best and brightest sleep technology out there to compress a regular-sized mattress into a compactable (and shippable) box. The mattress is typically constructed out of a foam-based material. This allows it to be vacuum-sealed and folded into a box. The bed in a box concept hit the market back in 2007 and has only been gaining in steam since.
Don't be alarmed when you see your bed in a box mattress for the first time. It will be approximately half the size of a regular mattress. But that's normal—we promise it will inflate! Do you remember those sponges shaped like animals that would expand when you added water? Same concept, except without the water. Never put water in your mattress.
Okay, so just to break it down for you skeptics out there, here are your instructions:
Order your bed in a box
Fist-pump when it arrives 3-5 days later
Unbox said bed in a box in your bedroom
Break the vacuum seal (careful not to puncture the actual mattress)
Watch it inflate before your very eyes
Get your favorite jammies on and start snoozin'!
It's pretty easy. Buying a mattress can be so much more straightforward than the tedious process of window shopping. We get that it's scary just to order a mattress from the internet, though. So here are a few things to consider as you start your search for the best bed in a box.
What Should You Look For in a Bed in a Box?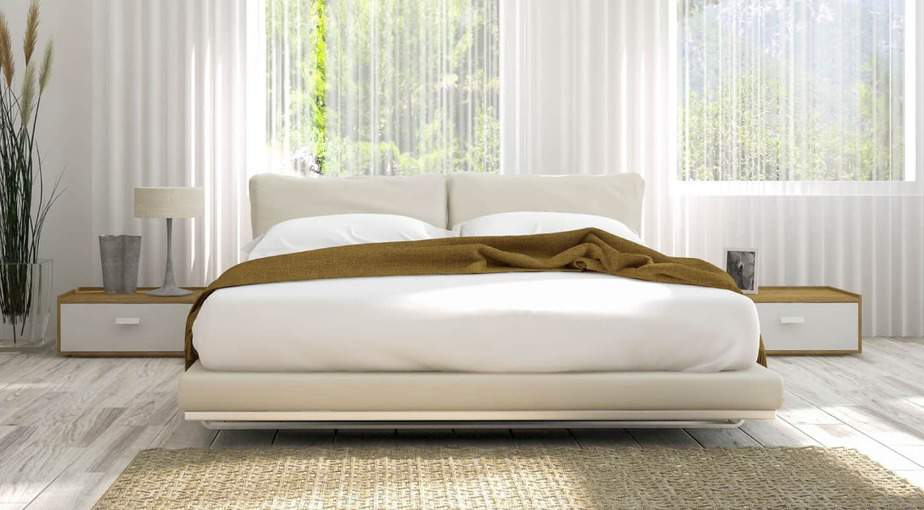 Mattress Materials
Perhaps most importantly, you'll want to consider the "stuff" that's inside your bed in a box mattress. While these mattresses share similar technology (namely, the ability to shrink a mattress into a shippable box), not all bed in a box mattresses are the same!
By and large, these mattresses will be filled with 1-4 layers of memory foam. But this isn't just your regular old memory foam. One great new technology is the gel-infused memory foam, which absorbs your body heat throughout the night and disperses it, keeping you cool as a cucumber.
Firmness Level
You'll also want to think about the firmness level of your mattress. Whether you're a side-sleeper, back-sleeper, stomach-sleeper, or upside-down-legs-behind-your-head-sleeper, you'll be able to find a mattress that fits your style. Most mattresses on our list fall within the 5-7 range on a firmness scale of 1-10. But some of these mattresses even come with dual-firmness options—one side is soft, and the other side is firm. You've got choices!
Trial Period
We know that a lot of sleep preferences are super subjective. It's hard to tell if you've found the right mattress without spending a few nights on it! The great thing about the bed in a box concept is that all of them include a generous trial period.
Here's the deal. Once your mattress arrives, you'll have 100 to 120 nights (depending on the company) to try out your bed. Take some time to feel it out. How does your back feel in the morning? Are you staying cool throughout the night?
In general, these mattresses are so well-liked that customers keep them for good. On the rare chance that your mattress is not the right fit for you, it's no problem! You'll ship it back (or some companies even pick it up for you), no questions asked.
Methodology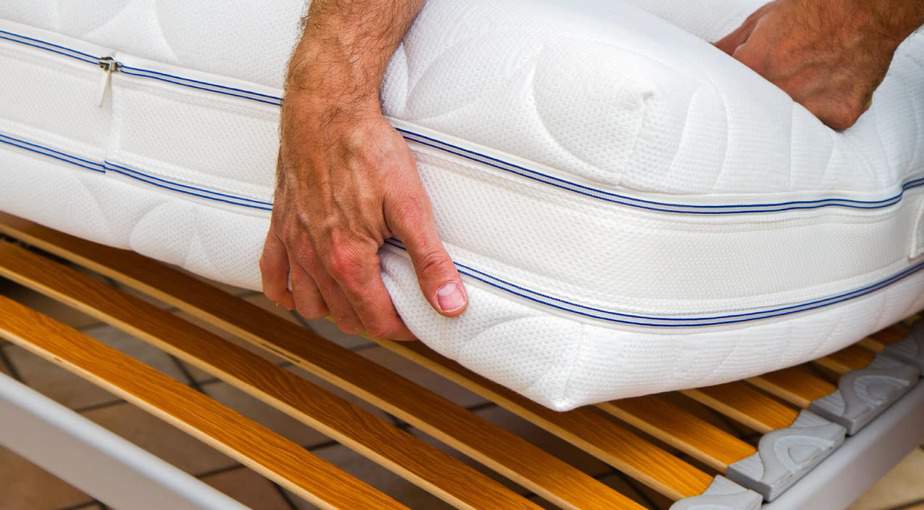 In our search for the best bed in a box, we crafted a methodology that would factor in all the essential data that the consumer (that means you) needs to know. This includes not only the objective elements like how much the mattress costs, but also subjective elements, like the nitty-gritty of a customer review. Here's a quick rundown of our data points:
Mattress price
Trial period length
Materials used
Warranty
Customer reviews
Industry rankings
Company customer service
The Best Beds in a Box
How long does a bed in a box mattress last?
We all want to know that our financial investments in a product will yield long-term results, right? Of course! So how long can you expect to own your mattress? There is a long and a short answer. The short answer is roughly 7 to 10 years. The long answer is more involved.
The lifespan of your bed in a box mattress really depends on a few factors:
Quality of Materials: Your mattress might look fancy, but is it made with quality materials? In general, latex has a longer lifespan than memory foam. Similarly wrapped coils stand the test of time much better than polyurethane foam.
Warranty: Take a close look at the warranty on your bed in a box. They'll range from 10 years to a lifetime guarantee. A lifetime warranty sounds great, but make sure you read the fine print. Is the company willing to replace your mattress altogether if it breaks down? Are there limits to the coverage?
Usage: Treat your mattress as you would like to be treated. That's how that saying goes, right? But really, a mattress wasn't made to be a dining room table or a sofa. It was made for sleeping! The fewer wine spills, the better (we get it, though. Netflix and chill).
Spending anywhere from $500 to $1,500 on a mattress might seem like a lot (and it is) for an item you'll have to replace in 10 years. But when you think about how much time you'll spend on it, the investment is just a handful of change per day. Make it last!
What is a good firmness level for my mattress?
Not all sleepers are the same, obviously. But that also means that not everyone needs the same firmness level on their mattress. It probably feels a little strange to order a mattress online when you can't feel for yourself what level of firmness each one embodies. The good news is that bed in a box companies are extra explicit about the firmness of their mattresses.
We get it that firmness is somewhat of a subjective measure. However, most of these companies use a scale of 1 to 10 (1 being the softest, and 10 being the firmest) to give consumers a sense of what they're purchasing. Some companies, like Layla, feature mattresses in which one side is soft, and the other side is firm!
Just a reminder, if you don't know what kind of firmness level you should seek out, here's a quick general guide to sleep styles and their corresponding firmness types:
Side-Sleepers: To give extra cushion to your hips and shoulders, side-sleepers should look for mattresses that are on the softer side.
Back-Sleepers: Back-sleepers tend to have an easier time finding a mattress because it is generally the healthiest position for your spine. You'll be good to go with a medium to firm mattress.
Stomach-Sleepers: In order to prevent your hips from sinking down too far and throwing off your back alignment, stomach-sleepers should choose a firm mattress.
Plus! Always keep in mind that your bed in a box mattress has a built-in trial period. So if you choose a mattress that isn't quite the right firmness level for you? No problem. Send it back (no extra fees involved) and try a new one!
What are the best bed in a box mattresses?
Well, this is where we leave you! We've taken stock of all the bed in a box mattresses out there (of which there are many) and have come up with the top 10 options. Here at RAVE Reviews, we have our own methodology and rating system. But that doesn't mean we're the ultimate authority!
When it comes down to it, only you can decide what bed in a box mattress you want to order. As you saw above in the Category Winner's Box, we've narrowed down the list to a few specific categories we thought would be helpful:
But that's just the start! There are 7 other fantastic options out there to consider. For example, if you're someone who does better with a hybrid mattress (one that uses material other than just memory foam) start with these options:
Allswell Luxe Hybrid Mattress
Avocado Green Mattress
Brooklyn Bedding Signature Mattress
Nest Alexander Signature Hybrid Mattress
Or if you're looking for a mattress with the longest trial period, take a look at these first:
Layla Mattress (120 days)
Nolah Mattress (120 days)
Avocado Green Mattress (365 days)
Come to think of it, check out all 10 of these mattresses! You're bound to find one that works for you. Goodnight and good luck.
RAVE Recommends
Before you snuggle into your new bed in a box for the night, here are a few more items that RAVE Reviews recommends for your nighttime routine:
InnoGear Aromatherapy Diffuser ($12): Kiss nighttime stress goodbye with this InnoGear Aromatherapy Diffuser. This functions as a mood-light, humidifier, and essential oil diffuser all at once to lull you into a blissful, sweet-smelling sleep.
Mydethun Moon Lamp Night Light ($30): Want to fall asleep to a full moon every night? This amazing USB-charged night light is a 3D replica of the moon. It can serve as a calming glow as you drift off, or the perfect mood lighting for when things get steamy.
Bedsure Sherpa Bed Blanket ($40): Even the best mattress is not complete without a cozy blanket! This double-sided blanket gives you both smooth fleece and fluffy sherpa wool. It comes in 12 different colors and guarantees a super snug night.