We recommend products based on unbiased research from our editorial team. We may receive compensation if you click on a link.
Read More.
Air mattresses are perfect for hosting guests temporarily, but they can even replace a traditional mattress long-term.
And our pick for the best air mattress, the SoundAsleep Dream Series, can fulfill both those roles with ease. Recommended by nearly every source that we consulted, it's comfortable, durable, and affordable — just about everything you need in an air mattress.
We all know that air mattresses are much cheaper than traditional mattresses. But price doesn't always equate to comfort — some high-quality inflatable mattresses can be just as comfortable as your standard innerspring (or even more so).
Air mattresses come in all shapes, sizes, and heights, but it's not just a case of "bigger is better." You'll want to choose the best mattress for the size of your space and the number of people that will be using it. And you definitely don't want to pick an air mattress with an inefficient pump or poor-quality construction.
We've thoroughly researched and ranked the 10 best inflatable mattresses so that you don't have to. Our research is based on a combination of real customer feedback and authority website reviews and opinions. As a result, you can be sure that these truly are the best air mattresses around.
The Air Mattresses We RAVE About
Don't believe the reviews that are full of hot air. These are the RAVE picks for the best of the best.
Throughout the process of compiling this list, there was never any doubt that the SoundAsleep Dream Series was the outright winner. Recommended by the vast majority of our sources, this air mattress won't let you down.
Read Full Review
Shop the SoundAsleep Dream Series
Air mattresses — or air beds — are an alternative to the traditional spring or foam mattress. Most people consider them to be a short-term sleeping arrangement, suitable for hosting your family when they're in town for a few days. But the reality is that many people now use them as a permanent, inexpensive sleeping arrangement in place of a conventional mattress.
Constructing a ranking for air mattresses isn't the easiest task in the world — they're all practically the same in appearance. But there are areas in which some can pull ahead of the competition and provide more value for money.
Key factors include speed and ease of inflation, little-to-no air loss, and how conveniently they can be stored away once deflated.
We started with more than 25 candidates and narrowed it down to just 10 of the best air mattresses. We did this by looking at the products most commonly recommended on reputable "best of" rankings, then aggregating several other data points and applying our own custom criteria.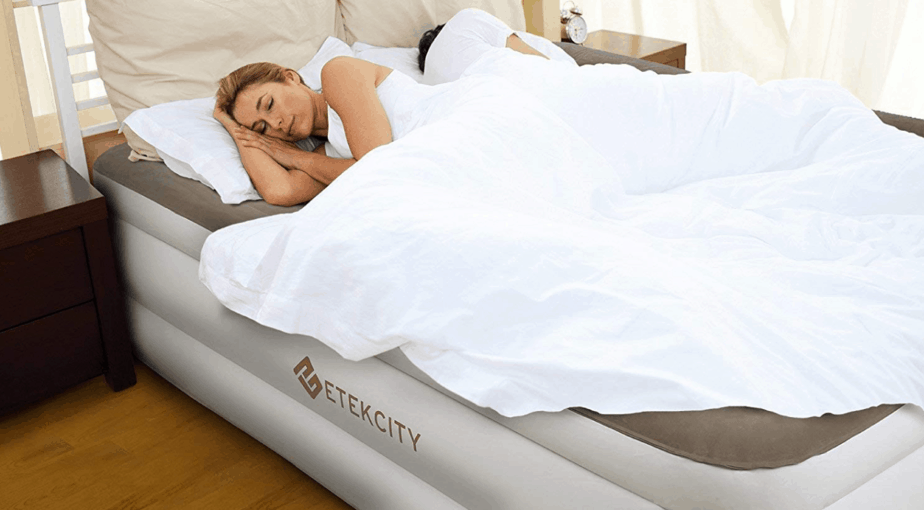 Although we've compiled the winners for you, you should still know what to look for when you make your final selection. Read on to find out more.
Ease of use
When considering ease of use, you should look at the height of the air mattress, as it varies from one model to the next. Once fully inflated, double-height mattresses can reach a similar height to a traditional bed and mattress combined. This makes it easier to get on and off the mattress, as opposed to one that's closer to the floor.
You should also look at what type of pump is included, as it will dictate the speed and ease of inflation. Try to avoid manual pumps whenever possible — they're few and far between, but highly inconvenient compared to electric. Many air mattresses feature built-in pumps, though twin-size mattresses usually have external pumps. 
Be sure to check out the inflation speed. Most mattresses will have an inflation speed of around 3 to 5 minutes. Of course, the smaller this number, the better — but we're talking about a fairly minimal difference that won't affect you too much. What is useful is a "reverse" function, which sucks the air out when you're finished using the mattress.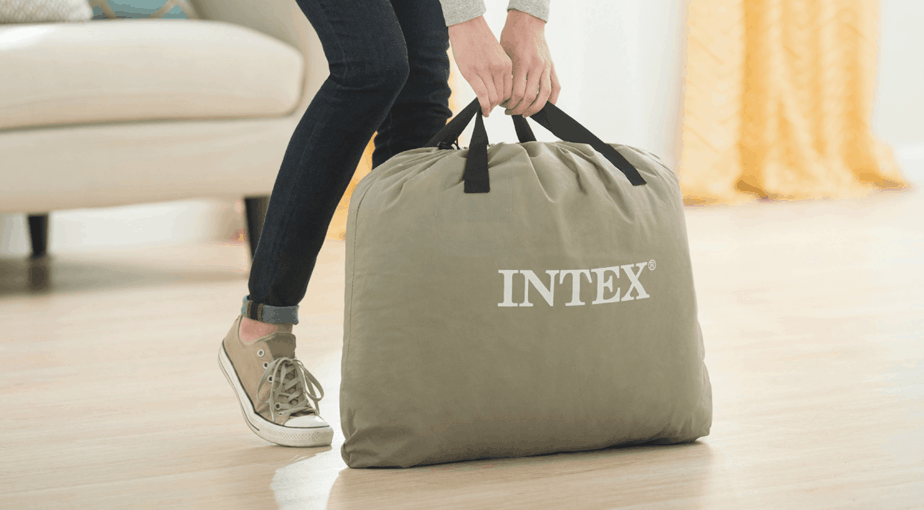 Finally, take into account how easily the mattress can be stored and transported, and how that applies to your use case. For example, if you want an air mattress to take on camping trips, don't choose one that's cumbersome and heavy, or difficult to deflate and pack. A common problem is repacking a mattress into the original bag — some never seem to want to go back inside.
Coils or beams
Almost every air mattress is constructed with roughly the same design on the outside. They almost always use PVC on the bottom layer, with a flocked top for comfort and grip. But where companies can innovate is in the internal construction of the mattress, which is invisible to the naked eye.
There are 2 basic categories for internal construction: beam and coil.
Beam mattresses are those that feature large ridges on the surface of the mattress. These are formed by long PVC strips that connect the bottom and upper layers. But this design has a drawback: When it comes to pressure distribution, your body must sit within the ridges, meaning that you have less mobility.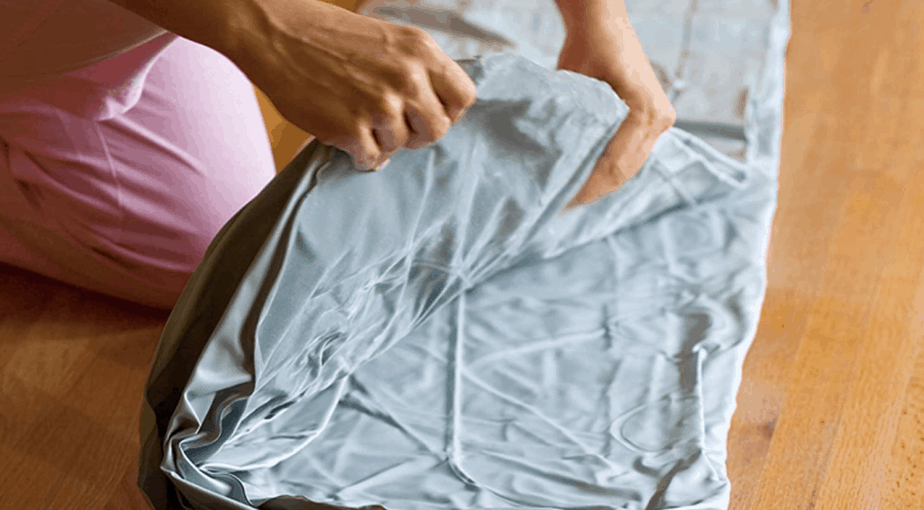 On the other hand, coil mattresses use PVC cylinders to connect the layers instead. As a result, weight is more freely distributed across the surface area. This means a more durable mattress and better-quality, more comfortable sleep.
Methodology
We're tired of reviews that focus on just a few products that are only featured for the sake of product marketing. That's why our research is based on real feedback from both authority sources and authentic customer reviews. 
We started with a long-list of the best air mattresses, before narrowing it down to a shortlist based on positive customer reviews. Finally, we applied our own custom criteria, which we've laid out in detail for you below.
Weight capacity

— how much weight the mattress can support;

Height

— though this is subjective, many users prefer double-high air mattresses, so we favored those;

Durability

— how resistant the mattress is to punctures and wear;

Value for money

— whether it's worth the price tag;

Ease of storage

— how easily you can deflate, roll, and pack away the mattress;

Inflation and deflation speed

— how long it takes to set up and take down the mattress; and

Warranty

— what's covered and for how long.
Based on this methodology, we're confident that the following 10 products are the best air mattresses you can buy right now.
Why do air mattresses deflate overnight?
We'll be honest: If your goal is to find the perfect air mattress that never leaks air, you're going to struggle. The truth is that all air mattresses lose some air over time — if they didn't, they could simply burst. But there are several factors that can contribute to the amount of air that your mattress loses throughout the night.
One such factor is the temperature in your room. Colder air is more condensed than warmer air. So when the air inside the mattress condenses overnight, the bed will feel flatter than it was when you went to bed. Conversely, when the air temperature begins to rise again, the mattress can feel slightly re-inflated.
Of course, your body weight can also play a part in the amount of air that is lost from the mattress. The height of the mattress can matter, too — taller mattresses, often called "double-high," can lose air more rapidly than shallower mattresses. 
Probably the biggest factor in how much air your mattress loses is the quality of the valve. That's why you want to be sure you're choosing a well-made product from a reputable brand — otherwise, you could easily go to sleep on an inflated mattress and wake up on the floor.
Can you over-inflate an air mattress?
Think about it: What would happen if you over-inflated a balloon? Yup — it would burst. The same can be said about an air mattress.
Over-inflation will place excess stress on the seams of the fabric. Push it too far and your air mattress could rupture. And we'll bet that won't be covered by any warranties.
As a general rule of thumb, try to only inflate your mattress to 90% capacity on its first-time use. And don't aim to have it bursting at the seams on each subsequent inflation, even if it seems more comfortable. That's a surefire way to reduce the longevity of the air mattress and risk injuries during the night.
When it comes to deflating the mattress, take similar care in removing all the air before packing it away. Disconnect the valve and allow the mattress to fully deflate before you try to fold it into its storage case. Don't be tempted to apply pressure to the mattress to speed things along — it could tear the seams.
Can air mattresses be used every day?
There are numerous reasons why somebody might want to sleep on an air mattress rather than a traditional mattress. For one, you can purchase an air mattress for less than $100, whereas a normal mattress can cost hundreds more. And there's also the benefit of reduced storage space, since you can simply deflate your mattress every morning.
On the flip side, air mattresses are not known for providing much lumbar support for your spine over time. This means that the occasional use might be okay, but long-term use could lead to stiffness and discomfort. And it can be more difficult to regulate body temperature on an air mattress, with sweaty heat in summer and uncomfortable chills in winter.
If you're sharing an air mattress with a partner, then you might find yourself encountering another drawback of this product: When another person gets into or out of the bed, you're far more likely to feel their movements.
Ultimately, it's all about deciding whether you're happy to live with the advantages and disadvantages that come with this setup.
What's the weight limit on air mattresses?
Air mattresses come with a variety of weight limits, ranging from 300 lbs or less up to 600 lbs, or even higher. But the best practice isn't always to buy the mattress that has the highest weight limit. For optimum comfort, you should choose the correct product for the weight of the person or people who will be using it.
Twin-size mattresses will typically support around 300 lbs, but despite the name, they're best suited to a single sleeper. Queen-size mattresses will usually support around 500 to 600 lbs, like our best overall air mattress, the SoundAsleep Dream Series.
Air mattresses that are designed for specific weight ranges have differences in their physical structure. Queen beds will feel firmer for an individual adult sleeping alone, due to their increased support and reinforcement. 
What are the best air mattresses?
There are all kinds of air mattresses out there — and since they all look practically the same, it can be difficult to choose. But some products are better than others, and some brands more trusted in the industry. So from the top 10 air mattresses listed above, we've selected 3 category winners as the best-in-class.  
For the best air mattress, we recommend the SoundAsleep Dream Series as the hands-down winner. Not only is it highly recommended by almost every authority website, it also has over 15,000 reviews on Amazon. Regardless of your reasons for buying an air mattress, if you want the best, this is it.
Alternatively, there's the best budget air mattress, the Intex Comfort Plush Mid Rise Dura-Beam, which is no-frills but gets the job done. It won't set you back a fortune, and it's both durable and comfortable, with a high weight capacity. There's not too much variation in air mattress pricing, but this is as cheap as they come.  
And finally, you've got the King Koil Luxury Raised Airbed, which is our pick for the most convenient air mattress. Besides being comfortable, it comes with a repair kit as well as a backup valve that can be used instead of the built-in electric pump. It's also the only air mattress to have been endorsed by the International Chiropractors' Association.
RAVE Recommends
Air mattresses are ideal for hosting friends and family, replacing a costly mattress, or camping out in the wilderness. But they're at their best when paired with other useful accessories. Here are some of our favorites: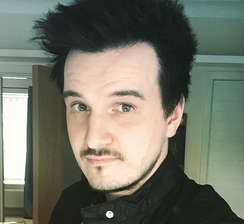 Chris Barry
Chris Barry lives in Dorset, England with his wife. When he's not writing product reviews, Chris can usually be found furiously writing and editing his first novel, or watching horror movies.