No matter how many stretch breaks you take, or how much you elevate your computer monitor with that old dictionary (these days, what else are you going to do with a dictionary?) the quality of your office chair matters.
That's because sitting for long periods of time in even the best office chair without proper mobility or adjustable lumbar support will catch up with you and your employees, causing back, arm, and shoulder pain, and even affecting productivity, mood, and concentration.
There's a lot to consider when buying everything you need for a properly functioning office, whether it's for 100 employees or just you and your laptop in your home office. Don't forget to add quality office chairs to that list. While it might not seem so at first, the investment will pay dividends in the long run.
Still not convinced the best ergonomic office chairs will improve productivity as well as the health and wellbeing of you and your colleagues? Let's take a closer look at all the benefits office chairs offer you and your coworkers.
Why You Need a Quality Office Chair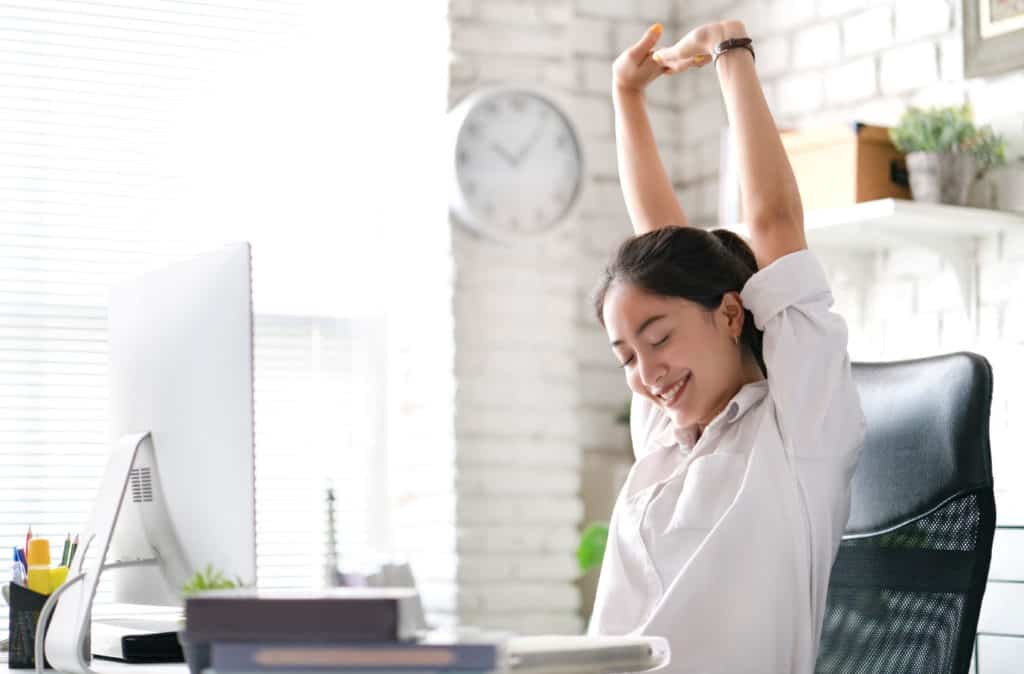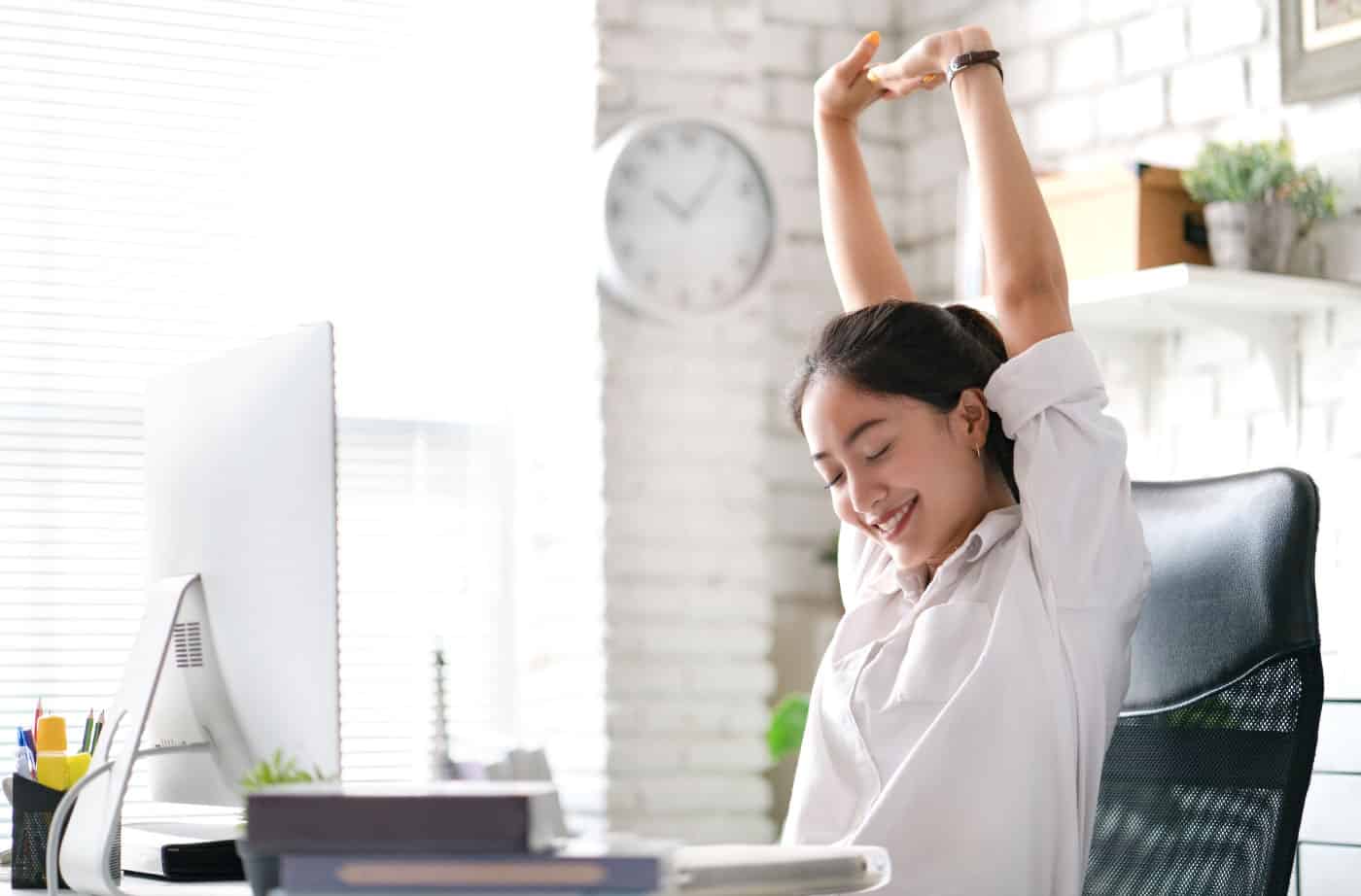 First, let's talk a little bit about just a few of the negative side effects of inadequate seating in the workplace.
Bad posture
Many of the negative health effects associated with improper seating in the workplace or home office are related to bad posture. Having bad posture can lead to back, neck, and arm issues as well as poor digestion and circulation, which can cause all sorts of other health problems, including varicose veins.
Depressed mood and poor productivity
Furthermore, prolonged sitting in a bad chair contributes to depressed moods for many people, while proper seating improves stress levels and alertness and decreases feelings of fatigue.
All of this combined will help contribute to the productivity and output of you and your team.
The next thing to consider when shopping for office chairs is the kind of work you do.
Office Chairs—Not Just for Desks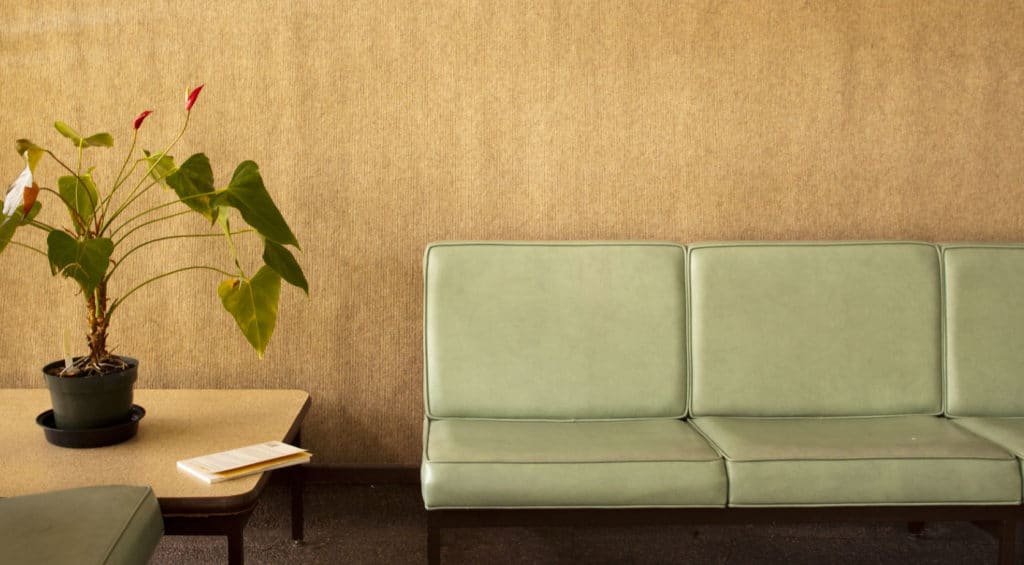 No amount of top-of-the-line ergonomic features will help if your chair is simply not suited for the tasks you and your team need to accomplish.
Task chairs
Task chairs are the classic office chair, sliding neatly under most kinds of desks. They commonly come complete with wheels, high- and mid-back options, and armrests—though some models are armless. They are also made from a variety of materials, and while more expensive high-end models are available, most task chairs are quite affordable.
Ergonomic chairs
Ergonomic chairs are similar to task chairs, with even more added amenities for comfort. That includes headrests, reclining capabilities, and a host of other components for support and adjustability for different body types.
Last, ergonomic chairs are made from a wide variety of materials, including leather-like options, but most are made from mesh.
Drafting chairs
Drafting chairs are designed specifically for work in the fields of architecture and design. They're taller than other kinds of office chairs to provide a higher vantage point for looking at documents like blueprints, survey drawings, or other kinds of printed proofs.
Although most drafting chairs come with many ergonomic features, they lack armrests for improved range of motion. They do, however, provide rings upon which you can put your feet to help maintain proper posture.
Big and tall chairs
If you or someone on your team happens to be big and tall, there are office chairs suited for your body type as well. Big and tall office chairs are just like many other kinds of ergonomic office chairs, with added customization for larger bodies.
Office chairs aren't just for the workspace. Offices need other kinds of seating as well.
Reception chairs
Consider ergonomics when shopping for reception and accent chairs for your office as well, to keep your customers and clients comfortable when they visit. Accent chairs can also look great, giving your workspace added visual appeal.
Stackable chairs
These days, stackable and folding chairs have come a long way from the metal, hard variety some of us might remember from our youth. While armless, the best stackable or folding chairs come padded with ergonomic support to keep you and your staff comfortable in conference rooms and during special events.
But no matter what you choose, fit is everything when it comes to office chairs.
How Should an Office Chair Fit?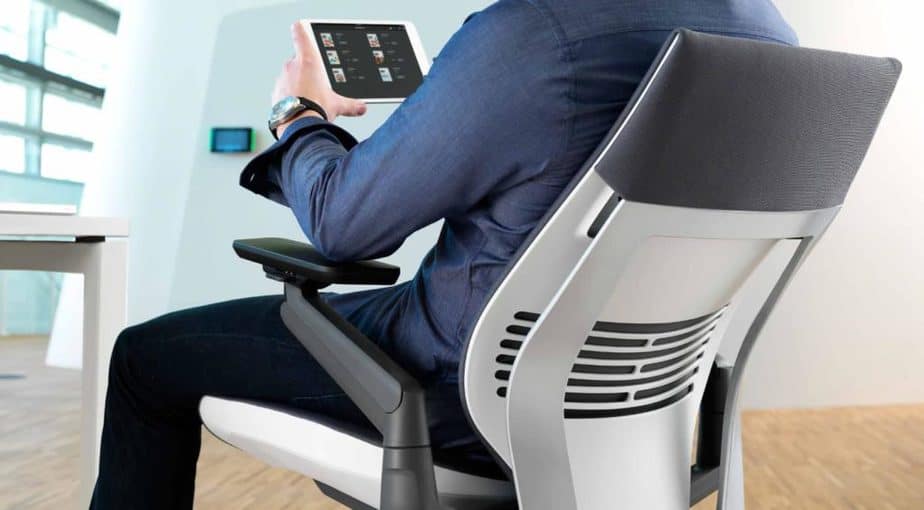 Here's a quick overview on how to check for the proper fit in your new office chair:
Sitting upright in the chair, your feet should rest flat on the floor with your thighs at a 90-degree angle to your calves.
For proper seat depth, you should be able to fit two or three fingers between the back of your knees and the edge of the chair.
When checking lumbar support, experiment with the adjustment controls until you find the point where the chair back fits the natural curvature of your spine.
Properly positioned adjustable armrests should support your elbows without extending higher than when your arms are bent and at rest naturally.
And last, the headrest. Not all chairs come with a headrest, and we consider this feature optional. If you do choose an office chair with a headrest, make sure it comfortably supports the base of your head.
The next question is how much you'll have to pay for your new office chairs.
How Much Do Office Chairs Cost?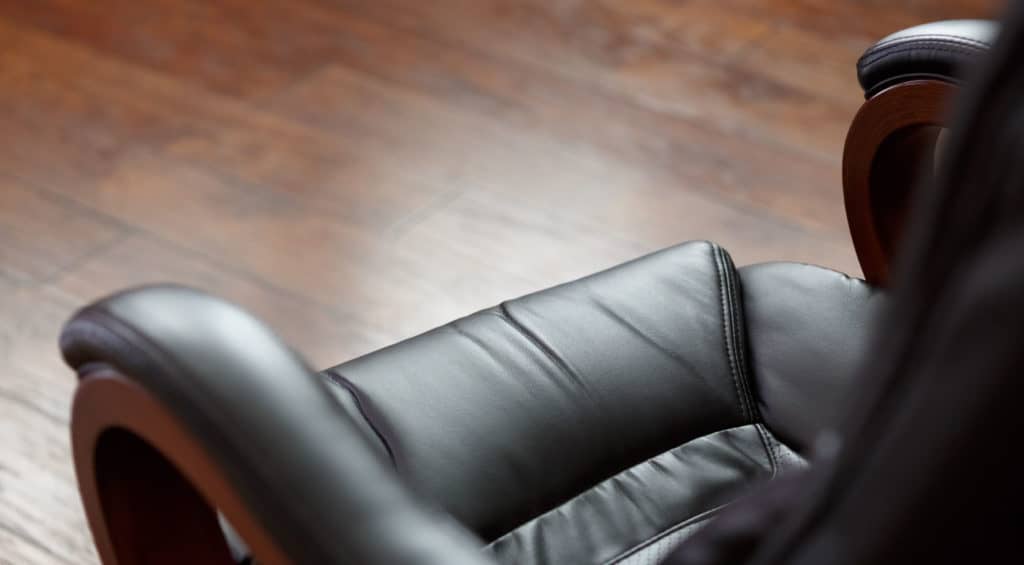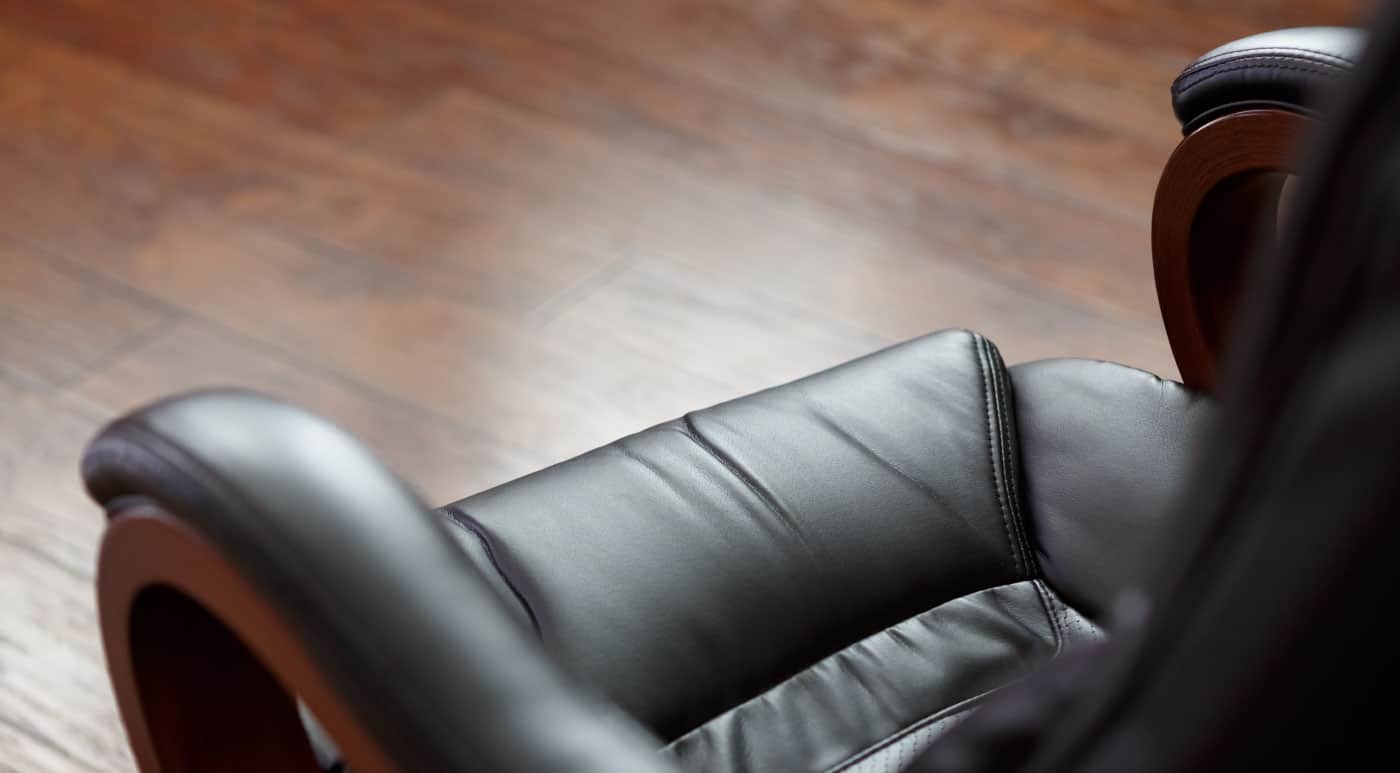 Here are some rough estimates for what new office chairs will cost you, broken down by the style of chair.
Leather executive chairs
For leather executive chairs, expect to pay anywhere from $150 to $600 per chair.
Mesh task chairs
An average mesh chair will cost you between $70 to $150 each on average, but most come without many ergonomic amenities.
Ergonomic high-back office chairs
For high-back office chairs, the budget for roughly $140 to $230 each.
Stackable conference room chairs
Budget as little as $50 apiece for the average conference room chair.
Mesh-back conference room chairs with a metal frame
For a higher-end conference room chair, you'll pay anywhere from $90 to $130.
Taking all that into consideration, budget office chairs can cost as little as $80 each, but they lack desirable ergonomic features. High-end office chairs (wood-framed, round-back conference room chairs made from fabric material, for example) can cost as much as $3,000.
Look at it this way, though. You spend up to 40 hours a week in your office chair. That's 160 hours a month, and roughly 1,920 hours a year. If you divide a $3,000 office chair by 1,920 hours of use, that's only about $1.50 an hour. That doesn't sound so bad, does it?
Where is the Best Place to Buy an Office Chair?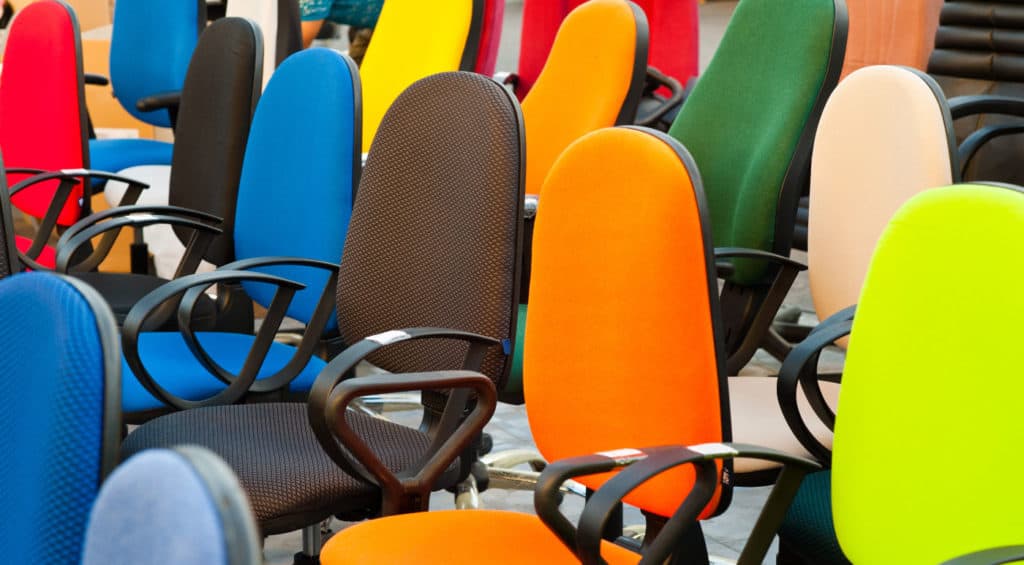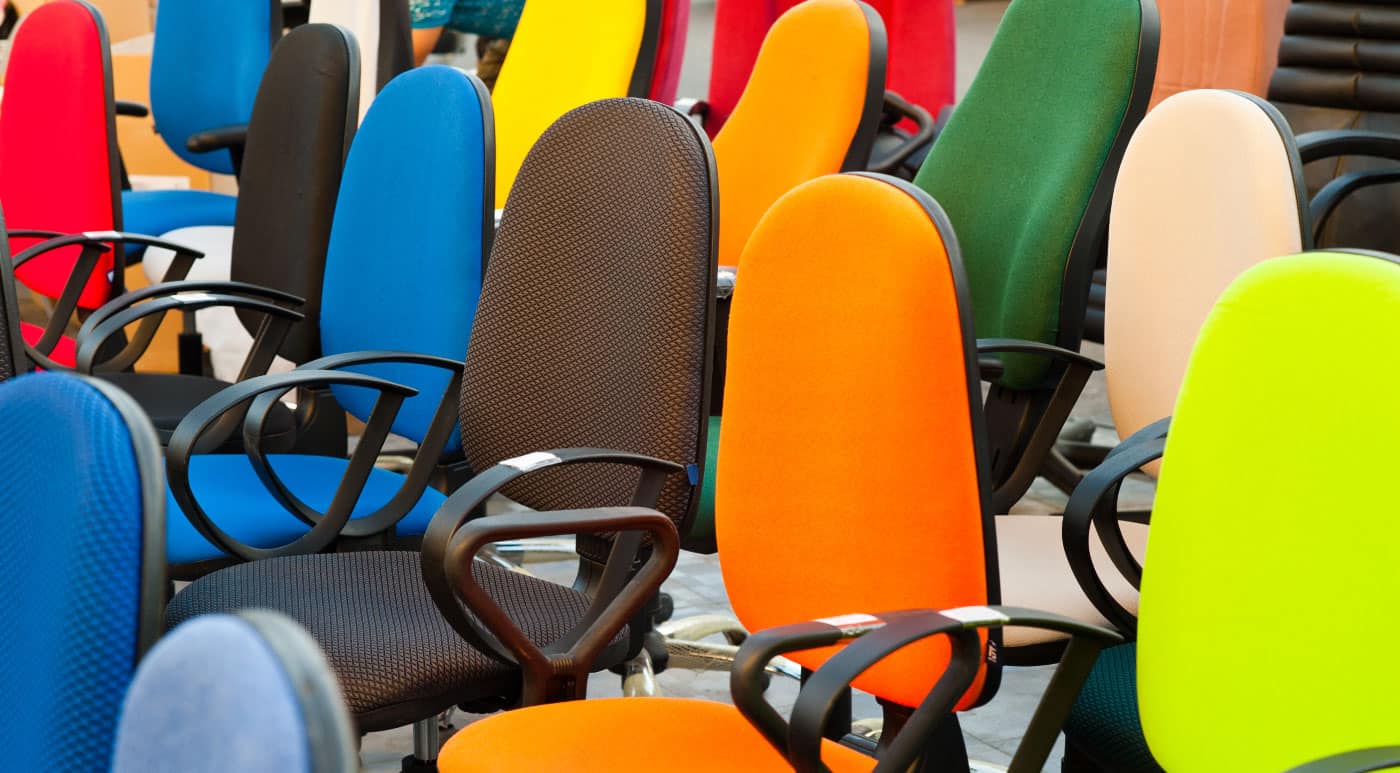 The last question you might be asking yourself is where should I shop for an office chair? Office chairs are sold both in traditional brick-and-mortar stores and on websites like Amazon. Should you buy an office chair online or in-store?
Which one you choose is really up to you. Both options require assembly, but you can save some money buying online. Buying online does mean you'll have to wait for your chairs to be delivered, however. An advantage to shopping in-store is the freedom to consult with an office supply expert face to face.
Another way to save money on office chairs is to buy them used. Start your search for a used chair on Craigslist or an office furniture store with corporate accounts, since you can often score some good deals on chairs returned by other customers.
Best of all, buying used means you can test your chair first, making sure it suits your work needs while offering support in all the right areas.
No matter where you choose to buy, be sure to check the warranty and the company's return policy.
So far we've covered the negative health effects of inadequate seating in the office and workspace, the kinds of tasks different office chairs are suited for, and how to budget for new office chairs and where to buy them.
Next, we'll take a deep dive into all the features of the modern office chair.
What to Look For in a Chair
While doing our research for this office chair buying guide, we examined top office chair brands and retailers. We also took the advice of ergonomics experts into consideration.
We wanted to give you a four-point game plan to use while you shop for office chairs:
Common features to look for
The average price for office chairs
Proper fit
The best office chair for the kind of work you do
This buying guide will tell you everything you need to know about office chairs. If you are ready to buy an office chair online, then check out our ranking of the Best Office Chairs, as well as our specialized ranking of Ergonomic Office Chairs built to relieve back pain.
Up next is a closer look at everything the best office chairs have to offer.
Adjustable height
Adjustable height is a must-have in modern office chairs. This feature allows you and your team to adjust the chair to just the right height, keeping you and your coworkers comfortable and alert even after long hours on the job.
For proper seat height, make sure your hips are level with your thighs. Any higher or lower and you run the risk of straining your hips and back. A sign your seat might be too high is constantly scooting forward to keep your feet on the ground, resulting in poor posture.
A giveaway that your seat is too low is if your hips are lower than your knees, which puts undue stress on your lower back. Before you buy an office chair with adjustable height capability, first examine the mechanisms involved to make sure they're easy to use and durable enough to stand up over time.
Tilt control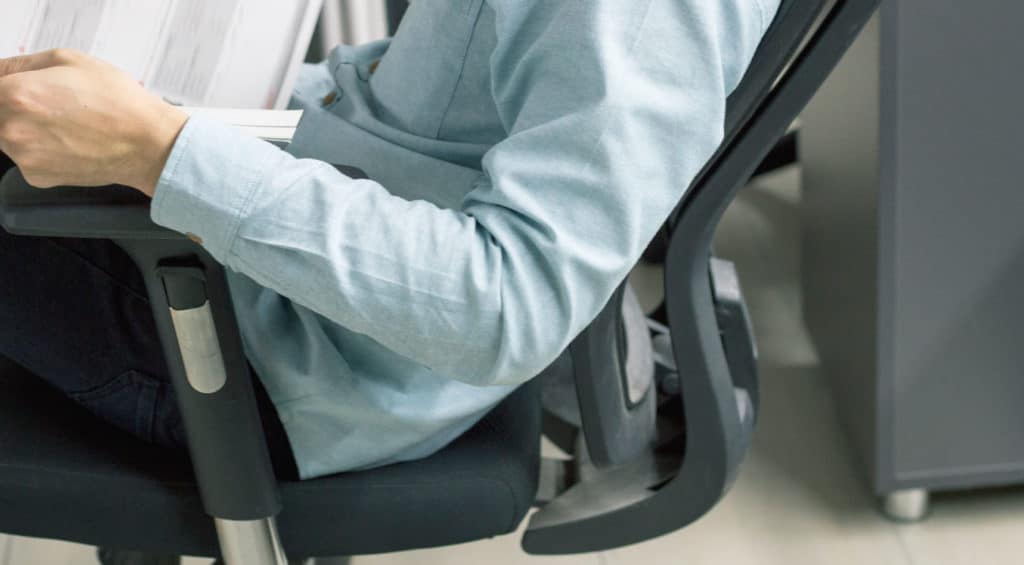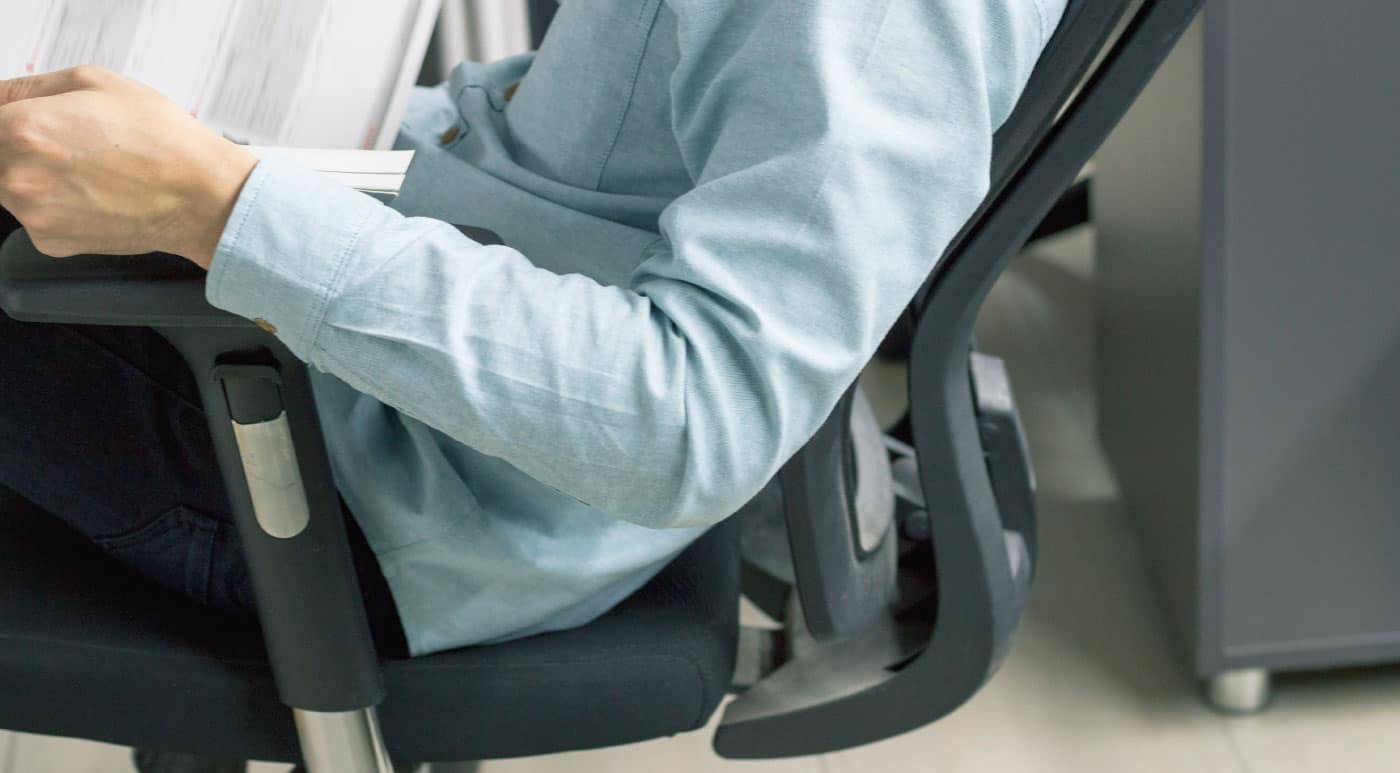 The next feature to check in your new office chairs is tilt control, because no desk chair is perfectly suited to everyone's body type. Prolonged sitting in a chair with improperly aligned tilt puts stress on the spine, while a reclining position helps protect the spine.
The best office chair will allow you to recline your seat back just a little bit, at about a 100- to 110-degree angle. Not all office chairs come with this feature, while some offer limited tilt control. It's best to do your research and find a chair that allows full tilt control. And again, check the mechanisms to make sure they're durable, providing proper tilt tension with repeated use.
Seat pan dimensions
The next thing to check is the seat dimensions. You'll of course want a chair with a seat that comfortably accommodates your size and shape. Too narrow, and you'll soon begin to feel the negative effects of spending your days constrained. That's why a seat that is too wide has its own set of drawbacks, making it difficult to properly use the armrests. Too deep, and you risk hunching too far forward. This might also be an instance when a big and tall option is in order.
You want something in the middle, and the best way to find proper seat depth is to sit in a few different kinds of office chairs to find the one that fits you best.
Armrest options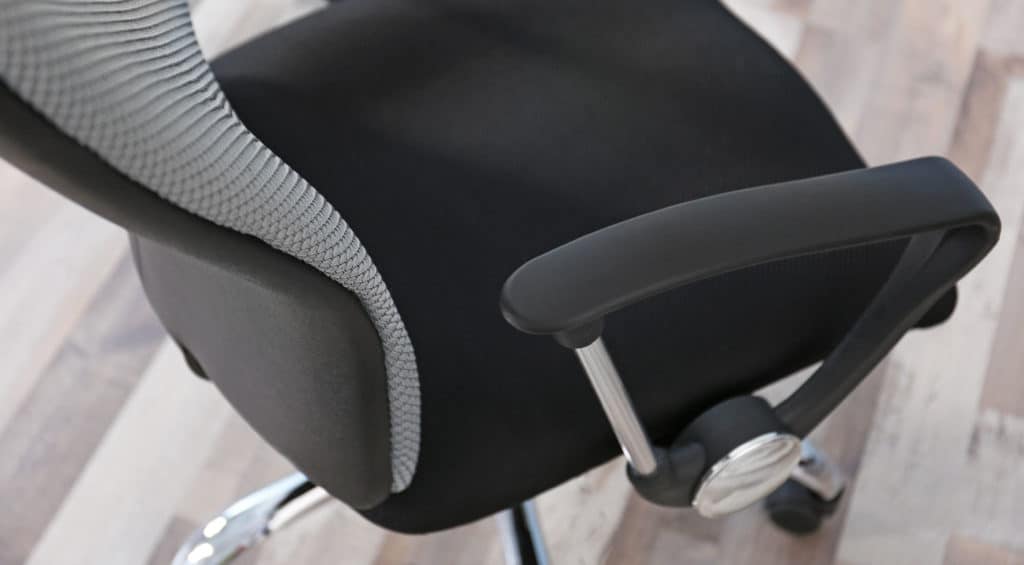 Armrest options are also very important. Appropriate armrests do a lot more than relieve and prevent discomfort in your forearms. They also help keep your shoulders and neck in a comfortable, stress-free position.
What's important to note here is that simply having armrests on your chair isn't enough. They need to be adjustable because if they're too high, you'll feel the tension in your shoulders. Too low and you'll strain your forearms and wrists.
So what's the ideal forearm position? Your arms and wrists should be roughly level with the keyboard. Some chairs even allow the width and angle of the armrests to be adjusted for further customization.
Construction materials
It's also important to consider of what kind upholstery or other kinds of material your chair is made. Mesh back chairs provide breathability, preventing back sweat. And some chairs are firm, while some have more cushioning. For a more executive look and feel, consider leather-like options (though these chairs are more expensive).
It's important here not to be taken in just by the looks of the chair. While a soft, cushiony chair might feel great at first, it might not over periods of extended sitting. Softer chairs tend to encourage slouching. Proper ergonomic support is always of the utmost priority.
Mobility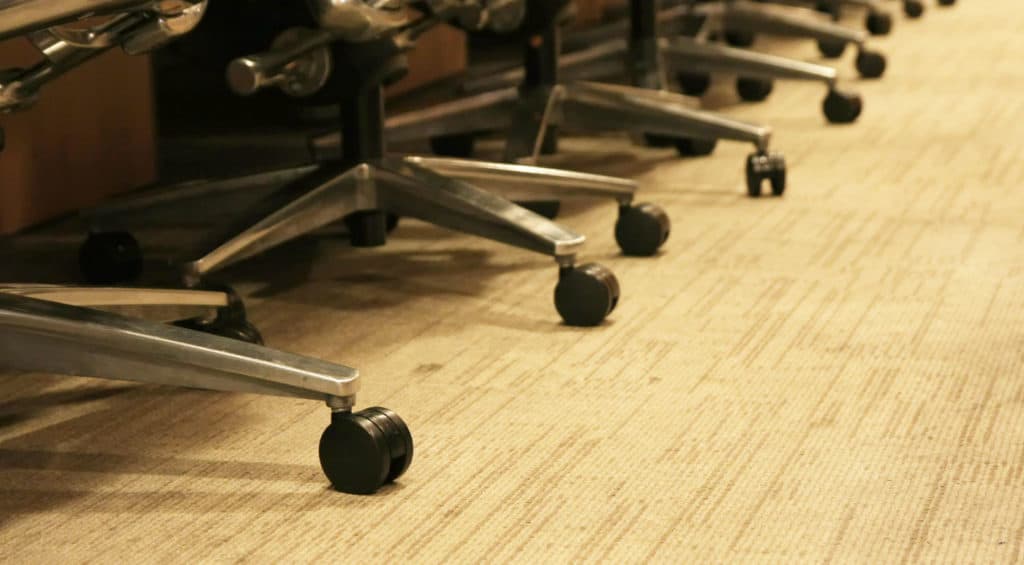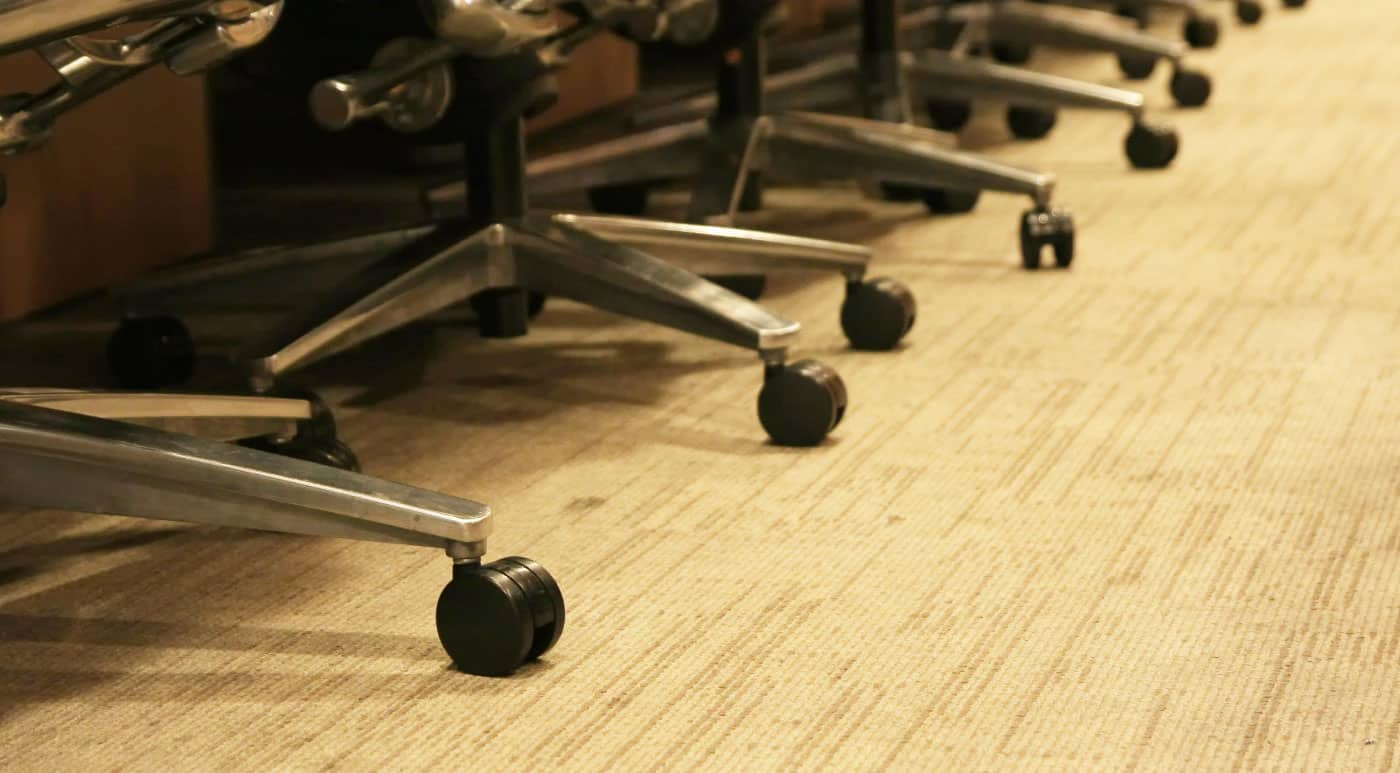 You'll want a chair with wheels, as well as the ability to swivel. These features allow you to move freely around your office, pivot to face coworkers, or change your positioning in a variety of different work areas. What's almost as important as the ability to roll and swivel, however, is the ability to lock your seat in place when not in motion.
Here's another place where it's very important to check the parts of your chair. An office chair with a broken wheel is the worst, as is a chair that won't stop swiveling when you want to lock it in place instead. A good place to learn about the quality of the chair parts is to read consumer reviews. How well did the chair hold up for them?
Lumbar support
The lumbar region of the spine is your lower back. The five lower back vertebrae in the lumbar region are quite strong, but prolonged sitting puts a lot of stress on this area, so you'll want a chair that provides extra lumbar support. This is particularly true if you've had pain, discomfort, or injury in this area in the past.
Some chairs take care of lumbar support with a specially molded seat back designed to prevent slouching while encouraging that optimal "S-shaped" posture. Another option is to pick a chair with a neutral back and then later add support with a lumbar support cushion.
Additional ergonomic features
Here are a few additional ergonomic features to look for in your office chair:
A headrest to help keep your head and neck in a neutral, relaxed position while reducing tension and stress.
A seatback divided into multiple parts to target support for different areas of the back.
Office Chair Accessories
Next, let's talk a bit about additional products you can choose to keep you and your team comfortable in your new office chairs.
Seat cushions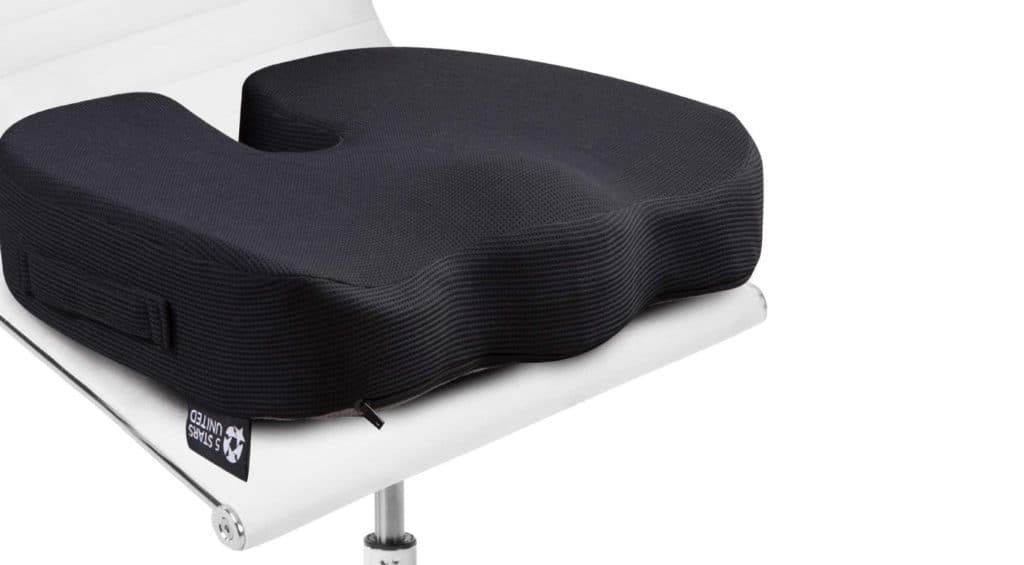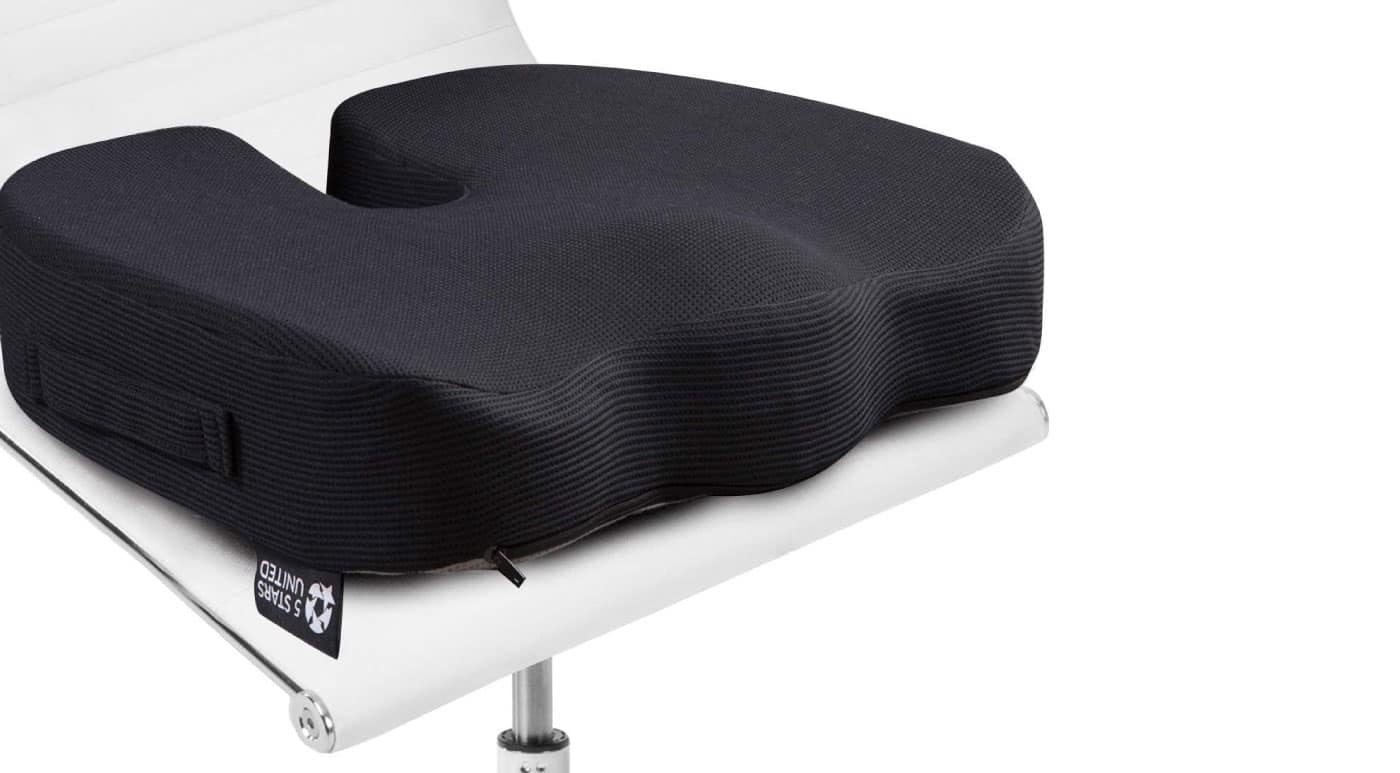 Adding an office chair seat cushion will further reduce pressure and discomfort, especially on your glutes and back. Seat cushions support your posture and relieve pressure on your spine. Some people prefer softer cushions that conform to the body over time, while others like firmer cushions for added support.
Backrests
Adding an office chair backrest will also help keep your spine in its optimal position. A lot like seat cushions, they come in a range of firmness options. Most backrests attach to your chair with straps, allowing you to adjust the seat to your preference and to suit your body type. What the backrest is made of is also important. Mesh backrests are more breathable, keeping you cool throughout your workday, while memory foam varieties conform better to different body types.
Footrests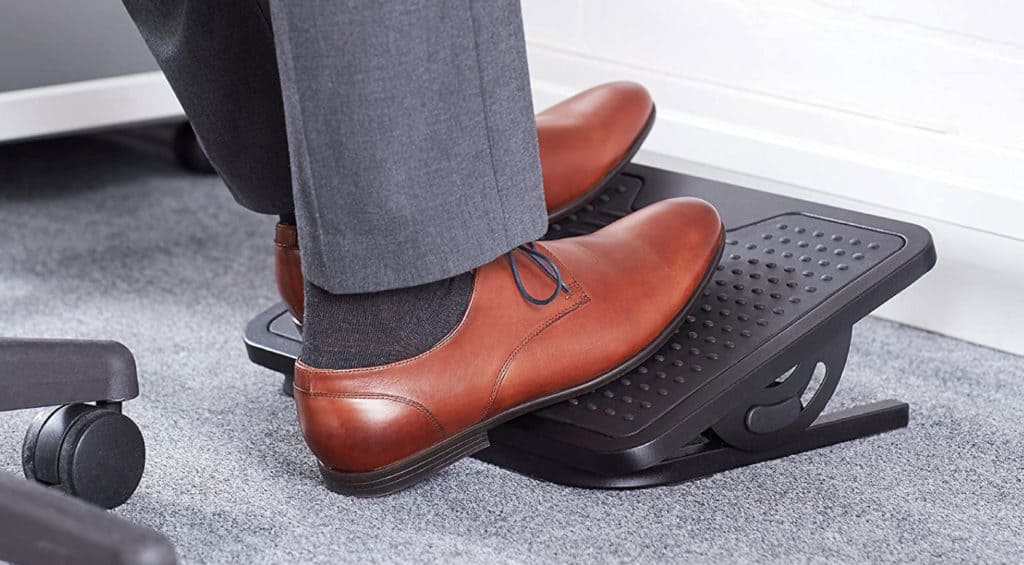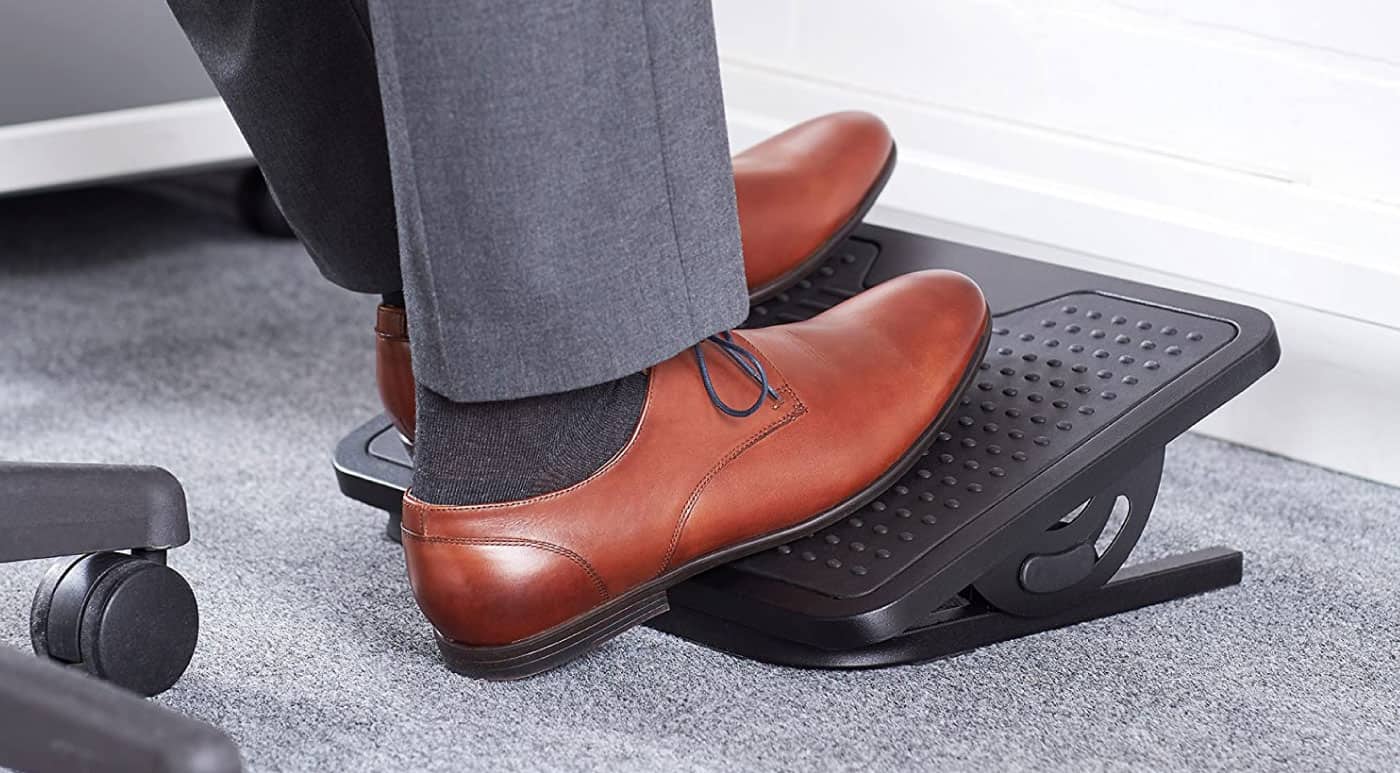 You may not realize that the position of your feet has a lot to do with maintaining proper posture. However, sometimes proper foot positioning just isn't possible. Here's where a footrest comes in: Footrests help prevent you from dangling your feet and slouching. Most allow you to adjust the angle and the height for different body shapes and sizes, and some even come with massage rollers—it doesn't get much better than that for comfort!
Chair mats
And last, a chair mat. Chair mats aren't directly related to the functionality of your chair, but they protect your office floor from the damage caused by your chair's wheels and casters. They also help your chair move more smoothly across the floor.