One of the most important factors in practicing and maintaining an active lifestyle is being in the right place and around the right people.
With this in mind, RAVE endeavored to find the most active cities and states in America. So that fitness enthusiasts can find the best communities for staying active and healthy.
Key Point: In this guide, we dive deep into the data to bring you the states and cities with the most active and fitness-minded populations.
America is getting fit online! You don't have to scroll Instagram for long before reaching one of the 16 million posts tagged with #InstaFitness. And within that world of healthy, photogenic activity you'll find a range of workout styles and diets, each with their own hashtag.
But how do these fitness hashtags relate to the city or state where you live? We analyzed over 2.3 million posts that were tagged with fitness, diet, and body positivity related hashtags.
Using this data we created a series of maps to show which places in the US are the most active, what workouts and diets are most popular, and which places are the most body positive.
We organized the hashtags into three categories.
Fitness hashtags such as #pilates and #strengthtraining refer to the style of workout the Instagrammer is sharing. From the ancient (#yoga) to the modern (#crossfit) to the zeitgeist of the quarantine era – #homeworkout – these techniques are a lifestyle as much as an exercise.
Our Nutrition category includes posts about specialist fitness diets (some of them controversial!). We also included the all-important #mealprep hashtag because it's one of the most aesthetically pleasing on 'fitness Instagram'.

Finally, #BodyPositivity gets a map all of its own, because there are 7.8 billion body types on Earth and they're all spectacular works of nature.
Summary: To navigate our interactive map, zoom into an area of interest with your fingertips or mouse. You can hover over any of the fitness hotspots to identify the city or state and the number of Instagram posts per million people. And use the menus at the top to flick between categories. Phew, good workout!
Which States Are the Most Active?
It turns out America's political classes have a lot of energy to burn. Washington D.C. is the 'state' (okay, not exactly a state) that has the highest proportion of #InstaFitness posts per million people (227).
The more traditionally wholesome states of Nevada, Florida, Hawaii, and California make up the rest of the top 5. Californians have used the hashtag nearly nine thousand times.
But Florida's cities dominate on a metropolitan level. Miami Beach is way out ahead with 2453 posts per million citizens.
Miami proper, in second place, has 1907 per million. In terms of sheer numbers, New York City posts the most: the Big Apple's joggers and spinners have hashtagged #InstaFitness 2559 times.
The overall most active states (based on the number of #workout posts per million people) are:
District of Columbia
Nevada
Florida
To help get a clearer picture of what workouts are popular where, we also made separate maps to show which states use each hashtag the most.
Which States Are the Most Diet Conscious?
It takes more than an active lifestyle to maintain your Instagram glow. From protein to paleo, these maps show which states most commonly use the top fitness nutrition hashtags.
Adding up the use of all of these nutrition hashtags, the most diet-conscious states in America are:
District of Columbia
Hawaii
Nevada
When we combined the nutrition hashtag use at a city level, there was no clear top 3 – although Hoboken stands out as the most-tagged city for both #mealprep and #paleo. Edmond, Oklahoma is number one city for #protein and Olympia, Washington is top for #ketolife.
Bayonne, New Jersey is way out ahead as the top #eatclean city with 738 posts per million people next to second-placed Miami with 620. Here are the maps for each diet-conscious hashtag:
What States Are the Most Body Positive?
Finally, #bodypositivity – the social media trend that aims to challenge clichéd appearance ideals and promote appreciation of every type of body.
Who gets to decide which bodies are 'conventionally attractive' and which require 'body positivity' is a complex issue, but Instagram is one arena where you can decide for yourself.
The top 3 body positive states (based on the number of #bodypositivity posts per million people) are:
District of Columbia
Vermont
Nevada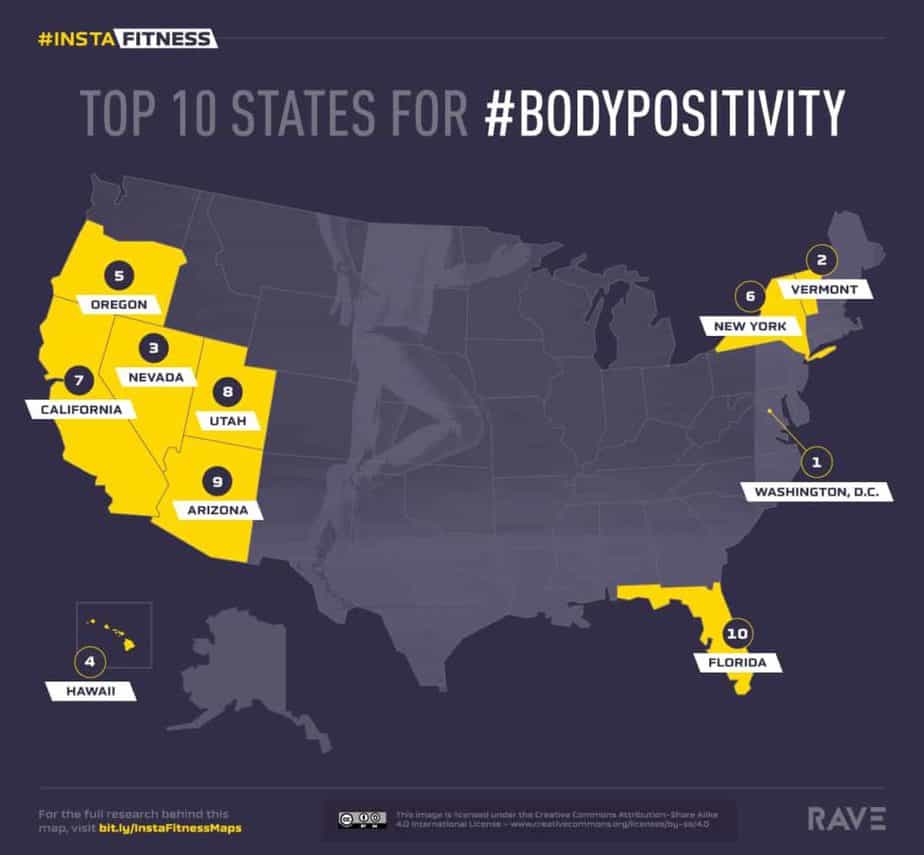 After D.C., Nevada is the state with the highest proportion of Instagram posts marked #bodypositivity. Nevada gives D.C. a run for its money: 516 posts per million, next to 527 in D.C. Of course, most of us feel the need for at least an ounce of body positivity when we hit the beach. Miami Beach is number one city for the use of this hashtag, with 50% more uses per person than second place Greenville, SC.
The results are in, and Washington D.C. is the most active 'state' in America. Or at least Washingtonians are the most active on fitness Instagram.
California and Florida are pretty active places to be, too.
Whether your thing is paleo, palates, or just sitting back with a bag of chips to look at photos of other people's success, Instagram is the home of the 21st century healthy, active, photogenic lifestyle.
Interactive Fitness Map by State
Methodology & Sources
To create these maps, we extracted location data for over 2.3 million Instagram posts tagged with hashtags relating to fitness, nutrition and body positivity.
We narrowed this down to 296,661 posts by removing any posts that were made outside of the US. We then cleaned up the data and organized it by state and city to help us create the interactive you see today.
The data gathering was done between February 26th and March 18th 2020.
For the full research behind this project visit bit.ly/InstaFitnessMaps.