First-time car owners and veteran drivers alike have one thing in common: car insurance.
Yes, car insurance is a necessity for anyone who enjoys the benefits of four-wheeled freedom, along with fuel, oil, tire changes, and regular tuneups,
But how much do you really know about car insurance? Do you just sign on the dotted line for the first policy that comes your way, or do you shop around?
In this ultimate guide to car insurance, we'll answer all those questions, as well as provide some tips and pointers for finding the best coverage for you.
With input from insurance industry experts, we'll also answer what exactly your policy is doing for you. Could you be saving money with a different company?
We'll also reveal what kinds of coverage are out there, and how to know if you have too much coverage, or maybe not enough.
And what's the best way to buy car insurance, anyway: online, or in-person?
What's for certain is that car insurance is a must-have for any responsible automobile owner.
By the time you've finished reading, you'll have the information you need to make an informed car insurance purchasing decision, with coverage that's right for you, your family, and your vehicle.
What are the Types of Car Insurance?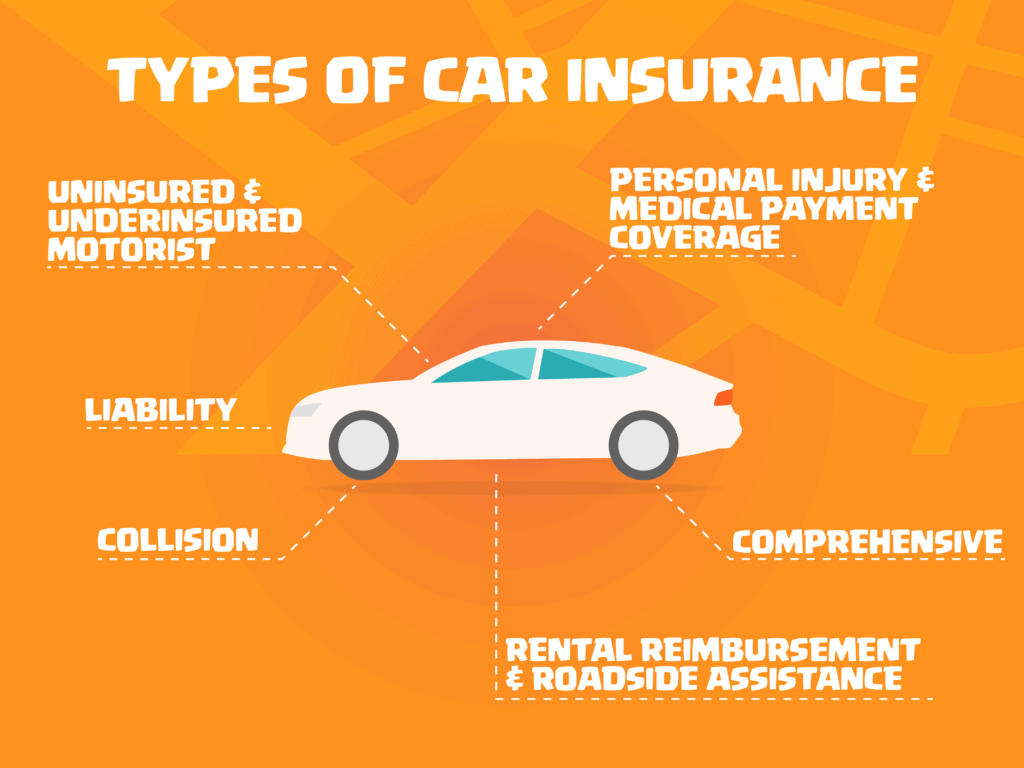 The first lesson to learn about car insurance is that most states have a minimum amount of car insurance coverage a vehicle owner is required to carry. Any new car owner should first check what the local requirements are in their area.
But what are the different types of car insurance policies, and how do they protect you out there on the road?
Here's what you need to know:
Liability
At a bare minimum in most corners of the country, drivers must be protected by liability coverage.
These policies typically come in two parts:
Bodily injury liability
Property damage liability
As can perhaps be assumed from what these kinds of policies are called, bodily injury liability coverage pays for any medical expenses incurred by the other party in a vehicle accident for which you are responsible.
Property damage liability, on the other hand, ponies up for any automobile dents, dings, or worse that could come about as a result of that same mishap.
David Adler of the Adler Insurance Group explains.
In Adler's home state of Colorado, for example, he says most liability coverage offers the following:
$25,000 for bodily injury or death to any one person in an accident;
$50,000 for bodily injury or death to all persons in any one accident
$15,000 for property damage in any one accident
Similar to what can be expected in many parts of the country, these numbers roughly follow what's called the 25/50/10 rule, common to most liability policies.
"So if you only want to pay for the bare minimum, you can." Adler says.
But, he continues, drivers should bear in mind that since minimum coverage requirements differ by state, those who leave their state regularly should insure themselves and their vehicle at the minimum mandated in the states to which they travel most.
What's equally important is, "basic types of liability coverage are not comprehensive and will not cover your injuries nor your vehicle," he says.
For that reason, drivers should consider different types of coverage. We'll explain more about those types of policies, including how they work and what they protect, in our next section.
Personal Injury Insurance and Medical Payment Coverage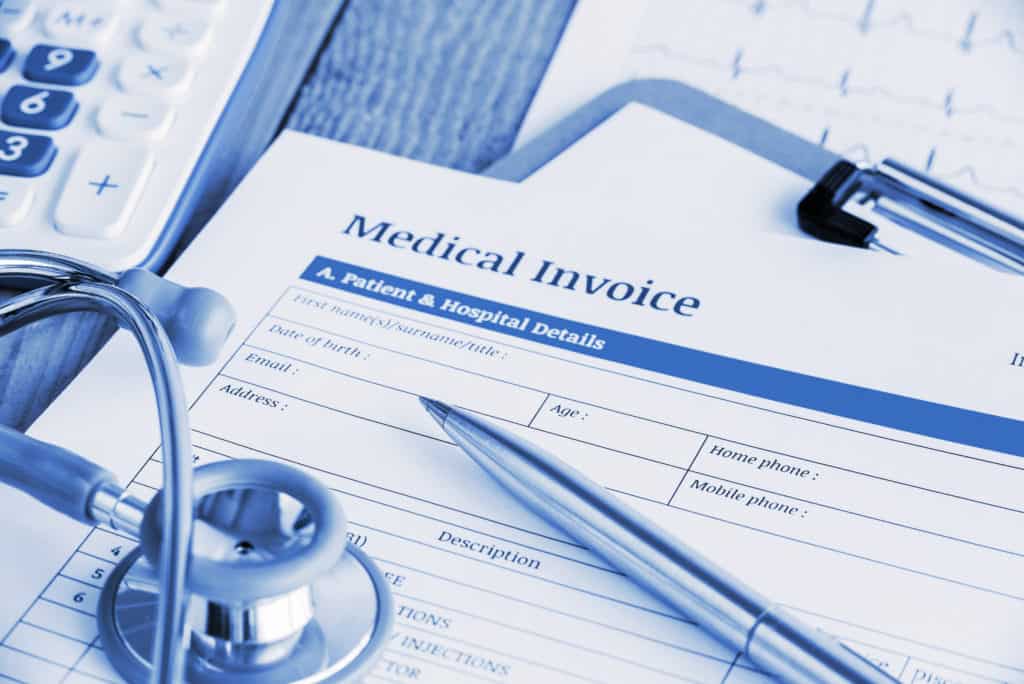 Though optional, personal injury insurance, or personal injury protection, sometimes just called PIP coverage, is the next kind of car insurance policy drivers should consider purchasing.
Again, these types of policies are manifold. For example, you could simply purchase PIP coverage. That's while some drivers also elect to purchase medical payment coverage instead of, or even in addition to, personal injury protection.
Here's the difference:
Should an accident occur, personal injury protection covers the following for the driver and their passengers, including:

Medical expenses
Nonmedical costs
Lost wages

Medical payment coverage, on the other hand, helps pay the medical bills in the event of an accident for both drivers and passengers, no matter who's at fault.
It's crucial to understand that neither of these kinds of policies are a substitute for health insurance. They will only cover injuries, medical bills, and other expenses incurred by drivers and passengers should an automobile accident occur.
But according to the Association for Safe International Road Travel, 4.4 million people are seriously injured each year in car wrecks, out of an estimated 6 million accidents. What's true of the remaining non-lethal accidents where neither the driver nor the passengers are injured is that the car is at the very least damaged, or at worst, totaled.
The following kinds of car insurance policies will help pay for car repairs for both drivers, as well as the other vehicle involved in the accident, regardless of who's responsible.
Collision
Even the best drivers have an accident now and then. Collision coverage is there to help pay for car repairs should a driver run into something. That could be another car, or it could be an inanimate object like a gate or mailbox. These kinds of policies will help fix your car up if you roll it, or even just hit a particularly nasty pothole.
Should a driver total their car, but still owe a bit on the vehicle, it might be a good idea to carry GAP coverage, according to auto insurance expert Melanie Musson of AutoInsuranceEZ.
"If you purchase a new vehicle and make a down payment of less than 20%, you should consider GAP coverage an essential purchase," she tells RAVE Reviews in an email.
That's because new vehicles almost always depreciate more quickly than you can pay them off for the first year or two.
Should an accident occur, and "your car is declared a total loss," she says, but your insurer reimburses you only for your vehicle's depreciated value, "you'll be stuck paying off the difference between your vehicle's value and what you owe your lender. GAP coverage will pay that difference," she explains.
Comprehensive
Not all vehicle damage occurs in an accident. Should a tree limb fall on your car in a windstorm, or should a rock crack your windshield, that's where comprehensive insurance comes in.
Some insurance companies even offer full glass coverage, replacing a windshield without paying the full comprehensive deductible.
For older cars, though, Musson from AutoInsuranceEZ, says comprehensive may not be necessary.
Cars that are 10-years old or more, "don't need full coverage auto insurance," she says. In instances like these, she continues, "it's usually a wise financial move to save money and skip full coverage on an older vehicle."
Uninsured/Underinsured Motorist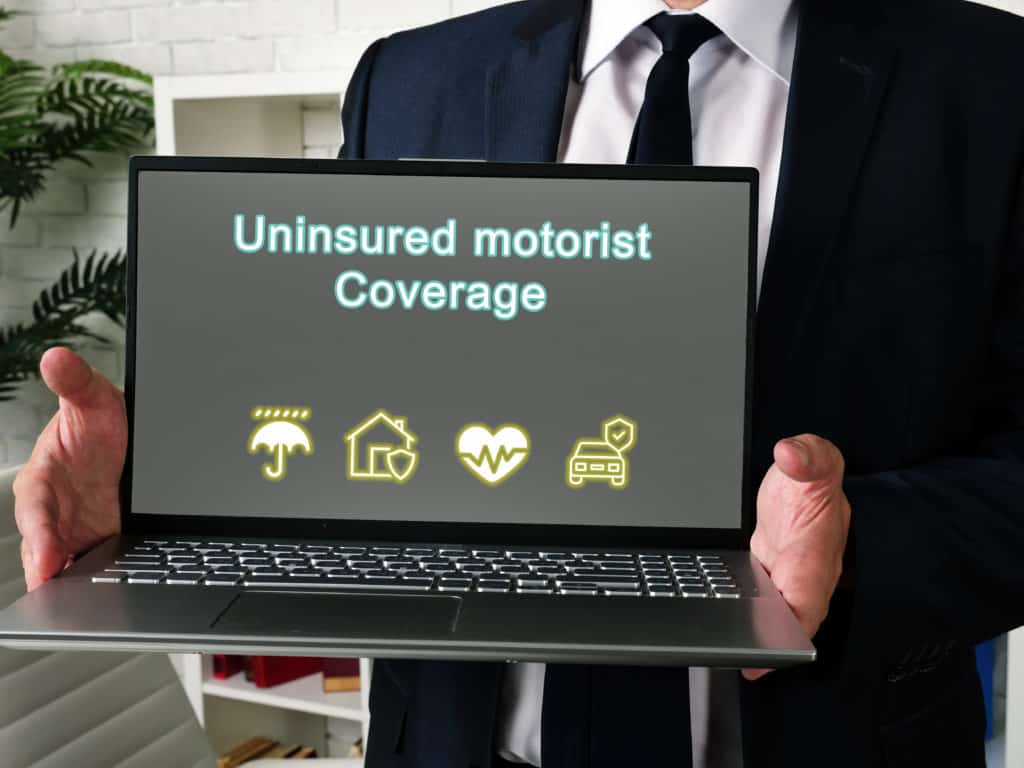 What if a driver is fully covered, but they still end up in an accident for which they're not at fault, but the other driver isn't adequately covered, or perhaps has no car insurance at all?
If another driver is responsible but driving without insurance, uninsured/underinsured motorist insurance covers medical bills or car repairs, even if it's a hit-and-run situation and the driver involved is never found.
Rental Reimbursement and Roadside Assistance
The last two kinds of insurance policies are rental reimbursement and roadside assistance.
Rental reimbursement coverage does just what it sounds like it will do: if a car is totaled, or in the shop for any length of time, these types of policies cover the costs of a rental vehicle, up to a point (for example, daily limits may apply).
TIP: Many insurance companies offer a small amount of rental reimbursement as part of the policy. If a policy doesn't include coverage of this sort, it will have to be added. But before making that decision, check with your insurance agent to find out if you're already covered.
Though optional, Roadside Assistance is an often affordable addition to any car insurance policy. This coverage proves useful in any number of situations should a car break down on the side of the road, if a car needs to be towed, or if a battery needs a jump.
TIP: Roadside assistance, depending on the details of the policy, will even sometimes help if a driver locks their keys in the car.
Now that the different kinds of auto insurance policies are in the rearview, it's time to turn our attention to the biggest question for many first-time insurance buyers: how much is this all gonna cost me?
We'll answer that question in our next section.
How Much Does Car Insurance Cost?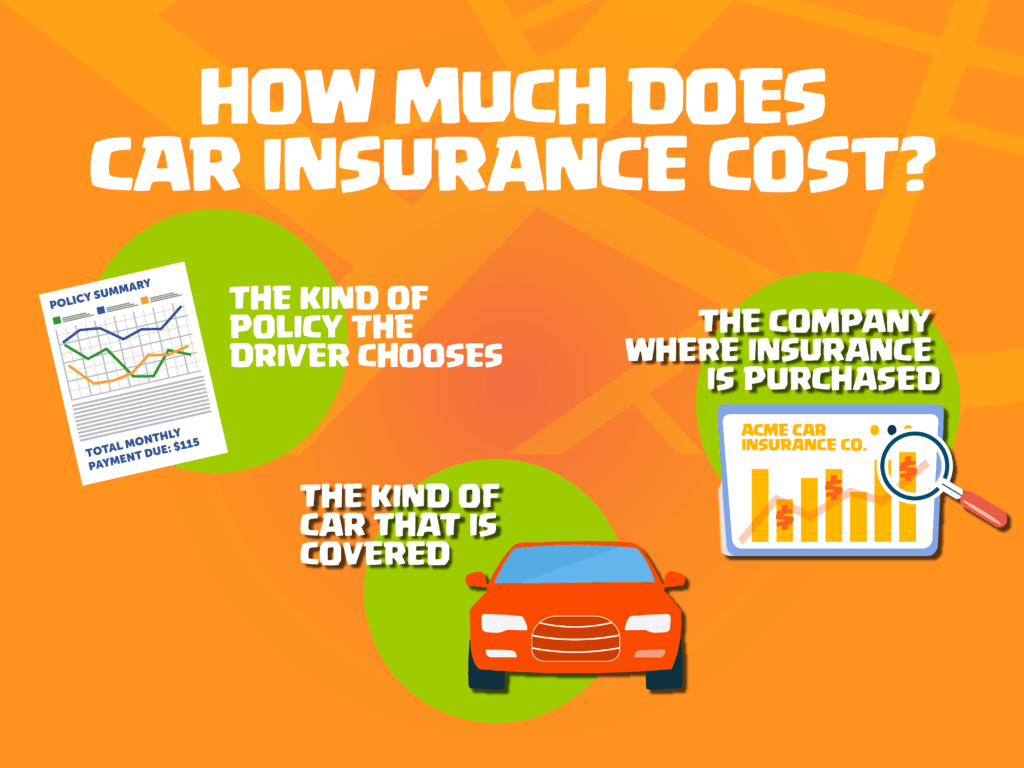 Determining how much car insurance is a month usually depends on the following factors:
The kind of policy the driver chooses.
The company from which the policy is purchased.
The kind of car that is covered.
And even an individual's age and driving record makes a difference.
The first factor determining the cost of many policies are the policy limits a driver chooses, sometimes referred to as the policy premium.
Policy Limits. To keep costs as low as possible, many automobile owners choose the state liability minimum.
While that does save some money, purchasing only the minimum amount of coverage required is often insufficient, especially when medical bills are involved. In fact, minimum liability limits required on a state level are often not even enough to cover the average cost of an auto accident.
The Type of Coverage. The kind of auto insurance policy beyond just the state minimum also goes a long way toward determining the cost of auto insurance to the consumer.
Above and beyond just basic liability, there's comprehensive and collision.
Though optional, these kinds of coverage are sometimes required if a car is leased or financed. In these instances, it's important to shop around and get some quotes. And never forget, NOT carrying coverage of this sort could contribute to the cost of an accident being much higher than it might otherwise be.
Deductibles. The cost of coverage can also be affected by the deductibles, or the amount of money a driver is required to pay before their insurance coverage kicks in.
Consumers have some discretion in determining costs. Choosing a higher deductible will result in lower monthly premiums, but then again, deductibles that are too high may result in a policy that's hardly useful based on the unique needs of an individual driver.
The last point determining how expensive a car insurance policy will be is the driving record of the person purchasing the policy, expressed as a driver rating.
In our next section, we'll define driver rating and explain the factors contributing to the number, and ultimately, the cost of your car insurance policy.
What is a Driver Rating?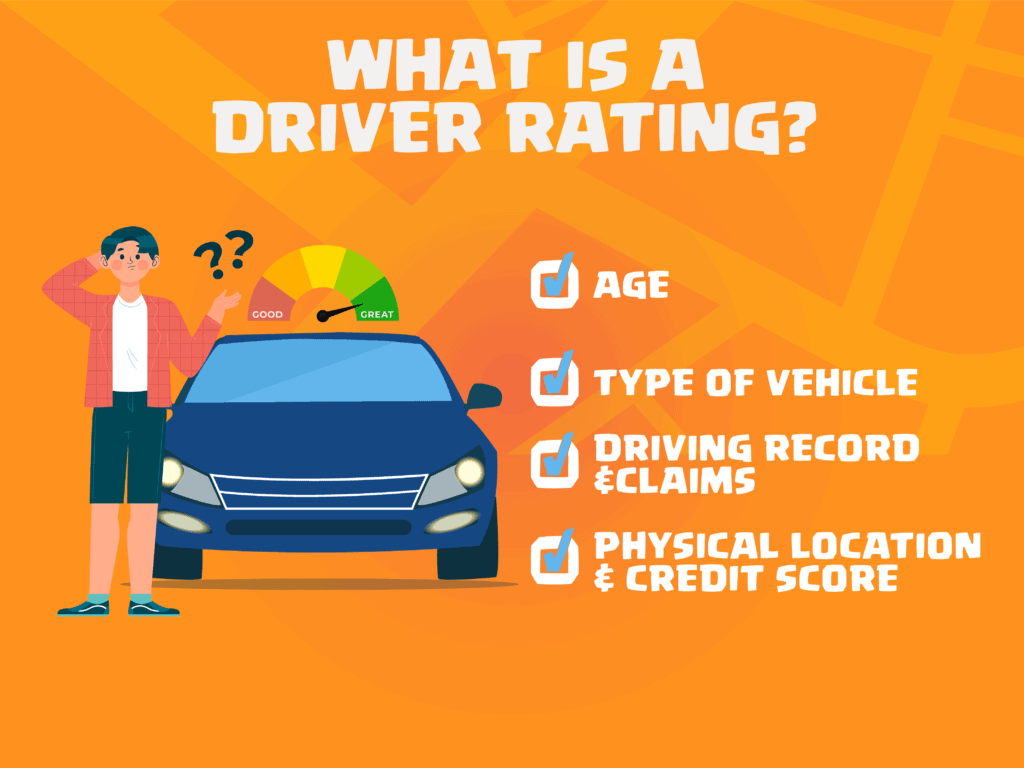 The purpose of a driver rating is to determine which drivers might be of higher risk based on a number of statistical factors, the first being the age of the person behind the wheel of the car.
Age in relation to a driver rating should be thought of as an arc. Those on the younger end of the spectrum will pay more, since they are less experienced drivers and tend to be more impulsive and distractible than older vehicle owners.
From there, age helps lower the cost of your insurance premiums, until of course, old age is reached. Then advanced chronological age can make the cost of auto insurance go back up.
The type of vehicle. The type of vehicle you are choosing to insure also plays a part in your driver rating. Expensive cars are also more costly to insure, and older cars are cheaper to insure than new ones, all else being equal. That's because older model cars are much less expensive to repair.
Driving record and claims history. Following age and the kind of vehicle, the individual driving record and history of insurance claims are the next points to consider in terms of a driver rating. If a vehicle owner has a long history of accidents, and therefore insurance claims, they will naturally be more expensive to cover, and therefore, charged higher premiums.
Physical location and credit score. Where you live also plays a part in determining your driver rating, because crowded city streets are riskier places to drive, for example, than a deserted country road. Furthermore, it's legal in most states for car insurance companies to factor in an individual's credit score when determining a driver rating. The better the rating, the lower the premium.
Regardless of your driver rating, there are ways to find discounts in your car insurance premiums. Many insurance companies cut you a break if you're insuring more than one vehicle at a time, or if you're carrying multiple policies with the company in question.
And with most companies, of course, fewer accidents leading to fewer claims can result in cheaper premiums.
TIP: To take full advantage of all the possible discounts available on your car insurance premiums, it's important for consumers as much as possible to keep all their policies with the same company.
But which company should you choose? And is it best to buy vehicle insurance online or in-person? Those are the next most commonly asked question from consumers buying vehicle coverage for the very first time, and we'll answer them in our next section.
How to Shop for Car Insurance
Whether or not you shop for car insurance online or in-person, the first step is to compare quotes for the same kind of coverage from many different companies, that way drivers can be certain they're getting the best deal possible.
But once a driver settles on an insurance provider, the next question is: should the transaction be completed online or in person, or through a combination of both?
Each choice carries its own set of pros and cons.
Is it OK to buy car insurance online?
Just like everything else these days, vehicle insurance policies are available online. And not only is it ok to buy car insurance online, it's safe. In some ways, it's also much more convenient than purchasing insurance from an agent, but it isn't always cheaper.
Seth Lytton, COO of The Detroit Bureau, a leading automotive news outlet, explains that even though buying insurance online is easy and quick, "You could get better deals talking with a real person."
According to Lytton, working with a flesh and blood agent is, in fact, the best way to get a discount on your premiums.
Lytton continues, "However, if you're in a rush and don't have your preferred insurance company nearby, online is the best option. Remember, you can always call in to get better discounts," he says.
Buying insurance online also means you're likely buying the policy directly from the company, without seeing all the deals the market has to offer. Which is the primary advantage of working with an independent agent.
Is it better to get auto insurance through an agent?
David Adler of the Adler Insurance Group says buying from an agent carries its own list of pros and cons.
When consumers work with an agent, they are able to build a relationship, he says, and "that relationship may help you acquire more personalized coverage that's a better fit for your needs," he says.
Policy discounts and the overall customer service experience can also be greatly improved when purchasing car insurance in person.
"You'll be able to hop on the phone with them at practically any time of the day and they'll answer your questions with a clear answer quickly," Adler explains.
That said, choosing to work with an agent comes with a few downsides.
With an agent, Adler says, "you'll have to shop for your insurance during normal business hours, which means the process can start and finish on the agent's time," and it's best to work with an independent insurance agent, representing a broad range of insurance providers rather than just one.
Not everyone who sells insurance in-person is an agent, however. Some are called insurance brokers. Is it better to work with an agent or a broker? That answer is coming up in our next section.
Is it Better to Use an Insurance Broker?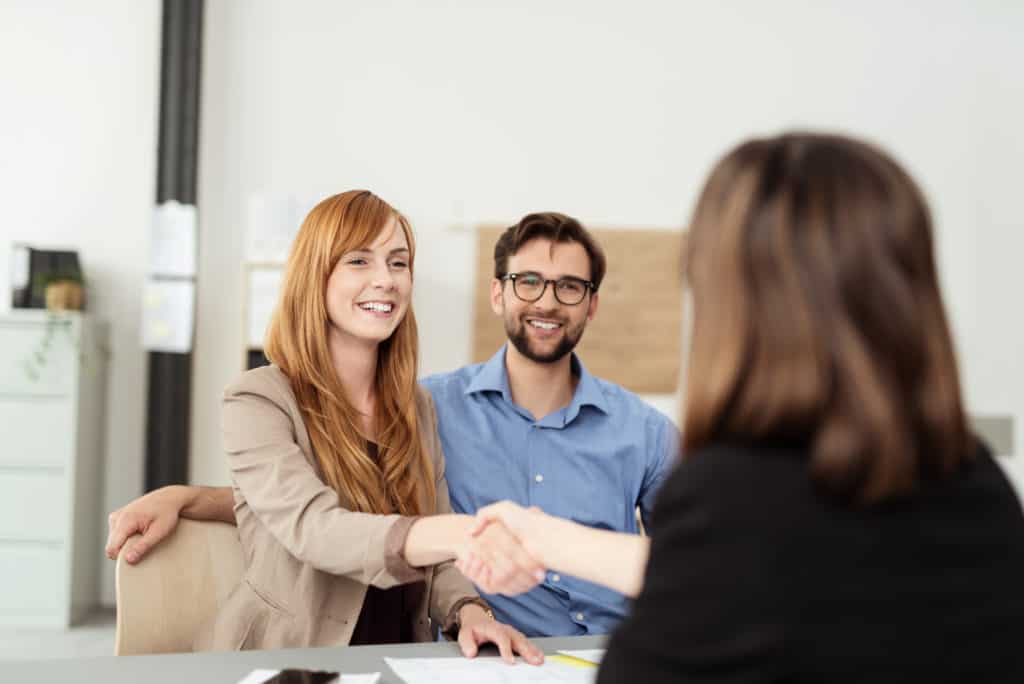 Lauren Mckenzie, an Insurance Broker at Learnandserve.org, explains the primary difference between an insurance broker and an insurance agent.
Agents, she says, represent not only the consumer, but also the company they work for, and they have legal responsibilities they must abide by.
A broker, on the other hand, is able to shop multiple insurance companies," she says, "and does not usually have a hidden agenda when doing so, they want to help the customer find the best insurance."
"There's a common misconception that going through a broker or an agent costs more than going directly through an insurance company," she says. That isn't always the case.
Going through a brokerage means "they're able to offer cheaper rates than directly through a company because there is not an extra charge for advertising and commercials like the larger company's tac onto the premium," she continues.
TIP: One way to save money on your car insurance policy, no matter how you purchase it, is to bundle your policies, explains Seth Lytton from The Detroit Bureau.
"It's much cheaper to bundle your insurances, and most companies have ways to include many insurance types. For example, Progressive, Nationwide, and Farmers Insurance all have insurance for homes, renting, vehicles, and more, and you'll save money on all of them by bundling," he says.
So far, this article has defined auto insurance, the different types of coverage, how much it costs, and how best to purchase a policy: online or in person through an agent or brokerage.
But what if you choose to forgo all this and simply drive your car without insurance? What's the worst that can happen?
Turns out, getting caught (or worse, in an accident) without car insurance carries very significant consequences.
What Can Happen if You Don't Have Car Insurance?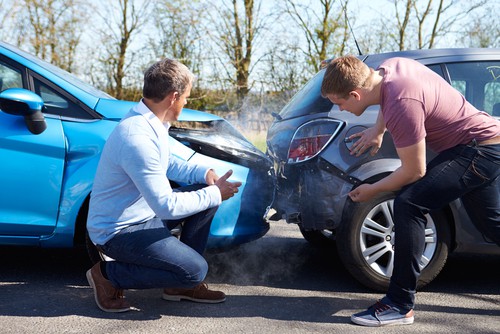 Max Pepper is an attorney with Missouri Ticket Fixers, a traffic law firm in Kansas City, Missouri. He is also a former assistant prosecuting attorney for the state of Missouri and a graduate of Georgetown Law.
When caught driving without insurance or without adequate coverage, the best case scenario, he says, is "being placed on probation and being required to provide proof of insurance to the court for a certain period of time."
More typically, though, "what happens is that the driver will be fined and have a conviction placed on his or her driving record," Pepper continues.
But when an accident is involved, "things are even worse," he says.
"Not only are you likely to have a no insurance ticket put on your record after an accident, but you may even have your license suspended until you agree to reimburse the other driver's costs for the accident."
And when drivers do eventually get their license reinstated, "the state licensing agency can even require an SR-22 which is a special kind of insurance," that requires an insurance company to file an affidavit with the state, "letting the state know that you have valid insurance," Pepper explains.
"This type of coverage can be very expensive. In general it is very bad to be pulled over without car insurance, and in the worst case scenario it can cost you many times what an insurance premium does to regain your license and drive legally," Pepper says.
And for these reasons and more, it's important to not let your insurance coverage lapse. Not only could you get caught without an active insurance policy, explains Seth Lytton from the Detroit Bureau, "if your car insurance lapses, you may have to pay more the next time."
If you're at risk of missing a premium payment, Lytton explains, "you can often talk with agents about extending your deadline. If you're struggling financially, call your insurance agent to see if you can push back your due date. Most of them will give you some leeway."
The Ultimate Guide to Car Insurance: Conclusion
Clearly, purchasing car insurance is a big decision. In most states, basic liability coverage is required at a minimum, but carrying just the basic amount of car insurance is risky, depending on the kind of car you drive, how often you drive, and where you live.
As well as basic liability coverage, drivers can choose:
Collision
Comprehensive
Uninsured/Underinsured Motorist
Rental Reimbursement
Roadside Assistance
Several factors play a part in how much an insurance policy will cost.
Age
Vehicle Type
Driving record and claims history
Physical location and credit score
Furthermore, these days insurance policies can be purchased online, or in person through an agent or broker. Purchasing online is easy and convenient, but consumers shouldn't assume it's necessarily any cheaper because most often, they're only seeing one offer from a single company.
Working with an agent, though, provides consumers with a more personalized experience, offering discounts that might not be available through an online application, or that a consumer might not otherwise be aware of.
While an ethical agent will never sell a consumer a policy they don't need, it's important to remember that agent is most often representing only one company, while an independent agent may represent more than one.
This means premiums, policies, and discounts presented to the consumer will only be those offered by the insurance company, which perhaps may not be the best deals on the market. For this reason, a brokerage, representing the consumer first, may be the best option.
Though expensive, it's crucial for drivers to carry a valid car insurance policy at all times. Consequences for failing to do so can lead to fines, and much worse in the case of a serious accident.
Those buying car insurance for the very first time should not be intimidated. With a little research and some careful comparison shopping, it's possible to find a car insurance policy that's right for every driver. And once that coverage is purchased, we'll see you on the open road.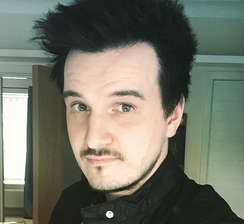 Chris Barry
Chris Barry lives in Dorset, England with his wife. When he's not writing product reviews, Chris can usually be found furiously writing and editing his first novel, or watching horror movies.